Do you want to sell your eCommerce website at a good price? Or are you looking to buy an eCommerce business?
Either way, there are several online marketplaces specialized in buying and selling online businesses, including eCommerce websites, SaaS products, blogs, and more. These platforms help you determine the best selling prices to legally transfer the assets to respective parties.
So, whether you want to sell or buy a profitable eCommerce business, in this article, I will show you some of the best platforms where you can easily acquire or sell your eCommerce websites.
Ready to dive in? Let's get started.
With over 300,000+ online businesses sold and over 3 million registered users, Flippa is the #1 global marketplace to buy and sell eCommerce websites.
Here, you can find websites for all budgets from $1,000 to over 1 Million. You can search websites by age, price, or categories like Amazon FBA store, Shopify store, Digital product, dropshipping and more.
As a seller, it allows you to list your site publicly and privately. If you list privately, Flippa will connect you directly with a targeted list of buyers and help you get the best price for your site. Whereas with the public listing, people can view all the details about the website, place bids, or contact you directly.
Flippa provides a free website valuation tool where you can add details to find the selling price for your website. It evaluates your quote by comparing the data from thousands of similar websites listed or sold earlier. It also considers the demand for websites from your niche to determine the best selling price.
Furthermore, they also connect you with their legal experts to help you with all the legal formalities, from asset transfer to payment processing.
Commission fees – Flippa charges both – a listing fee and a success fee based on the site's selling price. The listing fee starts at $29, and the commission fees range from 5% for sites with over $100,000 valuation to 10% for sites selling for below $10,000.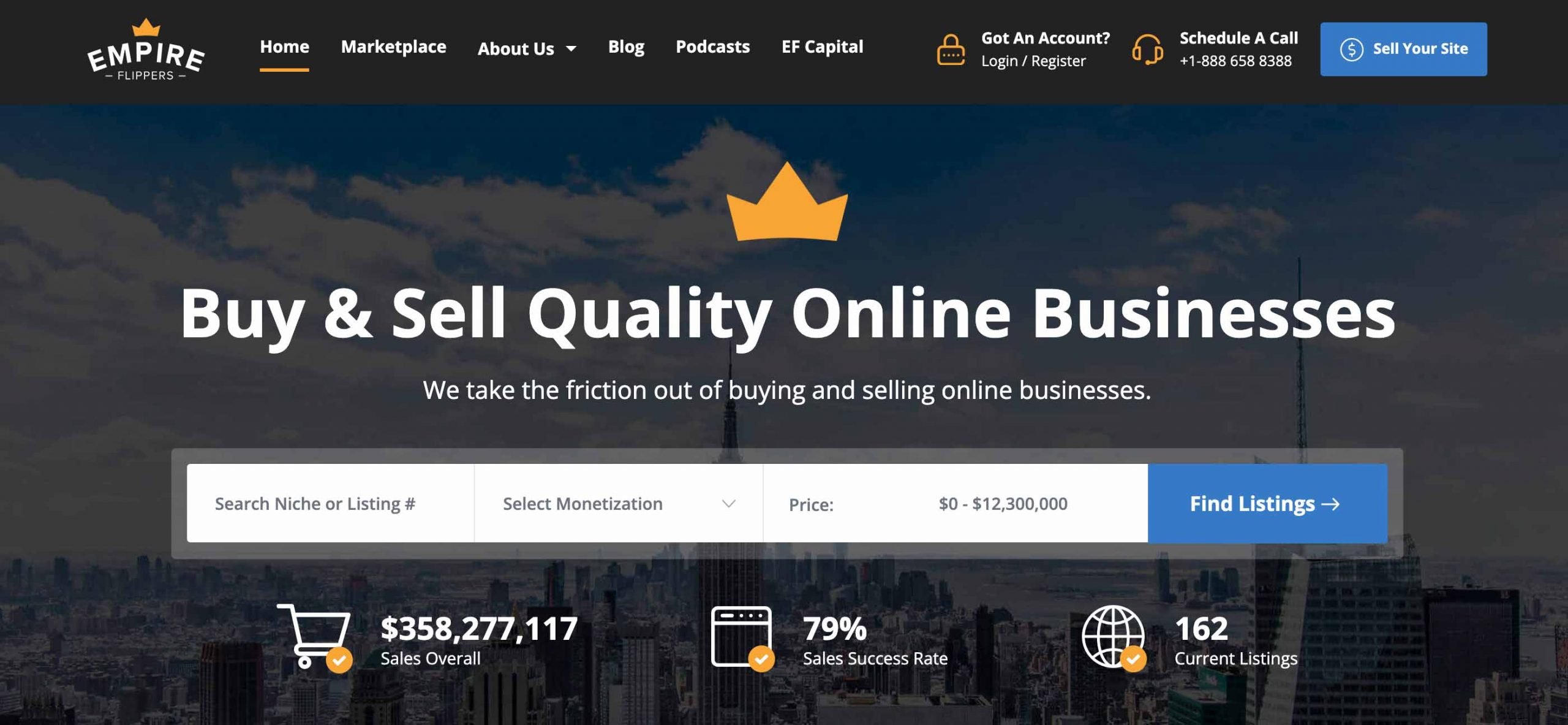 With $300+ million sold businesses, Empire Flippers is another reliable platform to buy and sell only legitimate, profit-making, and curated businesses. It approves only vetted sellers by analyzing their site histories like earnings, traffic, and other important KPIs.
You can view the listings based on monetization, niche, listing, monthly net profit, and price. The list of popular monetization includes Amazon FBA, SaaS, affiliate, eCommerce, dropshipping, display advertising, Amazon FBM, Amazon associates, and Amazon KDP.
To buy a business, you can browse all the listings, unlock them to get full access and review the due diligence. Once this is over, you'll be directed to the payment, and then the site assets will be migrated to your ownership.
For sellers, the submission process commences by answering a few questions. If your listing is vetted and approved, you can start publishing and accepting offers.
Or you can start with its free business valuation tool to get the estimated selling price for your website. You just have to answer a set of questions, and Empire Flippers will help determine what your business is worth.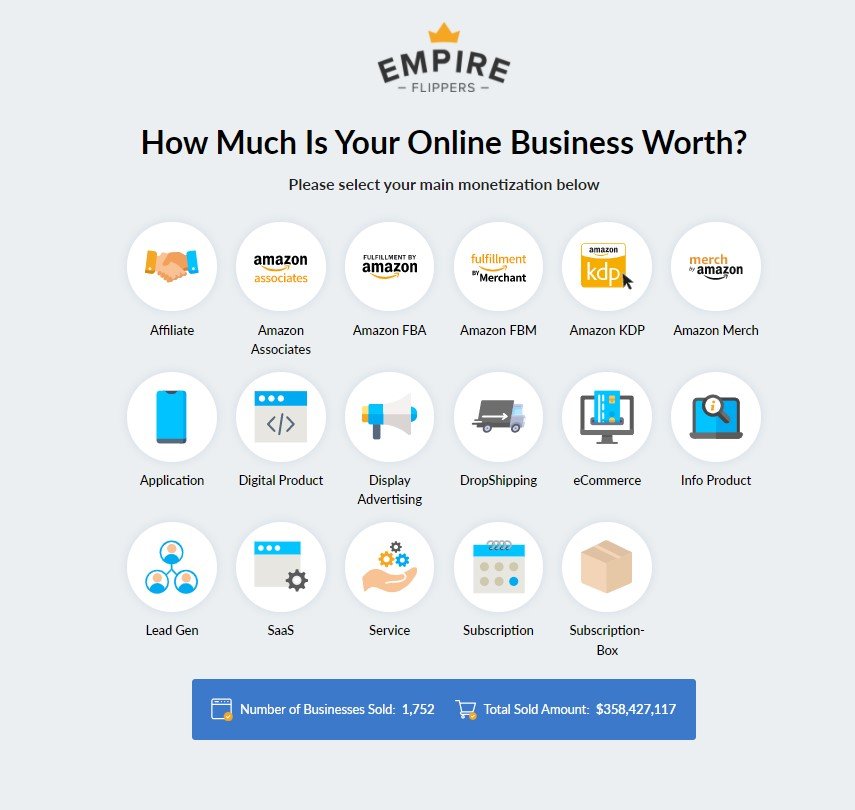 Commission fees – Empire flippers charge a flat 15% on the sale price for businesses under $700,000. For websites valued between $700,000 and $5M, the commission fee reduces to 8% and 2.5% for a deal size of over $5 million.
Exchange is the best marketplace to buy and sell Shopify stores. The revenue and traffic data for the listings are directly pulled from the respective Shopify accounts. So, as a buyer, you get access to real stats which cannot be manually manipulated.
For sellers, you just have to enter your Shopify store address to kickstart the process. All the required data will be pre-filled based on your Shopify analytics reports.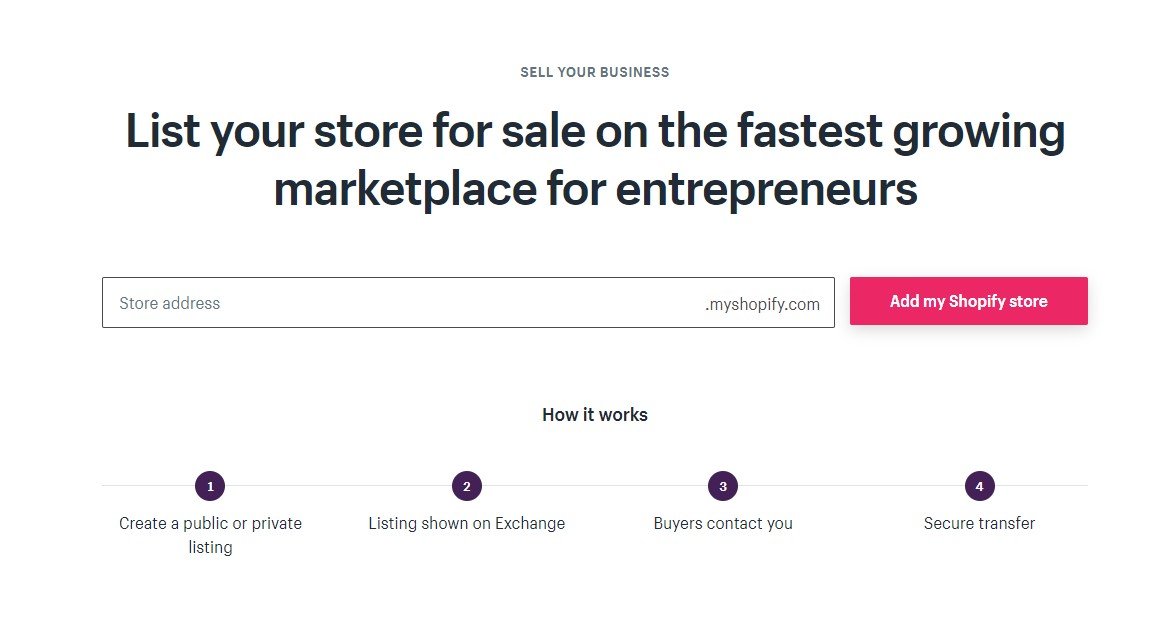 It also allows you to list your website privately or publicly. Once your store is approved for listing, interested buyers can contact you to fulfill the deal.
The best part of this platform is that it keeps the communication between the buyer and the seller is anonymous until the deal is finalized and ready for the transition.
Commission fees – It's free to list your store on Exchange – you'll have to pay a commission only if the store sells. The commission rate is based on the listing price, and it is disclosed only when you list your store for sale.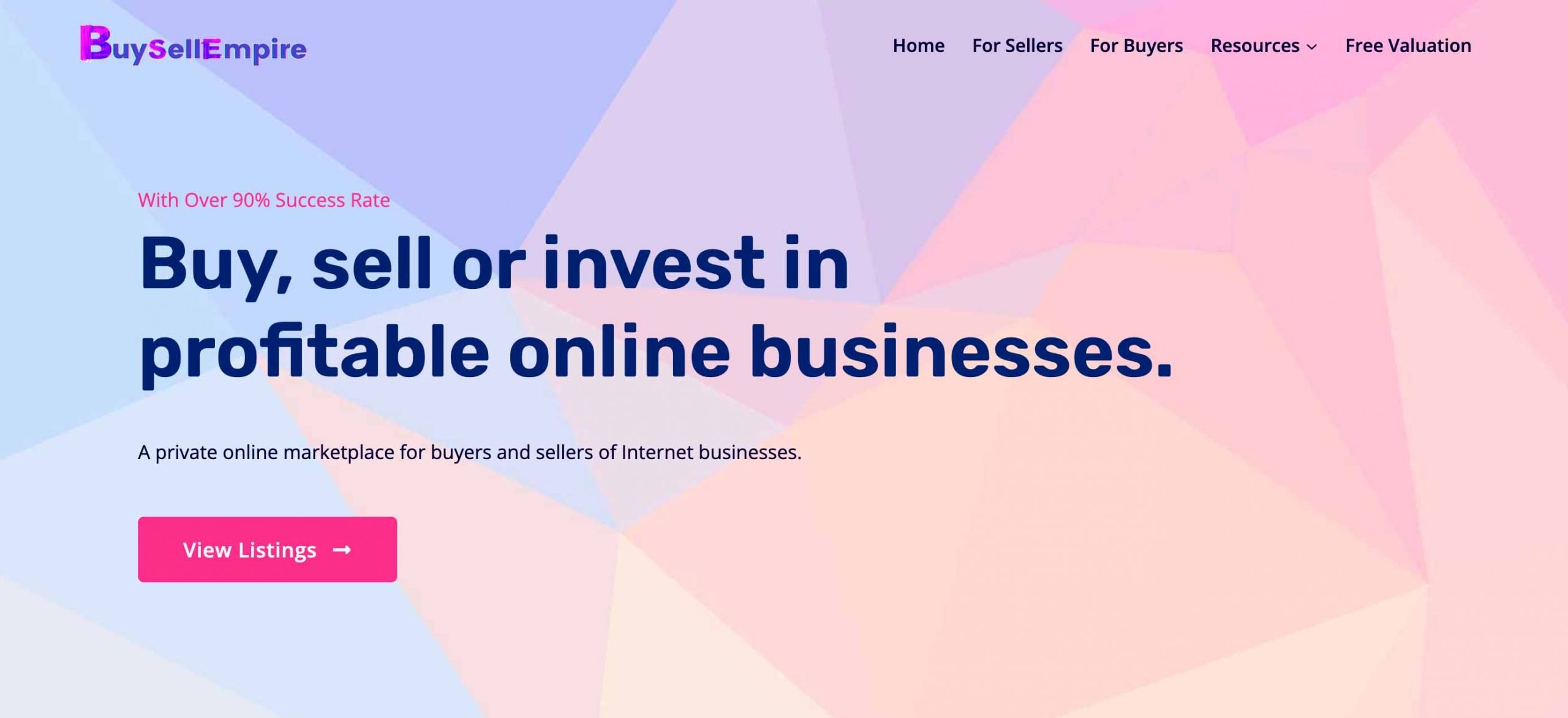 BuySellEmpire is another large private marketplace to buy and sell your eCommerce businesses. It has over 10,000 buyers/sellers and hosts many categories like eCommerce, Shopify, Amazon Associates, SaaS/Memberships, affiliate sites, agency business, etc.
As a buyer, you can filter websites by current status, revenue, income, workload, asking price, multiple, and detailed description. Fortunately, it lets you enjoy more as there are no buying fees.
However, your business must generate a minimum of $1500/month in revenue or profit to sell. Also, you should have a minimum of 12 months of verifiable revenue & traffic, and the business content you post must be strictly in English.
Commission fees – It works on a tier system based on the final sale price of your business. The commission starts at 4% for businesses above $10M sale price, 5% for businesses ranging between $5M to $10M, 6% for $500k to $5M, and 7% for businesses under $500k sale price.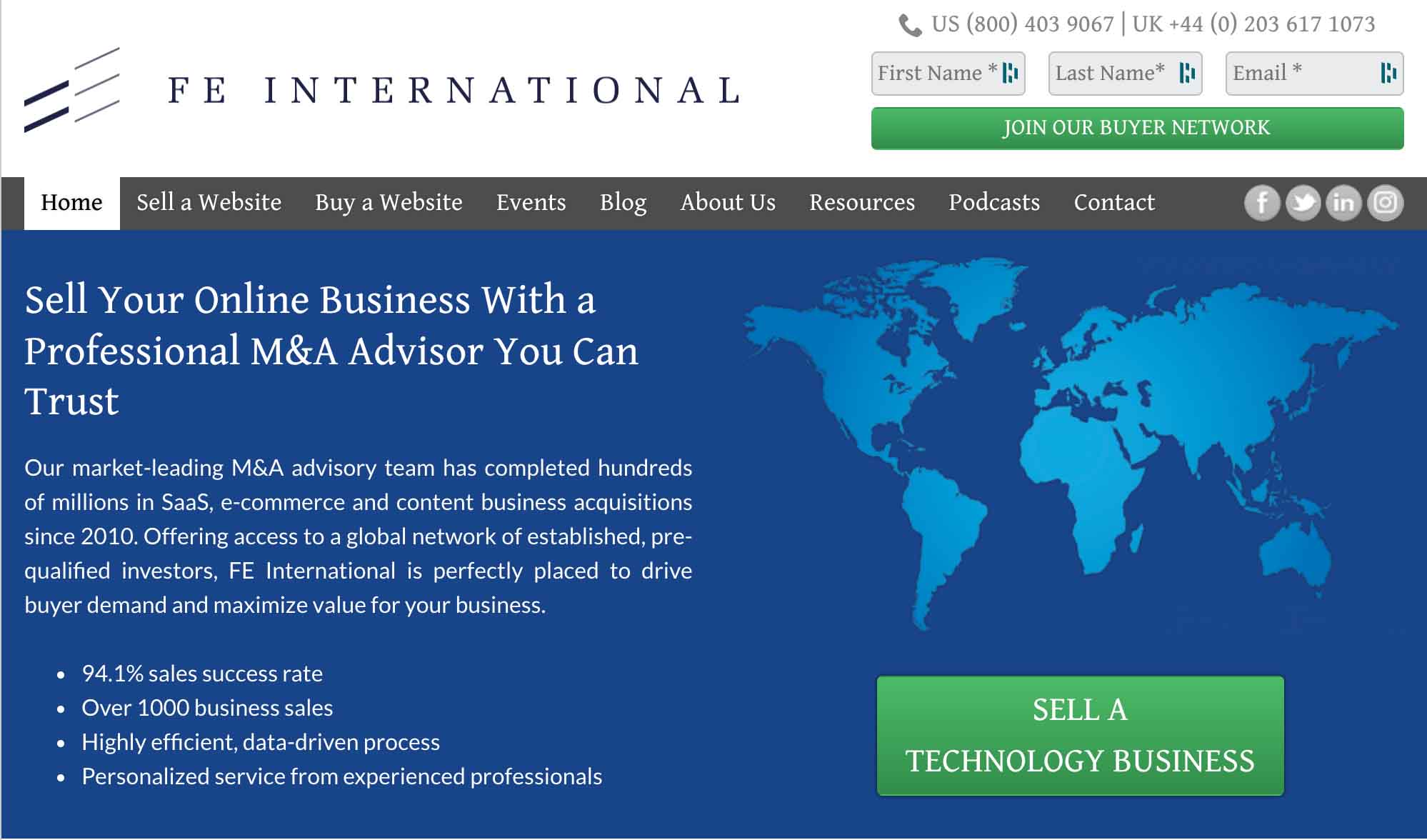 FE International is a global merger-and-acquisition advisor of SaaS, eCommerce, and content businesses. It has a massive network of 80,000+ pre-qualified tech investors and takes care of all processes, from acquisition accounting to post-sale considerations.
To begin with, you can choose from a list of high-quality business listings to match your acquisition needs. You can view available listings by sorting via price and the latest deals. You'll be presented with vital information like yearly revenue, net profit, asking price, benefits, and description.
For sellers, it provides free website valuation, requiring you to input your email address and URL, and for listing, you will have to contact the FE International team to get started.
Commission fees – It doesn't charge listing fees, and the commission fees range between 10 -15%depending on the size of the deal – the larger the deal value lower the commission rate.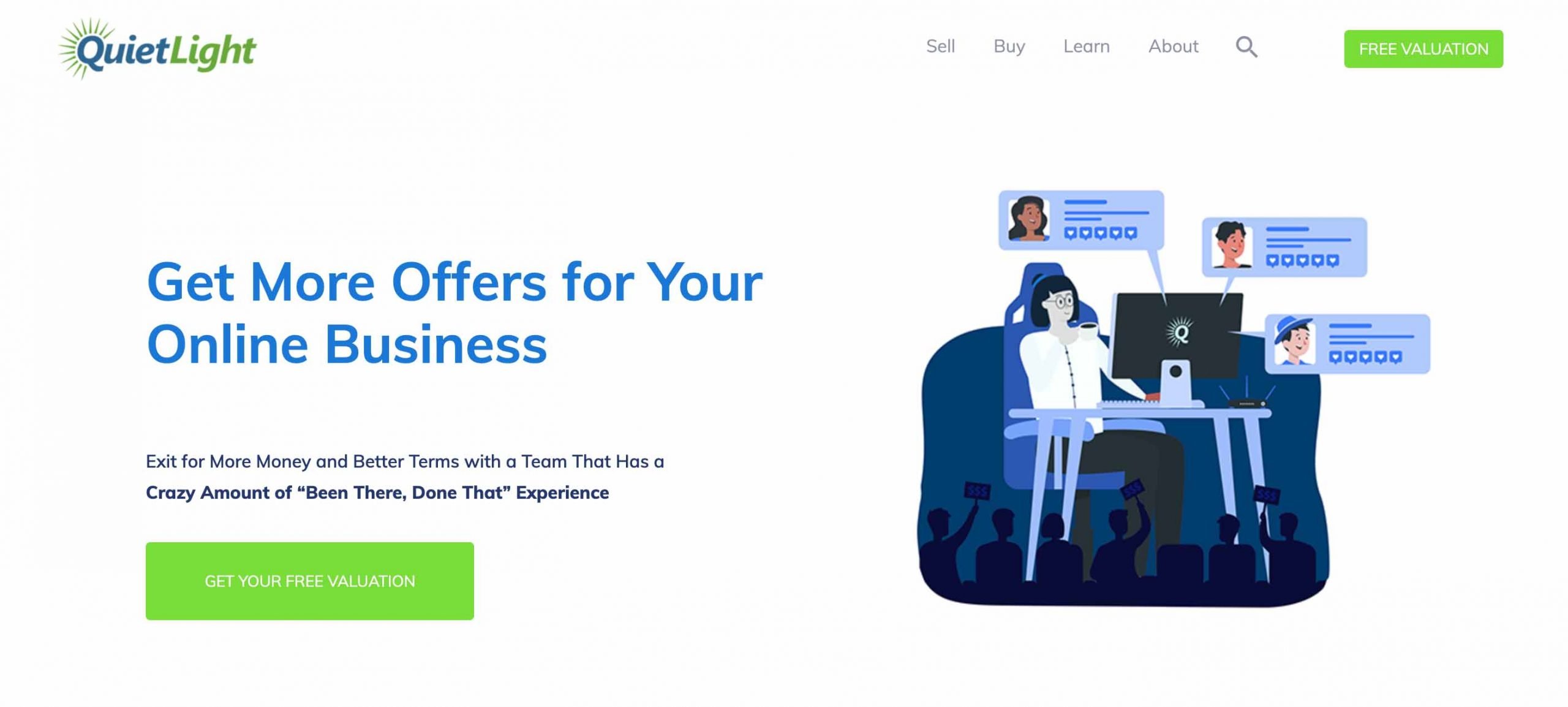 QuietLight Brokerage is another popular brokerage platform for buying and selling eCommerce websites. It follows a mantra of the "Been There, Done That" experience.
This means every Quietlight advisor has bought, sold, and started their own business, which gives you the pride of receiving tips for improvement from a group of versatile experts.
It enables you to acquire businesses in different areas like SaaS, eCommerce, Amazon FBA, and content sites. You can apply filtering options like available, under offer, and recently sold and contact the seller to access the summary, P&L statements, and other vital details.
With its free valuation tool, you can determine what your online store is worth and make a profitable deal out of it. In addition, you can get strategic advice by speaking with expert advisors on whether you want to sell it now or later in the future.
Commission fees – You need to contact the Quietlight team for details related to pricing.

SideProjectors is a user-friendly marketplace to sell, buy and show off their side projects. If you wish to sell a side project that you're not interested in working on or want to buy a new one, SideProjectors shall be your best destination.
It offers project types based on areas like SaaS, eCommerce, dropshipping, mobile/desktop apps, browser extensions, domain names, web applications, etc. It provides a wide range of filtering options like project type, price, target market, tools, etc., to land on the desired project.
The process is straightforward; you just have to visit the website and start buying or selling. You can also display your work to get feedback or find collaborators too. However, it is one of those fewest platforms that incurs zero listing and commission fees.
Pricing: SideProjectors doesn't charge any commission fees or listing charges. It only has a sponsorship plan of 10/day for premium listing and promotion of your website.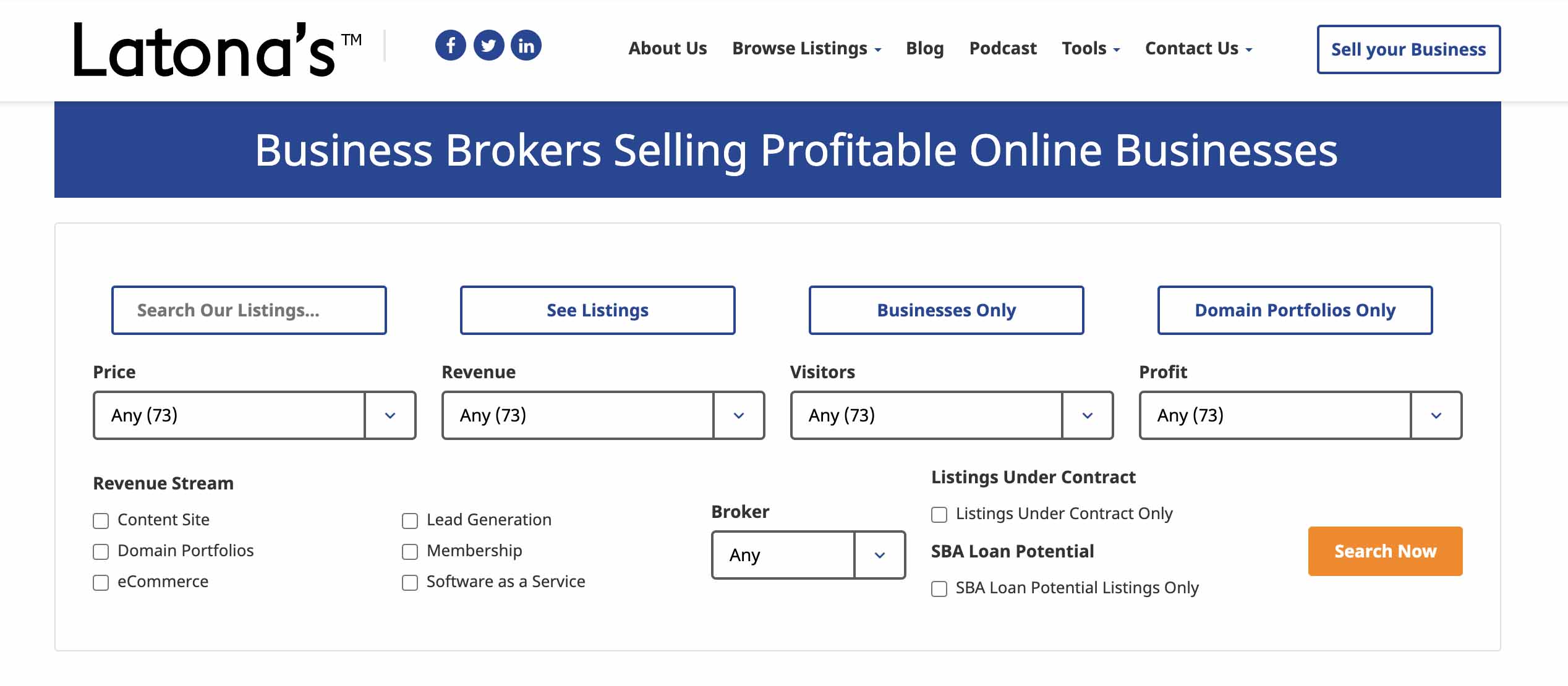 Latona's is a boutique merger & acquisition broker specializing in cash-flow positive digital assets. It includes websites, eCommerce (Amazon FBA/Shopify), membership, lead generation, SaaS, content sites, and domain portfolios.
Latona's adopts three core components to connect you with the ideal buyer: an extensive free valuation process, instant access to a comprehensive buyer & seller network, and enabling fully guided transactions by providing in-house expertise.
For websites and enterprises that wish to sell at a higher price, two major requirements must be met: an annual profit of at least $20,000 upto $100,000,000 and should be established for at least a year of positive trading.
By incorporating these procedures, you can unlock high-level pricing for your digital assets. Moreover, it follows a vetted approach to measuring your business which makes you understand the full market potential.
Commission fees – You need to contact the team for pricing.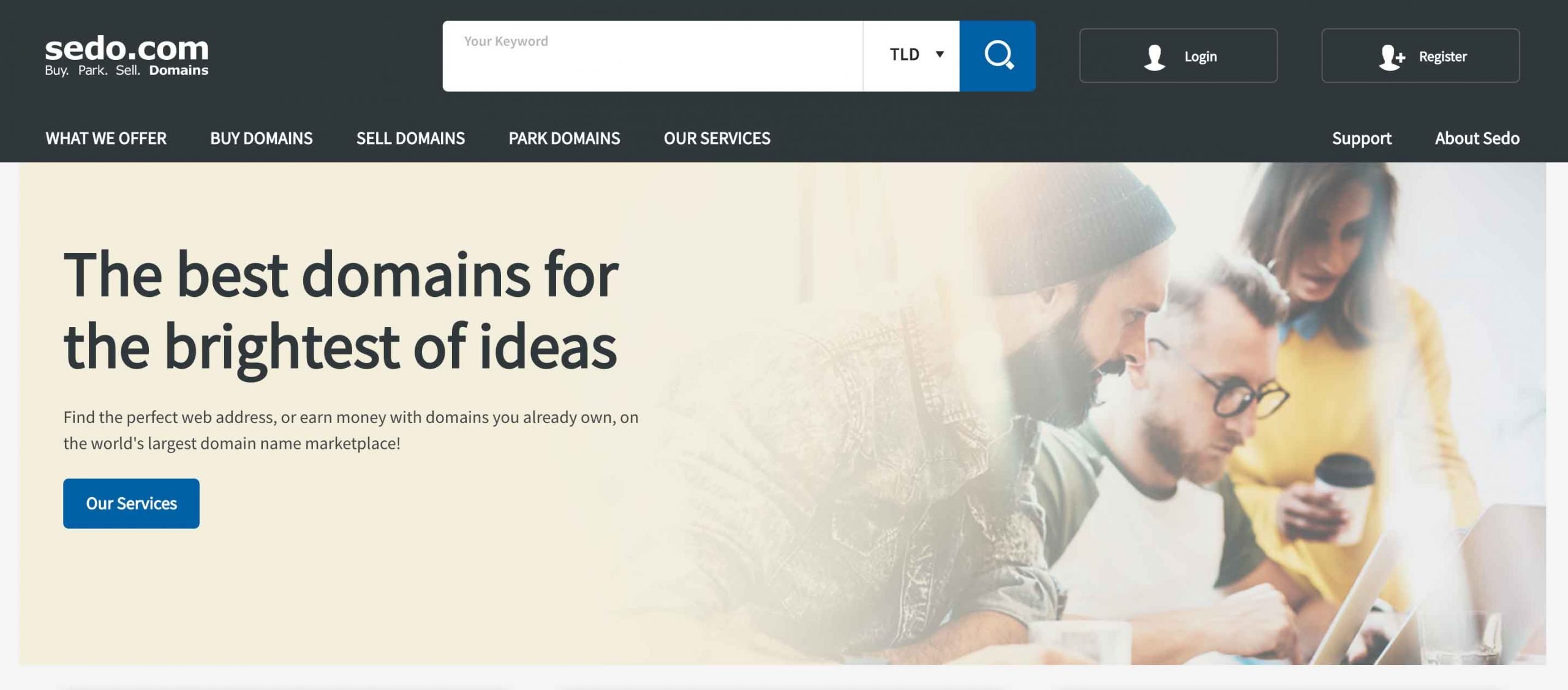 Sedo is an exclusive marketplace for buying and selling domains, and that's why it is termed as a " Search engine for domain offers." It also lets you earn money via parked domains which are purchased domains reserved for future use.
Sedo comes with a 3-step easy approach for buying domains – search for domains, find and compare different domain offers backed with statistical data, and close the deal using its free domain transfer service.
Sedo offers numerous selling options for domain sellers like Buy Now, Make Offer, Direct Auction, Broker Service, Marketplace Auction, and Auction Events. Sellers can also access a wide range of Sedo tools to reap more profits.
Commission fees – Sedo charges a commission based on sale type and TLD. For example, the Buy Now domain incurs a 10% charge to sell a parked domain. Similarly, it charges 15% and 20% commissions for selling a domain on Sedo marketplace, Domain Auction, and Domain Sale via SedoMLS partners. It also charges an express transfer fee of 3%.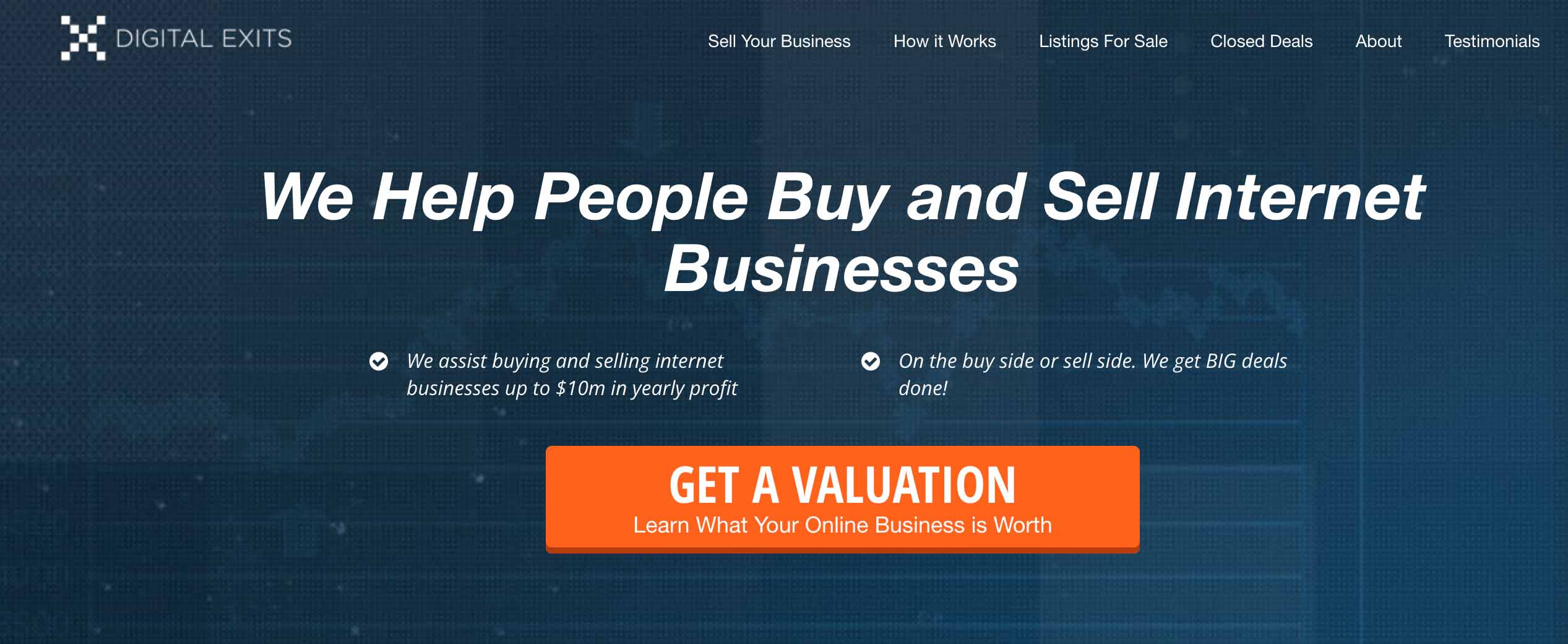 Having sold 100+ businesses with a 94% closing rate, Digital Exits helps skyrocket your business value. It works with a curated list of premium buyers who have the potential to recognize and deliver the maximum value for your online business.
It deals with businesses that generate $250k to $5M in profit annually. The essential factors considered for valuation are net profit, business model, growth trends, age of the business, niche, traffic, and competitors.
Commission fees – You need to contact the team to know the details.
Wrapping Up
You now know some of the best online marketplaces to buy or sell eCommerce websites. Flippa & Empire Flippers are the largest and most trusted platforms, ensuring faster selling or finding the best deal for acquisition.
Alternatively, Exchange Marketplace would be the perfect place to buy or sell Shopify stores. Rest assured, all the above-mentioned platforms offer best-in-class services to help your find the best deal for your eCommerce website.
I hope this article helped you find the best platform to sell or buy eCommerce sites. If so, share this article to help others acquire or sell established online stores.