Do you want to create a membership WordPress site? Or do you want to add membership registration features to your existing WordPress site?
Whatever the reason might be, if you are looking for the best WordPress membership plugins, this article has got you some of the best options to try.
A WordPress membership plugin enables you to manage user registrations and process payments. Here are a few benefits of using a membership plugin –
Easily manage your growing registered users in a unified interface
Lets you collect membership payments in different forms like recurring subscriptions or a one-time fee for lifetime access
Ability to grant access to users based on their membership plans
Automatically send the premium content to registered users via email.
Offer coupons and discounts to attract more users.
Seamless content protection standards to avoid content theft
By selecting a reliable plugin, you can provide a seamless user experience and generate more revenue for your website.
That being said, I have listed top WordPress membership plugins and reviewed theme to help you choose the most suitable one based on your membership website requirements.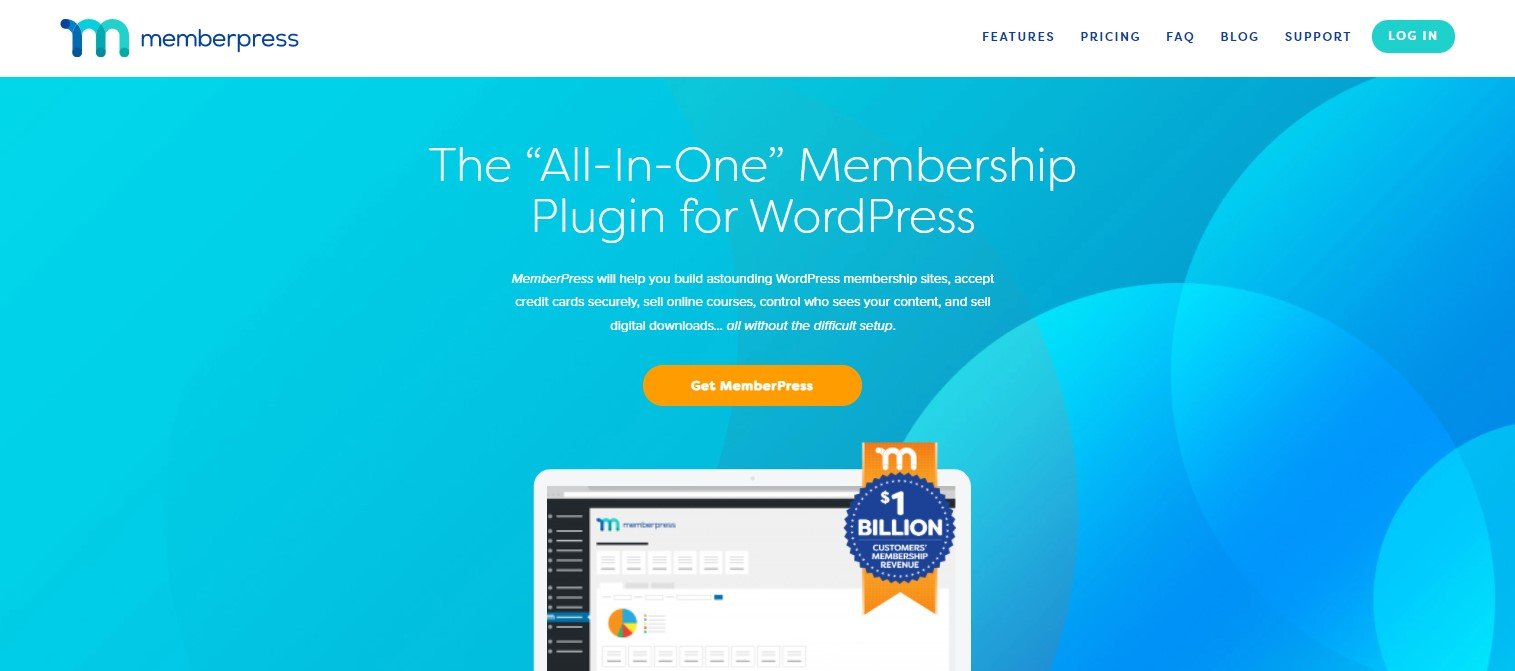 MemberPress is an easy-to-use WordPress membership plugin that lets you create and manage stunning membership sites on the fly. You can just install the plugin within a few clicks, configure the payment gateway and start selling your digital products.
This plugin lets you manage your members by granting and revoking access to your posts, pages, categories, and much more based on the level of membership they belong to.
Memberpress provides seamless integration with major WordPress forum plugins like BBPres, which enables you to build premium community forums for your members.
Feature Highlights-
It enables your members to create, update and cancel their subscriptions directly from your site.
It offers automated billing systems and integrates with PayPal, Stripe, Authorize.net, etc.
It allows you to generate unlimited coupons, and you get complete control starting from customization to setting up its expiry date.
It has a content dripping feature that enables your members to receive content in a restricted amount for a period of time until they get access to your full course library.
Pricing and Plans – The Memberpress plan starts at just $179/year with a 14-day money back guarantee.
Restrict Content Pro is a premium WordPress membership plugin that allows you to build and launch compelling WordPress membership sites. The setup of this plugin is simple, and even there is contextual help inside the WordPress admin that delivers all relevant information at your fingertips.
The membership management is made simple as you can easily view all the active, pending, expired, canceled, and free members. Besides, this plugin lets you create an unlimited number of membership packages with which you can earn unbounded conversions.
It allows you to create an amazing checkout experience as it offers built-in integrations with top payment gateways like Stripe, Braintree, 2Checkout, PayPal Standard, etc., as well as supports other popular merchant processors.
Feature Highlights-
It enables you to send welcome emails to new members, email payment receipts, and remind members about their account expiration automatically.
It offers a user-friendly customer dashboard that allows your members to quickly view and manage their details.
It allows your customers to upgrade or downgrade the membership levels and pay only the exact needed amount.
It empowers your membership site with more add-on features like content dripping, custom redirects, group accounts, hard-set expiration dates, and much more.
Pricing and Plans – Restrict Content Pro has 4 premium plans, starting at just $99/year. All the plans come with a 30 Day Money Back Guarantee.
MemberMouse is an advanced membership plugin for your WordPress site. It allows for hassle-free selling, content protection, easy member management, and access to in-depth analytics to generate more income.
This feature-rich plugin lets you place essential tasks on autopilot. It gives immediate access to new members without letting them wait. With its automated segmentation and smart tags, you can deliver new products based on their previous purchases to boost personalization.
As mentioned earlier, MemberMouse offers impeccable reporting tools to dive into a data-driven approach. Some of its invaluable metrics include churn/retention rate, engagement statistics, LCV, comparing membership levels, quick average report, and much more.
Feature Highlights –
It offers CRM tools to track member information, activity, transaction history, etc.
It improves retention with automated subscription recovery and down-selling.
It has flexible pricing options for your products like free/paid trials, subscriptions, payment plans, and coupon codes.
It lets you reduce support questions via "My Account Self Service." Users shall instantly reset their password, upgrade or cancel subscriptions without your support.
It enables you to create both membership levels and bundles.
It lets you to create a teaser version of your premium content to share on various social platforms.
Pricing and Plans – MemberMouse offers a 14-day free trial with the basic plan starting at just $29/month with all the essential features.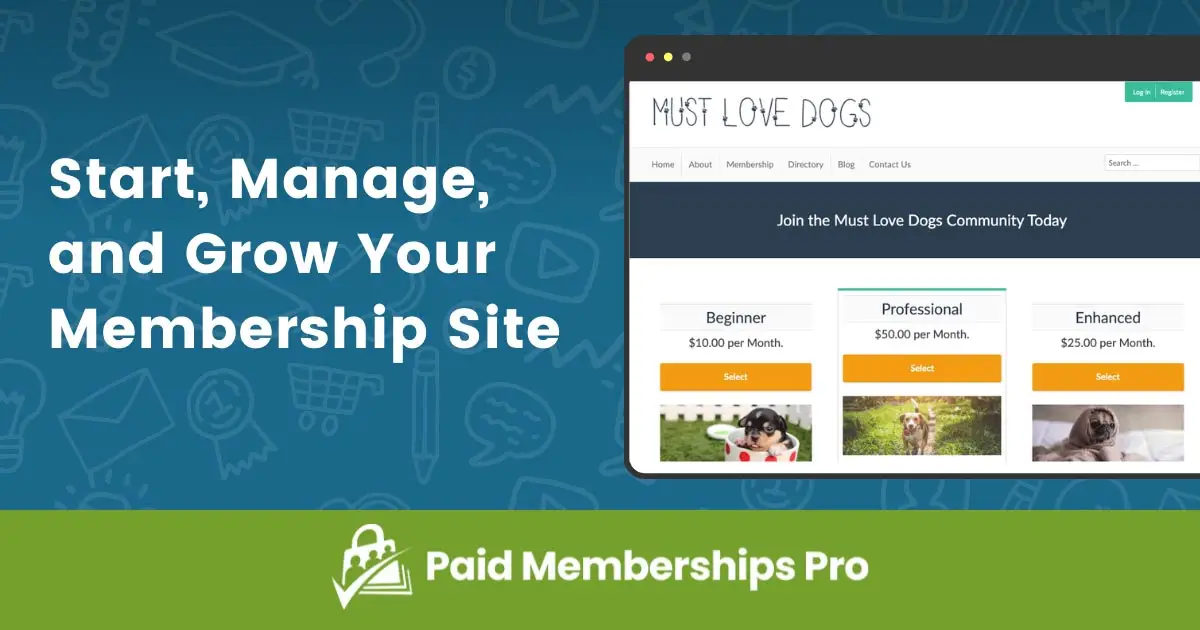 Paid Memberships Pro is an all-in-one WordPress membership plugin that lets you deliver premium content, manage all your members, and accept payments easily on the go.
The best of all is that it offers 60+ premium add-ons that you can use to add more features and functionalities to your site.
Finally, when it comes to payment options, it integrates seamlessly with popular payment gateways like PayPal, Stripe, Cybersource, Braintree, Authorize.net, 2Checkout, and more.
Feature Highlights-
It enables you to design custom member homepages by level and adjust navigation menus to highlight important links for each membership level.
It allows you to create a complete membership offering with special pricing and content access for each level.
It accepts recurring payments, and even if the payment transactions get failed, it will be again tried or canceled according to the settings/membership status.
It allows you to view membership signups, expirations, cancellations by day and compares signups to cancellations or expirations.
Pricing and Plans – Paid Membership Pro has a free plan, which comes with 19 free add-ons and a theme. The paid plan starts at $297/year with advanced add-ons and features.
If you own a WooCommerce store and want to convert it into an exclusive private membership club, this will be the best go-to plugin. It lets you create a membership site that is completely tied with your WooCommerce store's products and contents.
This flexible WooCommerce membership plugin restricts the content to your members and facilitates sending drip content to those who have access. Additionally, you get the freedom to assign more products of any type to a membership plan to support various types of memberships.
Since WooCommerce memberships is a standalone solution, you can integrate this plugin with WooCommerce subscriptions, giving you flexibility in accepting payments and billing methodologies.
Feature Highlights-
It enables you to grant access to a membership as a part of a product purchase or assign memberships manually by invite-only members area.
It allows you to offer free shipping directly to your members and assign specific criteria for non-members to avail free shipping costs.
It allows you to provide member discounts to all products, some products, or certain product categories.
It has a "membership notes" section in which you can track information about memberships about a customer, add your reference, and communicate with a particular member by sharing notes via email.
Pricing and Plans – WooCommerce Memberships plugin comes with a single plan which costs $199/year.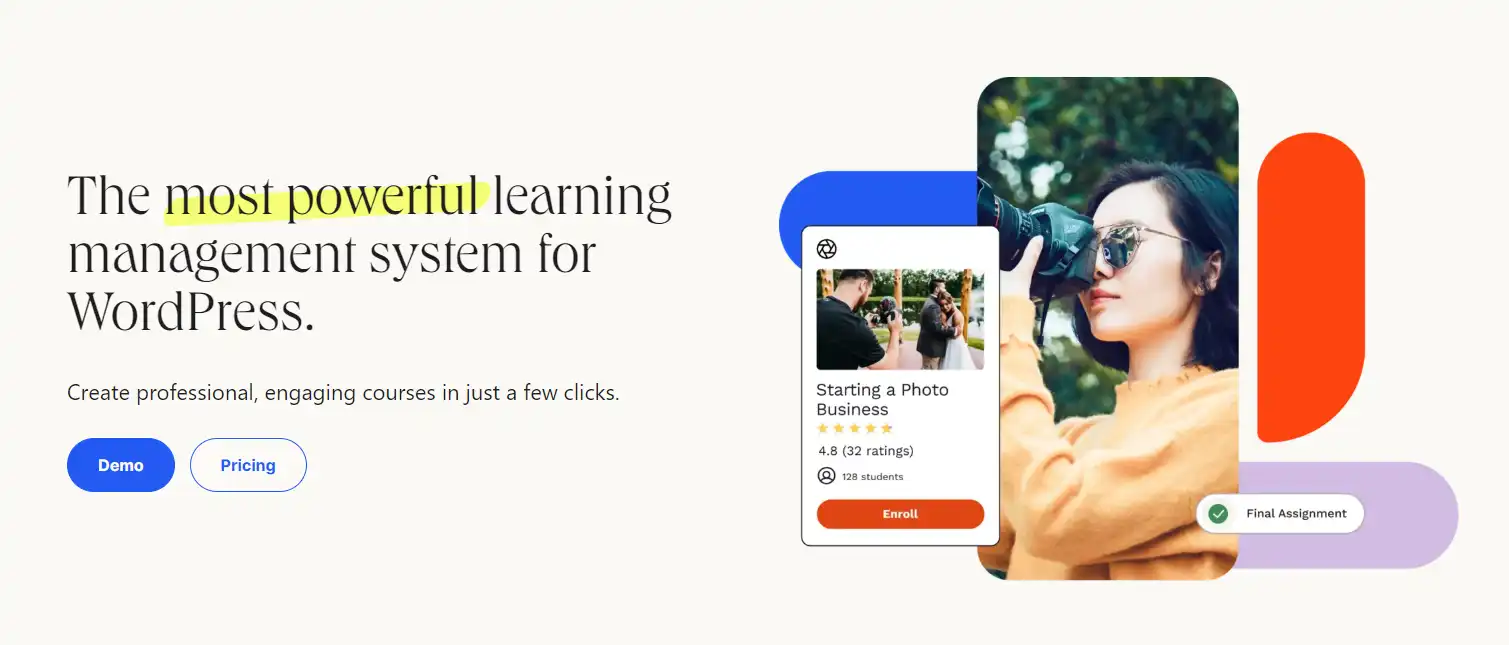 LearnDash is one of the best WordPress LMS plugins, with an excellent membership feature that lets you create membership plans and build a paid community. With its feature called 'focus mode,' you can build an impressive branding portal that enables you to implement a distraction-free environment for your users.
You can also sell online courses with this membership plugin. You can charge one-time purchases, subscriptions, offer course bundles, integrate a shopping cart, and enable bulk access to study materials.
LearnDash allows you to set access to courses, lessons, and quizzes based on any prerequisites. It sends automated notifications to keep learners updated and offers rewards with badges & certificates for completing a course.
Feature Highlights –
It integrates with popular platforms like PayPal, Stripe, 2checkout, EDD, WooCommerce, bbPress, Zapier, etc.
It lets you create advanced quizzing by creating eight question types, custom messages, question banks, etc.
It provides a group management function that lets you place users into online groups and manage them effectively.
It gives you access to deliver drip-feed lessons, flexible video options, linear and open progression activities.
Pricing and Plans – LearnDash has 3 paid plans based on the number of sites. The basic plan starts at just $159/month/year with 1 site license.
WP-Members is a free WordPress membership plugin that has created and empowered over 80,000 membership sites. It is effortless to install, configure and can be readily customized such that your membership site can be perfectly scalable.
This lightweight membership plugin includes 120+ action and filter hooks that broadly extend your membership site's functionality. It also offers various paid and free extensions to add more functionalities to your membership site.
Feature Highlights-
It enables you to restrict all or some of your content to your registered members.
It allows you to set up invitation codes to restrict registration to only those with a valid invite code.
It enables you to accept payments from your members via PayPal.
It offers integrations with popular plugins like BuddyPress, BBPress, Easy Digital Downloads, etc.
It enables you to add in-line registration forms with more fields.
Pricing and Plans – It is completely free.
s2Member is a freemium WordPress membership plugin that has over 1.4M+ downloads. Its free version is quite limited, but it's a good option for beginners to get started. The pro version is packed with comprehensive features that enable the building and selling of courses at ease.
With its free version, you can create a custom login welcome page, membership options page, registration profiles, etc., without hassle. You can accept recurring payments only via PayPal or through "Buy Buttons." Registered users shall access Payal.com using any major credit cards.
The pro version offers abundant features for single and unlimited sites. You'll get access to the advanced framework and exclusive pro features. Some include one-step registration, creating unlimited membership levels, coupon codes, gift/redemption codes, etc.
Feature Highlights –
It provides a plethora of content restrictions by protecting WordPress pages, posts, a specific post type, tags, categories, URIs, etc.
It enables users to modify their membership profiles easily, and even admins can update the profiles too.
It lets you build custom email messages and modify different types of emails like sign-up, post/page confirmation, capability confirmation emails, etc.
Its pro plan allows integration with payment gateway providers such as Stripe, PayPal Pro, Authorize.net, Clickbank button, etc.
It facilitates accepting offline payments and virtual terminal transactions in which you can process credit cards manually by logging into your merchant account.
Pricing and Plans
Framework – Free plan with 20+ features
Pro Version (Single site) – $89
Pro Version (unlimited sites) – $189
Which is the Best WordPress Membership Plugin?
Choosing the right membership plugin entirely depends on the features that you want to offer on your site and the budget. However, to help you decide, here are a few of my recommendations –
If you want to build a robust membership site with advanced features, Memberpress and Paid Membership Pro would be the best pick. It is easy to use and compatible with almost all the popular WordPress membership themes.
Restrict Content Pro is another great alternative that offers advanced features and payment solutions. And, if you are looking for the cheapest and best alternative of both, MemberMouse would be the right pick.
Rest assured, all the above-listed plugins are the best ones and should fulfill your basic requirements.
I hope this article helped you pick the right membership plugin for your WordPress site. Once you have built your membership website, you may need more plugins to grow your website and get more registrations. So, here are a few hand-picked articles that you should read next –