Are you in search of the best accounting app for your Shopify store? If yes, your search is closer to an end.
Accounting software is crucial for eCommerce businesses to automate the billing process, track expenses, calculate taxes and generate invoices for customers. This can't be done manually!
Shopify accounting apps reduce your manual workload by letting you get rid of lengthy balance sheets and complex calculations. It takes care of financial operations like cash flow visibility, managing inventory, sales tax compliance, etc., so you can concentrate on other aspects to improve your business.
In this article, I'll show you some of the best Shopify accounting apps that can help you automate your accounting process and focus on other aspects of your business.
Ready to dive in? Let's get started.
1. Quickbooks – Best Accounting App for Shopify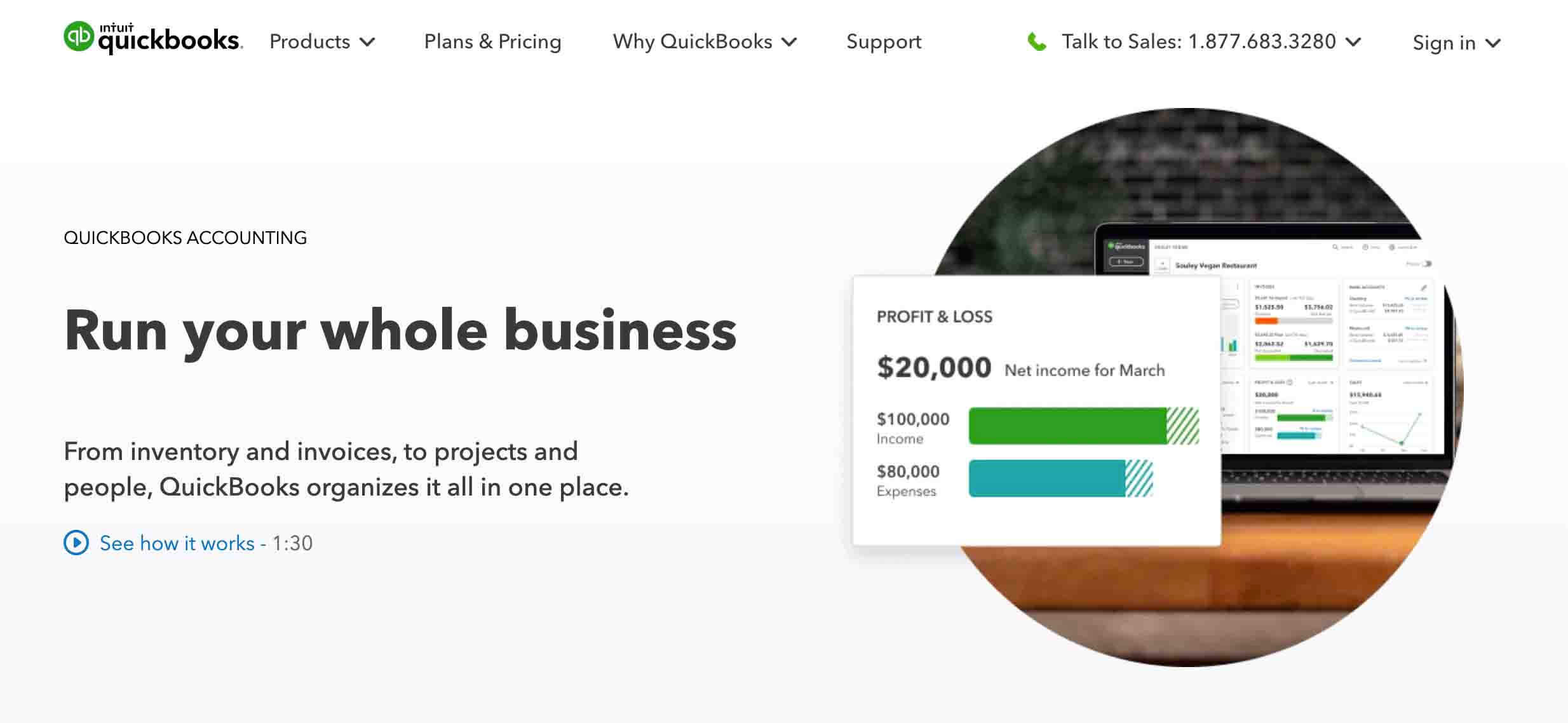 Quickbooks is the most popular eCommerce accounting software that computes and tracks your finances 24×7. It lets you create & send invoices, provides a real-time view of your cash flow, and comes with dozens of financial reports to improve your overall business strategy.
It makes it easy to handle your inventory by automatically calculating the cost of each product sold using FIFO. Besides, you can easily create, send and track GST compliant invoices from desktop or mobile to boost efficiency.
Feature Highlights –
It enables your store's accountant, bookkeeper, or colleagues to log in simultaneously and work with your data.
It allows you to create custom, professional invoices, sales receipts, and estimates in minutes.
It automatically matches your transactions to the sales & expenses and lets you add customized rules to split transactions.
It facilitates sending email payment receipts to your customers via Android and iOS to confirm payment.
It enables location tracking to categorize data from different locations, offices, regions, etc., or departments of the same company.
Pricing and Plans – It offers a 30-day free trial, and its basic plan starts at just $12.50/month, which comes with basic billing features.
To get access to advanced and automation features, you'll have to opt for a higher plan which starts at $25.50/month. However, using our Quickbooks coupon, you can claim upto 55% off for the first three months.
2. Zoho Books – Popular Shopify Accounting App
Zoho Books is an end-to-end accounting platform that offers tons of features to optimize your cash flow. You can create GST invoices, know your tax liability and file tax returns directly that helps in the financial growth of your Shopify store.
It allows you to keep track of inventory across all levels and organize it with data like SKU, cost, and stock on hand. Even your vendors can self-manage their transactions with you through the vendor portal, which improves high collaboration.
Feature Highlights –
It enables you to create professional quotes and convert them into invoices within a few clicks.
It allows you to upload your receipts to stay organized and track how your money is being spent.
It facilitates fetching bank transactions, categorization, and reconciliation of your accounts instantly.
It enables you to send sales orders and confirm each sale before shipping them to the customers.
It lets you directly upload your invoices to IRP to maintain law and compliance.
Pricing and Plans – Zoho Books has a free plan that lets you manage 1000 invoices, automated payment reminders, invoice customization, client portal, and the list goes on.
The Standard plan costs only $10/month, allowing to manage upto 5000 invoices and goes upto the Enterprise plan with access to advanced features and functionalities.
3. Freshbooks – Powerful Shopify Accounting Software
Freshbooks is a powerful Shopify accounting app that makes you financially productive and efficient with its robust features. It is easy to use as it enables you to create invoices in seconds and schedule tasks like customer follow-up to save time.
Once you enter your store's expenses on Freshbooks, it will automatically organize the data to track the amount spent. Also, it enables secure online payments by allowing your clients to pay with their credit cards, and the fee structure is also transparent.
Feature Highlights –
It allows you to set up and send automated late payments to clients by quickly customizing the terms and conditions.
It offers a long list of profit & loss reports, Sales Tax summaries, expense reports, invoice details, and account aging to manage overdue amounts.
It will automatically send invoices to recurring profiles each month to collect payments.
It allows you to invite your client, employee, or contractor to share and collaborate with your project.
It provides an accurate time log that shows how much time you have spent on your project.
Pricing and Plans – Freshbooks offers a 30-day free trial and comes with four major pricing plans. The Basic plan starts at $7.50/month, allowing upto five billable clients, and goes upto the Enterprise plan to meet your custom demands.
All plans include sending unlimited invoices, tracking total expenses, getting paid via bank transfers/credit cards, automated recurring invoices, and unlimited estimates.
4. Wave – Free Shopify Accounting Software
Wave is a free Shopify accounting app that helps in streamlining your entire financial operations. With its user-friendly accounting software, you can connect bank accounts, sync your expenses and make your store tax-ready by complying with all rules and regulations.
It comes with customizable invoice software that manages all information and payment processing without hassle. You can get paid within two business days by enabling customers to pay via credit card or secure bank payments, including a 1% transaction fee.
Feature Highlights –
It offers instant updates for your invoicing, payroll, and payments data.
It enables bulk transaction updates for quicker bookkeeping and performs automatic exchange rate calculations.
It facilitates creating personalized invoices by providing a choice of professional templates.
It allows for tracking payments, partial payments, and overdue invoices using the invoicing app.
It lets you set automatic reminders to nudge your customers to pay on time.
Pricing and Plans – Wave is completely free to use.
5. TaxJar – Sales Tax Automation Software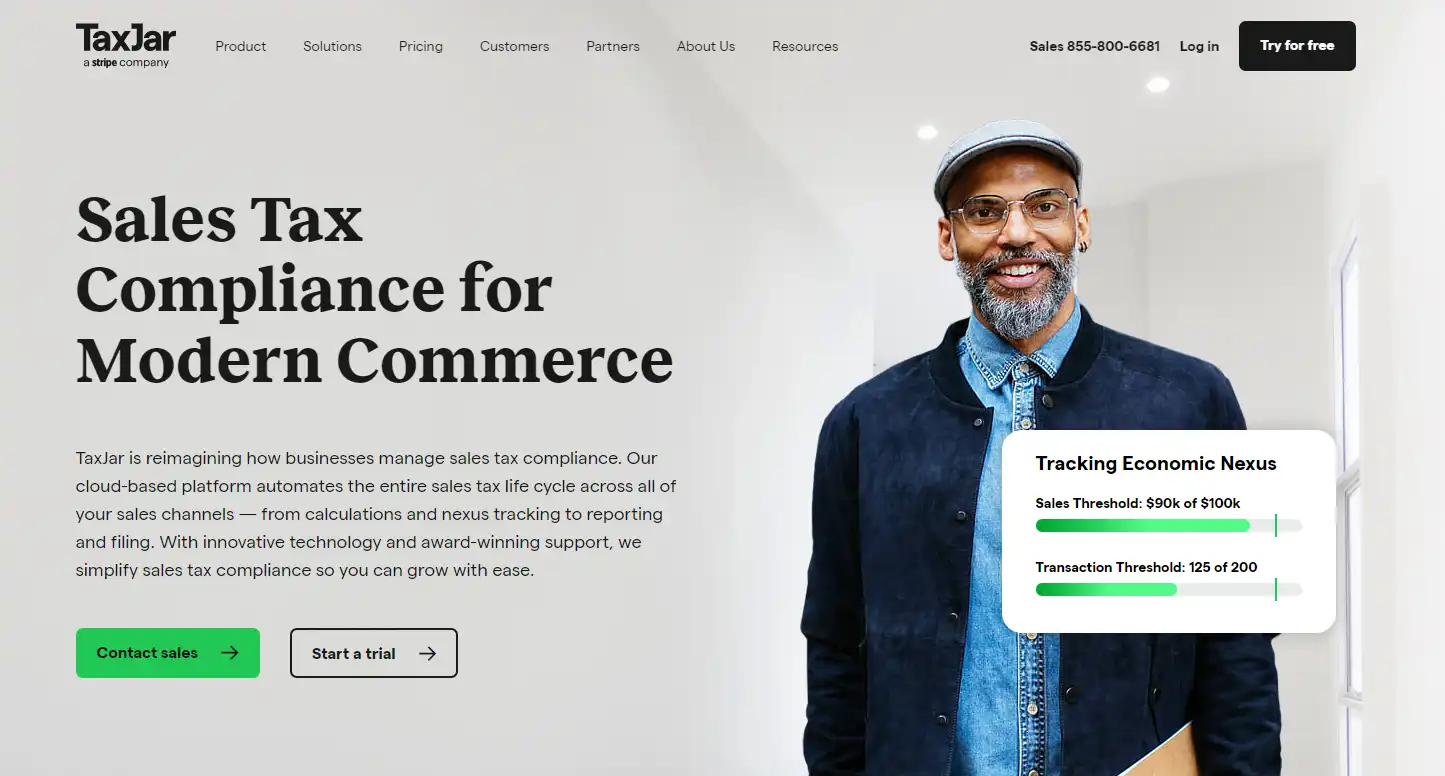 TaxJar is a cloud-based sales tax automation app that reduces the risk of errors and payment deadlines for your Shopify store. It clearly shows where you should be collecting sales tax based on economic nexus law and provides jurisdiction-level accurate reporting.
It helps scale your Shopify store via Ai-driven product categorization, a real-time calculation engine, and aggregated reports. It also automatically submits returns and remittances on your behalf to the states and prepares filings according to each state's requirements.
Feature Highlights –
It offers a reporting dashboard that compiles data from all your channels to present you with the most updated information.
It instantly updates all the tax changes to your customer's check out, no matter how many transactions are being processed.
It allows you to set up notifications to indicate nexus changes when you reach the threshold.
It gives you access to view comprehensive reports like multichannel transactions, state-by-state reports within the city, country, and special district breakdowns.
Pricing and Plans – TaxJar offers a 30-day free trial. The Starter plan starts at $19/month allowing upto 4 free AutoFiles per year. The Professional plan costs $99/month, which provides upto 12 free AutoFiles/year. The Premium plan follows custom pricing and allows for unlimited AutoFiles.
All the plans support product tax code catalog, AI-driven product taxability recommendations, economic nexus checker, and filling frequency notices.
Choose the Best Shopify Accounting App
Now that you've got to know the best Shopify accounting apps, you can choose the ideal one that matches your store's financial requirements. As every app offers a free trial, it becomes much easier to make a wise decision.
In short, if you want value for free, then my pick will be Zoho Books and Wave. Zoho Books offers a free plan with lots of reliable features, and Wave is completely free to use. However, Wave focuses exclusively on accounting and invoicing aspects only.
On the other hand, if you want an affordable accounting app that is also feature-rich, then Freshbooks or QuickBooks would be the right pick.
Last but not least, to crunch sales tax numbers and relax, Taxjar is my #1 recommendation. It takes care of all ins and out of your store's sales tax operations and automates filing, which is pure bliss.
I hope this article helped you pick the best accounting software for your Shopify store. If you are new to Shopify, you may also want to check our list of must-have Shopify apps.