Struggling with keeping track of the profit earned on your Shopify store? Are you looking for the best Shopify profit tracking app to help you with it? If so, this guide is for you.
Well, this is one of the most common challenges eCommerce entrepreneurs face. There are lots of expenses that happen behind every sale, which must be included in the profit calculation.
However, doing this manually can be too complicated and time-consuming. And it doesn't have to be if you use a profit-tracking app for your site.
A good profit tracking apps simplify the process of profit calculation and tracking by taking every small expense into account, thus eliminating complicated spreadsheets and providing the exact profit gained amount.
In this article, I have collated the best Shopify Profit Tracker apps that you can use to track your store profits and optimize your expenses for better results.
Ready to dive in? Let's get started.
1. BeProfit – Best Shopify Profit Tracker App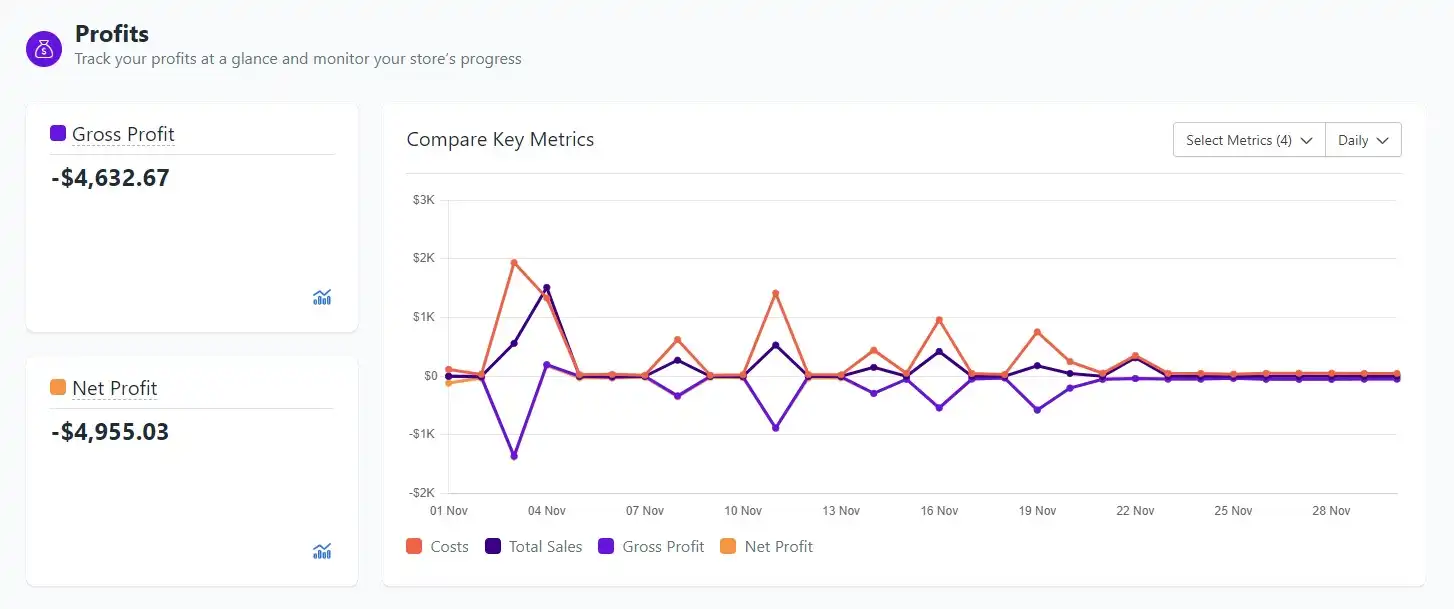 BeProfit is a popular Shopify profit calculation app that offers a powerful data analytics reporting dashboard to track metrics, lifetime value, expenses, etc.
It allows you to see your cost distribution at a glance, with which you can quickly identify the critical spots and optimize the process for more profits. The best part is that you can get dynamic currency conversion based on current exchange rates, eliminating additional financial calculations.
Key Features –
It enables you to identify profitable items by viewing costs and profit per order.
You can automatically sync your shipping profiles to generate precise expense reports.
It automatically updates the dashboard once the accounts are synchronized.
It allows you to track your business metrics with the help of predefined reports and custom reports.
Pricing Plans – It offers a 14-day free trial and a free plan. The Basic plan starts at $25/month, and the Pro plan starts at $50/month, which offers advanced filters and custom dashboards.
2. Triple Whale – Advanced Profit Tracking App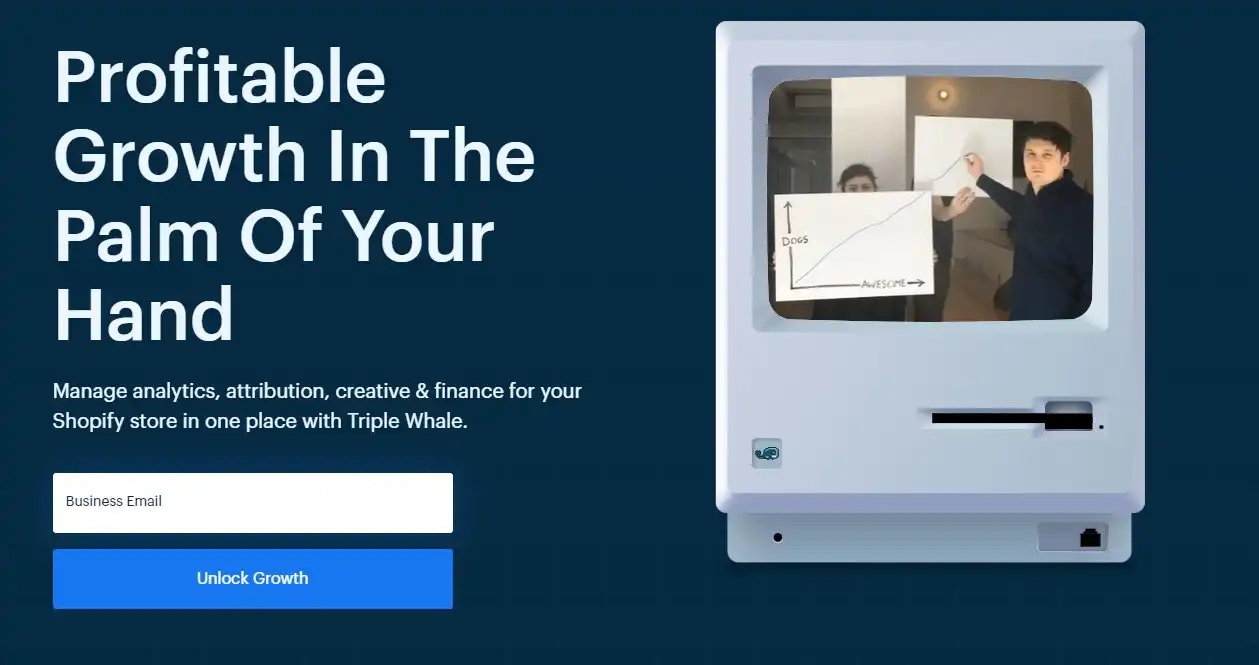 Triple Whale is an advanced analytics app that aims to provide financial reports and ROI insights for Shopify stores. In financial reports, it tracks your expenses across channels and provides a detailed profit report. So, whether you are running ads on Google, Facebook , Instagram, TikTok or other channels, it automatically pulls data and shows how much each channel contributed to your business profits.
Apart from profit tracking, Triple Whale provides real-time insights into your marketing campaigns and helps you identify your top-performing ads. So, if you are looking for an all-in-one analytics app with profit tracking, Triple Whale might be the perfect for you.
Key Features –
It provides customizable dashboard with all the key metrics on one screen
It can automatically pulls data from integrated platforms
It provides real-time data from all the connect platforms
Track multiple stores on the same dashboard
Pricing Plans – Triple Whale has three paid plans, among which the base plan is suitable for profit tracking and expense management. It costs $100/month for stores with revenue of up to $1 Million in the previous 12 months. The price increases with the rise in your annual revenue,
3. TrueProfit – Real-time Profit Tracker App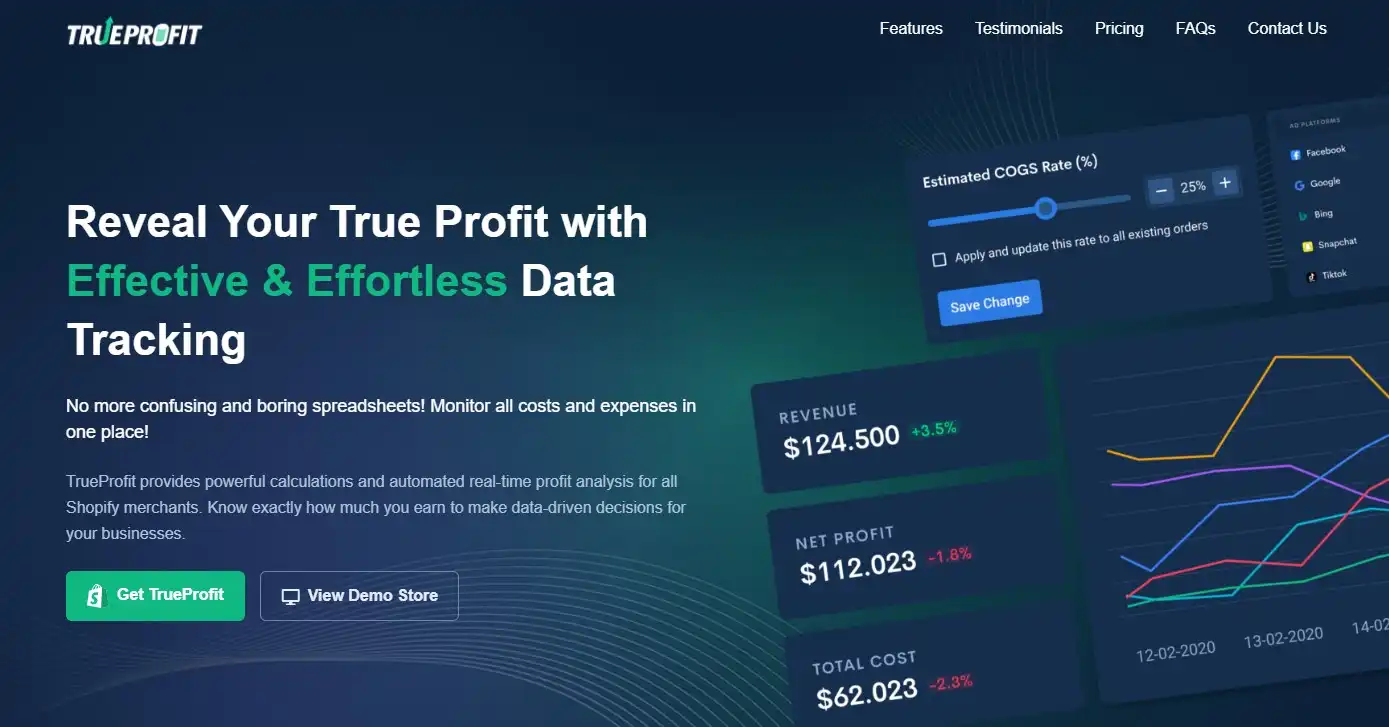 TrueProfit is a robust profit calculation app that enables you to uncover the financial stability level of your Shopify store. It is a financial analytics app that does everything you need and executes tasks in autopilot mode.
As a Shopify store owner, you can analyze which products matter the most by viewing actionable metrics like product views, add-to-cart, purchases, conversion rate, etc. Interestingly, you can offer quantity breaks that allow shipping costs to differ from the second item onwards.
Feature Highlights –
It enables you to track metrics like COGS, ad spent, shipping, transaction fees, etc., and other custom costs.
You can manage single-order metrics and adjust orders' COGS/shipping costs when necessary.
It sends profit reports daily, weekly, or monthly to not need to log in daily.
It calculates customer lifetime value which unboxes the most profitable and valuable customers for your business.
Pricing Plans – It offers a 14-day free trial, and the premium plan starts at $19.95/month.
4. Lifetimely – Profit & Customer LTV Tracker App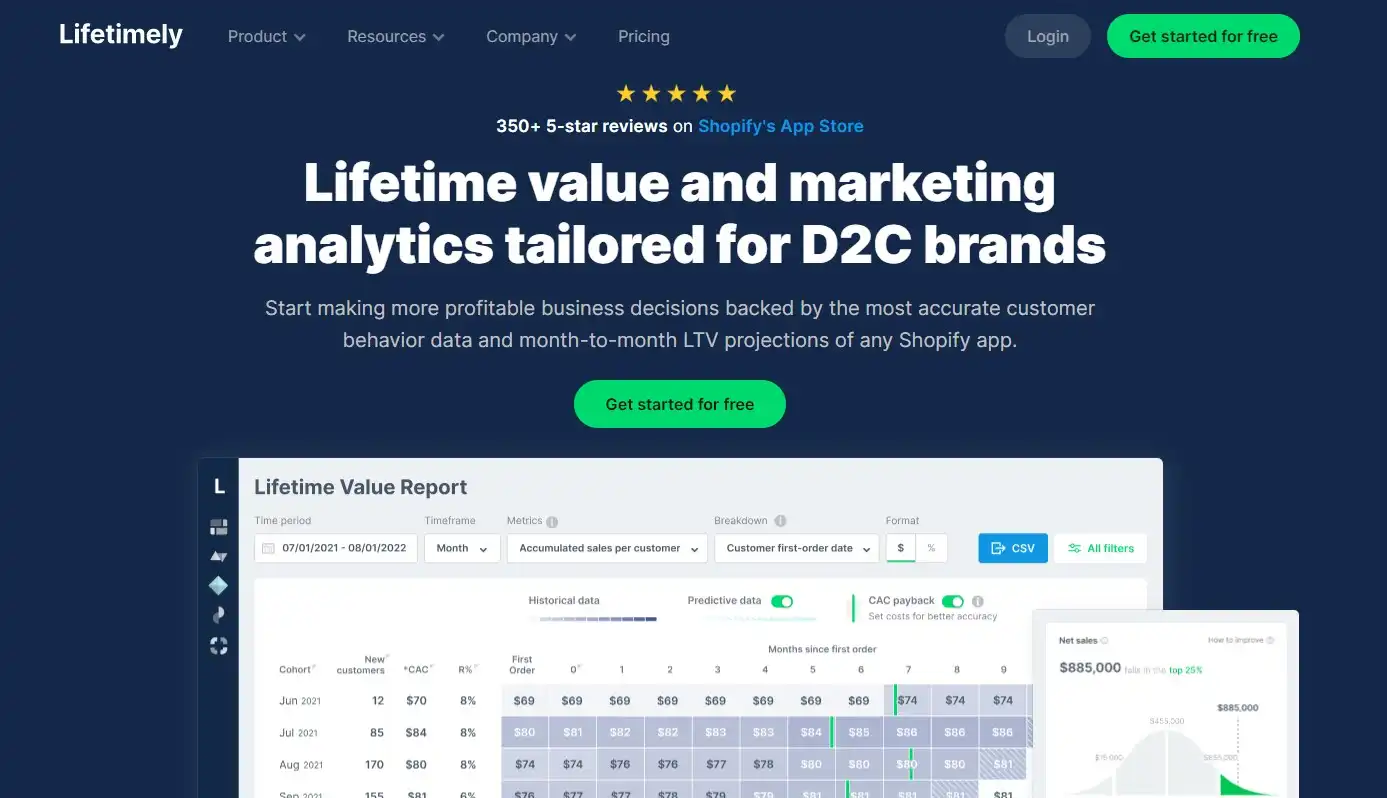 Lifetimely is another popular Shopify profit-tracking app that racks and measures profit in real-time and offers in-depth financial analytics for D2C brands. The best part is that it provides AI-based LTV projections that can predict the spending capability of your customers every month.
The orders and the product cost data will be automatically pulled by this profit tracking from Shopify. It lets you perform the desired financial operations, and you finally get an automated P&L report containing the necessary figures you want to know.
Key Features –
It offers powerful filters like a marketing channel, first-order product, subscription status, etc., to know what's driving your customers.
It offers a CAC payback tool to calculate ad spend break-even points.
It offers detailed customer behavior reports that display the critical buying patterns of your customers.
It provides 8+ LTV metrics to measure your customer value.
Pricing Plans – It offers a 14-day free trial. The Basic plan starts at $19/month and goes up to the Plus plan, which starts at $99/month.
5. Profit Calc – Profit Calculator & Auto Syncing
Profit Calc is another reliable Shopify profit tracking app that accurately performs all the profit calculations in just a few clicks. It offers an easy-to-use dashboard with all the insights available right at your fingertips.
This Shopify profit calculator app can automatically sync with your Google, Facebook, Bing Ads and other advertising channels to include all your ad expenses in profit calculations.
Key Features –
It enables you to calculate the shipping expenses for each country.
It offers a chrome extension with which you can easily sync the entire AliExpress information.
It facilitates calculating your credit card fees and transaction costs automatically.
It provides a monthly expense calculator, and you can analyze the unnecessary added costs and cut them to improve the cash flow.
Pricing Plans – It offers a 15-day free trial, and the paid plan starts at $29.95/month.
6. SimplyCost – Simple Profit Tracker App
Being trusted by 2000+ Shopify stores, SimplyCost helps you calculate, track, and analyze profits to make smart business decisions. It calculates profit automatically by including discounts, refunds, shipping, etc. You can also add extra expenses to calculate the profit calculation correctly.
It makes your life much easier by including the gateway processing fees for orders processed via Shopify Payments and Paypal in overall profit calculation. It also offers a long list of valuable reports based on different categories, which you can use to analyze your Shopify store's performance.
Key Features –
It automatically performs currency conversions if your Facebook ad currency differs from Shopify currency.
You can update the cost price directly from the Shopify order details page.
It allows you to export your sales order history with the cost price.
You can include one-off and recurring expenses, and it will automatically process them during the profit calculation.
Pricing Plans – It offers a 14-day free trial, and the paid plan starts at $4.99/month.
Which is the best Shopify profit tracker app for you?
Calculating and measuring profits has always been the most tedious task for eCommerce store owners. They will be presented with overwhelming numbers, making it challenging to analyze the gains accurately, impacting their business decisions.
But with the help of these best Shopify profit tracking apps, every minuscule amount of data is valued, and with just a few clicks, the entire profit analysis report will be on your screen. Using this data, you can align your goals and create a solid financial base for your eCommerce business.
Finally, based on my experience, BeProfit is the best app for financial reporting and profit tracking. But if you are looking for detailed financial insights for all your marketing and sales channel, you should consider using Triple Whale.
Are you looking for more useful Shopify apps for your store? Here are a few articles you should read next –