Are you looking for the best SEO plugin to optimize your WooCommerce store to rank higher on search results?
WooCommerce is an SEO-friendly eCommerce plugin for WordPress. However, to enhance its SEO capabilities and optimize your website for search engine ranking, you'll need an SEO plugin.
WooCommerce SEO plugins are in-built with various SEO features such as site audit, keyword optimization, and auto-redirection to help you improve the on-page SEO of pages and blogs.
Ideally, you need SEO plugins for your WooCommerce site to help you with –
Reorganizing your site structure to give better clarity to Google crawler
Identifying and fixing broken links
Getting access to a comprehensive SEO audit or report to improve the decision-making process
Optimizing your site for local SEO
Improving the readability of your site content
Identifying pages and posts with maximum potential to drive traffic
Having said that, let's look into the best WordPress SEO plugins you can use to improve your site's health and drive more organic traffic.
Top WooCommerce SEO Plugins
In this section, you will discover different types of SEO plugins that you will need to automate SEO practices and stay updated on any significant SEO issues.
I recommend sticking to the end to know all the plugins and pick the most suitable ones for your website.
Ready to dive in? Let's get started.
 1. All in one SEO – Best WooCommerce SEO Plugin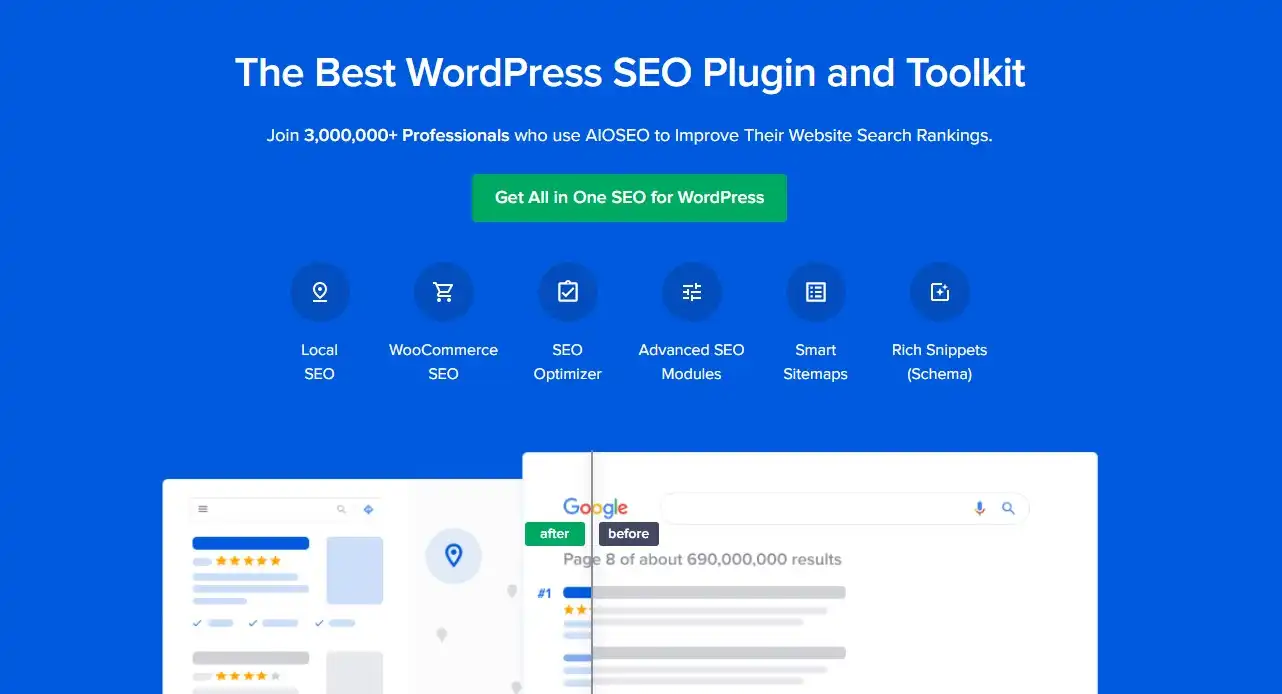 As you can guess from its name, this WordPress SEO plugin is a complete one-stop solution as it offers local SEO, advanced SEO modules, smart sitemaps, rich snippets, etc., that places your site on top of the search results. The specialty is that it offers integration with Google AMP to deliver a rich mobile user experience.
It allows you to connect your WordPress site with different webmaster tools to skyrocket your SEO rankings. It lets you quickly switch from your existing plugin using the powerful settings migrator.
This fantastic SEO plugin makes your site sparkle by providing a complete SEO audit checklist to magnify your rankings. Even you can perform competitor analysis and find potential ways of enriching your site.
Feature Highlights-
It automatically generates a WordPress XML sitemap and regularly notifies the search engines if there is any update.
It performs an in-depth content and readability analysis needed for complete optimization.
It helps in optimizing your pages for unlimited SEO keywords.
It has an SEO markup that helps in getting sitelinks for your brand.
It includes a video sitemap generator that helps your site to rank on Google's video carousel widget.
It enables you to complete the instructions provided to the web crawlers on your WordPress site.
2. Rank Math – Easy to use Free WooCommerce SEO Plugin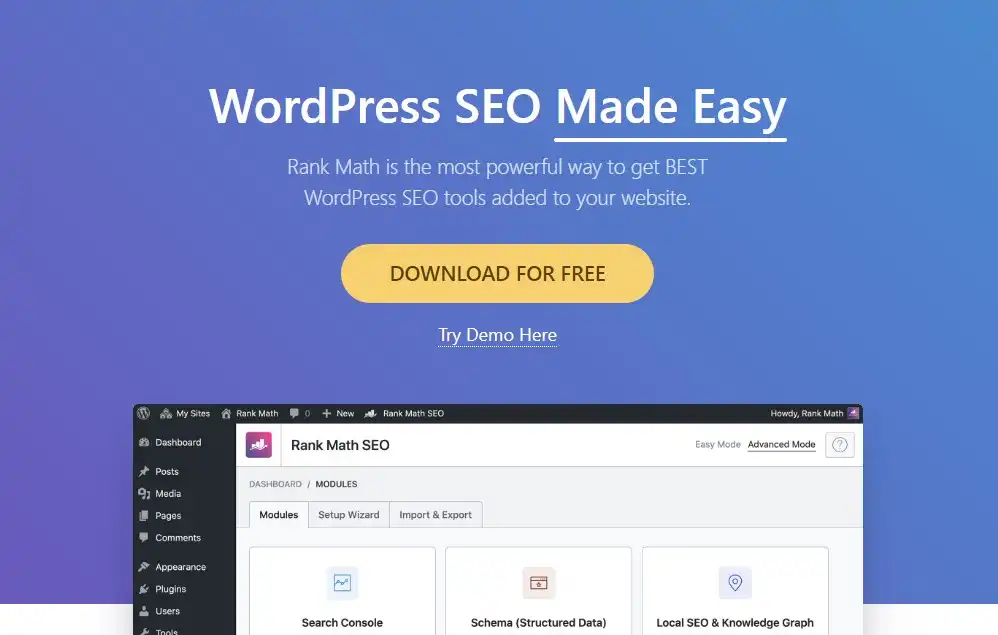 Rank Math is the latest SEO plugin in the market, and it is already attracting users by offering many advanced SEO features for free. Once you install the plugins, it provides a user-friendly setup wizard configuring your website for search engine ranking with just a few clicks.
This SEO plugin is designed to support both global and local business websites. So, even if you run a local site, you can use its local SEO features to optimize your site for local search engine ranking.
It also gives you complete control as you can enable/disable modules per your SEO needs. Besides, it can suggest other posts from your site for internal linking, which is crucial for on-page SEO.
Feature Highlights-
It integrates with Google Search Console, which displays crucial information about your WordPress site.
It provides multiple keyword variations of your focus keyword, which uncovers more chances of getting indexed on the web.
It has a built-in smart redirection manager that enables you to create, manage or disable redirects in your site.
It has the power to display SEO-optimized breadcrumbs even if your theme doesn't support schema.org
It maintains your site's speed as it is powered by a smooth, light-weighted code.
It has a super-fast loading sitemap feature that can work with different post types.
3. Yoast SEO – Most Popular WooCommerce SEO Plugin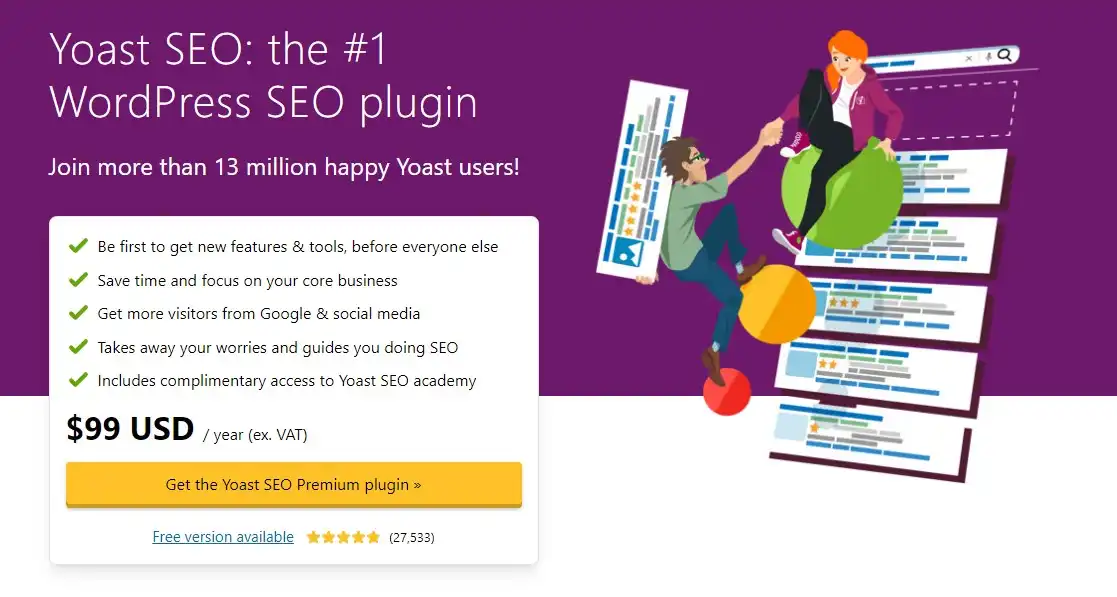 With over 5 million active installations, Yoast SEO is probably the most popular WordPress SEO plugin that empowers your site to meet all the SEO demands. It has both free and pro versions, but when compared, the premium version provides tons of extended functionalities that boost optimization.
It helps optimize your site's URL, meta description, focus keyphrases, etc., and gives a preview of how your listings will look even on mobile devices. Also, you can prevent the risk of content duplication by setting up canonical URLs for your web page.
Yoast SEO supports classic and block editors, making editing/publishing the posts on WordPress a cakewalk. The best part is connecting this plugin with Zapier and instantly sharing all published posts to your favorite spots.
Feature Highlights-
It helps improve your content's readability by denoting whether it's good or needs improvement.
It offers internal linking blocks that help in structuring your site easily.
It previews how your content will be displayed on Google search results. Facebook feed and Twitter.
It helps in boosting your content for synonyms and related keyphrases.
It will send you key updates on updating your critical site pages so that you can stay updated on search results.
It enables you to mark your links as no-follow or sponsored while writing.
4. WP Rocket – Caching Plugin for WooCommerce SEO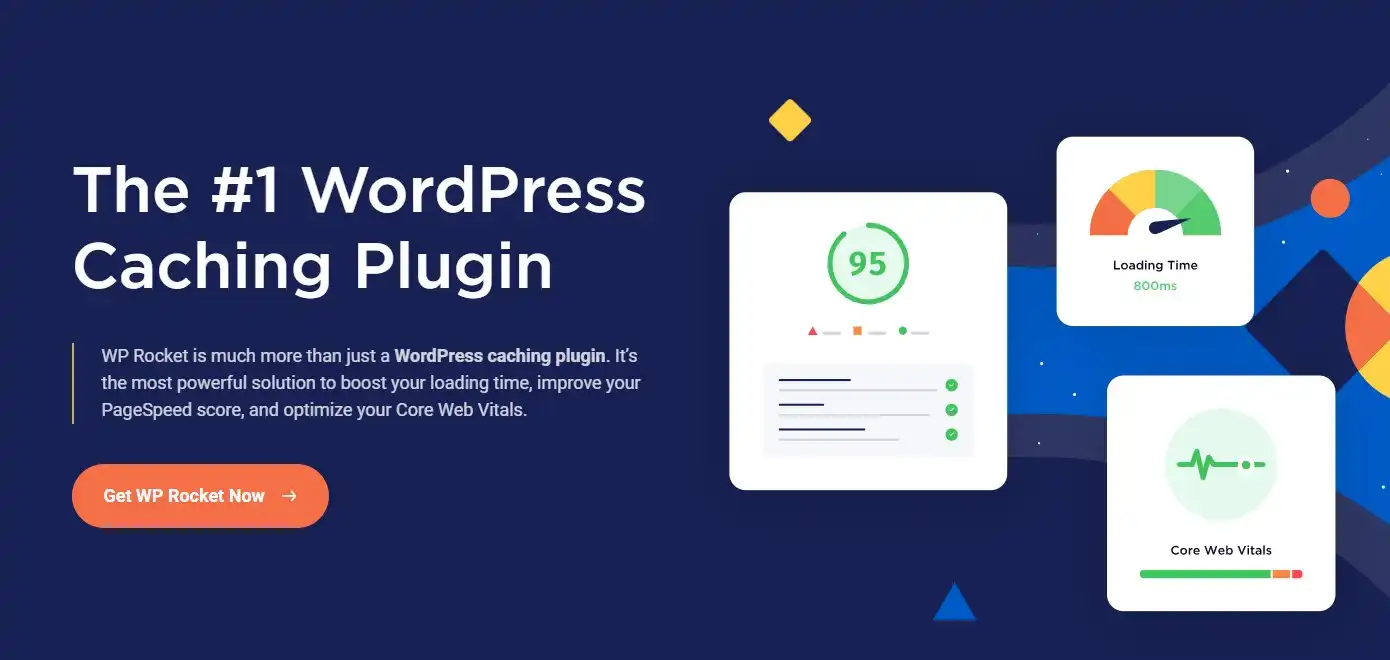 Site speed is one of the critical factors for search engine ranking; if your site takes more than 5 seconds to load, you are losing a lot of potential traffic. That's where you need the WP Rocket plugin for your WordPress site.
With over 1,957,000+ users, WP Rocket is the best caching plugin for WordPress. It improves your site performance and Core web vital's scores. It preloads the cache whenever changes are made and excludes sensitive pages to load blazingly.
WP Rocket caches your pages by creating static HTML files and making them accessible for future visitors. Besides, it can automatically detect and preload the sitemaps generated by popular WordPress SEO plugins.
Feature Highlights –
It applies browser caching to store the commonly used but rarely updated files in its local cache memory.
It enables you to delay the execution of Javascript files until user interaction to reduce initial load time.
It has a lazy loading capability that defers the loading time of images and iframes until users need them.
It helps reduce latency via its RocketCDN that delivers the best speed and server access to visitors at far distances. 
5. Schema Pro – Add Rich Snippet to WooCommerce Site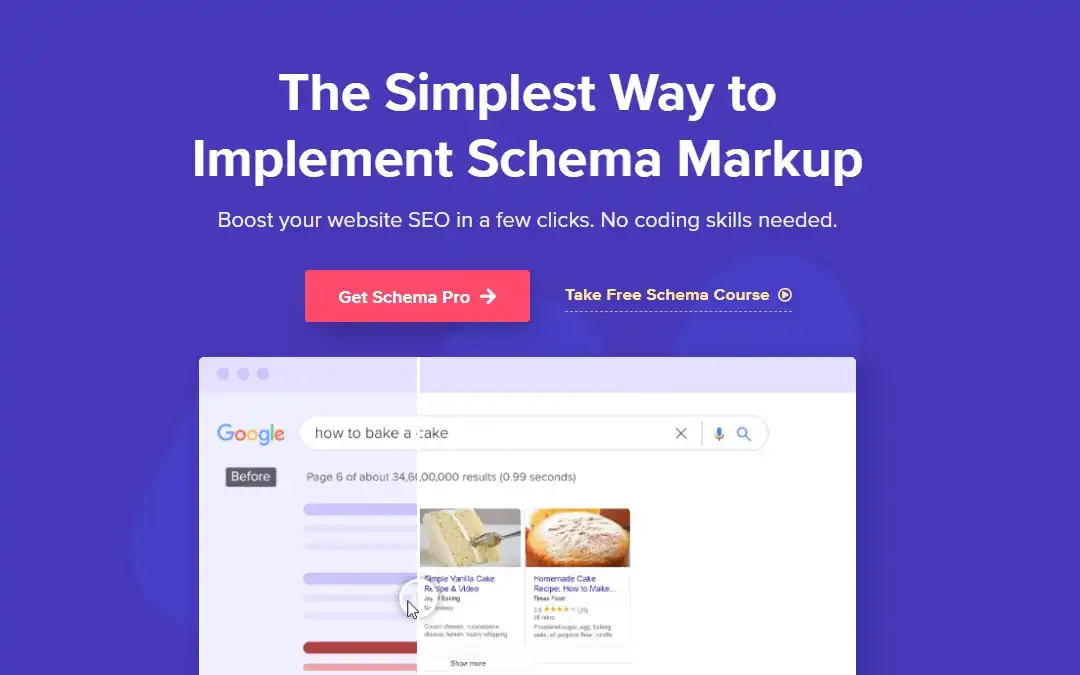 Schema Pro enriches your WordPress site by adding rich snippets that bring authenticity and high search ranking on Google. It offers a wide range of schema types to add to your website to outperform competitors.
It offers a clear, minimalistic code that strictly follows Google guidelines. You can add extra fields and extend the markup with details to get better visibility.
Feature Highlights-
It lets you display reviews, and ratings that help in boosting your click-through rates.
It automatically applies all the markup configurations to the desired pages or posts.
It is powered with JSON-LD, which facilitates incredible search visibility.
It enables you to map the required fields with existing values or add custom values.
6. SEOPress – Free SEO Plugin for WooCommerce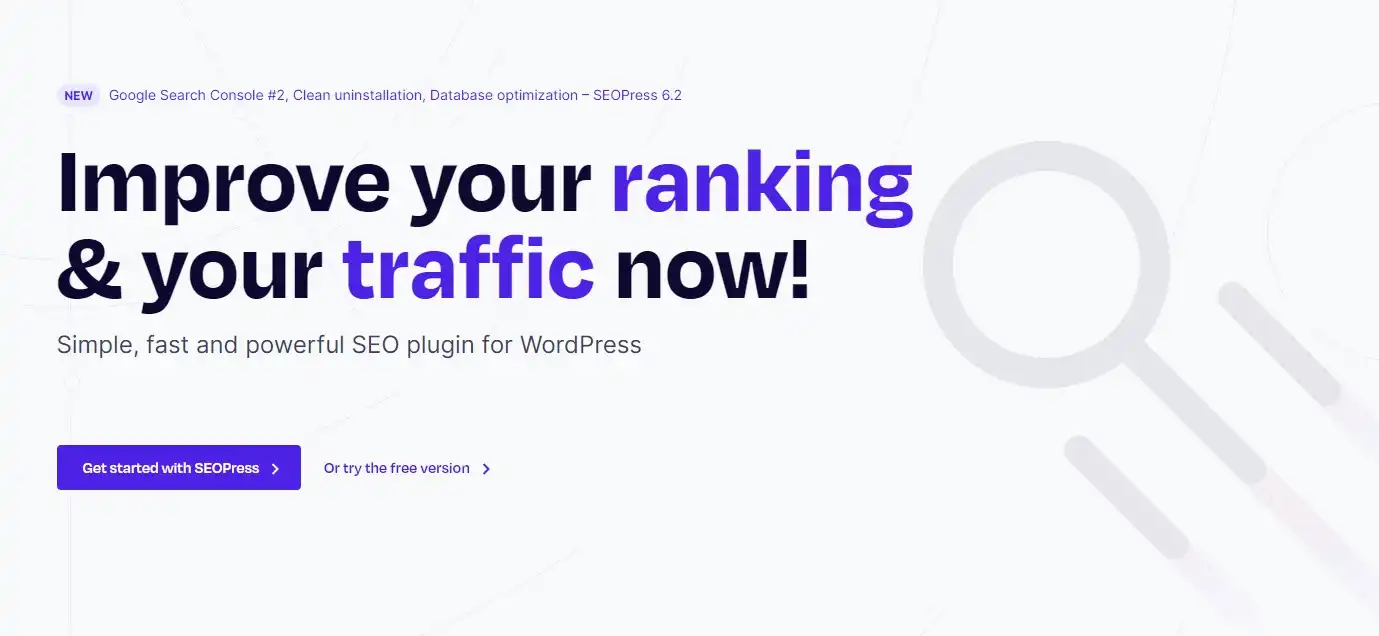 SEOPress is another powerful WordPress SEO plugin that provides unbounded features in making your site search-engine friendly. It offers a simple, easy-to-use wizard for easy installation and lets you quickly modify the title tags and meta description for your posts, pages, etc.
It allows you to edit the canonical URLs on any page, post, or post type. It automatically sets up the title, description, caption, etc., for your images to power up image optimization.
It lets you build custom XML sitemaps for improved rankings, add breadcrumbs for quick navigation, rewrite URLs for optimization, and manage 301 redirects. Whether optimizing your local business listing, article, reviews, events, etc., it has jam-packed tools that do everything for you.
Feature Highlights-
It helps in optimizing the product pages for WooCommerce and Easy Digital Downloads.
It enables you to view the Google Analytics statistics on your WordPress dashboard.
It offers good support to open graphs and Twitter cards to boost social media sharing.
It provides the top 10 suggestions powered by Google and is useful when you work on long-tail techniques.
It helps monitor your backlinks and checks for negative SEO, which you can remove to combat search rankings.
7. Redirection – SEO Plugin to set Page Redirects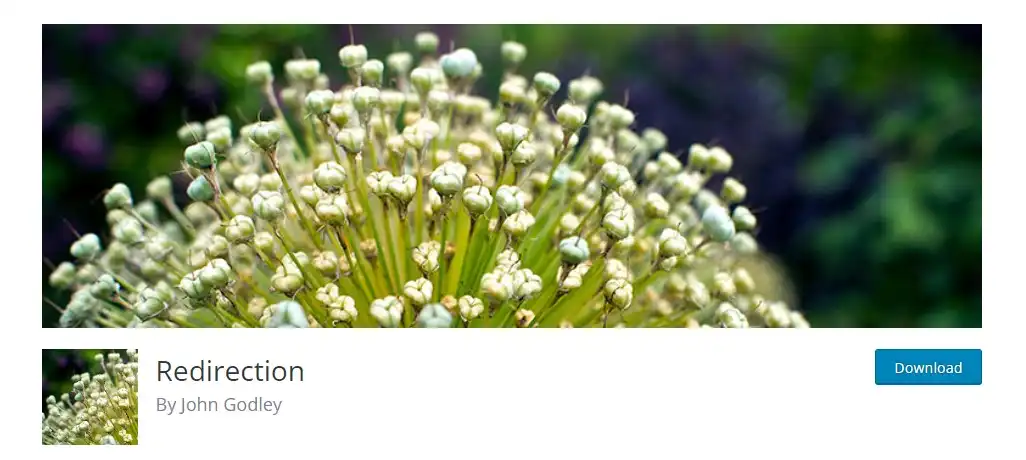 With this simple yet powerful plugin, you can create SEO-friendly redirects that do not hurt your search rankings. It lets you create redirects based on various conditions and keeps track of 404 error pages so that you can fix them immediately.
This SEO plugin is entirely free and has no premium version. If your WordPress site supports permalinks, then you become eligible to use this plugin to redirect any URL.
Feature Highlights-
It enables configurable logging, allowing you to view your site's redirects, including details about the visitor, browser used, etc.
It enables you to create a log of redirection happening on your site for fixing problems.
It lets you add HTTP headers to redirect or the entire site, which readily improves security.
It helps you to migrate your old permalink and supports multiple migrations.
8. Broken Link Checker – SEO Plugin to find & fix broken links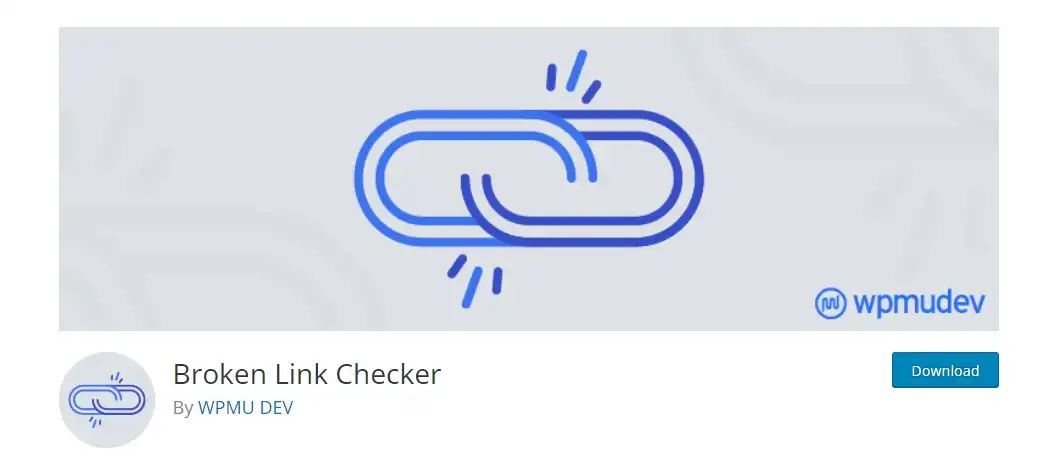 Forget about losing potential traffic due to broken links. This effective WordPress SEO plugin will detect and fix all the broken links in your site, preserving your hard-earned traffic.
The broken links, if found, will be displayed on your WordPress admin panel, and you'll also receive email notifications with all the broken links. In addition, you can create custom new link filters by performing a search and clicking on the create a custom filter. This will let you stay organized and scrutinize the broken links deeply.
Feature Highlights-
It monitors the internal and the external links in your posts, pages, comments, etc.
It enables you to edit the links directly from the plugin's page without updating each post manually.
It can detect the links that don't work, missing images, or redirects.
It notifies you about the broken link detection via the dashboard or email.
Which is the best WordPress SEO plugin for you?
Search engines are one of the major sources of traffic to generate leads and sales for the business. And being a WordPress user, you can rank higher on search results using plugins and other tools.
The above-mentioned WordPress SEO plugins enable you to optimize your website pages and blogs by displaying the SEO scores for targeted keywords, adding internal links, and replacing the broken links.
I hope this article helped you pick the best WordPress plugins for your website. To improve your WooCommerce site ranking, you may also want to check our guide on WooCommerce SEO.