Do you want to increase organic traffic to your Shopify store? Are you looking for a Shopify SEO checklist to make your store SEO-friendly? If so, this article is for you.
Shopify is one of the best eCommerce platforms enabling anyone to start an online store without technical knowledge and relatively low investments.
However, if you want to succeed at growing your Shopify store, you need to focus on ranking your site pages higher on SERPs and driving organic traffic to your Shopify store.
Having said that, in this article, we will cover every aspect of Shopify SEO and share best practices to make your website rank higher on Google and other search engines.
Is Shopify SEO-Friendly?
Absolutely Yes!
Shopify is an SEO-friendly eCommerce platform that provides many built-in SEO features that are truly helpful for eCommerce entrepreneurs to generate quality organic traffic and boost sales.
Some of the Shopify SEO features are as follows –
SSL certificates: It secures your website with HTTPS protocols, which Google considers one of the ranking factors.
Canonical tags: It automatically adds the "rel=canonical" tag to duplicate pages to avoid a ranking penalty from Google. However, it has some limitations.
Robots.txt: It automatically generates a robust Robot.txt file that instructs search engines which page to crawl and which not to.
Sitemap file: It automatically creates the sitemap.xml file that pings search engines every time a new page is added to your website for crawling and indexing.
SEO Title: It automatically generates the SEO title of pages with your store name.
And the best part is that it offers a ton of SEO apps in their app store that you can use to optimize your website SEO with just a few clicks. We will discuss these apps in the later section, so keep reading!
Why do you need to focus on Shopify SEO?
Although Shopify is a search engine-friendly platform, your site isn't going to rank itself. There are some common SEO issues that you may encounter in your Shopify store, which you must pay special attention to improve your ranking.
Some of the major issues that can impact your store's SEO are –
Presence of duplicate content
Broken links
low-quality themes
Poor optimization of product titles/descriptions
And more…
All these issues are a strong shield in preventing the organic growth of your Shopify store. So while building your Shopify store, keep all the SEO issues in mind and optimize it, as I will show you in the next section.
13-Step Shopify SEO Checklist
Although SEO has some SEO limitations, with a proper strategy, you can overcome these limitations and still manage to increase organic traffic to your website.
The SEO checklist below covers all the best practices and strategies you need to rank your Shopify store higher on search results pages. The checklist is organized based on its importance in SEO. So, you can implement it in the same order as listed.
Ready? Let's get started.
1. Invest in a custom domain
Shopify provides you with a subdomain for your store with a .myshopify domain address. The domain looks like yourstorename.myshopify.com, which you know doesn't look professional.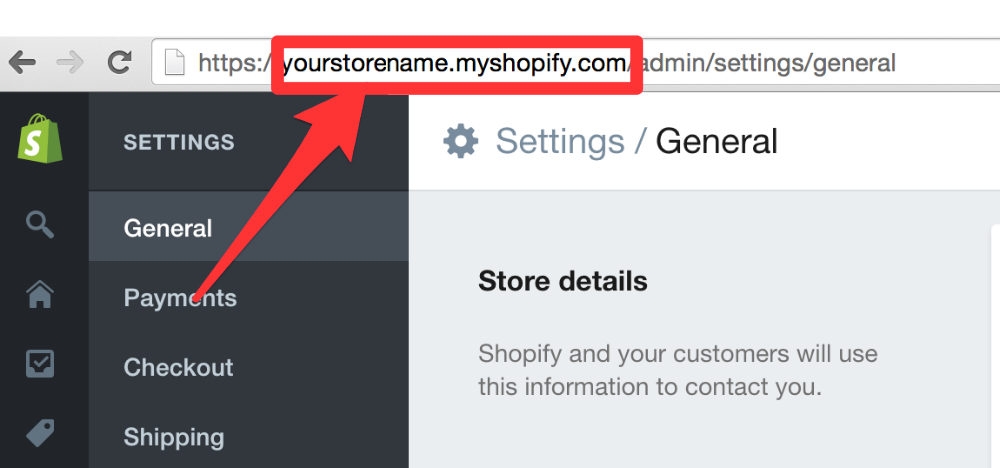 Moreover, the same domain appears on SERPs over your page title, which may create a sense of doubt among users, which leads to low CTR and thus poor SEO performance.
So, get a custom domain with your store name, which looks professional and brandable. You can buy a domain from Shopify. However, I recommend buying domains from a third-party domain registrar like GoDaddy and Namecheap.
Once you register the domain, go to Settings > Domains menu from your Shopify account and assign the domain address to your store.
2. Use SEO-friendly Shopify theme
Generally, while building a Shopify store, users focus on picking the best Shopify theme that provides all the required design elements and customization options.
But what's more important is to pick a Shopify theme from a trusted developer who constantly updates it with new features and complies with changing Shopify and Google policies.
Additionally, your Shopify themes must be mobile-friendly because Google takes a mobile-first approach to ranking websites. It means that Google first crawls mobile versions of websites based on which it ranks the pages on top which are more user-friendly and responsive to mobile display.
Also, you must know that 51% of all website traffic is mobile. So, if not for SEO, get a responsive theme to provide a better user experience and generate more sales.
3. Conduct proper keyword research
Keyword research is the most crucial step in eCommerce SEO optimization. After all, this is how you discover the right keywords your consumers use to search for products like yours.
There are several keyword research tools like Semrush and KWfinder that you can use to create a list of target keywords for your products.
But the most basic and free way to do keyword research is via Google search. The key is to search for keywords you think your product pages should rank for, then list the common keywords among the top search result pages as shown below –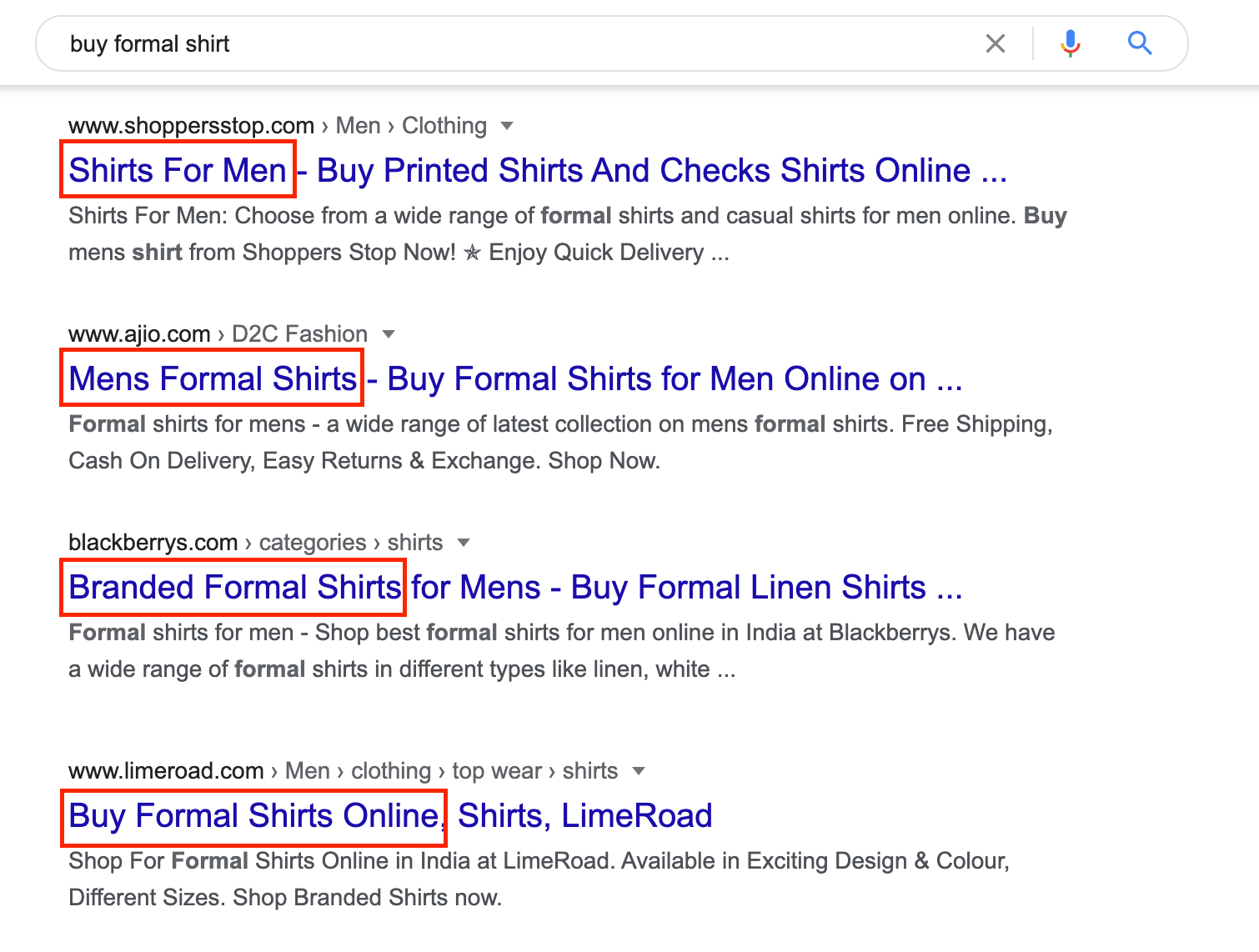 Next, you can use Google Keyword Planner to determine their search volume and discover more related keywords that people use to search on Google. You can also use Semrush Keyword Magic Tool for organic keyword suggestions with more data to pick the relevant ones.
4. Create SEO-friendly navigation menu
When setting up your Shopify store, you need to create a navigation menu that appears throughout the site. It should be created such that users and search engine bots can easily navigate to important pages on your website.
On Shopify, you can add two navigation menus by default: The primary menu (on top of the page) and the Footer menu (bottom of the page), where you should add links to popular pages such as product categories, sub-categories, special-category pages, and others.

To create a navigation menu, go to the Online store > Navigation option from your Shopify dashboard, where you can customize the existing menus or click the "Add menu" links to create new ones.
5. Add website title & meta description
While setting up the store, you need to add the website title and description that appears in search engine results when someone searches for your brand. For example, if you search for the brand "Death Wish Coffee" on Google, you may see a result like this –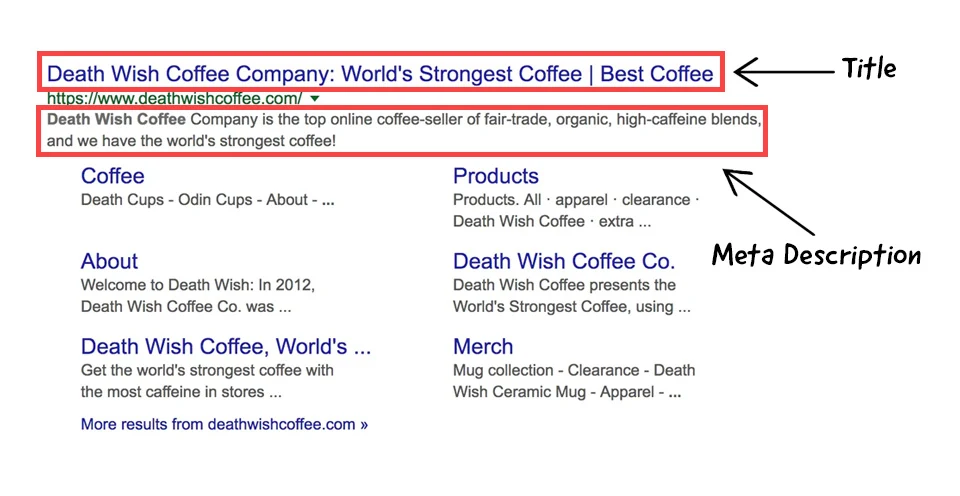 A good title and description are optimized with target keywords that help search engines understand what the website is about and ranks it accordingly. Most importantly, it tells users what your store is about, which encourages them to click the link.
Here are a few tips for creating an SEO-friendly website title and meta description –
Keep the title & description limited to 60 & 160 characters, respectively
Add primary keywords in the title. (e.g., strongest coffee, best coffee)
Add long-tail keywords in the meta description (e.g., top online coffee seller)
You can update the title & meta description of your website from the Shopify dashboard. Just go to online store > preferences and add your content.

6. Focus on Product Name & Descriptions
Product pages are another vital element of Shopify SEO, as you want these pages to rank higher on search result pages for your target keywords. To achieve that, you must focus on creating keyword-enriched product page copy – product name & descriptions.
Often, I have seen Shopify store owners using the product name and description provided by the suppliers or manufacturers. Doing the same is your worst mistake for your Shopify Store SEO.
You must understand that suppliers and manufacturers provide the exact content to hundreds of other merchants who might also use them in their stores. This creates plagiarism and content duplicity, a sign of Google's low-quality pages, which can negatively affect your website's ranking.
So, you must avoid using content provided by your suppliers. Instead, grab this opportunity to craft a unique product name and description that resonates with your target audience and helps you attract more customers.
Moreover, while creating content for the product page, you can ensure it is optimized for your target keywords. Here are a few tips to help you with it –
Include primary keywords in the product names
Be specific with product names, include brand name, color, material, etc. ( e.g., USPA Blue Polo T-shirt is better than just Polo T-shirt)
Write detailed product descriptions
Use long-tail keywords in the product description (e.g., Polo t-shirt for men, navy blue striped polo t-shirt )
7. Optimize Search Engine Listing
While creating new pages or adding new products to your Shopify store, you should add custom page titles and meta descriptions. As mentioned, search engines use this data to display on search engine listings, which plays a crucial role in page rankings and CTR.
In your Shopify dashboard, open a page and scroll until you see the "search engine listing preview" section. On top of that, click Edit website SEO, where you can add the page title, description, and URL as shown below –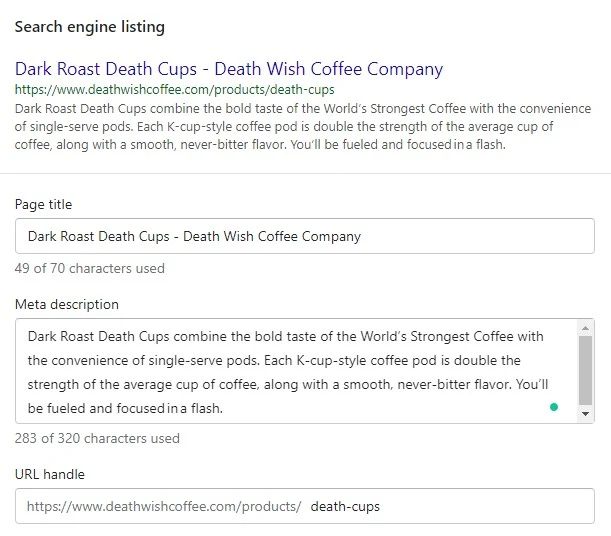 While editing the search engine listing of pages, you should –
Use a unique, descriptive copy for each page
Include target keywords for each product, collection, webpage, or blog post near the beginning of the title.
Create a title with 60 characters or fewer because most search engines will shorten longer titles.
Create a detailed description but limit it to 160 or fewer characters
Use a short & memorable page URL
Include the target keyword in the URL
Avoid using stop words like "the" or "and" in the URL
You should know that each element of this section (title, description & URL) helps search engines understand the page content, which is a ranking factor for most search engines. So, take some time to create the most optimized copy for every page you create.
8. Add Alt Text to images
Next, like the product page title and description, you must add alt-text to your product images to improve their ranking on Google Images search results.
Google Images is an excellent source of quality organic traffic for Shopify stores. So you must try to get your product images ranked there.
To do so, you need to optimize the alt-text and title of product images by adding relevant target keywords.
To do that, go to the All Products page and select a product. Then, click on "add alt text" to add the alt-text and save it as shown below.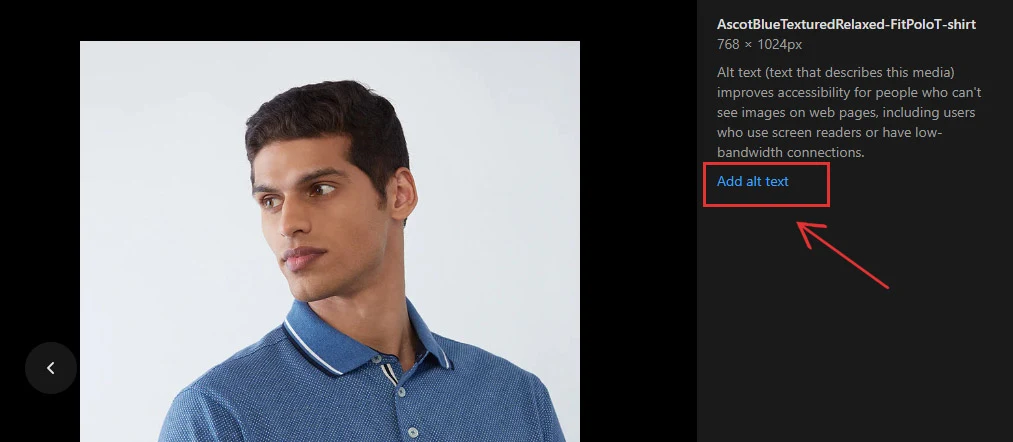 9. Display product reviews
Product reviews are not just a trust signal for your customers. Search engines also use it to determine the page quality and brand credibility to rank product pages on search result pages.
Moreover, Google uses a reviews schema to generate rich snippets from the product reviews, which are displayed on the results pages right below the meta description, as shown below –
You can use Shopify review apps like Loox that allow customers to submit reviews for the purchased products and enables you to display those reviews on respective product pages and other pages in the store.
Additionally, product reviews add a freshness factor to the product pages. With every new product review, you will have fresh user-generated content on the pages, which is a positive ranking factor for Google.
10. Create blog content
So far, we have covered almost every aspect of On-page SEO optimization of Shopify stores. But do you know that 72% of online marketers believe content marketing is the most effective SEO tactic?
Content marketing allows you to create content across multiple channels to educate your customers about your products. This enables you to build authority for your brand and get more traffic to your store.
To begin with content marketing, create a 'blog post' in your Shopify store and publish informative and helpful content related to your products.
Go to your Shopify dashboard and click the "Blog posts" option under the Online store. Click the "create blog post" button and start publishing.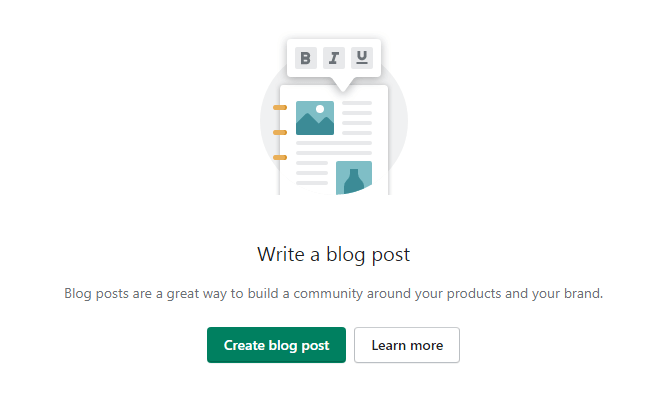 To succeed with content marketing, do extensive keyword research to find what type of information your target customers are looking for.
11. Focus on internal linking
For eCommerce sites, product and collection pages are essential pages you want to rank higher on search result pages. But as I said in the previous section, acquiring backlinks to such pages is very difficult.
However, if you have a blog on your eCommerce site and can attract some quality links, you can use internal links to share some of its authority to the product pages.
The idea is to strengthen the internal linking between product & collection pages using blog posts as a medium.
12. Build quality backlinks
Quality backlinks are crucial for any website to rank #1 on search result pages. Each backlink from a reputed site acts as a credibility score for your site, which Google uses to rank the articles.
It is tough to acquire backlinks to eCommerce sites. But if your store has a blog section, you can get links from bloggers and reputed sites.
Customer guides like "How to select the best laptop" and list-based content like "Best laptops under $500" are the best-performing content to attract backlinks to eCommerce sites.
Here are a few ways to get backlinks to your articles & store pages –
Do guest blogging on reputed sites from your niche
Ask for a link from manufacturers & suppliers.
Get your products reviewed by influencers & bloggers.
For a complete step-by-step guide, you should refer to our comprehensive guide on eCommerce link-building strategies
13. Improve the loading speed
Page loading speed is an important ranking factor for Google. So, you must ensure that your Shopify store loads faster.
You can check your Shopify store loading speed using the Shopify speed report, GTMetrix, or PageSpeed Insights. And if the loading time is more than 5 seconds, you need to take appropriate action.
Since you are using the Shopify server to host your online store, you cannot make any technical changes to improve page speed.
Still, you can follow these steps –
Use compressed images
Avoid using image sliders
Remove unnecessary apps
Use well-coded themes
Ready to Optimize Shopify SEO?
SEO is essential for any online business to succeed – the higher you rank for the relevant keywords, the more sales you can generate.
In this article, I covered some essential SEO tips that can help you get your Shopify store to the #1 position on search results.
Let's wrap up this article with a checklist to optimize Shopify SEO-
Invest in custom domain
Use SEO-friendly themes
conduct proper keyword research

Create SEO-friendly navigation menu

s

Add website title & meta description

Focus on product name & description

Optimize search engine listing

Add Alt text to images
Display product reviews
Create blog content
Focus on internal linking
Build quality backlinks
Improve the page loading speed
All done? Now, just wait and see how your Shopify store jumps to the top-ranking positions. Want to learn more? You should check our eCommerce SEO checklist for more tips.