Are you looking for the best analytics plugins to track traffic and user behavior on your WordPress & WooCommerce sites? If yes, this article is for you.
Analytics plugins enable you to track and collect website traffic data and provide detailed insights that help you analyze the performance and make informed decisions to grow your business.
There are several types of analytics plugins that you can use to learn about your Website visitors. Here are a few data that analytics plugins can easily provide you –
Number of visitors coming to your website.
Top traffic sources for your website.
Net sales on your website.
Top products sold
Most popular pages on your site.
How users interact on your site.
Having said that, let's look at some of the best analytics plugins you can use to analyze the traffic of your WordPress & WooCommerce sites.
MonsterInsights is the best Google Analytics plugin for WordPress sites. It provides traffic insights in over 100 data points that help you analyze critical aspects of the site and optimize it to improve performance.
With just a few clicks, you can connect your Google Analytics account to the site, and the entire data will be visible in one dashboard. Its user-friendly dashboard is highly customizable and provides data like page views, top traffic sources, best-performing posts, important conversion stats, and much more.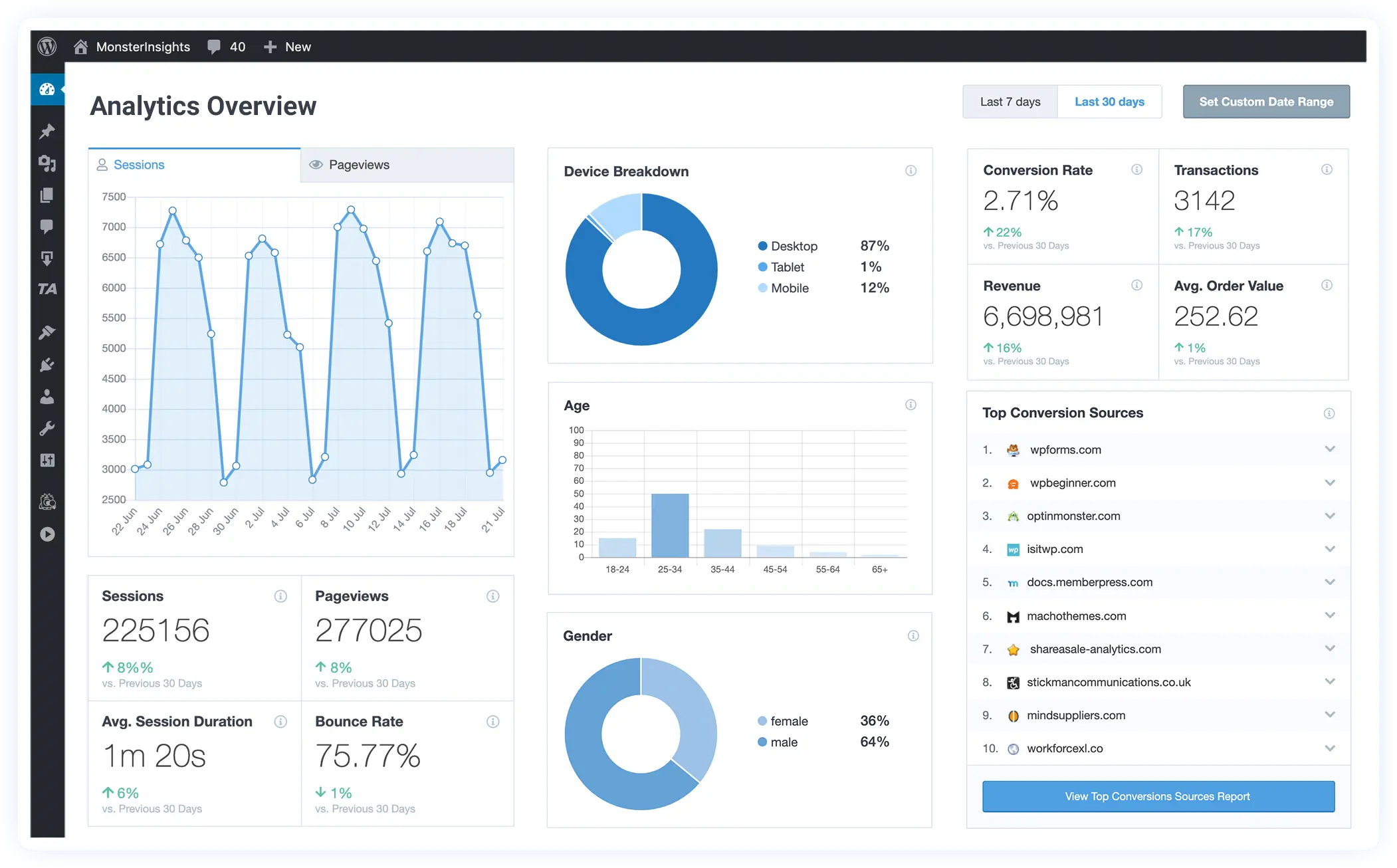 It supports enhanced eCommerce tracking for WooCommerce, EDD, and MemberPress sites. Using this data, you can identify frictional points and improve the user experience to reduce cart abandonment and increase conversion rates.
Key Features
Set up universal tracking across devices and campaigns within a few clicks.
Get access to in-depth page-level analytics like viewing your site's most popular posts, pages, and sections.
Create custom dimensions for tracking authors, categories, tags, searches, users, custom post types, etc.
Generate different custom reports to get a 360-degree view of your site's performance.
Pricing Plans – The Paid plans start at $99/year and go upto $399/year. The plans vary based on the number of sites, page views, and users. All the plans support unlimited page views and unlimited users. The Starter plan gives you access to standard reports and tracking tools, while the higher plans provide access to advanced reporting, tracking, and integrations.
ExactMetrics is another powerful Google analytics plugin for WordPress & WooCommerce sites. Having been trusted by over 1 million websites, ExactMetrics provides the most accurate tracking for your WordPress site without hiring developers.
When you log into the dashboard, you can view all the important metrics at a glance. Above all, to improve your site's usability, you'll get crystal clear insights about your real-time visitors, user behavior over time, demographics, top countries, eCommerce conversions, etc.
In addition, ExactMetrics displays the devices your visitors use and tracks the cross-device sessions as a single session. It can also identify a single session when a visitor is either logged in or logged out rather than counting them separately.
Key Features –
Automatically track every outbound link clicks to build new relationships with other businesses.
Understand which CTA button or link on landing pages gets the highest clicks.
Increase site traffic by uncovering when your visitors highly engage with your content.
Facilitates one-click Google Analytics-enhanced eCommerce for WooCommerce, EDD, LifterLMS, and MemberPress.
Pricing and Plans – ExactMetrics costs $99.50/year for one site and goes upto the Enterprise plan priced at $699.50/year for 100 sites.
All the plans support dashboard widgets, setup options, email summaries, page insights, universal tracking, enhanced link tracking, engagement tracking, etc.
With over 2,00,000+ downloads, Analytify is another popular Google Analytics plugin for WordPress. It presents cleaner data that enables beginners to easily understand what's happening on the site.
The plugin has an intuitive dashboard that exhibits every detail of your site's current visitors in real-time. Besides, you can view the number of live visitors by analyzing its beautiful tables and graphs.
For the merchants running an online store using WooCommerce or EDD, Analytify catches up with all critical data and provides insightful reports with visual graphs. You can view how many people clicked "add-to-cart," at what stage they abandoned the cart, and revenue stats to analyze how your site is performing.
Key Features –
Analyze traffic coming from different social media platforms to increase your online visibility.
Track statistics for custom post types like portfolio, gallery, testimonials, etc.
All the metrics associated with respective pages are organized understandably.
Easily view detailed statistics per post on your front end without logging into your dashboard.
Pricing Plans – The paid plans start at $59/year and go upto $299/year. The Starter plan allows for one site and goes upto a maximum of 50 sites. Also, with each plan, you get automatic plugin updates and priority support.
Google Site Kit is a free Google Analytics plugin offered by Google for WordPress sites. You can connect it with Google search console, Google Analytics, AdSense, and page speed insights to display the statistics and reports in the WordPress dashboard.
It is an excellent alternative to premium analytics plugins for website owners who like to see the traffic insights right on their WordPress dashboard rather than navigating to each platform to view the reports.
Key Features –
View snapshots of your site's analytics when you hit a milestone.
Analyze your entire site performance and understand how a specific page performs in the WordPress admin bar.
If there are multiple WordPress admins, they must connect their own Google account to access the plugin.
Pricing Plans – It is entirely free to use. No paid plan is available.
Jetpack is an all-in-one WordPress plugin that offers security, backup, CRM, and more. It is highly beginner-friendly, making it easy to access the basic stats of your site in the WordPress dashboard.
It can be installed easily as it doesn't require additional scripts or coding. Jetpack's free version includes site stats, downtime monitoring, automated social media posting, activity log, etc. You also get access to daily backups, anti-spam, etc., by paying for its bundle.
Key Features –
View top post searches, referrers, and geographical locations.
You can choose to either track or exclude registered users.
Get meaningful insights about popular posts, geographic locations, and search times.
Analyze your site's overall traffic by different time periods as well as for individual posts and pages.
Pricing Plans – Jetpack is a paid tool, but the analytics feature comes with its free plan.
WP Statistics is another free WordPress analytics plugin with the pride of having 600k+ active installations. It is a complete analytics solution as it identifies the number of users who visit your site, their source, and the type of browsers they use and provides content stats based on tags/categories.
It displays all the analytical data in easy-to-understand graphs and stunning visuals to get a better idea. An interesting part is that you can view the referral counts from each referring site. With this proven data, you can learn which referral sites contribute to a high stream of traffic.
One crucial aspect that you must remember is that the WP Statistics plugin stores data on your WordPress site. When your data grows as days pass by, it might readily increase your WordPress backup size.
Key Features –
It records visitors' data, including IP, referring site, search engine, OS, etc.
Tracks and recognizes visitors based on their country and city.
Provides widget support for showing statistics and exporting data in CSV, XML, and TSV formats.
Information is presented in charts and graphs, along with data filtering.
Pricing Plans – WP Statistics is free to use. But to unlock advanced features, you can purchase its premium add-ons to expand your site's analytical functionality.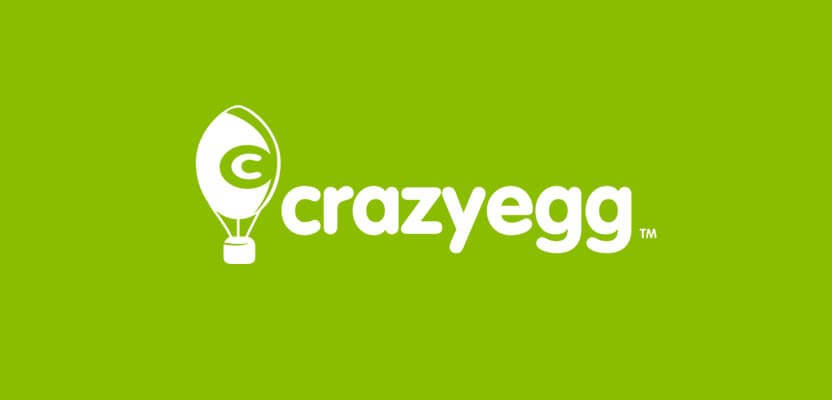 Crazy Egg is one of the best heatmap tools displaying where visitors have clicked or scrolled on your site. You can visually understand how users engage with your site, making it easier to create a smarter web design that provides a smooth user experience.
Besides heatmaps, it gives you a clear picture of visitors' behavior via snapshots and recordings. With their confetti tool, you can also segment the clicks into referrals, sources, etc., to build a better customer experience that helps your business grow.
Crazy Egg offers an A/B testing tool that you can utilize to test different aspects of your site to find what works best for your audience. Using its A/B testing editor, you can change your content and images and optimize CTA placements to maximize conversions by reducing bounce rates and cart abandonment.
Key Features –
It enables you to view attention-grabbing hotspots on product pages with a heatmap.
It records the entire user session or generates specific recordings for the essential pages on your site.
You can select a goal for performing A/B testing, like selling products, getting more sign-ups, increasing page views, etc.
It enables you to understand the percentage breakdown of clicks on your web page elements to identify which CTA got the highest engagement.
Pricing Plans – The pricing plans vary based on monthly pageviews, snapshots, and recordings. The Basic plan starts at $24/month, which allows upto 30,000 page views, 25 snapshots, and 100 recordings. It goes up to the Enterprise plan, where you can enjoy unlimited pageviews and recordings.
Found the best analytics plugin for your WooCommerce site?
Analytics data is crucial for making data-backed decisions to ensure a higher success rate and rapid growth in the right direction. The above-listed are the best analytics solutions for WordPress sites.
Still, if you are winding down which is the best for your business, MonsterInsight is hands down the best analytic plugin for anyone who is not an expert at setting up Google Analytics for eCommerce tracking. It automatically connects with WooCommerce and other eCommerce plugins and configures GA for you to track essential data.
If you are looking for free Google analytics plugins, Google Site Kit would be the best pick. However, it provides only basic data collected from Google Analytics and Search Console. And, for heatmap analytics, Crazy Egg is the best pick.
Frequently Asked Questions (FAQs)
Here are some common questions we have encountered during consultancy with our clients –
How Do I Add Google Analytics to a WordPress Site?

You can use a WordPress analytic plugin to easily configure Google Analytics for your website. All you have to do is install the plugin, activate it, and add the tracking ID from your Google Analytics Account.

Does WordPress Support Google Analytics 4?

Yes, WordPress seamlessly integrates with Google Analytics 4 via analytics plugins like MonsterInsights & ExactMetrics. These plugins allow you to track your website traffic via Universal Analytics and Google Analytics 4 without technical hassle.

Can I set up Google Analytics without a plugin?

Yes, you can definitely set up Google Analytics for your WordPress site by manually adding the tracking code on every website page. However, using WordPress analytics plugins can make it easier for you to set up and track the data more efficiently.

Does Analytics Plugins Support Ecommerce Tracking for WooCommerce?

Yes, popular analytics plugins like MonsterInsights seamlessly integrate with WooCommerce and track all the essential data, which includes revenue generated, sales, cart abandonment, etc. Moreover, these plugins break down all the data into meaningful insights you can use to make business decisions.

Which is the best free Google Analytics Plugin for WordPress?

MonsterInsights is undoubtedly the best Google Analytics plugin with a free version. It helps you with GA configuration and provides basic insights. However, the free version doesn't support WooCommerce or any kind of eCommerce tracking.
Do you have more questions? Feel free to tweet us @ecomsutra with your questions, and we will try to help you in the best possible ways.
We hope this article helped you find the best analytics plugin for your WordPress site. If you are new to WordPress and starting an eCommerce site, you should check our expert pick for the must-have WordPress plugins for eCommerce sites.