If you want to grow your Shopify store, you can't rely on your guts to make business decisions for marketing, product development, and other aspects of it. You need a robust Shopify analytics app that consolidates data from all your sales and marketing channels and helps you track important KPIs and metrics.
Although Shopify provides built-in analytics reporting, it doesn't track high-level metrics that you might need to grow your business. It also allows you to integrate with Google Analytics, but as you know, it limits you to website traffic data.
So, if your Shopify store is growing and you want to leverage data to drive it in the right direction, you will have to rely on third-party Shopify analytics apps.
Having said that, in this article, I have shortlisted some of the best Shopify analytics apps and reviewed them to help you choose the right one based on your business needs.
If you are ready, let's get started with the most popular and probably the favorite analytics app among Shopify merchants.
1. Triple Whale – All-in-one Shopify Analytics App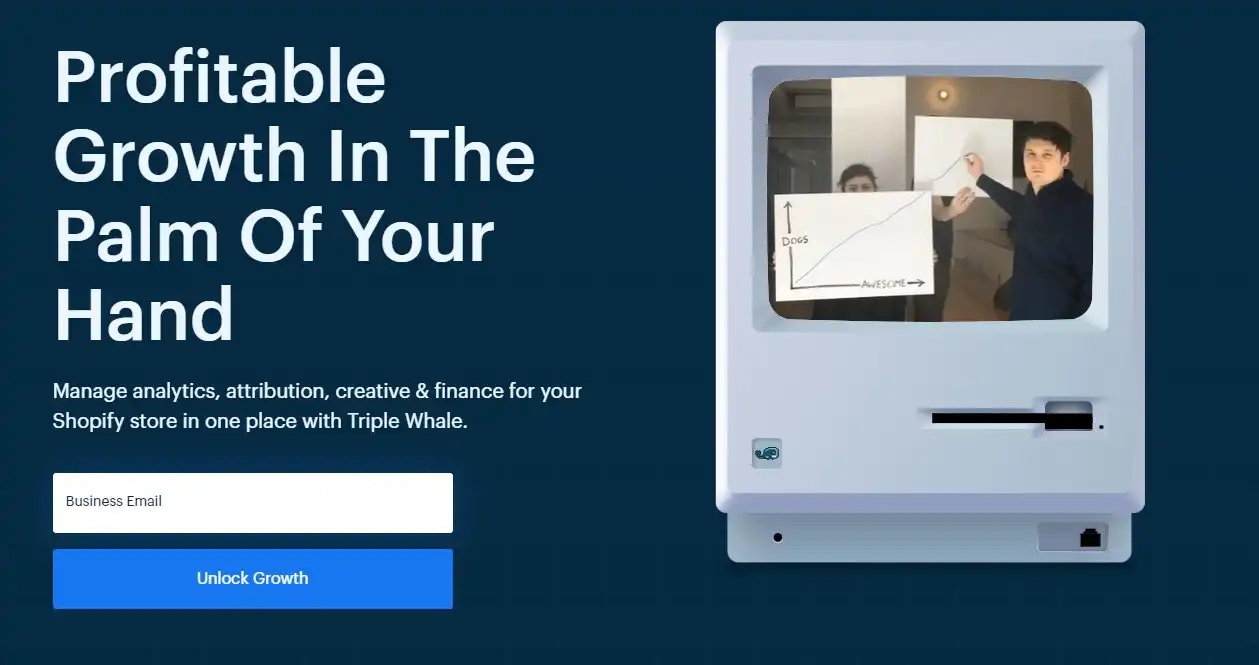 Triple Whale is the most advanced Shopify analytics app that tracks and provides insights into website analytics, marketing, attributions, financials, and creatives, all in one dashboard.
With Triple Whale, you can connect all your marketing channels Amazon, Klaviyo, Google Ads, Facebook, etc., to track expenses and revenue generated from them. Further, considering all the expenses it also provides detailed P&L reports.
The best thing about Triple Whale is its creative analysis tool that enables you to easily identify the best-performing ad creatives across channels, which you can leverage to create more effective marketing strategies and generate better ROI.
Overall, Triple Whale is a robust Shopify analytics app that enables you to track every important metric and provides insights that you need to make strategic decisions for your business.
Key Features –
Easy-to-use & customizable dashboard
Provides omnichannel attribution data
Real-time P&L reporting from all sales channels
Accurate customer journey mapping
Realtime creative reporting of individual ads
iOS & Android app to stay updated with metrics in real-time.
Seamless Integration with popular sales, and marketing channels.
Pricing Plans – Triple Whale has a flexible pricing model based on your gross revenue in the last 12 months. It has three plans, which are as follows for the stores with less than $1 million in revenue –
TW Dashboard – $100/month, Ad expense management, ROAS & profit tracking.
TW Attribution – $300/month, Everything included in TW Dashboard plan + Attribution data, post-purchase surveys
TW Full Whale – $400/month, Access to everything Triple Whale has to offer.
2. BeProfit – Shopify Profit & Data Tracking App

If you are looking for an analytics app just for profit tracking, BeProfit would be my top recommendation. It is easy to use as it provides all the reports and insights in a visual format, making it simple for anyone to analyze the store's performance.
BeProfits seamlessly integrates with almost every advertising channel, including, TikTok, Facebook, Google Ads, and more. It can track all the ad expenses and provides detailed insights into your store's performance in real time.
Finally, BeProfit is focused mainly on accurate profit tracking from all the connected sales and marketing channels.
Key Features –
Customized and intuitive dashboard.
Generates cohort analysis report to discover customer lifetime value.
Generates quick and easy reports of important business metrics.
Easily analyze the performance of every ad on different marketing channels.
Reflects your marketing performance using automatically attributed UTMs.
Shows the cost and sales of your most profitable products
Profit optimation for your eCommerce store
Gives a real-time overview of your store.
Pricing Plans – BeProfit's plans come with a monthly order limit. The free plan allows up to 5 monthly orders, which is good for testing the app. The paid plans are as follows –
Basic Plan – $25/month, 200 orders + $0.3 per order above the limit
Pro Plan – $75/month, 600 orders + $0.2 per order above the limit
Ultimate Plan – $150/month, 1200 orders + 0.1 per order above the limit.
You should also know that the higher plan you choose the more advanced analytics tools you will get access to.

Google Analytics is indeed a powerful website analytics app with enhanced eCommerce tracking capabilities. But if you don't know how to set up custom tracking, goals, and other metrics on GA, it is not worth more than tracking the number of website traffic.
This is where you can use Littledata Analytics, to set up GA4 for accurate data and tracking. It can also integrate with your marketing channels like Facebook, Google Ads & Klaviyo to get deeper insights into customer journeys and attributions.
Overall, Littledata Analytics helps you leverage Google Analytics to track advanced metrics and KPIs for your store without requiring you to do anything manually.
Key Features –
Analyze traffic from all your sales & marketing channels.
Cohort analysis to fetch customer lifetime value.
Server-side and client-side tracking for Google Analytics
Identify the purchasing behavior of your consumers.
Curate customer lifetime value reports
Gather data about conversion rates and bounce rates.
Get analytics reporting on your subscription plans
Pricing Plans – Littledata has a free plan that tracks up to 50 monthly orders. The paid plan starts at $129/month with a monthly order limit of 8,000.
4. Peel Analytics – Retention Analytics for Shopify Stores

Peel Analytics is a powerful Shopify analytics app focused mainly on tracking and providing data on customer retentions. Using this app, you can view your LTV, AOV, measure your ROI, get deep insights into your customers.
Apart from providing detailed analytics data, Peel Analytics enables you to create hyper-targeted customer segments based on their behavior on your site and with marketing campaigns.
Key Features –
User-friendly and Customizable Dashboards
Get automated daily reports via Slack/Emai
In-depth Cohort Analysis reports on customer behavior
Create in-depth customer segments to analyze market trends
Consolidated marketing performance reports from multiple channels.
Detailed customer journey mapping
Create and track custom team KPIs and Goals
Pricing Plans – Peel Analytics comes with three monthly subscriptions with a 7-day free trial. The initial subscription costs $50 per month with limited features. However, you can get an upgraded subscription of $200/month or $500/month with advanced features as per the price.
5. Polar Analytics – Ready-made Shopify Analytics Dashboard

Polar Analytics is another excellent Shopify analytics app that allows you to track and consolidate data from different marketing channels in one place. With its user-friendly dashboard, you can easily analyze the store's performance and make informed decisions for your business.
With this app, you can seamlessly connect 15+ apps, marketing channels, and tools without requiring any coding skills or manual customizations. Once all the channels are connected, it fetches data in real-time and provides you insights into your KPIs, goals, and other important metrics.
Key Features –
Customizable dashboard.
Define your own metrics and create custom reports
Get alerts on your important KPIs via email or slack.
Connect multiple Shopify stores
Connect 15+ marketing channels and tools
Track your business goals within the dashboard
Pricing Plans – Polar Analytics has a free plan that allows up to 9 integrations and provides 1-year of historical data. The paid plan starts at $119/month, allowing unlimited integrations with unlimited historical data and other advanced analytics tools.
6. Conversific – Shopify Analytics & Benchmark App
Conversific is a Shopify profit and marketing analytics app that lets you to see your profit, ROI, conversion rates, and other important metrics. In addition to your store performance, the app also provides industry-leading eCommerce benchmarks so that you can determine where your store stands among the top and lowest performers in the industry.
One standout aspect is that it helps you analyze customers' buying patterns and create accurate customer profiles, which you can leverage for smart product recommendations to drive more sales and conversions.
Key Features –
Simple and easy-to-understand analytics dashboard
Allows profit tracking & 100+ other KPIs
Provides industry benchmarks for comparison
Track individual product performance
Pre-defined customer segments
Smart product bundling recommendations
Pricing and Plans – Conversific offers a Free plan that allows adding one store with up to 1500 orders in a year. The paid plans start at $29/month, allowing unlimited stores with a 14-day free trial.
Choose the best Shopify analytics app
If you are starting a new Shopify store, the default analytics reports might be enough for you to track your website traffic, number of sale, locations, etc., but as your business starts growing with the increase in ad expenses, you will need more detailed analytics into customer behavior, ROI on every spend, ROAS, CLTV, and other important metrics that can help you make calculated and strategic decisions for your business.
There are a handful of Shopify analytics apps available on the Shopify app store, each with their own unique advantages and disadvantages over others. So, it is entirely up to you to pick the analytics app that can help you track and analyze KPIs and metrics that matters the most to your business.
In this article, I walked you through some of the best Shopify analytics apps that you can use to track and analyze different aspects of the business, from marketing, sales to financial status. I hope it helped you find the most suitable analytics app for your Shopify store.
Further, if you are looking for more Shopify apps to grow your business, here are few lists that you might want to check next –