There are tons of marketing tools available out there that can help you gather insights, optimize marketing efforts, and boost your business revenue.
But let's agree that when you are just getting started, rather than spending much on expensive tools, you would like to invest in product and marketing.
And that's the best way to move forward and grow your business. That's why you need some powerful free marketing tools that you can use in your day-to-day operations.
In this article, I will show you free Google tools that you can use for eCommerce marketing. The best part of using Google Tools is that you can see how Google sees your website and get insights directly from Google where you want to rank and drive traffic from.
So, let's check them out one by one.
1. Google Analytics
The initial goal of any ecommerce business is to boost their productivity and ramp up the traffic of their website. For solving the toughest business challenges, Google Analytics is something that most of the marketers rely upon.
This enterprise-based web analytics solution helps one in measuring the visitor's behavior. This amazing tool also helps one in handling their AdWords campaigns and coming up with informed decisions about their business. Google Analytics is absolutely free for users whose websites have less than 5 million page views per month.
2. Google Trends
Google Trends allows you the real-time update of various global news and activities, along with the accessibility of tracking the popular posts on different social media networks. It is easy to find trending tweets and blog posts in and around the entire world in real-time. Accessing Google trends requires no cost.
3. Google Groups-
Despite the growing number of different social networking sites, Google groups are still going strong. The main function of these Google Groups is to bring in all the users together and socialize within this virtual community.
For your E-Commerce business, you can set up a private group that can be accessed by anyone in your organization, both clients and employees. Here, you can organize your regular meetings and brainstorming sessions on various past and upcoming projects. Google groups are also absolutely free to use.
Here are few ways to use Google Groups:
Email everyone in a group with a single email address.
Meet people with similar hobbies, interests, or backgrounds.
Learn about a topic and join discussions.
Create a Q&A forum for any topic, such as baking, health, or a task at work.
Organize meetings, conferences, and events.
Create a shared inbox and assign topics to members for tracking.
4. Google Alerts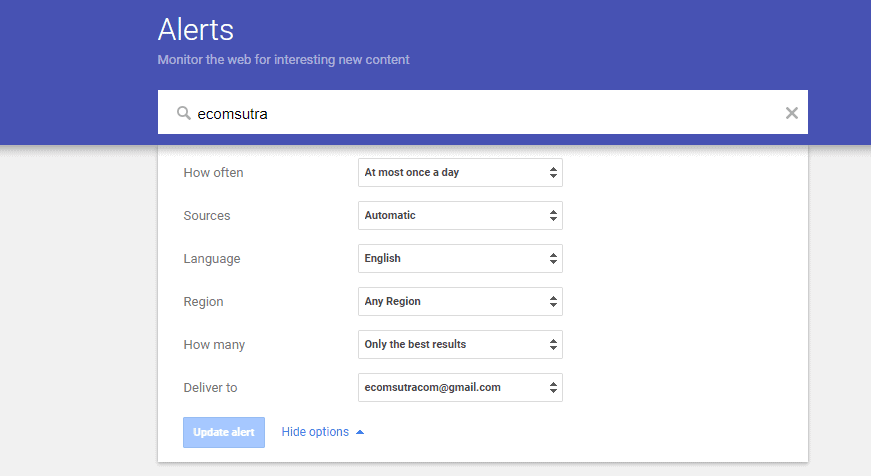 Google alerts is extremely helpful and easy to set up. For your E-Commerce business, Google alert is extremely essential to know about the latest information and data related to your Industry.
All you need to do is enter the keywords that you wish to analyze and if you will get a huge volume of results through which you can get the latest news of the enter Global events. Google alert comes with no charges and is free to use. However, users often complain that they are missing important meetings and appointments because of untimely alerts.
5. Google Ads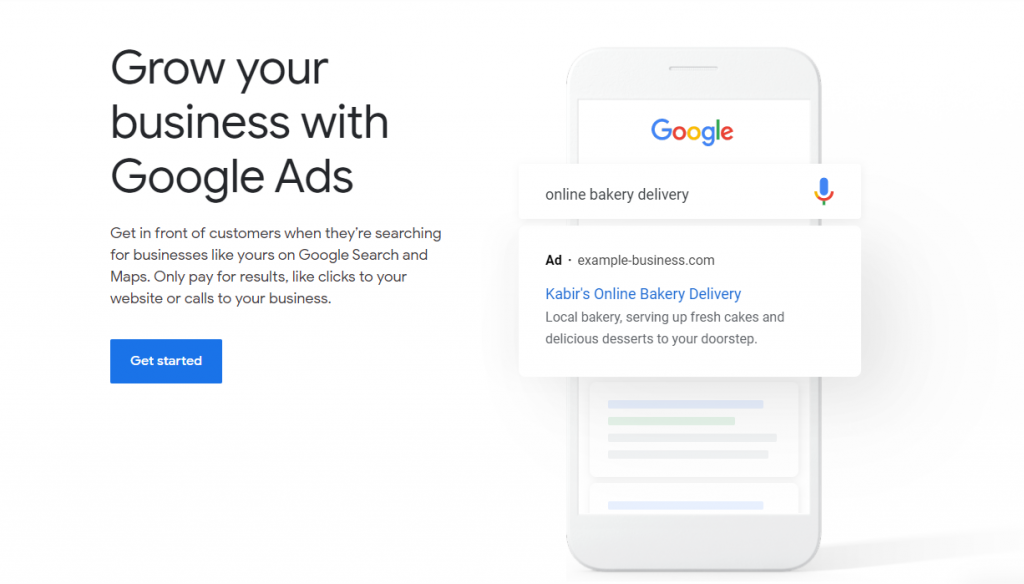 With Google Ads, you can target almost anyone. The reach for running Google ad campaigns is limitless. You can blindly rely on the fact that your ads are being shown to the right people or the relevant uses. One of the best advantages of using Google ads is that it gives you a number of informative data that you can utilize for improving your overall performance of your business.
Google ads also have a few cons like bidding on the best keywords becomes quite expensive which does not always convert. Also, the shelf life of Google ads is very short and your ads will instantly stop if you are left with zero budget. The price of running Google AdWords campaigns varies. You need to set the advertising budget of yours and pay only when the ad gets clicked.
6. Google Search Console
Google search console is a must tool for any E-Commerce business as it is essential for boosting SERPs. You can crawl and index your web pages through it and track its position, impressions, CTR easily. With search console, you can get a list of the keywords based on which your site is ranking.
Other than that, there are certain issues; like the Search Console does not accept HTML sitemaps. Also, there are some features that are only available in beta versions and often provide incomplete data. Google search console is offered for free by Google.
7. Google My Business
Google My Business is a business listing that a business owner creates on Google. It helps in showing up one's business on the Google Maps searches and Google's local 3-pack. It is an easy-to-use free tool.
With proper information on your business listings, you will be able to earn the trust of your customers. They can reach out to you both physically and virtually, thus boosting your traffic and sales.
8. Google Keyword Planner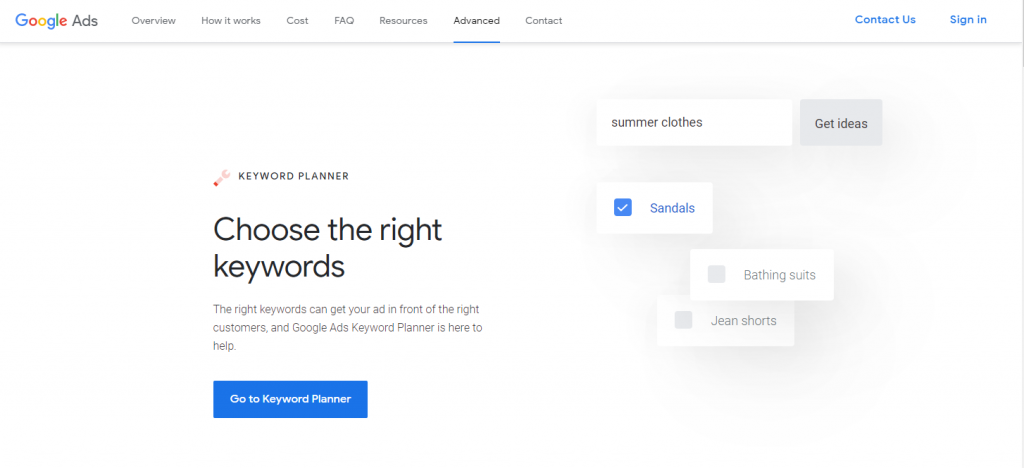 Being an eCommerce business, it is very important for you to research proper keywords, in order to target relevant customers. Google keyword planner helps you in coming up with the perfect set of keywords that you can use for content marketing and PPC campaigns.
Some of the top benefits of using Google Keyword Planner is that you can:
Find new keywords using words, phrases, websites, and categories.
Discover search volume trends and historical data of different keywords.
See performance forecasts for keywords based on your budget and average bid prices.
See the competition level for each keyword to rank in the paid search result.
However, there are few limitations in the Google Keyword planner for which you need paid tools. For instance, the data is most useful for Google Ads campaign. You cannot prepare your organic content strategy solely based on the insights from this tool.
9. Google data studio
Data Studio is an amazing business intelligence tool that is provided by Google. It offers an intuitive interface for exploring and building insights through data. This data can be easily molded in reports and dashboards.
The pros of using data Studio is that it is easy to use and has strong integration with the Google ecosystem. It also supports live connections and is completely free of cost. However, the cons of Google data Studio include the inability to provide real-time data in the dashboard and the lack of a few basic functions.
10. Google Tag Manager
Google tag manager allows you to bring in all your tags altogether at a single place. GTM or Google Tag Manager is completely free of cost. You can keep track of all the events, including outbound link clicks, PDF downloads, scrolls, button clicks, and so on.
It is a great tool to implement complex e-commerce products and promote their tracking. GTM has no such cons; but for implementing that, you need to have the sound technical knowledge, or else you need to hire a web developer for setting it up.
11. Google Optimize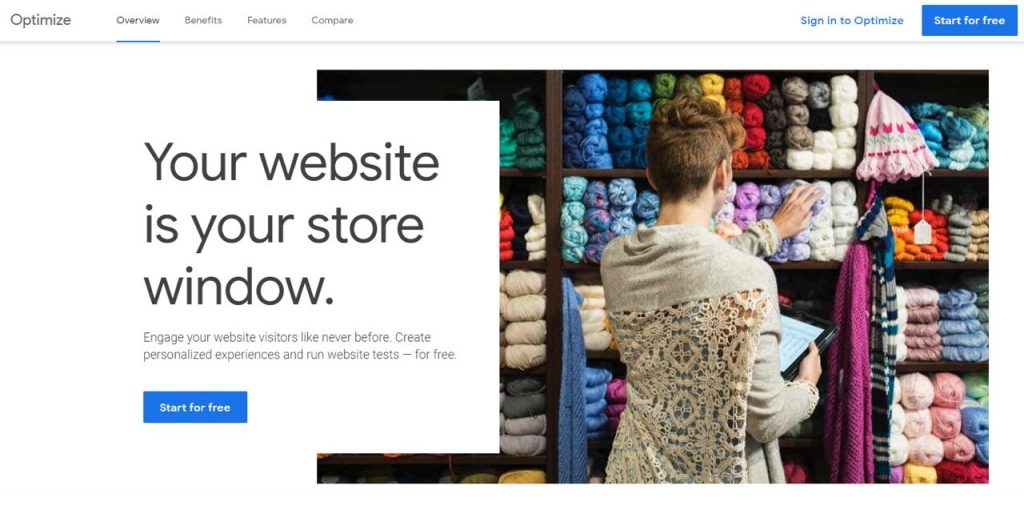 Google optimize is an optimization tool that is being leveraged by almost every marketer and other individual startups to increase their conversion rate and understand the overall process of user satisfaction.
Few pros of Google optimize include its easy usage and simplified A/B testing process. Google optimize also has a few disadvantages like; it cannot store huge amounts of data and also does not support the image uploading process.
In any case, it is a free tool that can be easily accessed and utilized for tracking your website's progress, analyze its performance, and optimize it accordingly.
Wrapping Up
Google offers a lot of free tools for people in every online profession. And Google Marketing Platforms is just a happy place to find tools that provide credible information you can rely upon for strategies and data management.
Now the premium marketing tools like SEMrush, Hotjar, Buzzsumo provides you all the information you need in one dashboard. They do all the backend work of collecting data and presenting you insights that you can use.
In the case of free Google Marketing tools, you will need to collect data from different tools, comprise at one place, and analyze it to derive useful insights. It is a lot of work but kudos to you – these are all FREE tools.