According to research, the global gift card market is anticipated to reach USD 1.6 Trillion by the end of 2027. This shows that the trend of selling gift cards will eventually give a huge benefit to store owners either online or offline.
Shopify, being one of the best eCommerce platforms understands its importance and thus allows you to sell gift cards in your stores. So, if you are a Shopify store owner who wants to use gift cards for your store, this article is for you.
In this article, we will show you some of the best gift card apps you can use for your Shopify store and walk you through setting up Shopify gift card products and other ways to use it.
What is Shopify Gift Card & How It Works?
A shopify gift card is a prepaid coupon that a Shopify store owner issues to their customers. Customers can redeem its value at checkout while purchasing products or services from the store. Customers can use it as an alternative to cash while making some purchases or transactions from your Shopify store.
In Shopify, you can use gift cards in two ways –
Sell gift cards as digital products
Issue manually to specific customers
If you want to use gift cards as a product, you can offer them in different values in your store currency. Once customers buy the gift card, they will receive a gift card coupon in their registered email, which they can use at checkout to redeem its value.
The best part of selling gift cards is that customers can buy these cards and share the coupons with their family or friends to redeem them in your store. This way, you can also attract new customers to your store.
In another way, you can also issue a gift card manually as a reward for your selected customers. When you issue it, the customer will then receive an email with a special gift card code, which they can use to redeem at checkout.
Why do you need Shopify Gift Card Apps?
Although Shopify offers a built-in gift card tool to sell gift cards, it is limited to very basic features and customers can't buy gift cards for others, which is actually the sole purpose of gift cards, right?
Most importantly, it doesn't allow you to automatically generate gift cards for customers on their birthdays, anniversary, and other days, which is quite essential to build lasting relationships with them.
But with a reliable Shopify gift card app, you can add more designs, custom branding, and functionalities to your gift card products to attract customers to buy and share gift cards with others.
6 Best Gift Card Apps for Shopify Stores
In this section, we have collated some of the best gift card apps that you can use to offer better gift card experiences to your customers and generate more revenue.
Ready? Let's get started.

Gift Card Hero is a popular Shopify gift card app that enables you to create, design, and schedule gift cards according to customers' preferences. Using this app, you can also sell physical gift cards and allow customers to recharge their gift card balance.
The app offers a friendly user interface for merchants to set up gift cards and for customers to buy, send, or redeem gift cards without any technical hassle. When it comes to designing, you can either upload your custom gift card designs or choose one of the pre-designed ones and customize it to match your store branding.
Key Features –
Customization: The app gives you an opportunity to customize gift card designs. Customers can also add personalized messages to authentically animated gift pages before sending them to their loved ones.
Pre-designed Gift Cards: It offers over 20 in-built designs for all occasions. You can also upload your own design to give a classic touch to the gift cards.
Scheduling: It gives excessive reliability to the customers to schedule delivery dates to send the gift card directly to their loved ones.
Gift Card Balance: The app sends reminders to the gift card holders regarding the unused gift card balance.
Compatible With Shopify POS: You just have to add this app to your Shopify POS and can easily check the details of your gift card balance.
Pricing Plan – Gift card Hero offers a 7-day free trial plan. Moreover, it is free for development and trial stores.

Shopkeeper gift card is another amazing Shopify gift card app that replaces Shopify's default gift card designs and offers more than 600 designs for different occasions. The app allows customers to customize gift cards as they want and send them directly to their loved ones right from the product page.
This Shopify gift card app is ideal for stores that want to sell custom brand gift cards and enable customers to purchase gift cards for others.
Key Features –
Customization: It offers customized gift cards to customers with its branded plans. You can add personal notes or use virtual gift card layouts to build your brand's reputation.
Pre-Designed Gift Cards: It offers more than 600 ready-made designs to please your consumers and to increase customer retention.
Scheduling: You can easily schedule gift card notifications or send them instantly from the Shopkeeper gift card app.
Global Content: You can easily create blocks of content and use them as per your need in the store. Moreover, updating one block will automatically update all other blocks, helping in saving your precious time.
Pricing Plan – The Shopkeeper gift card app offers a 7-day free trial plan with some specified designs to choose from. Moreover, to get full-fledged features, you have to switch to paid plans. Paid plans are as follows:
Easy: $9.99/month with single default design, customization with a personal note only, and single print layout.
Pro: $14.99/month with 650+ design options and 3 print layouts.
Banded: $19.99/month with virtual gift card layouts, customization of images, fonts, and more.

Gift Card Pro is an easy-to-use Shopify gift card app that lets your customers send digital gift cards directly to their wellwishers via text or email. You can also allow them to buy and send multiple gift cards in a single go.
The best part of this app is that it allows your customers to customize their gift cards either by writing a note or recording a video. They can also schedule the delivery of gift cards for a specific date, which can be a great choice for customers to surprise their loved ones on birthdays, anniversaries, and other special days.
Key Features –
Customization: The application allows your customer to customize their gift cards to give a better shopping experience which increases your sales and grow your brand's reputation.
Scheduling: Customers can easily schedule the time and date of their gift card delivery.
Integration: It offers easy integration with Shopify POS. You just have to add it to your Shopify POS and check your customer's balance.
Pre-Designed Templates: Gift card pro offers pre-designed templates with 50+ gift card design options. Moreover, you can also personalize it with recorded video messages.
Balance Look-up: Gift card pro's easy-to-use dashboard lets you track the balance of the gift cards and allows you to view the in-depth analytics on your gift card program.
Pricing Plan – Gift Card Pro offers a 14-Day free trial. Its paid plans are as follows:
Basic: $9.99/month allows uploading designs with 50MB image/video storage and scheduling.
Standard: $29.99/month with 250 MB image/video storage and everything of the Basic plan.
Business: $89.99/month with 500 MB image/video storage and everything of the Standard plan.
Enterprise: $499.99/month with 5 GB image/video storage and everything of the Business plan.

Govalo is a unique Shopify gift card app that goes beyond selling gift cards and offers giftable subscriptions, giftable products, store credit, and corporate gifting options which allows your customers to choose any product from your store and send it as a gift to recipients.
Govalo is an ideal gift card app for Shopify stores that sell gift products and subscriptions. Using this app, you can enhance the gift card experience for your customers and generate more sales for your store.
Key Features –
Personalization: Govalo offers you an excellent opportunity to personalize your digital gift cards to captivate customers to buy more gift cards. This eventually helps in escalating customer retention and the average order value (AOV) of your eCommerce business.
Giftable Subscriptions: It offers a varied variety of subscription boxes for different classes of customers helping them fulfilling their choice of gift cards.
Corporate Gifting Solution: Govalo offers a unique way of corporate gifting to strengthen the relationships between the client and the company.
Analytical Report: You can easily track the customer's used and unused gift cards from the Shopify admin dashboard using the Govalo Shopify gift cards app. Govalo also allows you to export your customer's report to your local workstation to identify your overall performance.
Pricing Plan – Govalo offers three specific plans for its customers. The plans are as follows:
Essential: Essential plans are free to install that offer selling customized gift cards with scheduling authority. You can also track the basic analysis report.
Premium: $79/month, which offers all essential features and integration with Klaviyo.
Enterprise: $399/month with all premium features and API access.

GiftKart provides you with a stellar gift card experience for building customer acquisition and increasing your overall revenue. This gives you an extensive feature for customizing gift cards along with video messages. Moreover, you can also issue a credit to your customers who want to exchange or return gift cards.
GiftKart helps you increase retention and sales by offering free or reward gift cards to your customers if they shop above a certain value. Also, customers can schedule their gift card delivery for future occasions.
Key Features –
Personalization: Giftkart offers you to customize your gift cards with advanced options of attaching video messages and scheduling their delivery.
Reward Gift Cards: Once any customer covers his minimal value, you can gain their trust by offering them reward gift cards which eventually will increase the AOV of your business.
Multi-language Gift Cards: You can easily send gift cards in multiple language gift notes to attract your customers.
Balance Look Up: GiftKart allows you to keep track of the balance in the customer's gift cards, eventually helping you to manage gift card transactions from one place itself.
Email Customization: It helps you customize the email templates by adding professional and beautiful designs to gain customer retention.
Pricing Plan – GiftKart offers four pricing plans which are as follows:
Shopify Basic Plan: $9.99/month which includes branded gift cards, greeting cards, and reward gift cards with scheduled delivery.
Starter Plan: $29/month with accessibility to all the features including balance checking, email customization, and video messages.
Shopify Plus Plan: $79/month. This plan is generally for Shopify plus customers allowing them to access all the features with multi-language and Kalviyo integration.
Enterprise Plan: $149/month. This plan offers headless commerce integration via APIs, provides custom integrations, and issues bulk gift cards.

iziGift is an easy, beautiful, and customizable Shopify gift card app that allows you to serve your customers with a unique way of adding and sending gift cards to their recipients. The customers can send their gift cards using the email of one member or with a list of multiple members.
This gift card app works well with almost every Shopify theme and allows easy customization of gift cards with a handful of design options or upload your custom gift card designs.
Key Features –
Customization: It offers an opportunity to customize your gift cards either by using in-built templates or by uploading your own design.
Gift Card Templates: You can easily upload your own template and personalize it as per the choice of your loved ones.
Email Template Builder: It allows you to build a beautiful email template for your customer's digital gift cards.
Email List Enhancement: This feature helps you build email lists by allowing customers to send gift cards to other recipients via email.
Pricing Plan – The IziGift Shopify gift card app has a Starter Plan which is free of cost. The paid plans of iziGift are as follows:
Pro: A Pro plan costs $49/month with all specific features.
Enterprise: An Enterprise plan costs $299/month with all advanced features.
How to Add Gift Cards to Your Shopify Store?
On Shopify, you don't have to be a coder or technical wizard to add gift cards to your store. It is similar to adding products to the store, with a few differences.
You can watch this video for a step-by-step tutorial –
Or, follow these steps –
Step 1: Log in to your Shopify Admin and go to Products > Gift cards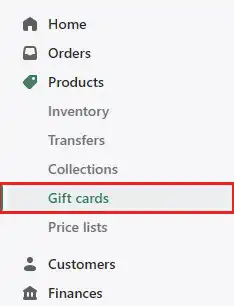 Step 2: Now, you will see two buttons. Click the Add Gift Card Product button to add your first gift card, as shown below.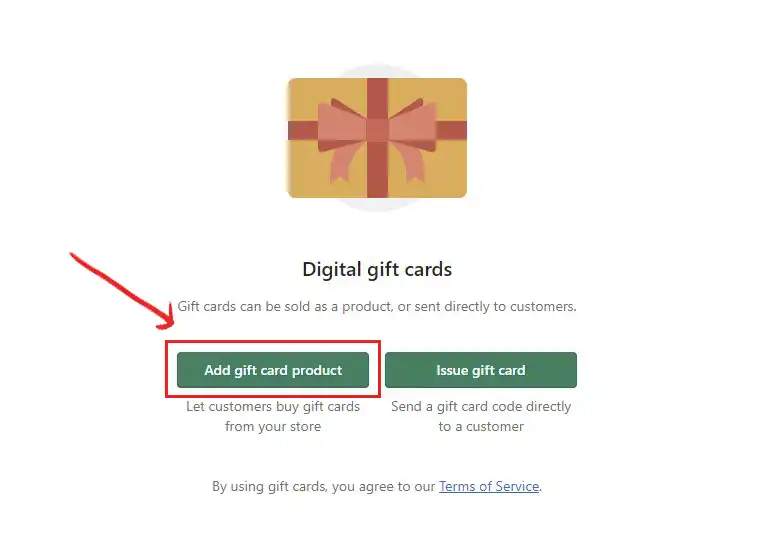 Step 3: Next, you will find yourself on a Gift card form page where you have to enter details in the following fields –
Title: Give a short and catchy title to a gift card so customers can understand it easily. For instance, Anniversary gift cards, Birthday gift cards, Valentine's gift cards, etc.
Description: You can use the description box to give better elaboration of your specific gift card that can captivate customers to buy your gift card. This section helps you explain the gift card in detail involving specific keywords which helps you to perform dense content marketing. With precise SEO tactics, you can rank your gift card on various search engines.
Media: This section lets you attach pictures of your product which can be a 3D image or a video. Make sure to attach high-quality visualized images so that the customers can get a clear perception of the product that you are selling.
Denominations: These are the different values of gift cards you want to sell. You can add as many denominations as you want and customers to choose the value of the gift card to purchase.
Search Engine Listing Preview: It shows how your gift card product will appear on search results. You can update its title and meta description to optimize it for higher ranking on SERPs.
Sales Channels and Apps: By default, your newly added gift cards are hidden from the sales channel, hence to sell it on various sales channels, you have to publish it first using availability settings, on one or more active sales channels. You can also customize the publishing date by clicking on the calendar icon available beside Online Store.
Organization: In this field, you can add some more information about the product vendors and their types, and can also add tags to update, filter, and search for the items in various sections.
Step 4: After adding all the details, click the Save button to make it live on your store.
Now, you can preview the gift card page to see how it looks on your store – it should appear similar to other product pages. If you want gift card product pages to be different from the rest of the products in your store, you can use one of the Shopify page builder apps to customize its design.
How to Manually Issue Gift Cards to Customers?
As an admin, you issue gift cards to your selected customers who can redeem them in their future purchases.
You can watch this video to learn how to issue free Shopify cards –
Or, follow the following instructions.
Step 1: Go to Products > Gift cards and then, click the Issue Gift Card button, as shown below.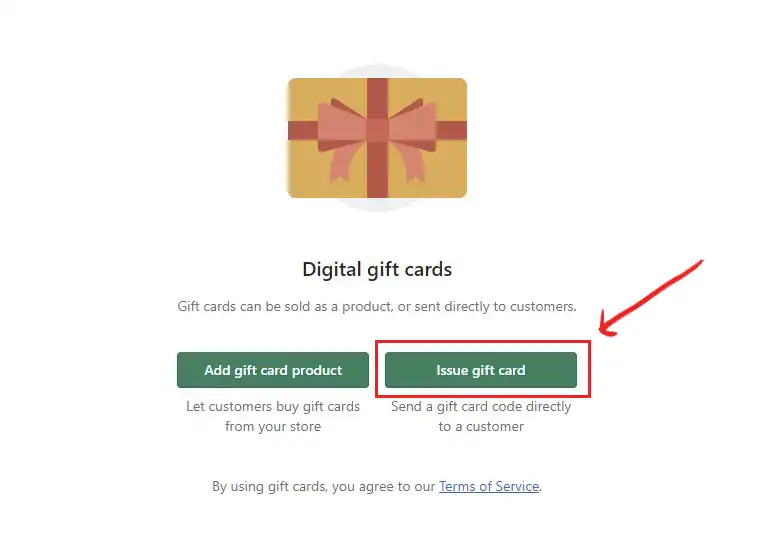 Step 2: In the Issue gift card page, fill the required fields, which are as follows –
Gift Card Details: In this section, you can fill the initial value of the gift card that you want to give as a reward to your customer. Here Gift card code will be generated automatically.

Gift Card Code: A gift card code is generated automatically when you click on the save button after adding all the details in every field. This is a confidential code that you will send to your customer via email.
Initial Value: In this field, you have to fill in the initial worth of the gift card that you wish to offer to your customer.

Expiration Date: You can either set a specific expiration date for the gift card that you are issuing to your customer or you can make it with no expiry. Also, there exist different laws for gift card expiry dates in different countries. Thus before updating any expiry date you need to check the laws of your country.
Notes: Notes are an optional section and are not visible to the customers. The notes are visible only to the store's admin.
Once you fill in all the details, select the customer you want to issue it to and click the Save button to generate a gift card code. Afterward, he/she will receive an email with the gift card coupon.
Advantages of Selling Gift Cards on Shopify Store
Shopify Gift cards offer some justified benefits for merchants and customers, which are as follows –
The gift cards create advance cash flow for the store. When someone buys a gift card, they are actually paying a certain amount, which they may redeem one day – this way, you get paid upfront without selling anything.
Gift cards also help boost the customer retention rate. This is because once a customer buys a gift card, it is most likely they will return to redeem it.
Shopify gift cards may go unused, which means you got some extra money without selling anything.
Gift cards increase average order value. When customers use gift cards, they tend to buy things to match the gift card amount. Thus they buy more products which eventually contributes to the higher AOV.
Gift cards are also a great way for customers to support their favorite stores. For instance, during the 2020 Covid crisis, many customers bought gift cards from small businesses to help them.
Wrapping Up
Gift card is one of the effective marketing and sales tools for eCommerce brands to enhance user experience and increase sales – the more people buy gift cards, the more they tend to engage with your store. In fact, according to research, 59% of gift card purchasers spend more than the face value of the gift card while redeeming it.
This shows that selling gift cards can help you improve the AOV of your Shopify store. Although you can sell gift cards in your using the Shopify default tool, I highly recommend using one of the above-listed gift card apps to offer a unique gift card experience to your customers.
Shopify Gift Cards FAQs
Can gift cards be used with Shopify POS?

Yes, gift cards can be used with Shopify POS as well. If you are on a paid plan, you can sell gift cards and customers can also redeem their value from the POS.

Can customers use Shopify Gift Cards multiple times?

Yes, customers can use their gift cards multiple times as long as it has a balance. For instance, a customer with a $100 gift card can redeem it at once or in parts to purchase from your store.

Can I offer discounts on Shopify gift cards?

Yes, you can create product discounts for gift cards from your admin dashboard. You can offer a percentage discount to a fixed amount discount on your gift cards
We hope that this article gave you an overview of Shopify gift cards and helped you find the best gift card app for your store. If you are looking for more apps for your Shopify store to enhance its features and functionalities, here are a few hand-picked articles you may want to read next –