Are you looking for the best BigCommerce apps for your store? If so, this article is for you.
BigCommerce is one of the best eCommerce platforms to build an eCommerce website and one of its superpowers is its app marketplace with a vast collection of apps for everything you need to set up a fully-functioning online store. From store designing and marketing to payment processing, you can find apps for anything and install them with just a few clicks.
However, going through each app to find the most reliable ones can be overwhelming & tiring for you. So, to save you time and resources, I did the leg work for you and scorched through the app store, to compile a list of the best BigCommerce apps that you can use to grow your business.
Ready? Let's get started.
1. Shogun – for page building
Although BigCommerce comes with it native drag and drop page editor, it is limited in designing and customization features. That's where you will need Shogun, one of the best BigCommerce page builder apps that enables you to create beautiful and high-converting store pages with ease.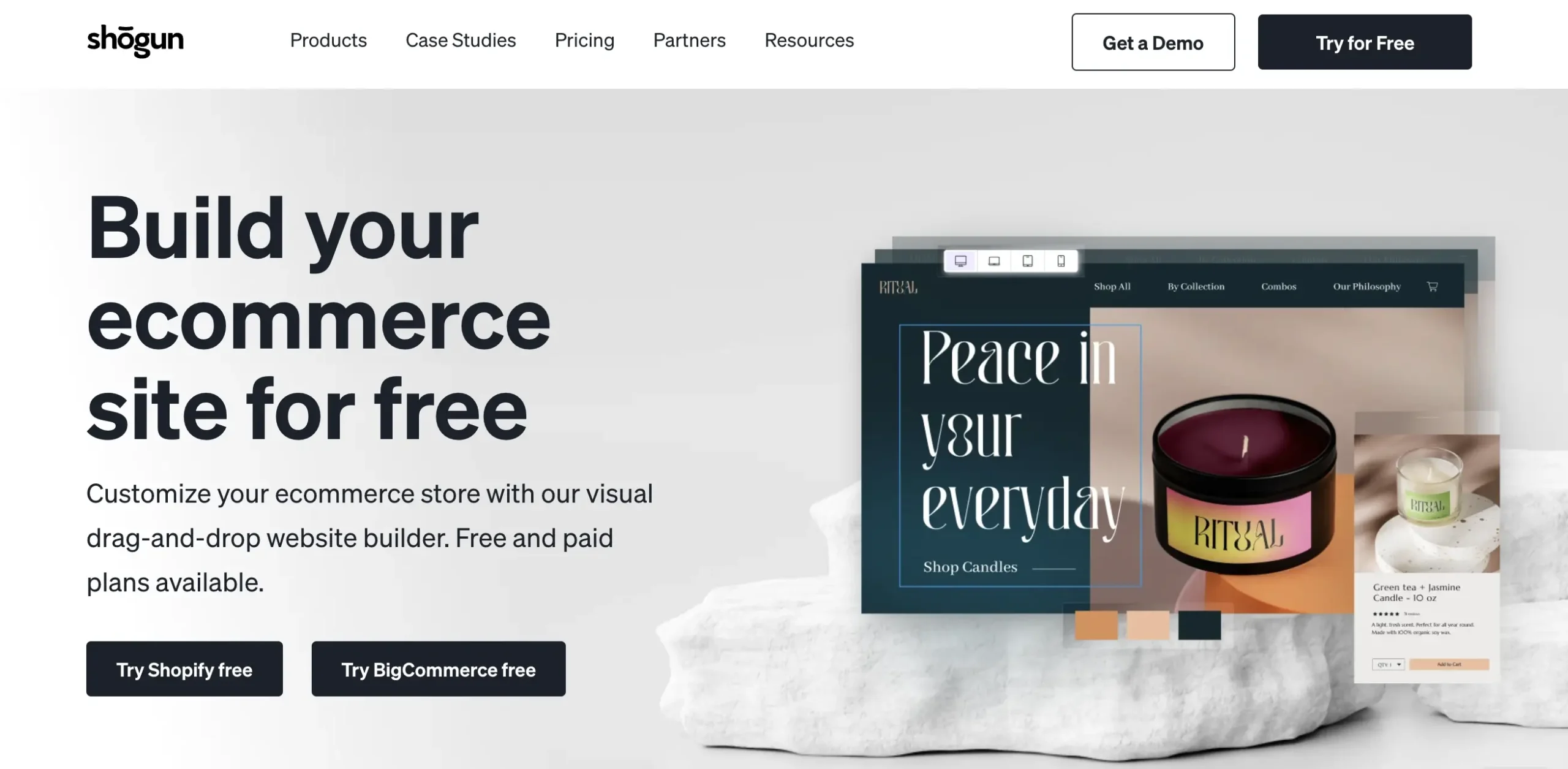 From homepage, product pages and collection pages to landing pages, Shogun has pre-designed templates for every type of page, which you can easily customize using its drag-and-drop page editor. The best part is that it is compatible with every BigCommerce theme, so you don't have to worry about its compatibility with your existing or desired themes.
Moreover, it comes with a built-in analytics reporting tool that enables you to monitor key metrics to analyze the performance of every page. This allows you to make data-backed decisions to optimize the pages for better performance.
Overall, if you want to go beyond the design limits of your chosen theme and create stunning store pages, Shogun is a must-have app for your BigCommerce store.
Pricing Plans – Shogun has a free plan that allows you to publish one page with limited access to templates and styles blocks. The paid plans start at $29/month with access to all the templates and advanced styling features. You will also get a 10-day free trial on all the paid plans.
2. Omnisend – for marketing automation
Email and SMS are the two most important marketing channels for eCommerce brands to communicate with consumers. Omnisend enables you to automate your entire marketing campaigns. From welcome series, abandoned cart recovery, and win-back to post-purchase communications, you can set up automation for any type of campaign.
The tool allows you to create advanced customer segments based on their behavior, locations, past purchases, and other factors. This empowers you to send highly targeted and personalized campaigns to your customers.
The best part is that with Omnisend, you can combine email and SMS with web push notifications to provide a unique omnichannel and personalized experience to your customers.
Overall, Omnisend is an amazing marketing app that enables you to send personalized marketing communication to your customers on autopilot. You should read our detailed Omnisend review to learn more about its features and how it can help your business grow.
Pricing Plans – Free for up to 250 contacts and 500 emails/month. The paid plans start at $16/month, depending on the number of contacts. Check out our Omnisend discount code to get 10% off for the first 3 months.
3. LiveChat – for live chat support
According to a Forrester study, over 42% of online consumers prefer to shop from brands that offer live online chat on their websites. So, if you want to build trust with your customers and drive more sales, you must offer live chat in your BigCommerce store.
LiveChat is one of the best customer service software that allows you to connect directly with your website visitors and offer them live chat support with quick responses to their queries.
While chatting with customers, your agents will be able to see their details, including locations and past interactions on the website, allowing them to establish more personalized interactions with customers.
Beyond this, LiveChat allows provides premium add-ons to offer live chat support via Facebook Messager, Instagram, WhatsApp, and other channels right from the single dashboard.
Pricing Plans – LiveChat offers a 14-day free trial on its three paid plans, starting at 24/month/agent ( $20, if paid annually).
4. Stamped – for rating & reviews
Customer reviews are the most powerful social proof for eCommerce brands to build trust with new customers. In fact, you should know that over 97% of online customers read reviews to make their buying decisions.
This is where you can use Stamped to gather customer reviews in text, photos, and videos. It comes with beautiful widgets to easily add reviews across your BigCommerce store pages.
Using this app, you can automatically send review requests via email, Facebook messenger, and text messages after orders are delivered. And the best part is that you can offer attractive discounts or rewards points to encourage them to take action.
Stamped reviews are SEO-friendly as the app generates rich snippets to display review ratings on Google Shopping and search result pages, helping you boost website traffic and generate more sales.
To learn more about its features and functionalities, you can check out our in-depth Stamped.io review.
Pricing Plans – Stamped has a free plan that allows up to 50 monthly review requests via email and SMS. The paid plans depend on monthly review requests and access to certain features. The basic plan starts at $19/month and offers custom pricing for beyond 3,500 monthly review requests.
5. Justuno – for personalized popups
One of the effective ways to boost your eCommerce sales is by providing a personalized on-site experience to your customers. If you offer unique and targeted discounts and relevant product recommendations to your visitors, you are more likely to convert them into customers. 
Justuno is the best BigCommerce app that can help you show personalized messages to your visitors via popups. It comes with advanced audience segmentation and 80+ display rules that allow you to display the right message, at the right time, to the right visitors.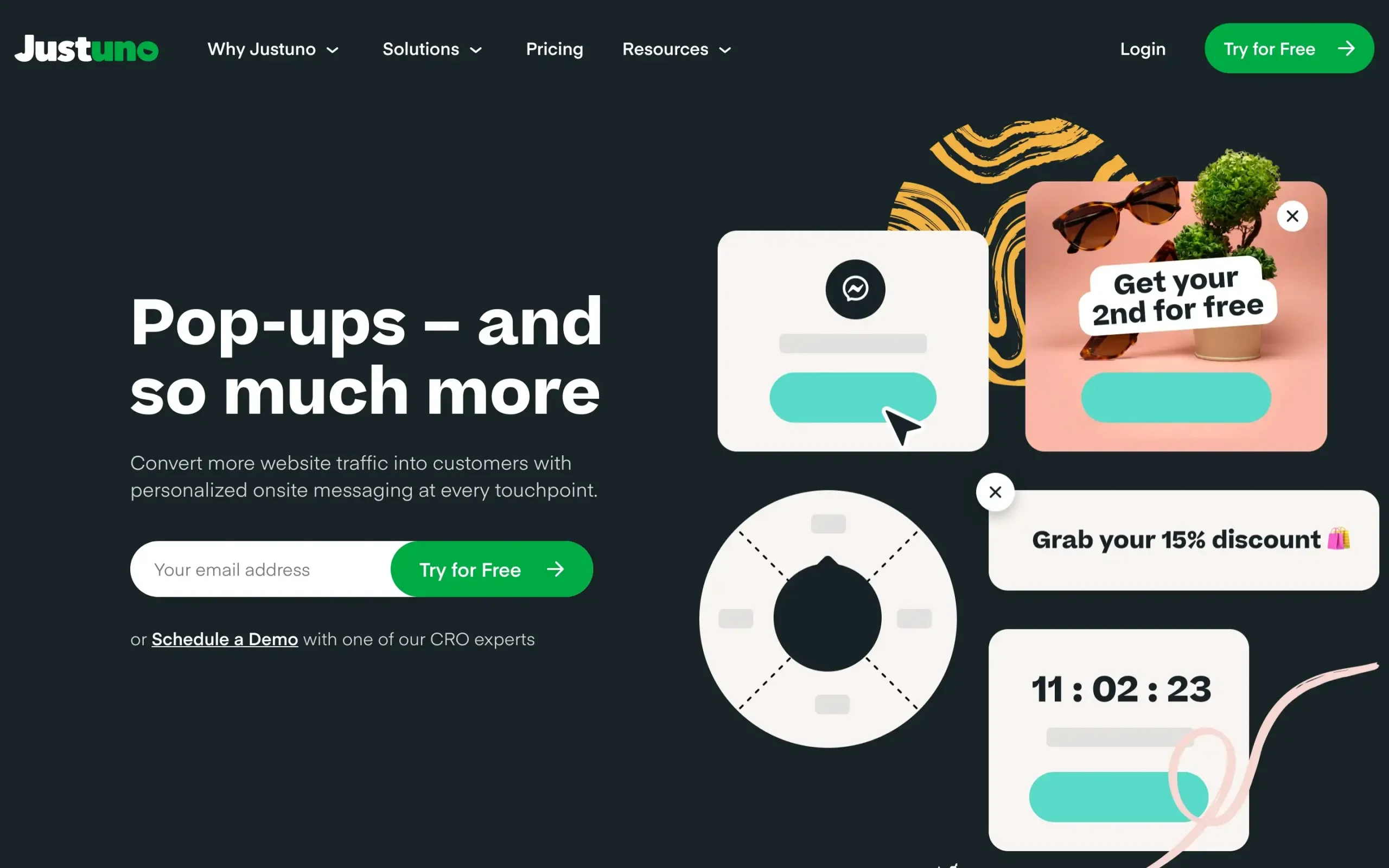 Using this app, you can reduce the cart abandonment rate significantly by offering special discounts that encourage shoppers to complete the purchase immediately. Similarly, you can display personalized product recommendations to repeat visitors based on their behaviors and past purchases. 
All-in-all, Justuno is a must-have app for BigCommerce stores to boost conversion rate and increase average order value for the store by providing a personalized shopping experience to customers.
Pricing Plans – Justuno has two plans depending on the website's monthly visitors. For up to 10,000 monthly traffic, the lite plan costs $59/month, and $199/month for the Flex plan.
6. LeadDyno – for affiliate marketing
If you want to collaborate with influencers and content creators from your niche to promote your products, then you must set up an affiliate program for your store. This way, you can invite anyone to partner with your brand and earn a commission for every new customer they send to your store.
LeadDyno is one of the best affiliate software that provides everything you need to create, manage, and grow affiliate programs for your store. It lets you set commissions for each product in percentage or a fixed amount.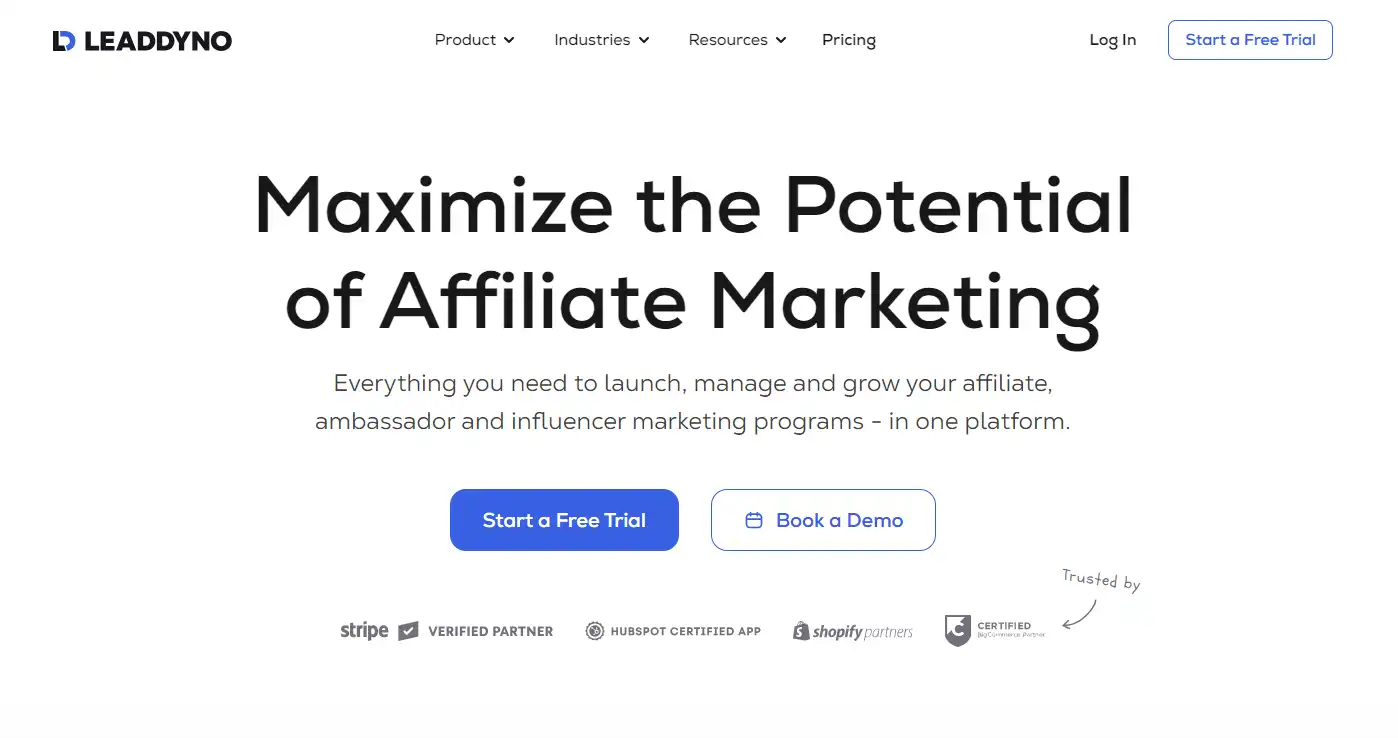 It provides a dedicated dashboard to each affiliate where they can track their performance and access the links and coupon codes they need to promote your store and products.
LeadDyno also helps you with marketing by automatically inviting new customers to join your program. You can also send newsletters or product updates to affiliates right from your dashboard, making it easier for you to communicate with them directly.
Overall, LeadDyno is a powerful BigCommerce app to start an affiliate program that can help you reach a wider range of audience without any upfront investments – you just have to pay after a sale is generated by affiliate links.
Pricing Plans – LeadDyno's plan depends on the number of monthly unique visitors. For up to 3,000 unique visitors, you can opt for the Basic plan at just $49/month, including a 30-day free trial.
7. ReferralCandy – for referral marketing
An affiliate program is a great marketing tool to tap into the audience base of content creators and affiliate marketers. But, if you want to turn your happy customers into brand advocates, you need to offer something better.
This is where you can use ReferralCandy to create a referral program for your BigCommerce store. It lets you send automated emails or show post-purchase pop-ups to invite new customers to join your referral program.
ReferralCandy allows you to reward referred customers and referrers in cash, store discounts, or custom gifts like free shipping. The app also provides a referral program landing page that you can easily customize to keep your branding consistent.
Beyond that, it is powered by a powerful fraud detection system, which saves you from misuse of the program with self-referral or other fraud tactics that people may use to earn extra rewards.
Bottom line, if you want to leverage word-of-mouth marketing to grow your BigCommerce store, you should consider using ReferralCandy to create a referral program and manage it efficiently.
Pricing Plans – ReferralCandy has two plans, starting at $59/month ( $47 if paid annually), including a 30-day risk-free trial.
8. Glew – for Analytics
If you run an eCommerce business and not tracking the right metrics to analyze your store performance, you might lose a lot of opportunities to grow your business. Although BigCommerce provides analytics reporting on sales and website traffics, it is not enough to make strategic decisions for the business.
This is where you can use Glew, one of the best eCommerce analytics software that supports direct integration with BigCommerce and consolidate data across multiple channels in one place.
With Glew, you can track 200+ important eCommerce KPIs and create custom reporting for any metric that you want to track for your business. So, whether you want to get reports on inventory, products, customers, or marketing performance analytics, this app can help you track everything accurately and provide insights in visual formats.
The most notable feature of this app is that you can automate recurring reports, and get a daily performance snapshot in your inbox. You can also send it to the concerned people in your team.
Pricing Plans – Glew has a free plan that lets you add unlimited stores and track 20 important KPIs. The paid plan is based on the store's annual revenue, starting at $79/month for stores with less than 1 million in annual revenue.
9. Spocket – for dropshipping
If you are starting a dropshipping business with BigCommerce, you need to find reliable suppliers with demanding products and handle everything from packaging to shipment for you.
Spocket is one of the best dropshipping suppliers with a huge range of products and suppliers. It mainly comprises US & Europe-based suppliers, which ensures high-quality products and faster shipping to any part of the world.
On the Spocket marketplace, you will find products with up to 40% discounts compared to other platforms, allowing you to book more profits. It also allows custom branding of packaging boxes and invoices with your logo and store name.
Once an order is placed from your store, you just have to click one button to process the orders and the rest will be taken care of by Spocket. It also keeps you and your customers updated with shipping and order tracking updates via email or tracking page.
Overall, if you are looking for trusted suppliers who can provide high-quality products to sell from your store, you must consider exploring Spocket. Moreover, you can read our detailed Spocket review to learn more about its features and functionalities.
Pricing Plans – Spocket is free to use however to import products to your BigCommerce store, you will have to opt for one of its paid plans, starting at just $29.99/month.
10. Printful – for Print on demand products
Do you want to sell print-on-demand products from your BigCommerce store? Embroidery T-shirts, caps, printed wall arts, clocks are some of the high-demand POD products that you can consider selling in your store.
And the best part is that to sell such personalized products, you don't have to set up your own printing services. Instead, you can use Printful, the best print-on-demand company that handles everything from printing to order fulfillment on your behalf.
With Printful, you will get a built-in designer tool that lets you customize the products, create mockups and add them directly to your store. Once a customer places the order, Printful will automatically sync the order data and process the order fulfillment. You can also add custom packaging, pack-ins, and packaging inserts to establish brand value among your customers.
Read our detailed Printful review to get a complete overview of its features and how it can be useful for your business. You can also look into the best Printful alternatives to explore your options.
Pricing plans – Printful is free to use and you just have to pay on a per-order basis. That's no upfront fees unless you need access to advanced features like custom mockup maker, background removal, etc.
11. Sellbrite – for multichannel sales
When you start selling online, it can be challenging to drive traffic organically to your site and generate sales. So, instead of relying on your store, you can list and sell your products on other established marketplaces such as Amazon, Etsy, Walmart, etc.
Sellbrite enables you to easily connect your BigCommerce store to multiple sales channels to list your products, control inventory and fulfill orders right from the single dashboard.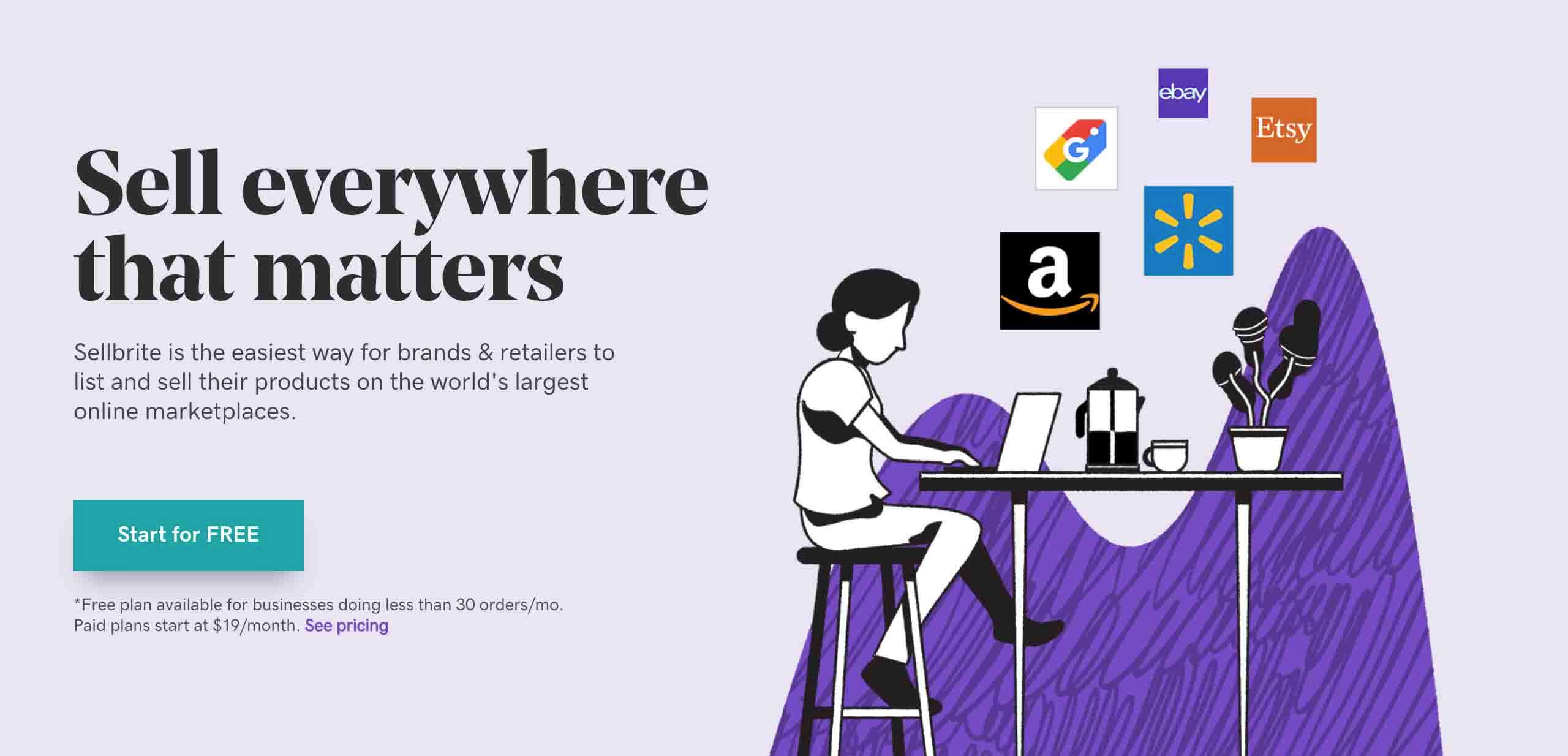 The most notable feature of Sellbrite is its real-time inventory synchronization, which automatically updates the inventory data on all channels when new orders are placed. This way you can avoid overselling any products that you might not be able to deliver.
Pricing plans – Sellbrite has a free plan that allows up to 30 orders per month + 30-day full access to all the features. The paid plans are based on the number of monthly orders, starting at $29/month for up to 100 monthly orders.
12. Easyship – for shipping management
Whether you are catering to domestic or global consumers, you need powerful shipping software that enables you to manage and tracks all the order shipping and fulfillment from a single dashboard.
Easyship is one of the best shipping software that connects you with 250+ logistics service providers, including FedEx, UPS, DHL, etc. It integrates directly with BigCommerce, which allows you to seamlessly manage all orders and track shipping updates.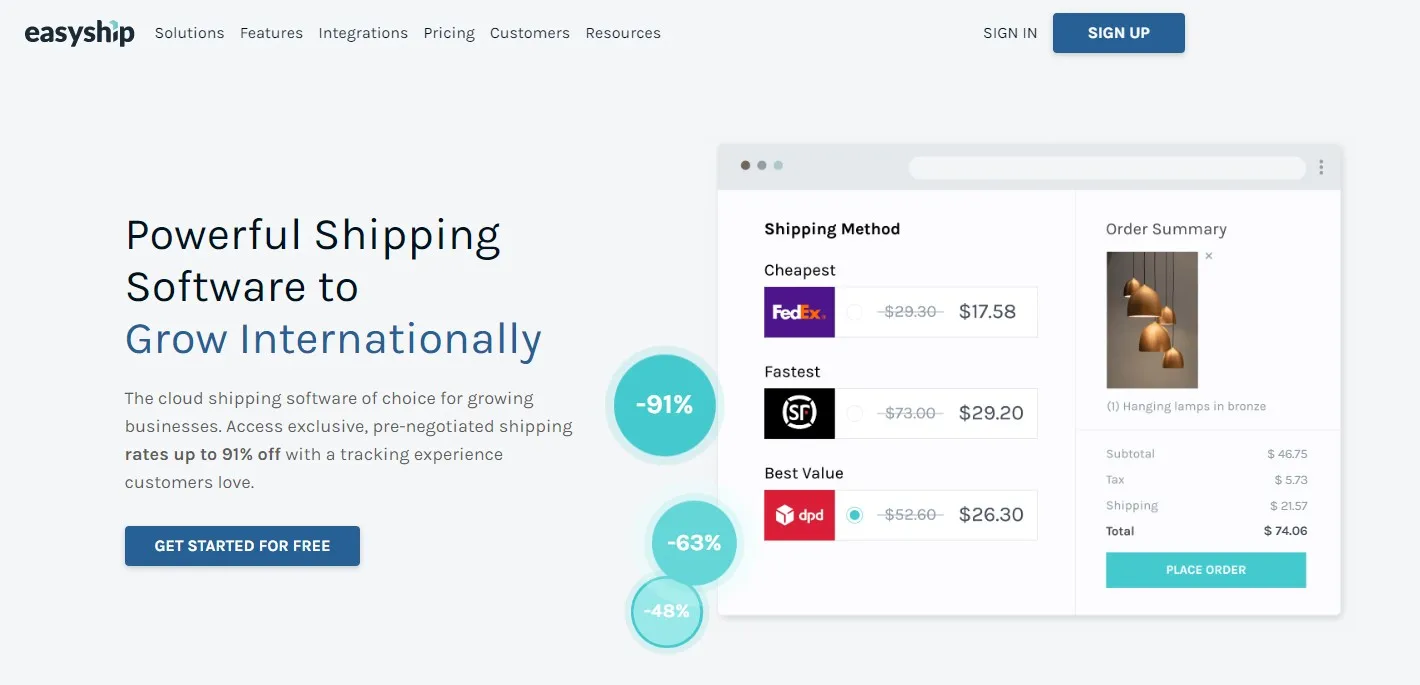 What makes Easyship stand out from the crowd is that it enables you to display shipping rates and offer your customers the choice between the fastest, cheapest & best value for money with real costs. This way customers can choose the most suitable shipping method and improves your conversion rates.
Pricing Plans – Easyship has a free plan that allows up to 50 monthly orders, but you will have to pay the shipping rates based on the destination, weight, dimensions, and duty costs for international orders.
13. Rewind – for store backups
One of the major risks of running an online store is it is prone to hacking and brute attacks. So, despite you take all the security measures, you must ensure that your store is backed up for recovery if something goes wrong.
Unfortunately, BigCommerce doesn't create backups of online stores. So, if your store gets hacked or you lose access for any reason, you might not be able to recover it, unless you create regular backups using Rewind.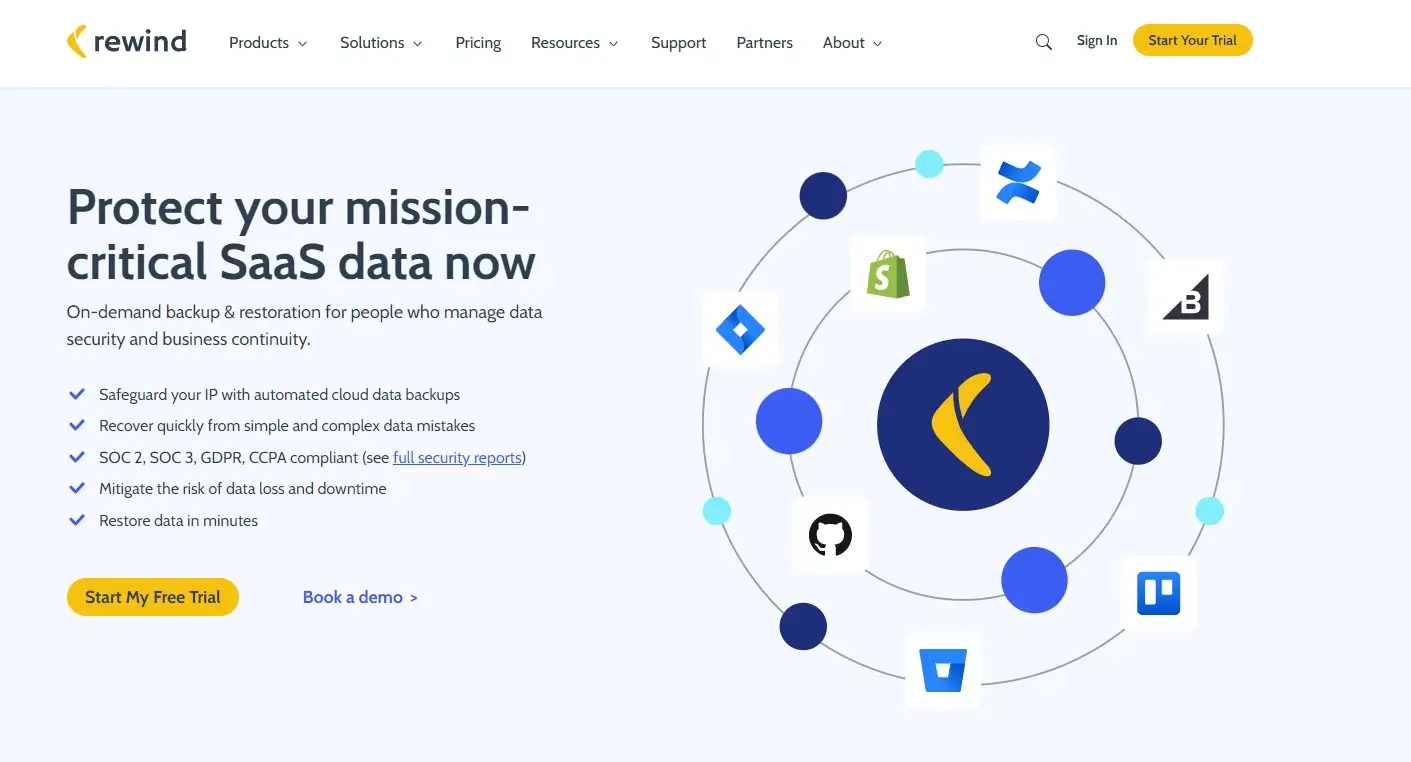 Rewind creates a real-time backup of your store data, including images, descriptions, blogs, themes, orders, pages, customer lists, and more. You will be able to access the backup files at any time and restore anything whenever you want, without any technical hassle.
Pricing Plans – Rewind's pricing plan is based on the number of monthly orders, starting at $39/month for up to 600 monthly orders.
Wrapping Up
BigCommerce is undoubtedly a powerful platform to start an eCommerce business, and with the above-listed apps, you can build a robust online store with powerful features that lets you deliver unique shopping experience to your customers and improve your business performance.
While selecting the apps for your BigCommerce store, make sure that it is compatible with your existing tech stack or other preferred apps. If you are new to BigCommerce, here are a few articles you may want to check next –
Finally, do check our app reviews to ensure that the app has everything you need for your online store. Rest assured, all the listed apps are best in class and are available in the BigCommerce app marketplace for 1-click installation.