Shopify is one of the best platforms to start an eCommerce business and sell anything you want, without requiring any coding skills. It provides you with everything, from design, product management, inventory, payment methods, and more at a very nominal price.
Recently, Shopify made it easier for anyone to create an online store at a very minimal investment. You can now get a 3-day free trial & $1/month for 3 months.
After signing up, you can follow our Shopify Beginner Guide to create your online store by following the best practices.
What is Shopify $1/month for 3 months plan?
Shopify is offering a special discount to entrepreneurs for their eCommerce venture with just $1/month for three months. They can sign up with a 3-day free trial and after that, they will have to choose one of three paid plans.
However, the $1/month for 3 months is available only for the basic plan, in which you will get access to all the features included in the plan. That is, you will be able to set up an online store, add unlimited products, sell gift cards, analytics reporting, and everything covered in the basic plan.
To get a complete idea of the plans, you can refer to our detailed guide on Shopify pricing plans.
The best thing about this plan is that it is available for both new and existing customers. That is, if you are already using Shopify lite plan, you can upgrade your plan to Shopify basic and pay only $1/month for 3 months.
How to get Shopify $1/month for 3 months Plan?
If you are an existing customer, you can just navigate to the pricing section to upgrade your plan to the Basic plan. However, if you are a new merchant, you can easily claim this offer.
If you prefer videos, you watch this step-by-step tutorial on how to get Shopify's $1 for 3 months plan.
Or, just follow the instructions as follows –
Step 1: Visit our Shopify offer landing page to sign up for a 3-day free trial. When you will the link, you will see the page as shown below. You either start by adding your email address in the field or click the signup link on the top banner.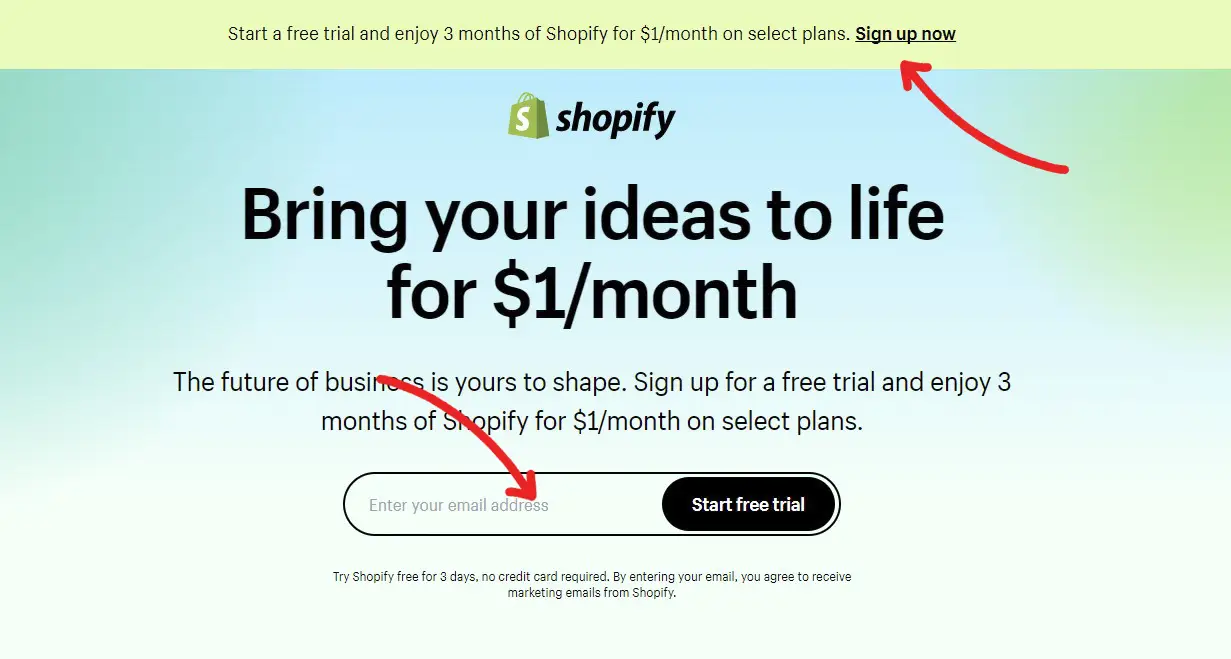 Step 2: Shopify will ask for basic details like your preferred sales channel, store name, and others. You can either fill them out right away to skip them for later.
Step 3: After that, you will be directed to your Shopify admin dashboard. There. you will see the pop-up and banners with a button to pick a plan. You can leave it as it is to use Shopify free for 3 days and choose a plan later or you can do it right away to avoid losing access.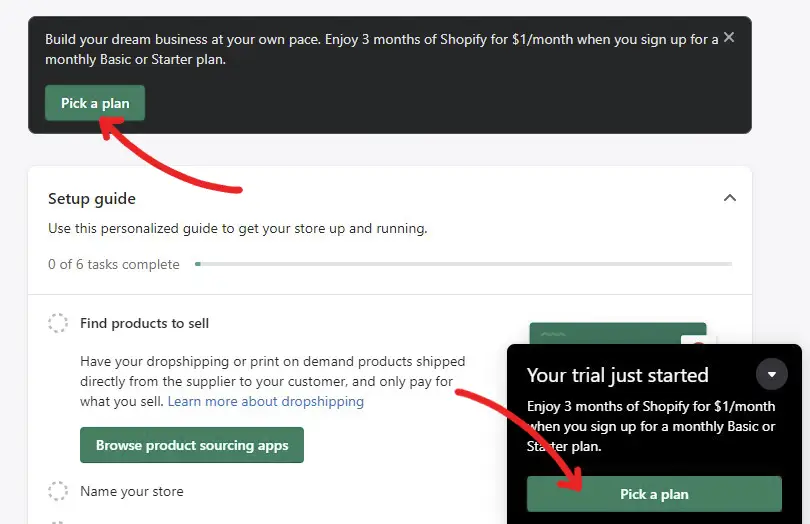 Step 4: After that, you will see its three pricing plans. Click the "Choose Basic" to get $1/month for 3 months.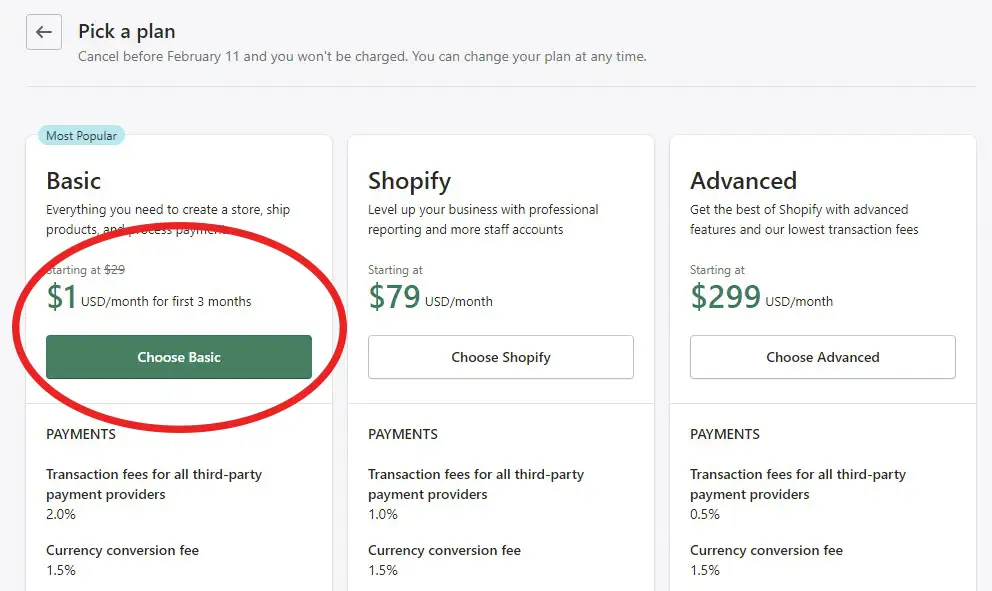 Step 5: Next, choose the Monthly billing cycle to pay $1/month for three months, after that $39/month.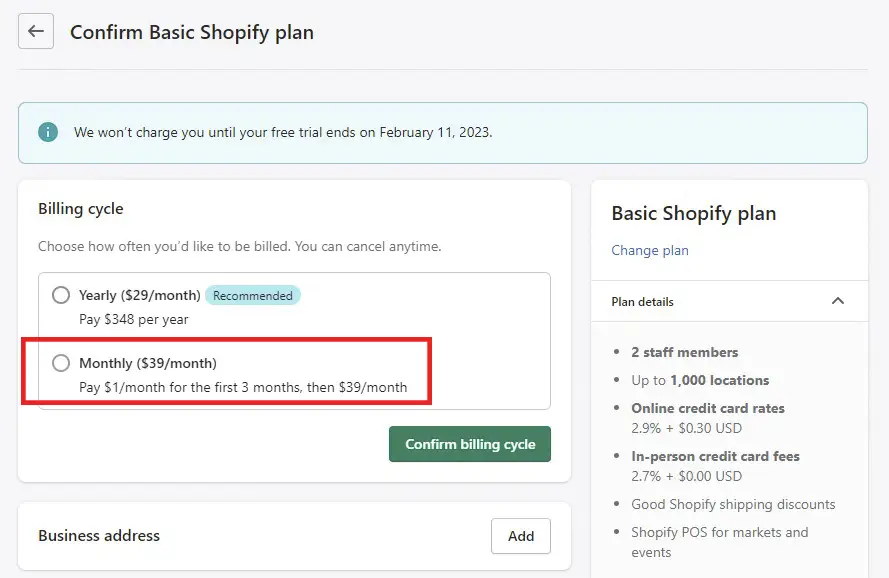 After providing all the payment details, you will still be able to enjoy your 3-day free trial and the $1/month plan will start after that for the next 3 months.
Shopify $1/month plan FAQs
What Happens Once The 3-Day Trial Ends?

Once your 3-day trial period is over, the Shopify 1-dollar plan for 3 months will be activated if you have already picked the basic plan as shown above. Else, your access to admin will be suspended till you upgrade to one of the paid plans.

Can I cancel my Shopify plan after 3 months?

Yes, you can easily cancel your Shopify plan after 3 months and no additional fees will be charged for using Shopify at $1/month.

Will Shopify charge transaction fees?

Yes, Shopify charges transaction fees on all plans, including the $1/month for 3 months plans. You can read our article on Shopify pricing and fees to get the complete information on it.

Is Shopify the right platform for my business?

Shopify is one of the best platforms that allow any kind of eCommerce business to sell anything unless it is one of the prohibited items. However, if you want to get the complete context of its features and functionalities, you should read our detailed Shopify review.