Finally, you picked Shopify to start your online store? That's great!
Shopify is one of the most popular eCommerce platforms to create an online store of all sizes. And with Shopify, you can create your eCommerce store in just 10 steps without worrying about any technical hassle.
So, if you are looking for a tutorial to create an online store on Shopify, you've come to the perfect place. In this guide, I'll show you every step from creating to launching your own online Shopify store.
What is Shopify & How much does it cost?
Shopify is a subscription-based online platform that allows you to create your online store & leverage their eCommerce solutions like displaying products online, tracking inventory, accepting payments, calculating shipping as well as tax rates, and a lot more. And it also takes care of all the backend and technical aspects of running an eCommerce site like hosting and security from brute forces.
In old times, setting up an online store used to be a very hefty task. You had to get a server, configure it, develop a website, and develop various tools to manage daily needs and the worst part is that you had to hire a developer to manage the entire ecosystem to ensure your website runs smoothly.
Shopify took over every technicality involved in setting up an online store & simplified the whole process of creating, launching, and running an online store. And that's what you will be paying for – a seamless and easy-to-use eCommerce platform.
Now, when it comes to Shopify plans, it offers mainly three plans. Here's the breakdown of each plans –
Basic Shopify Plan – $29 per month + 2.9% and 30¢ per transaction
Shopify Plan – $79 per month + 2.6% and 30¢ per transaction
Advanced Shopify Plan – $299 per month + 2.4% and 30¢ per transaction
To start with building an online store, Shopify offers a 14-day free trial without even needing to input your credit card information. However, you will only have to pick a plan once you decide to make your store public.
10 Steps to Start a Shopify Store
So, are you ready to learn how to build your own online store with Shopify? If so, let's get started with creating your Shopify account.
Step 1: Create your Shopify account.
Go to Shopify.com and click on the "Start free trial" button on the far-right side of the page.
As I have mentioned earlier, Shopify offers you a 14-day free trial. You can use this free trial period to set up your store, add products & give it a try before making any payment to make the store live.
To get started, fill-up the form with your email address, password, and your store name. Your store name needs to be unique i.e., there must not be another store with the same name on the Shopify platform.
Once you've entered the available store name, click the "Create your store" button.
Now, Shopify will ask for information about you & your business. Fill up the field respectively & click Next. You can skip this step as well.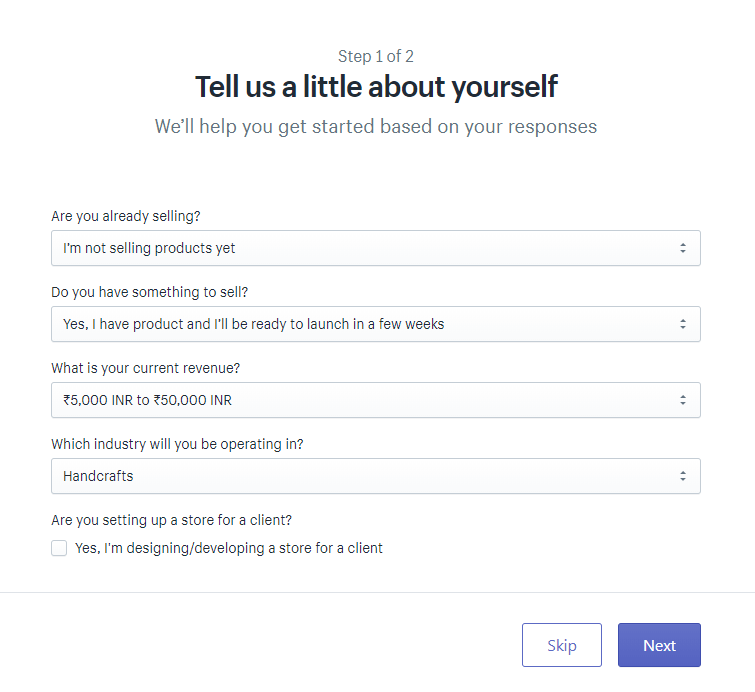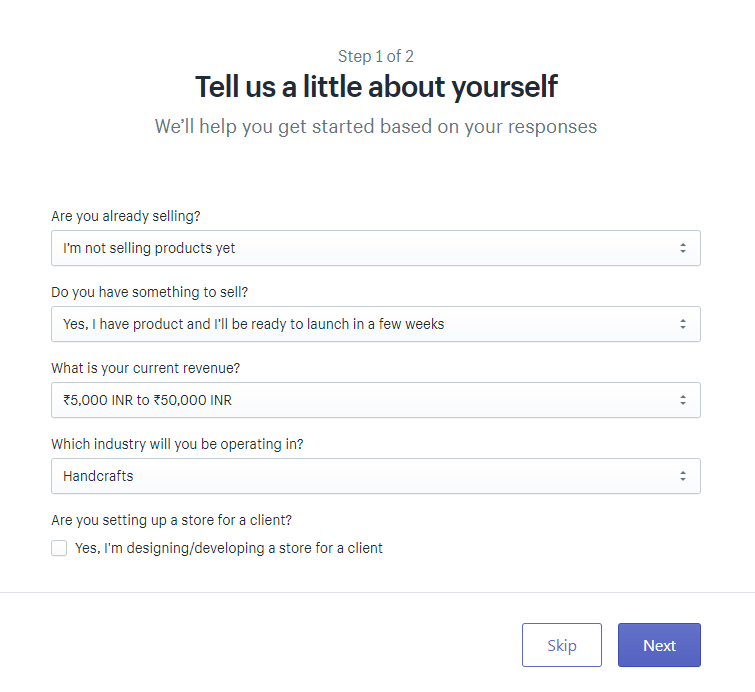 Afterward, add business details like address, name, and then click the "Enter my Store" button.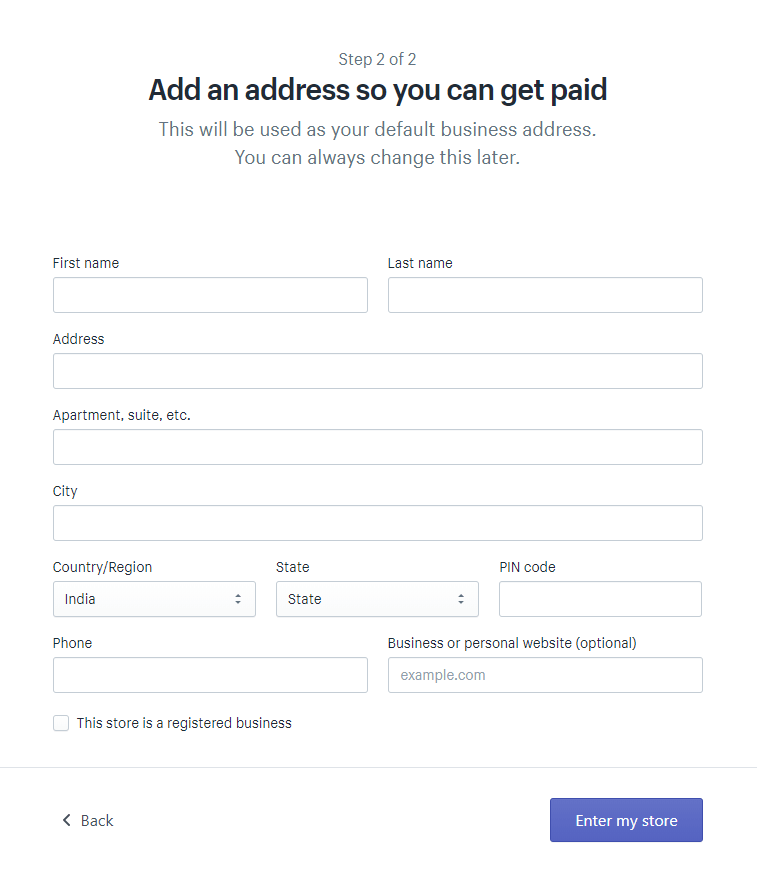 Congratulations! You are now inside your Shopify admin panel.
Step 2: Choose a theme for your store
Once you're inside your store admin panel, it is time to beautify your store.
To get started, you need to choose a theme for your store. Shopify has its own official theme store where you can find both free and premium themes.
Every theme comes with its own limitations in customization. That's why while selecting the theme make sure you go through the details of functionality.
1. Find a theme
To find a theme for your store, click on "Online Store" in the left sidebar. Then, click on "Themes"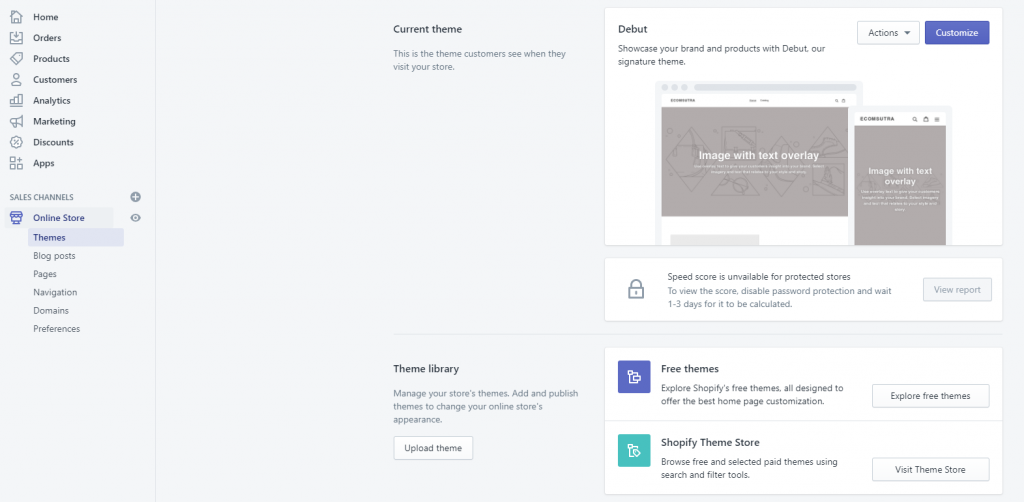 Here you can also upload a theme that you have purchased from theme marketplaces like Theme Forest. In fact, we have compiled some of our favorite Shopify themes available in the market, check out –
Or, you can explore the Shopify theme store where you'll find 70+ themes in various categories with different functionalities.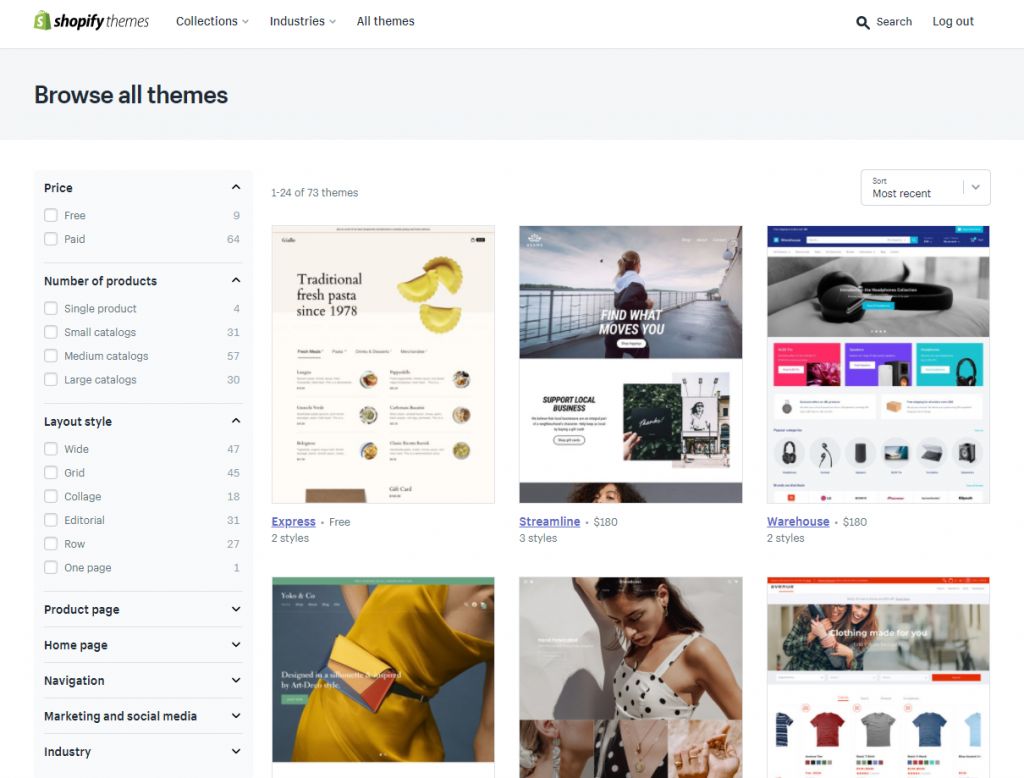 You can filter themes based on various attributes like a number of products, layout style, marketing features, industry, etc. You can also sort themes by price, popularity & most recent.


2. Analyze the features of themes.
While going through all the themes, find out more about the features of the themes you like – like mobile responsiveness, SEO, pop-ups, etc.
To find this information, click on the theme you liked and you'll be directed to the page where you'll be given more information about the theme including features, review & also the stores which are using that specific theme.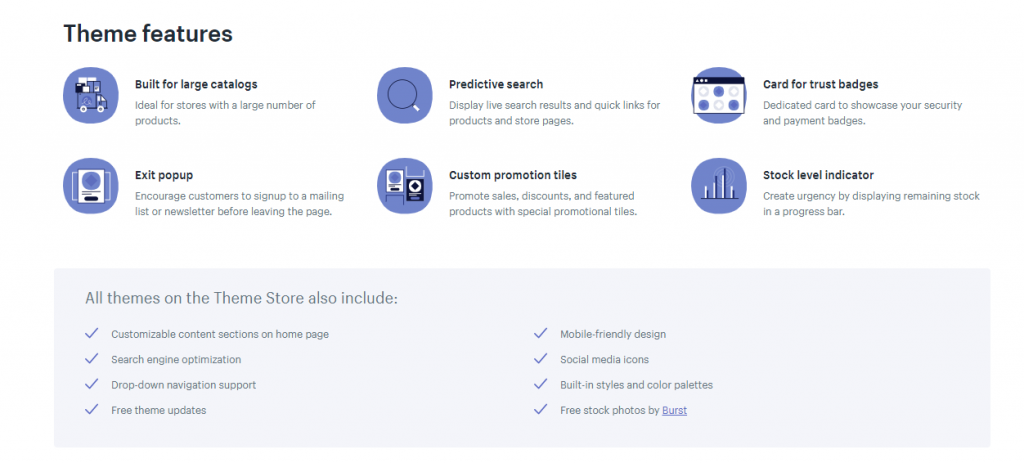 You can scroll down to view more themes with similar features by the same designer.
3. Preview the theme.
To see how the theme feels, click the "View demo" button. There you can preview the theme in mobile and desktop view. Also, try different styles of that theme (if available).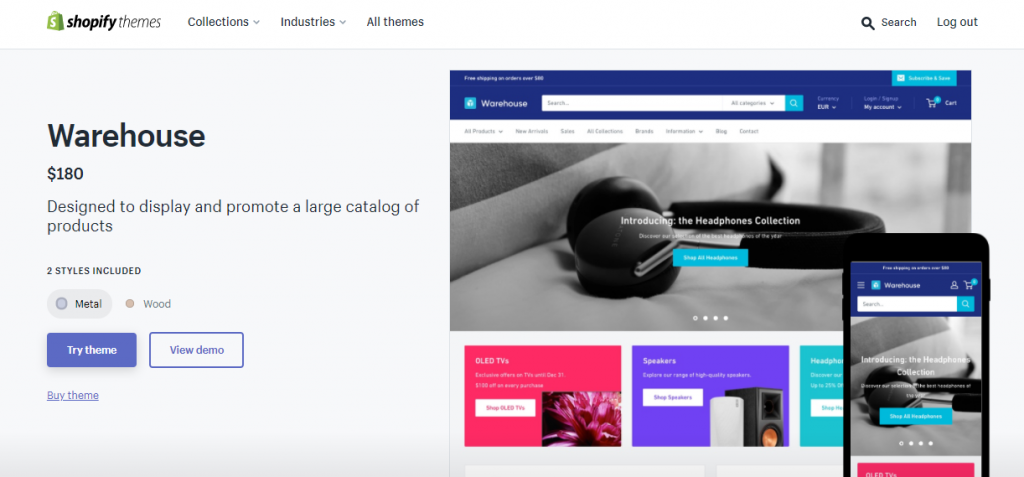 4. Try the theme & buy.
If you like the theme, click on the "Try theme" button in the top right corner of the preview page. The theme will be added to your store.
Now, Customize the themes and see if it is what you want for your store.
Once you find the perfect theme for your store, buy it!
Step 3: Customize the theme of your store.
Once, you've selected a theme, it is time to change the look and feel of your store. Almost every theme from the Shopify theme store allows you to make changes that define your brand & keep it stand unique from tons of other stores.
On your left sidebar of the Shopify admin panel, go to "Themes" and click on the "Customize" button beside the theme you selected.
Now you will be taken to the theme editor page, where you can customize the theme. Some of the most common customizations will include:
Color schemes
Featured Collections
Header
Logo
Typography
Footer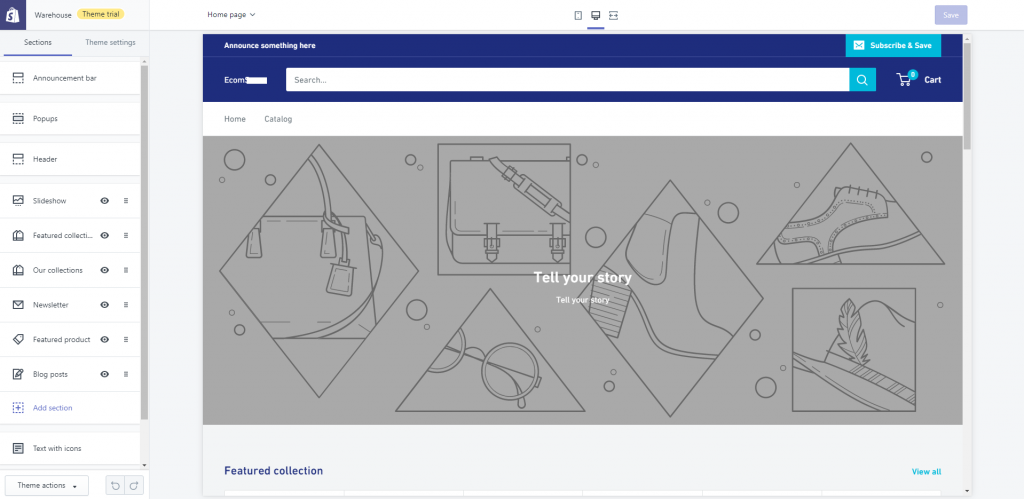 These customization depends on the functionality available with your theme.
You can also make a lot of adjustments by accessing the CSS and HTML aspects of your theme. If you don't have coding knowledge, you can always hire an expert from the Shopify experts page to make the necessary changes.
Step 4: Add products & content.
Now, your store's look & feel is complete. It is time to showcase your products.
On the left sidebar of your Shopify admin panel, select "Products" and click on the "Add product" button to add details about your products including images, names, descriptions, etc.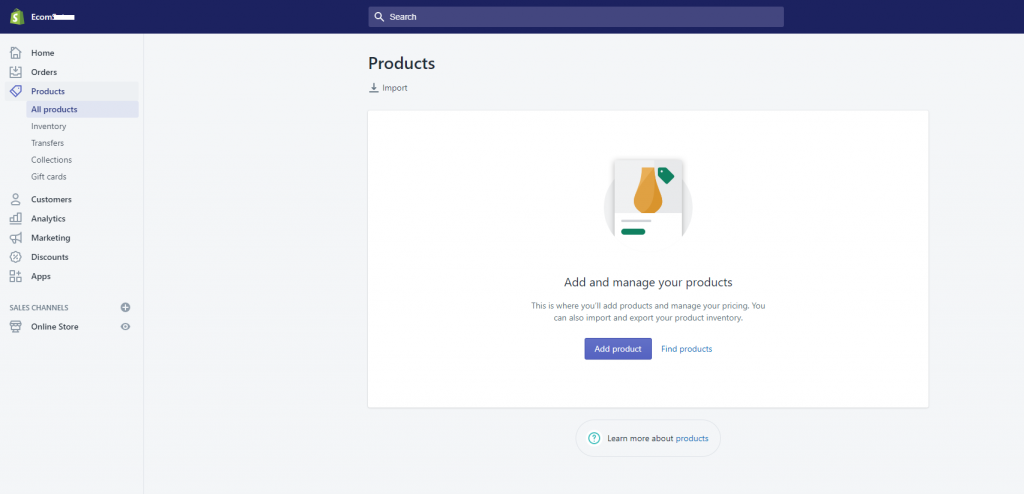 Remember, images are very crucial for your customers when it comes to online purchasing because they can't touch the products & the only way to feel the sense of genuine is through the images you add.
Step 5: Add necessary pages.
Go to "Online Store" and select "Pages" which will take you to a dashboard where you can create & manage pages.
Now click the "Add page" button. Next, add the page title, and content and edit the SEO of the page.
Remember that these pages on your website will help your customers to know more about the store, the team behind it & legalities on how you handle their data, return policy, etc.
Some of the necessary pages every online store should have are: –
About
Content
Delivery & return policy (legal)
Privacy policy (legal)
To add legal pages, go to "Settings" from the left corner of your Shopify admin dashboard. Here you'll find a predefined section for each page.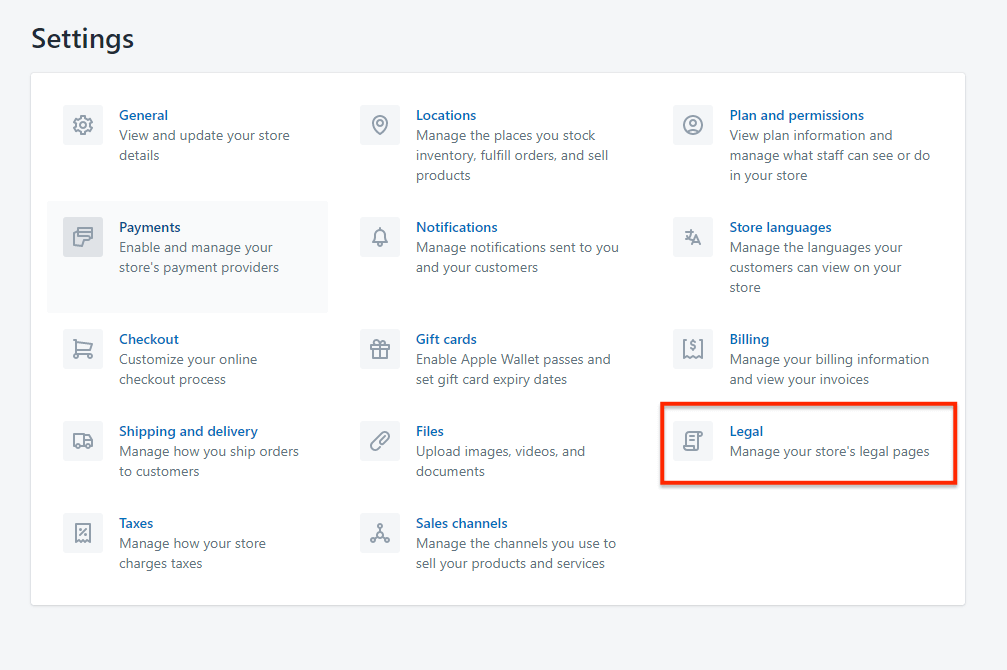 You can also create these pages using Shopify templates, click on the "Create from template" button below the text field and a predefined template content will be added.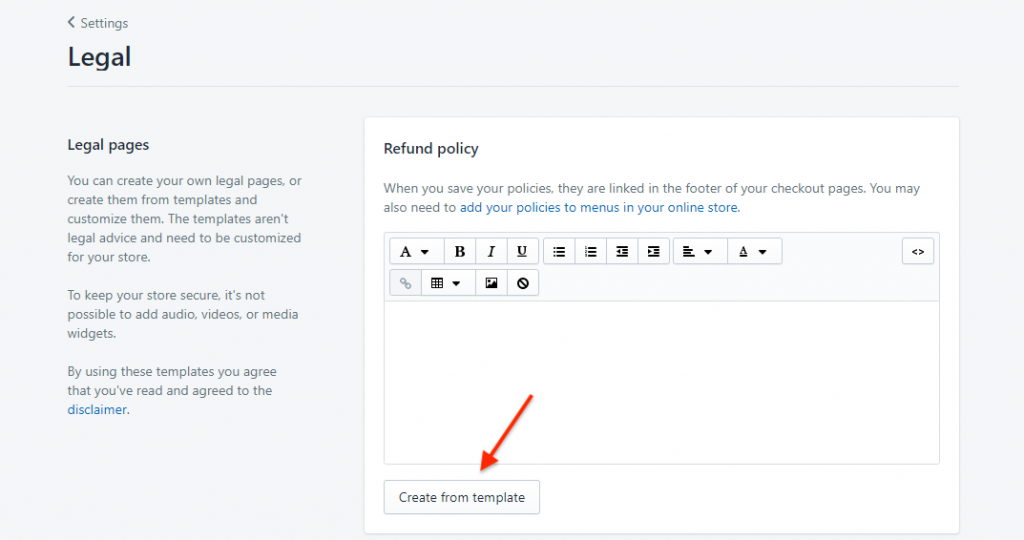 Now, edit the content as per your policy & click "Save" to publish the pages.
Step 6: Enable payment & checkout process.
To enable payment methods on your website, you need to set up a payment gateway that allows you to take payments from your customers.
Shopify offers its own payment gateway "Shopify Payments" for everyone in supported countries or locations of the business.
If your country from where your business operates isn't supported by Shopify Payments, you can choose from other payment gateways including PayPal.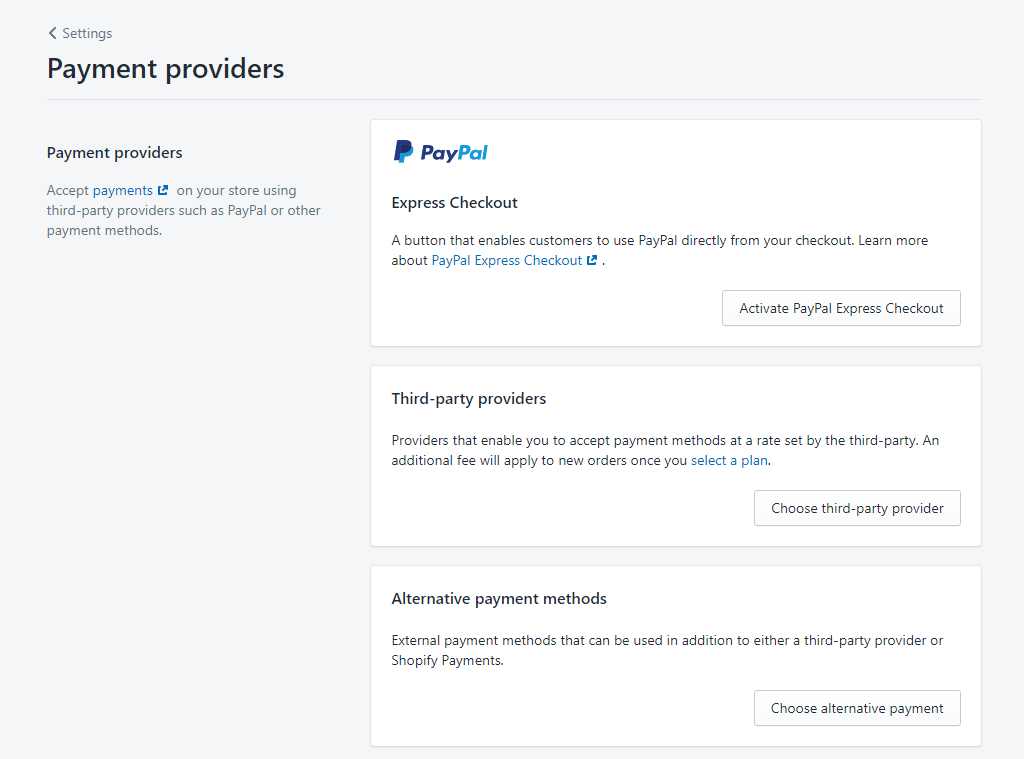 For Shopify Payments alternatives, you should check our guide on the best payment gateways for Shopify stores. While choosing a payment gateway, you need to look at the following features: –
Transactions Fees: When you use a payment gateway, most of them keep a small percentage or flat fee (or both) per transaction. So, compare all the available payment gateways in your region & choose the most suitable one for your business.
Card types: You need to make sure that your payment gateway accepts the most common card types among your customers for seamless transactions. While most of the gateways accept VISA & MASTERCARD, you need to ensure that the latest digital wallets like Paytm, Apple Pay, and Google Pay are also supported.
Once the payment gateway is configured, go to "Settings" & select "Checkout" to customize the checkout process as per your business needs & click "Save" to complete it.
Step 7: Add your business details
Before setting your story live, you need to ensure that all the legal & other marketing and business information is added to the store.
Go to settings and take a look at each of the options.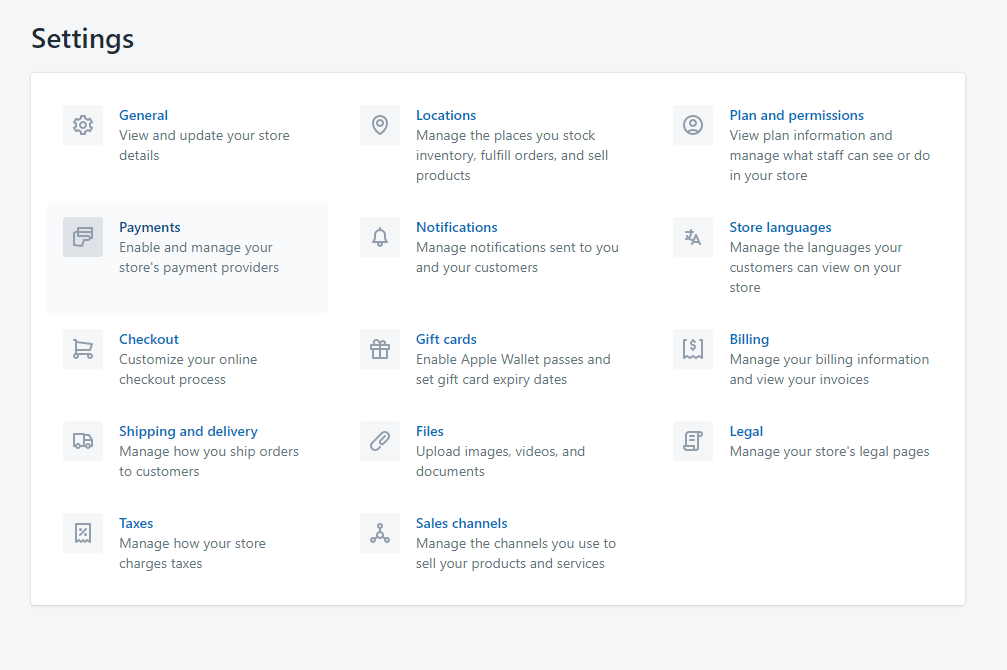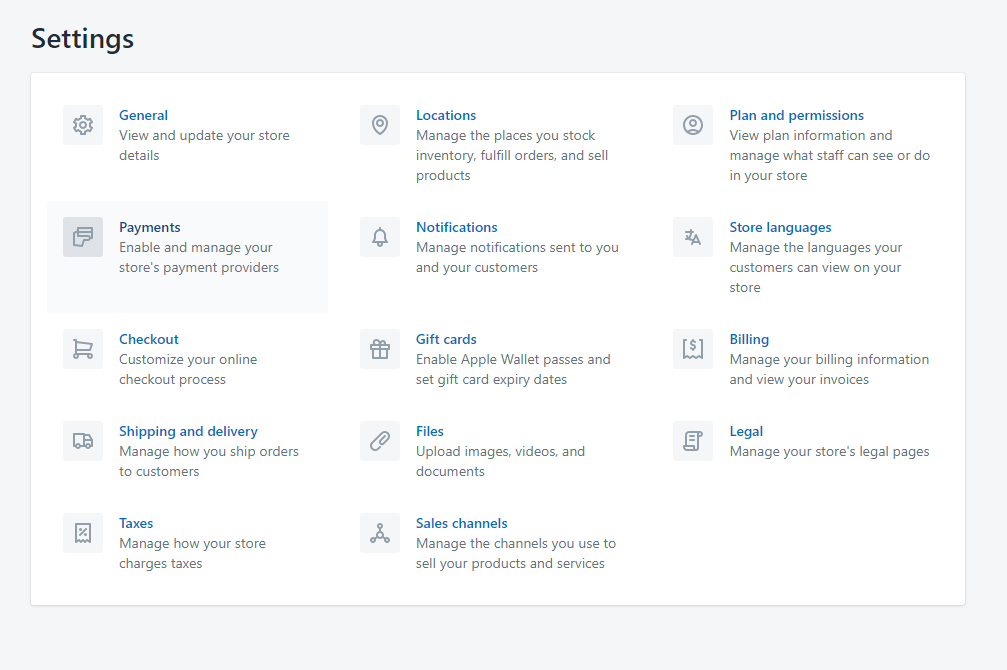 General: In this section, you need to provide all the details like name, email, industry, address, currency, and other standards and formats for your store.
Locations: If your business operates from multiple locations, make sure you add all the locations.
Notifications: In this section, you'll find different types of notifications for customers & staff at different stages of order processing. You can click on each notification & customize it as per your needs.
Shipping & Delivery: If you're selling physical products, this section is very crucial for your business. Here you need to choose where you can ship & how much you charge for shipping. You can also integrate with external shipping carriers & fulfillment services available in your region.
Taxes: In this section, you need to set up how your store calculates taxes & charges from customers. If you don't have much understanding of the taxation process, it is highly recommended to consult a tax expert before setting up this section.
Step 8: Add your Domain for your website.
If you haven't bought a domain for your store, you can purchase right from Shopify. Go to "Online Store" in the sidebar, select domain, and click on the "Buy Domain" button.


Enter your store name in the search bar & you'll see a list of all the available domains for that name. If you find the desirable domain, click buy to purchase it and the domain will be automatically connected to your store.
However, if you have already bought a domain from another registrar, you can connect it with your store by clicking on "Connect existing domain". Next, enter your domain & click Next.
Now, if your domain registrar is GoDaddy, you can connect the domain easily by clicking on "Connect automatically".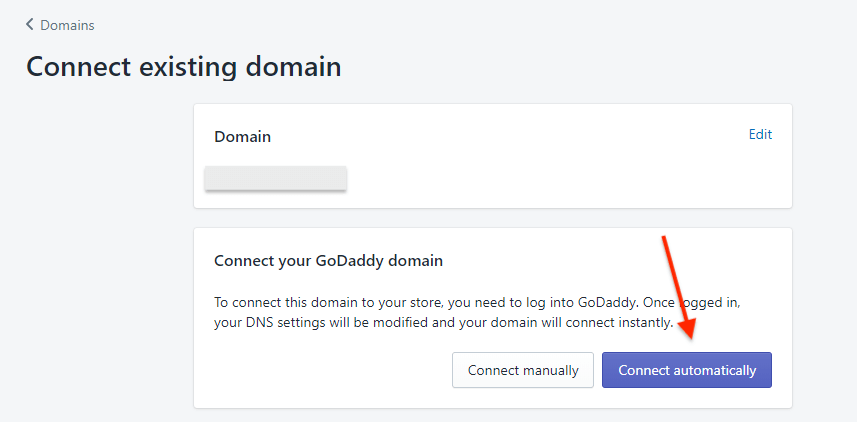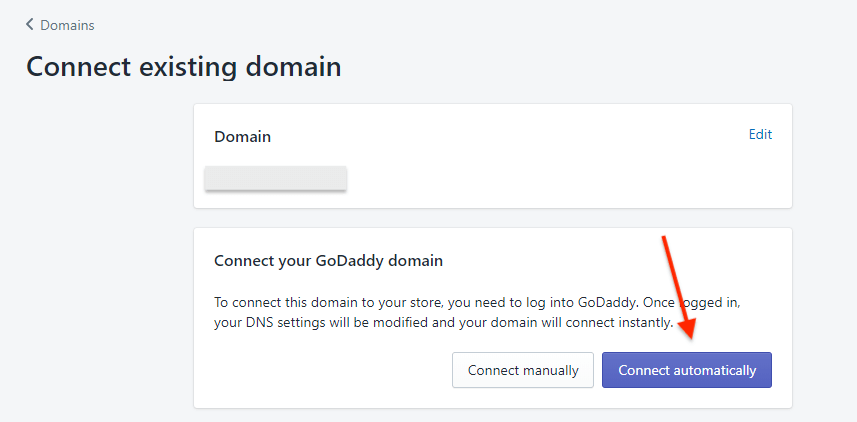 If you have registered from another registrar, you may need to update the DNS manually.
Step 9: Install essential Shopify Apps
Finally, once you have added your domain, it's time to install the essential Shopify Apps you will need to operate and manage your store smoothly.
Some of the types of apps that you may need to add additional functionalities and features on your store are as follows –
There are tons of apps available in the Shopify App store for you to choose from. However, to save your time, you should check our list of best apps for new Shopify store to find the best apps you'll need to start your online store.
Step 10: Get your Shopify store live.
Once everything is configured and ready to launch. Take a moment and ask for feedback from your fellow mates and optimize the store within the remaining free trial days.
Ready to launch the store for your customers? Pick a Shopify plan for your store to get it live.
Don't worry, your trial period will continue for the remaining days & if you find Shopify not the right fit (which won't happen) for you, you can cancel the plan before the trial period ends. No charges applied!
If you've just gotten started & haven't done an online eCommerce business, I'll highly recommend you to pick the "Shopify Basic plan" & try your hand for a couple of months & then upgrade it to higher plans as your business grows.