Shopify is a leading eCommerce platform with over 4 Million active merchants worldwide. It enables anyone to build an online store without technical knowledge.
But is it the perfect eCommerce platform for your online store?
In this Shopify review, I will walk you through every aspect of Shopify to help you determine if Shopify has everything you need to build and grow your eCommerce business or keep looking for other alternatives.
If you want to explore the platform and features as you read this review, you can sign up now using the button below and start a 3-day free trial and enjoy running the store at just $1/month for the next 3 months.
Shopify – An Overview
Shopify is a cloud-based online store builder providing everything you need to start an eCommerce business. It comes with a wide range of responsive and customizable themes, numerous selling options, and payment methods that enable you to build a fully-functional online store within minutes.
It is an easy-to-use, simple and beginner-friendly eCommerce platform that offers high flexibility at every touchpoint, from designing the store to sales and marketing.
It is packed with all the eCommerce features that let anyone build a robust online store without writing a single line of code. Moreover, if you are skilled at coding and website development, you can use its custom CSS functionalities to customize the store theme and make it more appealing.
Additionally, it offers seamless integration with tons of third-party tools in multiple categories via its exclusive app store, which makes it super easy for merchants to add features and functionalities to the store with just a few clicks.
Overall, Shopify simplifies setting up an eCommerce business by providing you with everything on a single platform. The dashboard is also easily accessible from where you can manage the store – Design, upload products, set up payments, and everything else.
Shopify Review: Key Features & Functionalities
Now let's take a look at the key features and functionalities that Shopify has to offer to its merchants. These are as follows –
Dashboard & user interface
Design & customization
Product management
Sales & marketing tools
Analytics Reporting
Payment methods
Dashboard & User Interface
As soon as you sign up on Shopify, you will be taken to your admin dashboard. The dashboard is fairly simple and clean, with an intuitive user interface, which makes setting up your store easy, even for beginners.
You'll even see a setup guide that you can follow to set up your online store.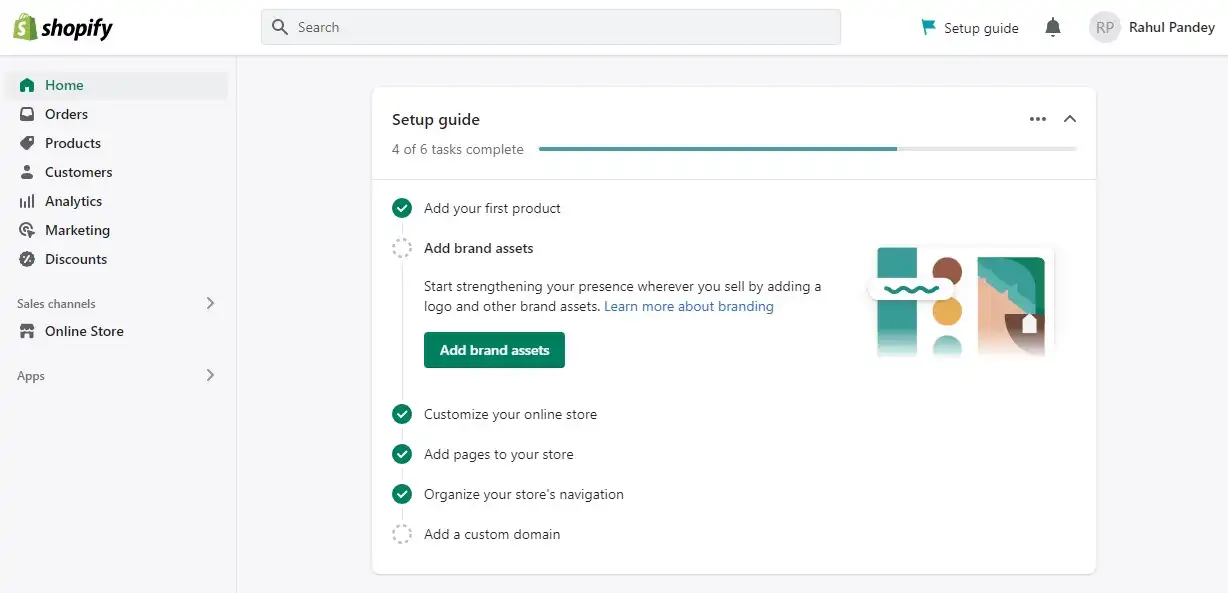 With a vertical menu bar on the left, giving you access to all its features, settings, and sales channels, Shopify provides an excellent user experience to build and manage your store.
Design & Customization
Shopify is one of the few eCommerce platforms that allow you to customize your store as you desire. To begin with, it provides a drag-and-drop theme editor that lets you add blocks and sections to page layouts and move them around with ease.
It also provides hundreds of pre-designed themes, which can easily be customizable using the store editor. The themes are also responsive, so you don't have to work separately on mobile and tablet versions.
Shopify provides a block-based page editor, which doesn't give you much design flexibility – you can use only predefined blocks provided by your chosen theme.
This is where you can use 3rd-party Shopify page builder apps, which gives you more flexibility in designing your store pages. These are paid apps but worth it if you want to go beyond your theme options to create a conversion-friendly and compelling store.
Product Management
Product management is an important part of running an online store. Shopify has covered you with an excellent product management system that enables you to add products and services.
You just have to go to Admin > Products from the sidebar and click the "Add product" button to add products. Or, click the import link to add products in bulk using a CSV format file.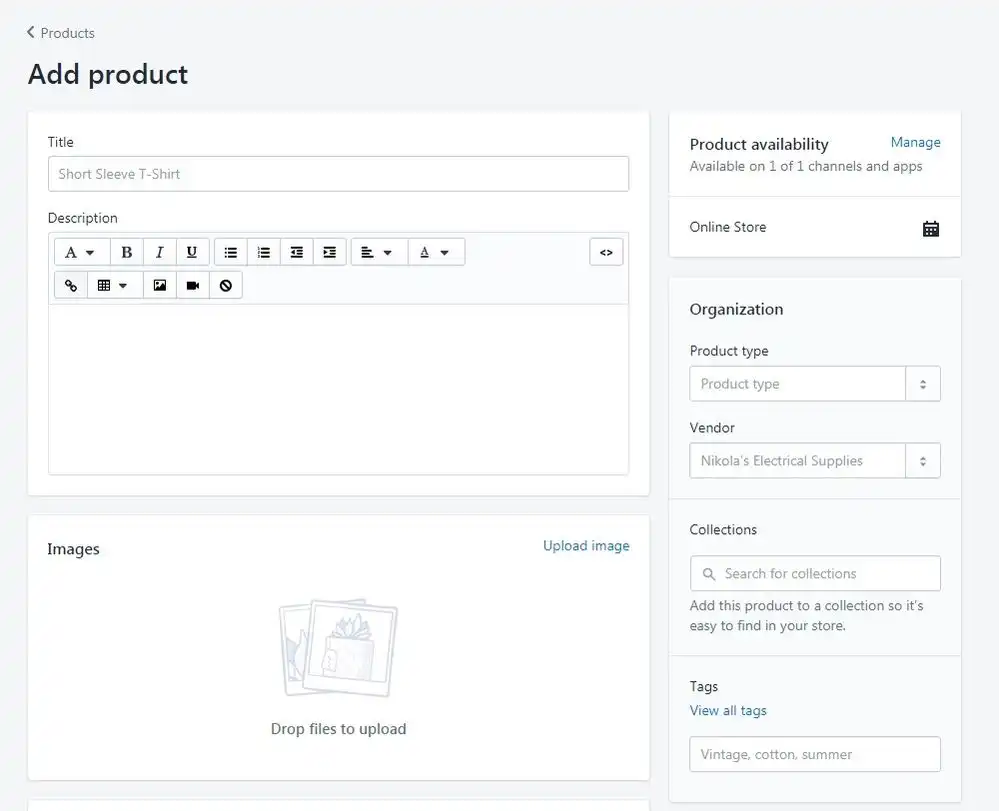 As you can see in the above image, you can add a product title and descriptions, upload product images, pricing, inventory details, and more. You can customize the SEO title, meta description, and URL for each product page.
When it comes to inventory management, you can navigate to Products > Inventory, where you will see the list of your products with inventory counts. From there, you manage the inventory counts and other details.
It is quite basic and needs manual effort, but you can automate it using 3rd-party inventory management apps.
Sales & Marketing Tools
You can expect people to find your online store themselves. Instead, you will need to market your products and services among your target audience on multiple channels.
Shopify understands this and provides multiple built-in sales and marketing features you can leverage to grow your business.
Let's dive into each promotional feature Shopify has to offer –
1. Shopify Email
Shopify Email Marketing lets you engage with your customers regarding product updates, special offers, discounts, holiday promotions, and much more.
Its templates are pretty decent, and the design looks very simple and conventional. The email editor is also smooth and offers easy customization options.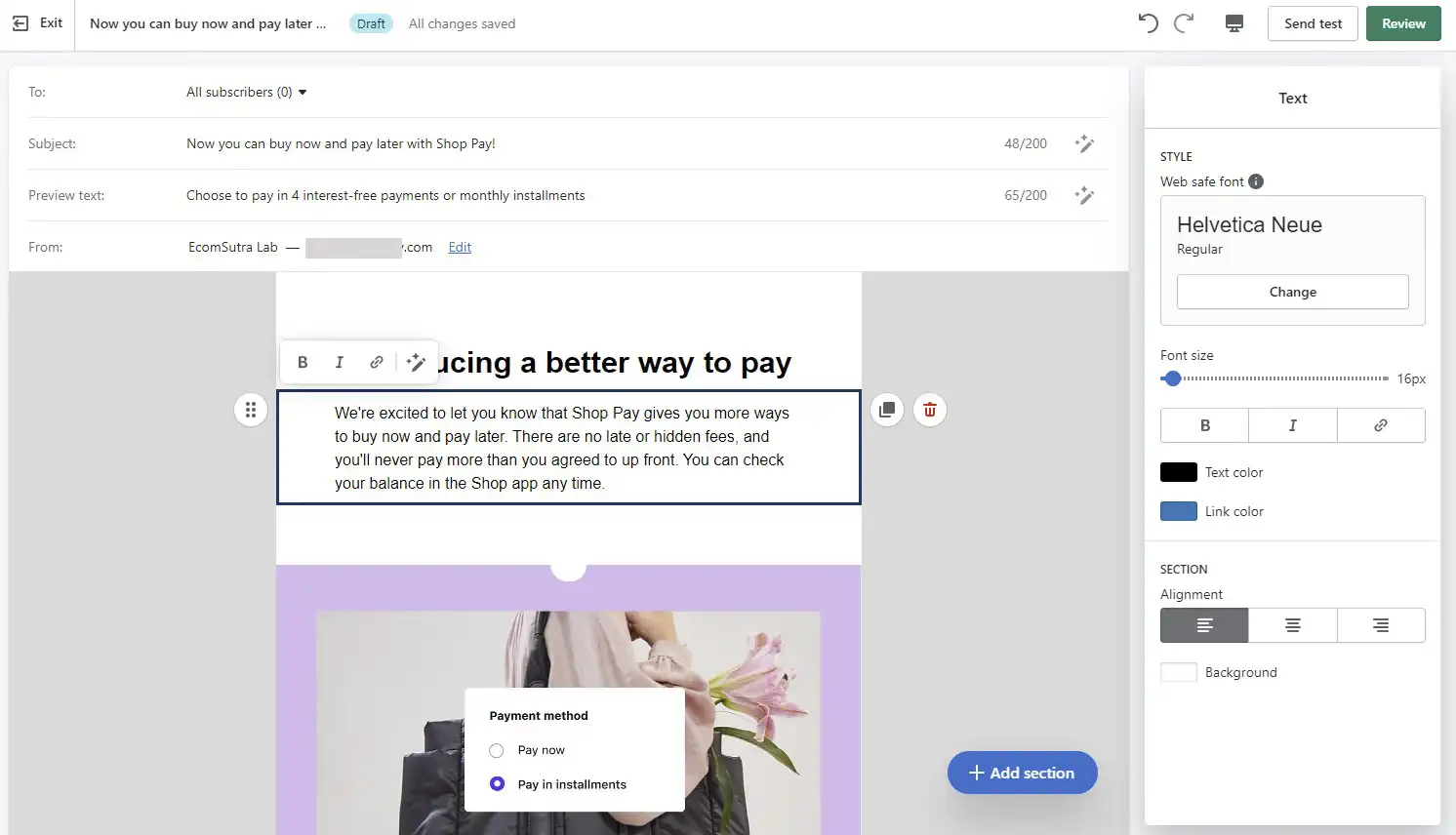 Since Shopify email is directly integrated into your online store, you can view all the email marketing metrics in a unified interface.
2. Facebook and Snapchat Advertising
Facebook and Snapchat are the two most popular social media platforms where user engagement rates are constantly increasing. Shopify lets you extract this potential by allowing you to advertise on both platforms, which is a significant advantage.
The types of ads which you can run on Facebook and Snapchat via Shopify are as follows:
Facebook audience building – Reach out to new potential customers who might be interested in using your products or services.
Facebook dynamic retargeting – Retarget those customers who have signaled a liking to your product or services.
Snapchat brand awareness – Engage with Snapchat users by promoting your products.
Snapchat dynamic shopping – Retarget your site visitors by creating shoppable product ads.
3. Abandoned Cart Recovery
Seeing your store visitors abandoning their carts is genuinely the worst nightmare that every eCommerce owner would encounter.
But with Shopify, you need not worry as you can bring back your abandoned cart customers by sending emails to fulfill their incomplete purchases. You can mail them with the cart link, which might cleverly tune their mind to complete their purchase.
By making customers come back to your online store to fulfill their purchase, you can –
Recoup your lost traffic.
Increase sales and conversion rates.
Improves your customer retention rates.
Show that you genuinely care for your customers.
With Shopify, you can unlock all this potential and enjoy signing more green bills to your online store. You can also use the best Shopify cart recovery apps that contain advanced features which help in increasing your profit levels.
4. Automation
Automation is a powerful way to constantly engage with your customers at the right time and moment.
Shopify doesn't have an in-built automation builder, but by using the automation apps like Omnisend, you can set up versatile marketing automation throughout the customer journey.
Apart from this, you can also conduct Google Smart Shopping campaigns to amplify your product visibility to millions of shoppers across the globe.
5. Offers & Discounts
Offering attractive discounts is one of the supreme ways to motivate and trigger customers to shop for more products from you. You can set attractive discount rates during festival occasions or at holiday sales, potentially tempting customers to overfill their shopping carts.
To create a discount, go to Discounts from the sidebar and click the "Create discount" button. Then, select the type of discount code you want to create from the popup, as shown below –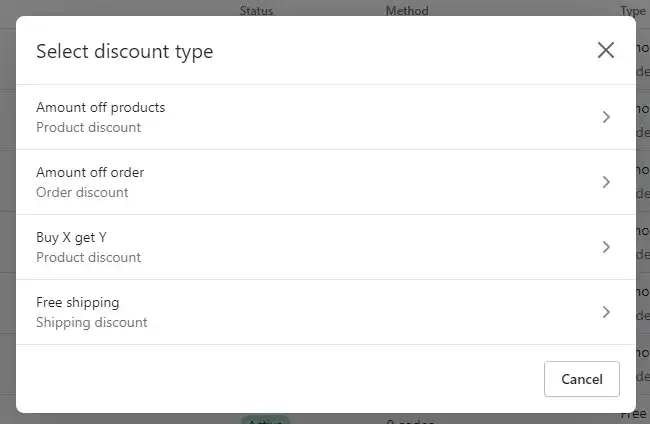 Once you select the discount type, you will be taken to a page where you can add rules to redeem discounts and eligibility criteria for whom the discount applies.
Overall, Shopify offers a simple yet powerful discount management system that you can use to create unlimited offers and discount codes for your customers.
6. Search Engine Optimization
While creating an online store, you want an SEO-friendly eCommerce platform that makes it easier for you to optimize your content and store pages to rank higher on search result pages.
Fortunately, Shopify is one of those SEO-friendly platforms that offer decent built-in SEO features that allows you to add custom SEO title and meta-description to products, collections, and other pages on your site.
Here's how it appears for product pages –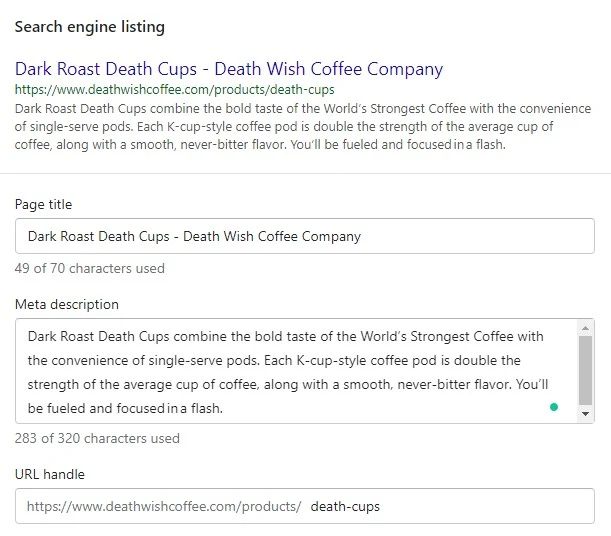 It also allows you to redirect users to new pages after the URL change or removal of specific pages, which is important as you don't want broken links on your site – it ruins the customer experience and affects SEO rankings.
In addition, Shopify automatically adds schema structure to your pages to create rich snippets for search engines. It also automatically generates sitemap and robots.txt files for your store. You can also use Shopify SEO apps to manage redirects and automatically optimize the pages for search engines.
Analytics and Reporting
Analytics is vital for an eCommerce business as it illustrates your performance level and helps you make informed decisions to optimize strategies to achieve your goals and objectives.
Shopify provides detailed sales and website traffic reports on your dashboard. To view the analytics report of your store, you just have to go to the Analytics section from the sidebar.
You can view the total sales rate, conversion rate, average order value, returning customer rate, top products, and more. It also provides sales and session data by device, location, traffic, and social sources.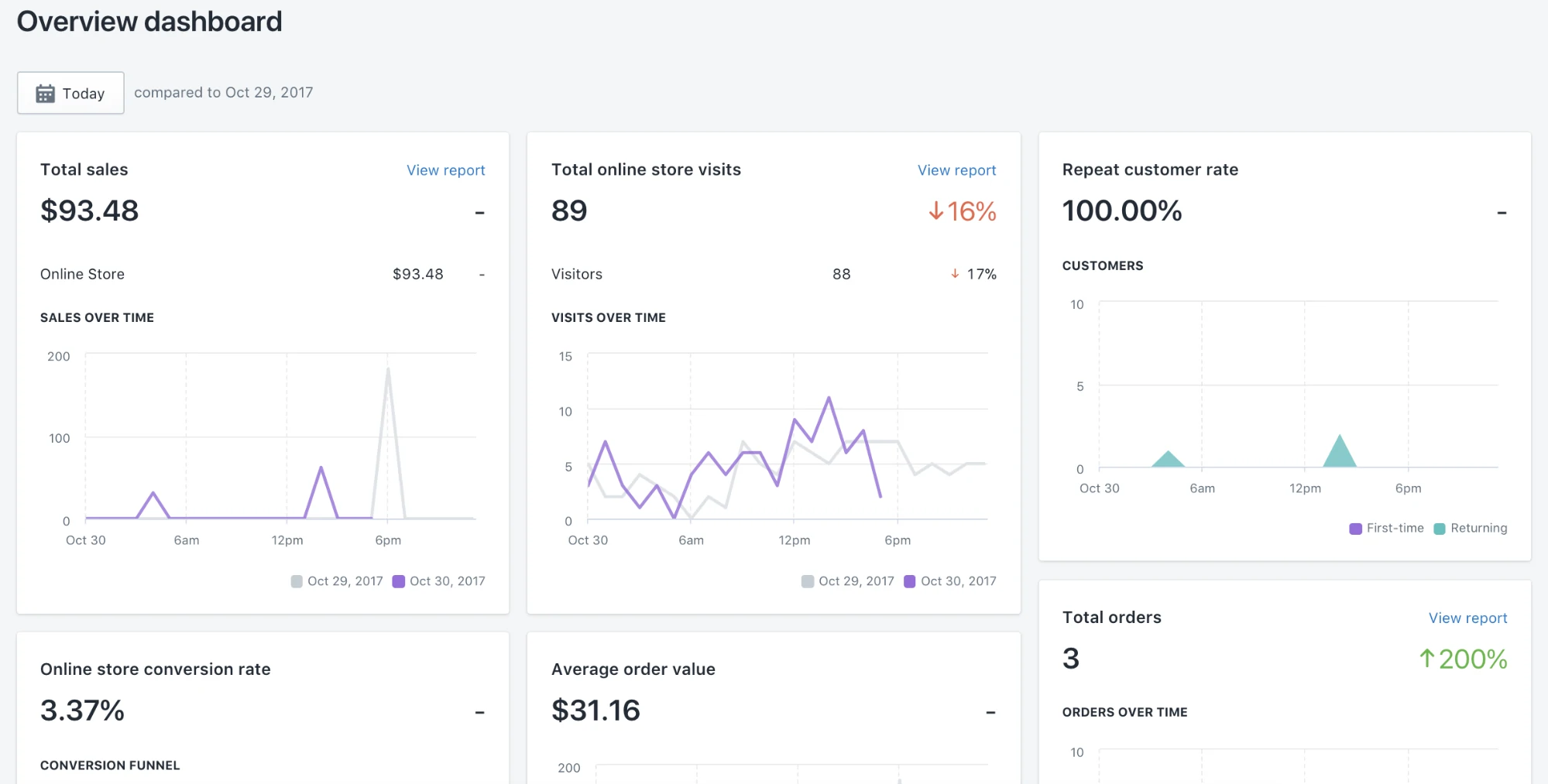 Moreover, you can also connect your store with Google Analytics and Facebook Pixel to gather more detailed insights and use them for marketing purposes. You can also use profit-tracking apps for more in-depth reporting and insights into the store's performance.
Payment Methods
Offering a smooth payment method is crucial for a successful eCommerce business. Most importantly, you want to offer payment methods preferred by your customers.
Luckily, Shopify supports 100+ payment gateways internationally and locally in specific countries. Unlike major eCommerce platforms, it doesn't limit you to PayPal or Stripe payments for payment processing.
It also offers an in-house payment gateway called Shopify Payments, which allows you to receive payments in multiple methods, including Google Pay, Apple Pay, credit cards, etc. It also allows selling in multiple currencies worldwide.
Unfortunately, Shopify Payments is supported only in 22 countries. You should read the Shopify Payments review to learn more about it. 
However, you can always add third-party payment gateways to your store. The best part is Shopify allows you to add multiple payment gateways to your store, which can allow alternate payment options which your primary payment gateway doesn't offer. For example, cryptocurrencies & tokens.
Shopify Review: Website Security
Shopify is a fairly secure eCommerce platform that provides free SSL certificates to your store, which ensures the data transfer is secure for your website.
It is also PCI Compliant by default, which means the payment processing on your online store is secured by international standards. Shopify's compliance encompasses six major PCI standards –
It maintains a secure network.
Shields your customer's payment data.
Implements strong access control measures
Regularly monitors and tests the network.
Has a robust information security policy
Simply put, Shopify is equipped with advanced data encryption tools, safeguards payment transfers, and takes optimal security measures to prevent cyber attacks on its servers.
However, Shopify doesn't create backup copies for stores, it is the merchants' responsibility to create backups and secure them. You can manually export your store data to create a backup or use a Shopify backup app to automate it.
Shopify Review: 3rd-Party Integrations
One of the things that make Shopify stands out among other eCommerce platforms is its compatibility with 3rd-party eCommerce software, apps, and extension.
It provides free access to its App Store, where you can find hundreds of apps for almost everything you need to build and grow your store. From store designing to customer service, you can find apps for everything built by Shopify and other developers.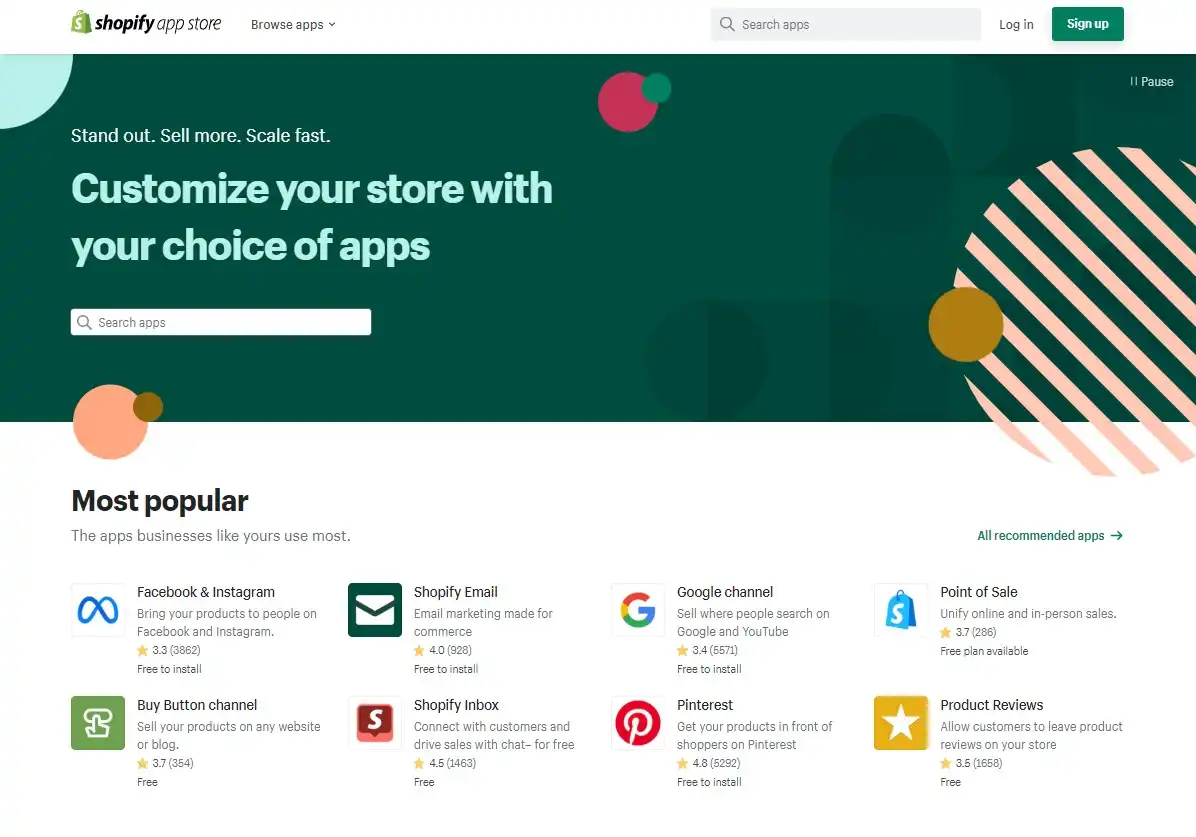 The best part is that you can install any app to your store with just a click and seamlessly integrate with supported apps and software. So, if you want to build a robust tech stack for your online store, Shopify might be the perfect platform for you.
Shopify Review: Pricing Plans & Fees
When you Sign up, Shopify offers a 3-day free trial with access to all its features. Afterward, you can use Shopify at just $1/month for the next three months.
Later on, you have to opt for one of its paid plans, which are as follows –
The Basic Shopify plan starts at $29/month. It is suitable for eCommerce merchants who are getting started with the platform.
The Shopify plan starts at $79/month. It is suitable for growing businesses that sell either online or in-store.
The Advanced Shopify plan starts at $299/month. It is suitable for online eCommerce businesses that require advanced reporting capabilities.
You can read our complete breakdown of the Shopify Pricing plans and fees to understand how much you will have to pay monthly.
The best part about Shopify pricing is that all the features are accessible in all its plans. It has a very reasonable pricing strategy which is very difficult to find in other eCommerce website builders.
Every Shopify plan incurs a separate transaction fee and credit rate, which varies based on your business location.
Shopify Review: Pros and Cons
Shopify is undoubtedly packed with advanced features and tools to build and manage an online store. But before you decide, let's see where Shopify shines and lacks over other platforms.
Pros of Shopify –
Easy to use
No technical knowledge required
Fully-hosted platforms
Highly scalable with advanced plans and Shopify plus
Free & paid themes are available
Hundreds of Apps are available
Supports multiple Payment methods
Detailed analytics & sales reporting
Supports multiple sales channels
Mobile & iOS apps
24/7 customer support
Cons of Shopify –
Transaction fees and credit rates per sale
No Email Hosting
Blog content management could be better
Final Verdict: Is Shopify the right platform for your business?
Shopify is user-friendly, has a great collection of themes, and offers numerous social selling options. Its popularity is growing every day as it stems from the fact that it lets you build a scalable eCommerce store and enables you to sell, ship, and manage products with ease.
Shopify
Summary
If you are looking for an eCommerce platform that is easy to use and takes away your technical hassle in managing your store at a reasonable price, Shopify is the perfect platform. It lets you sell anything and add more functionalities to your store with 1-click integration with 3rd-party platforms.
It will be easier for you to decide if you get hands-on experience. Use the button above to sign-up for a 3-day free trial, and if you like it, you can enjoy the next 3 months at just $1/month.
Shopify FAQs
Here are some of the common questions we have been asked repeatedly about Shopify –
Can I use Shopify for Free?

Can I make money on Shopify?

Yes, you can make money on Shopify by selling anything you want, be it clothes, arts, consulting services, etc., You just have to create a Shopify store and promote it effectively to reach your target audience.

Do you have to pay taxes on Shopify?

No, you can't pay taxes on Shopify. However, it provides you detailed sales report that you can use to calculate the taxes you owe to the states.

How can I start selling on Shopify?

You can start selling on Shopify after choosing one of the paid plans. However, before that, you should have added your products and designed your store completely.
I hope this review article helped you get an overview of Shopify's features and functionalities. If you like the platform and want to try it out, you should refer to our beginner's Shopify tutorial for a step-by-step guide. If you have more questions, feel free to Tweet us @ecomsutra with your questions, and our experts will help you in the best possible ways.