Finally, you have decided to start an affiliate program for your eCommerce site. Well, that's probably the best marketing decision you have made for your online store.
Affiliate marketing is the most affordable & effective eCommerce marketing strategy with high ROI. The best part is that you don't have to pay even a dollar unless a sale happens.
Of course, you have to pay for the affiliate platform you'll be using for your program, but that's negligible compared to the amount we invest in paid campaigns.
Now, to set up an affiliate program, you have two options to choose from – affiliate network or affiliate software. The decision entirely depends on your budget and the resources you have to manage the program.
So, to help you make a decision, I have selected some of the best eCommerce affiliate platforms available in the market and reviewed them based on their features and pricing plans.
If you are ready, let's start with my favorite and the most recommended affiliate software for eCommerce brands.
1. Post Affiliate Pro – Top eCommerce Affiliate Software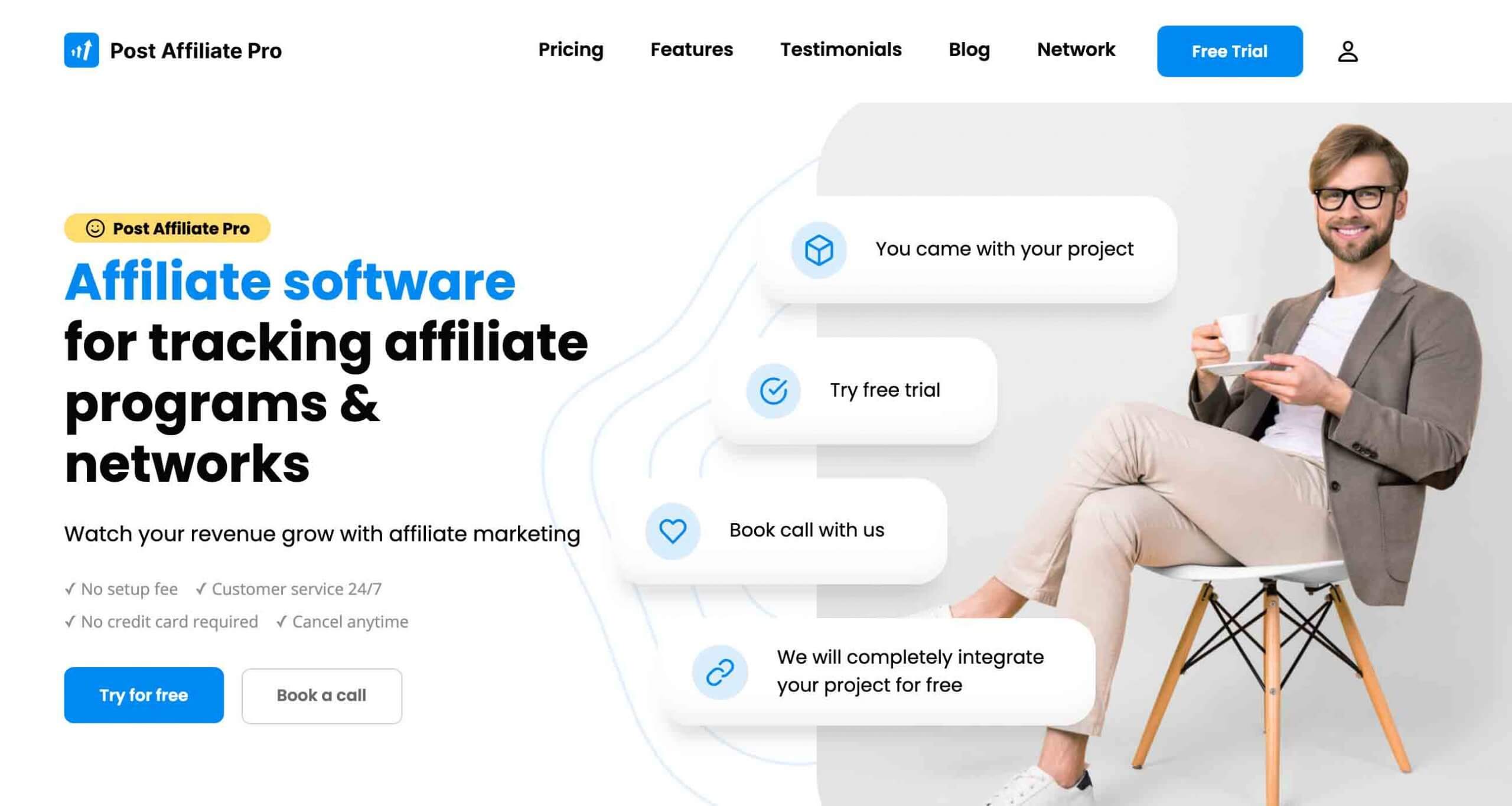 Post Affiliate Pro is arguably the most advanced eCommerce affiliate platform. It comes with a great UI and powerful features to manage your affiliate program from top to bottom.
With Post Affiliate Pro, you can provide a branded dashboard to your affiliates with different types of promotional materials like image banners, banner rotators, text link banners, smart links, etc.,
The best thing about this affiliate software is that you can allow your affiliates to customize the dashboard according to their preference by choosing pre-designed themes.
Feature Highlights –
Top-notch affiliate tracking system
Flexible user interface customization
Set different commissions for different affiliates
Set multi-tier commission structure
Advanced fraudulent protection
Provides detailed reports and data analysis
Seamless integration with over 170 CMS & payment gateways
Pricing Plans – Post Affiliate Pro offers a 14-day free trial, and the paid plans are based on the number of tracking requests. It has three plans –
Pro plan – $97/month with up to 1M tracking requests/month
Ultimate plan – $197/month with up to 5M tracking requests/month
Network plan – $477/month with up to 20M tracking requests/month
All the plans include unlimited affiliates, free lifetime updates, comprehensive tracking, and lifetime support.
2. Tapfiliate – Easy-to-use Affiliate Software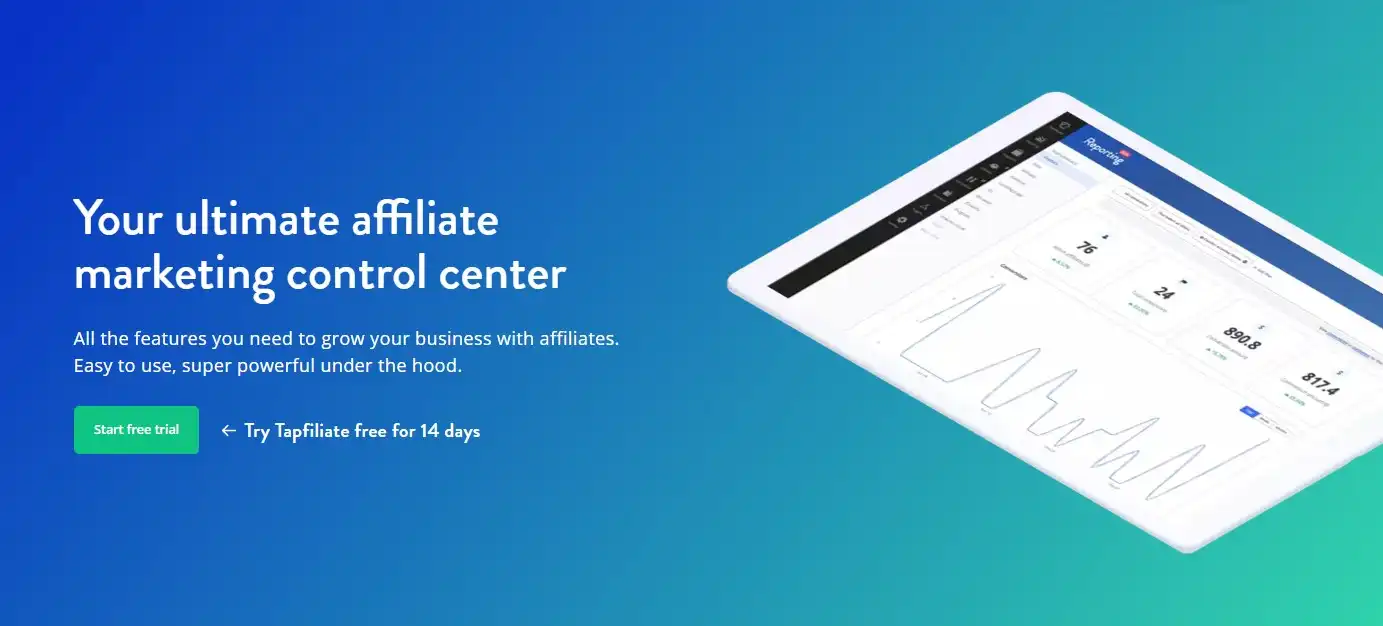 Tapfiliate is a popular affiliate software among eCommerce store owners because of its design flexibility and complete control over the affiliate program.
It enables you to set up an eCommerce affiliate program within a few minutes as it provides seamless integration with major eCommerce platforms like Shopify, WooCommerce, and others.
Tapfiliate allows you to automate most of your affiliate program management tasks, including issuing affiliate links, coupons, tracking, and commission management.
Feature Highlights –
Highly intuitive and customizable interface
Give affiliates a branded dashboard.
Set up fixed or percentage-based commissions
Set per category/product commissions
Set performance-based bonuses
Six supported affiliate languages
Approve commissions manually or automate it
Extraordinarily supportive customer service
Support integration with 30+ eCommerce platforms & tools
Pricing Plans – Tapfiliate offers a 14-day free trial and has three pricing plans –
Essential plan – $69/month
Pro plan – $149/month
Enterprise plan – Custom pricing
3. UpPromote – Best Affiliate Software for Shopify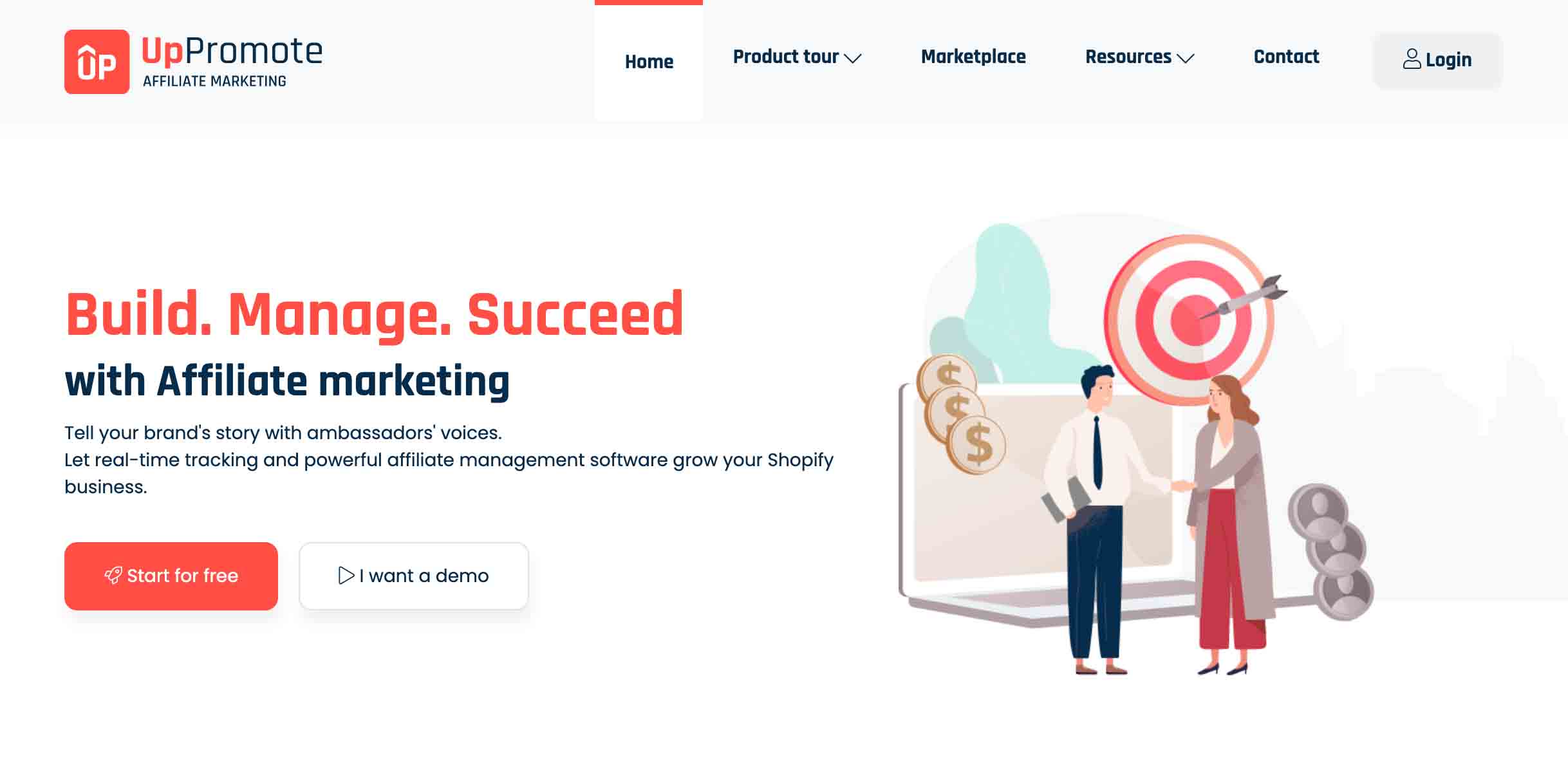 UpPromote is a Shopify affiliate app that enables you to create multiple affiliate programs with different commission structures for your store. You can also set up a tier-based commission structure, encouraging affiliates to perform better to gain extra rewards.
The best part about UpPromote is its marketplace, where you can feature your affiliate program and attract quality affiliates to join your program. This saves you a lot of time as you will not have to find and invite potential partners manually.
Feature Highlights –
Free plan available.
Various tracking methods like links, coupons, emails, etc.
Use multi-level marketing to grow your brand.
Create unlimited affiliate programs with different commission offers
List your offer on the UpPromote marketplace
Customize affiliate accounts to match your brand's look.
Communicate with affiliates through email/chat
Pricing Plans – UpPromote has a free plan which allows unlimited affiliates and up to 200 referral orders/month. The premium plans are as follows –
Growth plan – $19.99/month – 300 referral orders
Professional plan – $59.99/month – 600 referral orders
Enterprise plan – $119.99/month – Unlimited referral orders
4. LeadDyno – Popular Ecommerce Affiliate Software
LeadDyno is another popular eCommerce affiliate platform that works well with businesses of all sizes. The software is loaded with many advanced features that enable you to build an attractive affiliate program and manage it seamlessly.
In addition, it also provides features to affiliates that include payout management, email automation, conversion tracking, and thorough reporting. This helps you build trust and credibility with your affiliate partners.
Feature Highlights –
Multiple tracking options via links, coupon codes, website URL
Preload promotional content for affiliates
Provides mobile app to affiliates
Provides automation tools to send automated affiliate emails, newsletters, and invitations
Supports multi-level marketing (MLM) up to 10 levels
Seamless integration with top eCommerce platforms like Shopify, WooCommerce, BigCommerce, and others
Pricing Plans – LeadDyno offers a 30-day free trial and has three paid pricing plans based on the number of unique visitors in your store.
Starter plan – $49/month for websites upto 3000 site visitors/month
Biz plan – $59/month for websites upto 4500 site visitors/month
Accelerator plan – $79/month for websites upto 7500 site visitors/month
You will get unlimited affiliates, conversion tracking, and live chat support with all the plans.
5. Impact – Largest eCommerce Affiliate Network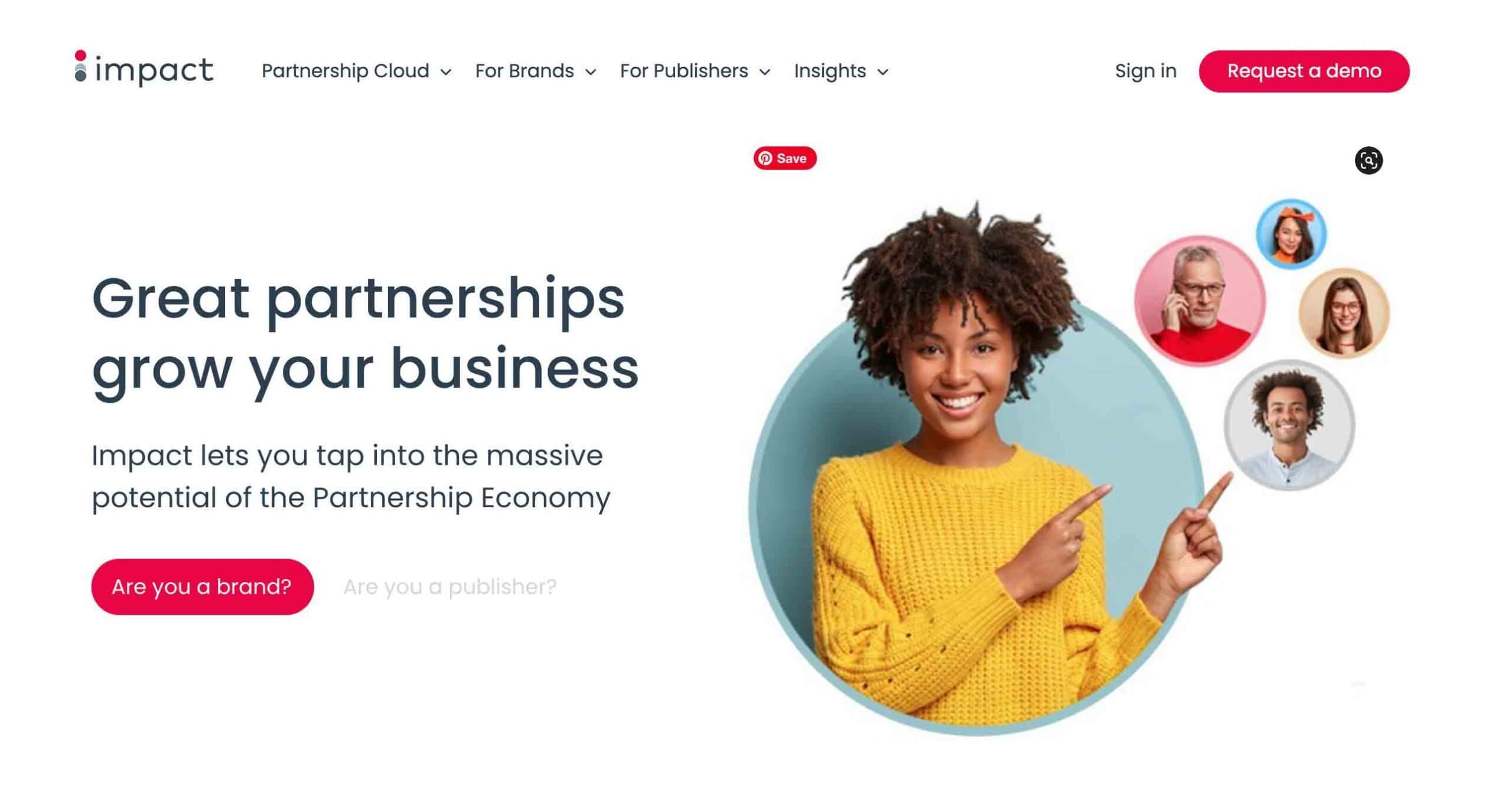 Impact is the largest affiliate network where you can easily set up your affiliate program and invite potential affiliates from the network to join your program.
It offers a branded interface that lets you onboard exclusive partners not listed in the public affiliate marketplace. Another advantage is that it uses both cookies and non-cookies methods, so your affiliate partners get paid for each click and conversion that they achieve.
Although it is the best affiliate network available out there, the point to note is that it is quite expensive compared to affiliate software, thus suited for large-sized organizations that have media properties and can meet the demands of brand relationships.
Feature Highlights –
Branded affiliate interface
Recruit affiliates across the globe
Provides both cookie and non-cookie-based tracking methods
Analyze your customer interactions across every platform they use.
Reward partners for conversions, installs, and in-app events.
Pricing Plans – They provide personalized pricing based on your business size and requirements.
6. ShareASale – Popular eCommerce Affiliate Network
With over 16,000+ merchants and 180M+ sales, ShareASale is another popular affiliate network where you can create and list your affiliate program.
You can search their directory of high-quality affiliates and invite them to join your program. Also, it used advanced tools that ensure proper tracking and fraudulent protection.
Feature Highlights –
Real-time insights into affiliate performance and activity data
Robust reporting features with full customization.
Access to proprietary tools and powerful technology.
Offers standard and advanced tracking for mobile, app, and web.
Pricing Plans – ShareASale charges a one-time network sign-up fee for the merchants that costs $550 for setup and activation on the network. Besides that, you may have to pay a $100 minimum deposit which will be used to pay your affiliates.
7. Refersion – Ecommerce Affiliate Software & Marketplace
Refersion is a powerful eCommerce affiliate platform that lets you recruit, track and pay your affiliates easily without any hassle. You can quickly start building an affiliate program by choosing your preferred terms and customizing it to match the look and feel of your brand.
Refersion also offers automated payout features that automatically release the affiliate payout on a set date or after reaching a specific payout amount.
Feature Highlights –
Great affiliate tracking capabilities
Supports Amazon Marketplace as well
Enables automatic approvals for orders and affiliates.
Set unique commissions by product or SKU.
Personalized affiliate portal to strengthen affiliate relationships.
Free listing in the Refersion marketplace.
Integration with major eCommerce platforms
Efficient customer support
Pricing Plans – Refersion offers a 14-day trial with one premium plan that includes unlimited affiliates and visits, access to developer APIs, custom data reports on request, affiliate tracking, developer support to integrate custom systems, and much more at just $89/month.
However, with this plan, you can track only up to 130 orders/month; to track more affiliate orders, you will have to request custom pricing.
8. Affiliatly – Easy to use Affiliate Software for eCommerce
Affiliatly is a leading affiliate software best known for its ease of use and effective affiliate management solutions. The unique thing about this software is its 90-day free trial, enabling a new store owner to try a program extensively before taking it to a larger scale.
The software automatically generates a unique affiliate link for each affiliate, allowing them to start instantly. You can also provide promotional banners that affiliates can use for the promotion.
Feature Highlights –
Offers a 90-day free trial
Pay via gift cards to your affiliates
Set up commission rates per product
Automatically generate links for your affiliates
Integration with major eCommerce platforms
Pricing Plans – Affiliatly offers a 90-day free trial, and its pricing plan is suitable for stores of every size. The plan starts at $16/month, allowing up to 50 affiliates, and goes up to $129/month with unlimited affiliates.
9. Scaleo – Advanced Affiliate Software for eCommerce
Scaleo is a fully managed eCommerce affiliate marketing software that enables you to analyze, track and optimize affiliate campaigns with its powerful AI tools. You can customize anything you want by adding a logo and colors and connecting your custom domain to fit your needs.
It offers many valuable features, including multiple conversion points, unique landing pages, smart redirects, advanced reporting, fraudulent protection, and more.
Feature Highlights –
Customize the interface to fit your business perfectly
Add offers in multiple currencies
Robust automation tools
Enable a 2-tier affiliate program
Provides detailed analytics report
24/7 customer support
Pricing Plans – Scaleo has the most expensive plans among other affiliate software on the list. Its plan starts at $299/month and goes upto $999/month.
However, they provide a Starter plan for smaller networks only upon request. The plan offers limited functionality and supports starting at $99/month.
Found the Best Affiliate Platform for your Online Store?
Affiliate marketing is a low-risk approach and lets you promote your specific products of high value on well-known third-party sites. In today's world, affiliate marketing is popular as it helps drive more revenue for brands with no upfront payment.
In this article, I have reviewed the 10 best eCommerce affiliate software and networks you can choose from to start your affiliate program. Most of these software offers a free trial or product demo I think you must try and pick the one that allows you to set up a program per your idea. 
Further, if you want platform-specific affiliate software for your business, you should check these articles next –
Once you have picked an affiliate platform for your business, you may want to read our guide on starting an eCommerce affiliate program to learn about the challenges and the best practices to follow. I hope this article helped you find the most suitable affiliate platform for your eCommerce business.