Want to leverage affiliate marketing for your Shopify store? Are you looking for the best Shopify affiliate app for your store? If so, this article is best for you.
Affiliate Marketing is one of the most effective marketing strategies for eCommerce brands to reach a wider audience with the help of established bloggers and influencers in the industry. However, the key to success in affiliate marketing is how effectively you manage your affiliates and provide them with essential assets to promote your products.
This is where you need a robust affiliate marketing app for your store.
Shopify affiliate apps enable you to create an eCommerce affiliate program for your store, help you manage affiliates, and provide a dashboard for each affiliate partner to track their performance.
In this article, I have reviewed some of the best Shopify affiliate apps, highlighting their pros and cons to help you pick the right app for your store.
If you are ready, let's get started.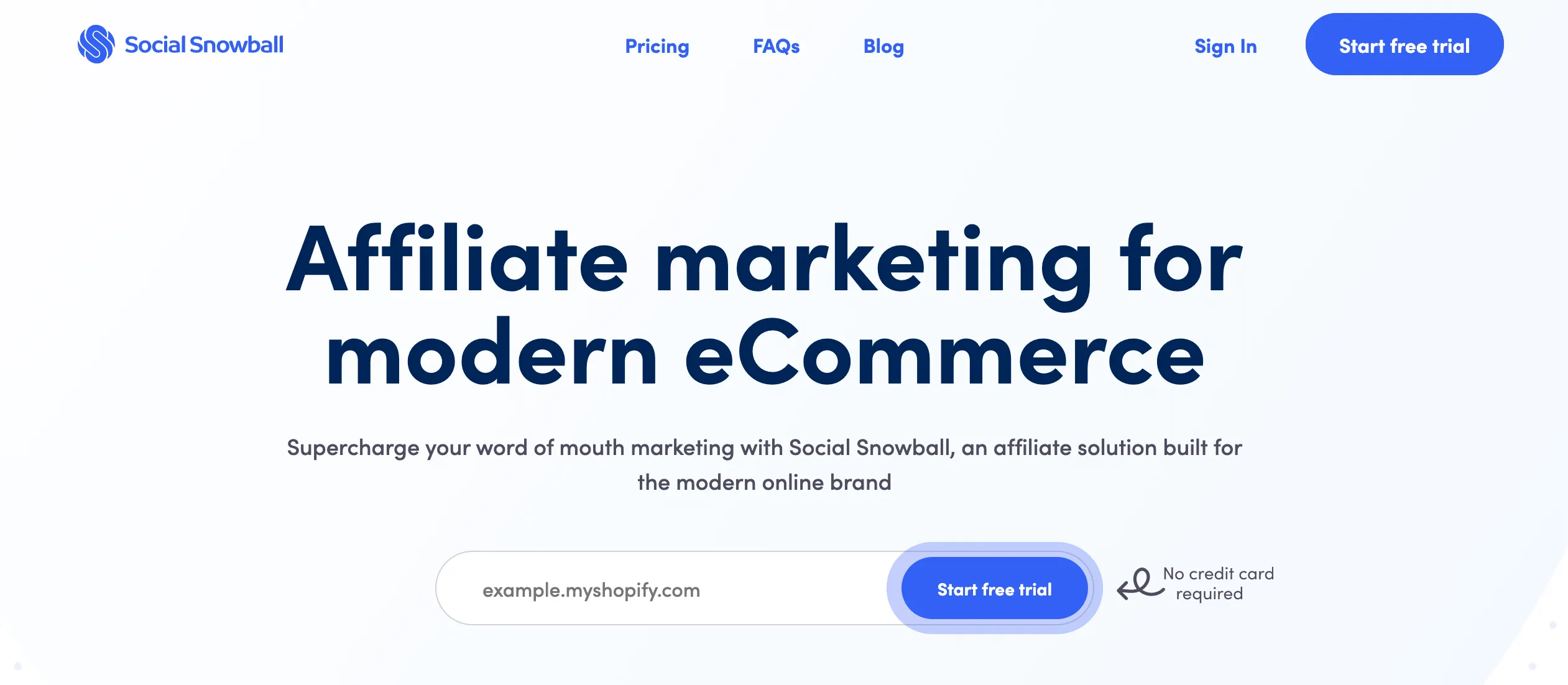 Social Snowball is the best Shopify affiliate app in the market used by popular Shopify brands to set up an attractive affiliate program for the store. It is easy to use and provides complete flexibility to create an affiliate program that matches your business model and encourages others to join.
The app is focused on converting every customer into affiliate partner. This way, you will never miss a chance to turn your happy customers into brand advocates and drive more sales through them. As soon as a customer joins your affiliate program, they will get a unique affiliate link and access to dashboard to track their sales and payouts.
Further, what makes Social Snowball stand out among other affiliate apps is its powerful affiliate code leak detection tool. It notifies you every time a leaked code is found on coupon sites so that you can close it and take action against the connected affiliate partner.
Pros –
A free trial and a free plan are available
Automated affiliate acquisition
Unlimited affiliates
Run multiple affiliate programs
Accurate KPIs tracking
Simple, easy-to-use UI
Two-click payouts to affiliates
Advanced affiliate fraud blocking
Cons –
You have to pay 15% of the affiliate revenue to Social Snowball on its free plan
Limited integrations (they have a Zapier integration, though)
Pricing Plans – It has a free plan and a 14-day free trial on its paid plans. The paid plans start at $99/month and go up to $499/month, which allows you to run ten affiliate programs and provides dedicated Slack support.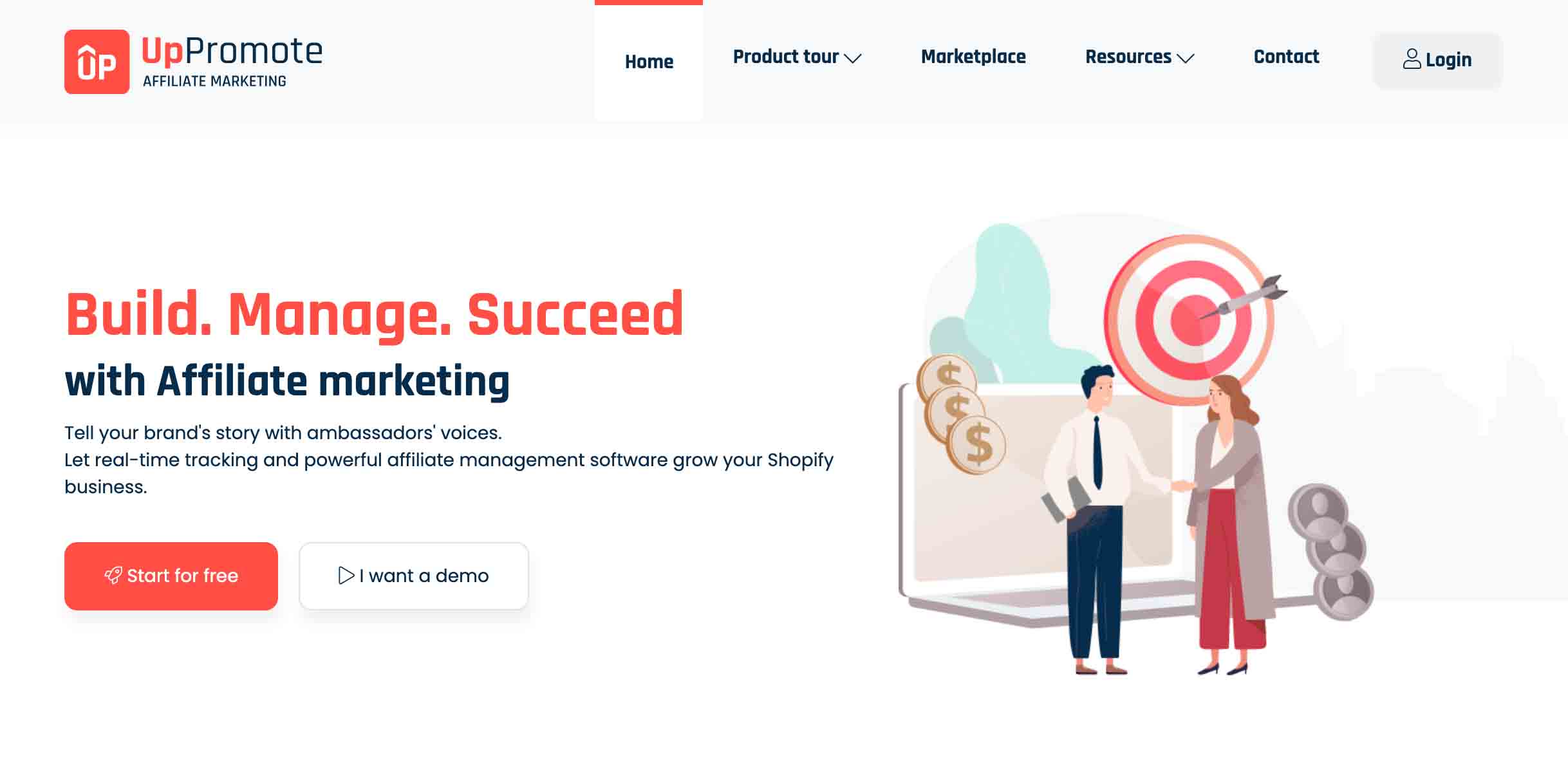 UpPromote is another powerful Shopify affiliate App that lets you create affiliate programs with different commission structures. You can set up tier-based commission fees for affiliates based on their performance such that it encourages them to promote your products more to earn higher commission fees and rewards.
The best part of using this affiliate app is its recruiting options. You can easily attract high-quality affiliates via its marketplace, convert customers into affiliates, or leverage MLM to encourage existing affiliates to invite other potential partners to earn more rewards.
With UpPromote, you can automatically generate discount codes for every new affiliate partner and provide a dedicated interface where they can access marketing assets. track performance and payouts.
Pros –
Free plan available
Accurate and real-time tracking systems
Create unlimited affiliate programs with different commission offers
Get featured on UpPromote Marketplace to attract potential affiliates
Create promotional resources like affiliate links, coupons, & creatives
Prevents affiliates' self-referrals
Pay automatically via PayPal, store credit, or manually
Cons –
Cap limit on the number of referral orders. The plan is automatically upgraded to the higher plan on reaching the limit.
Pricing Plans – It has a free plan which allows unlimited affiliates and up to 200 referral orders/month. The premium plan starts at $19.99/month and goes up to $119.99/month.
Another popular Shopify affiliate app on the list is LeadDyno. It provides all the essential tools that help in growing your affiliate program to the next level. You can send affiliate newsletters, create trackable coupon codes, and offer affiliates a library of shareable content to market your brand.
Your affiliates can use the sign-in link they receive to access the dashboard. One standout feature is that LeadDyno enables you to automate your affiliate marketing tasks such that you can send automated emails and launch drip campaigns for your marketing goals.
Pros –
Unlimited affiliates
Create recurring and tier-based commission plans.
Setup Multi-Level Marketing (MLM).
Provides a mobile app to manage affiliates on the go.
Create time-based incentives for affiliates
Automatically invite new customers to join your affiliate program
Send automated emails to engage customers or leads
Pay affiliates via PayPal, Coinbase, and other payment gateways
Provides CRM Integration with Zoho & Hubspot.
Cons –
The pricing plan is based on the number of unique visitors in the store
Product-specific commission rules not available
Pricing Plans – It offers a 30-day free trial and has pricing plans based on the number of unique visitors to the store. The plan starts at $49/month for websites with up to 3000 unique visitors and goes up to $79/month with up to 7500 unique visitors.

Affiliatly is one of the affordable Shopify affiliate marketing apps that has rich features to start an attractive affiliate program. It enables you to customize every aspect of the affiliate program as per your idea.
You can set custom commissions for specific products and boost affiliate performance by awarding royalties. Also, you get control in deciding how an affiliate generates earnings, whether it's per user visit or as a flare rate per purchase and price percentage of the order.
Pros –
Offers 90-day free trial
Unlimited referral orders
Set custom commissions for specific products
Set a commission plan for per-user visits, a percentage of the order price, or a flat rate.
Automatically invite your customers to become affiliates on the checkout page
Customize the login, registration, and FAQ pages of your program
Pay your affiliates via PayPal or store credit through gift cards
Cons –
Limit on active affiliates for each plan
The user interface of the platform could be improved for a better experience.
Pricing Plans – It offers a 90-day free trial, and the pricing plans are based on the number of active affiliates. The basic plan starts at $16/month, allowing up to 50 affiliates. The plan will be automatically upgraded to the next higher plan as the number of active affiliates exceeds.
Refersion is a popular Shopify affiliate app that enables you to set up an engaging affiliate program for your Shopify store in just a few simple steps. It also helps you find potential affiliates with their own network.
With Refersion, you can design a custom registration page with your branding. Any new user can sign up for the program and get access to their unique dashboard to create links, update details, and analyze their performance.
Pros –
Unlimited affiliates & visits
Track referral orders with links, coupons, emails, or SKUs
Set affiliate commissions for individual products.
Automatically generate unique coupons for affiliates
Detailed analytics dashboard for affiliates
Free listing in Refersion Affiliate Marketplace.
Cons –
No free plan is available
Pricing is a bit high compared to other affiliate apps
Custom plans required 130+ affiliate orders per month.
Pricing Plans – Refersion offers a 14-day free trial and has one pricing plan with flat fees of $89/month, allowing up to 130 orders/month. For advanced features, you will need to contact sales for custom pricing.

GoAffpro is another powerful Shopify affiliate marketing app that enables you to easily set up an affiliate program and invite influencers and content creators to join for the promotion of your products. Its easy-to-use & beginner-friendly user interfaces provide detailed insights into the orders generated via coupon codes or affiliate links. 
Using this app, you can automatically convert your customers into affiliates using post-purchase referral pop-ups. Moreover, it also offers email marketing tools to have better conversations with your partners.
The app gives you complete control over your affiliates' commissions, coupons, referral links, and payouts as it allows you to generate custom discount codes and customize payouts for individual affiliates.
Overall, GoAffpro is a reliable Shopify affiliate app that provides everything you need to leverage word-of-mouth marketing via affiliate programs.
Pros –
Custom Branded Affiliate Portal with your domain
Advanced affiliate tracking from landing to conversion
Automatic payouts through PayPal Payouts
Google and Facebook login for quick signups
Set up MLM to recruit other affiliates
Meaningful analytics for actionable insights
Cons –
Users complain about its inaccurate tracking reports
Automated payments may not work sometimes
Pricing Plans – GoAffpro has a free plan named Hobby which provides access to all its basic features. The paid plan cost $49/month, allowing MLM and providing advanced analytics reporting of your affiliate program.
If you are familiar with brands like Amway, they promote their products via ambassadors by making them signup for an exclusive program. In other words, this brand has built a network of ambassadors who help in fetching high organic traffic and sales for the brand.
That is the case with the renowned Shopify affiliate marketing app, Shoutout. It is a multi-level marketing and affiliate referral solution that enables your business to grow at an exponential rate. It allows you to set flat commission rates or create a tier-based commission with unlimited depth and width.
Pros –
Add unlimited Affiliate partners
Unlimited referral orders
Automatically create coupons for affiliates
Set a flat or tier-based commission rate
Automated commission adjustments based on performance
Automatically Invite Customers to Become Affiliates
No commission on payments or extra hidden fees.
Seamless integration with 1500+ apps
Cons –
No free plan is available
The user interface can be complicated for beginners
Pricing Plans – It has a 7-day free trial and charges a flat fee of $59/month for the premium plan.
Found the best affiliate app for your Shopify store?
Affiliate marketing is one of the best ways to reach a wider audience to create brand awareness among the targeted audience. If you haven't started an in-house affiliate program for your store yet, you are leaving a lot of money on the table.
In this article, I have reviewed some of the best affiliate marketing apps available in the Shopify App Store. Now, it is your turn to pick the right app for your store and start an affiliate program today!
Want to add more apps to generate more sales? Here are a few hand-picked articles you may want to check next –