Once you launch your eCommerce business, you need to put together an effective marketing strategy to create brand awareness among target consumers and generate sales.
An eCommerce marketing strategy should focus on everything from driving traffic to the website to converting them into paid customers. You can leverage both organic and paid strategies to reach your potential consumers and get them into your conversion funnel.
In this article, I will walk you through some of the powerful eCommerce marketing strategies that successful brands like Amazon, Walmart, Macy's, and others use to attract customers and make billions in sales.
So, if you are ready, let's get started.
1. Start with Google Shopping Ads
if you are just starting, Google shopping ads might be the best platform to kickstart your marketing campaigns.
With Google Shopping, you can display your products related to searchers' queries right on top of the search results, as shown below –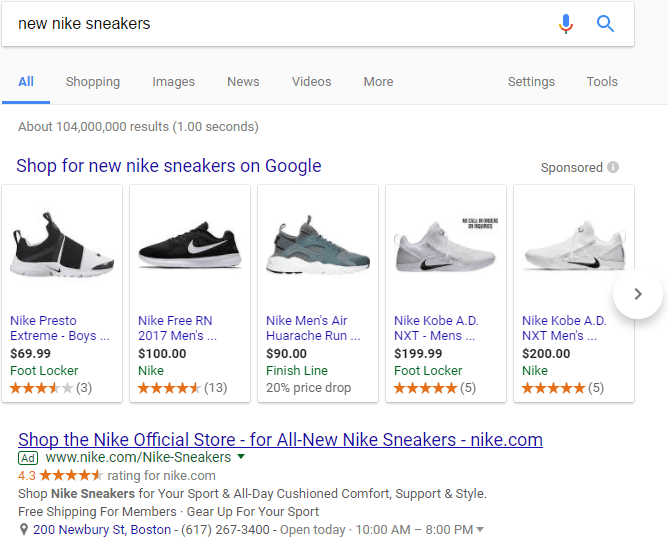 As you can see in the above image, searchers can see the product details (price, store name, offers & review ratings), which provides enough information for users to decide and click the relevant product.
The best part of Google Shopping ads is that Google displays your products based on your product details and search intent, not just based on keywords, which saves you a lot on paying for irrelevant traffic.
2. Don't Ignore Email Marketing
Despite many believing that email marketing is dead, we think if you run email campaigns strategically, it can be the best performing marketing channel for your eCommerce business.
In fact, according to research, for every $1 you spend on email marketing, you can expect an average return of $42. This statistic shows that email marketing can do miracles for your business if you do it right.
One of the reasons behind the success of eCommerce email campaigns is because it allows you to engage with consumers at each stage of their buying journey – from turning a lead to a loyal customer, email marketing can help you with it.
Further reading –
3. Start an Attractive Loyalty Program
You don't invest your money in acquiring new customers who buy ones and never return to the store. You want them to come back and purchase more, right?
This can be possible with an effective loyalty program that rewards customers with loyalty points for making purchases, which they can redeem later for discounts and rewards.
Apart from rewarding customers for making purchases, you can also reward them for completing other actions such as social sharing, email subscription, product reviews, and more. This lets you keep customers engaged on your website and boost loyalty by rewarding them with attractive offers.
Further reading –
4. Run Referral Marketing Program
As people trust recommendations from friends and family, a referral program is one of the effective strategies for eCommerce brands to leverage word-of-mouth marketing to acquire new customers at a low cost.
With an attractive referral program, you can turn your loyal customers into brand advocates for which they can be rewarded for every new customer they bring to your online store.
The reward can be loyalty points, discounts, free shipping, or anything your customers would find valuable, encouraging them to promote your products.
Although the referred customers are 4X more likely to make a purchase, you can boost the conversion rate by rewarding them with offers like free shipping or discounts on their first purchase.
Further reading –
5. Collaborate with Influencers
Influencers are the new brand ambassadors for small and medium size businesses as they can provide strong validation about your product or brand amongst their fans. They have an engaging audience base on social media and other platforms, which you can leverage to reach your target audience and attract new customers.
One of the best ways to collaborate with influencers from your niche is through affiliate marketing. Influencers can promote your product among their followers, and if anyone buys it via their affiliate links, they earn a commission.
This way, you can avoid the upfront payment that comes with paid campaigns – you just have to share a percentage of revenue only after the sale happens.
Further reading –
6. Invest in Search Engine Optimization
If you are relying entirely on paid campaigns (Google Shopping Ads, Social media Ads) to drive traffic to your online store and acquire new customers, you are losing a lot of potential sales & higher profit margin from organic search traffic.
With paid search ads, you can target consumers ready to purchase immediately. But the fact is buyers go through a journey before making up a mind to buy something.
They might have different queries related to the products or problems they are trying to solve. And Google is where they come looking for answers.
With proper SEO, you can ensure that your articles/blogs related to the target keywords rank higher where searchers can find solutions to their problems and know about your products, which they might consider purchasing.
This is called search intent, which plays a crucial role in eCommerce SEO. Apart from these, you should also try to rank your product and category pages using structured markup and other SEO tactics.
Further reading –
7. Send Alerts with Push Notifications
Push notifications are another powerful marketing channel that allows you to engage with consumers directly via mobile apps or web browsers.
These notifications are small pop-up alerts appearing on the subscriber's device even when they are not actively using your mobile apps or visiting the website.
Push notifications are best known for sending time-sensitive messages, which include flash sales, limited-time sales offer,s and discounts.
You can also automate push notifications for abandoned cart recovery by sending them reminders about cart products or pending transactions.
Further Reading –
8. Leverage Content Marketing
If you want to go beyond just selling products to building a brand everyone knows, you need to build authority in your industry.
And you can achieve that by educating your target audience and consumers about your products and the problem it solves for them.
This is where you need to create an effective content marketing strategy, which should include the following –
Creating video tutorials on YouTube
Publishing articles on the blog
Using user-generated content for social media
Hosting live webinars and online events
Creating this type of content can make your website a go-to resource for your target audience. This establishes trust, ultimately converting to sales and a loyal consumer base for your brand.
Further Reading –
9. Create Videos to Educate
As mentioned in the previous section, when you create a content marketing strategy, you must include videos. Videos are the best ways to communicate with your customers and educate them about your product by creating visual content, tutorials, and more.
Videos are proven effective marketing content because people understand visual content better than texts. So, whether you want to create educational content or run promotional campaigns to drive traffic and boost visibility, videos can be an excellent asset for your business.
The best part of video marketing is you don't need professionals to create quality videos. You can simply start with your smartphone and an online video editor to produce quality videos for different marketing platforms, including your website, social media, and YouTube.
10. Tap into SMS Marketing
With over 98% open rates, SMS marketing is another reliable marketing channel for eCommerce brands. Unlike emails and push notifications, with SMS, users can see your text messages without an internet connection.
Isn't this cool? And the best part is that since most people have their phones within reach almost every time, they can instantly see your messages.
SMS marketing is best for sending time-sensitive messages like flash deals and limited offers. People love such offers, and if you can communicate them with such alerts within time limits, they will feel like they matter to brands.
The best way to use SMS marketing in eCommerce is along with Email and Push notifications. This way, you can create an omnichannel marketing strategy for your brand and provide a better shopping experience for customers.
Further reading –
11. Be Creative with Pop-ups
Pop-ups are one of our most effective marketing tools as it allows us to convert website visitors into leads or paid customers right on the website without spending a penny on retargeting them on other advertising platforms.
This saves your money and enables you to deliver a personalized shopping experience to visitors. For instance, if a customer tries to leave your website without completing the purchase, you can display an abandoned cart recovery popup with a special discount for completing the checkout right away.
Similarly, you can use pop-ups to cross-sell and upsell products while users are shopping on your website. If done right, creatively, and without interrupting the user experience, pop-ups can be one of your eCommerce site's best-performing marketing strategies.
Further reading –
12. Build Your Presence on Social Media
Do you know that over 90% of online shoppers like to shop from brands they follow on social media? This data shows that social media can help you establish trust in consumers, who may later convert into sales.
Social media is where online shoppers spend a lot of time researching brands and products – more than 2hrs a day. This allows you to engage with your target audience and educate them about your products via different forms of content.
Popular social media platforms like Instagram, Facebook, and TikTok provide various free tools to share posts and engage with customers via comments and messages. You can also use its built-in analytics tools to gather insights into your followers and target audience.
With an effective content strategy for social media, you can communicate with consumers, drive traffic to your websites, or even sell products directly on the platforms.
Further Reading –
13. Run Paid Campaign on Social Media
Apart from sharing regular posts and engaging with your existing followers, you can also run paid campaigns to reach billions of potential customers available on social platforms.
Of course, not every user on these platforms is your target audience. This is where most social media advertising platforms like Facebook, Twitter, and TikTok provide advanced audience targeting tools.
You can target your potential customers based on various demographic attributes and grab their attention with your visual ads, which can be in the form of images and videos.
Overall, social media advertising is a powerful medium to reach a broader audience, create brand awareness, and generate more sales for your eCommerce site.
Ready to Create your Ecommerce Marketing Strategy?
While creating a marketing strategy for your eCommerce business, you should understand that not every strategy is right for your business – what works for others may not work for you.
If you are just starting your eCommerce business, you should start by implementing one strategy at a time and analyzing the performance to find which strategy works best for your business.
I hope this article helps you create an effective marketing strategy to grow your eCommerce business. If you are looking for more tips and strategies, here are a few hand-picked articles that you might want to check –