One of the most important aspect of selling online is shipping products to customers, and for that you can't rely on manually managing orders and tracking shipments. Instead, you need a reliable and efficient eCommerce shipping software that enables you to automate shipping workflows and provides a seamless shipping experience to your customers.
A good shipping platform connects you with a huge network of logistic partners offers the best shipping rates and provides a dashboard to manage everything seamlessly.
In this article, I will show you some of the best eCommerce shipping software and platforms available in the market, and how they can help you streamline your shipping process and enhance customer satisfaction.
Key Features of Ecommerce Shipping Software
Here are some of the common features that you must look for in shipping software for your eCommerce business –
Easy of Use: You don't want a shipping platform that constantly requires technical expertise to set up something new or make changes. Instead, you want a platform that is easy to use for you and has a user-friendly portal for customers.
Courier services: Depending on your target market, you want multiple shipping partners that ship your products where your customers want. Also, you can compare shipping rates and durations by having multiple courier partners.
Faster delivery options: Apart from normal shipping options, you may also want to offer faster delivery options to your customers. If so, you need to make sure that your shipping platform offers that service.
Warehousing & Fulfillment Network: if you want to offer quick delivery to your customers, you need a shipping company with a wide warehouse and fulfillment networks to outsource your order fulfillment.
Shipping Rates: You want a shipping platform with reasonable and affordable shipping rates that enable you to book higher profit margins and offer faster delivery options at the cheapest cost possible for customers.
Cash On Delivery Support: If you offer a COD payment option in your online store, you want a Shipping company that supports it.
Merchant Support: You will certainly face issues with order fulfillment and shipping at some point in time. If that happens, you need to ensure that the shipping companies provide a dedicated account manager to help you resolve the issue.
Return management: There are many reasons why orders might not get delivered. So, you want to ensure that your shipping platform offers return facilities at a reasonable cost.
Shipping Insurance: A lot can go wrong once you ship your product. To protect your orders from damage, loss, and theft, your shipping platform must offer a good insurance option.
Customs Duties & Taxes management: If you ship products internationally, you will have to pay customs duties and country-specific taxes. You can manage it manually. So, you want your shipping platform to manage it for you and provide clear visibility of taxes.
Live Order Tracking: Online shoppers want regular updates on their order status. So, you have to make sure that your shipping platform provides live order tracking for merchants and customers.
Integrations: You want your shipping platform to work with existing tech stacks from your eCommerce platform, email marketing tools to CRM, and inventory management tools.
4 Top Shipping Software for Ecommerce
Now, based on the above-listed features, I have reviewed and ranked some of the best eCommerce shipping software and platforms that you can use for your business.
Ready? Let's get started.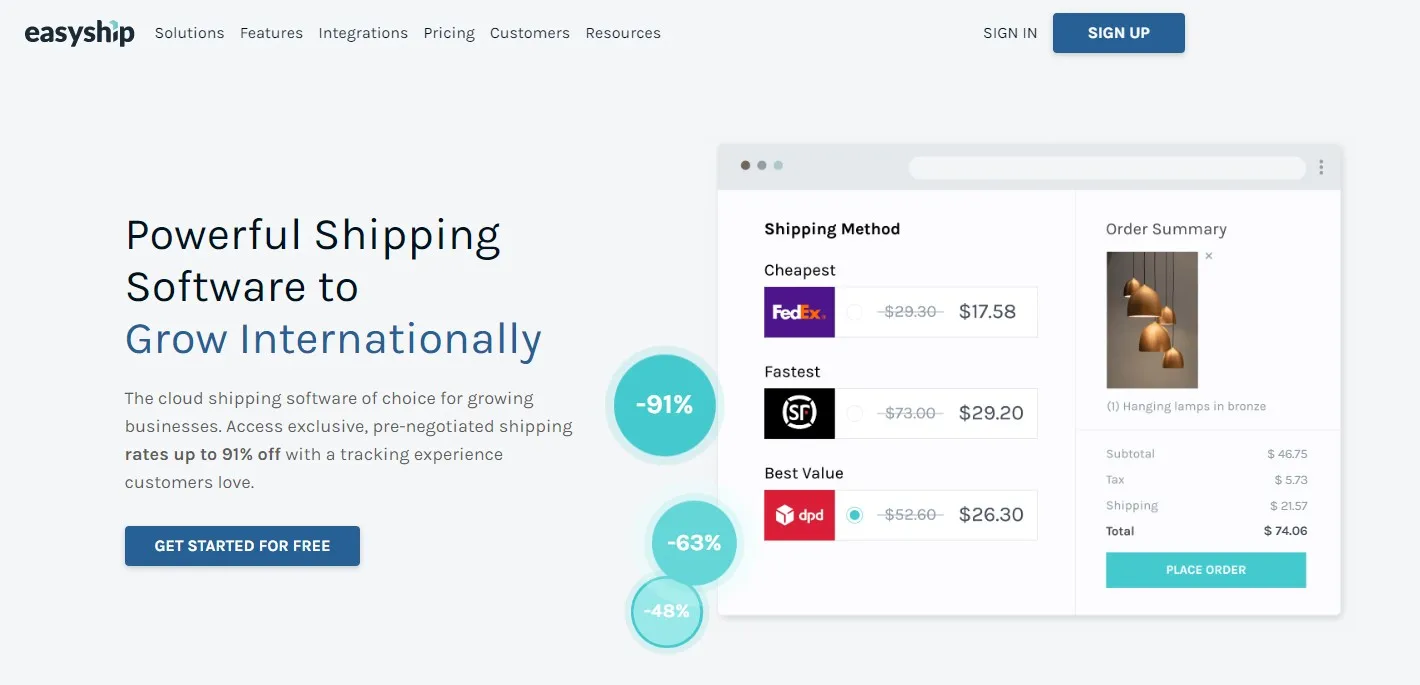 With over 250 international and regional courier services like USPS, UPS, DHL, and more, Easyship is the best global shipping software for eCommerce businesses. Companies love it because of its highly competitive shipping rates with up to 91% discounts on top courier service providers.
The best part of using Easyship is that you don't have to deal with duties and taxes yourself. For every international order, Easyship provides full-proof documents and manages taxes on your behalf to ensure smooth product delivery to customers.
Beyond that, Easyship has an intuitive dashboard where you can easily manage all your orders, track shipments and manage finances all from one screen. For your customers, it provides live order tracking page and email updates, which you can customize to match your branding.
Key Features –
Connects with 250+ logistic partners globally
Provides shipping service to 220+ countries worldwide
Offers discounted shipping rates compared to market prices
Handles duties and taxes for international orders
Seamless integration with major eCommerce platforms, including Shopify, BigCommerce, WooCommerce, and others.
Pricing Plans – Easyship has a free plan that allows up to 50 monthly Shipments. The paid plans come with a 14-day free trial and are mainly based on the number of monthly shipments, starting at $29 for up to 500 shipments.

ShippingEasy is another reliable eCommerce shipping software that connects you with USPS, FedEx, UPS, and DHL as logistic partners with discounted shipping rates. It comes with an intuitive dashboard and integrates seamlessly with Shopify, WooCommerce, Amazon, and other popular eCommerce platforms.
It allows you to automate your shipping process by automatically printing labels and mapping carriers based on your customers' delivery preferences and your specified rules. It also provides a branded order-tracking page and sends regular order-tracking updates to stores and customers via email.
If you are not using email marketing software, ShippingEasy offers add-on marketing tools that you can use to send automated email marketing campaigns for cart abandonment, upselling, and more to generate more sales.
Key Features –
Huge discounts on USPS & UPS shipping services
Deep discounts on shipping insurance
Automatically map carriers based on your customers' delivery preference
Automatically add insurance to specific shipment types
Integrates with all major shopping carts, platforms, and marketplaces
Real-time tracking information sent to your customers and stores
Pricing Plans – ShippingEasy has a free plan that allows up to 25 shipments per month. The paid plan starts at $19.99/month for up to 200 monthly orders with a 30-day free trial.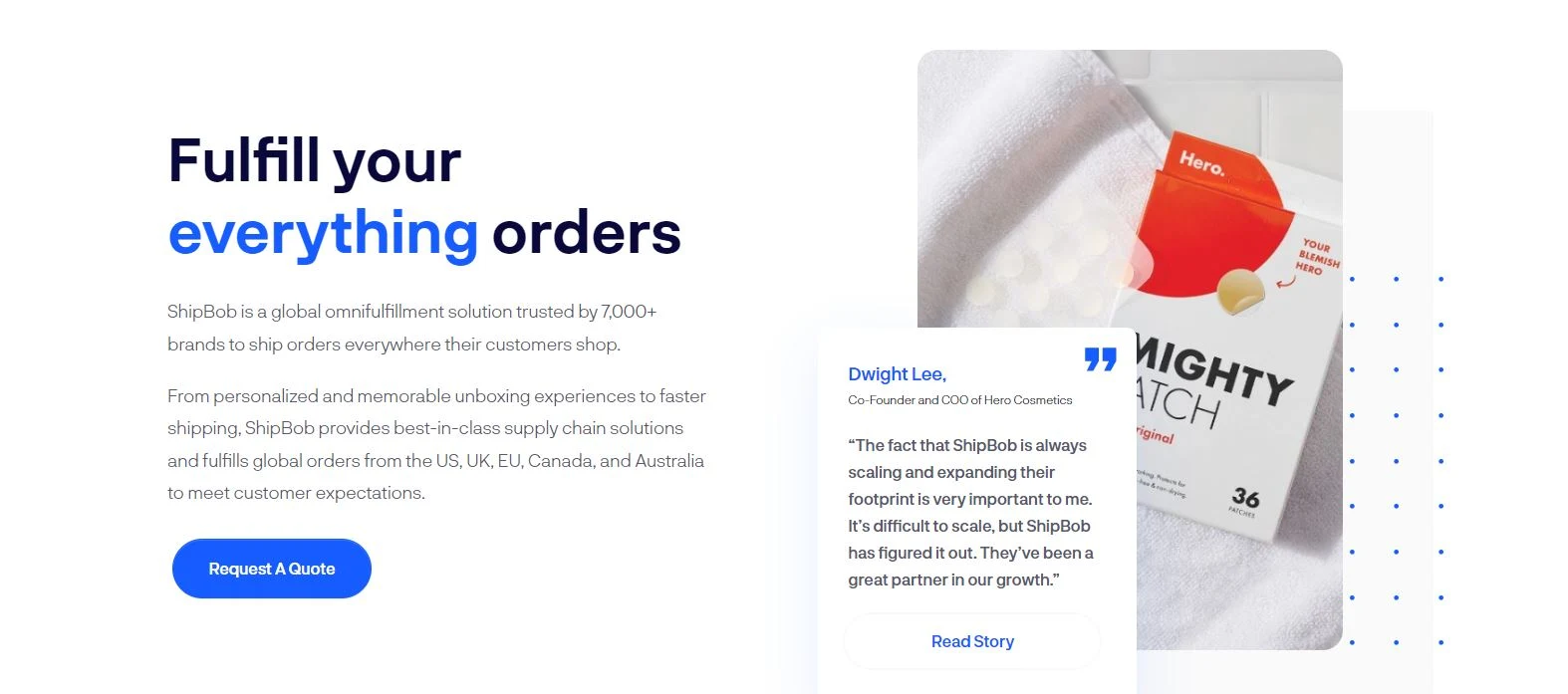 Although ShipBob offers global order fulfillment services, it has physical fulfillment centers only in the US, Canada, UK, EU, and Australia, allowing you to offer fast delivery service to customers based in these regions. For the rest, the delivery speed might not be that great.
ShipBob is known for its 2-day express shipping service, in which you can deliver orders to your customers anywhere in the United States within 2 days. It gives you the opportunity to compete with eCommerce giants in terms of delivery speed and customer experience. In fact, you can take your 2-day shipping offer beyond your eCommerce website to Walmart stores.
Key Features –
Affordable 2-day shipping in the US
Intuitive dashboard to manage, edit, and track orders
Display a 2-day express shipping badge on product pages
Provide 2-day estimated delivery dates & times on product pages
Offers custom-branded shipping boxes and marketing inserts
Supports direct integration with Shopify, WooCommerce, and other eCommerce platforms and marketplaces
Pricing Plans – ShipBob provides customized pricing based on your monthly orders.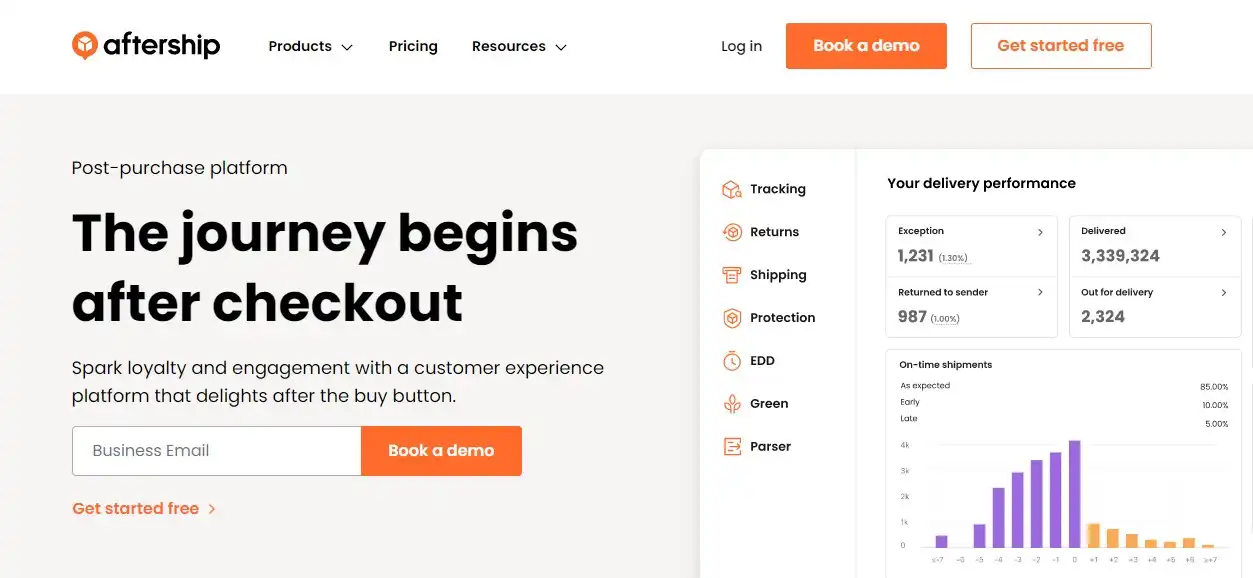 AfterShip is a post-purchase platform with an excellent shipping management tool that enables you to connect with 90+ carriers with direct integration or APIs and manage all your shipments directly from a single dashboard.
From your dashboard, you can view all your orders, map them to different carrier services, generate labels, and track orders in real-time. You can also calculate the estimated delivery date and display it on product pages for higher conversion rates.
Beyond shipping, AfterShip provides you with branded tracking pages, seamless return management, shipping insurance, and more, making it an ideal shipping management platform for small eCommerce businesses.
Overall, if you are catering to domestic users only, AfterShip might be a great fit for your business. But for international shipping, it can be a hassle for you as it doesn't manage customs duties and taxes on your behalf.
Key Features –
90+ logistics partners supported
Offers huge USPS discount
Provides customizable tracking page for customers
Display customized product recommendations on order tracking pages
Powerful U.S. address validation API
Extensive integration with major eCommerce platforms and marketplaces
Pricing Plans – AfterShip has different pricing plans for different products. For shipping management, it has a free plan that allows access to all its basic features you need to manage your shipments. The paid plans are based on the number of shipping labels generated monthly, starting at $11/month for up to 100 labels per month.
Found the best eCommerce shipping Software?
When you start an eCommerce business, shipping and order fulfillment can be the biggest hurdle to growth. With a reliable shipping platform, you will have access to multiple courier service providers to choose from and manage all your shipments from a single dashboard.
Having said that, all the above-listed shipping software and platforms are the best and offers excellent services. Now, it is your turn to choose a reliable shipping platform that fulfill your business requirements and helps you in scaling your business with faster delivery at affordable rates.
Now, if you want to explore platform-specific shipping solutions, here are few lists that you can check next –