Are you looking for the best eCommerce platform to build your online store?
Well, choosing the right platform is critical for an online business and the best platform depends entirely on your business model, budget, and feature requirements.
In this article, I have compiled a list of the best eCommerce platforms highlighting the features, pros, and cons to help you make better decisions.
If you are ready, let's get started.
Top 6 Paid eCommerce Platforms
Paid eCommerce platforms are user-friendly and it enables you to create an online store without much technical knowledge. Another best part about paid eCommerce platforms is that they come with all the technical requirements that you need to start an eCommerce business. Whether it is hosting, security, themes, or payment gateways, you will get everything on these platforms.
So, here are the best 6 paid eCommerce platforms that you can use to build your eCommerce site.
1. Shopify – Most Popular eCommerce Platform
Shopify is the most popular eCommerce platform. In fact, whenever someone decides to start an eCommerce business, Shopify is the first name that comes to mind, isn't it?
As an eCommerce platform, Shopify is extremely easy to use and set up without any technical skills required. It offers 70+ mobile responsive themes among which 9 are free which are quite great if you want to try Shopify for a while before making some investment in the look and feel of your site.
Shopify themes are customizable but what I love the most about it is features like Abandoned Card recovery, gift card, and custom discount creation from its basic plan.
It's a great option for eCommerce sites that don't have lots of in-house technical resources because its 24/7 versatile customer support will help you set your store at any point of time.
Shopify also has its own payment gateway called Shopify Payment which is better than most of the payment gateways available out there. Unfortunately, it is not available in all countries so, before getting started, you must check whether Shopify Payment is available in your region or not.
For additional features and functionalities, you can always head over to the Shopify App Store where you can find a ton of tools and plugins that you can install and integrate with your store with just a few clicks.
Pros of Shopify:
Fast page loading speed
Easy to set up
24/7 support
Multiple channel distribution
Cons of Shopify:
Limited customization
2% commission on transaction value
Average SEO Performance
Pricing and Plans-
Shopify offers 3 plans which differ mainly on the number of staff accounts and transaction fees. The basic plan of Shopify costs $29/month and ranges up to $299/month with the enterprise plan.
2. BigCommerce – Well-known eCommerce Platform
BigCommerce is a well-known eCommerce platform providing everything you need to sell online. It is an ideal choice if you want to build a store with some complex features and a huge inventory to manage.
The platform offers unique solutions for B2B, wholesale and subscription-based stores. You can also integrate the store with your existing WordPress website.
BigCommerce's abandoned cart recovery shipping integrations and multichannel distribution features are some of the best in the industry but not available at the lower tiers.
And unlike Shopify, instead of charging a fee per transaction, BigCommerce puts the limit sales revenue per tier and once you reach the sales limit of your selected tier, the plan will automatically be upgraded.
BigCommerce excels in the SEO performance of the site, loading speed, scalability, and security. So, whether you're starting a new online store from scratch, or introducing your brick-and-mortar store into the eCommerce world, BigCommerce can be a viable option for you.
Pros of BigCommerce:
Flexible and scalable
Multichannel distribution
No transaction fees
Cons of BigCommerce:
Gets expensive with a high volume of products
Cart abandonment recovery is not available for the basic plan
Very few themes to offer
Pricing and Plans-
The BigCommerce Essentials plan starts at $29.95/month and goes upto $299.95/month if paid annually.
3. Wix – Best drag-&-drop eCommerce Builder
Wix is another popular drag and drop website builder which you can also use to build online stores. The website builder is very user-friendly and easy to use for beginners with no technical knowledge.
Wix offers over 500 stunning templates that are likely to fit your business. Wix eCommerce functionality has most of what a business would need but doesn't scale as well as dedicated platforms like Shopify or BigCommerce.
Wix also provides an in-house payment gateway called Wix Payment along with other popular gateways including Stripe and Paypal. The best part is that it doesn't charge any transaction fees – you just have to pay for the plans you pick for the store.
Other useful features include multi-channel distribution, worldwide shipping and tax, auto email reminders, coupon, and discounts.
Pros of Wix:
Beginner Friendly
Free domain for 1 year
Good SEO
Optimized for Dropshipping
24/7 customer support
Cons of Wix:
Cannot change the theme later
Lacks marketing features and integrations
limited features in the basic plan
Pricing and Plans-
Wix offers a Business and eCommerce plan which starts at $23/month with the Business Basic plan and goes up to $49/month with the Business VIP plan.
Further Reading –
4. Squarespace – Creative eCommerce platform
Squarespace is a popular drag-and-drop website building platform that offers a ton of mobile-optimized and customizable themes for online stores.
Squarespace offers dozens of eCommerce benefits which include unlimited product listing, flexible product variants, gift cards, and abandoned cart recovery.
With Squarespace, you can easily build a subscription-based store but the challenge is that there are very limited apps which you can integrate with. So, before getting started, make sure that it offers all the essential tools and plugins that you need for your store.
Another great thing about Squarespace is that it offers a free domain for the first year of your subscription and over that it has very cheap plans to get started with.
So, if you're unsure of what the future holds and want to try your hands on an eCommerce store with all essential features, Squarespace is a platform for you. That's because this platform makes it affordable and easy for you to scale or pivot the direction of your sales strategy.
Pros of Squarespace:
Easy to set up
Great theme designs
Solid SEO tools
Cons of Squarespace:
No Marketing Automation Integration
No Multichannel distribution
No App store for more features
Weak customer support
Pricing and Plans –
The basic plan of Squarespace for eCommerce starts with $18/month with annual payment but in this plan, you'll have to pay 3% of the transaction value which is very huge. You can avoid the transaction fees by opting for one of the eCommerce plans at $26 & $40/month.
Further Reading –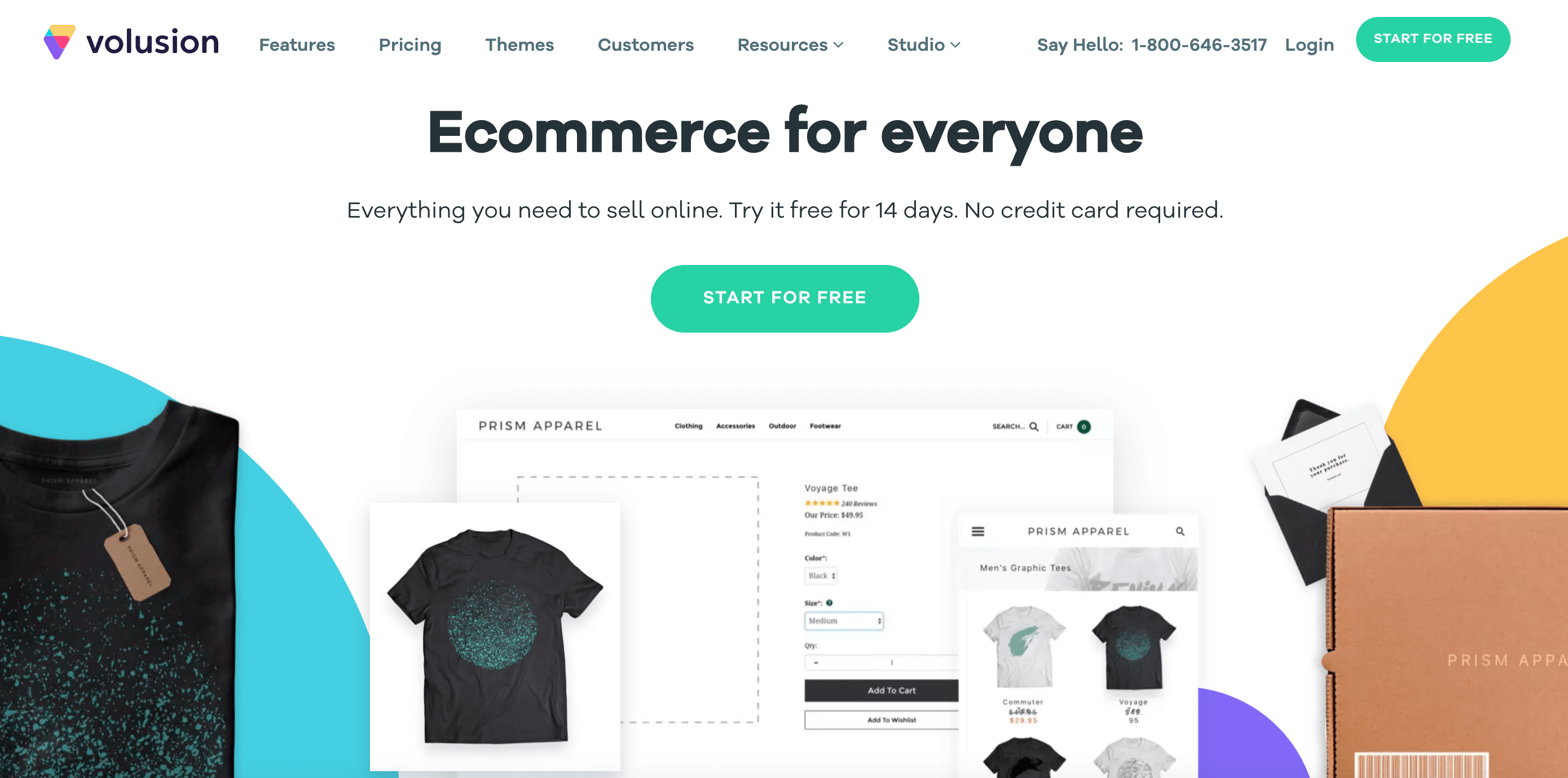 Volusion is one of the oldest eCommerce platforms available out there. It provides an all-in-one eCommerce platform that lets you easily create, manage, and expand your store.
Volusion has everything you need to build your store your way. It offers 11 free and 34 premium themes. These templates are mobile responsive and you can easily customize and add required elements using their drag-and-drop page builder. You can tweak them further with CSS.
The other main features are built-in SEO tools, social media integrations, and ROI tracking tools, related products feature, customer accounts and reviews, discount codes, and gift cards. Abandoned Card recovery is also available but not for the basic plan.
Similar to BigCommerce, Volusion doesn't charge transaction fees but puts a cap limit on annual revenue. If you exceed certain sales milestones in a 12 month period, your plan will automatically be upgraded for the next year.
Pros of Volusion:
Multi-channel distribution
Recurring payment method available
Cons of Volusion:
No built-in blogging section.
Expensive themes
No Cart abandoned recovery for the base plan
Pricing and Plans-
Volusion offers 3 fixed plans based on the annual sales limit. It starts at $29/month with an annual sales limit up to $50k which automatically upgrades to a $500k annual sales limit of $299/month. For stores with annual sales of over $500k, you will get a personalized quote.
Shift4Shop is not as popular as other eCommerce platforms listed but it is a great platform to set up an online store with some advanced features that no other platform offers.
Shift4Shop doesn't offer a drag-and-drop page builder, so you'll need at least a basic knowledge of website development, HTML, and CSS to customize your themes.
Shift4Shop is packed with all the essential tools required for an online store. Some of the main features are built-in SEO tools and marketing tools, shopping cart saving, gift cards, discount codes, daily and group promotions, and social media integrations. It also allows you to integrate with online marketplaces like Amazon, eBay, and AliExpress.
Its pricing model is quite similar to Volusion asShift4Shop also puts a sales limit for each plan and once your sales limit exceeds, the plan will automatically be upgraded to a higher plan.
One of the reasons why I'd pick 3dcart over the rest of the tools is because It also facilitates you to accept payments in cryptocurrency.
Pros ofShift4Shop:
No transaction fees
Highly Scalable
Accepts crypto-currency
Cons ofShift4Shop:
Outdated themes
Old-design admin dashboard
Sales limit
Pricing and Plans-
Shift4Shop offers 5 plans which start with the Startup Store plan at $19/month and goes up to $299/month for the Pro Store plan.
Top 5 free eCommerce platforms
Most of the free eCommerce platforms available out there are open-source platforms, i.e., you can get the software or platform where you can build the store at no cost but may have to pay for hosting, domain, themes, and other services involved.
Here are the best 5 free eCommerce platforms.
1. WooCommerce – Most Popular Free eCommerce Platform
WooCommerce is a free eCommerce platform that runs on WordPress. Unlike other eCommerce platforms listed in the article, WooCommerce is a plugin that can add operational eCommerce features to your existing WordPress site.
WooCommerce offers loads of mobile responsive and customizable themes. Also, there are thousands of plugins that you can use to add new features to your store.
With WooCommerce, you can sell anything whether it's physical products, digital downloads, membership plans, dropshipping stores, or affiliate products.
WooCommerce offers its own payment system called, WooCommerce Payments which doesn't charge you any transaction fees at all. You'll only have to pay your payment services providers like PayPal or Stripe, or your bank.
If you are already familiar with WordPress, WooCommerce can be very easy to use. You just have to add a WooCommerce plugin, add your products, set your preferences and your store will be ready.
However, if you have no prior experience with WordPress, you may require assistance from a developer to set up your website and online store.
Pros of WooCommerce:
Easy to use
Free Themes
Best for SEO since it is on WordPress
Highly Customizable
Cons of WooCommerce:
No Customer Support
Need lots of extensions to add basic features and it costs
2. Magento – Popular eCommerce platform for Enterprise brands

Magento is the most popular and trusted open-source platform for eCommerce. The brands like Nike, Ford, Samsung use Magento for their online stores.
Magento is a fully mobile-optimized and customizable platform but you'll need a trained developer or agency to build your store. Magento is so vast that you can customize as much as you can and add new features that no other store has ever seen.
Basically, it gives you freedom without any limit to be innovative. But the only thing is, you will need developer skills to do anything on Magento.
Magento provides seamless checkout, payment, and other shopping modules that allow you to personalize the user experience on your site.
Pros of Magento:
Strong SEO
Scalable and highly customizable
Strong user and developer community
Huge marketplace for extensions and themes
Cons of Magento:
Expensive themes
Development cost can be expensive
No customer support
3. OpenCart – Best Free Open-source eCommerce Platform
OpenCart is also an open-source ecommerce platform that is currently supporting over 300,000 ecommerce stores across the globe.
It offers a ton of free and paid mobile responsive themes which you can find in OpenCart's marketplace. It also provides 13,000+ modules that allow you to customize and add features to your store.
One of the best features of OpenCart is its Admin Dashboard – you can manage multiple stores from one dashboard. You can add the same products on different sources with different pricing and other variables. Isn't this cool?
OpenCart gives you control over how customers are charged for your products and services. So, if you plan to sell products by subscription, or if you are simply breaking up payments into smaller portions, OpenCart is a way to go.
Pros of OpenCart:
Marketplace for themes and extensions
Integrated shipping methods
36 payment gateways
Active community of developers
Cons of OpenCart:
Paid support service
4. PrestaShop – Innovative Open-source eCommerce Software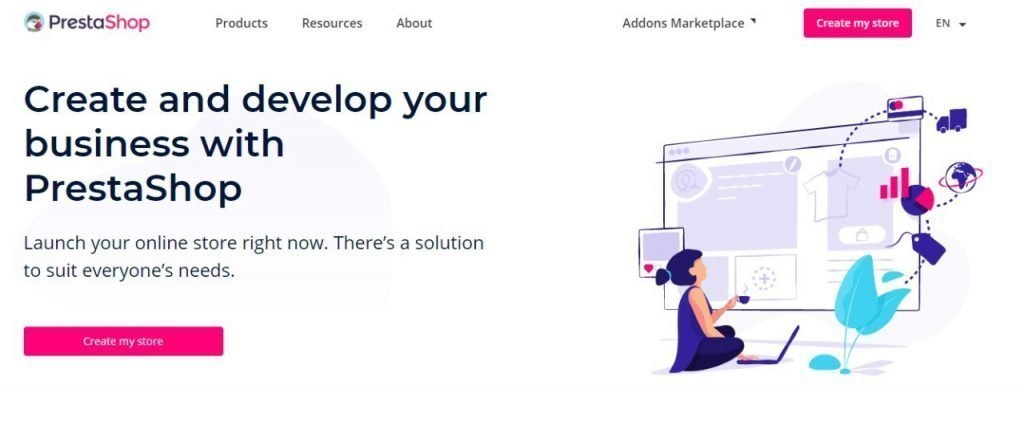 PrestaShop is an open-source eCommerce platform that was developed in collaboration with a community of more than one million users and contributors.
You can download the free PrestaShop software and build the store yourself. Also, to build the store on PrestaShop, you'll need at least basic knowledge of HTML, CSS and JS.
PrestaShop provides thousands of mobile-optimized themes that you can use and customize the store or you can build it from scratch. It also offers 600+ features that you can include in your store.
But again, it is not like Shopify where you can just click and add new features, you have to configure it yourself using the modules provided by them.
Pros of PrestaShop:
Strong SEO
Customizable
Available in 75 languages
Strong community to help you
Cons of PrestaShop:
Limited Marketing Integration
Developer Skills required
No multi-channel integration
No customer support (have to rely on community response)
5. Ecwid – Best eCommerce platform for Small Businesses
Unlike the rest of the tools mentioned above, Ecwid is a SaaS-based eCommerce platform. You can create your online store on Ecwid within 10 mins – it is that simple.
I have placed it at this position on the list because of a lack of customization. Using Magento, WooCommerce, and PrestaShop, you can build a store and add features as your business grows, but Ecwid is specifically built for small businesses.
Its free plan allows you to sell up to 10 products, and you can promote your products on Facebook, Google, Pinterest, and Snapchat right from the dashboard.
The best part is that Ecwid doesn't charge any transaction fees, and once you start making profits, you can upgrade the plan and integrate with other marketplaces like Amazon and eBay.
Pros of Ecwid:
Zero Transaction Fees
Integrated advertising platforms
Mobile responsive site
Cons of Ecwid:
Not scalable
No themes
Very limited customization
Which is the best eCommerce Platform?
Well, it depends on a lot of factors and one of them can be your experience with the eCommerce business. If you're just getting started with an eCommerce business and you don't have the technical knowledge or a large team to manage your store, Shopify or Ecwid would be the best platform to consider.
Each of the platforms listed above is different in their own ways and offer something that others don't. So, you have to be very clear with what you want for your store and choose the eCommerce platform that suits your business model.