Are you looking for the best shipping apps for your Shopify store? If so, your search ends here.
Shipping is a crucial part of a successful eCommerce business. A good shipping process ensures safe product delivery to the end users at the lowest shipping cost possible. You also want to guarantee faster product delivery with an excellent post-purchase experience, including a tracking and alert system.
To achieve this, you'll need to add the best shipping app to your Shopify store to streamline the entire shipping process – from order tracking to fulfillment. It must also support integration with your carrier service providers.
Keeping this in mind, I picked some of the best Shopify shipping apps and reviewed them to help you find the most suitable shipping apps for your store.
So, without further ado, let's get started.
1. Easyship – Best Shipping App for International Orders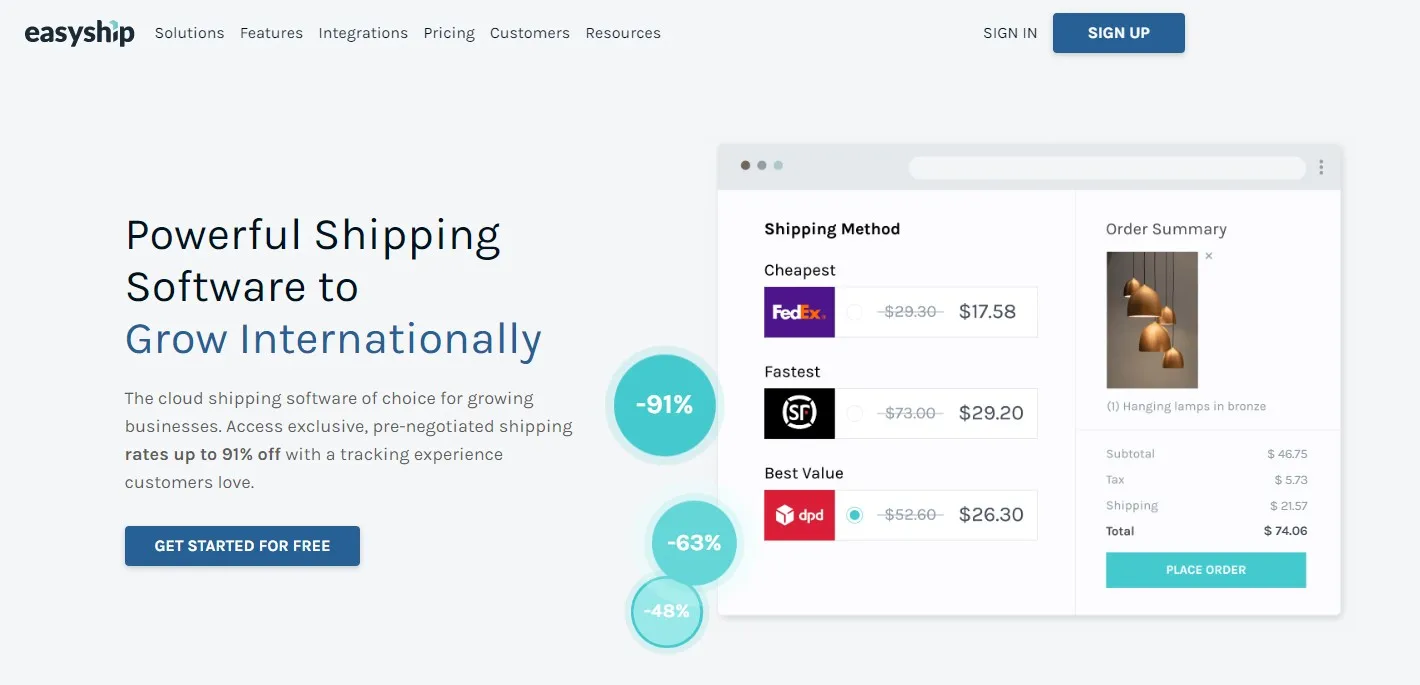 Easyship is the best Shopify shipping app that seamlessly lets you ship to customers across the globe. It integrates with around 250+ courier services from USPS, UPS, DHL, and others. On top of all, it handles all the duties and taxes for your international shipments, paving for smooth customs clearance and delivery.
From the shipping dashboard, you can manage orders and create shipments easily. You can also provide best-in-class tracking by sharing the info with customers via a dedicated tracking page. It lets you manage returns easily by automatically emailing the documents to your customers.
Easyship is known for its stunning automation capabilities to match your specific fulfillment process. You can start by applying conditions and actions; the conditions refer to the situations, and the action instructs Easyship on what it should do once the preferred condition is met.
Thus Easyship is an all-in-one solution that lets you scale your Shopify store internationally with an effective and flawless shipping process.
Key Features –
Save upto 91% on top couriers
Enables shipping to 220+ countries
Real-time shipping rates at checkout
Branded tracking and packing slips
Recommends the best flat-rate service
Configure shipping label & documentation formats
Powerful search and filtering of segments
Global warehousing network to outsource your fulfillment
Pricing Plans – Easyship has a free plan that allows 100 shipments, unlimited eCommerce integrations, access to a global fulfillment network, catalog management, the lowest USPS rates, pickup management, etc. The details of paid plans are as follows –
Plus Plan – $29/month – 500 monthly shipments
Premier Plan – $49/month – 2500 monthly shipments
Enterprise Plan – Custom pricing – High volume shipments
2. ShipBob – Best Shipping App for US, UK & Australia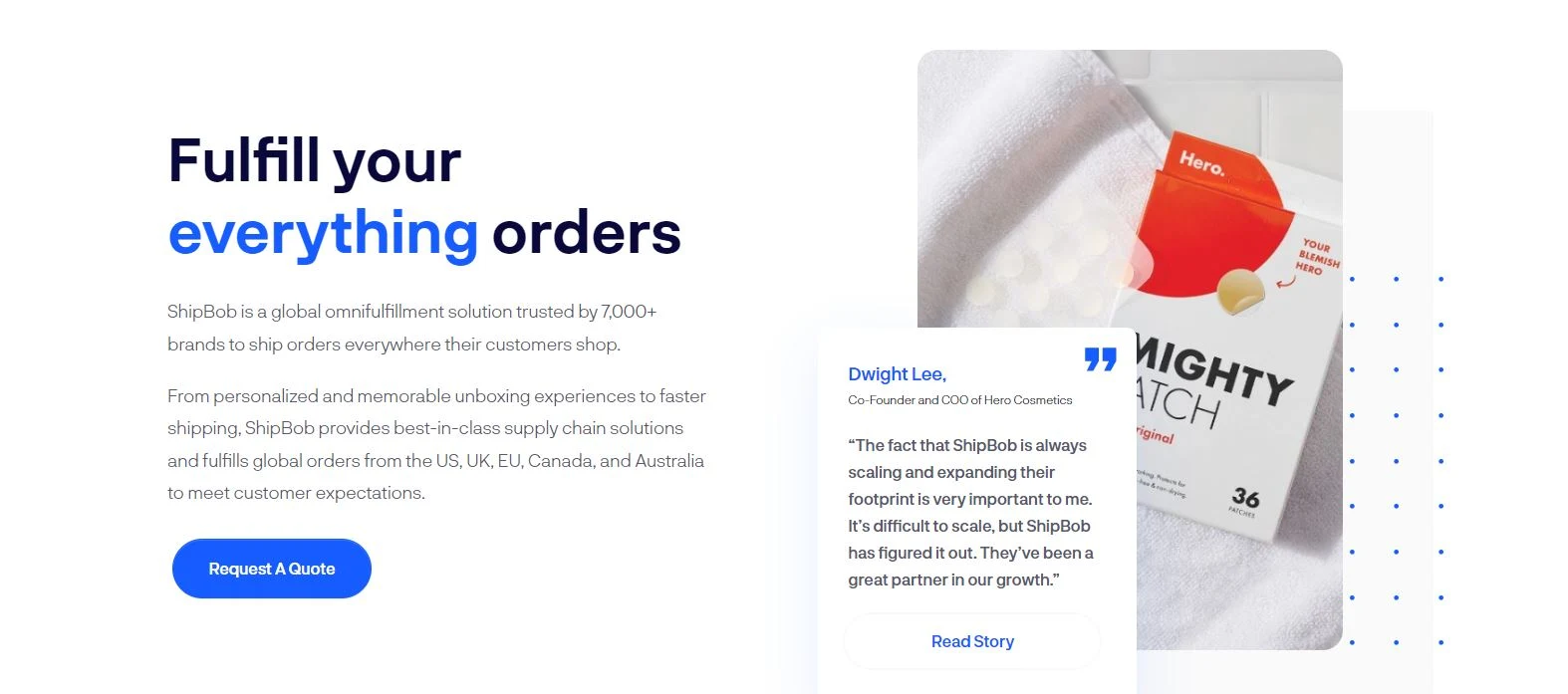 ShipBob is a tech-enabled 3PL Shopify shipping app that offers a simple, fast, and effective way of fulfilling your orders. It provides robust supply chain solutions and guarantees to boost 13% cost savings, AOV by 97%, and reduces cart abandonment by 18%.
Once you've connected your store, you can import the products and send them to ShipBob's inventory. They store your inventory and ship directly from their nearest fulfillment centers. The best part is it achieves a 99.95% accuracy rate which means the products reach your customer's doors at an expedited speed.
ShipBob has a built-in proprietary tech that enables you to manage, edit, and customize orders, track real-time stock levels from any location, and receive notifications to reorder inventory. Over that, its smart algorithm automates your fulfillment process to elevate your bottom line.
Overall, ShipBob is best suited for Shopify store owners who want to enjoy faster fulfillment with a hands-off approach.
Key Features –
Access to a broad range of fulfillment services
Affordable two-day shipping
Split your inventory across ShipBob locations
Comprehensive order management
Fulfill global orders from the US, UK, EU, Canada & Australia
100% 2-day shipping coverage across the continental US
Provide 2-day badging and estimated delivery dates on product pages
Allows for multichannel inventory and order fulfillment
Ship to other countries via standard & expedited options
Pricing Plans – ShipBob charges for receiving your inventory, storing it in warehouses, and shipping. You'll have to request the fulfillment pricing by specifying all the details in the form, and their team will reach you shortly.
3. Sendcloud – Best Shipping App for Europe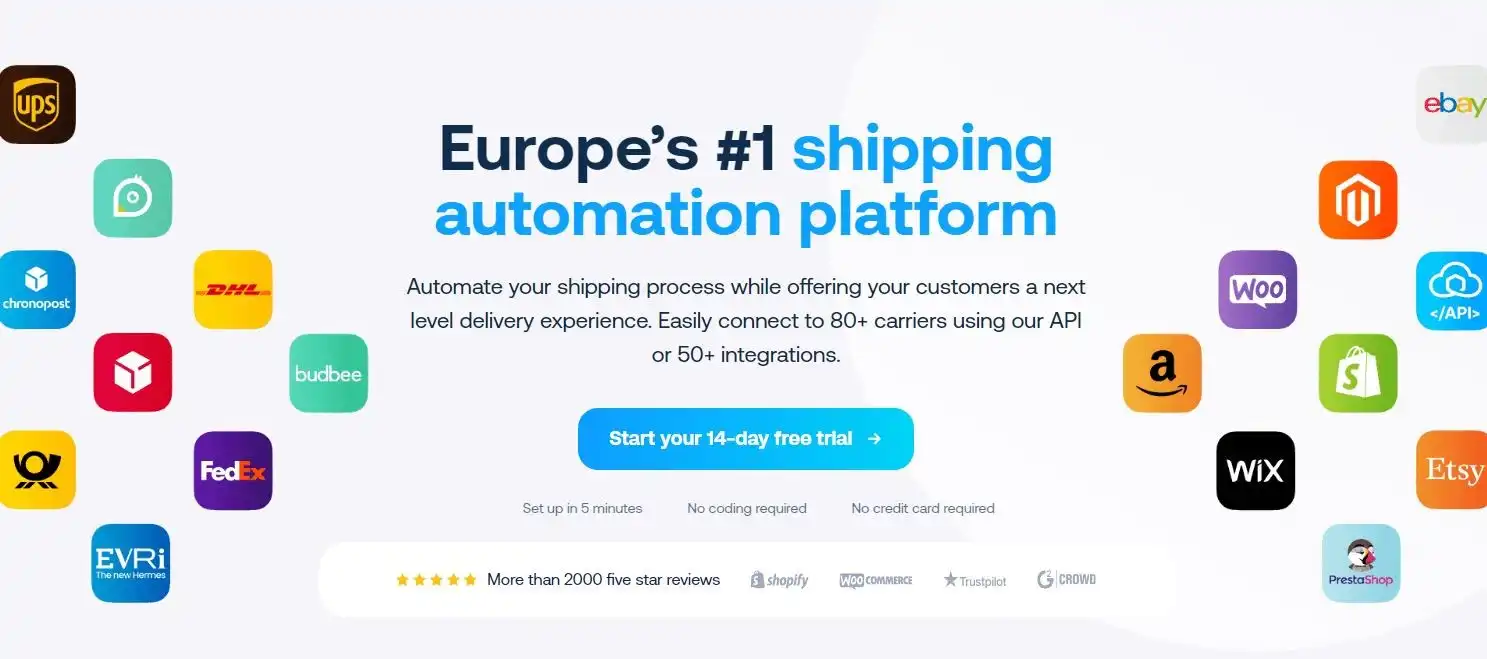 Sendcloud is Europe's most popular Shopify shipping app that lets you boost your store's shipping operations via powerful automation. You can print shipping labels in bulk, choose from 80+ carriers, and create custom automation rules to set the right shipping method for each order.
With Sendcloud, you can boost sales and drive social fans via its tracking page as it lets you include your Instagram posts and even a banner ad to promote your products within the tracking page. Thus you can deliver a remarkable branded tracking experience that converts.
In short, Sendcloud can be your best option if your target audience is UK-based. It enables you to exceed customer expectations via expedited delivery and unlimited automated shipping & return rules.
Key Features –
Smart shipping rules
Access to pre-negotiated prices to lower shipping costs
Pack & go order picking solution
Branded tracking emails
Multi-language support in emails
Display best delivery options at the checkout
Barcode scanner support
Fully automated return process
Pricing Plans – Sendcloud has a free plan suitable for starters who ship less than 100 parcels/month. You can use Sendcloud's discounted rates, 2 shop integrations, 1 branded tracking email, creating return labels, email & live chat support.
The list of paid plans is as follows –
Small Shop Plan – €45/month – stores that ship between 100 and 400 parcels/month
Large Shop Plan – €99/month – stores that ship between 400 and 1000 parcels/month
Business Plan – €199/month – stores that ship 1000+ parcels/month
Enterprise Plan – Custom Pricing – for high-volume stores
4. ShippingEasy – Cheap Shipping Rate in the USA

ShippingEasy is an affordable Shopify shipping app suited for businesses of all sizes. It is an easy-to-use, feature-rich app that encompasses everything you need for successful shipping. You can manage orders, automate shipping with rules, organize packing, and even use Alexa to ship by only using your voice.
It supports USPS, UPS, FedEx, and DHL Global as carrier service providers and automatically maps the best one based on your customer's delivery preferences. This ensures super-smooth, flexible, and fast shipping, which drives loyal customers.
ShippingEasy offers a Shopify seller suite, a complete package to help you with automated emails, shipping & feedback – you can send abandoned cart emails, enjoy the lowest shipping rates, print labels and automate the shipping process.
Key Features –
Huge discounts on USPS shipping services
Sort, combine, split, and re-combine orders
Print labels, packing slips, picklists, and custom forms
Create rules for weight, delivery preference, package size, etc
Run comprehensive shipping reports or segment by destination
Flat-rate green cubic pricing
Ship from multiple locations
Route orders to FBA
Shipping rate recommendations
International consolidator support
Pricing Plans – ShippingEasy has 6 pricing plans based on monthly shipments. Now let us view the pricing breakdown –
Starter Plan – $5/month – 50 monthly shipments
Basic Plan – $29/month – 500 monthly shipments
Plus Plan – $49/month – 1500 monthly shipments
Select Plan – $69/month – 3000 monthly shipments
Premium Plan – $99/month – 6000 monthly shipments
Enterprise Plan – $159/month – 10,000 monthly shipments
You can also try ShippingEasy for free for 30 days. If you find it your best fit, get a hands-on experience by signing up for the free trial.
5. Shippo – Best Shipping App for Lower International Rates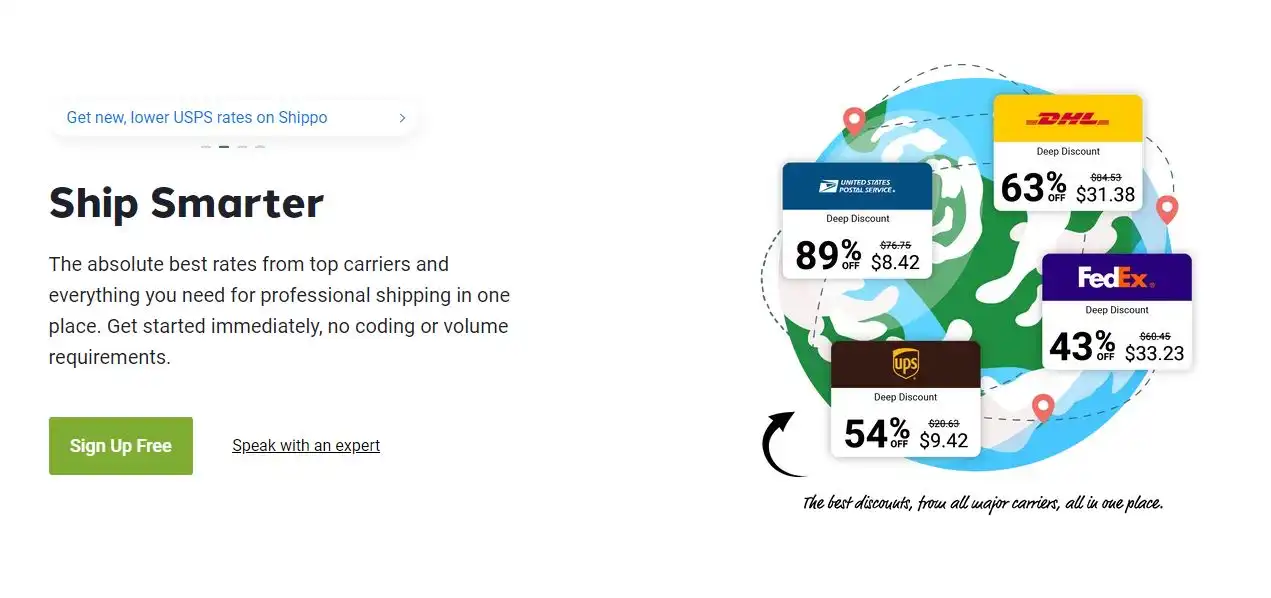 Shippo is an excellent Shopify shipping app that lets you easily manage all your shipping needs. You can connect to around 80+ global carriers and save 90% of costs by printing shipping labels, tracking shipments, automating international documents, and facilitating hassle-free returns.
You can easily sync orders and track information regardless of where you sell, saving your time. On top of all, you can potentially avoid losses due to failed deliveries via its in-built address validation tool. So it is ensured that your shipment reaches the specified customer's address quickly.
Regarding international shipping, Shippo lets you cruise through the process quickly. It takes care of everything – pre-filled custom forms to speed up the label generation and paperless trade to prevent commercial printing invoices.
Key Features –
Access real-time rates from carrier networks
Unlimited carrier accounts
Automate label creation
Schedule a carrier pickup with USPS or DHL Express
Branded tracking pages
Send shipping notification emails
Batch label printing
Split order into multiple shipments for back-ordered items
In-depth analytics and reporting
Pricing Plans – Shippo has a free plan that does not incur any monthly fees, the best discounts on USPS, UPS, & DHL, email/live chat support, 5¢/label with your connected carrier accounts, and free if you use Shippo's default carriers.
The details of Paid plans are as follows –
Professional Plan – starts at $10/month – for 60 labels
Premier Plan – Custom pricing
Shippo also offers a 30-day free trial for the Professional plan. So you can signup and try out its core functionalities to gauge a fit.
7. ShipStation – Shopify App for Low Shipping Rates
With over 100k+ merchants, ShipStation is a popular Shopify shipping app. It has an easy-to-use interface that centralizes all the operations – from order management to customer communication, making the entire process hassle-free.
ShipStation helps enrich your brand personality by adding a logo, sending customizable emails, SMS notifications, and inserting a "thank you" message in the slips. This lets you capitalize on current customers and attract new visitors better.
The best part is that it saves precious time by automating your shipping & order fulfillment workflow. It lets you tag orders, process bulk orders via batching, and split orders into multiple workflows. You can automatically set the shipping service based on which item the order contains.
On the whole, ShipStation strives to organize and streamline the order fulfillment process by giving you complete control.
Key Features –
Track in-transit shipments
Built-in shipping calculator
Discounted shipping rates from the world's top carriers
Branded returns portal
Schedule carrier pickups
Print thousands of shipping labels easily
Generate shipping documents
Updates tracking info to selling channels and customers
Manage shipments anywhere via the mobile app
Visualize multi-channel shipping & product analytics
Pricing Plans – ShipStation has 6 pricing plans based on the number of monthly shipments & users. They are –
Starter Plan – $9/month – 50 shipments & 1 user
Bronze Plan – $29/month – 500 shipments & 1 user
Silver Plan – $49/month – 1500 shipments & 2 users
Gold Plan – $69/month – 3000 shipments & 3 users
Platinum Plan – $99/month – 6000 shipments & 5 users
Enterprise Plan – $159/month – 10,000 shipments & 10 users
ShipStation offers a 30-day free trial that gives you access to 100+ stores, shopping carts, marketplace integrations, inventory tracking, lowest shipping rates, and managing returns. So signup and explore whether it fits your shipping goals.
6. Shiprocket – Best Shopify Shipping App In India
Shiprocket is India's leading Shopify shipping app with carrier integration with the country's top 17 courier service providers. It enables you to deliver products to over 29,000 serviceable Indian pin codes and covers the maximum insurance costs for lost shipments.
An outstanding aspect is its courier recommendation engine. If you find it challenging to choose the right courier partner, Shiprocket's AI-based engine suggests the best courier partner by analyzing 50+ data points. Some of them include COD Remittance, Pickup & Delivery Performance, Percentage of undelivered orders, etc.
With Shiprocket, you can deliver an exceptional unboxing experience by accessing its in-built packaging solution. You can access its unique packaging materials, map SKUs, and reduce weight discrepancy issues by automatically updating package dimensions.
Bottom line, if you want to operate in India, Shiprocket can be your reliable Shopify shipping app that lets you cut down unnecessary shipping costs & helps you provide the best shipping experience to the customers.
Key Features –
Ship to over 220+ countries
No monthly/setup fees
Multi-functional dashboard
Billing & weight reconciliation
Multiple payment options
Bulk order processing
Process undelivered orders quickly
Automated channel order sync
Domestic and International Shipping
Intelligent Courier Allocation
Pricing Plans – Shiprocket's pricing plans are subject to change based on the selected zone and courier availability. The best part is starting with a free account and upgrading as you grow.
8. netParcel – Shopify App for Cheap Shipping Rates
If you're looking for the lowest prices for sending small parcels, envelopes, or LTL freight services, netParcel is the best. You can add your existing account and compare your current costs to netParcel's discount shipping rates for every shipment.
For every shipment, it provides multiple carriers & service options so you can opt for the cost-effective solution. Once you've compared and chosen the carrier, you can schedule a free pickup and print your shipping labels instantly.
To facilitate convenience, netParcel will also send the shipping confirmation email to your customers and the tracking information.
In general, netParcel negotiates discounted shipping rates across small parcels and LTL couriers using its overall shipping volume to deliver the most affordable shipping rates. So if you want to reduce overhead costs associated with such shipment types, netParcel is your pick.
Key Features –
Import orders & publish real-time shipping rates.
Access to built-in rate comparison and shipping calculator
Domestic, international, & LTL carrier options available
View the transit days, price, details, and savings for each service
Applicable to the US and Canadian eCommerce merchants
Pricing Plans – Since it depends upon your carrier selection, you have to get a quote to process your shipments from netParcel.
Which is the best Shopify Shipping App for You?
If you want to provide a pleasant shopping experience to your customers, you must focus on the product delivery process. It is your last touchpoint with customers in their buying journey. So, you don't want to ruin that experience as it will affect how they judge your brand moving forward.
In this article, we tried to cover every kind of shipping app that can match your needs. So, I hope you find the most suitable shipping app for the store and get started.
Finally, let's wrap up the article with our top 5 picks for the Shopify shipping apps –
Easyship – Best for International Shipping
ShipBob – Best for Shipping in the USA, Canada, UK & Australia
Sendcloud

– Best for Europe-based Shopify stores

ShippingEasy – Feature-rich and affordable shipping app
If you are new to Shopify and looking for more apps, here are a few hand-picked articles you may want to read next –