Want to leverage SMS marketing for your Shopify store? Wondering which is the best SMS marketing app for your Shopify store? If so, you've landed in the right place.
SMS marketing is one of the effective ways for Shopify stores to communicate with customers directly. In fact, compared to email marketing and paid ads, simple text messages can increase brand engagement & boosts sales by 98%. 
With SMS marketing, you can reach your customers instantly, and at high open rates, you will always stay on top of your customer's minds. So, if you haven't included this channel in your marketing strategy, you should do it right now.
And, probably that's why you are here. So, to reap all the benefits of SMS marketing for your Shopify store, you need a reliable SMS marketing app. So, in this article, I have picked the top-rated Shopify SMS apps from the app store and reviewed them to help you decide which app matches your business needs.
If you are ready, let's get started.
Postscript is the best Shopify SMS marketing app that helps in generating high sales and conversions with automated and personalized campaigns. Whether you want to grow your subscriber list, improve customer retention, or improve customer service, it has got you covered with its robust set of features.
Postscript is best known for its customer segmentation capabilities. With over 40 segmentation filters and 60+ trigger events, you can define your customer behavior and send targeted messages to the right people at the right time, giving them a personalized and unique buying journey.
Key Features –
SMS Automation template library
Access to visual flow builder
Schedule and run SMS campaigns to your segmented audiences
Use images, gifs to increase engagement
Customize minimum spend requirements via dynamic coupons
Give early access to your most loyal customers
Filter and prioritize conversations based on customer sentiments
Pricing Plans – Postscript offers a 30-day free trial and a free plan that allows for campaigns, automation, unlimited segments, subscriber acquisition with 2 opt-in keywords, and a dedicated toll-free number. The Paid plans start at $100/month and go up to custom requirements. However, carrier fees vary for each plan.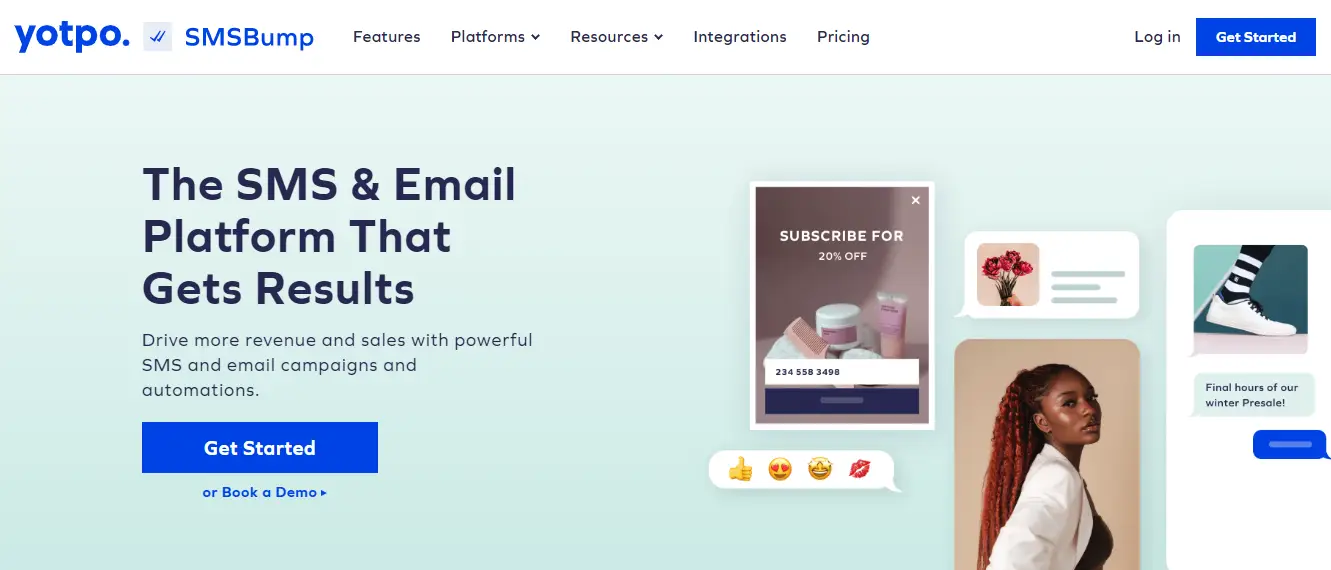 SMSBump lets you interact with your customers by providing incredible text marketing features and automation capabilities. Whatever may be your campaign objective, you can quickly build SMS/MMS flows that reach your customer's fingertips at the right time to generate more sales.
It offers an industry-leading SMS flow builder with a library of 40+ preset SMS flows to send tailored SMS to customers. So at every stage of buying journey, you can deploy triggers and strive to progress customers to the bottom of the funnel.
You can also minimize the amount spent on your SMS campaigns by not sending messages above a certain threshold. This allows you to set a maximum cost for your text message such that it doesn't affect your planned SMS marketing budget.
Key Features –
Engage in 1-on-1 SMS chats with customers
Run SMS campaigns packed with advanced personalization
30+ data points for customer segmentation
SMS automation based on the payment method, shipped orders, and more
Keywords and QR codes to signup for the list
Pricing Plans – SMSBump offers a free plan that gives you access to flow builder, SMS campaigns, automation, audience segmentation, primary subscription tools, ROI & performance analytics. The Paid plans start at $19/month and extend up to the Enterprise plan.
Klaviyo is a popular marketing platform with email and SMS automation, specifically for the Shopify stores. It is a powerful eCommerce marketing tool that has empowered over 8000 brands in generating sales and conversions.
Klaviyo is known for its automation and personalization features that enable you to send unique and targeted text messages to your website visitors and customers based on their purchasing activity.
For instance, you can send cart abandonment, price drop alerts, in-stock alerts, and other texts resulting in high conversion and repeat purchases. Over that, you can place dynamic product images and coupon codes based on the customer's behavior, making them feel special and cared for.
Overall, it is more than just an SMS marketing tool and to get the complete overview of its capabilities, you should read our Klaviyo review.
Key Features –
Use multi-step forms, click-to-text forms to capture customer's number
Include dynamic product images from their cart or past visits
Include dynamic coupon codes in text messages
Improve AOV by sending product recommendations
Send personalized follow-up texts to convert leads
Strengthen customer relationships via two-way SMS
Pricing Plans – Klaviyo offers a free plan allowing up to 50 contacts, 150 SMS or MMS sends, and a toll-free number. The Paid plans start at $5/month and scale based on your SMS requirements.
Having empowered 50,000+ merchants, Omnisend is another powerful email and SMS marketing app with robust personalized and omnichannel messaging tools to stay connected with your website visitors and customers.
The best part of using Omnisend as your SMS app is that it lets you include text messages in automated marketing communications along with email and push notifications, resulting in higher conversions and sales for the store.
Moreover, it offers powerful list-building tools like popups, signup boxes, landing pages, and a wheel of fortune, which you can leverage to convert visitors into leads.
Overall, Omnisend is a complete marketing package with advanced SMS, and email automation features any eCommerce brand wants. If you want to learn more about it, you should read our Omnisend review.
Key Features –
Pre-built SMS workflows for cart abandonment, birthday, and shipping confirmation
Two-way messaging with customers
Robust segmentation capabilities for targeted SMS
Supports all country codes for SMS
Full TCPA compliance, allowing subscribers can easily unsubscribe
Detailed analytics reporting for data-driven strategies
Supports integration with major Shopify apps
 Pricing Plans – Omnisend offers a free plan that allows sending up to 60 SMS messages. The Paid plans start at $16/month, and you can enjoy full-fledged access to email & SMS automation features.
With over 24,000+ reviews, Privy is a popular Shopify marketing app that offers email, SMS, and popups as a marketing channel.
However, you must know that Privy is mainly an email marketing platform with SMS as an addon, available only with its highest pricing plan. Also, it allows sending only two types of SMS campaigns – welcome messages and abandoned cart reminders.
So, if you are looking for a basic SMS marketing app with advanced email marketing features for your Shopify store, Privy could be the right pick.
Key Features –
Simple and easy to get started
Include master coupon codes in your text messages
Send triggered messages when a customer accepts to receive texts
Use targeted popup, banners, bars, landing pages, etc. to grow your subscriber list
Shopify cart integration to send abandoned cart links
Pricing Plans – Privy's SMS pricing starts at $10/month for up to 100 textable contacts for FREE and Starter plans and the pricing can vary based on your list size and sending country.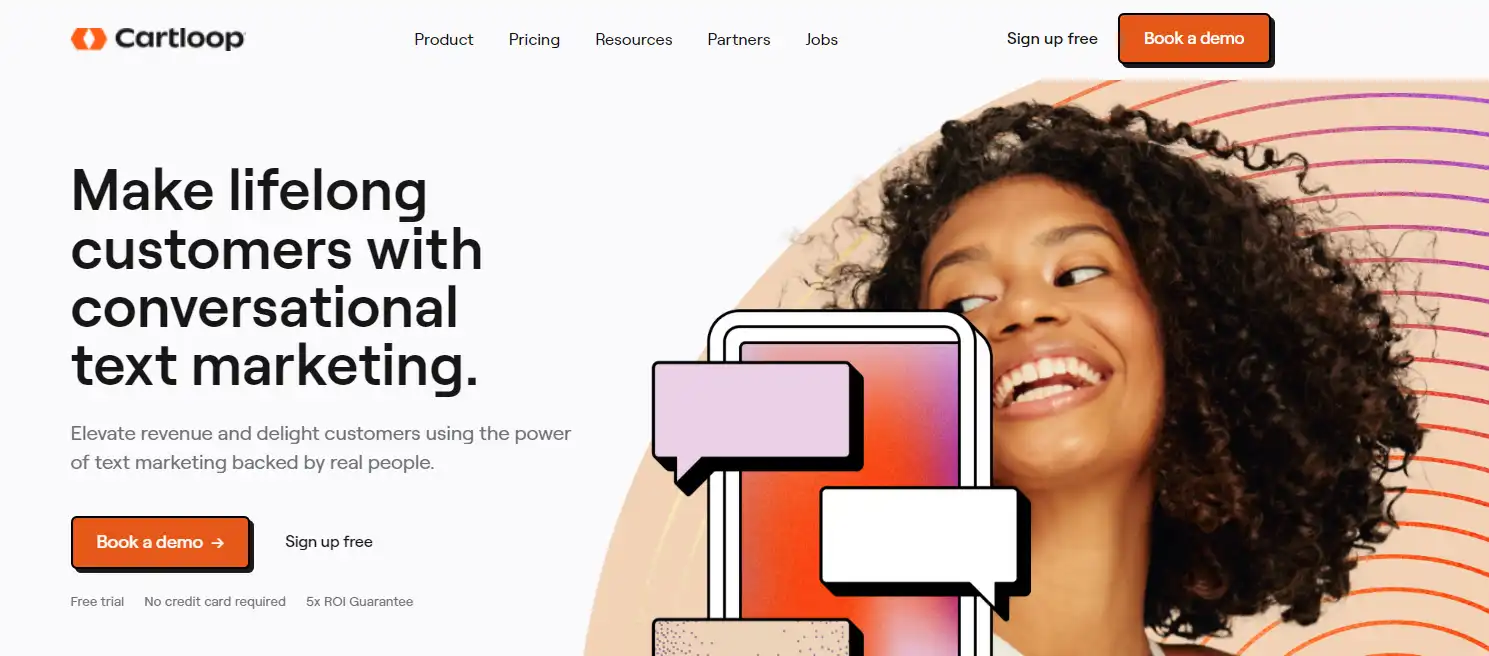 Cartloop is a powerful Shopify SMS marketing app that adds a human touch to your SMS marketing campaigns. You can engage with your customers via 2-way campaigns that let you identify their pain points and craft a personalized journey that lasts forever. 
The best thing about Cartloop is its Concierge service, in which they will provide 24/7 sales and support service to your customer on your behalf. What makes it unique is that it is not automated – there's a human behind the screen to help your customers with the necessary support.
Over that, it also provides you with tools to grow your contact list. It includes two-step popups, keywords, QR codes, and Instagram sign-up.
Key Features –
Access to a streamlined conversational inbox
View conversational analytics directly in the dashboard
Unique discount codes & custom branded links
Campaign management & strategy
Pay only for the messages you send
Real-time analytics
Excellent customer support team
Pricing Plans – Cartloop offers a 14-day free trial. The Growth plan costs $99/month, and the Pro plan is priced at $299/month with access to advanced features.
TxtCart is a human-powered SMS marketing app that specializes in bringing back the cart abandoners. It claims a return with 98% open rates, 45% reply rates, 33% conversion rates, & 10x ROI, which is quite astonishing for any online store.
Similar to Cartloop, with TxtCart, you get an extension of your team with experienced eCommerce live agents who will provide essential support to customers to drive them toward conversion. This way, you can see a spike in your sales with reduced cart abandonment and a stronger relationship with your customers.
In addition to this, it enables you to promote limited period deals, special offers, new arrivals, & many more via text messages to bring back your existing shoppers and generate more sales. Ultimately with more timely and contextual conversations, you can convert every text message into a sale by delivering personalized shopping experiences.
Key Highlights –
1-click setup and 5-minute onboarding
Monitor the ongoing conversations in real-time
Custom cart short URLs to maintain branding
Generate one-time discount codes for cart abandoners
Segment customers based on past interactions, previous purchases, spending power, etc
Get a comprehensive view of your SMS campaigns perform
Pricing & Plans – TxtCart offers a 14-day free trial and a free plan that allows unlimited SMS cart recovery, human representatives, conversational insights, custom discount codes, real-time analytics, and customer chat support. The Growth plan costs $49/month, and the Pro plan is priced at $249/month, giving you access to premium features.
Which is the best Shopify SMS marketing app for you?
SMS marketing is one of the simple yet powerful ways to communicate with consumers where they spend most of their time – mobile devices. It helps you boost customer engagement and eventually results in increased sales with a retention rate.
It is one of the effective marketing channels for eCommerce brands, guaranteeing higher open rates, click-through rates, and ROI on the marketing budget.
And if you combine SMS with other marketing channels, like email, and social media, you can provide an excellent omnichannel shopping experience that every customer expects from their favorite brand.
Finally, let's wrap up the article with my top 3 picks for Shopify SMS marketing apps –
Postscript – Overall Best SMS app for Shopify
SMSBump – Best for SMS marketing automation
Klaviyo – Best for Shopify SMS automation with email
I hope this article helped you pick the right SMS marketing app for your Shopify store. If you are looking for more apps for your store, here are few hand-picked articles that you might want to read next –