Landing pages are one of the crucial elements of a successful marketing campaign to boost conversion rate and generate more sales. After all, a landing page is where you convert your target consumers, right?
When it comes to creating landing pages for eCommerce sites, you need a powerful tool that enables you to design landing pages quickly and deliver highly converting landing pages to your new and old customers.
Landing page builders are specialized marketing tools that allow you to create and launch landing pages separately from your existing site. And the best part is that you don't have to be a coder to design a landing page.
In this article, we will show you some of the best landing page builders that you can use for your eCommerce marketing campaigns.
Here are our 6 favorite eCommerce landing page builders –
Ready to dive in? Let's get started.
1. Unbounce – Best Landing Page Builder for eCommerce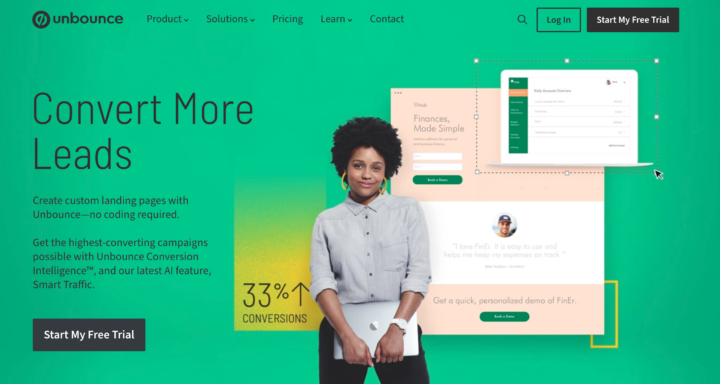 Unbounce owns its badge of pride as the best CRO platform as it offers dozens of powerful features in building top-notch landing pages for your eCommerce store. It is a beginner-friendly platform, so even if you are getting started, you can design beautiful landing pages without any encumbrance.
You can add "Buy now" buttons, review widgets, or anything you want with a few lines of custom code. It also enables you to add popups for capturing the email addresses of your store visitors and conduct sale-based promotions with the help of sticky bars.
Unbounce page builder allows you to customize every element by adding high-resolution product images, videos, text with a simple drag-and-drop builder. Also, it offers more than 100 wonderful templates that cater to different marketing purposes for your eCommerce store.
To learn more about its features, you should read our in-depth Unbounce review.
Key Features –
It has a speed booster and auto-image optimizer that helps in loading your landing pages at a faster rate.
It uses smart traffic, an AI-powered algorithm that delivers the most relevant landing page variant to your store visitors for more conversions.
It personalizes your landing pages for each store visitor by automatically making your text match their search intent.
It enables you to design and launch landing pages that get swiftly loaded on mobile devices than standard pages.
2. Instapage – Advanced Landing Page Builder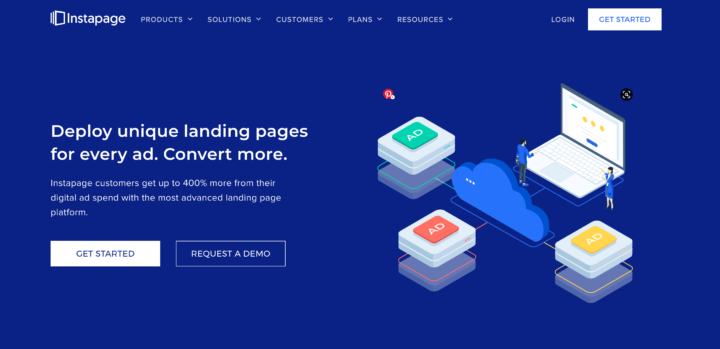 Instapage is one of the advanced landing page builders that lets you design on-branded, highly customized landing pages for your eCommerce store. It offers 200+ templates, enabling you to launch eye-catchy and mobile responsive pages instantaneously.
It offers an intuitive drag-and-drop builder, which allows you to move elements wherever you want without any limitations. You can also deliver a rich mobile experience for your customers as it has built-in AMP support.
This robust landing page builder lets you create standalone product pages whose supremacy lies in accomplishing more conversions. You can personalize landing pages according to your customer's interest and spend less time reusing the same blocks for your upcoming store campaigns.
You can learn more about its features in our detailed Instapage review.
Key Features –
It allows you to dynamically serve the right content to your store visitors at the right time, bringing high traction and sales.
It offers meaningful analytics with which you can optimize your landing pages for achieving high performance.
It facilitates decreasing the bounce rate by dynamically inserting the keywords for matching your customer's intent.
It generates heatmaps with which you can see the sections where your customers have interacted the highest and lowest with the help of clicks, mouse movements, and scroll depths.
3. LeadPages – Most Affordable Landing Page Builder

Leadpages is the most affordable landing page builder available in the market. It allows you to sell products by letting you build high-converting sales pages powered by a secure checkout process that moves your customers easily to the purchasing stage.
It offers different kinds of spectacular landing page templates for building checkout pages, 404 pages, upsell/contests pages, launch pages, etc. To spice it up, you can add countdown timers, video players, OpenTable reservation widgets, and much more on the go.
In addition to creating landing pages, it lets you design opt-in pages, popup forms, and alert bars, which eases your work in growing your email list. In a nutshell, lead pages consist of all features which empower your eCommerce store to the next higher level.
For more insights into its features, you should read our detailed Leadpages review.
Key Features –
It offers real-time tracking, which covers all the crucial aspects of your landing page elements.
It allows you to publish unlimited landing pages by readily optimizing your bandwidth.
It creates highly targeted and personalized landing pages that exactly match your customer's interests.
It enables you to host your custom domain and lets you perform unlimited A/B testing to select the best landing page variant.
4. Landingi – Popular eCommerce Landing Page Builder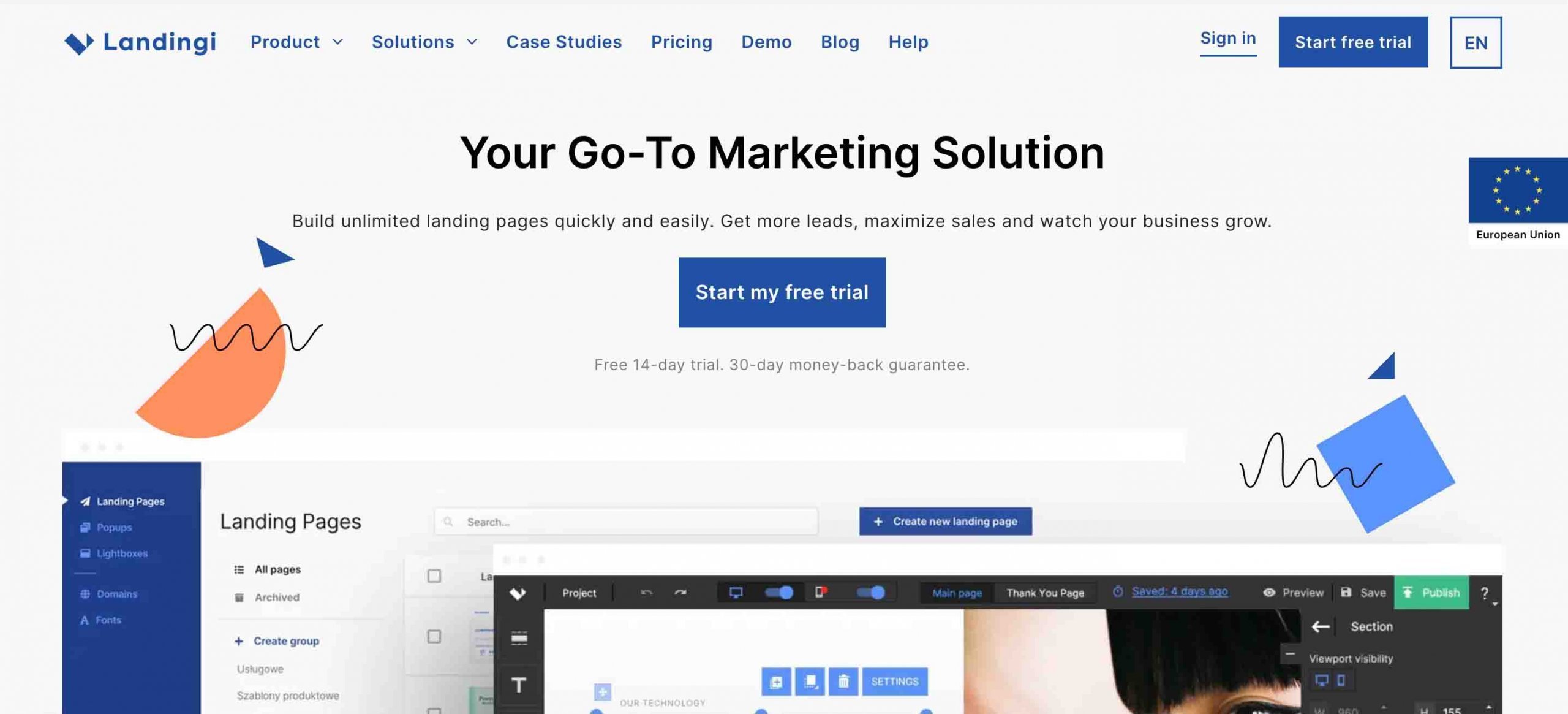 Landingi is a powerful landing page builder that enables you to design, publish and optimize your landing page that gleans potential customers from your marketing campaigns.
It allows you to build stunning mobile-responsive pages, interactive pop-ups, and funnels by selecting from the pool of 300+ beautiful templates.
With Landingi, you can sell your products which leads to high conversions. You need to upload your products, integrate with preferred payment platforms (PayPal/Stripe), and you're done. Even you can add a "Buy now" button and manage orders within the Landing platform.
On the whole, Landingi offers campaign-friendly tools that let you scale up your eCommerce store to the next level. You can also view the entire buyer journey, as you can create funnels that give a deep analysis of how your visitors turn into loyal customers.
To learn more about its features, you should read our in-depth Landingi review.
Key Features –
It includes a dedicated thank you page creator, available in the second tab of the landing page design.
It allows you to publish your landing pages directly on your WordPress site using the Landingi WordPress plugin.
It enables you to include pop-ups anywhere, which facilitates the lead generation process to be much easier.
It enables you to add dynamic content such that it will be personalized and displayed differently according to various conditions.
5. HubSpot – CRM-cum-Landing Page Builder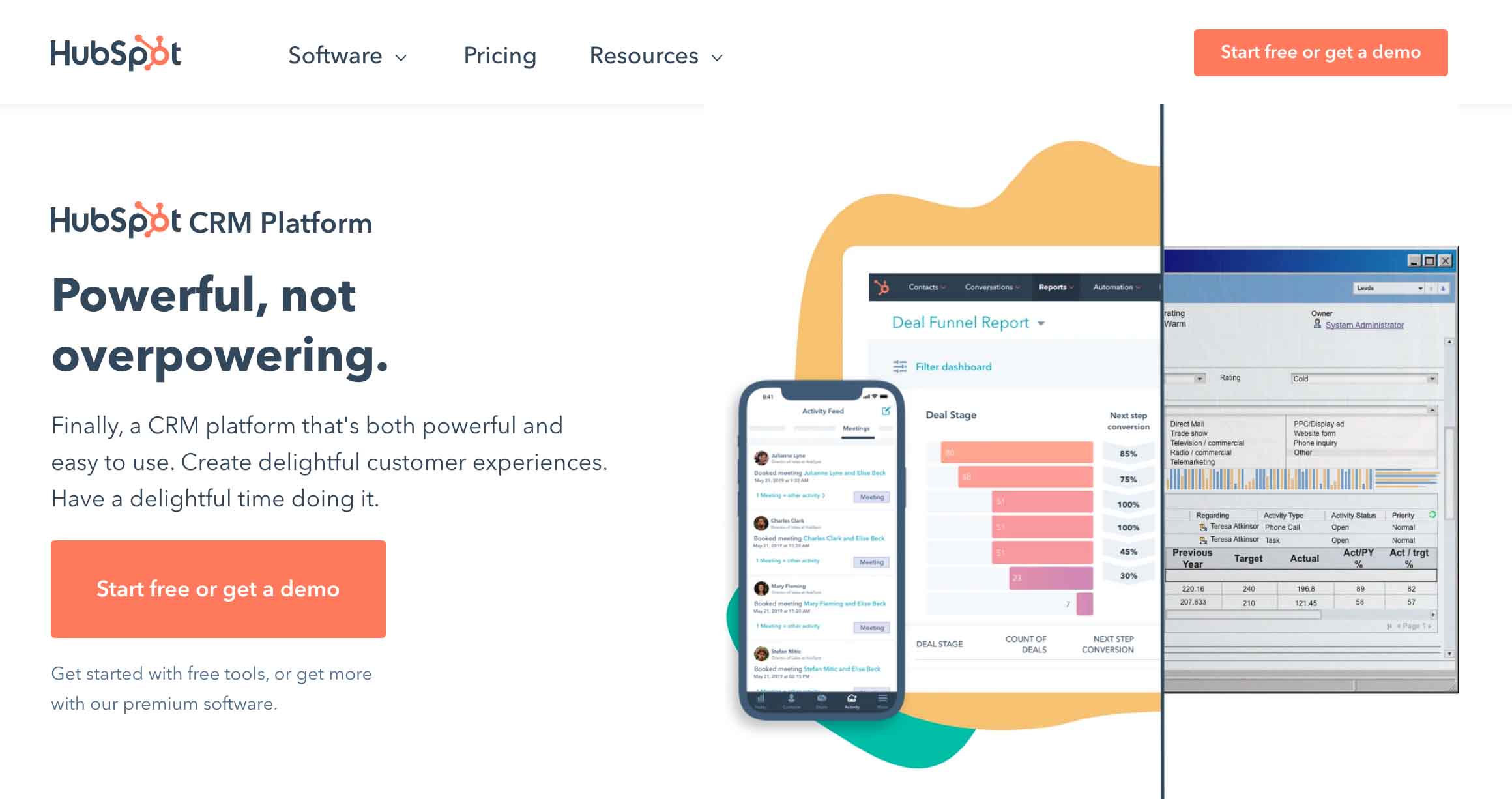 HubSpot is a dedicated platform that serves all the business owners of any niche to build high-converting landing pages. It offers a free landing page builder that can be integrated with Hubspot's CRM. You can step into the highest winning probability of gaining more loyal customers by serving them with personalized content.
As an eCommerce store owner, you can launch stunning landing pages on the fly from the pool of mobile-optimized templates. Also, you can preview how your landing pages will look on different devices, letting you publish on all the platforms at ease.
To garner more conversions, you need to build personalized landing pages that make your customers feel very special. Hubspot has mastered this and lets you display dynamic content based on your customer's location, device, source, and much more. In this way, you can launch landing pages that are exclusively tailored for individual customers.
Key Features –
It gives customized SEO suggestions that help in optimizing your landing pages to receive high traffic.
It performs A/B testing such that you can test five variants of your landing page and choose the best one which guarantees high conversion.
It offers a centralized dashboard where you can view all the landing page statistics.
It is compatible with Hubspot's Marketing hub, which includes blogging and email marketing solutions.
6. GetResponse – Simple Landing Page builder
GetResponse lets you build DIY landing pages that help in transforming your potential traffic into long-lasting loyalists. Though it has a high focus on email marketing, it has all reliable features that enable you to build an eCommerce-friendly landing page.
This user-friendly tool allows you to add your products and integrates your landing page with Paypal to start signing more green bills. This is possible as you can add or import all of your store products and host them completely on GetResponse.
You can drive more visibility to your landing pages via Facebook and Instagram ads. Besides, it helps in escalating your store revenue by conducting one-click upsell campaigns. It also lets you design optimized landing pages for both desktop and mobile devices.
Key Features –
It allows you to track your visitor's data via Google Tag Manager or Facebook pixel to nurture conversion-friendly campaigns.
It offers an extensive range of templates in different categories like sign-ups, promotion, sales, thank-you pages, webinars, etc.
It enables you to test different landing page variants to boost conversions.
It facilitates promoting your offers with the help of pre-built marketing funnels.
Which is the best eCommerce landing page builder?
From past to present and even in the future, landing pages are the most crucial element in any marketing strategy. It helps in achieving all your target goals by simultaneously generating more potential customers for your eCommerce store.
With the help of the right landing page builder, you can enjoy creating an impressive and astounding landing page for any kind of campaign and generate high conversions. Unbounce is our #1 choice for landing page building, however, if you are on a limited budget, Landingi and Leadpages would be better alternatives, depending on your spending limit.
On the other, if you are looking for a landing page builder with advanced features and provides detailed analytics reports, then Instapage would be the best choice.
I hope this article helped you pick the best landing page builder for your eCommerce store. If you have a store on Shopify, you should check out our list of the best Shopify landing page builders to find a more compatible landing page builder.