Whether you are starting a new Shopify store or may be struggling to scale the existing one, you need the best Shopify apps to increase sales and conversions. And in this article, I have collated a list for you.
From designing high-converting store pages to providing an excellent post-purchase experience, you can find apps for everything in the Shopify app store. However, not every app is the best and most suitable for you.
So, in this article, I have reviewed some of the best Shopify apps for different functions that can influence sales and conversions in your store. While creating these apps, I made sure that all the apps integrated together and don't conflict with any.
So, if you are ready, let's start with the most important one.
1. GemPages– For Designing Store Pages
The user experience of the store plays a vital role in the success of an eCommerce business. People want store pages to be clean and relatable to the products your sell. Fortunately, GemPages lets you create beautiful and conversion-friendly store pages without coding or any technical hassle.
GemPages is a popular Shopify page builder app that comes with an intuitive drag-and-drop builder with which you can create any kind of page for your store. From the homepage, product, and category to checkout pages, you can customize every aspect of the pages that match your brand guidelines.
The best part about GemPages is that it can adapt to any Shopify theme and is completely mobile-optimized, delivering an amazing user experience on your Shopify store. It also allows you to run A/B tests on landing pages, which is key to increasing sales and conversion for your store.
If you want to learn more about GemPages, you should read our in-depth review here.
Key Features –
Drag and drop page builder
Responsive across all devices
Convert images or URLs into editable layouts with the Image-to-Layout feature
Pre-built templates to launch and scale up your store faster
Sales-boosting elements like a countdown timer, stock counter, popups, etc.
Supports integrations with 30+ popular Shopify apps
Robust analytics reporting with performance insights for your store pages.
Pricing Plans – GemPages has a free plan that allows access to all the features and no credit card is required. The paid plans start at just $29/month and go up to $199/month with advanced features. You can use our exclusive GemPages Discount code to get 10% off paid plans.
2. Loox – For Product Reviews
Customer reviews are the best social proofs for an eCommerce business to build trust in new customers and drive more sales. Loox is one of the best product review apps for Shopify, which enables you to collect photo and video reviews from your customers.
Using Loox, you can automatically send review request emails after successful product delivery and offer discounts/offers to encourage customers for adding photos and videos. Further, you can customize these emails to match your brand guidelines.
Once you collect reviews, you can easily display them across your Shopify store using beautiful widgets. The widgets are SEO friendly as Google can use them to generate rich snippets and display review ratings for your products on Google Shopping and search result pages.
You can read our detailed Loox review to learn more about its features and functionalities.
Key Features –
User-friendly and easy to set up
Automated review request emails
Beautiful review widgets in Grid, List, Carousel, Popup, and Sidebar form
Integrates with Google Shopping for product reviews
SEO-friendly
Pricing Plans – Loox offers a 14-day free trial on its paid plans, which starts at just $9.99/month. The plans are based on the number of monthly orders and review request emails. You will also get access to advanced features on higher plans.
3. Justuno – For On-site Messaging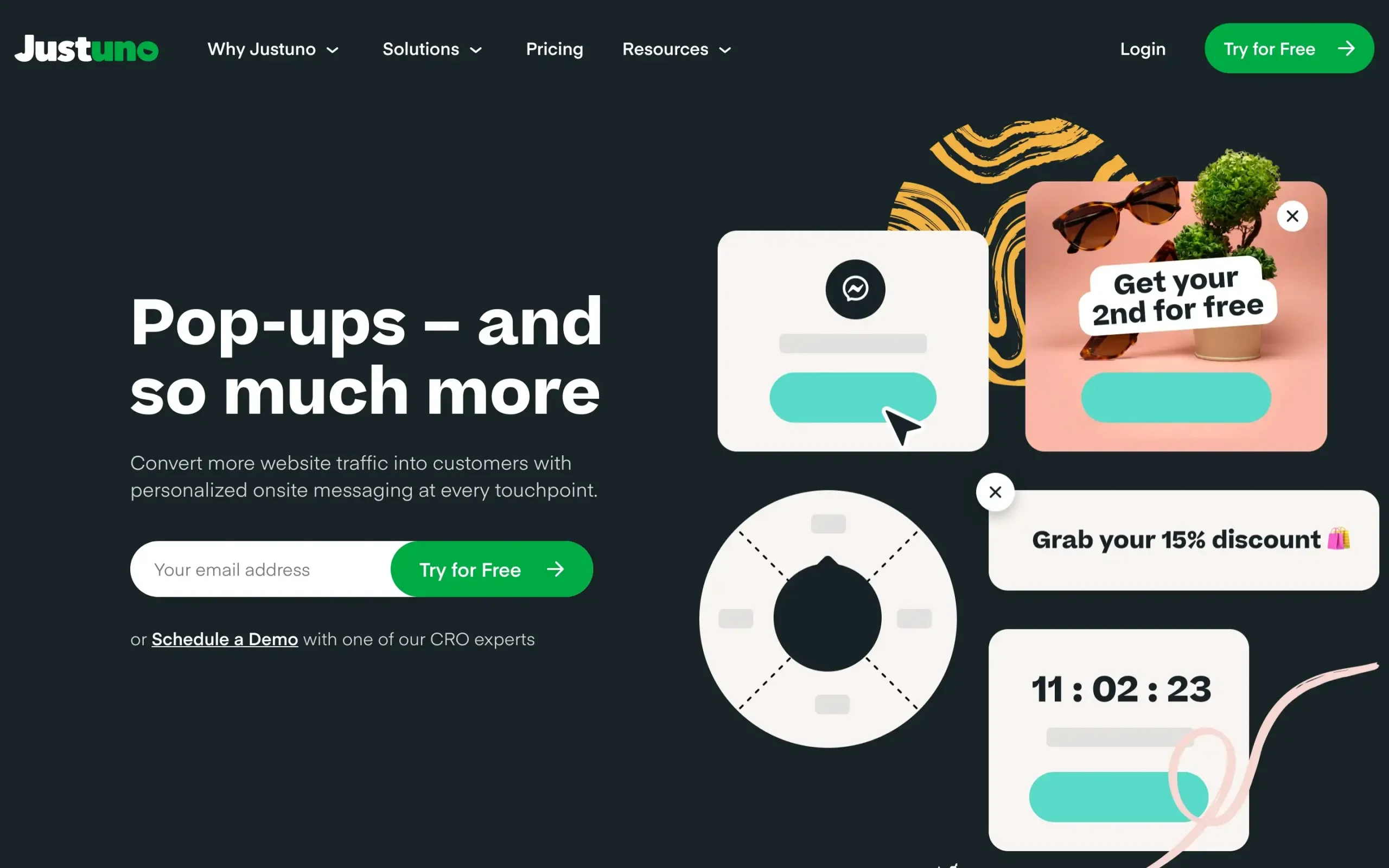 Optimizing your Shopify store for higher conversions is what you'd strive for as an entrepreneur. You might be working on complex methodologies that cost you time and money. But with Justuno, everything is in-built, so you can work smarter in generating leads and skyrocketing sales.
Justuno is a powerful Shopify popup app that encompasses everything you need to grow your marketing lists or promote existing offers to new and existing customers. With eye-catching popups, gamification, and advanced personalized product recommendations, you can turn your Shopify store into a sales machine for your business.
It also strives to improve your CLV & ROI by boosting repeat purchases. This is possible via tailored on-site messaging, smart product recommendations, and running retargeting campaigns.
In a nutshell, it's a one-stop Shopify app designed to help you convert unknown visitors into customers and entice existing customers to spend more in your store.
Key Features –
Offer multi-product discounts to encourage higher-order values
Sync behaviors across devices for a 360° view of your site visitors
Increase store engagement via gamified popups
80+ rule sets for advanced segmentation & targeting
Upsell and cross-sell to customers to increase AOV
Grow your subscriber base via SMS marketing
Pricing Plans – Justuno offers a 14-day free trial that gives you access to features that convert your site's traffic like popups, SMS capture, spin to win, etc. No activation fee & credit card is required.
You can also try JustUno free for up to 5000 contacts and above, which you can upgrade to the paid plans starting at $29/month.
Further reading –
4. Octane.AI – For Quizzes & Personalization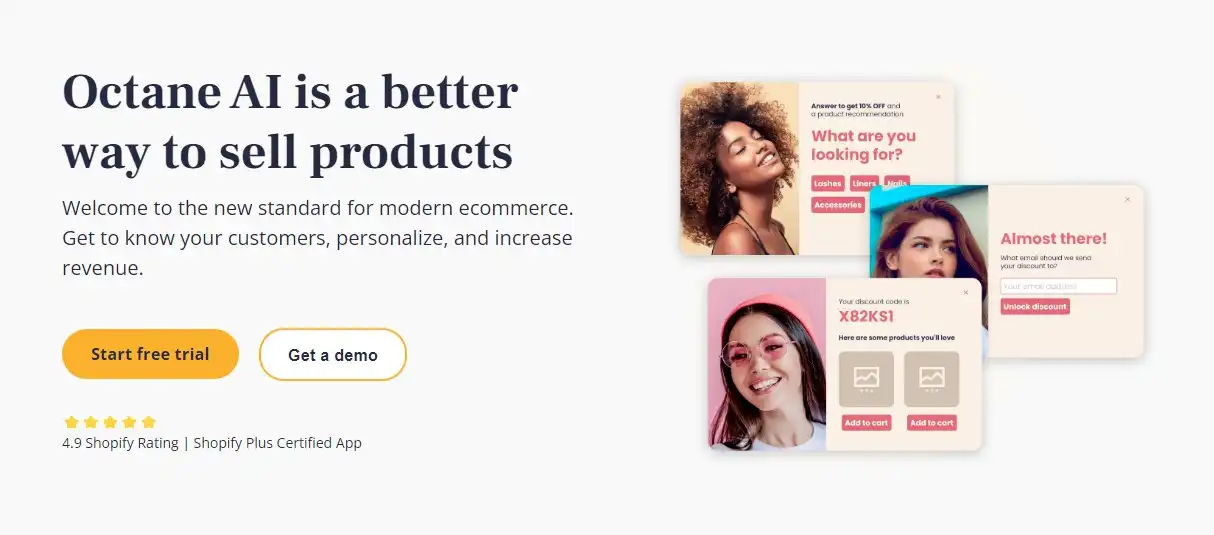 Personalization is not just a buzzword, it is one of the effective methods to increase sales and conversion for your Shopify store. One of the ways to do it is by asking customers what they are looking for and curating the feed accordingly.
Octane AI is one of the best Shopify quiz apps that lets you create quizzes for your store and allow customers to answer questions. Based on their inputs, you can show the best products relevant to their needs, which will help customers find the right product easily and complete the purchase.
Using this app, you can also conduct surveys to collect customer insights, which can be helpful in optimizing your strategies to generate more sales and increase purchases.
Key Features –
Complete design flexibility
Quiz templates for every kind of products
Collect email and SMS list for marketing
Send personalized emails with product recommendations
Seamless integration with major Shopify apps
Pricing Plans – Octane has pricing plans based on the store's revenue. For stores that make less than $1 million annually, the basic plan costs $50/month and the Plus plan costs $200/month.
5. ReConvert – For Upselling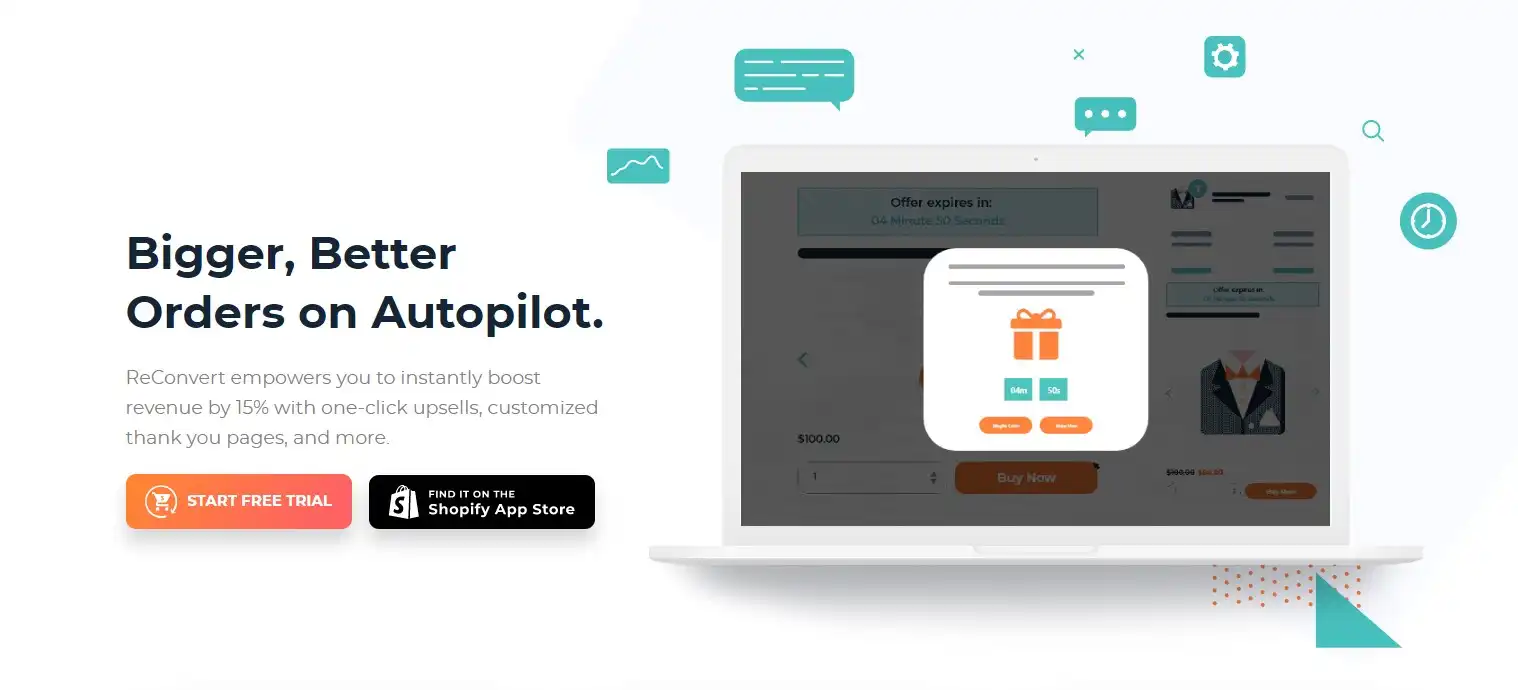 Want to increase sales for your Shopify store? You can't do it without an effective upselling strategy in which you recommend complementary products based on the customer's cart. You want to recommend products that they are most likely to need with a great offer that encourages them to purchase immediately.
ReConvert is a powerful Shopify upselling app that enables you to create a powerful upsell funnel, in which you can show targeted offers at the checkout, which encourages customers to purchase more and increase AOV for your store.
Using this app, you can create conversion-friendly thank-you pages for post-purchase upselling with personalized product recommendations. On the thank you page, you can also add a timer to create urgency, pop-up offers, and more to make it more conversion-friendly.
Key Features –
No-code drag-and-drop builder
Trigger-based thank you pages
Add order tracking on thank you page
Collect birthdays on thank you page
Powerful integration with Shopify apps
Analytics reporting on thank you page performance
Pricing Plans – ReConvert's pricing plans depend on your monthly order. It starts at $4.99/month for up to 49 orders. In addition to the fixed subscription fees, it also charges 0.75% of the extra revenue generated by the app.
6. Weglot – For Website Translation
If your customers are from different parts of the globe or speak other languages, you must make your Shopify store multilingual. And this is where Weglot would be a great help to you.
Weglot is the best Shopify translation app that lets you translate each element of your Shopify store into multiple languages. Using this app, you can acquire and serve more customers in their preferred language, eventually boosting your store sales.
It is fully compatible with all Shopify themes and translates everything on the page, including the checkout page.
Key Features –
Easy-to-use
Optimized for multilingual SEO
Access to powerful translation management tools
Get full control over editing
Manage all translations from one dashboard
Pricing Plans – It is free for only up to 2000 translated words in one language. The Starter plan starts at €9.90/month, which allows 10,000 translatable words in one language.
7. Klaviyo– For Email & SMS Automation
Emails and SMS are must-have marketing channels for eCommerce brands to communicate with customers and prospects at every stage of their shopping journey. Klaviyo is one of the best eCommerce marketing automation tools that enables you to automate email and SMS communication with personalized messages.
It comes with pre-built templates that you can easily customize per your business needs. It allows you to add dynamic content in the email body which can be used to add personalized product recommendations, coupon codes, etc., to boost conversion rate and increase sales for your store.
Klaviyo provides an advanced segmentation tool that enables you to create customer segments based on their behavior, location, shopping history, and other profile attributes. Combining these segments with its automation tool, you can send highly targeted emails and SMS to the right customer at the right time based on their real-time behavior and interaction on your website and messages.
Read our detailed Klaviyo review to know everything about its features and other capabilities.
Key Features –
Pre-designed email campaigns
Pre-built behavior-triggered automation
Advanced audience segmentation
Dynamic content blocks for email body
Targeted pop-ups and form builder
In-depth analytics reporting
Seamless integration with major Shopify apps
Pricing Plans – Klaviyo offers a free plan that allows up to 500 emails/month and 150 SMS. The paid plan starts at $20/month for email and $35/month for email and SMS – the price increases as the number of contacts grows.
Further reading –
8. Postscript– For SMS Marketing
If you are not using Klaviyo, you may need Postscript for dedicated SMS marketing. However, unlike Klaviyo SMS service, Postscript enables you to set up conversational SMS campaigns in which you can do 1:1 text conversations with customers, which will certainly help you build relationships and win their loyalty to increase sales for your store.
The app is known for its advanced customer segmentation and automation tools that allow you to create hyper-targeted and personalized campaigns for every customer based on their location, engagement, behavior, and purchase history on your store. You can also add images, emojis & GIFs to make it more engaging and impactful.
Postscript also provides tools like pop-up builder, QR codes, opt-in forms, etc., that you can use to build and grow your SMS list.
Key Features –
Visual automation flow builder
TCPA compliant
1-on-1 text conversation
Text-to-join keywords to build an SMS list
Advanced subscriber & customer segmentation
SKU-level segmentation and purchase triggers
In-depth performance reporting
Supports integration with Gorgias, Klaviyo, and other apps
Pricing Plans – Postscript has 3 pricing plans with pay-per-use costs for SMS. The free plan costs $0.015/SMS and provides access to campaign and automation builders, unlimited segments, and subscriber growth tools. The growth and Professional plan costs $100/month and $500/month respectively with reduced SMS charges compared to the free plan and access to other advanced features.
9. PushOwl – For Push Notifications
For email and SMS marketing, you need the contact details of your website visitors and customers, but not every visitor is going to share their details on their first visit. So, how would you communicate with them? Well, this is where you can leverage push notifications to send messages directly to subscribers on their screen without requiring their personal details – just one click and they will be your subscribers.
PushOwl is one of the best Shopify push notification apps, which enables you to send targeted product updates, offers, and discounts to subscribers on their browsers. You can also retarget window shoppers and send cart abandonment reminder notifications to drive more sales and boost conversion rates.
Key Features –
User-friendly and easy to set up
Show call-to-actions on notifications
Update your customers with tracking details
Send back-in-stock notifications
Automated price alert notifications on cart items
Send notifications in multiple languages
Pricing Plans – PushOwl offers a free plan for Shopify stores with up to 500 monthly impressions. It allows unlimited subscribers, automation, and other essential features. The paid plan starts at $19/month, supporting up to 10,000 monthly impressions. The prices increase when the impression exceeds the limit.
Further reading –
10. Triple Whale – For Performance Analytics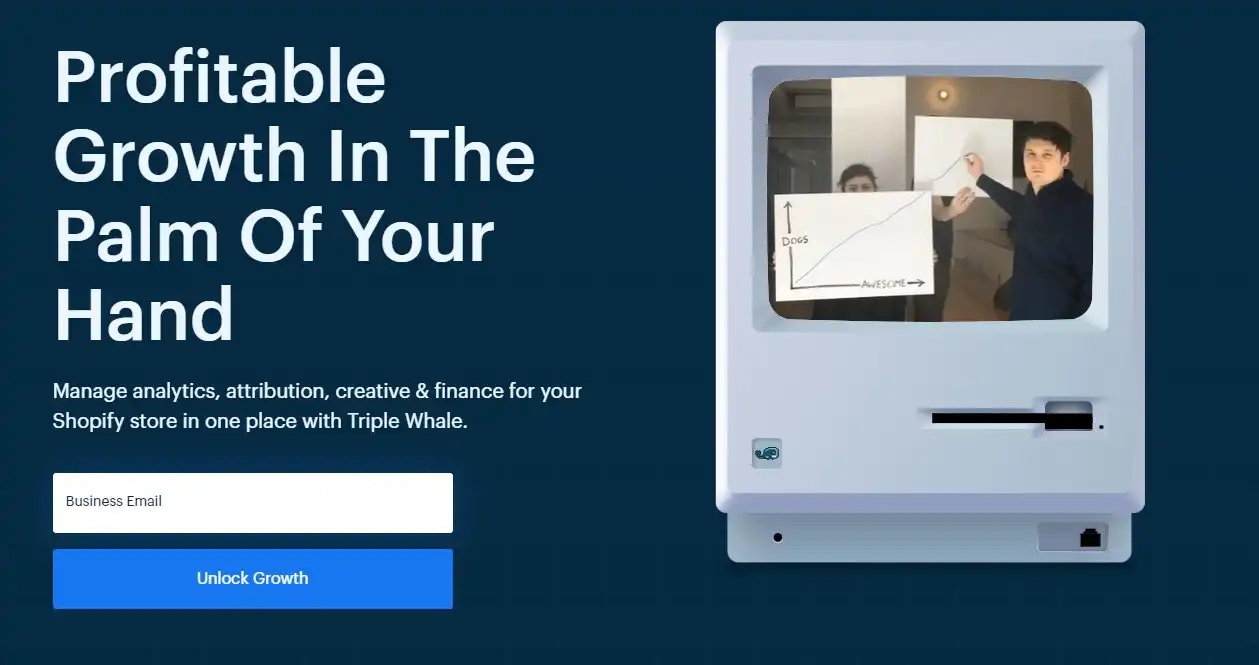 You can't grow your Shopify store without tracking and analyzing how the store is performing and optimizing strategies for better performance. This is where you need a robust Shopify analytics app like Triple Whale that enables you to track and measure every metric that matters to your business.
Triple Whale consolidate data from your website traffic, marketing channels, and finances and provides in-depth insights into every aspect of your business. You can use these insights to make data-backed decisions to increase sales and conversion for your store.
Key Features –
Easy-to-use, customizable dashboard
iOS & Android app to track real-time reports
Real-time, omnichannel attribution data
Creative analysis tools to identify best-performing ads
Advance integration with major Shopify apps
Pricing Plans – Triple Whales has three pricing plans, which depend on your annual gross revenue. For stores with up to $1,000 revenue, the TW Dashboard plan costs $100/month and goes up to $400/month.
11. Growave – For Reward Programs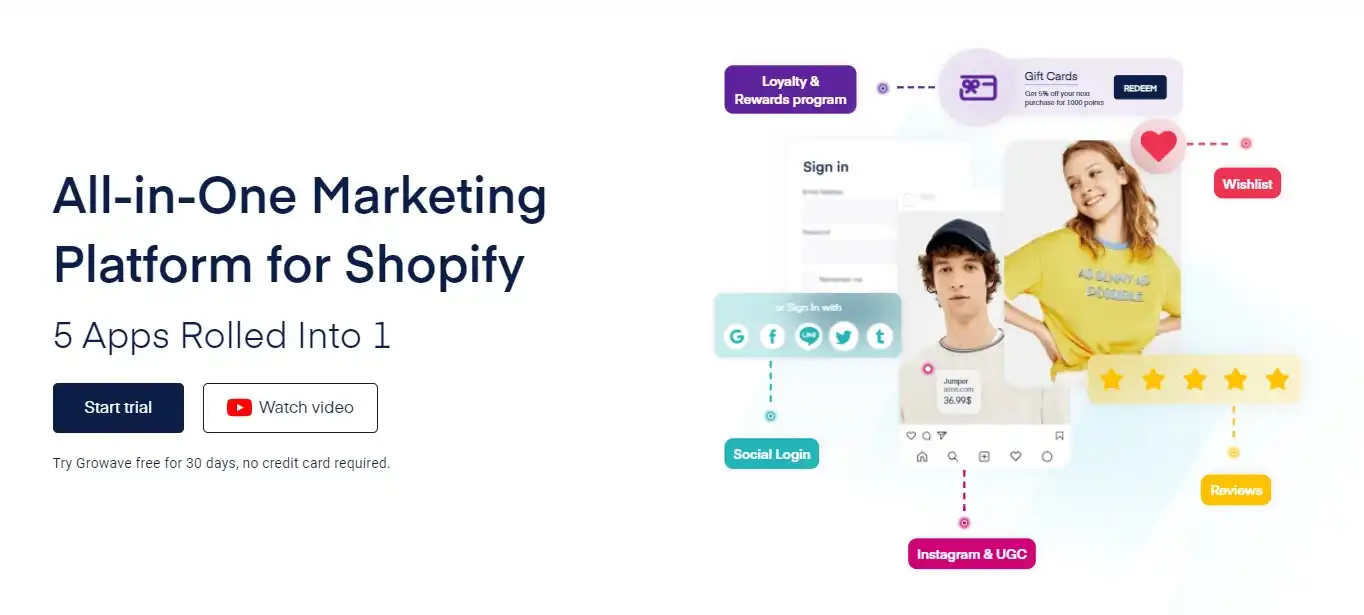 In Ecommerce, a loyalty program is one of the effective marketing tools to increase customer retention and thus generate more sales. It helps convert your customers into loyalists by rewarding them with attractive points and discounts, which leads to more repeat purchases.
Growave is one of the best Shopify reward program apps that helps you start an attractive loyalty and referral program for your store. You can create a point-based, tier-based, or hybrid loyalty program and reward your customers with free shipping, discounts, and other offers.
It also enables you to reward customers for taking actions such as leaving product reviews, social sharing, newsletter subscriptions, and more. Using this app, you can boost customer engagement and generate more sales.
Growave is more than just a loyalty reward app. It has more to offer and to get a complete overview of its features, you should check our Growave review.
Key Features –
Reward shoppers for every dollar they spend
Send birthday gifts for shoppers on their special day
Reward referrers and referrals with a variety of options
Display nudges as reminders to enroll in the loyalty program, and redeem points.
Automatically send personalized emails with loyalty program activity updates.
Pricing Plans – Growave's paid plans are based on the number of monthly orders. It starts at just $9/month with 75 orders and goes up to $399/month with a monthly order limit of 3500 orders. It offers a 14-day free trial but using our Growave coupon, you can get a 30-day extended free trial.
Further reading –
12. ReferralCandy – For Referral Marketing
If you just want to leverage referral marketing for your online store, ReferralCandy would be my best #1 recommendation. It is one of the most simple yet powerful Shopify referral program apps that enables you to easily create and manage referral programs for your store.
ReferralCandy gives complete control over the type of referral rewards you wish to offer to your customers, like cash rewards, coupon codes, special gifts, etc. This Shopify app is also best suited for running influencer marketing campaigns. 
Key Features –
Run on-branded and customizable referral programs
Invite more visitors to signup for the referral program via referral nudges
Track your store's referral traffic, revenue, and top referrers
Take action against fraudulent referral activities
Rewards are automatically paid to customers
Pricing Plans: – It offers a 30-day free trial, and the premium plan starts at $49/month.
Further reading –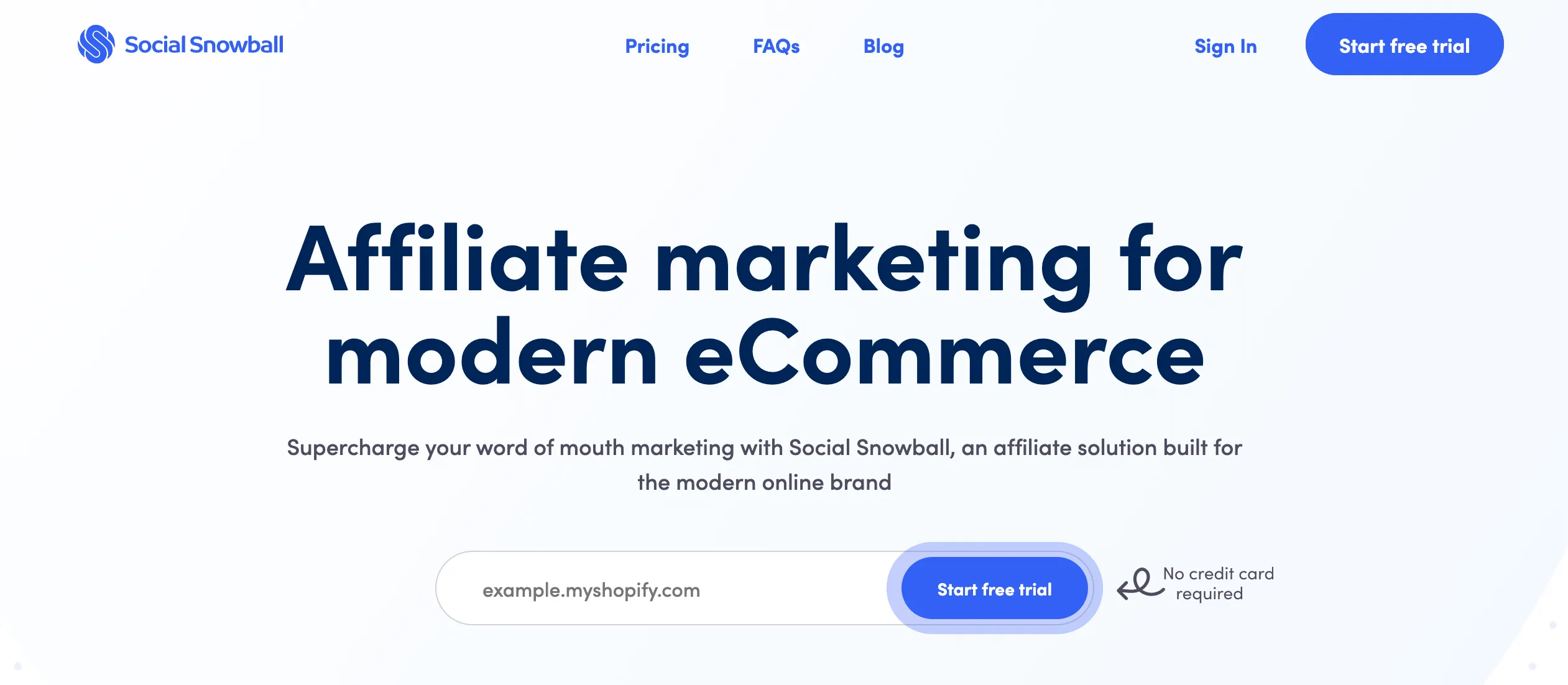 By starting an eCommerce affiliate marketing program, you can partner with your niche content creators & influencers to improve traffic and boost sales. It makes your job easier as you can directly tap into your target audiences without any upfront costs. You only have to find credible affiliates, manage them and deliver payments at the right time.
Social Snowball is a top-rated Shopify affiliate marketing app that lets you create an engaging affiliate program for your store. You can turn your new customers into affiliates and easily onboard other affiliates through a registration form. Once someone joins your program, they will get access to their dashboard and a unique affiliate link and discount codes that they can share on social media and other channels.
The apps give you complete flexibility to design and customize your affiliate program and translate it into multiple languages for your global affiliate partners.
Key Features –
Easy to use & set up
Bulk send instant cash or gift card payouts
Supports multiple currencies
Automatically detect when affiliate codes leak on coupon sites
Visualize in-depth data of clicks, orders, and commissions and track the best performers
Multi-language support for the affiliate account
Pricing Plans – Social Snowball offers a 30-day free trial on its two paid plans. Both plans provide access to all the app features. The base plan i.e., Snow Day costs $99/month and charges a 3% commission on revenue generated by the app. The Blizzard plan costs $499/month with no commission fees.
Further reading –
14. Tidio – For Live Chat & Chatbot
Tidio is one of the highest-rated Shopify chat apps that use the power of bots and marketing automation to boost your sales significantly. It enables you to chat with your customers 24×7, send delivery updates, checks product availability, etc., which keeps your customers updated.
You can also create abandoned cart chatbots that trigger when a customer is about to leave the site without purchasing. Using the bot, you can provide the required assistance and offer them discounts to make them complete their checkout process instantly.
You should read our comprehensive Tidio review to know more about its features and functionalities.
Key Features –
Real-time visitor monitoring to start a conversation
30+ pre-designed bot templates
Shared inbox for teams
Enable chatbot to collect & qualify leads based on their behavior
Connect Instagram, Messenger, Live Chat, and email inbox to centralize all the conversations
Seamless integrations with more than 20 apps like GetResponse, Zendesk, Zapier, Google Analytics, etc.
Pricing Plans – It offers a forever-free plan which includes live chat, chatbots, and other necessary tools to grow your business. But to access advanced features, you need to upgrade to the Chatbots or the Communicator plan, which starts at $18/month.
Further reading –
15. Vitals – For Conversion Optimization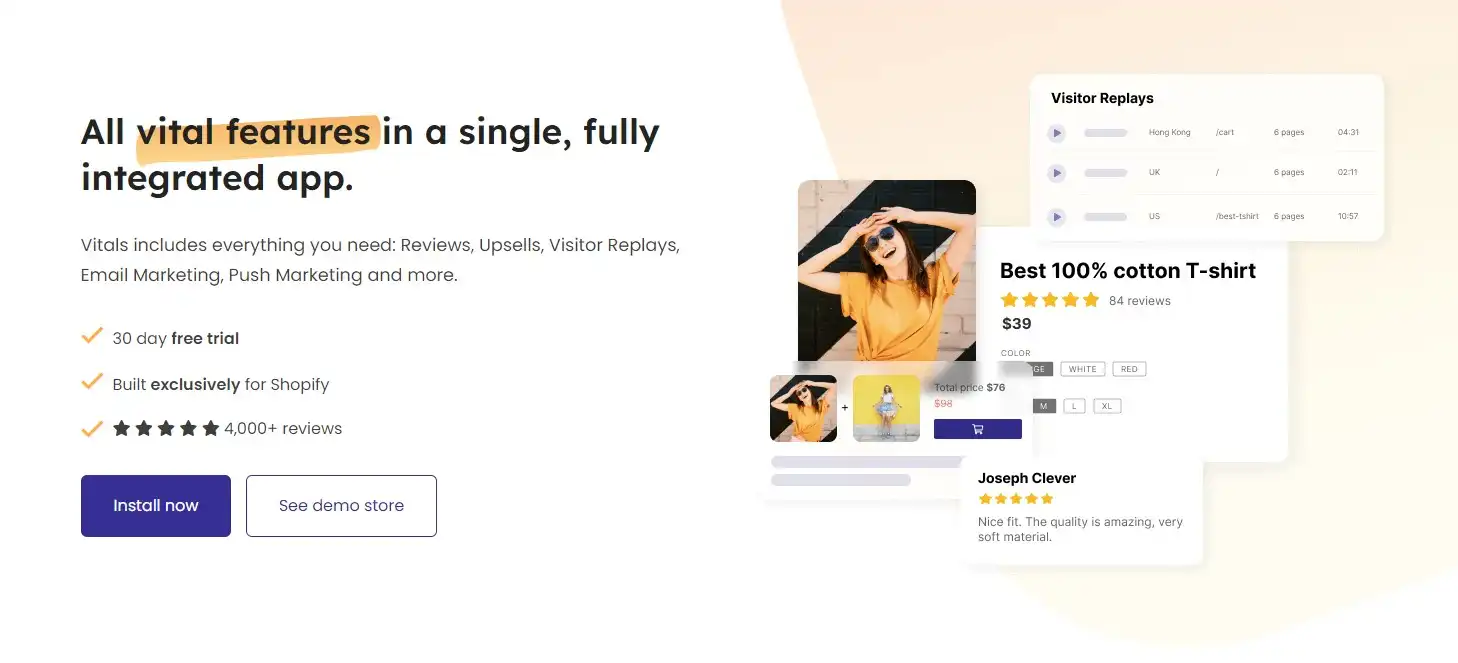 Whether you want to boost revenue, capture leads, build trust, or convert more, Vitals does it all for you. It is a powerful Shopify app bundled with the functionality of 40+ apps like countdown timers, popups, accelerated checkout, reviews, etc. It has one primary goal – to optimize the overall marketing & sales efforts.
The best part of using Vitals is that it has a fast CDN that aids in increasing your store's sales. Also, it allows you to enable/disable apps based on your preference.
To know all the built-in apps Vitals offers, you should check our in-depth review.
Key Features –
Compatible with almost every Shopify theme
Minimalistic & beginner-friendly interface
Sync content across all the Vital Apps
Display a shoppable Instagram feed
Trigger the FOMO reaction by showcasing the urgency box during low product stock
Integrate multiple chat apps like Whatsapp, SMS, phone, email, messenger, and many more
Pricing Plans – Vitals offers a 30-day free trial. It has a single pricing point of only $29.99/month for adding 40+ conversion-boosting features.

To drive organic traffic to your Shopify store, you need to optimize your site for search engines to rank for relevant keywords and boost organic visibility. This is where Search Pie can help you.
Search Pie is a powerful Shopify SEO app that is easy to handle and simplifies your store's SEO operations. All the SEO aspects, from fresher to advanced, are constantly updated, so you never miss a chance to become Google-friendly.
You can optimize unlimited images, meta tags, URLs, and JSON-LD schema to increase your store's organic visibility. The best part is you need not stay on the app while the SEO issues are being scanned or fixed so you can concentrate on other important tasks.
You should follow our Shopify SEO checklist to ensure the site is optimized properly for Google and other search engines to rank higher.
Key Features –
Increase the loading speed of your mobile pages
Automatically compress images
Daily website scan to identify & fix SEO issues
Detailed SEO statistics
Control 404 links with auto fix
Pricing Plans – SEO Booster offers a 7-day free trial and a free plan that lets you perform image ALT for 50 products, optimize meta tags, image compression, speed analysis, basic snippets, etc. The Pro plan costs $39/month, and the Unlimited Plan is priced at $79/month.
17. Sellbrite – For Multi-channel Fulfillment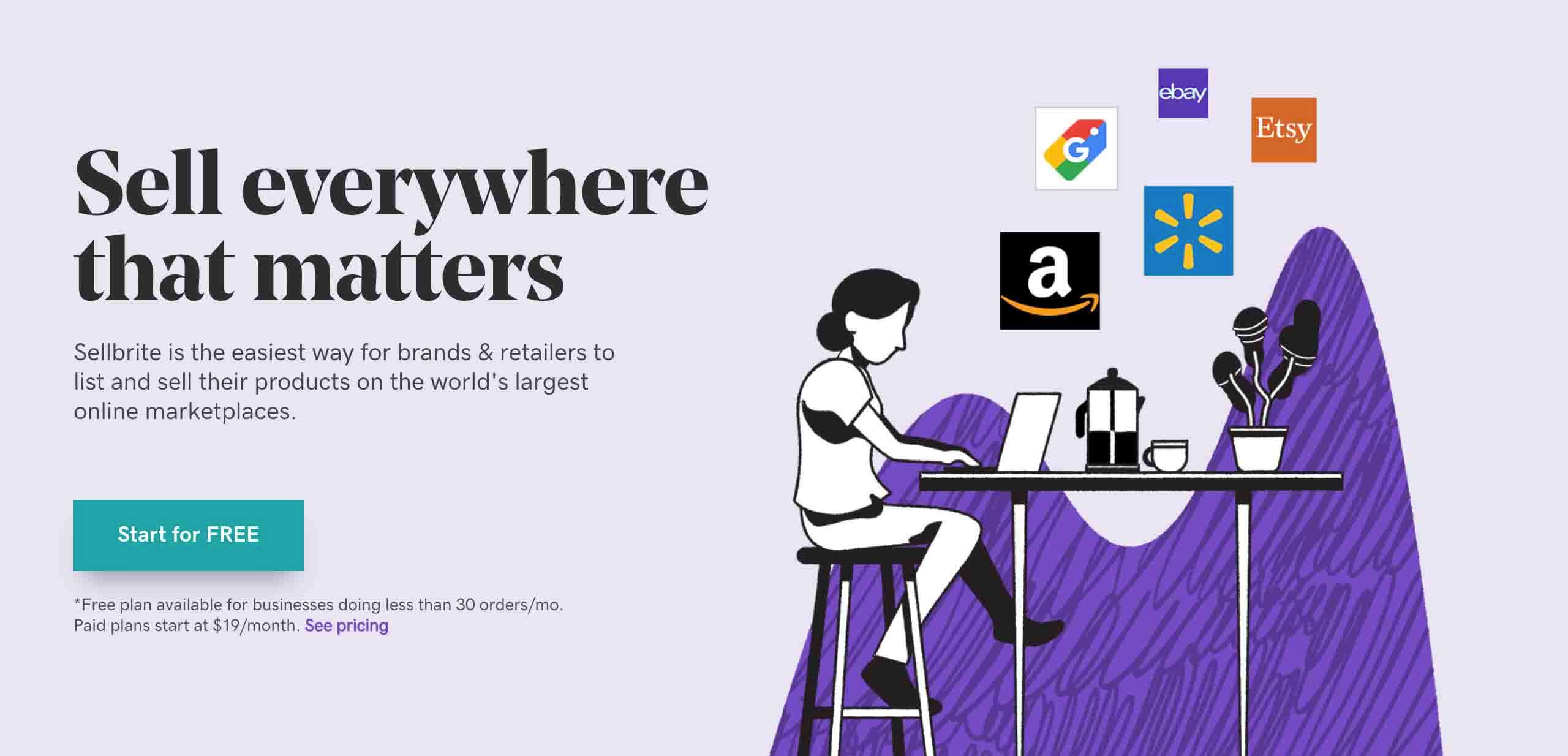 If you want to sell your products on other marketplaces or sales channels, you should consider using Sellbrite. It is the best multi-channel selling tool for Shopify stores.
It lets you connect your store with Amazon, Etsy, Walmart, eBay, and other platforms to sync your product inventory and data from a single dashboard. Moreover, you don't have to add products manually to each platform.
Sellbrite makes it easy for Shopify merchants to expand their reach and sales. You can create new marketplace listings and manage existing product listings hassle-free.
Key Features –
Automatic and continuous inventory sync
Access to multi-warehouse automation
Pricing rules to customize each channel
Automatically route orders to FBA
Print discounted shipping labels
Inventory rules to control the quantities you show on marketplaces
Pricing Plans – Sellbrite offers free unlimited access on all paid plans for 30 days. Besides, it also comes with a Free Plan that allows for 30 orders/month (excluding FBA), unlimited sales channel integration, multi-channel inventory control, etc. The Paid plans start at $19/month and scale up to $99/month.
Wrapping Up
The ultimate goal of any eCommerce business owner is to constantly increase sales and boost revenue for the store. However, after a period of time, the sales curve might get stagnant, and you might need to upgrade your tech stack to support more robust sales and marketing strategies.
The above-listed Shopify apps are proven to be effective for increasing sales and conversion for stores if used properly. These apps should help you improve user experience, marketing, and sales performance for your store, which are pivotal for the success of a Shopify store.
Finally, if you are running a niche-specific Shopify store, here are a few articles you may want to read next –