Want to boost sales on your Shopify store? Looking for the Shopify apps that can uplift the sales & conversion on your Shopify store?
If so, you have to first figure out the reasons why you are seeing low sales in your store and what's lacking in terms of customer engagement and conversion.
Once, you have identified the potential reasons, you need to pick the right Shopify apps to add required functionalities or make necessary changes to the store.
To help you pick the right apps for different functions, we have curated this list of the best Shopify apps that can help you drive more sales. Here, you'll find Shopify apps to help you from designing the store pages to providing excellent customer service to the website visitors.
Sounds good? Let's get started.
1. PageFly– Landing Page Builder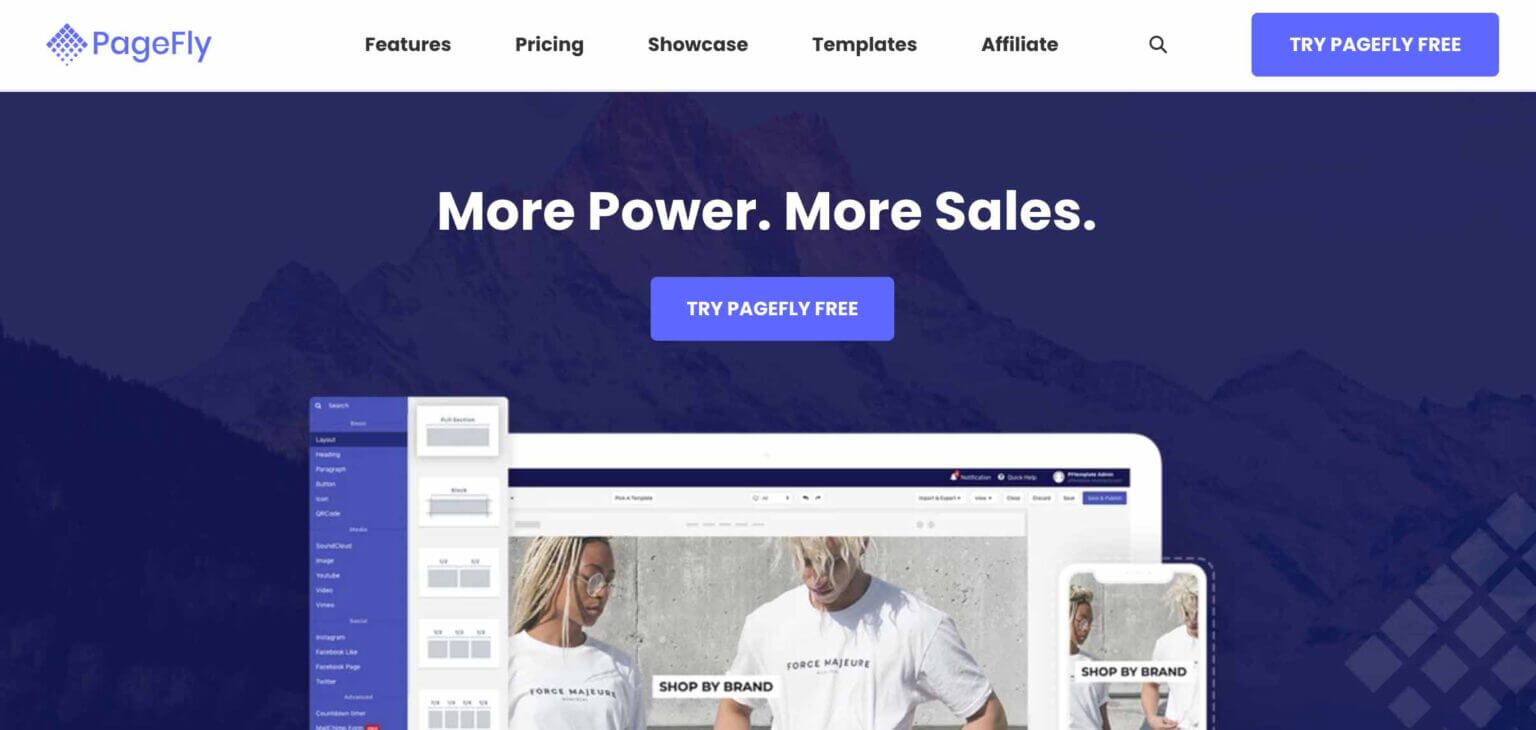 To expand the functionality of your Shopify store, PageFly lets you build stunning and conversion-friendly landing pages seamlessly on the go. It offers an intuitive drag-and-drop builder with which you can create countless pages for your Shopify store.
This powerful Shopify app can flexibly adapt to any theme and is completely mobile-optimized, delivering an amazing user-friendly experience.
What you'll get –
It offers more than 70 conversion-optimized templates to launch and scale up any type of campaign successfully.
It offers fantastic integrations with major platforms like Google Analytics, Facebook Pixel, Klaviyo, PayWhirl, etc.
It makes your pages look visually attractive by adding images, videos, GIFs, slideshows, etc., potentially increasing traffic rates.
It also enables you to reuse the saved section so that there is no need to spend time creating new ones.
It provides meaningful analytics with which you can clearly understand the performance insights of your store pages.
Pricing Plans:
PageFly offers a Free plan with all the features you need to create high-converting landing pages. However, if you want to increase the number of landing pages for your store, you can opt for one of their three paid plans: Silver, Gold, and Platinum, starting at just $19/month.
2. Growave – All-in-one Marketing Apps
Growave is an all-in-one marketing platform that boosts your Shopify store sales by letting you start a loyalty and referral program for your store and leverage user-generated content like reviews to build trust and credibility.
It helps convert your customers into pure loyalists by rewarding them with attractive points and discounts, which leads to more repeat purchases. You can also drive more visibility to your Shopify store by conducting referral programs that fuel up the traffic rates and empowers your community.
What you'll get –
It helps boost your sales by displaying nudges and sending timely reminders to the customers to use the points before expiration.
It allows you to sends targeted emails to customers when the items in their wishlist are running out of stock or on sale.
It offers easy access as customers can quickly log into various social media platforms.
It lets you import reviews from popular review platforms like Yotpo, Loox, Ali Reviews, etc.
Pricing Plans:
It offers a 14-day free trial and a free plan. However, to start the loyalty program, you'll need to opt for its paid plans starting at $29.99/month.
For further reading:
3. Recom.ai – Upsell & Cross-sell App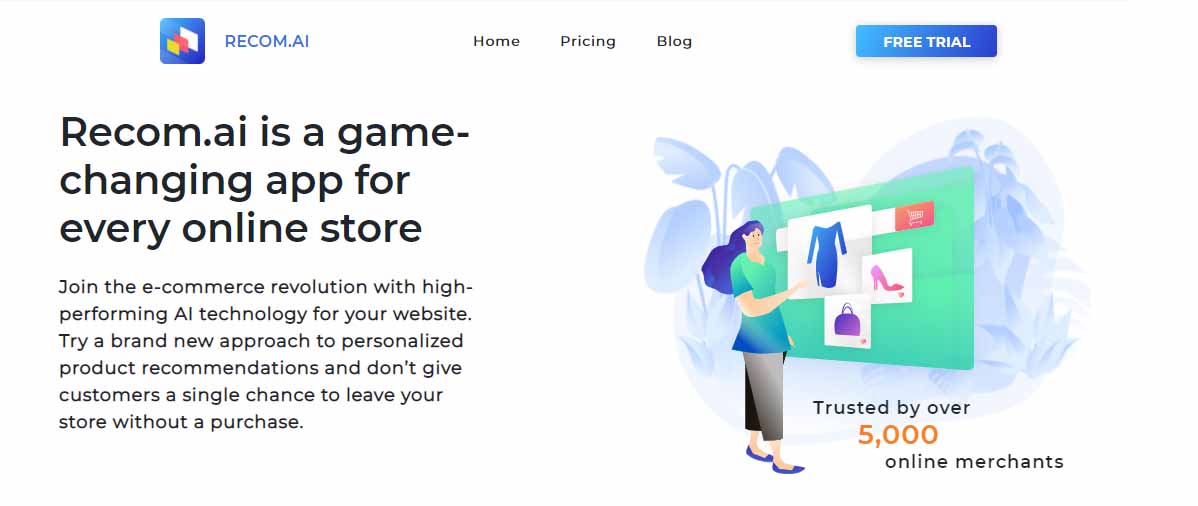 The Recom.ai app is developed to help online merchants boost their revenue and improve customers' shopping experience with minimum effort. It automatically generates personalized product recommendations using AI technology and lets you launch upselling and cross-selling campaigns in a couple of clicks.
The app timely provides store visitors with relevant product suggestions, thus increasing their satisfaction and raising your average purchase value. On top of that, Recom.ai is fully responsive, so your recommendations will look attractive on any device, be it laptops, tablets, or smartphones.
What you'll get –
It equips your store with an innovative AI-powered feature for personalized product recommendations made in real-time to increase the chances of conversion.
It lets you effortlessly launch an unlimited number of cross-selling and upselling campaigns based on flexible conditions.
It offers a rich collection of ready-made, customizable widgets like Top sellers, New arrivals, Similar products, Frequently bought together, etc.
It shows products in static blocks, sliders, and pop-ups on any store page to follow your visitors along their customer journey.
It provides detailed analytics to help you accurately track any campaign performance and make data-driven decisions.
Pricing plans: The app offers one global billing model for all users. The fixed monthly charge is $19 plus 2.9% of sales generated with Recom.ai widgets. The maximum monthly payment is limited to $519.
The app also provides a 30-day money-back guarantee and a 7-day free trial.
4. ReferralCandy – Referral Marketing App
Referral Marketing is one of the most simple yet powerful ways of getting more sales as it generates high customer loyalty and improves your brand awareness. This is where ReferralCandy has a potential edge as it allows you to conduct automated referral programs that flood your Shopify store with more conversions.
It gives complete control over the type of referral rewards you wish to offer to your customers, like cash rewards, coupon codes, special gifts, etc. This Shopify app is also best suited for running affiliate and influencer marketing campaigns. 
What you'll get –
It lets you customize everything that supports your Shopify store branding, starting from pop-ups to emails.
It allows you to track crucial metrics like clicks and traffic rates, giving you an in-depth analysis of your referral programs.
It also enables your customers to share the referral programs to social media, which drives high visibility and traffic.
It offers integration with major platforms like MailChimp, Klaviyo, S-Loyalty, ReCharge, etc.
It gives a smooth checkout experience as your customers will automatically receive their rewards directly without any hassle.
Pricing Plans:
It offers a 30-day free trial, and the premium plan starts at $49/month.
Read: Best Shopify referral apps to start a referral program
5. Tidio – Live Chat & Chatbot App
Tidio is one of the highest-rated chat apps that use the power of bots and marketing automation to boost your sales significantly. It enables you to chat with your customers 24×7, send delivery updates, checks the product availability, etc., which makes your customers stay constantly updated.
You can also create abandoned cart chatbots that trigger when a customer is about to leave the site without purchasing. Using the bot, you can provide the required assistance and offer them discounts to make them complete their checkout process instantly.
What you'll get –
It offers an intelligent bot that can reduce incomplete checkout rates by interacting with customers, finding their issues, and resolving them, increasing sales rates.
It enables you to see what your customers are typing in real-time so that you can prepare your answers well in advance.
It is completely responsive and offers rich chat widget customization that enriches your branding efforts.
It offers integrations with more than 20 apps like GetResponse, Zendesk, Zapier, Google Analytics, etc.
It enables you to check your visitor's location, add custom properties, tags, contact details, and notes about them.
Pricing Plans:
It offers a forever free plan which includes live chat, chatbots, and other necessary tools to grow your business. But to access advanced features, you need to upgrade to the Chatbots or the Communicator plan, which starts at $18/month.
6. PushOwl – Web Push Notification App
Enabling a simple push notification can do wonders as you can target customers even if they are not on your website. Pushowl leverages this by sending an automated web and mobile push notification which pulls the customers back to their shopping cart.
It helps generate more traffic and sales to your Shopify store as you can send push notifications regarding the latest updates, incomplete checkout, special offers, and much more.
What you'll get –
It helps in segmenting your customer list, which will be highly useful for designing conversion-friendly campaigns.
It drives in more customers to your store by sending back-in-stock alerts, abandoned cart reminders, price-drop alerts, etc.
It offers integrations with major apps like Fera, Judge.me, Stamped.io, Edgemesh, etc.
It enables you to retarget your store visitors and also provides custom reporting facilities.
It triggers the purchasing intent of your store customers by sending flash offers.
Pricing Plans:
It offers the Basic plan for free with 500 impressions per month. The Business plan starts at $19/month for 10,000 impressions per month.
7. Klaviyo – Email Marketing App
Email Marketing is the most cost-effective way of expanding your customer base, and Klaviyo tops the market by offering the best-in-class features that are truly needed to increase your store sales.
It offers stunning pre-built forms, sign-up forms, templates to build your email list and set up automated messages.
What you'll get –
It helps to precisely target your customers by segmenting them based on their interactions and behavioral activity.
It lets you perform A/B testing wherein you can use conversion-friendly forms to attract more search traffic.
It offers fantastic integrations with major platforms like Zendesk, Facebook Advertising, ReCharge, Aftership, etc.
It provides clear and accurate results with which you can potentially analyze your store's performance and revenue graph.
It allows you to send personalized product recommendations that pull more customers to the checkout process.
Pricing Plans:
The pricing structure of Klaviyo is based on the number of email contacts, and you can send unlimited emails. It offers free services to up to 250 contacts and 500 emails sent/month, and the paid plan starts with $20/month once you cross the bandwidth of free features.
8. Postscript– SMS Marketing App
With over 35% of mobile users worldwide are best reached by SMS, this Shopify app brings high response rates by leveraging text messages. Postscript enables you to automatically send text messages based on your customer actions and increases more interactions by allowing you to add GIFs/photos to each automation.
It strictly follows TCPA compliance wherein your customers can opt-out of receiving your messages by sending 'STOP.' It also provides a 'Safe Send' feature wherein you do not send too many messages to your customers by mistake.
What you'll get –
It lets you create segments based on your customer history which facilitates precise targeting.
It provides an excellent set of integrations with major apps like Gorgias, Zapier, Sumo, Klaviyo, Privy, and much more.
It helps grow your contact list by collecting the details at checkout, landing pages, pop-ups, QR codes, etc.
It helps track and review SMS campaigns' performance, enabling you to make informed decisions for the future.
It enables you to send desktop pop-ups and send automated messages for bringing back abandoned customers, shipping details, welcome messages, etc.
Pricing Plans:
Postscript pricing starts with $0.010 per SMS and reduces to $0.0075 as the total SMS/month increases.
9. Weglot – Translation Apps
If your customers are from different parts of the globe or speak other languages, you must make your Shopify store multilingual. And this is where Weglot would be a great help for you.
Weglot is a translation app that enables you to translates each element of your Shopify store into multiple languages. Using this app, you can acquire and serve more customers in their preferred language, which eventually boosts your store sales.
It is fully compatible with all Shopify themes and translates everything on the page, including the checkout page.
What you'll get –
It offers an in-context editor tool to translate the content directly in the website design.
It lets you add a customizable language switcher button for quick accessibility and follows multilingual SEO practices to grab more sales.
It offers stunning integrations with top platforms like Klaviyo, PageFly, Judge.me, Sufio, etc.
It also provides an option to activate the auto-redirection feature to match the preferred language of your customers.
It offers more than 100 translatable languages, and even your meta tags/description can be detected for translation.
Pricing Plans:
It is free only up to 2000 translated words in one language. The Starter plan starts at €9.90/month, which allows 10,000 translatable words in one language.
Read: Best Shopify Translation Apps
10. TrustPulse – Social-proofing Apps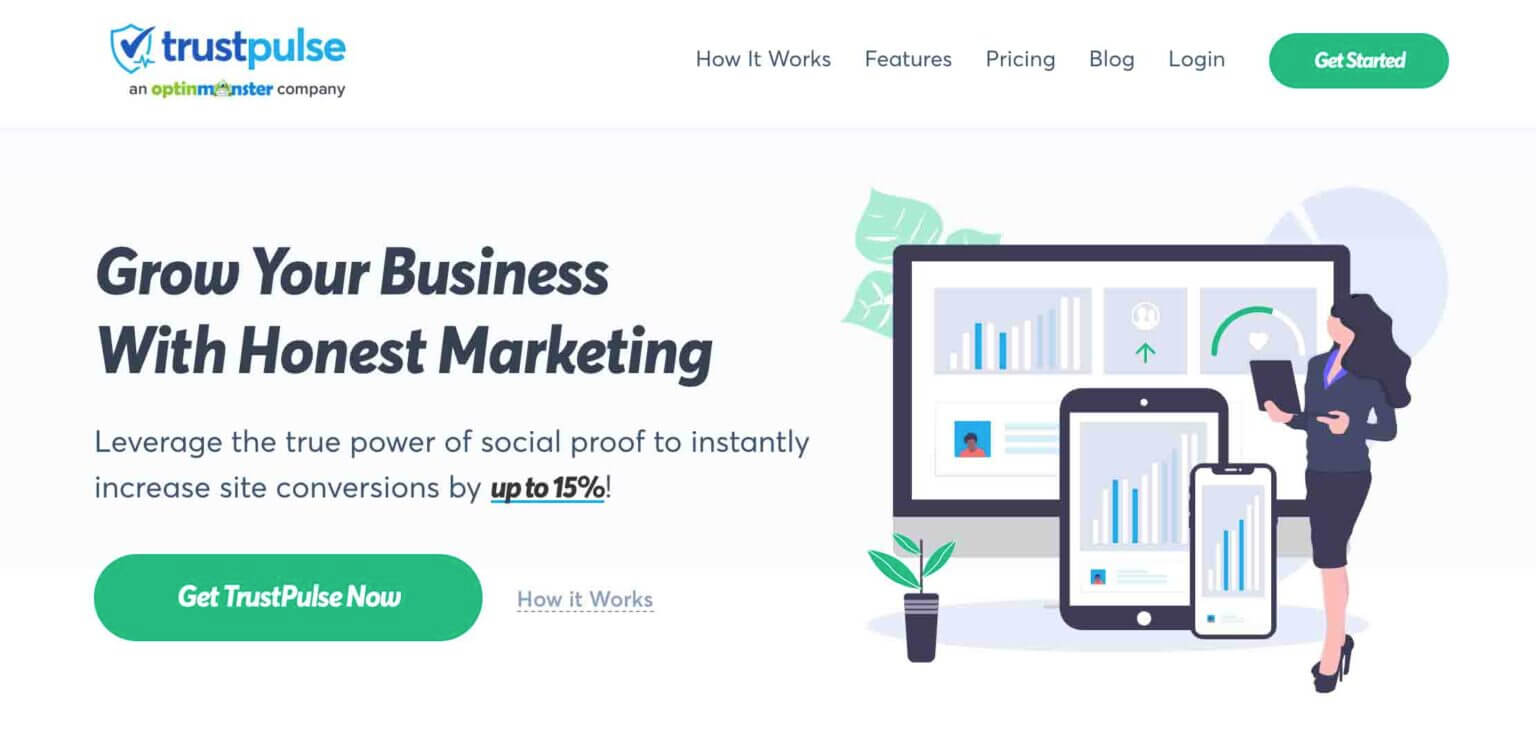 When it comes to boosting your Shopify store sales via social proofing, TrustPulse is my best recommendation for you. It helps increase your sales by displaying all the live actions like purchases, newsletter sign-ups, demo registrations, and much more.
It uses smart targeting to display the product purchase notifications to the right people at the right time, making people purchase more products and proceed to check out.
What you'll get –
It sends on-fire notifications that let customers view how many of them perform any desired action on your store.
It provides complete freedom to customization as you can design the messages, colors, images, etc., to match your store branding.
It requires less installation time which doesn't require any coding, and the process becomes complete without much hassle.
It is also compatible with other major platforms like WordPress, WooComerrce, Squarespace. etc.
It lets you track and monitor all the metrics needed to measure your goals, which helps create a better-optimized strategy for your store.
Pricing Plans:
TrustPulse Basic plan starts at $9/month and goes up to $50/month.
Read: Best Shopify social proofing apps
Wishlist King is an amazing Shopify wishlist app that enables window shoppers to add their favorite products to the wishlist. It lets you add the wishlist button on product pages, collection pages, and homepages.
It also allows you to migrate the wishlist data from other apps or other eCommerce platforms to the current one without any hassle. This gives you the freedom to upgrade your store without losing customer data.
What you'll get –
It offers complete freedom to customization, and also you can use Javascript API to enhance the functionality.
It enables your customers to share their wish lists via social media, which drives more traffic and visibility.
It supports different languages and provides in-depth wishlist analytics, which lets you understand the product preferences of your customers.
It allows your customers to select variants on the wishlist page which helps them add more products to the cart.
It offers integration with Langify, Instant Search +, Frankie, Smart Search & Instant Search, etc.
Pricing Plans:
It offers a 14-day free trial, and the basic plan starts at $4.95/month.
Read: Best Shopify Wishlist Apps
This countdown timer app is an essential conversion optimization app for Shopify stores to improve sales. It enables you to create a sense of urgency and encourages the customers to buy the products instantly.
PushDaddy Countdown Timer lets you conduct holiday promotions, flash sales, time-limited offers, product launch events, etc., which certainly ignites your store sales rate. You can also add the countdown bar at any desired position on your store, attracting more eyeballs.
What you'll get –
It supports various types of countdown timers, such as event-based, auto-recurring, and daily countdown timers.
It allows you to create many countdown timers for upcoming promotions with the help of the auto-scheduling feature.
It enables you to add a call-to-action button on the countdown timers, spike up your sales to the next level.
It also offers geo-targeting wherein you display different kinds of sale promotions based on the customer's location.
It is fully optimized and lets you add emojis in the countdown timers to facilitate more engagement.
Pricing Plans:
It offers a forever free plan, and the Pro plan comes with Geo-Targeting features at just $3.75/month.
Read: Best Shopify countdown timer apps
In order to drive organic traffic to your Shopify store, you need to optimize your site for search engines so that it ranks for relevant keywords and boosts organic visibility. This is where Plug-in-SEO can help you.
This powerful Shopify SEO app improves your store ranking by optimizing meta title & description, image alt text, schema, broken link check, search console, & more.
Even if you run your Shopify store in multiple languages, it enables you to optimize your shop by implementing multilingual SEO best practices and improving your search ranking.
What you'll get –
It lets you perform bulk SEO edit, including meta titles/descriptions for hundreds and thousands of products, eliminating your hassle.
It offers a built-in Google search console integration which enables you to monitor organic traffic and track search ranking for your Shopify store.
It is constantly updated as the search engines change their SEO practices which is a boon for your Shopify store.
It is powered by JSON-LD, which boosts more sales by offering rich snippets.
It also lets you perform SEO for special pages, including tag filtered collections and search.
Pricing Plans:
It offers a 7-day free trial and a free plan with features to get started. To access pro features, you can upgrade to SEO Plus, which starts at $20/month.
When your Shopify store is bumped with loads of images, it may throw a risk of slowing down your site speed, resulting in loss of traffic. This is where you'll seek the help of an image optimization app, and Avada is my best-recommended choice for you.
It compresses image size and keeps its quality unchanged, resulting in reduced page size and faster loading speed. It also offers an in-depth SEO analysis on your product pages with the problem report and suggests key solutions for more improvement.
What you'll get –
It lets you optimize image size or custom image quality, and you can add ALT-tags to the product page, collection pages, and blog posts.
It offers integration with the best landing page builders like PageFly, Shogun, GemPages, and LayoutHub.
It helps fix the broken links and list all sub-pages in your store for faster access and navigation.
It lets you optimize the meta titles and descriptions and allows for site verification by integrating with the Google search console.
It is completely mobile responsive and enables you to compress images without degrading their quality.
Pricing Plans:
It is completely free to use.
Read: Best Shopify Image Optimization Apps
Wrapping Up
The ultimate goal of any eCommerce business is to generate more sales and boost revenue. However, after a period of time, the sales curve might get stagnant and you might need effective strategies and tactics to uplift the number of sales.
And to implement such strategies, you'll need powerful tools to add more functionalities and features to the store. Fortunately, if you have built your online store on Shopify, you have tons of apps at your disposal to try and add to your store.
In this article, we have listed all the essential Shopify apps that you will need to skyrocket sales on your Shopify store. We hope it helped you pick the essential tools for your Shopify store.