If you are targeting global audience for your Shopify store, then you must have a multi-lingual store that supports different local languages spoken in your target market. Else, you will lose a lot of potential customers to your competitors.
Shopify is a leading eCommerce platform that provides everything you need to set up an online store. But it has few limitation among which one is that it doesn't provide multi-lingual support for storefront UI. It definitely supports multiple languages for admin dashboard, but not for the store pages.
This is where you can use 3rd-party Shopify translation apps to translate your Shopify store pages in multiple languages. And to help you with this, I have reviewed some of the best translation apps that you can consider using for your Shopify store.
Ready to dive in? Let's get started.
Weglot is the best website translation app for businesses of any size and niche. And when it comes to Shopify store translation, I always recommend Weglot. It enables you to translate the entire store into 100+ languages and provides an editor tool that allows you to translate content in any language right from the dashboard quickly.
Weglot creates dedicated URLs from each page for each language, and all are SEO optimized, allowing your store to get indexed by Google in different languages in different regions. It follows Google multilingual SEO best practices, so you don't have to worry about any penalty or traffic loss.
Key Features –
Weglot instantly translates the store in your selected language, without any coding.
It automatically redirects visitors to their preferred language pages.
In addition to product and other pages, Weglot can translates the checkout pages and email notifications, which are very rare among translation apps.
It provides a customizable language switcher button is available and ideally compatible with every Shopify theme.
It supports powerful integration with Shopify page builder and marketing apps, allowing you to deliver multi-lingual experience beyond the store.
Pricing Plans – It is free only up to 2000 translated words in one language. The Starter plan starts at €9.90/month, which allows 10,000 translatable words in one language.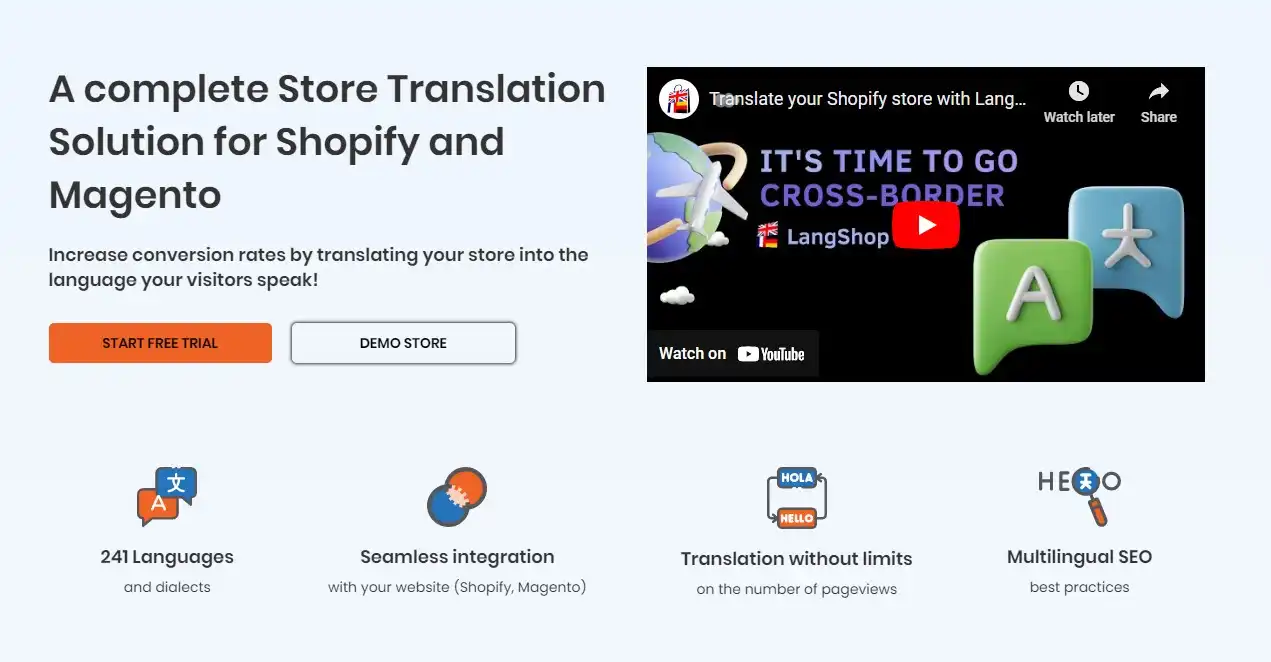 Langshop is one of the flexible apps that helps your Shopify store expansion into the multilingual market by allowing you to translate your online store into 241 languages.
Langshop lets you add currency switcher buttons on your Shopify store, allowing your customers to select their preferred currency type, which will be helpful during the checkout process.
Key Features –
Langshop can translate all types of content in your store, including products, checkout pages, themes, blogs, articles, etc.
It can detect and show the customer's preferred language when they visit your Shopify store for the first time, which is an added advantage to offer a unique shopping experience.
It follows Google's best multilingual practices to optimize your Shopify store and create a separate URL for each translated language.
There is no restriction for the number of characters translated, whatever might be the language you opt for.
You can also add both language and currency switcher buttons to make your customers.
Pricing Plans – It offers a 14-day free trial, after which you can choose the unlimited plan starting at $34/month.

Langify provides a rich shopping experience by translating your Shopify store into multiple languages, thereby attracting potential customers worldwide. One of its unique features is that it offers extensive support for all languages, including the RTL.
The set-up process of this translation app may take some time for beginners or average users as it does not translate the content. It manages only pre-translated content and the rest you need to do by yourself.
You can also create a customizable language switcher that allows your customers to change to their preferred language quickly. Also, Langify does not restrict the number of languages to be translated which is much needed for expanding your Shopify store.
Key Features –
Langify lets you import/export your translations in widely used formats like CSV, JSON, etc.
It also readily optimizes meta tags for translated languages, which helps you rank on Google searches.
You can host your translated store in multiple domains, and once the translation is complete, your Shopify store can be launched quickly without much hassle.
It is not possible to translate products on the checkout page and in the notification bars. It will be visible only in your Shopify store's default language.
Pricing Plans – It offers a 7-day free trial, and the upgrade plan starts at $17.50/month.

Translation lab is the highest rated Shopify app that offers translations in multiple languages and significantly amplifies your store sales. It works very well with Shopify's multi-language feature, so there is no extra burden to add complex codes or run technical operations.
It offers a simple yet powerful interface that provides absolute control of each and every translatable resource in your Shopify store so that you can maintain all the operations in a hassle-free manner.
Key Features –
It can translate content in any section of your Shopify store like product pages, checkouts, blogs, meta fields, emails, SMS, etc.
It provides AI-powered translations that enrich customer experience from different regions of the world.
You can also place a customizable language switcher at your Shopify store and distinct URLs available for each translated page to get noticed quickly.
It allows you to perform bulk translations and offers powerful SEO features that make your online Shopify store gain more traction by indexing your site in the translated languages.
Pricing Plans – It offers a free plan which allows up to 2000 words, and the pro plan starts at $9.99, which allows up to 50,000 words.

GTranslate is one of the most recommended apps as it uses Google's automatic translation service to translate your Shopify store into 103 languages. As soon as the translation is complete, it is available for worldwide access by your customers.
It lets your customers choose their native language by offering different style types: dropdown, flags with dropdown, flags, flags with language names, etc.
One of the unique features of GTranslate is that it can translate your store URLs to different languages, which is a key factor in multilingual SEO practices.
Key Features –
It offers integration with Google Analytics, which helps in giving insightful reports of your Shopify store.
You can manually correct translations and also enable a sub-domain for each of your translated languages.
There is no need to worry about creating backups as all the updates are maintained in the cloud system.
Navigation can be made easy as it offers an in-context editor where you can make changes without interrupting the content flow.
It also lets you boost your Shopify store's traffic and revenue as you can create conversion-friendly URLs to get ranked easily on search engines.
Pricing Plans – It offers a free plan with limited features, and you can choose the custom plan that starts at $7.99/month.
Wrapping Up
One of the most effective conversion optimization strategies for stores that targets diverse audience with different languages is to make the site available in their local languages. This is because more than 65% of online shoppers prefer their local language and currencies.
So, creating a multilingual store is not just nice-to-have but it has become must-have if you are targeting international customers. Weglot is one of the best website translation app with powerful integration with Shopify. Moreover, it has a free plan for small business, so make sure to give it a try.
I hope this article helped you pick the best translation app for your Shopify store. If you are looking for more apps to for your store, here are a few hand-picked lists you may want to check next –