Are you looking for the best marketing apps for your Shopify store? If so, this article is for you.
Creating an eCommerce site on Shopify is too easy – need to choose a theme, customize it, add products and start selling them. And that is one of the reasons behind the popularity of Shopify among online entrepreneurs.
However, setting up an online store on Shopify won't bring business for you – you cannot expect customers flooding to your Shopify store immediately after the launch.
Instead, you need to market and promote your Shopify store among your target consumers to get them aware of your online store and the products you sell.
Fortunately, Shopify has tons of marketing apps that can help you bring a broader reach and generate high sales and conversions for your eCommerce store.
In this article, I will show you some of my favorite and the best Shopify Marketing Apps that you can use to generate more traffic to your store, boost customer engagement and improve the conversion rate on your store.
Geared up? Let's get started.
1. Omnisend – Email and SMS Marketing Automation
Having improved the sales of 50,000+ eCommerce merchants, Omnisend is a powerful Shopify marketing app that enables you to set up email and SMS automation for the store. It amplifies your customer engagement levels as you can deliver a consistent omnichannel experience by combining email, SMS, and web push notifications on a single platform.
You can create on-branded and shoppable emails by using its customizable drag-and-drop builder. It also gives you the option to automatically resend the campaigns to those who have not opened, which is an excellent feature for marketers to nudge their customers.
It helps recoup your lost traffic by sending automated messages like cart abandonment, win-back/reactivation emails, feedback, reviews, etc. Also, you can integrate personalized push notifications, which lets you instantly retarget your customers across multiple channels. Read our in-depth Omnisend Review to get a complete overview of its potential.
2. GemPages – Landing Page Building
When it comes to choosing the best landing page builder for Shopify stores, GemPages is my #1 recommendation. It is a versatile landing page tool that offers powerful features to build, grow, and optimize your Shopify store to reach the pinnacle of conversions.
It offers 70+ highly responsive templates that cater to all niches and page types. Also, your GemPages landing pages come with a mobile version which you can personalize even more to enrich the customer experience on mobile devices.
The main motive for creating landing pages is to generate high-quality leads and turn them into potential customers. GemPages lets you accomplish this by building powerful sales funnels that capture the hottest leads possible via sign-up forms, thus crafting a fantastic digital experience.
3. Growave – Loyalty & Referral Marketing
Growave is an all-in-one Shopify marketing app that hosts power-packed features in escalating your revenue potential. It helps you increase repeat purchases by rewarding loyalty points, acquiring new customers via referral programs, reducing cart abandonment by sending wishlist emails, and boosting credibility via customer reviews.
The best part about Growave is that it is easy to set up and customize as per your business needs. Also, if you are already using other apps and want to migrate to Growave, you can easily import data from old apps in just two clicks.
In a nutshell, Growave is one of the must-have marketing tools for Shopify stores to boost customer retention and generate more sales. Want to know more about this app? Check out our in-depth Growave review.
4. PushOwl – Web Push-notifications
The power of reaching directly at your customer's fingertips is incredible, and push notifications are one way of establishing that. PushOwl is the top-rated Shopify marketing app that helps you convert your first-time visitors into loyal customers by sending push-notifications on desktop and mobile.
With push notifications, you can send automated abandoned cart notifications, exclusive offers, and retarget customers to boost your sales. You can also send targeted promotions to customers based on their location, purchase history, and behavior which paves your way for hyper-personalization.
Pushowl provides you robust analytics data to understand your customer behavior by monitoring how they interact with your notifications and which links they prefer to click. This allows you to optimize your marketing strategy to boost your traffic and conversion rates.
5. Recart – Facebook Messenger Marketing
Do you know that 11% of the world's major population uses Facebook messenger every month? That's the incredible potential of messenger, and you can use this effective channel to skyrocket your Shopify store sales using Recart.
By crossing 1,55,000+ installs, Recart is a popular Facebook messenger marketing app for Shopify stores that can help you grow your customer base using popups, automated messages. It offers subscription tools like order page subscription, sticky discount box, and customer chat.
Recart is a great tool as it pushes your conversational marketing to the next level by actively engaging with customers via messenger. You can inform your customers about your new product, send updates, ask for feedback, and also educate them about your product after the purchase.
6. Reconvert – Upselling and Cross-selling
Most often, thank you pages are overlooked, and their potential is not utilized. Reconvert is one of the best Shopify upselling and cross-selling apps that sets a benchmark in this by letting you create beautiful thank you pages that readily sell.
With its customizable drag and drop builder, you can insert different widgets that make your visitors convert into customers. The best part is that you can design trigger-based thank you pages that target only specific customers to upsell your products.
Some of its popular widgets include a reordering button, product recommendations, popup with timer, post-purchase surveys, and much more. But, instead of taunting customers with popups, Reconvert uses a simple yet effective approach in optimizing thank you pages that easily convert.
7. Sellbrite – Sell on multiple marketplaces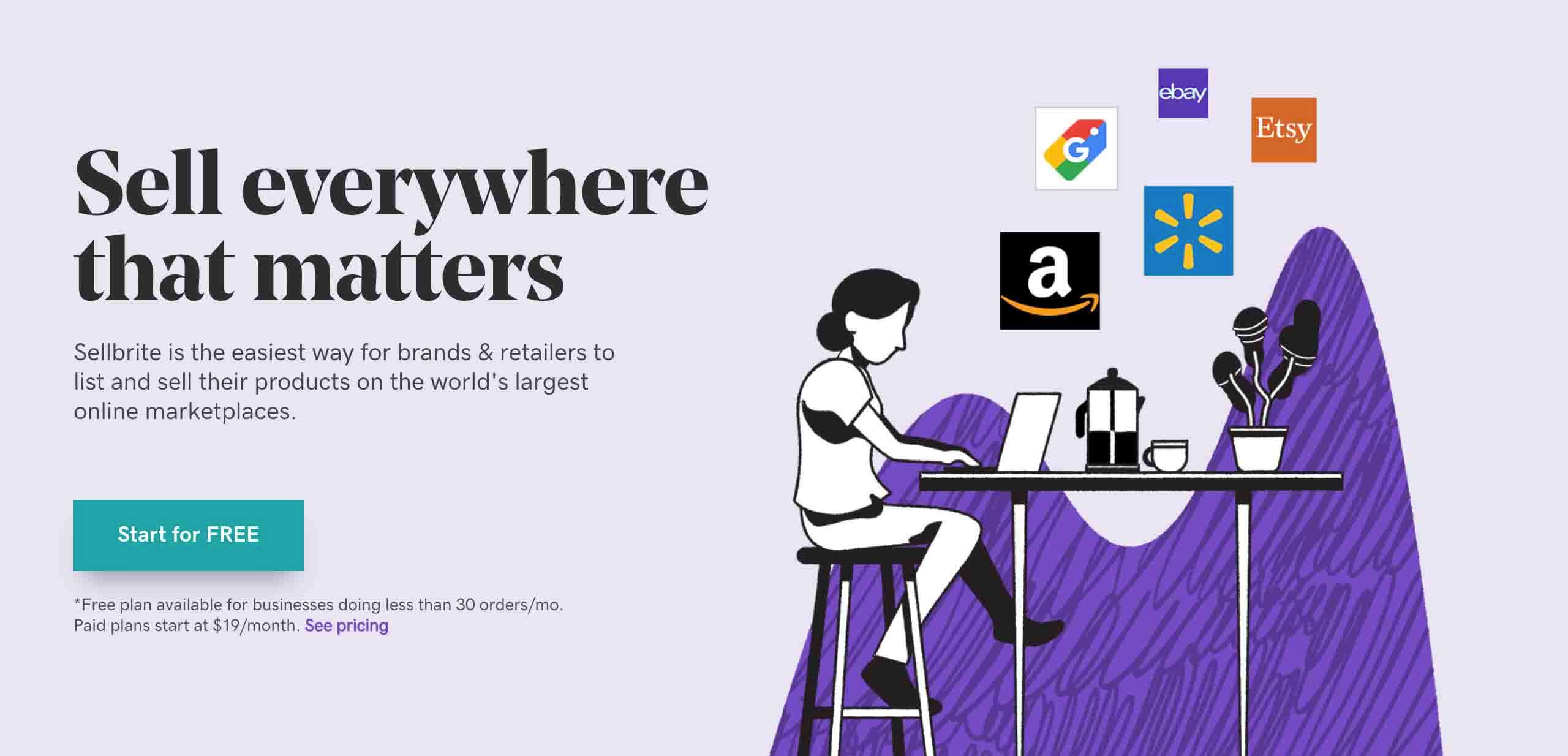 Sellbrite is the #1 multi-channel product listing app that enables you to sell products on the world's largest online marketplaces like Amazon, Etsy, Walmart, etc. You can create & manage listings, control inventory, and fulfill orders easily from a single interface, increasing your selling efficiency.
You can connect as many marketplaces as you want to a single Sellbrite account. Also, any changes made to the products within Shopify will be immediately updated on Sellbrite and to connected marketplaces, which in turn reflects on all of your marketplaces.
One of the exciting things to highlight is that Sellbrite will split your orders if you run out of location, thus preserving the stock for the orders. Besides, the shipping efficiency is also improved as you can automate order routing between multiple warehouses and fulfillment partners.
With five-star ratings and 1200+ reviews, Postscript is the best SMS marketing app for Shopify. It lets you build your subscriber list by creating and launching powerful SMS campaigns that skyrocket your sales and conversions.
Sending relevant messages to relevant people is the key to success, and you can unlock this using Postscript. With the help of Shopify store data, you can create hyper-targeted customer segments that genuinely maximize your return on investment.
Postscript helps in driving enormous traffic by sending automated personalized text messages based on customer behaviors. It allows you to set up SMS automation for welcome series, abandoned carts, shipping notifications, cross-sell, etc. You can also talk with your customers directly via 1:1 text message conversations.
Isn't it truly incredible that you get a chance to get discovered by millions of shoppers worldwide? Yes! Google channel does this for you as you can easily list your products for free and run ads that help you reach the right set of target customers for selling your products.
You can run smart paid campaigns that enable you to connect with your audience on Youtube, Gmail, Search, etc. To implement this, you need to sync your products, set a daily budget, and Google will optimize it by choosing the best time and place to display your products to the customers.
Remember that if you are using the Google channel to sell in the US, the free listings appear on the search results. But if you sell outside the US, the free listings will be available on Google's shopping tab.
By having active billion users, Facebook is one of the most powerful social media platforms to fuel your eCommerce business. Using the Facebook channel, you get all the tools and resources you need to promote your products across Facebook and Instagram.
Once you've set up accounts, your Shopify products will sync automatically to the Facebook catalog. You can create a single shop for Facebook and Instagram to sell your products and simultaneously manage all the orders right inside Shopify.
It also allows you to easily manage your products, view approved products for selling, resolve product issues and track all the ad activities. By effectively utilizing the platform, you can build a solid audience base that helps in increasing your traffic and conversion rates.
11. Plug-in-SEO – SEO Optimization
Driving natural traffic is the best way to garner high sales, conversions, and this Plug-in-SEO will be my best go-to app for you. It is an all-in-one Shopify SEO app that provides powerful features to optimize your Shopify store for search engines like Google.
You can fix broken links, select headings, edit meta title/description, add ALT tag for images, and the list goes on. It also allows you to perform SEO audit for product pages, collection pages, homepages, and blog pages by offering the best keyword suggestions to improve your search rankings.
One standout feature that I love is that it supports multilingual SEO, allowing your store to rank in multiple languages. In addition, as changes to SEO get rolled out frequently, Plug-in-SEO constantly updates itself so you can optimize content by following Google's best practices.
Wrapping Up
Marketing is always a crucial component for any type of business. It allows you to reach your potential customers and educate them about your products and offerings.
You can create an effective marketing strategy to promote your business but to execute it, you need the best tools in your arsenal.
So, if you are a Shopify store owner or a marketer helping others grow their business, the listed Shopify marketing apps should help you with any marketing activity. These apps can help you create awareness about your online store and acquire new customers.
However, while picking up the apps for your store, remember that you don't need all the apps mentioned above if you are just getting started. Instead, you should create a marketing strategy based on your budget and choose the apps you need to execute successfully.
Are you just starting your first Shopify store? Then, you should check our list of best Shopify apps for new stores recommended by top Shopify experts.