WordPress is one of the most popular platforms to create your online store. Unlike other paid eCommerce platforms, WordPress offers you complete customization flexibility and a lot of features through plugins that let you create a website that suits your needs.
One such plugin is WooCommerce. WooCommerce is an open-source plugin that adds e-commerce features to your WordPress website. The plugin is simple to install and use and has become immensely popular since its launch in 2011.
Using WooCommerce, you can add essential features like payment gateway, shipping, taxes, and more without any hassle.
In this article, I will be presenting you with some of the best WooCommerce themes that you can use to build a robust WooCommerce online store.
Ready? let's get started.
1. Astra – Most Popular WooCommerce Theme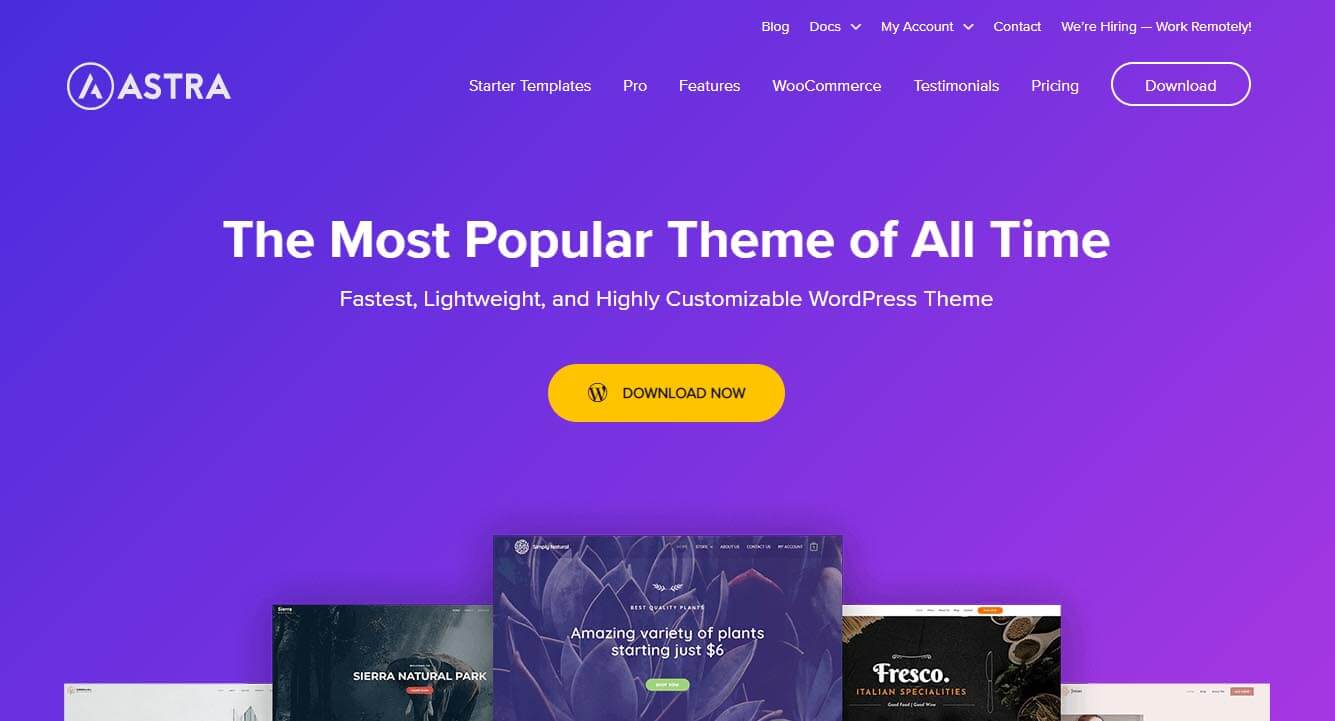 Astra is a flexible multipurpose theme with 240 readymade Starter Templates including several for eCommerce stores. It is fully compatible with WooCommerce, SureCart and popular page builders and has been designed to work seamlessly with most WordPress plugins.
It's the most popular third-party WordPress theme in the world with over 2.4 million downloads. It's also one of the fastest themes around, designed to load with minimal code and deliver the instant satisfaction customers look for.
Every template can be fully customized to fit your brand and the type of store you run using your favorite page builder. Simply select the template you like best and use the intuitive controls to change colors, typography, images, logo, menu and everything you need.
2. Porto – Best Multipurpose WooCommerce Theme 
With 67,000+ sales, Porto is one of the top-grossing WooCommerce themes, which boasts high performance. It has over 30+ demos with niche layouts, features and is constantly updated with ultra-modern design.
It has a long list of page elements like accordions, CTA, buttons, lists, maps, image galleries, etc., enabling you to design high-converting custom pages. The theme is also compatible with leading WordPress page builders like elementor, elementor Pro, WP Bakery, enabling you to customize your site easily.
Porto offers a robust collection of 30+ creative homepage layouts, shop pages, and 20+ unique headers. It is a super-fast theme that works well even on low-level servers, while other themes might incur an issue on memory limit or configurations.
3. Flatsome – Best selling WooCommerce Theme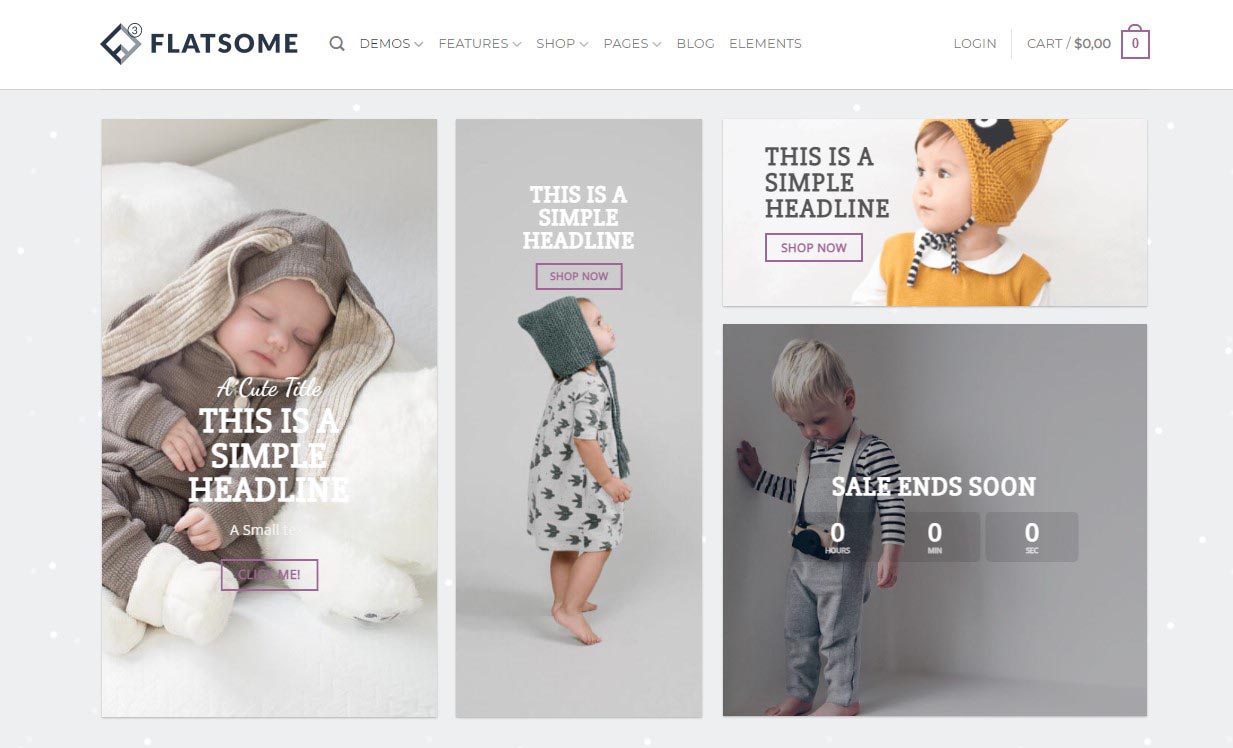 Flatsome is the best-selling WooCommerce theme that lets you design ultra-fast eCommerce sites. With over 1,76,400+ sales, it has been constantly updated with the latest features that give you the ability to build anything with zero coding.
It has a massive online library of 300+ predefined layouts and sections to create a fantastic user experience. It has unlimited product layouts and lets you design custom product pages via its page builder.
It enables you to display your products beautifully by creating eye-catchy banners and image grids. A unique aspect is that you can set custom options for mobile and tablets to display your content in a responsive manner. 
4. Konte – Modern WooCommerce Theme
Konte is a minimal and modern WooCommerce theme with lots of exciting features. It gives you access to 14+ homepages, 7+ product pages, 11+ shop page styles, and 12+ header styles. Your customers can also instantly choose their desired products via live search and suggestion.
The shopping cart comes with an integrated mini-cart that lets you modify the changes with a single click. It is compatible with popular plugins like elementor, WP Bakery, slider revolution, WPML, etc.
With Konte's portfolio functionality, you can display your best-selling products that garner people's attention. Besides, you'll get access to eCommerce features like order tracking, coupon, catalog mode, shipping calculator, optimized wishlist, etc.
5. Divi – Most popular WordPress theme for WooCommerce
Divi is one of the most popular WordPress themes that support the WooCommerce plugin. This theme features the drag-and-drop Divi Builder. You can use it to customize more than 800 pre-built website layouts to get the best appearance for your website.
The theme is extremely easy to use, and you don't need to know an iota of web development to customize it. It lets you change colors, fonts, page layouts, header layouts, and other elements of your website without writing a single line of code in CSS.
Divi is the theme you ought to check if you want to create some of the most beautiful store layouts on WordPress. The theme is optimized for desktop and mobile, so you don't need to worry about its appearance on different platforms.
6. Kalium – Creative WooCommerce Theme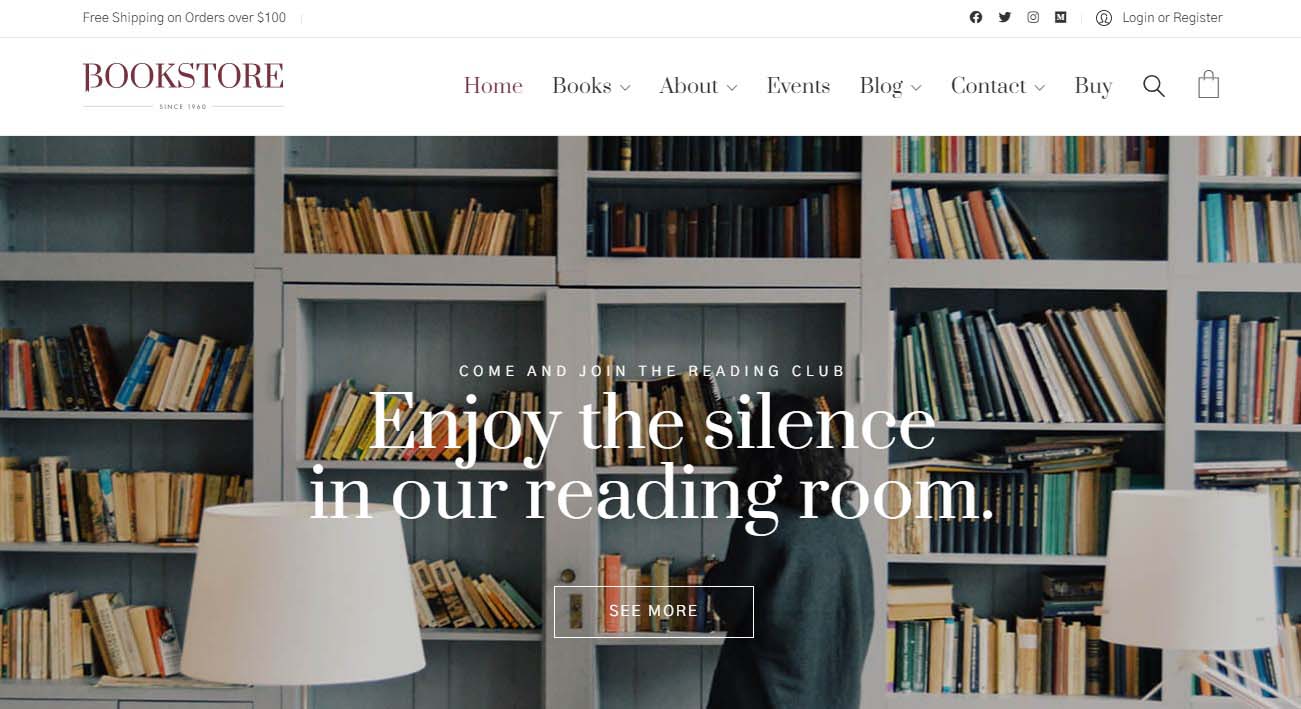 Having generated 40,000+ sales, Kalium is a creative WooCommerce theme for launching a full-fledged online store. It has been awarded for the best design and quality by leading experts and is one of the top-rated themes.
It lets you deliver a visually stunning experience through adaptive images. Your images will be optimized automatically as per your visitor's screen size. For example, there will be different resolutions for a particular photo when viewed on a tablet, mobile, desktop, etc.
It is fully customizable and has lots of single product page layouts, carousels, etc., to showcase your products in a delightful manner. Also, when your site is under maintenance, you can display "coming soon" pages to notify and bring back your customers.
7. Shoptimizer – Popular WooCommerce theme for Online shops
Shoptimizer is a Premium WordPress theme for WooCommerce offering lots of features to the developers. It provides a slew of features such as the ability to optimize your conversions, including sticky product details, faster checkout, requests a callback, FOMO timers on product pages, and lots more.
The theme comes with many beautiful page templates to get you started. It also features a mega menu and offers a feature that lets your customers search for their desired product in an instant.
It is one of the easiest to use WordPress themes for WooCommerce. So, you can get your online store started in no time at all.
8. Hestia – Best WooCommerce Design Ready Theme
Hestia is one of the most popular themes for WooCommerce on WordPress. Many WooCommerce shops and online stores use this theme on their websites.
The theme is quite popular as it offers many features that you find in premium WordPress themes for free. You get tons of customization options that allow you to design the website as per your requirements.
Hestia offers limitless choices for colors and layout options. You get a fully-customizable header, the ability to add social media icons, multiple navigation menus, and lots more. The theme is extremely easy to use and allows you to experiment with different layouts for your website.
9. WoodMart – Multipurpose WooCommerce Theme
Woodmart is a clean and premium WooCommerce theme optimized for high sales and conversions. It has 70+ demo layouts and 370+ pre-made template libraries that let you build an awe-inspiring eCommerce store.
It minimizes the customer's purchasing time by adding ajax, pagination, filters, and advanced swatches. Also, the account page is powered with the one-click social login feature to eliminate friction during signup, which significantly increases visitor sign-ups.
It enables you to easily customize your fonts, swatches, color palettes, etc., directly from the WordPress dashboard. Also, you're given the option to build layouts for menu dropdowns via elementor or WPBakery for easy navigational purposes.
10. Shoppe – Multipurpose WooCommerce Theme
Shoppe is one of the best customizable themes for setting up an eCommerce store with unique features. It enables you to launch a responsive store via its flexible builder and has a stunning collection of 60+ regular layouts & 20+ shop landing layouts.
It is packed with indispensable shopping features like an ajax cart, image zoom, product share, quick look, etc. Besides, you can display multi-column drop-down menus on the main navigation and any WordPress widgets like recent products, WooCommerce categories, etc. 
11. Velure – Best Fashion WordPress Theme
Velure is an attractive WordPress theme ideal for building fashion and lifestyle stores. It is WooCommerce ready and applicable to all types of users ranging from beginners to advanced levels.
It hosts a suite of powerful features that includes a plethora of built-in widgets to magnify the shopping experience. The list of unique widgets are as follows:
Instagram Widget: It lets you display your Instagram feed in different layouts, either as full-width or as a simple sidebar widget.
Carousel Slider: Display posts on various categories or tags as a horizontal carousel.
Image Box: By uploading a custom image, you can feature different sections or categories on your site using this widget.
Social Icons Widget: A highly packed widget supporting 100+ social networks and 400 custom icons via FontAwesome font Integration.
It comes with 5 pre-built color schemes, which you can easily customize using the live customizer option. To increase engagement, you can use its next/previous navigation at the end of each post to increase the dwelling time of your visitors.
12. Wootsify – Optimized WooCommerce Theme 
Wootsify is a fully optimized WooCommerce theme available in both free and pro versions. It has multiple product page styles, listing layouts, and multi-step checkouts to elevate your online store. Additionally, it comes with multi-vendor support, wishlist plugins, and multilingual support.
With its live customizer, you can quickly modify all the aspects from a single interface. This theme also attracts more eyeballs by featuring videos to your product gallery, which plays in a lightbox.
It is compatible with elementor and also with other popular page builder plugins. Besides, it gives you access to hooks and filters that add an extra level of customization in building your site.
13. Presence – Multipuropse WooCommerce Theme
Presence is a robust and multipurpose theme and is a top choice amongst online shopkeepers and retailers. The theme features many ready-to-use websites and can help you get your e-commerce website started instantly. It offers full compatibility with WooCommerce, so you don't need to worry about setting up an e-store. It provides a pre-made e-store that you can add to your website and customize as per your liking.
Presence has six color schemes, different blog layouts, two types of sliders, full-width and boxed layouts. It also helps make your e-commerce store look more professional with the help of social icons, events, calendar integration, custom widgets, and testimonials.
14. Indigo – Best Minimal WooCommerce Theme
Indigo is another popular theme for people looking to create a modern-looking website. It is highly popular due to its modular approach for web page designing. The theme offers ready-made modules that you can move around to get the best page layouts for your website.
The theme also features a 1-click importer that allows you to install website designs in an instant. Each design offers amazing customization features and comes with shop templates perfect for any e-commerce store.
The theme is perfect for people with little to no experience with the website development process. You create a single website, and it will work seamlessly across desktop and mobile platforms.
Choose the best WooCommerce Theme for your Store
WordPress and WooCommerce go hand in hand, but you have to be careful when choosing your website's theme. WordPress offers lots of themes, but not each of them works with WooCommerce. As a result, you need to look for a theme that is catchy and functional.
Here are a few things that you must consider to choose the best theme for your brand –
The theme you use should be conversion-optimized in terms of design. It should be clear and not confuse visitors with lots of unwanted widgets, sidebars, etc.
The theme should give you control over customization. It should allow you to change or update colors, backgrounds, widgets, typography, sidebars, and product catalogs.
The theme should be mobile-responsive to ensure that your customers have a good user experience both on mobile and desktop.
Along with WooCommerce, the theme should also integrate with other plugins you are already using or planning to use on your website.
Speed is an important ranking factor for SEO, according to Google. So, your theme should provide a fast-loading and secure experience.
The theme should be SEO-friendly. It means it should use proper title-tags, header-tags meta-tags, integrate the correct Schema markup, and provide additional controls such as optimizing breadcrumbs, AMP settings, and other SEO best practices.
The theme designer should provide excellent support for assistance while building and growing your eCommerce business.
There are a ton of WordPress themes that are compatible with WooCommerce but with this article, our objective is to help you find the best WordPress theme that you can use to build a beautiful and functional online store using Woocommerce.
In the article, we have covered themes that are suitable for different types of online stores to sell different types of courses, including online courses, ebooks, clothes, and more. If you are looking for more specific WordPress themes, you should check these articles –