Are you concerned about the security of your WordPress website and customer data from online threats? Looking for the best WordPress security plugins to secure your website?
Well, 100% security against online threats is a myth. Still, with a powerful and reliable WordPress security plugin, you can protect your site from common online threats such as suspicious logins, brute attacks, and spammers.
In this article, we will look into some of the best WordPress security plugins you can use to enhance the security of your website.
Why Use WordPress Security Plugin?
According to a study by IBM, around 30,000 new websites are hacked daily. Such a level of security breach can cause heavy damage to your website and business in various ways, such as –
Loss of customer's trust.
Getting blacklisted by Google, i.e., losing organic traffic
Disclosure of confidential data like customer contact details, credit card details, and more.
It might lead to the complete shutdown of your site.
In some cases, we have even seen that once a website is attacked, it becomes difficult to take over control or recover from the damage caused.
To avoid any such attacks, a WordPress security plugin acts as a shield to protect your website. A good security plugin is in-built with the following security measures –
Protecting your site from malware and brute force attacks
Blocking malicious traffic by using a firewall
A clear activity log to monitor all changes in your site
Enabling two-factor authentication and strong enforcement for storing credentials
Schedule daily scans and send an immediate notification when a threat is detected
Active security monitoring round the clock
Limiting login attempts to prevent suspicious attacks
Automated backups to restore your WordPress site
7 Best Security Plugins for WordPress Sites
Now, let me show you our most recommended WordPress security plugins to protect your site from major online threats and keep your business running.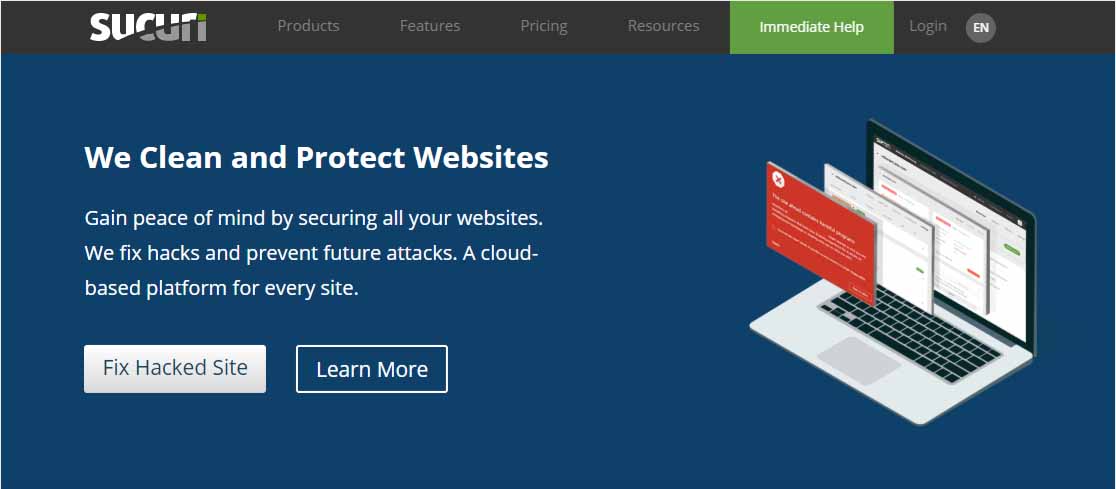 With more than 8,00,000 active installations, Sucuri stands as the industry leader and provides the most versatile security plugin for WordPress. It is free for every WordPress user, but the real deal is in the premium version.
Sucuri WordPress plugin provides the highest level of security by using the best firewall to block bad traffic and malware attacks from reaching your WordPress site. In case your website is already attacked, they also offer to clean your site at no additional cost.
The best part of using Sucuri is that it improves your website loading speed by using advanced caching options and a global content delivery network (CDN).
Feature Highlights-
Detection: It actively scans your website for malware, hacks, etc., and sends continuous website monitoring alerts and updates.
Protection: With the help of its web application firewall and intrusion prevention system, your website is constantly under secure protection.
Response: It helps repair and restores your website if it gets hacked. Also, it submits blocklist removal to improve the search rankings and removes SEO spam keywords to achieve high credibility.
Backups: It lets you set up an automatic backup schedule to prevent the risk of losing confidential data. It only backups the latest changes made to your website, i.e., each backup is a complete copy of your website available on that specific day.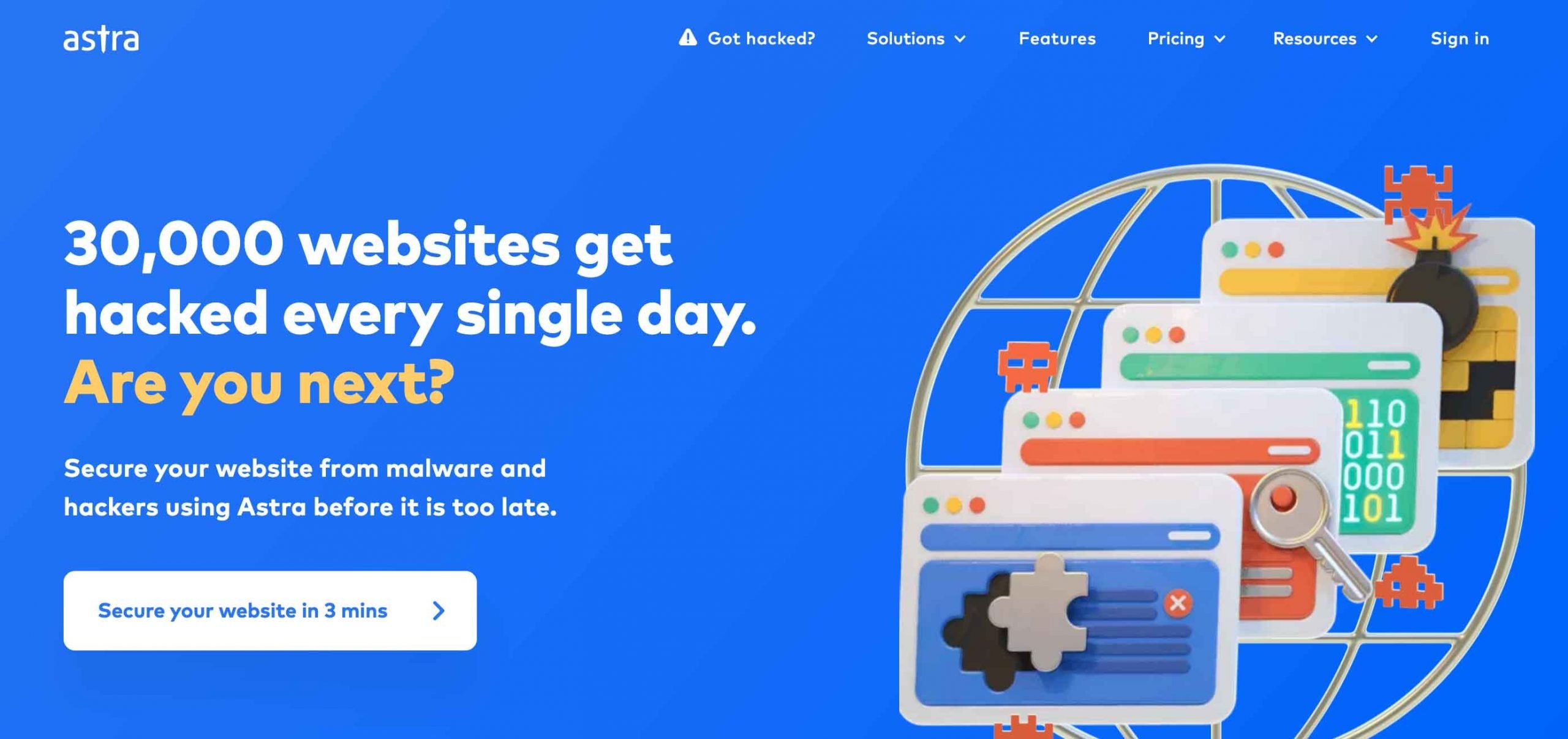 Astra Security is another powerful WordPress security plugin to protect your site from external threats. It comes with a firewall, malware scanner, and a security audit to unbox potential vulnerabilities.
Astra secures your site from hackers, spambots, and 70+ types of other online threats. It also lets you whitelist specific IP addresses, which ensures that only authorized users can get access to your WordPress dashboard.
It is easy-to-use will a hassle-free installation process. All you have to do is install it and let it scan and secure your website – No coding or technical knowledge is required to configure it.
Feature Highlights –
Firewall: It lets you view the attacker's profile with details like country of origin, browser, and IP address to take proactive measures.
Monitoring: It monitors 60+ security engines to check if your site has been blacklisted due to security or vulnerability issues.
Malware Scan: It lets you perform unlimited automatic malware scans powered by machine learning.
Payment Hack Analysis: It readily tests your checkout flow to ensure that all payment details are stored safely by potential hackers.
Security Standards: It follows major security standards, including OWASP, SANS, CERT, PCI, and IS027001, for every audit.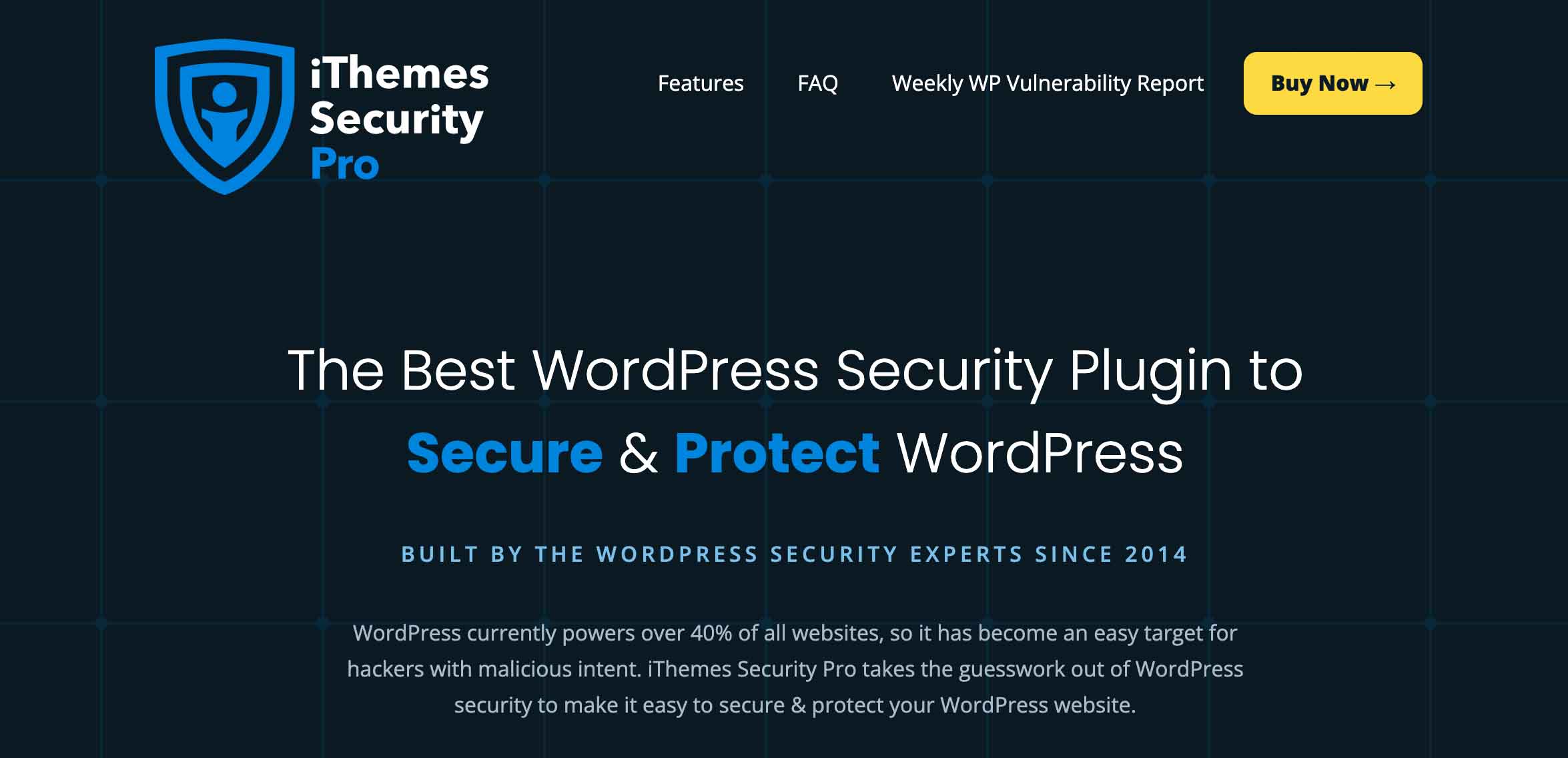 iThemes Security offers more than 30 powerful security features that harden your WordPress site, making it less vulnerable to malicious attacks. WordPress security experts have developed this plugin, so the level of protection it delivers is truly incredible.
This WordPress security plugin tracks the users when they edit any content, login, or log out. It also provides a clear-cut dashboard that lets you monitor your WordPress site actively to stay on track with security status.
One area where iThemes Security plugin lacks is that it does not provide a website firewall. If you think installing a firewall is the need of the hour, you need to figure out other plugins like Sucuri. On the other hand, if the firewall is not on your security bucket list, then this plugin would be the best match for your WordPress site.
Feature Highlights-
File-Change Detection: It will send you email alerts regarding recent file changes so that you can identify whether you are safe or not.
404 detection: It helps in removing all the 404 errors generated by the bot while scanning for any potential threats.
Away mode: It allows you to make your WordPress dashboard inaccessible for specific hours so that nobody can make any changes.
Strong Password Enforcement: It enables you to set which level of users on your website need to have strong, unbreakable passwords.
Lockout Bad Users: It prevents bad or suspicious users away from your website if they fail to login in after many attempts or if they are in the bot list.
Wordfence acts as a strong protector of malware threats as it offers a firewall and security scanner plugin. It adds a layer of security by enabling two-factor authentication and other robust features, making it the most popular and comprehensive WordPress security plugin.
It includes an endpoint firewall and a malware scanner that effectively defends any type of malicious threat. By endpoint firewall, it means that the firewall runs within the application and helps block complex malware attacks.
Wordfence has its threat defense feed that even more strengthens the existing security status of your WordPress website. Over 4 million WordPress users trust this security plugin, which shows its users' unmatched level of security.
Feature Highlights –
Live Traffic: It lets you monitor your site visitors deeply by accessing their IP address, origin, and even the time of the day.
Login Security: It helps in protecting your passwords against harmful sites that steal your personal and confidential data.
Advanced Manual Blocking: It allows you to instantly block any malware, malicious websites, or bots based on pattern matching and IP ranges.
Repair Files: It uses source code verification to recover files that have suffered a dreadful attack.
Country blocking: It enables you to block countries that engage in malicious activity as a matter of prevention.
SecuPress is a powerful WordPress security plugin that protects your site from malware attacks and other deleterious causes. Like Sucuri, it has both a free and a pro version.
The free version provides a good range of features necessary to take care of your WordPress site. The Secupress pro version offers advanced features that let you ease out as it can automate tasks.
This plugin grades your WordPress site based on the current security settings. Once you've identified your security level, you get the freedom to export this analysis and share this with your team members or important clients.
Feature Highlights –
Users and Login: It enables you to restrict or limit the number of bad login attempts, prohibit the login of user names that are not existing, and also avoid double logins.
Protect Sensitive Data: It readily helps block bad bots, preserves your site bandwidth, and doesn't disclose any of your previous information to hackers via security modules.
Firewall: It blocks suspicious incoming requests and bad user agents and ensures that the URLs are constantly monitored.
Anti-Spam: It helps you eliminate spambots and gives the perks of having a spam-free experience.
Logs: It will keep track of all critical security changes and 404 pages triggered by the users, bots, etc., so that you'll know what is currently happening on your WordPress site.
The WPScan security is a unique WordPress security plugin as it has its own set of curated WordPress vulnerability databases. This database is frequently updated by a dedicated pool of WordPress security specialists and their community team.
This potential database includes 21000+ known security vulnerabilities. So this plugin has the outstanding capability to scan your website for unimaginable threats in your WordPress plugins, themes, and even in the core software.
It also provides a free security API that is completely suitable for almost all websites. However, this plugin also provides paid plans wherein you can upgrade if you have a large website with abundant plugins.
Feature Highlights-
Scheduled Scan: It lets you schedule automated daily scans to safeguard from hacks and threats.
Count Vulnerabilities: It displays an icon on your admin toolbar with the total number of security threats found on your WordPress site.
Email Alerts: It sends you timely email alerts when new malware or breach is found.
Security Checks: It checks for weak passwords, whether default secret keys are used, etc., and scrutinizes the exported database files.
By protecting over 9,00,000+ users, the All in One WP Security is an excellent WordPress security plugin that solidifies your WordPress site as it is jam-packed with lots of best and latest security practices and methodologies.
This predominant plugin performs security auditing and monitoring and has a firewall plugin. To maintain the security levels for your WordPress site, they are categorized into 'basic,' 'intermediate,' and 'advanced.' Therefore you can maintain the stability of your site by applying the needed amount of security.
It also uses an effective security grading point system to measure the health of your WordPress site based on the security features you have activated.
Feature Highlights –
User Login Security: It enables users to log out strictly after a desired period of time and has the power to automatically eliminate IP addresses that log in with an invalid username.
Database Security: It lets you schedule automatic backups or instantly make a database backup whenever you require it with a few clicks.
Blacklist Functionality: It allows you to ban users by specifying IP addresses or user agents.
Security Scanner: It checks whether any changes have been made to your files via illegal access so that you can know who has accessed them.
Comment Spam Security: It enables you to block the IP addresses that continuously post spammy comments with a simple click.
Which is the best WordPress Security Plugin for you?
Ensuring that your WordPress site is strongly equipped to fight against potential security threats gives you confidence that your site progresses in the best way possible.
Sucuri is our most trusted security plugin, and iThemes Security Pro is its best alternative with an affordable pricing plan.
Rest assured, using these powerful WordPress security plugins, your website will be more secure than ever. So why the wait? Choose the most suited security plugin and protect your site.
WordPress Security FAQs
We work with WordPress and WooCommerce site owners to design, build and optimize websites for sales, conversions, and security. Here are some of the common questions we have been asked about WordPress Security –
How do I add security to my WordPress website?

Although WordPress is a secure platform for building websites, you should take some additional measures to beef up the security. Here are some of the basic things you can start with –
– Choose a secure hosting provider
– Implement SSL certificate
– Install a security plugin like Sucuri
– Use strong passwords (change the default password immediately)
– keep plugins and themes updated

Which plugin is best for WordPress Security?

Sucuri is the most trusted and reliable WordPress security plugin in the market. It scans your website regularly to detect security vulnerabilities and fix them instantly. It is powered by a strong firewall that protects your site from online attacks and hacks attempted.

Which is the best free Security Plugin for WordPress?

Wordfence has free plans, which makes it a reliable free security plugin. However, it offers basic security measures with a free version, which might not be sufficient to secure your website. So, we highly recommend investing in proper website security with plugins like Sucuri, iThemes Security Pro, and Astra Security.
More questions? Tweet us @ecomsutra, and we will try to help you in the best possible ways.
Finally, if you are building an online store on WordPress and looking for more plugins to add to your site, you may also want to check these hand-picked articles next –