Want to create a multilingual WordPress site? Are you looking for the best translation plugins for your WordPress site?
In this article, I'll show you the best WordPress translation plugins that you can use to transform your WordPress site into a multilingual site for your international and local customers.
Ready to dive in? Let's get started.
With more than 50,000 active installs, Weglot is the best WordPress translation plugin. It enables you to translate your WordPress site into 100+ languages of your choice within a few minutes. And the best part is that it does not require any coding skills and is very easy to install.
This translation plugin seamlessly attracts audiences globally to your WordPress site as it is completely optimized for SEO. All your translated web pages are indexed in Google with dedicated URLs.
You can set up the process of how your website content needs to be translated. It allows you to automatically convert to desired languages using machine translation, manually edit/approve or work with professional translators inside the Weglot dashboard.
Feature Highlights-
It is compatible with platforms like WordPress, Shopify, BigCommerce, etc.
It can automatically detect your entire site content, which eliminates the burden of frequent maintenance.
It offers an in-context editor that enables you to translate directly within the webpage.
It allows you to customize the language switcher as per your design needs and requirements.
It reduces bounce rate, as it can automatically display your site pages in your audience's language based on their browser settings.
TranslatePress is a power-packed, self-hosted WordPress translation plugin that translates all of your website's content directly from the front-end. It is fully compatible with all themes, plugins and easily translates images alt-text to serve relevant content to different site visitors.
It is integrated with GoogleTranslate so that you can automatically translate all the content quickly on the fly. It is optimized to receive high-quality traffic and supports more than 200 languages to target a diversified set of audiences.
This plugin also supports manual translations and offers a live preview of your translated pages as you edit them. It also gives full control over the editor, allowing you to publish only when the translations are fully complete.
Feature Highlights-
It enables you to translate the entire webpage, including output from shortcodes, forms, and page builders.
It allows you to translate huge blocks of HTML easily with a single translation by combining multiple translation strings in a translation block.
It lets you place the language switcher anywhere on your site or even as a floating dropdown.
It allows you to add multiple languages as long as you need your WordPress site to reach a wider audience.
It enables you to create translator accounts that can readily translate websites without working with WordPress backend, site builders, etc.
It gives you the freedom to configure different menu items based on multiple languages.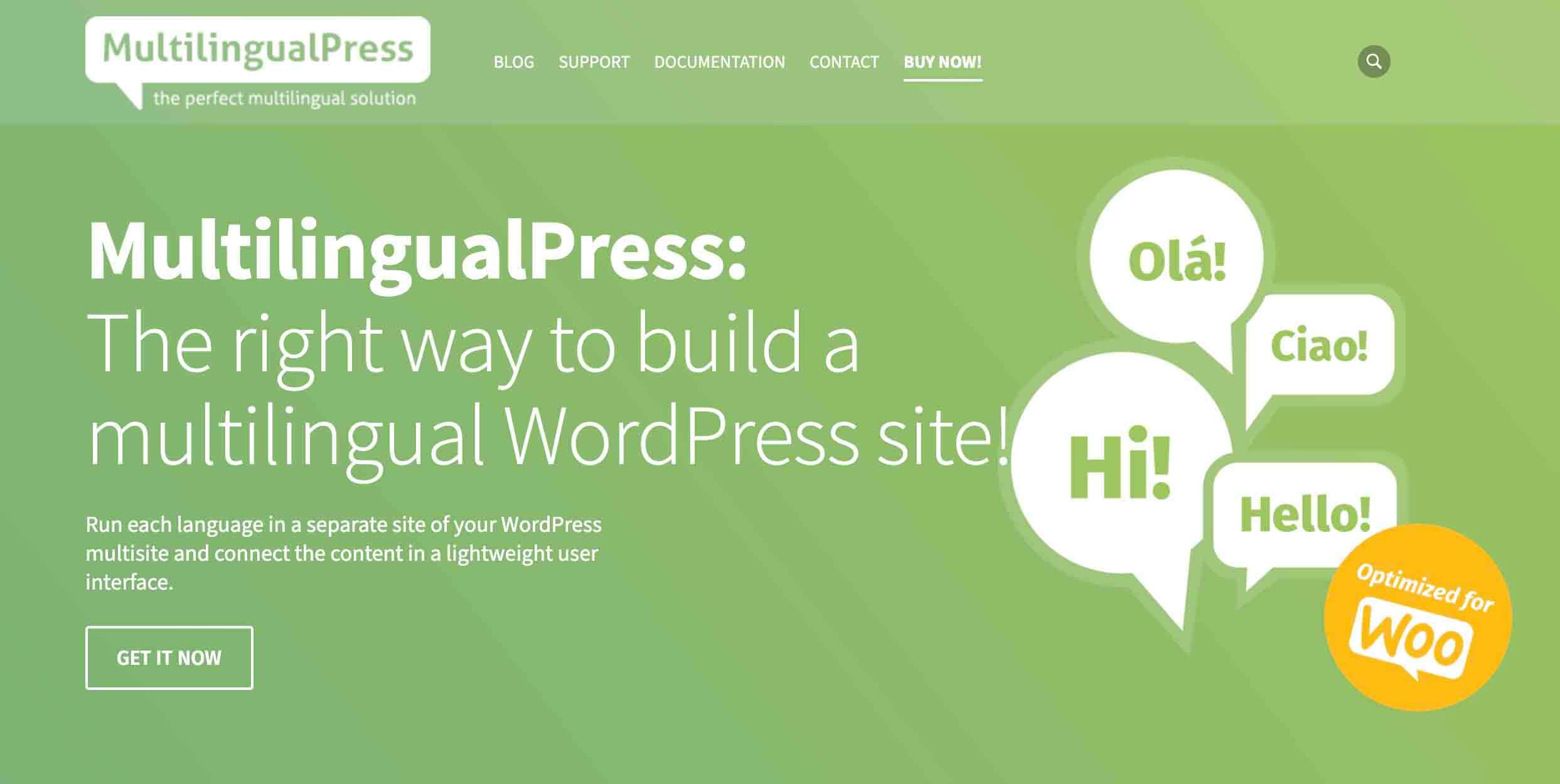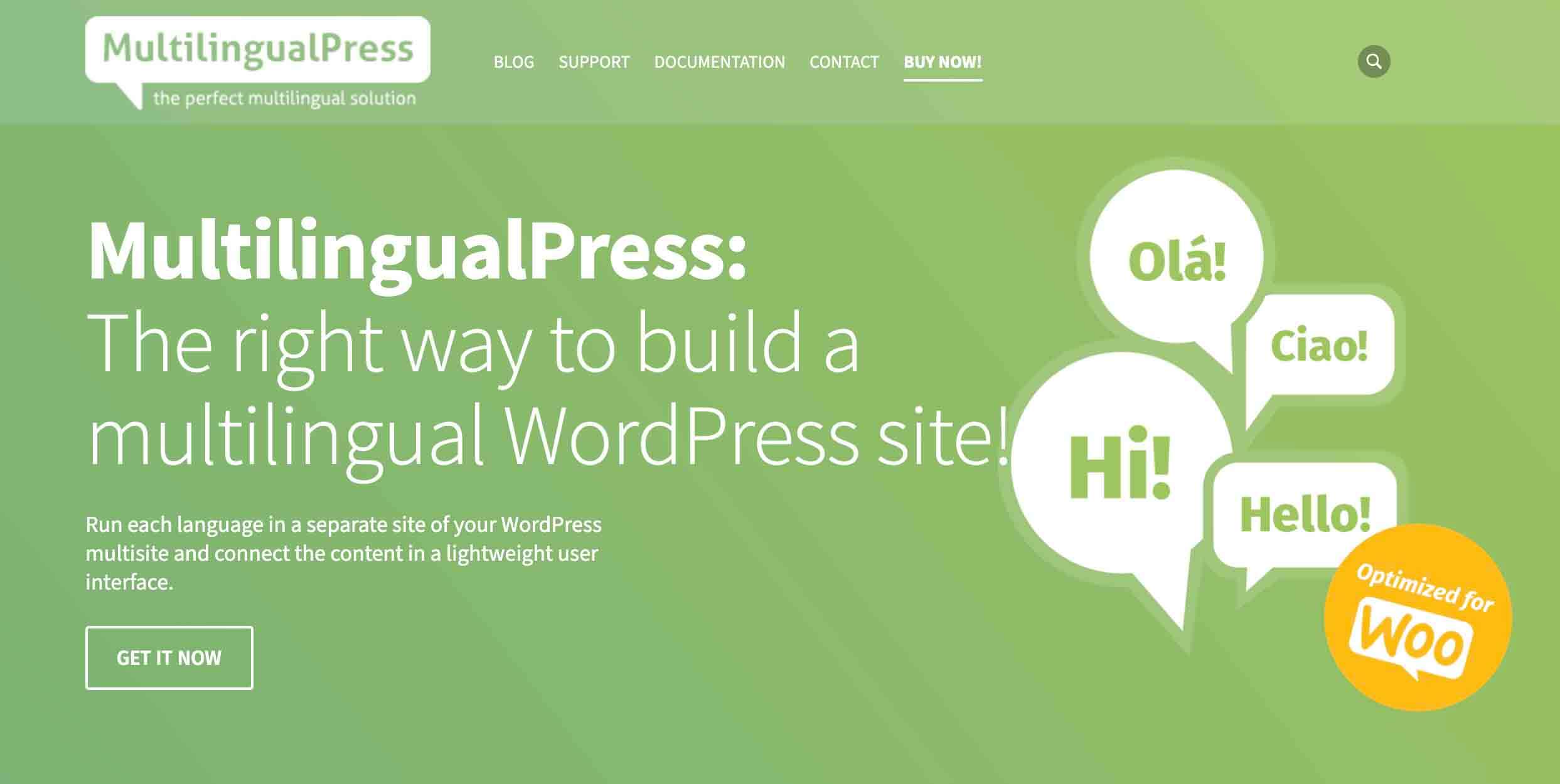 MultilingualPress is a translation plugin that takes a unique approach in translating your WordPress site. It uses the built-in WordPress multisite network for each language which increases reliability and boasts high performance.
Having a multisite network is a significant advantage as it loads only one language at a time. It supports a huge set of 800 languages, and with the help of a language manager, you can add more languages. It also translates default WordPress content like posts, pages, tags, etc.
You can use top-level domains for each of your language sites. For example, you can use co.uk domain extension for British English, .fr for french, etc., which helps in quick indexing on Google search.
Feature Highlights-
It helps in improving the performance of your site by allowing you to add only the needed components.
It is compatible with popular page builders like Beaver, Elementor, etc.
It lets you translate custom post types like portfolio, testimonials, etc.
It enables you to move the translations to trash when you delete any post or page.
It allows you to drag and drop the languages into custom menus to create a flexible language switcher.
WPML is a versatile WordPress multilingual translation plugin. It has the power to translate web pages, posts, custom types, menus, and also the theme's texts.
This translation plugin supports 40 languages, but you get the perks of extending your WordPress site visibility by adding even more languages using the WPML language editor.
An interesting feature to highlight is that WPML offers powerful translation management. You can allow your WordPress site users to become translators. It enables you to send the content for translation, assign specific translation jobs and review the status of the translation tasks assigned.
Feature Highlights-
It is compatible with WooCommerce and lets you run a multilingual store by offering support to all the products, sales, promotions, etc.
It can show which text requires translation and helps build a full-fledged translated online store.
It allows you to translate texts even from different plugins using the string translator interface.
It connects with your third-party translation services, wherein you can send the needed content for translation and publish it once it's completed.
GTranslate is one of the most popular translation plugins for your WordPress site. It combines both human and automatic translations, which allows you to translate quickly based on your choice.
It helps translate your WordPress site into 100+ languages such that it attracts traction from visitors all around the world. It is cloud-based, so even if you translate your site into multiple languages, the website loading speed will not be affected much.
This plugin offers different types of styles for the visitors to select their preferred language. But you need to upgrade to its paid plans to access the best SEO features that make your site search-engine friendly.
Feature Highlights-
It offers integration with Google Analytics which helps in giving you meaningful insights.
It translates websites, posts, themes, plugins, categories, tags, etc.
It supports lazy loading for language flags to amplify their performance on your site.
It automatically switches the language based on the visitor's browsing history.
It is compatible with Yoast SEO plugins, which means you can translate meta keywords, descriptions, sitemaps, etc., to boost visibility.
Wrapping Up
Though you put in lots of effort and create a website embedded with stunning elements, if a visitor can't understand it, your site cannot serve its true purpose of fulfilling the needs of your target audience.
Now that you know about the different translation plugins for your WordPress sites start building conversion-friendly sites that ultimately speak customers' language.
Looking for more WordPress plugins for your website? Check these articles –