If you're running an online store on Shopify, then you might have heard of Shogun, a popular page builder app that allows you to create custom pages for your store with ease
While Shogun offers a range of features and integrations, it might not be the best fit for everyone. Perhaps you're looking for more design flexibility, a more affordable pricing model, or better integration with other apps. In that case, you might want to consider using one of the many Shogun alternatives available on the market.
In this article, I will show you some of the best Shogun alternatives that you can use for your Shopify store. We will also look into their key features & pricing plans so that you can choose that offers everything you need and fits into your budget.
Ready? Let's get started.
GemPages is the best page-builder app that I have ever used to create a Shopify store. It is easy to use and packed with powerful features that let you create high-converting store pages without compromising on the customization aspect.
It comes with 80+ professionally designed templates and provides a drag-and-drop visual builder to customize themes or create new ones from scratch, without writing a single line of code.
And, if you are skilled with coding, GemPages lets you use your own custom codes to add advanced features to stand out from competitors and drive more conversions.
So, if you are looking for a simpler yet feature-packed Shogun alternative to create your store pages, you must consider GemPages. To learn more about its features, read our detailed GemPages review.
Key Features –
Intuitive user interface
Easy-to-use drag-and-drop page editor
80+ customizable page templates
100+ page elements like countdown timer, stock counter, etc.,
Exceptionally fast page loading speed
Allows page scheduling
Provides smart optimization tips
Allows A/B testing
Supports integration with popular Shopify apps
Excellent customer support
Pricing Plans – GemPages has a free plan that allows 1 publishable page. For more publishing access, you can choose one of the paid plans, starting at just $29/month. However, our friends at GemPages are offering a 30% discount on all paid plans for our users. Check GemPages Discount Code for more.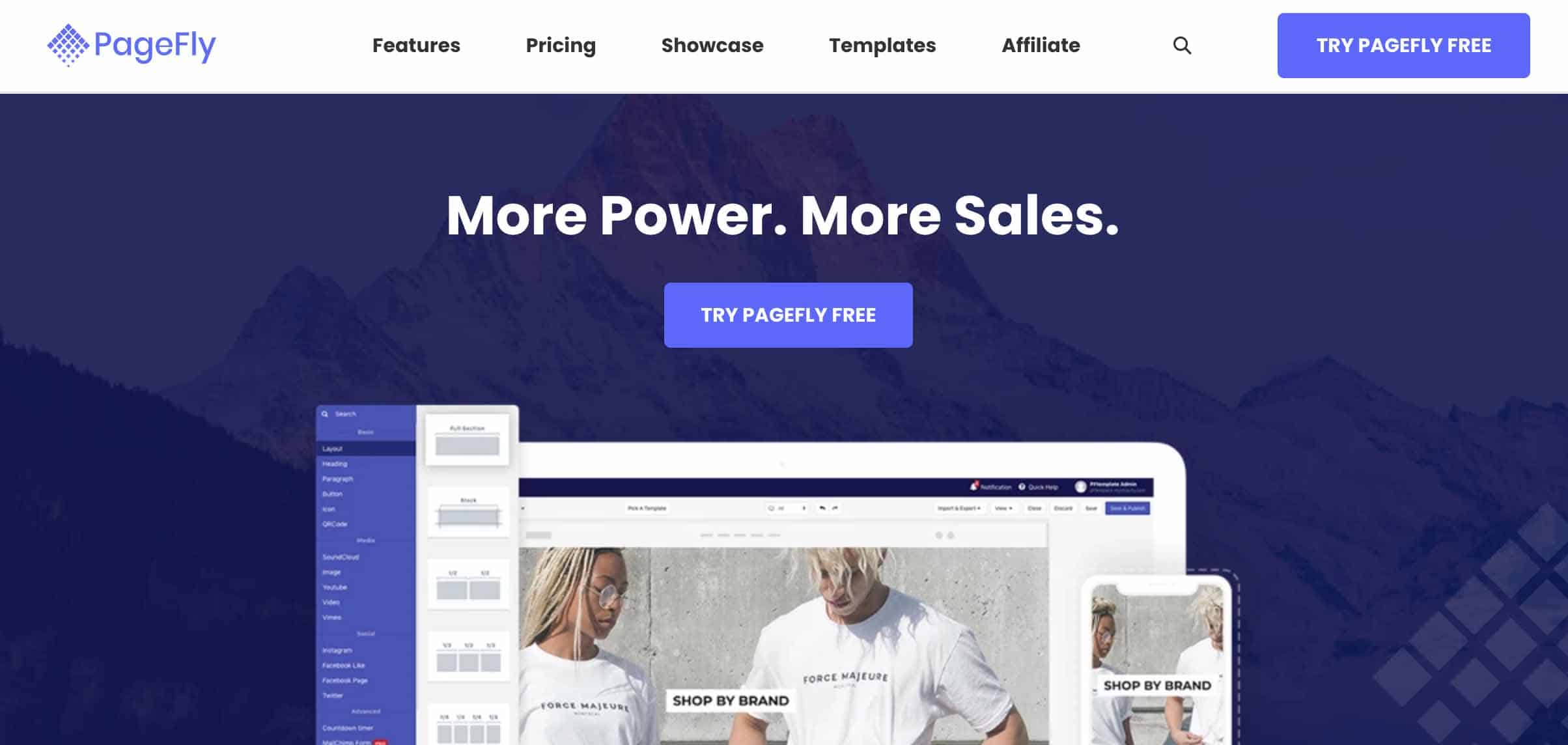 PageFly is another popular no-code page builder and a great Shogun alternative for creating Shopify store pages with ease. It comes with 100+ page templates that you can easily customize using its drag-and-drop builder and numerous page elements.
In addition to its built-in page elements, it connects directly with top Shopify apps like Growave, Loox, PickyStory, etc., and provides related elements to add on your pages without coding. Further, it is compatible with every Shopify theme, so whichever theme you are using, feel free to try PageFly. 
And, if you want to dive deeper into its features and capabilities, read our in-depth PageFly review.
Key Features –
Visual page builder with customization flexibility
100+ responsive page templates
Range of conversion-friendly page elements
Built-in traffic analytics reporting
Seamless integration with major Shopify apps
24/7 chat support for technical assistance
Pricing Plans – PageFly has a free plan that allows you to publish 1 page. The paid plan is based on the number of published pages you need, starting with $24/month for 10 publishable pages. For unlimited publishing, you can opt for the Enterprise plan which costs $199/month.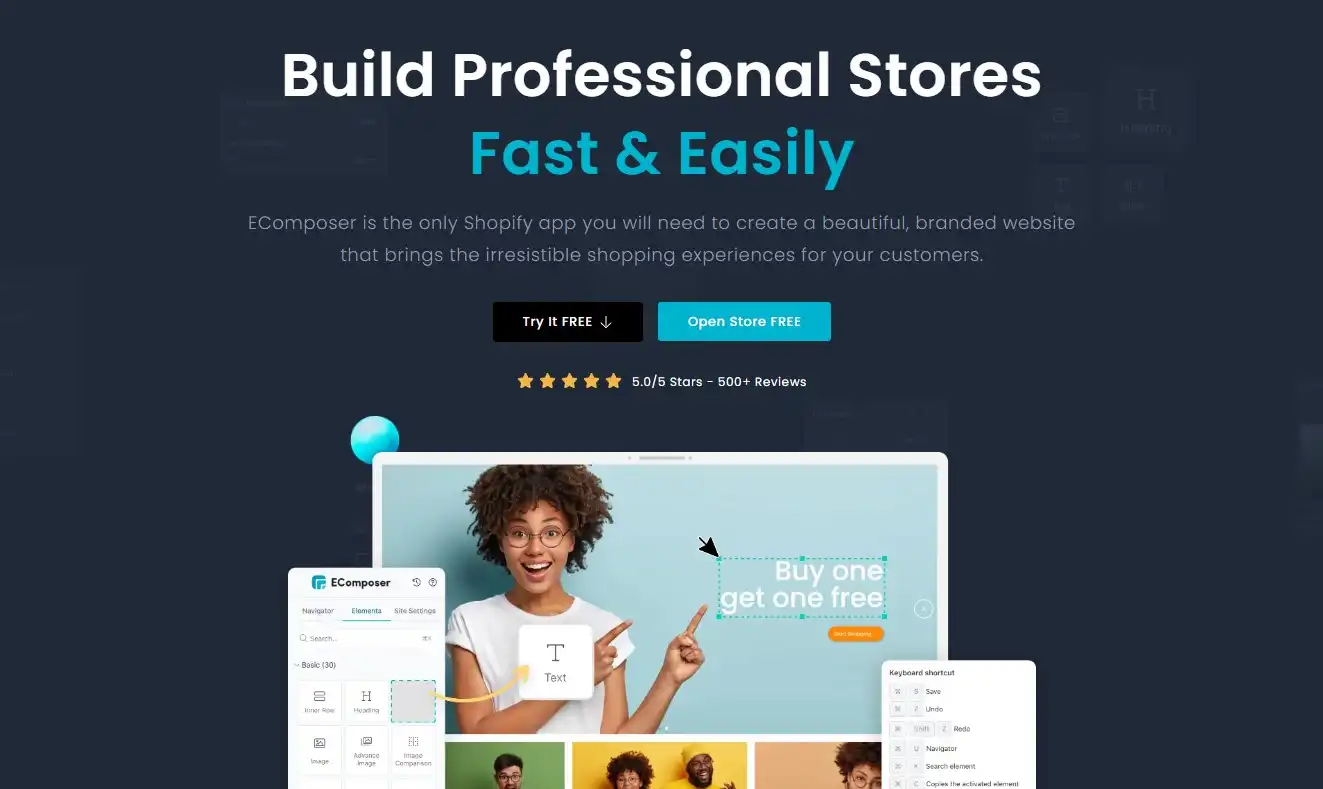 EComposer is the latest page builder app in the market and is already getting attention of Shopify merchants because of its extensive collection of page templates and elements.
It provides you with a powerful visual page editor that works with every Shopify theme and packed with numerous customization options. You will also get access to extensions like sticky add to cart, image compressor, back in stock notifications and more, enabling you to optimize your store for more conversions and increase sales. 
Read our comprehensive EComposer review to dive deeper into its features and functionalities.
Key Features –
No-code visual page editor
350+ stunning page templates
260+ pre-design sections
Range of extensions and app integrations
Built-in analytics reporting
AI content generator
24/7 live chat support
Pricing Plans – EComposer has a free plan that allows up to 3 publishable page of any type. The paid plan starts at $16/month, giving you access to all its features with live chat support.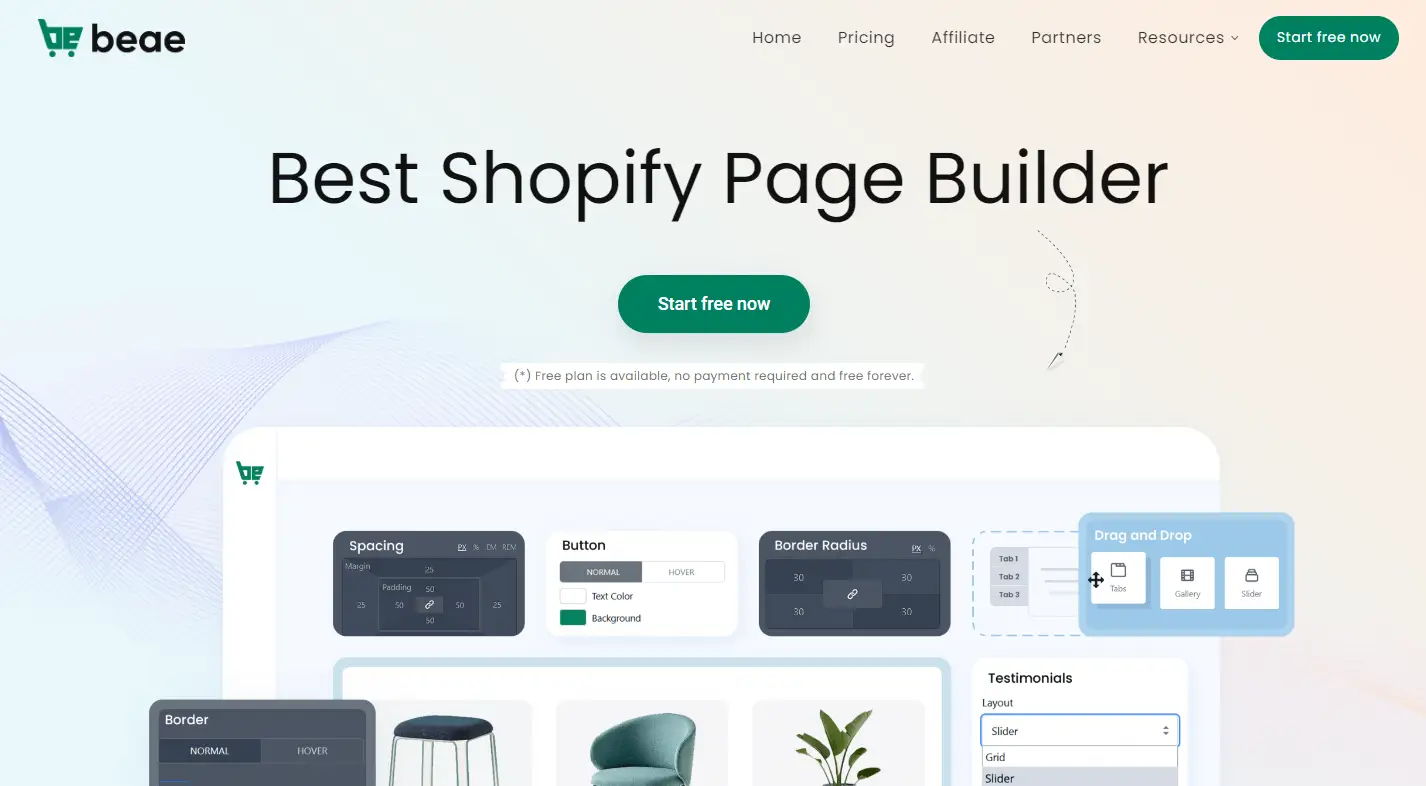 Beae is an easy to use page builder with over 200+ page templates that you can easily customize using its intuitive visual editor. It also provides you with built-in pop-up and form builder that you can leverage to promote offers across your store and drive more sales.
With over 80+ direct integration with popular Shopify apps likes Loox, Growave, Stamped and more, it gives you a complete flexibility to design your store pages by including elements like product reviews, shoppable gallery, etc, to enhance user experience on your site.
Key Features –
Beginner-friendly drag-and-drop editor
200+ page templates
Built-in popup and form builder
Compatible with 80+ Shopify apps
Supports multiple languages
Allows custom coding
Pricing plans – Bear has a free plan that allows 1 publishable page and gives you access to all page templates. The paid plan starts at $11.10/month, allowing more publishable pages and multilanguage support.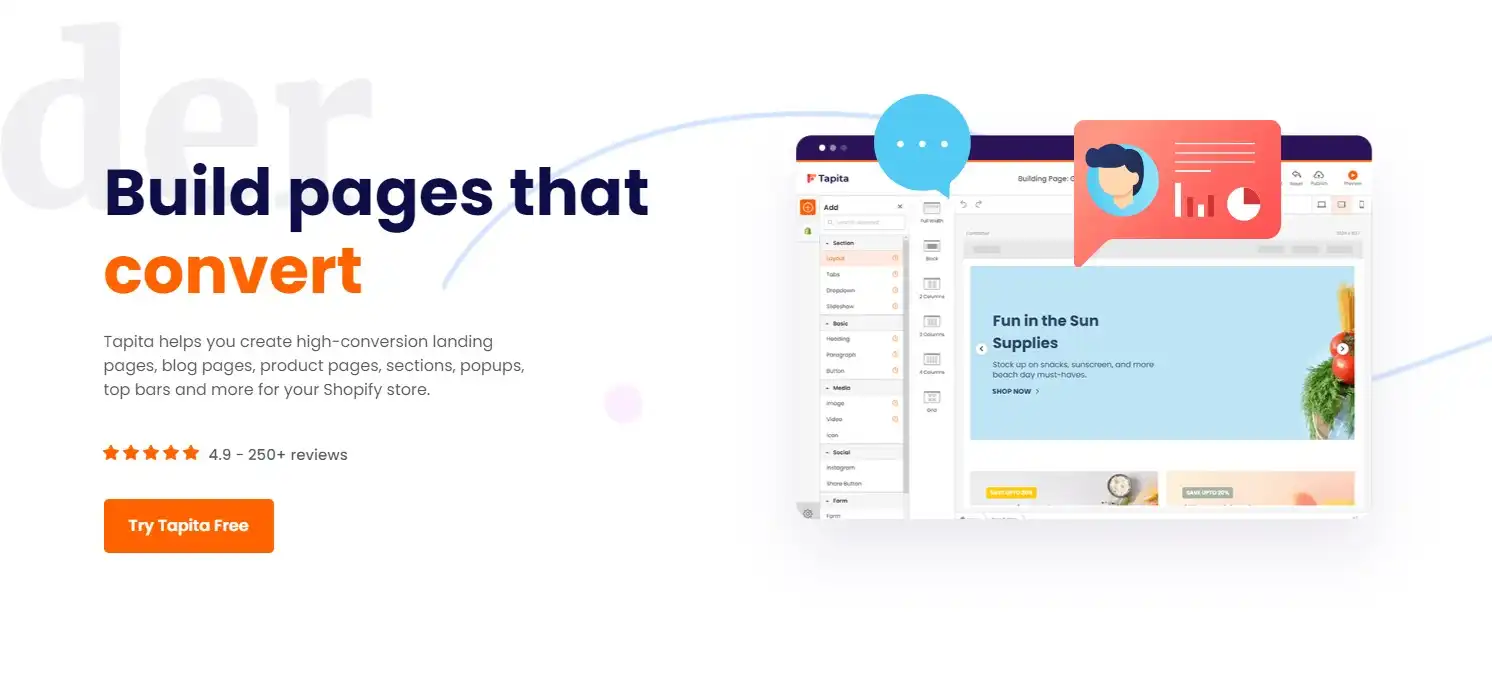 Tapita is another reliable and probably the most affordable Shogun alternative to create Shopify store pages. It provides you a drag-and -drop builder to create any type of pages, including, homepage, blog pages, product pages and other custom pages.
It also comes with 100+ customizable templates for every type of page and 50+ pre-made sections, which you readily use to create pages or customize per your store branding. You can also add custom codes to customize the pages beyond limits and provide better user experience to your customers.
Key Features –
100+ pre-designed page templates
Extensive range of sections and page elements
Allowing adding custom codes
Compatible with popular Shopify apps
ChatGPT-powered content assistant
Pricing Plans – Tapita has a free plan that allows 5 publishable pages of any type, but displays Tapita's trademark on your store pages. The paid plans start at $9/month and gives you access to publish more pages and allows saving custom sections and elements for reuse.
Wrapping Up
While Shogun is one of the best Shopify page builder apps used by many Shopify store merchants, it might not be the best option for you. So, depending on your specific needs and preferences, you must consider other alternatives that can provide similar or even better functionalities to create your store pages or landing pages.
In this article, we explored several Shogun alternatives which are more affordable, more flexible, or offer better integrations with other Shopify apps. Now, it is your turn to pick the one that fits into your business needs and most importantly, budget and start creating beautiful, high-converting pages for your Shopify store.
At last, before you more forward, you should also choose a theme to set up your store quickly (unless you want to create the store from scratch). So, here are few of our lists that you might want to check next –