Many eCommerce store owners believe that if they provide quality products and services, people will talk about them and recommend others.
Well, in the ideal world, this should happen, and such stores should grow faster than others. But the reality is that only 29% of satisfied customers are actually referring to products and services.
This is where you need a referral marketing program that encourages customers to take a step forward and share their positive experiences with others.
With a referral marketing program, you can turn your happy and loyal customers into brand advocates to promote your products and drive more sales.
In this article, we will dive deeper into every aspect of eCommerce referral marketing and help you implement it for your online store.
What is Referral Marketing?
Referral marketing is a marketing strategy in which you get your existing customers to recommend your products to their friends and family.
It is all about leveraging word-of-mouth marketing when customers share their positive experiences with your brand with others and invite them to try it.
For eCommerce marketers, referral marketing is one of the best ways to raise brand awareness, acquire new customers at a low cost and retain existing customers to boost your overall revenue.
What are the Advantages of Ecommerce Referral Marketing?
Referral marketing plays a significant role in improving the post-purchase experience for eCommerce brands. And it is important as how your customers feel after completing the purchase contributes to the overall ROI of your marketing investments and business growth.
That said – here are some advantages of eCommerce referral marketing –
1. It reduces acquisition costs. Referral marketing monetizes word-of-mouth marketing, letting you onboard new customers easily without spending a penny on advertising. As a result, you may see a huge difference in the overall customer acquisition cost.
2. Increase customer LTV. 92% of consumers trust recommendations from the people they know. So, when such customers join your store, they are most likely to convert. In fact, referred customers have 16% higher LTV than those acquired by other methods.
3. Improves customer retention rate. Retaining existing customers is 5 to 25 times cheaper than acquiring new customers. So, it doesn't matter what business you are doing – if you can retain your existing customers, you can grow faster. Fortunately, in eCommerce, the customers acquired through referrals have a 37% higher retention rate.
4. Strong online presence. With referral marketing, your existing customers will promote their referral links or coupons on various mediums, including social media. Eventually, this will boost your presence on social platforms, which is crucial for eCommerce brands' success.
5 Steps to Create Ecommerce Referral Programs
Now, in this section, I will walk you through every step of setting up a referral marketing program for your store.
If you are ready, let's start with the most obvious step in every marketing strategy –
1. Define your goals and KPIs
First things first, determine what you want to achieve from the referral marketing for your business. A defined goal helps you stay on track and keeps you focused.
The goals and objectives entirely depend on the problem you are trying to resolve using this strategy and its contribution to the overall business goal. So, take your time and brainstorm with your team to define your goals.
Also, ensure that the goals are SMART – Specific, Measurable, Attainable, Relevant, and Time-bound. Here are a few examples that you can try–
Increase referral traffic by 70% month-on-month
Boost the average order value by $50 within two months.
Increase customer retention rate by 80% in Q3.
Improve conversion rate by 30% for this year.
Once you have defined your goals, select the metrics that you'll be tracking to analyze the performance of the referral program. These metrics are called Key Performance Indicators or KPIs.
The KPIs vary depending on your goals. However, some of the critical KPIs would be –
Customer retention rate: The percentage of customers who continue to use your product or services.
Participation rate: The number of participants who sign up for your referral program.
Referral conversion rate: The percentage of conversions achieved via the referral program.
Share rate: Analysing which channel referrers like to share your referral link, i.e., social media, email, SMS, etc.
While selecting these metrics, avoid vanity metrics like referral traffic and referral click. Such metrics may show that your campaign is performing well but not contributing to the goal, i.e., generating sales.
2. Decide on Referral Rewards or Incentives
Next, the most important part of referral marketing is the rewards you are willing to offer.
Rewards act as a catalyst in motivating your existing customers to refer your brand to their peer groups. It has to be exciting, and the customers should be able to redeem it quickly.
You can consider offering several types of rewards, but I recommend keeping it limited to a single kind- don't mix up multiple rewards and create confusion.
Also, instead of offering rewards only to the referrer, rewarding both the referrer and the referral would be better. This excites the other party to join your store and shop instantly to redeem the reward.
It is a win-win for both parties, making it easier for your ambassadors to convert the potential customers for your store.
Some of the popular rewards that you can offer are as follows –
Cash rewards (e.g., Earn $25 on first purchase)
Store credit (e.g., Earn X points on Y amount of purchase)
Free products or free shipping
Discounts and coupons
Gift cards
Access to subscription service
3. Choose a suitable referral marketing software
Once you have decided on your referral rewards, the next step would be to find a referral software that enables you to set up the referral program as per your idea.
Here are a few features that you must look for in referral software –
Supports your eCommerce platforms.
Allows multiple rewarding options.
Easy redemption of rewards
Automatics referral link or coupon generation
Detailed analytics reporting
Advanced fraudulent protection
There are tons of referral marketing software available in the market. So, make sure that you try multiple platforms and then decide on the most suitable ones.
However, if I would have to recommend, these are my best picks for an eCommerce site of any kind –
Want to explore more options? Check out our list of the best eCommerce referral marketing software.
4. Build a dedicated landing page
Like other marketing campaigns, you should also build a landing page for your referral program. This is the page where you drive your customers to get all the information about the program.
To ensure that the landing page is effective and conversion-friendly, make sure that it answers the following questions to the visitors –
How can I join the program?
How would I get rewarded for each referral?
When will I be rewarded for my referrals?
How can I redeem the rewards?
After creating the landing page, the next step would be to drive traffic to the page.
5. Invite Customers to join your referral program
The effectiveness of your referral program lies in how brilliantly you can introduce the referral program to your customers.
Here are a few effective ways to invite your customers to join the program –
Send an email newsletter to your customers with an invitation to join the program
Include the landing page URL in the purchase confirmation emails.
Add the invitation link on the purchase confirmation page.
Use popups at the checkout or purchase confirmation page to grab attention.
Retarget your existing customer on social media to promote the program.
Embed referral widgets at a catch-worthy area on your site.
With all the above ideas, the objective is to gently introduce the referral program to the existing customers and the new ones in every possible way.
Top 4 Ecommerce Referral Program Examples
By now, you should have got an idea of the referral program and its impact on your eCommerce business. In this section, let's look at some of the best referral programs from successful eCommerce brands
1. Koodo – Refer-A-Friend
Koodo, a mobile flanker brand based in Canada, has acquired new customers using its simple referral program.
Their referral program is clear and easy to understand. The concept is that when you refer a friend to Koodo, you can get $50 off your bill. If you have many friends, you can save upto $300 each year. This way, both the referral and the referred ones will be rewarded.
This referral program has been successful because Koodo kept its referral terms in a straightforward manner. Also, it followed a single-sign in so that referred ones can quickly complete the process and redeem their rewards without any friction.
2. Love with Food – Earn Free Snack Box
Love with Food is a snack subscription service that delivers clean and palatable ingredient snacks right to your home every month. The best part is that they also donate a portion of a healthy meal to organizations deliberately in need of food.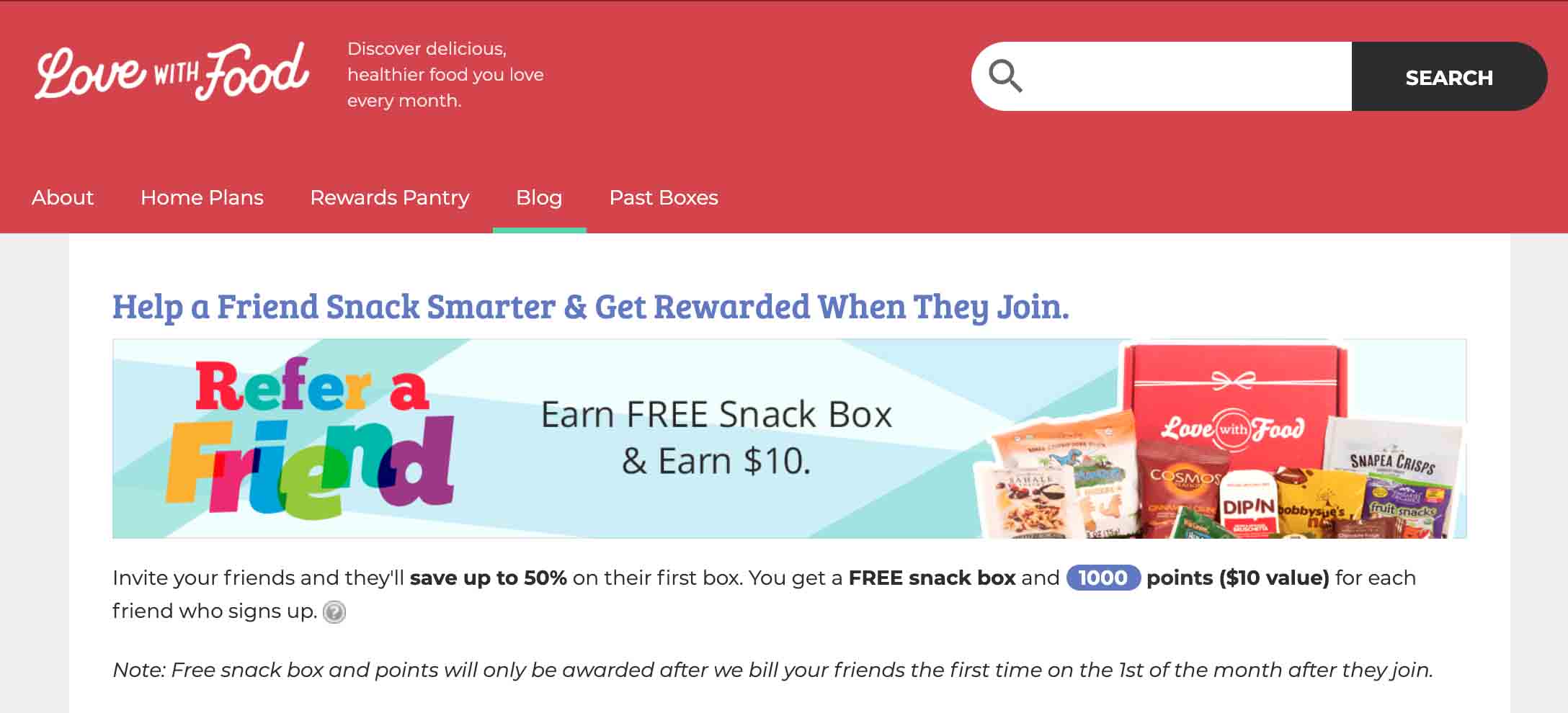 When you refer your friend using the referral link via email or social media, you'll get a free snack box and 1000 points, which is a $10 value. The referrals who use the link will get 50% off on their first box.
This is a smart move as it eliminates obstacles, and your friends can easily use the referral link, purchase, and claim the reward.
3. Riff Raff & Co – Get Free Sleep Toy
Riff Raff and Co is a famous Australian brand specializing in making sleep toys for babies. They employed a creative referral marketing tactic that made their company grow into a million-dollar company by garnering many happy customers.
Unlike other referral programs where a referrer gets a reward by referring one customer, this brand has adopted it differently. The referrer (you) will get a reward of $68 worth of sleep toys if you refer to 5 friends, and the referrals will get free shipping worldwide.
4. MeUndies – Get $20, Give 20%
MeUndies is a popular underwear brand for both men and women. With its brilliant referral program, the brand witnessed huge profits and became highly popular among its competitors.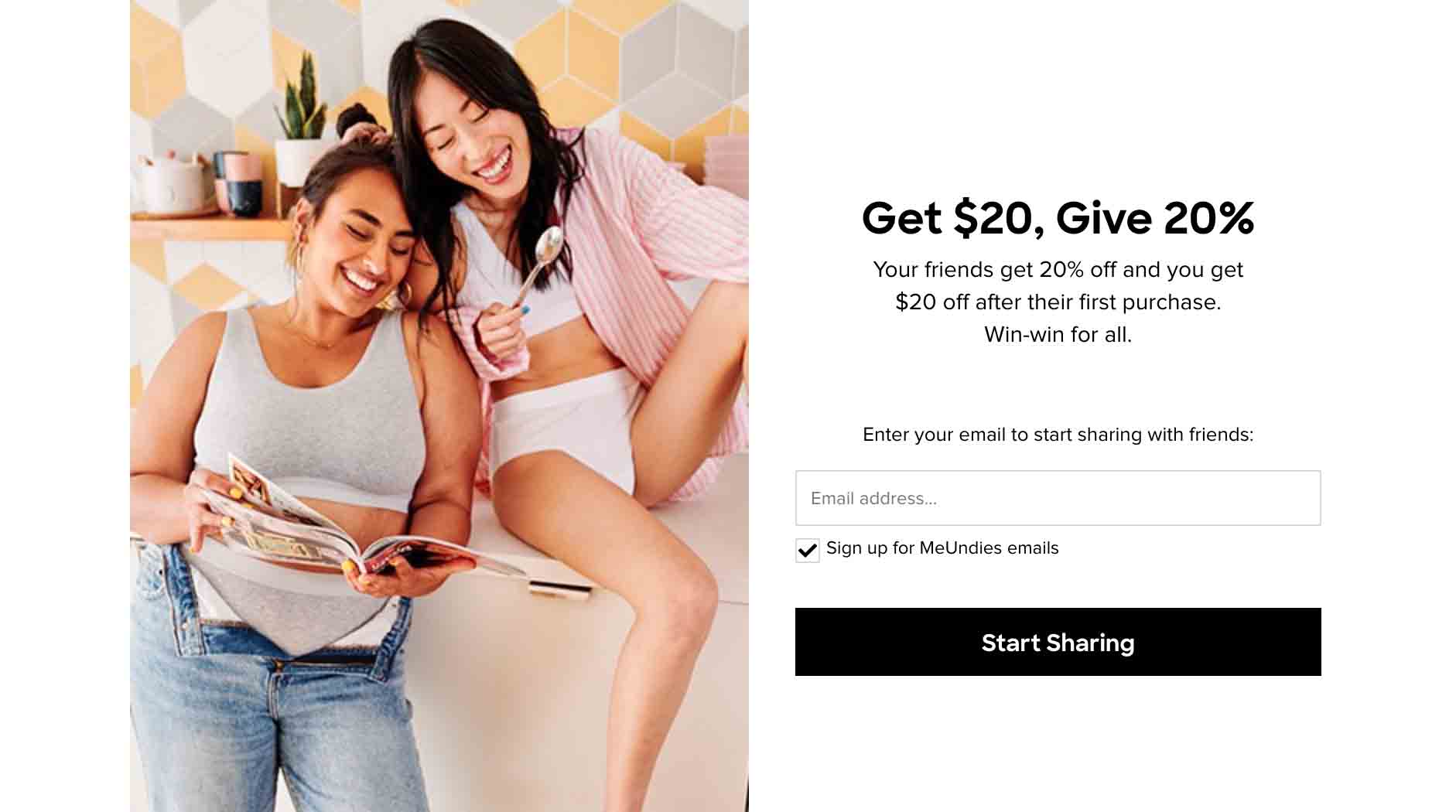 When you refer your friends to MeUndies, they will get 20% off on their first purchase, and you will get $20 off after their purchase. This is apparently a win-win situation as both referrals, and referred ones avail the benefits.
Setting up a referral program must not only be focused on rewards. It should boost engagement and widen your customer base, and the MeUndies referral program is a perfect example.
Common Mistakes with Ecommerce Referral Marketing
It's good to learn from others' mistakes and avoid doing the same again. Taking this lesson, here are some common mistakes you should avoid while creating a referral program for your brand.
1. Offering unattractive incentives
Rewards are the boosting factor for your customers to join your referral program. Imagine the time and effort they invest in recommending your brand to their peer groups. So if they feel that the referral incentive is not worth their time and effort, then the chances of your referral program's success would be pretty low.
So be generous with offering rewards to your customers. Also, ensure that both the referral and the referred ones can redeem their rewards easily.
2. Failing to keep it simple
Referral programs are meant to be simple. The referrer will send a unique link or code, and the referral will click that, and both of them can claim their rewards. It should be as simple as that.
But most of us, to make things exciting, tend to complicate the referral program by creating multiple procedures, milestones, etc., which might stop customers from participating in your referral program.
The key to a successful referral program is to minimize the barrier and breakdown in the simplest way. Clearly communicate the conditions of your referral program, and don't try to blend various aspects as that will confuse your customers.
3. Expecting immediate results
Sometimes we think that we have crafted an amazing referral program and expect sales to skyrocket within a short span of time. This is practically impossible as the reality says that "results take time."
You need to progress step-by-step and analyze how your referral program is performing. Get a clear picture of how customers interact with your rewards and identify the friction preventing them from joining your program.
If you constantly work on this, your referral program will gradually gain momentum, and you will see an increase in sales.
4. Not using the proper promotional method
Do you get disappointed when customers don't interact much with your referral program? It's because you have not used the right channels to introduce your referral program to the customers.
The concept of set and forget doesn't fit the referral programs – you need to identify the active channels where your customers love to engage with you and consistently communicate with them regarding the program.
For example, if you see customers have earned referral points but are not redeeming them, you can drop an email suggesting the products they can purchase using the points.
It will encourage such customers to visit your store and may spend more than ever on your store.
Ready to start your eCommerce referral program?
Referral marketing is one of the most effective ways to drive new customers and generate more sales. It is a proven tactic behind the success of major eCommerce brands, SaaS products, and even in the B2B space.
So, if you are starting a new store or want to achieve double-digit sales growth, make sure that referral marketing is in your marketing plan.
I hope this guide gave you a complete overview of eCommerce referral marketing and that you are ready to leverage it for your business.