Do you want to start a referral program for your eCommerce site? Looking for the best referral software to help you with it? This article is for you!
Referral marketing is the simplest and most cost-effective way of acquiring new customers and gaining more conversions. It lets you monetize word-of-mouth marketing without having to spend thousands of dollars.
When it comes to eCommerce, referral marketing creates a win-win situation – both the referred and referrer will be rewarded, which motivates them to purchase more with you. This way, you get some of the most loyal advocates and free influencers for your brand.
If you want to learn more about referral programs and how to use it, you should read our complete guide on eCommerce referral marketing.
Having said that, here are some of the best referral marketing software that you can use to start an engaging referral program for your store.
1. ReferralCandy – Best eCommerce referral Software
By empowering 30,000+ online stores, ReferralCandy is a popular referral marketing software for eCommerce brands. It is a one-stop solution as it offers a complete set of features designed to support all your referral marketing needs.
ReferralCandy offers out-of-box templates to build your referral program with minimal effort. An added advantage is that the rewards automatically reach your customer's pockets, reducing your burden of sending rewards individually to your customers.
Pros –
A beginner-friendly tool that allows easy setup of referral programs
Customize your rewards for both the referrals and the referred ones
Free 30-day trial
Good customer support
One-click integrations with major eCommerce platforms like Shopify, BigCommerce, and WooCommerce
Cons –
Customization options for templates, pages, emails, etc., can be improved
Incurs a monthly commission fee on its Premium plan
Pricing and Plans – ReferralCandy has two plans for $49 & $299/month. Both plans support unlimited customers, data reports, and advanced fraud management. It also offers an Enterprise plan suitable for large eCommerce sites with a vast product catalog and customer base.
2. ReferralRock – Powerful eCommerce referral Program Software
ReferralRock is a robust referral software that lets you create stunning referral marketing programs for your eCommerce business. It is all-in-one referral software that enables you to generate more referrals and boost brand awareness from your existing loyal advocates.
It offers a complete portal where you can create and customize your entire referral program to optimize your efforts. Also, you can be present at your customer's preferred channel by enabling easy social and mobile sharing options that strengthen brand visibility.
Pros –
Offers a two-tiered, tiered, and time-based reward structure
User-friendly interface to launch on-branded referral programs
Personalize referral programs to your customers by building beautiful landing pages
Supports integration with Shopify, 3dCart, BigCommerce, Magento, and WooCommerce
Cons –
Email customization options could be made better
Limited custom fields
Pricing and Plans – The pricing plans start at $200/month and go up to $800/month, allowing for 10,000 members and up to five programs. If you run an enterprise brand (>10,000), you can contact the team to get customizable plans for your business. 
All the plans include unlimited referrals, drag-and-drop builder, automated member invites, fraud detection, member email campaigns, etc.
3. Genius Referrals – Flexible eCommerce Referral Software
Genius Referrals is a dedicated eCommerce referral software that boosts acquisitions via word-of-mouth marketing. With its referral program creation suite, you can quickly build, design, integrate, and deploy your referral campaign within a couple of clicks.
It offers an array of customization options to create different enticing rewards for customers. You can choose your preferred social platform for sharing rewards by sending personalized messages to grow your referral network.
Pros –
Launch fully customized referral programs powered by white-label branding
A 30-day free trial is available
An exclusive dashboard for advocates to view and manage their real-time referral success
Provides a long list of integration options with Shopify, Shopify Plus, Squarespace, Opencart, Ecwid, CS-Cart, PrestaShop, etc
Cons –
Requires an extra learning curve of code and scripts.
Pricing and Plans – Genius Referrals pricing starts at $49/month and extends up to the advanced plan costing $499/month. The Starter plan allows you to create only one referral program with 10,000 advocates. By upgrading to higher plans, you can create up to ten referral programs with 1,30,000 advocates. 
It also offers a 30-day free trial with access to all its features. So, sign up today and give it a try!
4. Ambassador – eCommerce referral marketing platforms
Ambassador is a popular eCommerce referral marketing software that lets you launch personalized referral campaigns. It enriches customer experience by readily testing different incentives for different campaign segments and automates the rewarding process.
By taking advantage of its fully customizable customer and ambassador portals, you can elevate your brand image. Its referral marketing software is easy-to-use, intuitive, and packed with powerful capabilities that garner an army of brand advocates.
Pros –
Enable region-specific payouts
Build personalized landing pages to boost referral success
Run multi-channel campaigns
Highly motivating incentive options
Integrates with popular eCommerce platforms like Shopify, WooCommerce, and Magento
Cons –
Suitable for enterprise brands
Customization options are limited and can be improved
It might take some time to set up as the platform has robust features
Pricing and Plans – You will have to contact the team for pricing or schedule a demo to know more about the software.
5. UpViral – Referral Software for all businesses
UpViral is an excellent eCommerce referral program software that helps businesses get immediate action and grow quickly. It is highly focused on running contests and sweepstakes that make your brand go viral. Ultimately, using UpViral lets your business grow faster online than your competitors.
You can conduct viral sweepstakes, viral rewards, and viral waitlists that convert referral traffic into sales. It also lets your participants stay highly motivated with referral milestones that automatically reward them for every 3,5,10, or more referrals they bring.
Pros –
Automatically select winners based on points and random
Gamify your campaigns with smart leadership boards
Craft beautiful viral referral campaigns via the intuitive editor
Automatic reward delivery system that tracks your subscribers
Generate actionable leads by building optimized landing pages for your referrals
Cons –
Comprehensive features that might not be applicable to all users
Only email support is available
Pricing and Plans – UpViral starts at $49/month and goes up to the advanced plan that costs $199/month. You can run unlimited campaigns on any of its plans. However, the pricing plans vary based on the number of leads generated.  
6. Referral Factory – Popular eCommerce referral software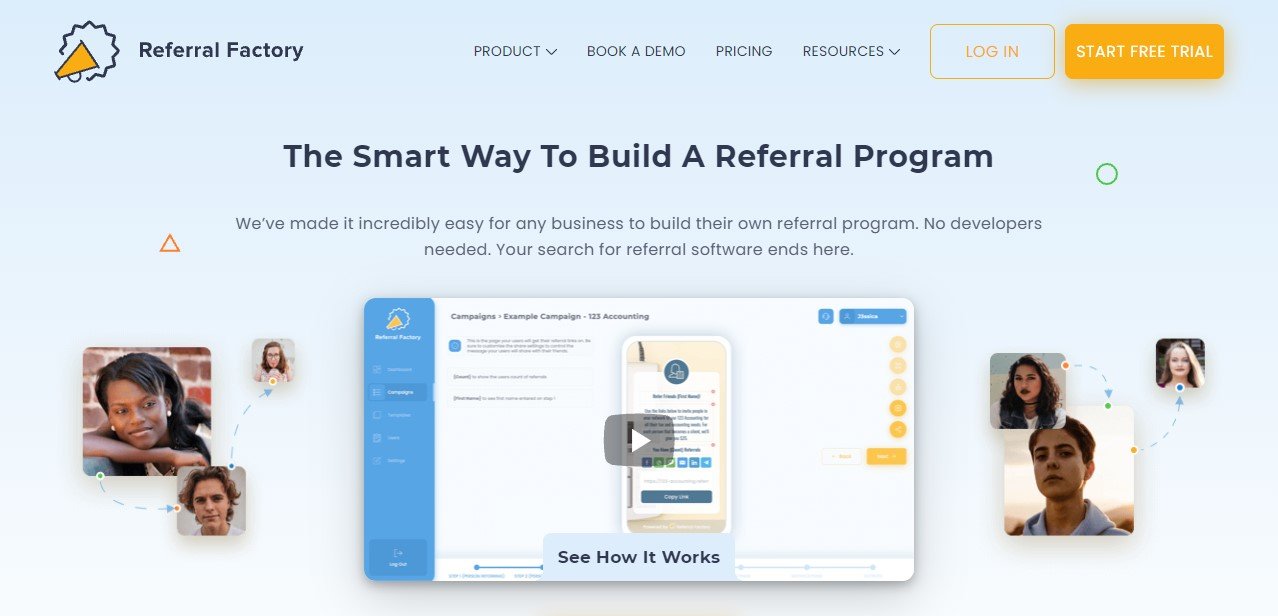 Referral Factory is the best referral program software for eCommerce. It is an easy-to-use software that allows you to build an attractive referral program without needing a developer – you can set up a referral program within minutes by yourself.
It focuses on customer experience and thus allows you to build referral programs in 19+ languages. This also helps in creating a global presence for your site. You can create branded referral programs by adding brand logos, colors, and more to its dashboard, landing pages, and even email campaigns.
Pros –
1000+ customizable templates with branding possibilities
Easy to use drag-and-drop builder to design and customize the design layout
Intuitive landing page builder to personalize campaigns
15-day free trial.
Cons –
Important features like fraud detection are accessible only on higher plans
Sometimes referrers can't see who they have referred
Dedicated support is available on advanced plans
Pricing and Plans
Referral Factory pricing starts at $95/month and goes up to $300/month. The pricing plans vary based on the number of users. 
All the plans include 1000+ referral program templates, unlimited campaigns, page builders, etc., and get access to advanced features on upgrading to higher plans.
7. Viral Loops – Easy Referral Software for eCommerce
Having generated 47,000+ campaigns, Viral Loop is one of the emerging eCommerce referral software with a prime focus on modern features and ease of use. It lets you launch your viral referral campaigns in minutes by offering powerful campaign templates that are easy to customize. This means you'll just have to easily plug and play your referral programs.
It gives you instant access to your real-time dashboard once the campaign goes live. Also, you can create hype for your upcoming product by asking your existing customers to invite more referrals. The more they invite, the higher priority will be given to accessing your premium product.
Pros –
Motivate your customers to bring more referrals by introducing milestones
Free landing page builder to create custom referral pages
Offers exclusive integration with Shopify
Create newsletter referral campaigns that convert readers into advocates
Cons –
More advanced features can be introduced
No direct integration with the eCommerce platform other than Shopify
Guided onboarding and implementation are available only on yearly plans
Pricing and Plans
The plans start at $49/month and go up to $299/month. 
The Startup plan allows only 1000 participants and scales up to 25,000 participants on higher plans. However, there is also an enterprise plan to launch a massive referral program with unlimited participants. 
8. InviteReferrals – Simple eCommerce referral Software
InviteReferrals is an easy-to-use eCommerce referral marketing software. Having been trusted by 20k+ users, InviteReferrals is a simple referral software with a complete referral strategy, design, and implementation, all of which can be managed in one powerful dashboard.
You can run goal-based referral programs where you reward customers for every referral conversion. In addition, it lets you reward referrers based on multiple events like mobile app installs, registration, etc., and luckily the rewards are double-sided.
Pros –
Automated referral tracking and email notifications
Multiple referrals and social media sharing options
\Create personalized coupon-based programs
Great analytic options to optimize your referral campaigns
Cons –
Design options are not much available
Pricing plans are higher compared to other referral platforms
Pricing and Plans
The pricing plans start at $99/month and go up to the Enterprise plan. The plans scale up based on the number of referrers and the campaigns you want to run.
Choose the Best Referral Marketing Software
Referral marketing is undoubtedly a powerful way of multiplying your store customers. Not just your customer size grows in number, but even you amplify the loyalty traits within your existing customers and get them to spend more to redeem the benefits. 
We hope this article helped you pick the best referral marketing software for your eCommerce site. If you're looking for more tools to optimize your online store for more conversion, here are a few articles you should check –