Smile.io is a loyalty program software for small businesses, enabling you to reward your customers for making purchases and taking other actions like referring a new customer, making a purchase, and more.
Smile.io is a powerful tool, but it can be expensive and limited to loyalty and reward points. So, if you are looking for more affordable software and compatible with your preferred eCommerce platform, this article is for you.
So, in this article, I'm going to show you some of the best Smile.io alternatives that contribute to higher customer retention and boost customer acquisition.
1. Stamped.io – Best Smile.io Alternative
Stamped.io is the best Smile.io alternative and a top-rated eCommerce loyalty software that I have come across to set up a loyalty and referral program for eCommerce brands. It enables you to create a point-based and tier-based loyalty reward program, allowing you to reward your customers for every action they take and encourage them to shop more to increase their level.
Stamped.io is more than just a loyalty reward program software; it also allows you to gather customer reviews with ease and provides a comprehensive analysis of how your customers feel about your products and services.
Read our detailed Stamped.io review for more insights into its features and functionalities.
Key Features –
It enables you to create an on-branded loyalty program by entirely customizing the background, button colors, labels, and more.
It allows you to set up flexible reward rules so you can create varied discount types.
It facilitates viewing and tracking trends in the referral data across calendar months or overall membership time.
It enables you to reward 2X, 3X points to mid and higher-level VIP tiers and offer exclusive perks to make customers feel special.
Pricing Plans – Stamped.io has a free plan which allows you to track up to 100 monthly orders. The paid plans are as follows –
Premium plan – $39/month, up to 500 orders
Business plan – $149/month, up to 1500 orders
Professional plan – $479/month, up to 3500 orders
Enterprise plan – Custom pricing for unlimited orders
2. Growave – Best Alternative for Shopify Stores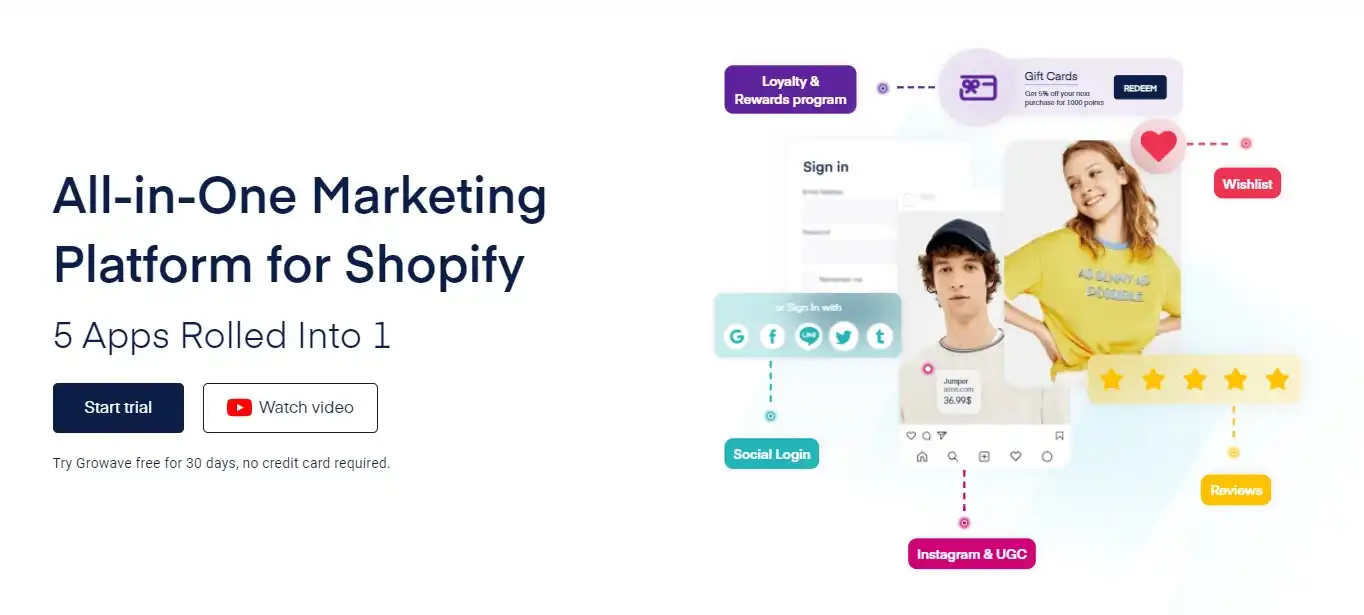 Growave is a powerful marketing software that is exclusively designed for Shopify merchants. It allows you to conduct loyalty programs, collect reviews, send wishlist emails and create shoppable images by creating an Instagram gallery.
With Growave's point-based program, you can reward customers for different types of actions they perform. It offers customers multiple types of earning rules to create a conversion-friendly loyalty program for your online store.
An added plus is that it lets you run boosted campaigns that provide time-limited offers to increase your customers' activity. These kinds of loyalty programs resonate in your customer's minds, and that's why Growave is my favorite Shopify loyalty app.
If you want to learn more about its features and functionalities, you should read our Growave review next.
Key Features –
It enables you to create referral programs with different rewarding options like gift cards, offering discounts on your next purchase, etc.
It gives you the flexibility to set rules to promote the VIP members to the next level to earn attractive reward points.
It allows you to create your custom actions outside the app using the API.
It helps create dynamic nudges that remind your customers to enroll in a loyalty program, redeem points, etc., and ensure that they use their earned points before expiration.
Pricing Plans – Growave has a pricing plan suitable for Shopify stores of all sizes. The Plans are based on the number of monthly orders –
Medium Plan – $49/month, up to 500 orders
Growth Plan – $149/month, up to 1,000 orders
Large Plan – $349/month, up to 3,000 orders
If you want to integrate your loyalty program with email marketing tools like Klaviyo & Omnisend, the growth plan and above would be the ideal choice. Growave offers a 14-day free trial, but using our Growave coupon you can get a 30-day extended trial.
3. ReferralCandy – Best Alternative for Referral Program
If you wish to create a dedicated referral marketing program for your eCommerce store, ReferralCandy might be a good choice. It allows you to customize rewards for both referring and referred customers in the form of store discounts, cash payouts, etc.
You can encourage your customers to sign up for the referral programs by displaying referral widgets in any corner of your site. It readily outperforms Smile.io by providing automatic fraud protection that identifies suspicious activity and enables automatic reward payouts that instill trust in customers' minds.
Key Features –
It allows you to embed sign-up forms for making customers participate in the referral programs.
It offers excellent design customization to make your referral programs look on-branded and stunning.
It provides meaningful insights by tracking referral sales to optimize your campaigns.
It provides easy one-click integrations with major marketing and eCommerce platforms.
Pricing Plans – ReferralCandy offers a 30-day free trial and has two plans –
Premium Plan – $49/month + commission
Enterprise Plan – $3999/month (billed annually)
4. Retainful – Referral Program & Coupon Software
Retainful is a simple and easy-to-use marketing software that helps you recover abandoned carts, increase repeat purchases via next order coupons and grow the community via referrals. It's an excellent Smile.io alternative as it is in-built with such powerful features that skyrocket your sales figures.
In terms of referral marketing, both the advocate and the referral will be awarded exciting claims and rewards that create a continuous chain of referrals and repeat customers. As a matter of boosting profits, you can set up a purchase threshold that encourages customers to unlock the rewards.
Key Features –
It allows you to check the details of your advocate and referral like emails in the Retainful dashboard.
It lets you offer three different rewards like flat amount discount, a percentage discount, and free shipping.
It sends individual post-purchase emails to both advocate and referrer separately.
It helps in reminding customers if they have not referred any customers.
Pricing Plans – Retainful has a free plan which allows up to 300 customers. However, to start a referral program, you will have to opt for one of these plans –
Starter plan – $19/month – upto 2000 contacts
Growth plan – $49/month – upto 5000 contacts
Professional plan – $199/month – upto 25,000 contacts
5. Yotpo – Loyalty & Referral Program Software
You must be familiar with Yotpo as a review and rating platform, but it does offer stunning loyalty and reward programs to boost customer retention. It is a top-rated eCommerce marketing platform that offers loyalty programs, reviews, referrals, SMS marketing, etc. 
Yotpo is a few loyalty program apps that enable you to reward customers with over 15 unique actions with loyalty points. The best part is that you can create paid membership programs like Amazon prime and offer customers exclusive perks, which boost the customer's lifetime value.
Another aspect that requires a shoutout is Yotpo's free plan. You can design 14 types of reward campaigns, attractive reward popups and offer multiple redemption options in its free plan.
Key Features –
It allows you to build a customized referral program by offering points and discounts to acquire customers at a cheaper cost.
It enables you to save time by scheduling loyalty programs in advance.
It helps customers to redeem points for excellent store products or discounts with a customizable module.
It boosts customer engagement with VIP Tiers as they can earn based on their spending, referrals, and much more.
Pricing Plans –
Self-service Plan: It's a free plan that allows only upto 1000 monthly orders
Premium Plan: Custom pricing designed for growing and enterprise brands.
6. Rise.Ai – Gift Cards, Loyalty & Referral Solution
Wouldn't you choose a solution that is bundled with unique value-added features at a much more affordable price? This is where Rise.ai acts as the best alternative to Smile.io. It boosts your store engagement by offering gift cards, loyalty cards, rewards, referrals, and refunds. 
To create a sense of belonging, you can offer your customers a loyalty card that enables them to easily earn and spend store credits. It also provides advanced reward capabilities by automating conditions for your reward programs based on criteria that suit your marketing goals.
Key Features –
It helps create targeted single-purchase rewards that encounter high discounts and cashback as your customer's total spent value increases.
It allows your customers to continuously accumulate credit every time they recommend your brand to turn into brand new advocates.
It gives you the option to reward influencers, bloggers, and loyal brand ambassadors.
It enables you to customize referral links and tags that allow VIP influencers to promote your brand on the web.
Pricing Plans –
Starter plan – $19.99/month – upto 100 monthly orders
Small business plan – $59.99/month – upto 400 monthly orders
Pro plan – $199.99/month – upto 2000 monthly orders
Premium plan – $599.99/month – upto 12000 monthly orders
Which is the best Smile.io Alternative for you?
Smile.io is one of the leading loyalty and referral program apps for eCommerce. However, it doesn't mean that it is the best for everyone.
For Shopify store owners, Growave would be the best alternative to Smile.io; while for other eCommerce platforms like BigCommerce, WooCommerce & Magento, Stamped.io would be my #1 recommendation.
I hope this article helped you find the best alternative to Smile.io to start a loyalty and referral program for your eCommerce site. If so, here are a few hand-picked articles that you might want to read next –