Wondering what makes Shopify and Shopify Plus different? Thinking about which one to choose for your online store?
Well, this is where we come in. Here at EcomSutra, we are committed to helping you find answers to any question that pops up in your mind regarding eCommerce businesses.
In our best eCommerce platforms article, we have placed Shopify as the best platform to build online stores of any size. However, there are two aspects of Shopify to build an online store for small and enterprise brands, and before getting started, you should know which one is the right platform for you.
In this article, we'll compare Shopify vs Shopify Plus and share what makes them different.
Ready to dive in? Let's get started.
Shopify Overview
Shopify is an eCommerce platform where merchants can build, easily customize, upload products, and start selling their products. You can sell different products with Shopify, and the creativity you can achieve using the platform is endless.
With Shopify, you don't need to worry about any technical issues, as Shopify works around the clock to ensure that your site is constantly running with high-performance standards.
On the whole, Shopify is the ideal and reliable platform for merchants who run small to medium-sized businesses. The platform is well known for its ease of use, flexibility, and various features that have shone for decades.
Shopify Plus Overview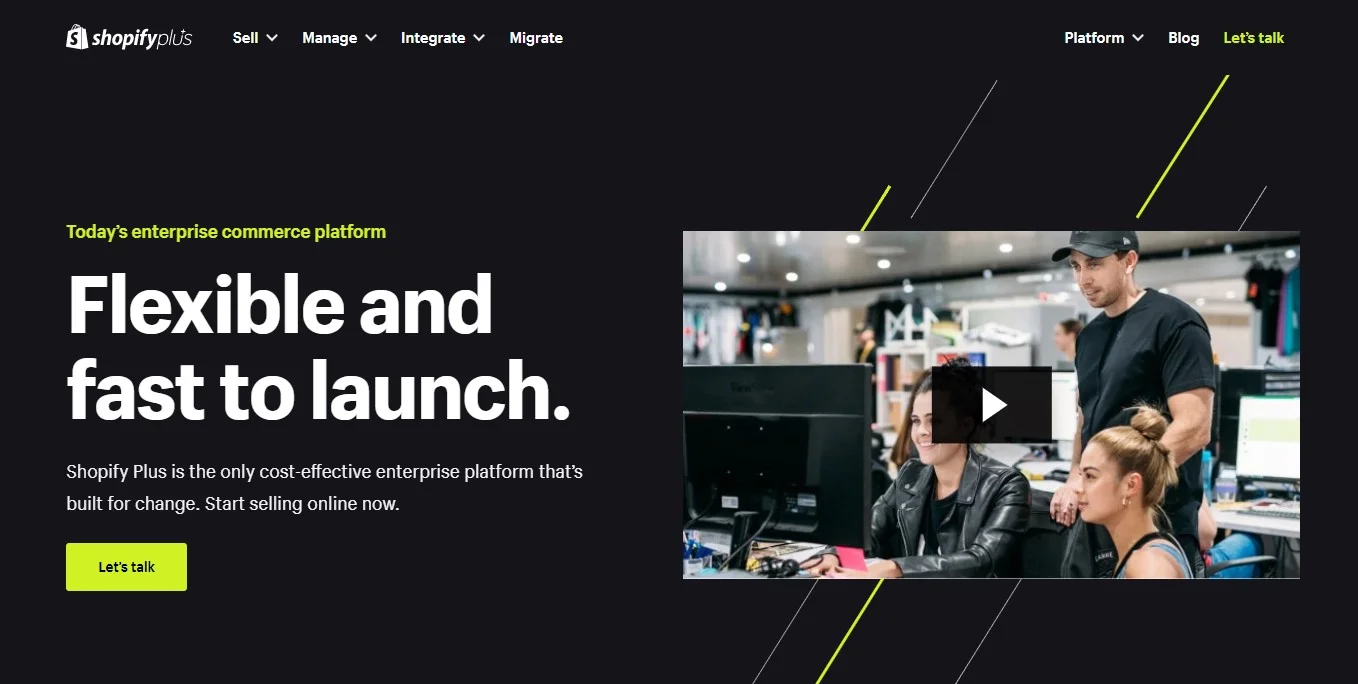 As a step further, Shopify Plus is an advanced solution for enterprise-level businesses. More than 10,000+ businesses have made huge profits using Shopify Plus, making the platform sparkle magnanimously.
With Shopify Plus, you can create an outstanding shopping experience with built-in 3D videos and augmented reality, launch stunning automation, and make out-of-box integrations using API and headless commerce.
Shopify Plus is exclusively created for large businesses with a very high annual revenue. It's not only about revenue that indicates its need, but with its extra boosted features, and dedicated support, your investment in the platform will be highly worth it.
Shopify vs Shopify Plus: Features
In this section, we shall dive deep into the main aspects that differentiate Shopify and Shopify Plus.
1. Theme Customization
With Shopify, customization is a cakewalk. As soon as you select a suitable Shopify theme, you can start editing it by specifying the appropriate design options vital for your online store.
You can add your logo, edit the header & footer, add featured collections, and insert new sections to increase the look and feel of your store. The storefront is also optimized for all types of devices, which lets you garner potential traffic.
But to get into a deeper level of customization, you need to have a bit of coding knowledge. This is where Shopify Plus comes into the picture.
Shopify Plus offers rich customization options by giving you access to Shopify's theme language, Liquid. It is an open-source template language created by Shopify, and it's ultimately the backbone of the Shopify themes.
You can write different lines of code to modify your online storefront. Even if you feel difficult, there's nothing to worry about as there are guides that you can use to get started.
Since you have direct access to altering the Shopify themes, you can unlock greater control and create a highly sparkling storefront.
2. Checkout Options
Checkout is the most integral part of an online store. Because even if there's a one-second delay, you'll be losing a potential sale as customers will revert.
In Shopify, customization of checkout is quite difficult as you'll need special apps to add extra functionalities. In contrast, Shopify Plus lets you seamlessly customize the checkout experience that processes transactions at lightning speed.
With Shopify Plus, you can personalize the checkout experience based on various parameters like custom discounts, shipping rates, and product recommendations.
All this is possible with the help of a Script editor with Shopify Plus. It gives you advanced control so you can customize shipping methods, fields, and payment options. This enables you to accomplish higher cart conversion rates, and sadly this is not the case with Shopify.
3. API Integrations
Though you can build a fully customizable online store on Shopify, you might be wanting to add some extra functionality that boosts the working of your online store.
This is where API integrations come into the picture. Both Shopify and Shopify Plus offer a good range of API options, but with a "Plus" indicator, you can expect an advanced set of API integrations with Shopify Plus.
Shopify Plus offers three different kinds of API:
Gift Card: With this API, you can create and manage gift cards that users can use at checkout as a payment method. 
Multipass: This API enables you to manage customer authentication across multiple applications to provide a single login experience.
User: This API enables merchants to assign staff permissions that decides the access control of your Shopify store.
Apart from this, you can integrate with your custom apps or even enjoy building your modernized apps. In the case of Shopify, it provides a list of REST Admin APIs that caters to improving the different aspects of your online store.
4. Customer Support
In terms of customer support, Shopify has a community forum, email, live chat, and phone support to address all customer queries. You can also hire a Shopify expert if the issue gets highly complicated.
In contrast, Shopify Plus offers dedicated customer support to your online store. It assigns a launch engineer whose ultimate responsibility is to take care of all the steps and processes, irrespective of whatever they might be.
The launch engineer will assist you in coding and ensuring that your online store is completely integrated with Shopify Plus. Also, the launch engineer will assist you in finding third-party integrations, API, etc., which makes you worry-free about using the platform.
5. Exclusing Shopify Apps
Shopify has a colossal collection of apps in its app marketplace ranging from store design to customer service. You can quickly surf through the collection and install it in your store with a few clicks and taps. All these apps help in improving the functionality of your store.
With Shopify Plus, you get access to all these apps + it has a collection of exclusive apps that tend to have advanced features and capabilities.
Here are some of the powerful apps available exclusively for Shopify Plus stores –
6. Analytical Reports
Shopify allows you to track all the necessary metrics like total sales rate, online store sessions on different parameters, conversion rates, average order value, and much more. You can also connect with Google Analytics, and Facebook Pixel and also view the live traffic rates of your online store.
While all these analytical capabilities are sufficient for SMBs, Shopify Plus goes to a greater extent in the analytics part. It has partnered with top-rated analytical companies Glew and Looker which delivers expert-level data and insights.
For instance, with Shopify Plus and Glew integration, you can track various performance results, view advanced customer and marketing analytics, aggregate multichannel analytics, create custom dashboards, and much more on the go.
7. Wholesale Channel
The wholesale Channel is one of the biggest assets of Shopify Plus. In Shopify, you can sell your products in multiple marketplaces, boosting your sales and overall revenue potential.
But in Shopify Plus, you get the power to create an exclusive wholesale channel that enables you to create a separate, password-protected online storefront that acts as an extension of your online store.
As the wholesale store you create is based on your online store, you can offer your wholesale customers the same products you sell in your online store but at a different price. Besides, you can add those products available for wholesale in your wholesale channel.
8. Unlimited Staff Accounts
This is one of the best features that you can greatly utilize in Shopify Plus. In Shopify, there's only a maximum of 15 staff accounts you can assign. But it's reasonable for an enterprise-level business to assign multiple staff to take care of the daily activities to ensure smooth functioning.
With unlimited staff accounts, you can also enable additional permission settings that deliver greater access control. As a result, you'll have more control over granting access to your staff members as a Shopify store admin.
Shopify vs Shopify Plus: Pricing
Shopify has three major pricing plans: Basic, Shopify, and Advanced.
The Basic Shopify plan starts at $29/month. This plan is suitable for eCommerce owners who are new to this platform.
The Shopify Plan starts at $79/month. This plan is suitable for growing businesses so they can scale up revenue even more.
The Advanced Shopify plan starts at $299/month and is suitable for those merchants who readily want to expand their online store potential.
In the case of Shopify Plus, it costs $2000/month. It comes with advanced features that are all exclusively catered for scaling up your eCommerce business. It includes:
Localized shopping experiences with multiple stores, currencies, and languages for B2B and D2C.
Customization of checkout and advanced shipping rates options.
Get 18% higher conversion rates with Shop pay and 60% faster checkout.
Seamlessly manage all the tasks, and automation in a unified place.
Premium integration options and the opportunity to work with certified apps and partners to extend the platform as per your needs.
It's clearly visible that Shopify Plus is more expensive than it is for advanced businesses. But with Shopify pricing, anybody at any stage can easily start their business which shows its affordability level.
Shopify vs Shopify Plus: Which one to choose?
By now, you must have understood the key difference between Shopify and Shopify Plus – there's not much difference on the front end of the store, but with Shopify Plus, you get access to tons of advanced features that gives you flexibility with store design and customization.
From the pricing section of the article, you must have noticed that Shopify Plus' advanced features don't come cheap. So, if you're getting started in the eCommerce business or an already established business at a growing level, then Shopify might be the best fit for you.
However, if your product catalog is vast and has a large-scale presence, like Nestle, Hawkers, Kylie Jenner, Budweiser, etc., then Shopify Plus would be the right pick for your store.
I hope this article helped you figure out the difference between Shopify and Shopify plus. If you're ready to get started with Shopify, you can follow our Shopify tutorial to launch your store.
Frequently Asked Questions (FAQs)
Is Shopify Plus worth it?

Shopify Plus is designed for enterprise eCommerce brands that provide unlimited bandwidth and web hosting with advanced scalability measures like a dedicated support team. But all this comes with expensive pricing plans which are affordable for enterprise-level brands. So, it is completely worth it for stores with ambitious growth goals.

When should I upgrade to Shopify plus?

If you are already using Shopify and the annual revenue has surpassed $1M, you can switch to Shopify Plus. The platform is built to help eCommerce businesses scale faster without worrying about technical hitches.

Who are Shopify's Competitors?

There are several eCommerce platforms in the market, but its main competitors are BigCommerce & Wix, which offer extensive features for businesses of all sizes. You can check our list of best Shopify alternatives to learn more.

Who are Shopify Plus Customers?

According to BuiltWith, there are currently 6,045 active stores using Shopify Plus. Flagship stores like Red Bull, Budweiser, EllenShop, & Kylie Cosmetics are some popular Shopify Plus Customers.