Shopify has empowered millions of eCommerce merchants worldwide to start selling their products without much investment.
It's a one-stop solution as it provides beautiful templates, a user-friendly interface, diverse payment options, and much more. Besides, it has an app marketplace that provides access to tons of apps that you can use to improve your store functionality.
But there's one thing you need to know – not every eCommerce platform is an ideal platform for every user. Shopify has its own limitations when it comes to design customization flexibility, backend control, and more.
That's why, in this article, I have selected some of the best Shopify alternatives to building an online store. Some of them might not seem like a powerful platform, but they have their own advantages over others.
So, keep reading till the end to know every platform and then decide which one can fulfill your business requirements.
Ready to dive in? Let's get started.
Wix is a popular Shopify alternative that lets you build user-friendly online stores on the fly without much ado. You can choose to get started with your online store using Wix ADI or opt for the Wix editor, which offers great customization options.
With Wix, you can sell various products like physical & digital products, dropshipping products, print-on-demand, and much more. Huge credits to the store builder that offer numerous options to upload products, thus contributing to higher sales figures.
Wix also has an integrated CRM, so it becomes effortless to manage all your customer profiles at a centralized interface. Also, it has excellent marketing and SEO capabilities that guarantee to optimize your online storefront for high search rankings.
Pros –
It is a beginner-friendly platform, so you can quickly launch your online store.
It offers a wide range of customization flexibility which lets you build your online store.
Cons –
It is ideal only for setting up small online stores.
The backend becomes too slow if you start uploading huge products.
Multi-channel selling options are limited.
Squarespace Commerce is an easy-to-use eCommerce platform that contains comprehensive features and outshines your conversion figures. It offers many selling options, stunning templates, flexible payment options, impeccable marketing & SEO features that let you stay on top of the roof.
By using its smooth editing interface, you can easily tweak the templates and launch your store. You can sell physical, digital products, gift cards, and services that let you improve your profit margins to the desired level.
On the whole, Squarespace Commerce can be an ideal eCommerce platform if your eCommerce business has a small product portfolio. Also, you can manage your online store 24×7 effortlessly with its mobile app.
Pros –
The editor has a highly refined look that makes all the processes easy to accomplish.
Provides great templates that enable you to launch an impressive store.
It ensures that the checkout process happens securely on every device.
Cons –
Its payment options are limited. It integrates only with Paypal, Stripe, and Afterpay.
It provides only a limited range of extensions which is a slight setback.
Multi-channel selling capabilities are not so vast.
If you are looking for a platform with a full range of eCommerce capabilities for merchants, then BigCommerce is recommended. It's a great Shopify alternative as it is highly feature-rich and lets you build an online store with clear navigation and sound design.
It offers a highly flexible drag-and-drop editor that enables you to customize your online store without hassle. The best part is that it offers a streamlined checkout with optimized one-page checkout and a win back customers with shopping cart recovery.
BigCommerce provides a wide variety of built-in tools, so you don't need to spend money on third-party tools. Also, it provides enhanced features that boost your content marketing and product promotion in various creative ways.
Pros –
It is a cross-channel eCommerce platform, allowing you to sell on marketplaces, social channels, etc.
Offers robust payment gateway options that don't incur transaction fees.
The platform is suitable for running any type of business model.
Cons –
Pricing seems to be a bit higher.
The number of free themes offered by BigCommerce is limited.
WooCommerce is a popular Shopify alternative, and it's the most sought-after eCommerce platform for lots of entrepreneurs. It's an open-source, high-performing, and easy-to-customize platform that is built on WordPress.
The ease of use lies in the fact that you can add the WooCommerce plugin to your WordPress site. It enables you to build responsive and mobile-friendly sites that gauge a magnificent shopping experience for your customers.
You can sell anything on WooCommerce like physical products, print-on-demand, services, software, licensed products, and much more. The platform is highly SEO-friendly as you can add SEO plugins like Yoast SEO that quickly optimizes your site to unlock high discoverability.
Pros –
The platform is developer-friendly with a REST API.
It has reliable eCommerce hosting solutions that make your site work round the clock tirelessly.
It offers tons of free and premium extensions that boost the functionality of your store.
Offers extensive features to grow your eCommerce business.
Easy to set up with the WordPress platform
Cons –
It requires technical ability as the platform is open-source.
Knowledge of WordPress is a must.
Sometimes the websites can be slow in loading information.

Magento, an Adobe-owned platform, offers tons of features and capabilities that let you grow your revenue potential. It is a good Shopify alternative as the platform is scalable, flexible, and guarantees the best community support.
It offers creative templates that enable you to design an impressive storefront and boosts sales through personalization. By analyzing its complete set of features, you can understand that the platform is suitable for established eCommerce store owners.
Magento is a CMS platform that allows you to sell products via an open-source system. This is really a considerable advantage if you're an ambitious eCommerce owner seeking to broaden your business.
Pros –
You can offer the customers the convenience of collecting items either in-store or online.
You can add live chat that boosts customer engagement.
It allows you to purchase thousands of extensions and themes from its marketplace.
Cons-
Since the platform is open-source, it can be sophisticated to get started.
A powerful hosting option is required for Magento open source.
The customization is suitable for experienced and can be complex for beginners.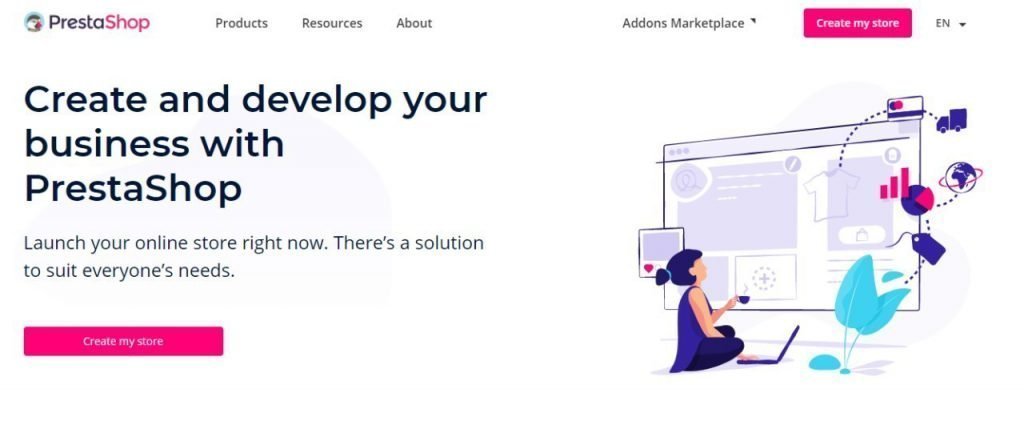 PrestaShop is a renowned eCommerce platform that has empowered over 3,00,000 merchants in achieving their goals and objectives. It's one of the best Shopify alternatives as it is open-source and completely free of cost to have complete ownership of your content.
The most predominant fact about PrestaShop is that it has over 600 features that help you manage your product items, orders, and customers that eventually boost your store's profit to the next level. Besides, it offers 5,000+ customizable themes to build an ideal-looking storefront.
By using PrestaShop, you need to buy a hosting package as well as a domain name. If you have some difficulty in coding, you can hire a developer who helps you build a sparkling online store without any huge investment.
Pros –
It doesn't incur any additional transaction fees.
It offers over 50 payment solutions to manage any type of transaction.
You can sell overseas as the platform is multilingual and supports multiple currencies.
Cons –
It doesn't provide integration with existing CMS systems like WooCommerce.
It can be a bit complex for beginners as it requires technical skills.
The number of free templates is very limited, and the premium ones are pretty expensive.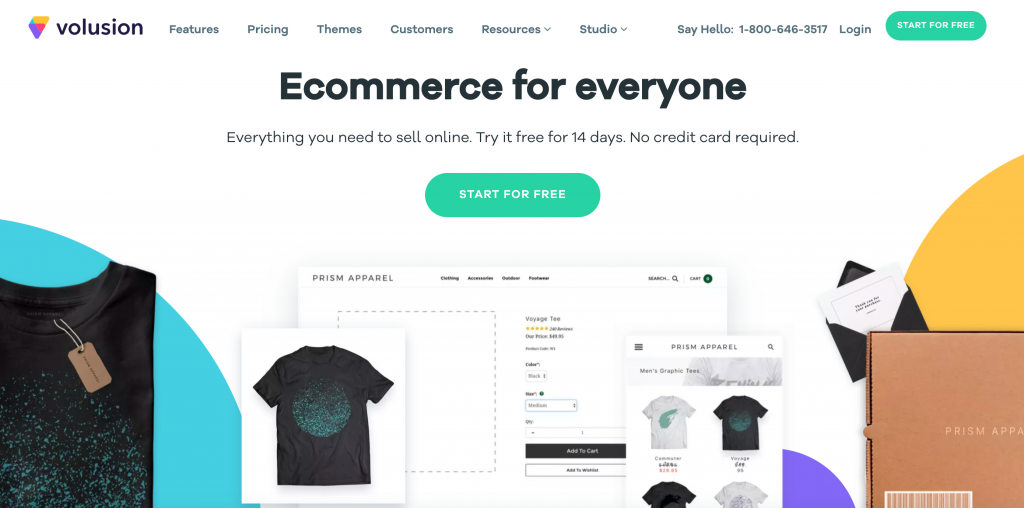 Volusion is an excellent Shopify alternative as you can build a beautiful online store as well as shopping cart software. It's an all-in-one solution that enables you to build, launch, manage and readily expand your store footprint.
This cloud-based shopping cart offers a good variety of free and premium themes that is highly customizable. Also, you can connect a custom domain that allows customers and search engines to easily find you, thus eventually igniting your ranking potential.
An interesting fact is that it offers built-in SEO management, newsletters, and a CRM system that enables you to set up a full-fledged online store. An added advantage is that you can specify a range of shipping types, offers special discounts, provide flat options and set overall shipping rates.
Pros –
It has an uptime of 99.9% that makes your online store run 24x7x365.
With its SSL certificate, your site becomes a safe and secure place for shopping.
You can create custom barcodes for your products which makes inventory management much more accessible.
Cons –
You can add only 100 products if you choose the basic plan.
If you need to sell on Amazon and eBay, you need to upgrade to the advanced plan, which is costly.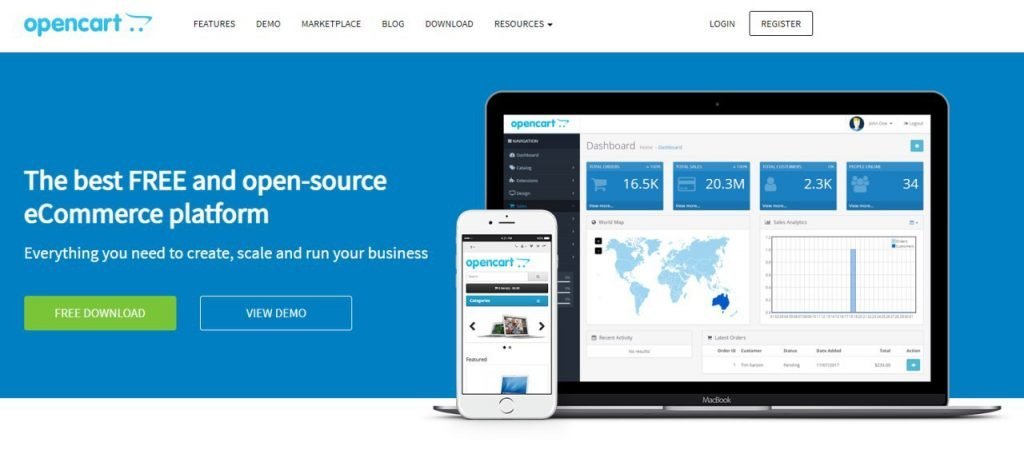 Opencart is a free Shopify alternative as it is an open-source eCommerce platform that can be completely customizable. One of the significant aspects is that even if you have multiple stores, you can manage it easily from one admin interface, which is a breeze.
One of the main reasons for the platform's popularity is that you can access 13,000+ modules and themes from its marketplace. It offers a beautiful set of responsive themes, service integrations, payment providers, shipping methods, etc., as well as language packs.
With Opencart, you can boost your sales and conversion rates as it offers built-in SEO, discounts, and coupons that catch your customers' attention. Using these tools, you can motivate your customers to shop more, which escalates your average order value.
Pros –
It is relatively easy to use and set up than other open-source eCommerce platforms.
It offers a considerable level of integration.
It has an in-built affiliate system where you can promote products and services and get paid.
Cons –
The flexibility levels are not as easy as Shopify.
The number of built-in features can be improved.
The learning curve can be deep for beginners.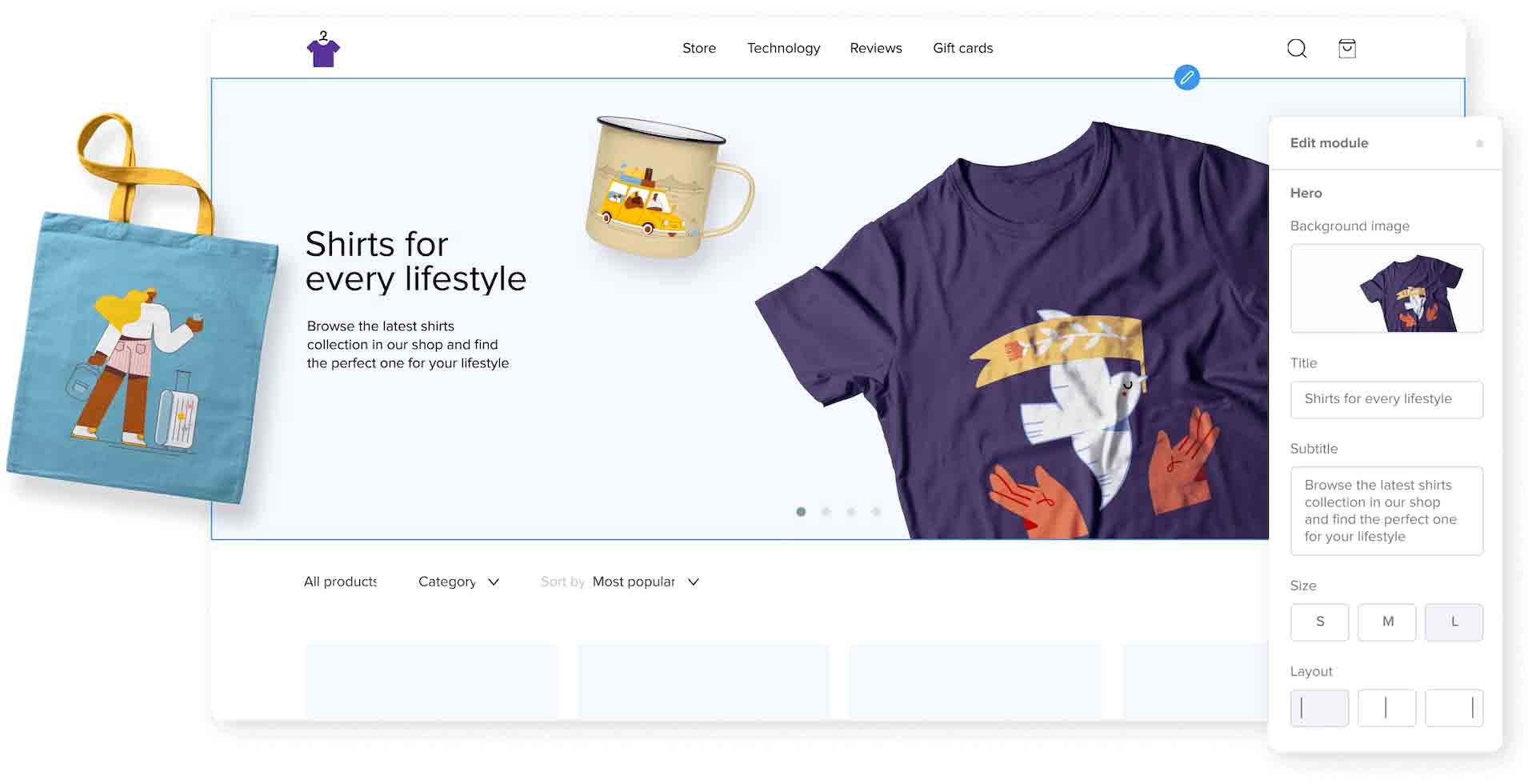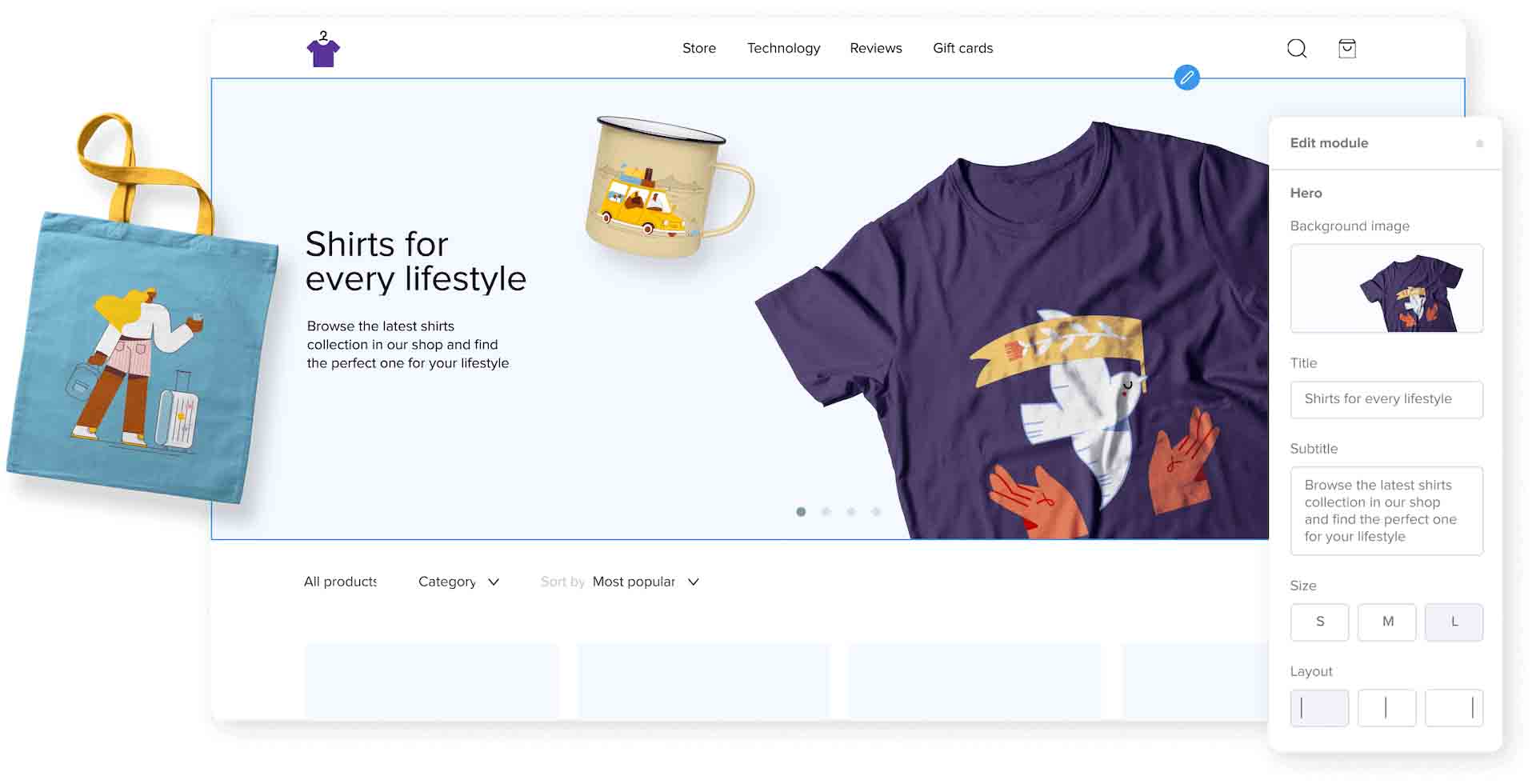 Sellfy is an easy-to-use eCommerce platform that caters exclusively to creators and artists. It's a simple Shopify alternative that provides a decent range of features to make online selling a complete breeze.
It is a subscription-based service which means you'll have to pay monthly or yearly to run your store. The onboarding process of Sellfy is relatively quick and takes only less than a few minutes.
You can sell digital & physical products, subscriptions, print on demand, and freebies. You are allowed up to 50 files per product, and the total file size for all the files should not exceed 10GB. Also, you can add audio or video previews from Youtube, Vimeo, and other hosting platforms to minimize the product size and page loading time.
Pros –
The learning curve is minimal, and there's no complexity.
It doesn't incur any transaction fees, which is a great deal for merchants.
Cons-
The features are minimal.
The marketing and analytics functionalities are basic and can be improved.
It does not offer any theme options which might affect the beauty of your storefront.
You should check our in-depth Sellfy Review to learn more about its features, pricing, and more.
If you are looking for a fantastic Shopify alternative that offers more selling options, Square will be the best choice. It's a one-stop destination for merchants as you can sell on a website, use POS for in-store, expand visibility by promoting on social media, and book appointments.
The most significant advantage of this platform is that it offers a free plan accompanied by a transaction fee with every payment. In this plan, you'll get shopping cart functionality, unlimited product support, and much more.
Square is one of those platforms which comes with a free plan that makes your life easier if you're getting started. Besides, you can access the entire set of services for your business, no matter whether you're a beginner or already an established one.
Pros –
It offers a free custom domain for one year.
It is easy to get started with Square.
You can access in-depth financial dashboards from Square's main product.
Cons –
The range of extensions and integrations are limited.
The marketing capabilities offered by Square can be improved.
BigCartel is primarily a niche-based platform such that it's built exclusively for artists and creators. This Shopify alternative is quite simple to manage and lets you establish your online store without any complications.
Competing in the industry since 2005, BigCartel has stated that over a million creators have used the platform to build and grow their revenue. You can sell a different range of products like t-shirts, clothing, merch, print, jewelry, and other wonderful stuff that showcases your potential.
You can quickly build an online store by choosing any customizable themes or enhancing the functionality by injecting creative codes. It enables you to manage your store, fulfill orders, update products, and run promotions from any device that skyrockets your conversion stats.
Pros –
The platform is intuitive and straightforward to get started.
Pricing is relatively cheap when compared to other Shopify alternatives.
Cons –
Though it has integration with Google Analytics, the analytics features are limited.
It is ideal only for small stores as it does not provide any advanced capabilities.
The free plan allows us to sell only five products.
Which is the Best Shopify Alternative
Shopify is undoubtedly one of the best eCommerce platforms available in the market. But if you think that Shopify is way too advanced, Wix & Squarespace would be the next best alternative. They come with everything Shopify has to offer with built-in features.
If you are a WordPress user and want to add an online store to your existing website, WooCommerce would be the perfect option for you. WooCommerce gives you more flexibility in design and customization compared to Shopify.
If you have a low budget and looking for a subscription-based eCommerce platform to sell digital products, Sellfy is our #1 recommendation.
Finally, if you want to build a store with a vast product catalog and custom features, platforms like BigCommerce, Magento & Opencart would be the right pick.