Are you a Shopify store owner looking to add live chat to your store for customer support? If so, this guide is for you. Keep reading!
In today's fast-paced digital world, online shoppers want quick answers to their questions and assurance that their concerns will be addressed promptly. And, by providing real-time assistance and personalized guidance you can enhance their shopping experience and boost conversion rate for your online store.
This is where a live chat feature comes in, which empowers you to provide precisely that – instant and personalized support, right at your customers' fingertips.
But it's not just about meeting customer expectations; it's about exceeding them. Live chat offers you a golden opportunity to make a remarkable first impression, forge lasting relationships, and leave a positive, lasting impact on your potential buyers.
Fortunately, being a Shopify merchant, you can easily add live chat features to your store, without technical expertise. In this article, we'll walk you through the simple steps to integrate live chat seamlessly into your Shopify store.
So, if you're ready to unlock the potential of live chat and take your Shopify store to new heights, let's dive in and explore the world of real-time customer engagement. But before we dive in, let's quickly cover the benefits of incorporating live chat into your Shopify store and why it's a game-changer for any eCommerce business.
Advantages of Adding Live Chat to Shopify Stores
In the vast landscape of customer communication channels, ranging from social media and emails to traditional phone calls, live chat emerges as a dynamic and indispensable tool for eCommerce customer support.
Unlike other modes of communication, live chat offers the unique advantage of providing instant assistance through automated replies, ensuring that your customers receive prompt and efficient support. While speed and responsiveness are essential, they are just the tip of the iceberg when it comes to the advantages of incorporating live chat into your Shopify store.
Let's delve into some of the other prominent benefits that make live chat a must-have for your Shopify store –
Instant & Personalized Support: Live chat enables you to address customer queries with personalized interactions, leading to higher customer satisfaction and increased conversion rates.
Minimized Cart Abandonment: By offering real-time help during checkout, live chat reduces cart abandonment rates and encourages smoother transactions.
Efficient Issue Resolution: Quick troubleshooting via live chat leads to higher customer satisfaction and a responsive brand image.
Multi-Tasking Capabilities: Live chat allows support representatives to handle multiple conversations simultaneously, saving time and improving efficiency.
Valuable Customer Insights: Analyzing chat transcripts provides valuable customer insights for better business strategies and tailored offerings.
Enhanced Trust & Confidence: Live chat availability fosters trust, loyalty, and a positive brand image among customers.
Increased Sales & Conversions: Personalized assistance through live chat boosts sales by catering to individual customer needs.
Proactive Customer Engagement: Proactive chat invitations initiate conversations with visitors, showcasing exceptional customer service.
Cost-Effective Support Solution: Live chat reduces costs compared to phone support and streamlines the customer support system.
Competitive Edge: Utilizing live chat gives your Shopify store a competitive advantage and elevates your brand's reputation in the market.
Overall, by adding live chat to your Shopify store you can significantly enhance the shopping experience, which consumers increasingly value in today's competitive eCommerce landscape.
Steps to Add Live Chat to a Shopify Store
Shopify doesn't have a built-in chat feature. So, it goes without saying that you need a 3rd-party Shopify app to add a live chat feature to your store. Although there are several Shopify live chat apps that you can use, for this guide, we'll be using Tidio Live Chat.
Tidio is a powerful chat app that integrates seamlessly with Shopify and enables you to provide excellent customer support without any technical hassle of setting it up. It offers both live chat and chatbot features, using which you can offer 24/7 customer support from your store website.
You can read our detailed Tidio review to learn more about its features and functionalities. And, if you prefer to watch video tutorials, here's a set-by-step walkthrough on setting up live chat in the Shopify store –
Otherwise, keep following the below steps.
1. Create your Free Tidio Account
Before we get on to Shopify admin, you need to first create a Tidio account, which is absolutely free.
To get started, visit Tidio.com and click the "Get started for free" button in the top-right corner.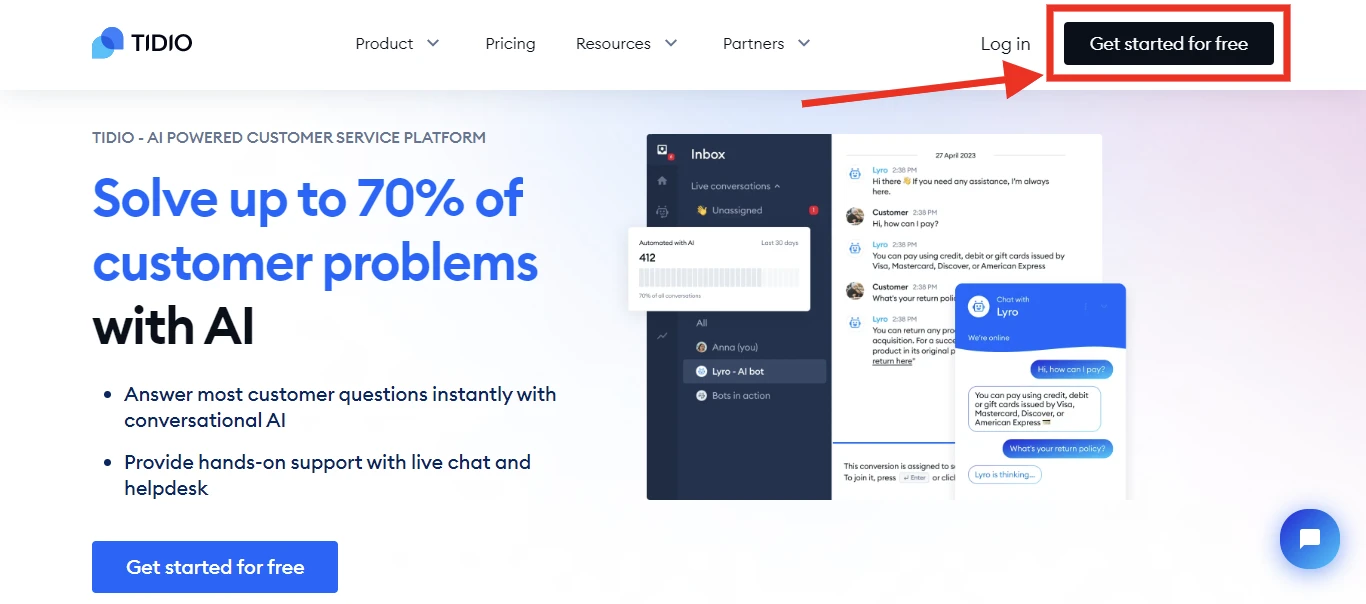 Next, you'll be directed to the signing-up window where you'll need to provide the –
email address
password, and
website URL ( enter .myshopify URL for your store)
Fill in all the details and click the "Get started for free" button to configure the chat panel as shown in the next step.
2. Configure Tidio Live Chat Panel
In this step, you can customize the chat widget on your Shopify store and set it up for a welcome message to visitors.
Tidio will take you through a multi-step form, which is simple to understand and configure. The steps are as follows –
Step 1: Customize the chat widget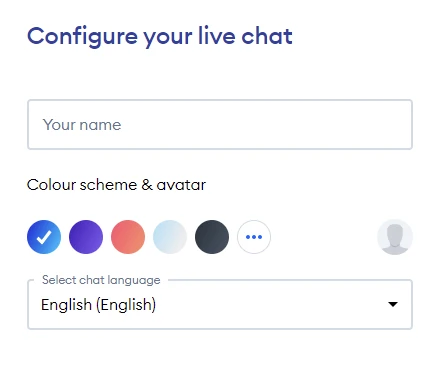 Firstly, you'll be asked the enter the following details;
Name: You can add your name as an agent behind the live chat. It will be visible to visitors on your website.
Color scheme: Choose a color scheme that resonates with your brand guidelines.
Avatar: Add an icon or figure representing your live chat. This could be an image of a real person or simply your brand logo.
Chat language: Lastly, choose the language in which your customers will have the conversation.
Once you've entered the basic details Click the Continue button for the next stage.
Step 2: Personalize the app settings
On the second configuration window, you'll be asked some questions to personalize your experience based on your objectives and goals of using Tidio.
Your input will play a crucial role in enhancing the overall experience and ensuring that Tidio aligns perfectly with your goals. So, make sure that you provide all the details and click the Continue button for the next stage.
Step 3: Set up your first message
Lastly, you can set up your welcome message for visitors to your store. Tidio offers you a few options for that, based on your answers to previous queries –
Send discount code in exchange for their email, which is relevant only for new visitors
Send a traditional greeting message for a warm welcome.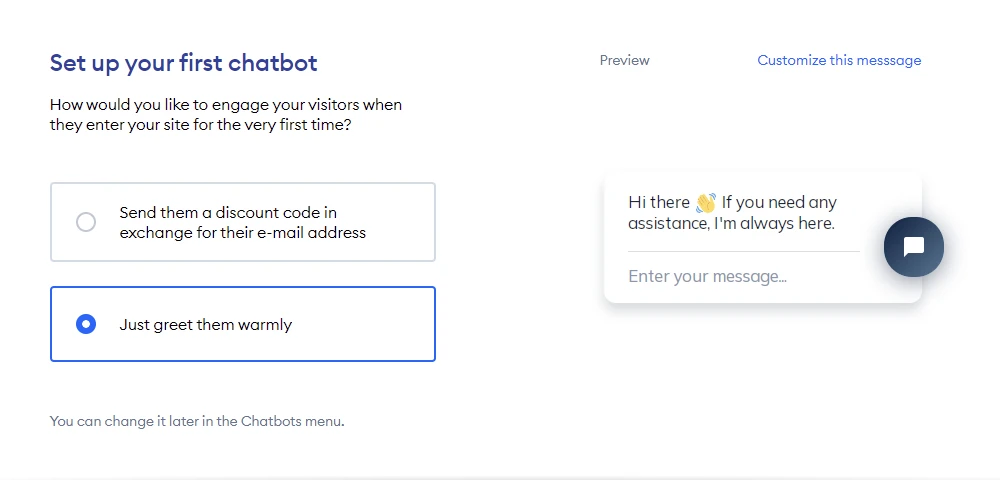 You can select one of the given options and then customize the default message per your creativity and store branding.
Once, you have added the opening message, click the continue button to connect Tidio to your online store.
Step 4: Connect Tidio to Shopify Store
Now, to connect Tidio to your Shopify store, select Shopify from the left sidebar and enter your store URL, as shown below –
Next, click the "Connect to Shopify" button to log into your store admin. After logging in, you will be taken to the Tidio install page. Click on the Install button to add the Tidio app to your Shopify store.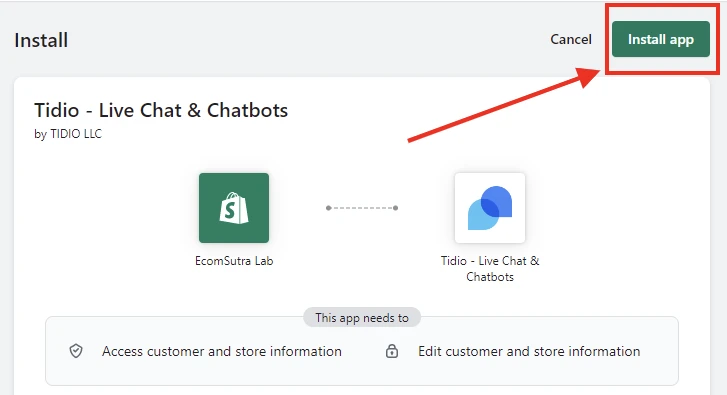 After installation, you'll be redirected to the Tidio dashboard for configuring the live chat app for your store.
3. Activate the Tidio Chat Widget
After all the configuration and integration of the app to your store, you need to enable the chat widget to be visible to your store visitors.
To enable that, go to Online Store > Themes section from your store admin, and click the Customize button next to the active theme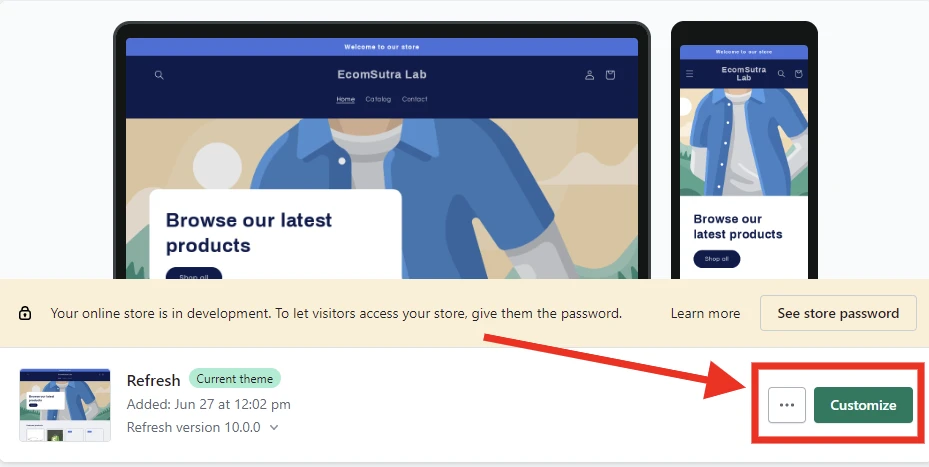 Now, you should be inside the Shopify theme editor. From the left sidebar, open the App Embeds section.
There you'll find the Tidio Chat Widget option. Click the toggle next to the option to activate it, as shown below.
Now, Save the changes. And, there you have it – the live chat widget is successfully added to your Shopify store. And, now, your customers can effortlessly engage in real-time conversations and you can help them find swift solutions to their queries.
Note: You'll need to activate the Tidio chat widget each time you change the theme.
4 Best Tidio Alternatives for Shopify Live Chat
While Tidio offers exceptional live chat features, there are other compelling alternatives out there, each with its unique set of features and benefits.
Here are some of the best ones that you can consider using for your Shopify store –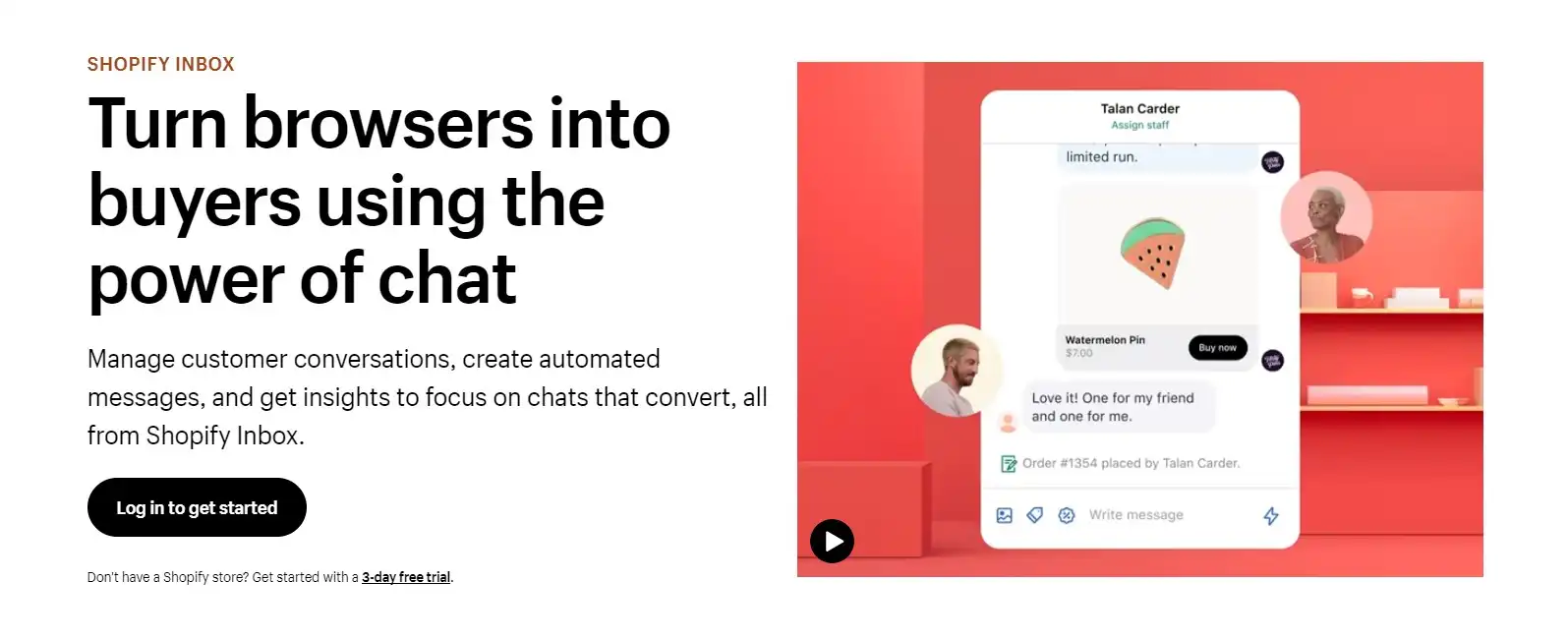 If you are limited on a budget or just getting started, Shopify Inbox can be your best free alternative to Tidio. It is an in-house app developed by Shopify, which ensures deep integration with your store and serves as your messaging tool to connect with your valued customers seamlessly.
Even though it is free, it provides invaluable insights into customers' behavior. From products they've viewed to their cart and order history, Shopify Inbox equips you with all the information you need to initiate personalized conversations with visitors and customers.
Key Features –
Engage in live chats with customers directly from the Shopify mobile app, ensuring you never miss an opportunity to connect.
Seal the deal with custom discount codes shared over chat, driving conversions and customer loyalty.
Save time with pre-defined response shortcuts for instant replies, providing efficient and effective customer support.
Keep customers in the loop with automated order status updates delivered right through the chat platform, enhancing their post-purchase experience.
Pricing Plan – It is free to use.
Chatra is another powerful alternative to Tidio for live chat. It is thoughtfully crafted to help small businesses enhance their customer support without any technical hassle. With a plethora of impeccable features, this application enhances your store's conversion levels by fostering proactive conversations with customers during the checkout process.
One standout feature that truly captured our attention is the offline chatbot, available even in the free plan. Chatra goes the extra mile, allowing you to gather actionable feedback from customers, ensuring you continually refine and perfect your live chat approach.
Key Features –
Seamlessly handle Facebook users' chats directly from the Chatra app on your Shopify store page, streamlining communication across channels.
Elevate your support game with group chats, enabling store agents to join conversations and deliver enhanced service, strengthening customer relationships.
Access detailed conversation history, ensuring that when customers return, the chat picks up from where it left off, creating continuity and personalized interactions.
Trigger chats based on customer behavior, transforming Chatra into a go-to assistant for resolving queries promptly.
Experience the power of live-typing and beautiful animation effects, along with customizable avatars to enrich your store's branding and engagement.
Pricing Plans – Chatra has a free plan that provides you access to basic chat features. For advanced features, you can opt for one of the paid plans, starting at just $17/agent/month, with a 10-day free trial.
For small and medium-sized eCommerce businesses equipped with dedicated support teams, Gorgias can be a better alternative to Tidio for live chat and helpdesk solutions. Operating with an omnichannel approach, it centralizes support requests from multiple channels ( social media, email, calls, live chat) at once, empowering your support agents with all the information about customers to respond swiftly to relevant messages.
Overall, Gorgias is not just a live chat app, but a complete helpdesk software that provides a comprehensive view of your customers and visitors' profiles, enabling you to deliver personalized and meaningful responses during customer support interactions.
You can read our detailed Gorgias review to learn more about its features and functionalities that can help you grow your business.
Key Features –
Gain in-depth insights into customers' data during live chat interactions, empowering you to better understand their needs.
Respond effortlessly with one-click pre-made templates, ensuring quick and efficient support without compromising quality.
Seamlessly edit customers' order details, process refunds, and even reward loyalty points – all directly from the dashboard for maximum convenience.
Trigger live chat and pop-up forms strategically on specific pages of your store, proactively engaging visitors at critical moments.
Enjoy smooth integration with other popular Shopify apps for loyalty programs, payment processing, shipping, and more, to create a cohesive and robust e-commerce ecosystem.
Pricing Plans – Gorgias offers a 7-day free trial (no credit card required) on all paid plans, starting at just $10/month and going up to $900/month.
If you're looking to boost your sales through the magic of conversational commerce, LiveChat is your perfect ally. This powerful platform empowers Shopify businesses to sell more effectively by delivering relevant product recommendations during customer chats, maximizing conversion opportunities.
One standout feature that genuinely impressed us is the tagging option. It allows you to add meaningful tags to all chat conversations, creating valuable context and enabling you to filter and access customer data swiftly. Gain quick insights and make informed decisions as you utilize these tags to generate comprehensive reports.
Key Features-
Witness the full scope of customers' order history during live chats, enabling personalized and data-driven interactions.
Capture customers' attention with enticing coupons, deals, and announcements delivered via chat prompts, driving sales and loyalty.
Enhance the shopping experience with real-time product recommendations, guiding customers toward their ideal purchases.
Elevate your support game by integrating a knowledge base into your chat widget, providing instant access to valuable information.
Address complex issues effectively by creating tickets, ensuring no customer concern slips through the cracks.
Pricing Plans – LiveChat offers a 14-day free trial on its paid plans, starting at just $20/month.
Wrapping Up
Live chat is a basic functionality that every Shopify store must have. It opens up a window for customers to interact with the brand directly. It not only enhances your customers' shopping experience but also increases the store's conversion rate and sales.
In this guide, we've explored the benefits of adding live chat to your Shopify store and steps to incorporate it into your store. Now, as you move forward with adding live chat to your Shopify store, here are a few key takeaways that you must keep in mind –
Instant Gratification Wins Hearts: In the age of instant gratification, customers appreciate quick responses to their inquiries. Live chat allows you to address their concerns promptly, turning potential leads into delighted buyers.
Personalization Fosters Loyalty: Live chat enables you to interact with customers on a personal level. Take advantage of this opportunity to understand their needs better, offer tailored solutions, and build lasting relationships.
Proactive Engagement Increases Sales: Don't wait for visitors to initiate a chat. With proactive chat invitations, you can reach out to potential customers at the right moment, guiding them toward a purchase and reducing cart abandonment.
Analyze and Improve: Monitor your live chat interactions and gather valuable insights. Analyze customer feedback, frequently asked questions, and pain points to continually enhance your service and optimize your website.
Keep It Simple: When implementing live chat, focus on a user-friendly interface and ensure seamless integration with your existing customer support channels. A smooth experience will encourage customers to return.
Remember, incorporating live chat into your Shopify store is not just a one-time endeavor; it's an ongoing journey toward building a thriving online business with an excellent customer support system. So, invest time in training your support team, staying updated with the latest industry trends, and leveraging the full potential of this incredible customer engagement tool.
If you are looking for more tips and strategies to grow your eCommerce business, you should check out our guide on the most effective eCommerce marketing strategies.