Looking for a Shopify app to improve customer service in your store? Are you looking for the best Shopify live chat app for your store?
If so, you are at the right place. In this article, I will show you some of the best live chat apps available in the Shopify App Store.
Adding a live chat feature on an eCommerce site is one of the best ways to optimize customer experience and boost sales. Live chat allows customers to instantly interact with customer support and solve their queries, increasing their satisfaction and thus building trust with your store.
Remember, a fantastic customer experience in your store can help you drive more customers by word-of-mouth and generate more sales. But one bad experience can cost a loyal customer. To avoid such situations and solve the issue instantly, I think every online should invest in the best live chat app.
Having said that, here are the top six Shopify live chat apps that I'm going to show you –
Chatra
Reamaze
Ready? Let's get started.
1. Tidio – Best Shopify Live Chat App
When it comes to live chat, Tidio tops the list as it offers the best-in-class features to fuel up your customer satisfaction level. It seamlessly manages all customer interactions and gets all live chat, e-mail, and Messenger communication in one panel from where you can quickly respond to all the queries.
If you want to make your Shopify store much 'smarter,' Tidio also provides you with AI-based chatbots which you can use to set up automated messages based on visitors' behavior and boost sales.
Feature Highlights
It lets you chat with your customers instantly and close more deals to amplify conversion rates.
It is highly compatible with desktop browsers, and mobile versions thereby you can access chats anywhere at any time.
It allows you to check your visitor's location, add custom properties, tags, contact details, and notes about them.
It provides dozens of automation and bot templates that you can customize as per your business needs.
It provides marketing automation and chatbot templates to match your store's design needs.
It offers powerful integrations with 20+ major applications like GetResponse, MailChimp, Zapier, Google Analytics, etc.
Plans and Pricing:
It offers a forever-free plan which includes live chat, chatbots, and other necessary tools to grow your business. But to access advanced features, you need to upgrade to the Chatbots or the Communicator plan which starts at $18/month.
2. Gorgias – Live Chat and Helpdesk
Never worry if your customers reach out to you via multiple platforms, as Gorgias can effortlessly handle all incoming requests in a centralized interface that improves your store efficiency.
It can significantly reduce your response time as it offers stunning pre-made templates that rapidly solve your customer issues and lets you set up automated responses that are hooked up with personalized messages. You can read our Gorgias review to learn more about its features and capabilities, meanwhile, here are some of the key features it has to offer.
Feature Highlights –
It allows you to see which page your customers are active on and gives access to view their purchase history.
It lets your live chat app integrate with other popular apps like loyalty, payment, shipping, etc., to boost more conversions.
It enables you to create specific rules to manage your inbox to answer your customer queries in less than a few seconds.
It lets you view the customer order details, refund, cancellation, and duplication of orders without leaving the help desk.
It also triggers live chat and contact forms on important pages of your store and provides the chat history details in a single unified view.
Plans and Pricing:
It offers a 7-day free trial and has 4 major plans: Basic, Pro, Advanced, and Enterprise. The Basic plan starts at $60/month, which allows up to 350 tickets, and the Pro plan starts at $300/month and allows up to 2000 monthly tickets.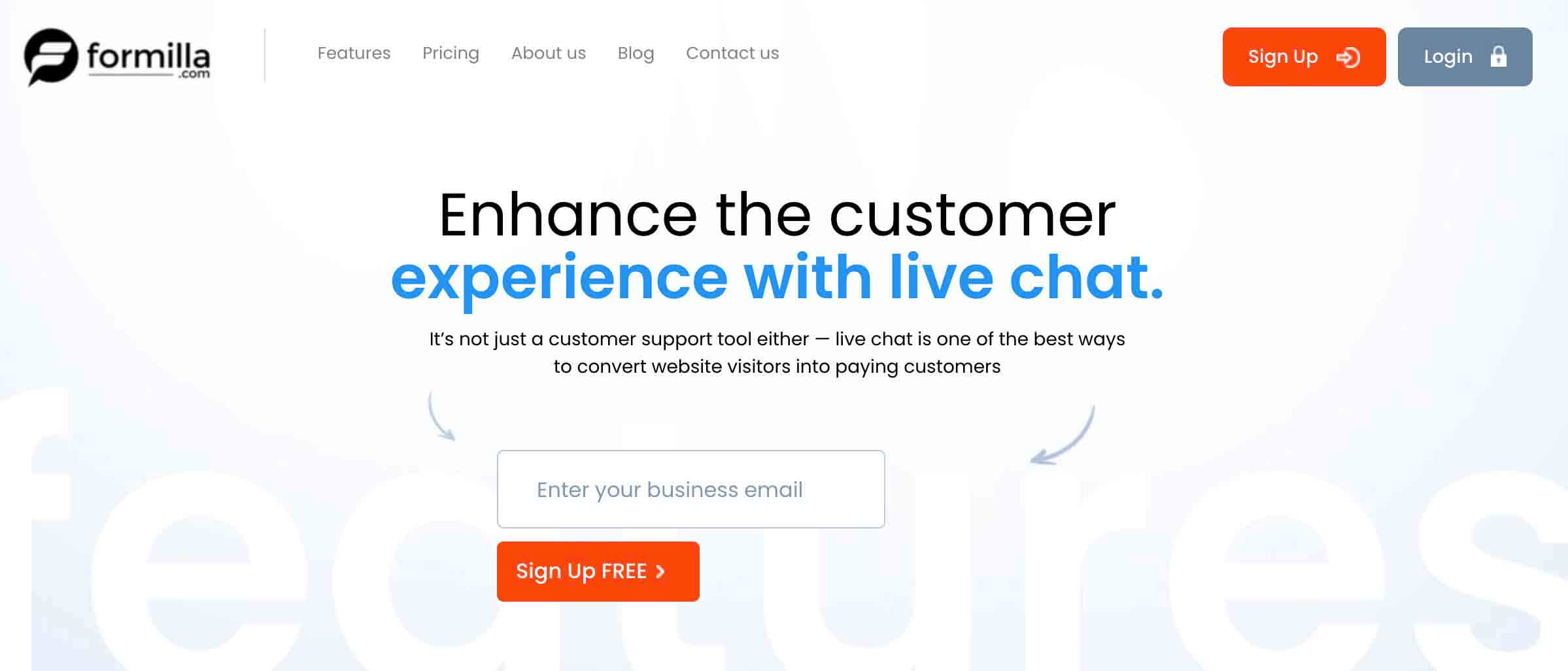 Formilla lets you chat with your store customers by knowing what page they are browsing on your site, their location, and immediately start chatting with them directly from the app. It also offers both Android and iOS apps thereby you can respond to your customer queries at any time.
To facilitate 24/7 support to your Shopify store, you can add AI-powered chatbots that automatically respond to the most common customer questions, ultimately saving a lot of time. You can access this by upgrading to the Premium plan.
Feature Highlights –
It allows you to display custom messages to your store visitors and activates live chat to your incoming visitors after a pre-defined number of seconds.
It enables your customers to share files during the chat so that you can identify their pain points quickly and solve them. Also, disabling file sharing is possible.
It provides multi-language support as you can customize your live chat widget and chat forms in different languages, improving the overall customer experience.
It can also send desktop notifications whenever you receive a new chat as an alert box so that you won't miss out on anything.
It provides incredible marketing automation facilities that display in-app/website popup messages and send email messages regarding new announcements, offers, etc.
Plans and Pricing –
It offers a 15-day free trial and has 3 paid plans: Premium, Professional, and Growth. The Premium plan starts at $29.99/month which offers unlimited live chats, and the Professional plan starts at $49.99/month which removes Formilla branding and offers installation on multiple websites.
Chatra offers impeccable features that help boost your store conversion levels by creating proactive conversations with your customers during the checkout process, which reduces the abandonment rate and provides indispensable support to chat from multiple devices.
It also offers an offline chatbot in its free plan, which communicates with your customers when you are offline. By upgrading to paid plans, you can access all the key features of chatbots to your Shopify store to boost your sales.
Feature Highlights –
It lets you answer all the Facebook users' chats to your Shopify store page directly from the app.
It enables group chats wherein your store agents can join the conversation, enhancing the quality of service and strengthening relationships.
It provides detailed conversation history so that whenever a customer returns back, the chat starts from the same thread.
It allows you to trigger chats based upon your customer behavior, acting as the best go-to assistant in solving queries.
It offers a live-typing feature and provides beautiful animation effects, avatars to enrich your store branding.
Plans and Pricing –
It offers a free plan followed by the Essential and the Pro plan.
The free plan offers useful features to get started, and the Essential plan starts at $19/month which unboxes all advanced features to level up your Shopify store.
4. Reamaze – Live Chat and Helpdesk App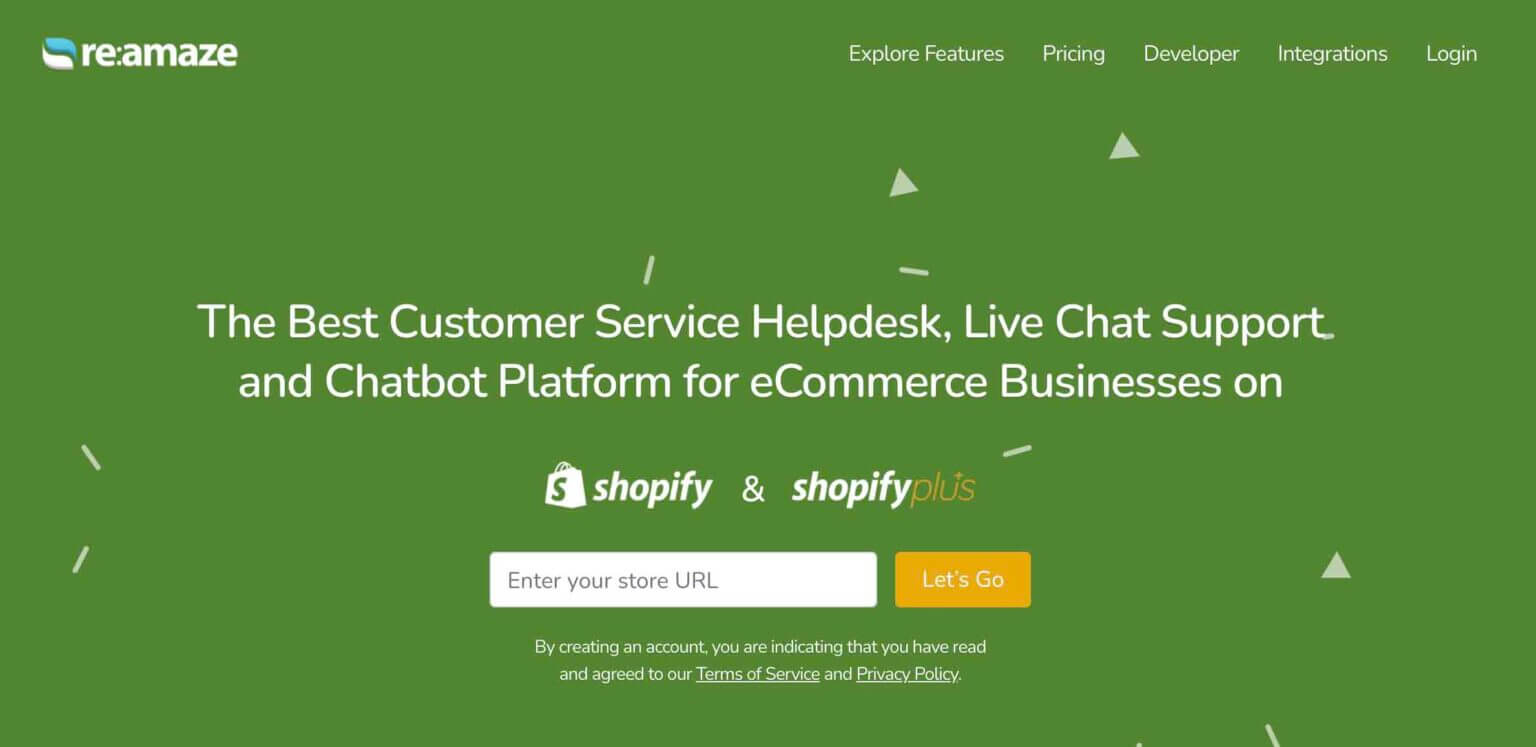 Reamaze is a complete power-packed solution as it offers live chat, chatbots and provides quick access to your customer data to manage order returns, refunds, cancellations, etc., in the conversations that help improve the shopping experience of your customers.
It can quickly send the most relevant products while chatting with the customers, which facilitates quick decision-making and lets you create workflows to reply, assign, and tag tickets in your helpdesk.
Feature Highlights –
It offers pre-built chatbots to answer order status questions and those that are covered in the FAQ.
It uses AI-powered intents to segregate support messages and predict your customer sentiments, helping to understand their behavior.
It offers more than 20 robust and diversified set of integrations to ignite your Shopify store sales.
It facilitates quick response as it offers dynamic reply templates, which save a lot of time.
It helps resolve all the issues quickly as it displays your Shopify store status when a potential problem arises.
It also lets you create automated marketing campaigns based on various parameters like order count, exit intent, number of items in the cart, etc.
Plans and Pricing –
It offers a 14-day free trial and has 4 major plans: Basic, Pro, Plus, and Enterprise.
The Basic plan starts at $29/month, and the Pro plan starts at $49/month which allows for SMS and VOIP integrations.
LiveChat lets you sell more by sending relevant product recommendations when customers chat with you. It provides more chances of conversions as a button is linked which on clicking takes them to your product pages, and you can guide them through the purchasing process.
It lets you add tags to all the chat conversations, creating a meaningful context and filter reports using these tags to get quick access to your customer data. You can also conduct a post-chat survey thereby getting to know your customer satisfaction levels.
Feature Highlights –
It provides a long-list of more than 170 integrations to skyrocket your Shopify store to the next level.
It allows you to send canned responses, thereby saving time in answering repeated questions and offering a messaging mode to connect with your customers back at your convenient time.
It enables your customers to contact you as your chat widget will be replaced with a ticket form when you are offline.
It lets you add a knowledge base to your chat widget so that customers can find solutions for their queries by typing relevant search phrases.
It lets you display apps in the chat widgets thereby, customers can complete a specific action at ease like appointment scheduling or making payments.
Plans and Pricing –
It offers 4 paid plans: Starter, Team, Business, and Enterprise. The Starter plan starts at $19/month, and the Team plan starts at $39/month.
Choose the best live chat app for your Shopify store
Providing a great customer experience is vital for any eCommerce site's success, and live chat is a crucial element to it. So, ensure that you pick the live chat app that fits right to your business.
I hope this article helped you pick the best Shopify live chat app. If you are looking for more Shopify apps to improve your website conversion rate and generate more sales, here are a few hand-picked articles for you –