Do you want to automate your eCommerce accounting? Are you looking for the best eCommerce accounting software for your business? Try Quickbooks, it's best!
When you start an eCommerce business, you might be able to manage your books manually, but as your business starts growing, it can be challenging to manually handle all the expenses, supplier payments, bank transactions, and other critical stuff. Even if you are working with an accountant to manage all your financials, it is most likely that he/she might be using an accounting software.
However, if you are a solopreneur or can't afford to set up an accounting team for your business, you can use a robust accounting software that can help you automate most of the accounting tasks for your store.
A good eCommerce accounting software keeps you on track, from updating your ledger, monitoring the entire cash flow to filing taxation. It has the potential to automate everything so that you can just sit back and concentrate on other important aspects of your business.
Having said that, in this article, I have picked some of the best eCommerce accounting software and reviewed them to help you pick the right one for your online store.
Ready? Let's get started.
1. Quickbooks – Best eCommerce Accounting Software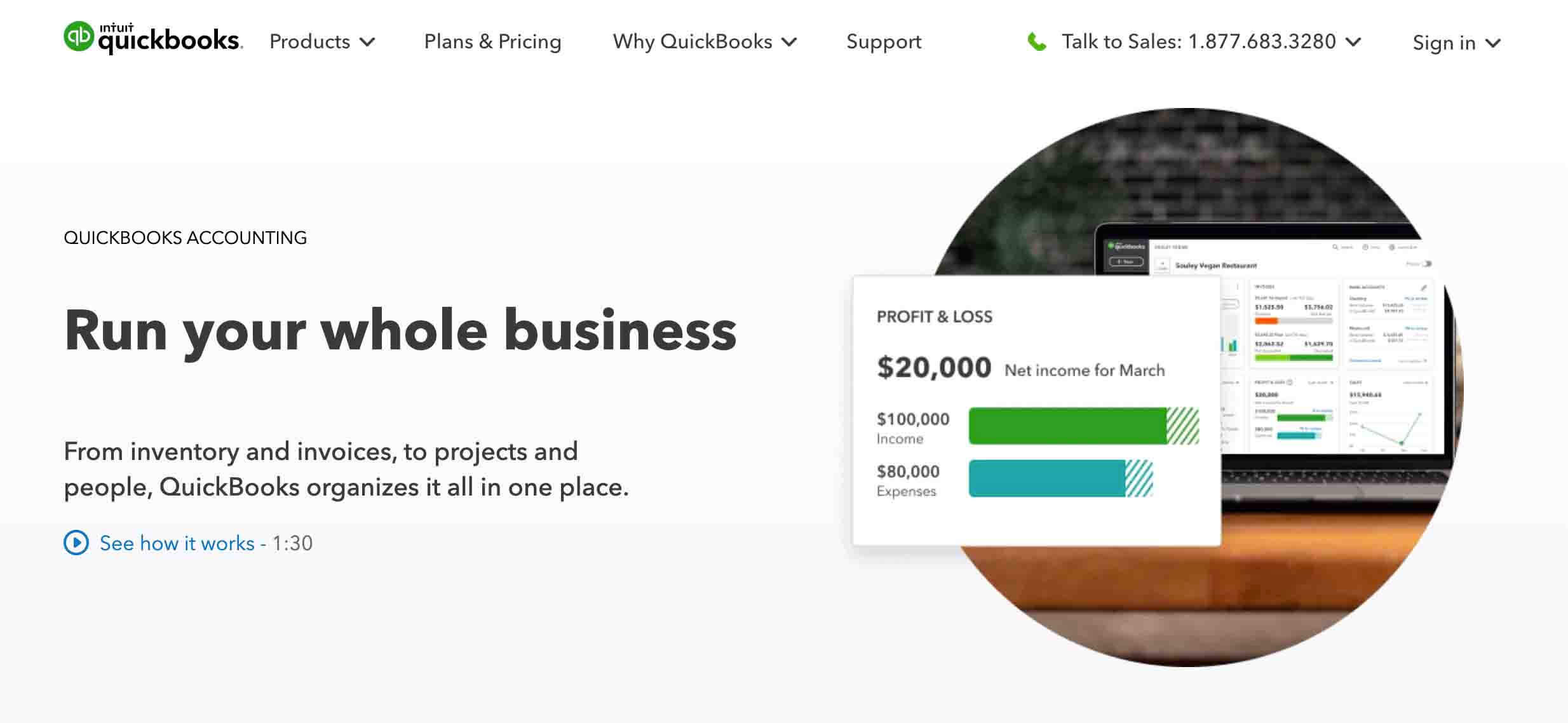 Quickbooks is the most popular accounting software for eCommerce businesses. It lets you track your sales, create & send invoices, and give a complete report on your eCommerce store performance. The best part is that your entire financial data is organized on the cloud so that you can store and manage unlimited accounting data.
You can automatically connect your bank account to Quickbooks and start importing all the transactions. Also, it allows you to track your invoice and sends payment reminders instantly at your fingertips which can be accessed anywhere at any time.
Pros of Quickbooks –
Easy to use & beginner-friendly
Direct integrations with major eCommerce platforms, including Shopify and WooCommerce.
Your entire financial data is organized on the cloud so that you can store and manage unlimited accounting data.
It offers both deployable and cloud-based apps.
Cons of Quickbooks –
The learning curve might be steeper for its advanced features.
Relatively expensive compared to other accounting software.
Pricing & Plans – Quickbooks offers a 30-day free trial on every plan, which starts at $12.50/mo and rises to $90/month with advanced features and more user accessibility. Quickbooks is our #1 recommendation, so if you want to try it, you can use our Quickbooks coupon for 50% off for the first 3 months.
2. Synder – Easy Ecommerce Accounting Software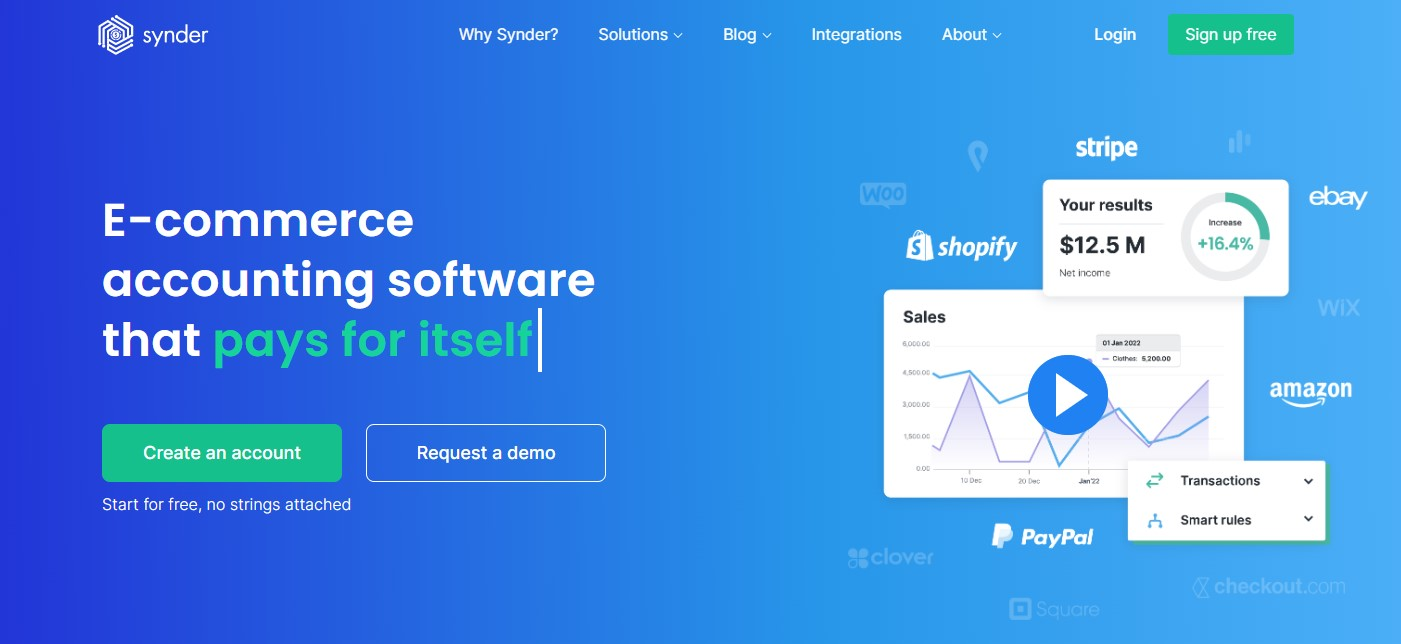 Synder is a cloud-based accounting software designed specifically for eCommerce businesses. It offers a range of financial management tools and resources, including accounting, invoicing, and expense tracking to automate accounting process for the business.
It allows you to connect multiple sales channels and provides consolidated reporting on a single dashboard. It will automatically generated P&L, Balance Sheets, cash flow reports and best sellers across all channels, which you can easily visualize and analyze the financial status of your business.
Pros of Synder –
Cloud-based platform for real-time access to financial data
Integrates with popular e-commerce platforms and payment gateways
Automates many manual accounting tasks
Customizable reporting and analysis options
Affordable pricing compared to some competitors
Cons of Synder –
Limited customer support options
Limited inventory management features
Can be difficult for non-financial users to navigate
Pricing Plans – Synder offers a 7-day free trial ( no credit card required) on all its paid plans, starting at $13/month. And you can save up 20% on annual subscription.
3. Zoho Books – Popular Ecommerce Accounting Software
Zoho Books is a top-rated eCommerce accounting software that enables you to manage your finances, automate workflows, and lets you cross-connect with other departments. With end-to-end accounting solutions, you can get rid of mundane tasks and deeply focus on other aspects that matter.
It enables you to organize your inventory with vital information like SKU, cost, and stock on hand. Zoho Books also offers a handful of add-ons and integrations on different categories, but to connect with your eCommerce platform, you will need to use the Zapier.
Pros of Zoho Books –
Free plan available
Offers consolidated reports ready to be exported and filed at tax time.
Set a tax preference for each item while creating.
Transactions are restored quickly and let you manage multiple projects easily.
Cons of Zoho Books –
Very limited integration options.
The Mobile app might be clunky sometimes at times of payment processing.
Pricing & Plans – Zoho Books has a free plan for small businesses with <50k USD/annum in revenue. It allows 1 user + 1 accountant, 1000 invoices, multi-lingual invoicing, automating payment reminders, and more.
The paid plan starts at $20/mo and goes up to $70/mo with custom reporting, automation features, and access to advanced integrations.
4. Freshbooks – Robust Ecommerce Accounting Software
FreshBooks is another popular eCommerce accounting software that comes with affordable pricing plans. It generates invoices, tracks expenses, and provides automatic deposits and collaboration tools that help you leverage your eCommerce store's financial status to the next level.
It lets you store your financial records in a general ledger, offers a balance sheet, calculates your store's profit, and delivers a clear sales tax summary for your eCommerce store. You can also get paid faster as Freshbooks allows you to accept credit card payments.
Pros of Freshbooks –
Seamless integration with platforms like Shopify, WooCommerce & other platforms.
Quickly convert your estimated proposals into invoices with just a click.
Invite your store's accountant to access all the financial details, which promotes high productivity.
Get paid faster as Freshbooks allows you to accept credit card payments.
Cons of Freshbooks –
Creating customized invoicing might be difficult.
The reporting features can be enhanced when compared to other accounting software.
Pricing & Plans – Freshbooks offers a 30-day free trial on its paid plans, which starts at just $6/month and goes up to $20/month with unlimited billable clients, customizable email templates, & more.
5. Xero – Affordable Accounting Software for eCommerce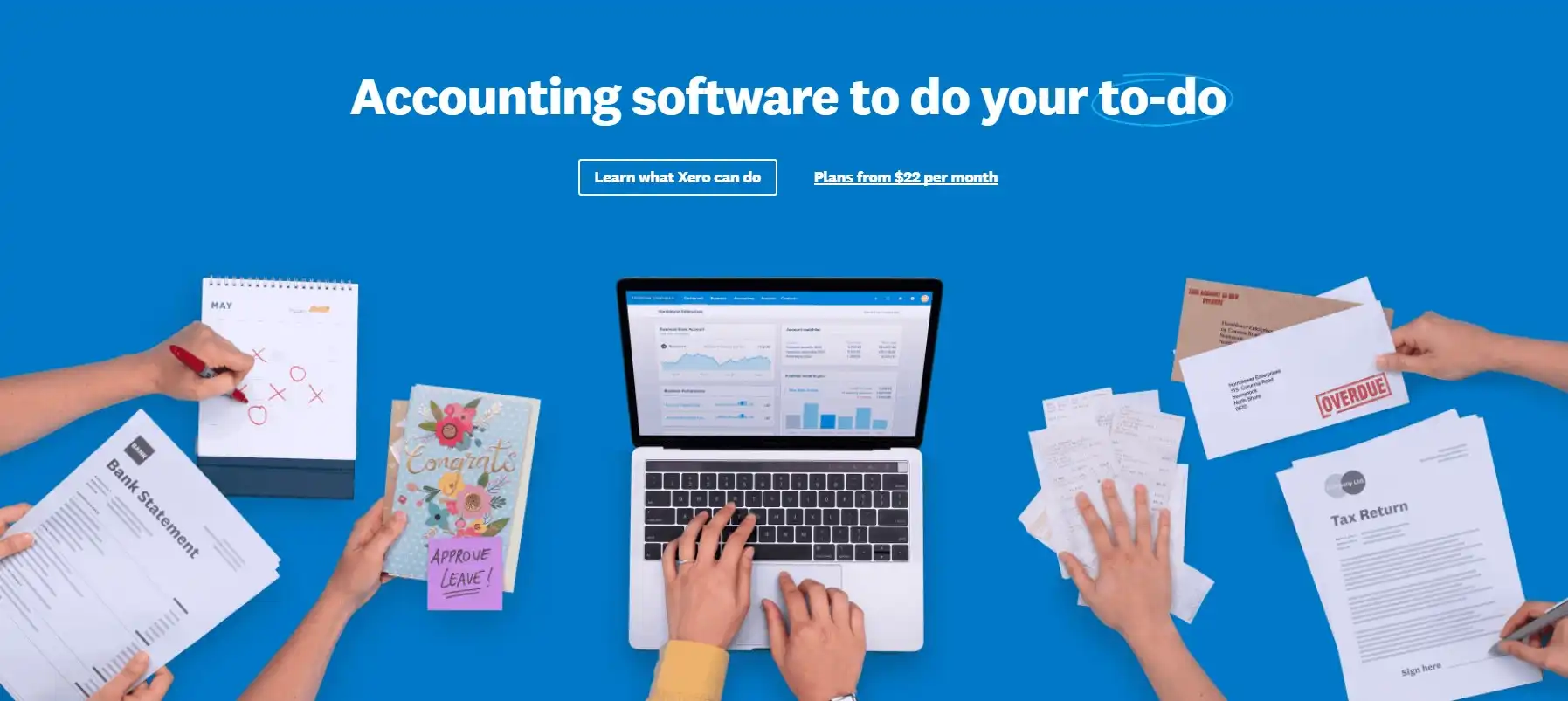 Xero is the most affordable eCommerce accounting software that enables you to make smart online accounting for your store. It takes care of all your banking transactions, manages your store inventory, and keeps track of all the orders and deliveries, which is crucial to running a profitable eCommerce business.
It allows you to pay and get paid from over 160 countries and automatically calculates sales tax on each transaction, eliminating complex accounting processes. Also, it enables you to review and match your bank transactions daily, which delivers high financial stability.
Pros of Xero –
Direct integration for Shopify, WooCommerce & other eCommerce website builders.
Provides good inventory management.
Enables you to create and send PDF quotes to your vendors that look highly professional.
Affordable pricing levels.
Cons of Xero –
The user permissions can be slightly expanded for the team members.
Automatic reconciliation might sometimes be inaccurate, so you need to review them manually.
Pricing & Plans – Xero offers a 30-day free trial with access to all its features to test the products before selecting the plan you want. The basic plan starts at $22/month.
6. Wave – Free Accounting Software for eCommerce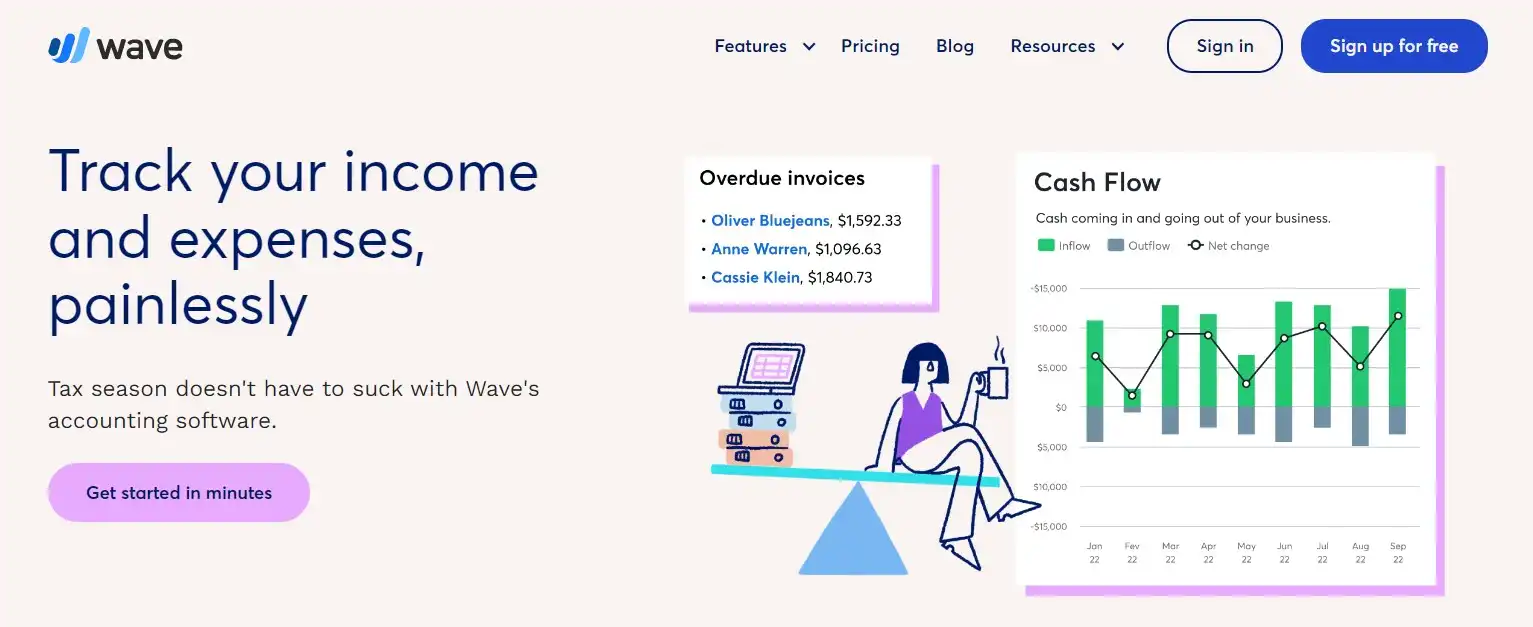 Wave is a free and award-winning financial software that synchronizes your expenses, creates rich-looking invoices, and automates all complex financial transactions. It manages the entire cash flowing in your eCommerce business and lets you seamlessly access all your customer information in a unified area.
It delivers instant invoice reminders to get to know when your payments are due or have to pay to vendors. The great news is that you can get paid within 2 business days, and customers can pay via credit cards by clicking on the 'pay now' button embedded on your invoices. This incurs a fee of 1% per transaction.
Pros of Waves –
Free forever
Offers stunning invoice templates that are designed to perfectly match your financial requirements.
Enables you to switch between manual and automatic billing whenever you want.
It offers detailed reporting on overdue invoices & bills, cash flow, profit & loss, and much more.
Cons of Waves –
No direct integration with eCommerce platforms
Some users express dissatisfaction with customer support.
Scheduling recurring bills can be made much easier.
Pricing & Plans – Wave is free to use. No setup fees, no hidden costs, and no monthly fees.
Choose the best eCommerce accounting software
Now that you've got to know about different accounting software for eCommerce businesses, you can wave a happy goodbye to bundled papers and complex running spreadsheets.
By choosing the best accounting software per your requirements, you can automate all your 'to-do' accounting tasks and make better data-driven financial decisions that facilitate your eCommerce business's upliftment.
I hope this article helped you pick the right accounting software for your eCommerce business. If you are looking for more software for your eCommerce business, here are a few hand-picked articles you should check –