We've been talking a lot about the massive growth of the B2C sector across various touchpoints. With no surprise, now B2B businesses have joined the bandwagon by completely transforming all the traditional and time-consuming operations into the digital space.
In fact, according to Statista, the global B2B eCommerce market is valued at US$14.9 trillion in 2020, which is over 5 times that of the B2C market.
This innovative shift is possible due to the development of various B2B eCommerce platforms. These platforms help you build and manage robust B2B websites with automated complex processes, and enhanced features to smoothen the buying process for customers.
So if you're looking for a wholesome opportunity to build and maximize your B2B eCommerce business, you've landed in the right place.
In this article, I'll show you some of the best B2B eCommerce platforms that you can use to create your B2B online store for wholesaling to retailers or supplying bulk products to other businesses.
12 Top B2B Ecommerce Platforms
Now, based on the features mentioned above and other factors associated with B2B eCommerce, in this section, we have reviewed and ranked some of the popular B2B eCommerce platforms.
If you are ready, let's get started.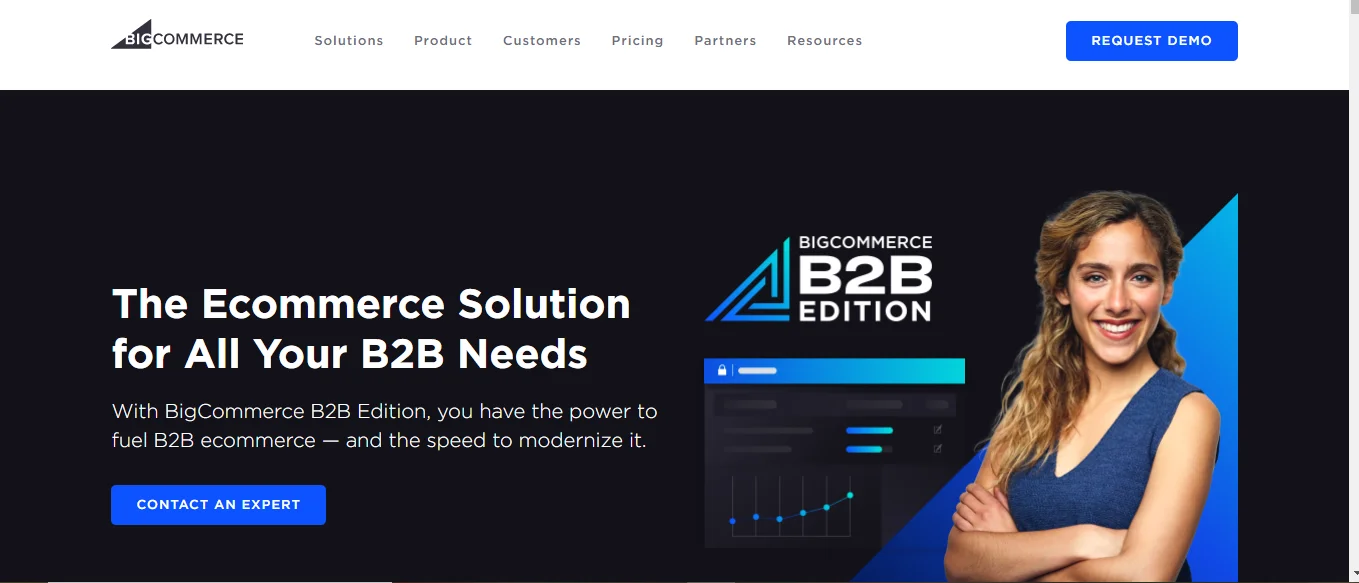 BigCommerce is a relatively popular SaaS-based platform for B2C entrepreneurs to maximize their business. Recently it has launched its B2B edition with a modernized approach to selling. It comes with robust pre-installed B2B features to fuel up your business growth.
You'll experience a tailored onboarding process that streamlines your entire buying & selling process. Moreover, it takes care of automatic updates and hosting, so you can keep generating sales 24×7 even while you sleep.
Key Features –
Customer segmentation for pricing, product access, and promotions
Shared shopping lists and buy-again capabilities
Corporate account management allows customers to set up multiple tiers of buyers with specific roles and permissions
Advanced payment options and dedicated invoice portal
Effective quote management for sales representatives
Enable restricted log in to enhance authorization
Integration with ERP, CRM, and Product Information Systems (PIM) via API
Pricing and Plans – BigCommerce B2B Pricing is available upon request.
Shopify Plus is an enterprise edition of Shopify, which is designed specifically for large businesses with revenue higher than $1 million and requires advanced features and customization. If you are already using Shopify or have experience with the Shopify ecosystem, it would be the perfect platform for you to start your B2B venture.
It makes it super easy for anyone to use their existing Shopify data, or migrate from another platform to build the store. They provide 24/7 expert support via Shopify Plus partner program and can get you started within weeks at a minimal cost compared to hiring quality developers yourself.
Further reading – Shopify vs Shopify Plus Comparison
Key Features of Shopify Plus –
Access to a 24×7 self-serve ordering portal for customers
Create custom pages like FAQ, policies, etc. as per your brand
Set discounts and volume-based pricing, which includes min/max thresholds
Enable personalization with products, pricing, and payments
Ability to automate and review wholesale account signups
Instant online checkout to boost conversions
Localized shopping experiences with multiple stores, currencies, and languages
Pricing and Plans – Shopify Plus starts at $2000/month. However, there's a variable fee for even more high-volume businesses.
CS-Cart is a robust and customizable B2B eCommerce platform for manufacturers and wholesale companies. It comes with open-source code so you can get complete visibility and customize the entire platform by adding functions, designs, and whatever you need.
You can create unlimited storefronts and manage them effortlessly from a unified admin panel. Moreover, the purchasers can work in one account as different users, and there's no need to share the credentials. They can also order a product in advance if it seems to be out of stock.
Overall, CS-Cart's eCommerce platform for B2B is thoroughly optimized for multiple vendors and admins, which helps in boosting sales and revenue.
Key Features –
Access to 500+ important features
Integrates with accounting systems, CRM, ERP and also offers API access
Close your B2B storefronts to hide products and prices to irrelevant users
Flexible Warehouse Management
Allow purchasers to download price lists from their accounts
Intuitive editor to add, delete, and modify content on your pages
Ability to add products to cart in bulk to process orders quickly
Automatic generation of invoice
Over 45 product parameters to configure your product page
Easily create orders directly in the admin panel
Pricing and Plans – CS-Cart offers four major pricing plans. The Standard plan costs $1450/one-time and goes upto the Enterprise, giving access to powerful and advanced features.
Adobe Commerce is an enterprise-level and open-source eCommerce platform. It has an integrated B2B functionality that optimizes every step of your customer journey by offering rich and personalized experiences.
You can allow your customers to self-manage their company accounts via a dedicated customer portal. With this customer portal, they can enjoy setting up multiple tiers with specific roles permissions, track quotes, and define purchase approvals, making them more intelligent and productive.
In a nutshell, Magento is a luxuriant B2B eCommerce platform that is loaded with well-to-do features to outgrow your business to the next amazing level.
Key Features of Adobe Commerce –
Custom catalogs and pricing
Access to a plethora of extensions and a library of APIs
Drag-and-drop merchandising tools
Create targeted content and display product recommendations
Integrated customer quoting and price negotiation
Allow buyers to place orders by entering SKUs, uploading CSV files, or via preset requisition lists
Seamlessly handle growing traffic
Pricing and Plans – Magento Commerce pricing is based on Annual Gross Merchandise Value and Average Order Value.
SuiteCommerce by NetSuite is a robust cloud-based platform that supports online stores, in-house sales, distributors, manufacturers, brick-and-mortar locations, and channel platforms from a single platform. Since it is ERP-based, you can connect relevant system modules, align your operations and serve beyond your customer expectations.
You don't have to worry as your site gets ready within 30 days or less. You can easily add new features and organize the entire billing process to allow your customers to view and access critical payment information.
Key Features SuiteCommerce –
Enable buyers to convert a quote into a sales order and automatically apply volume discounts
A full-fledged customer dashboard that connects all channels and touchpoints
Access to online self-service tools to reduce support queries
Approve new wholesale accounts by setting up automated checkpoints
Increase revenue by offering customers credit cards, promo codes, and gift card payment options
Design curated online catalogs for your customer segments based on geography, previous transaction, account type, or status
Pricing and Plans – SuiteCommerce by NetSuite is available upon request.
OroCommerce is an open-source and large-scale B2B eCommerce platform that supports traditional and headless commerce. In fact, it has received many accolades from the world's renowned media like IDC, Gartner, and Frost & Sullivan for its creative B2B capabilities.
You can build a customizable self-service eCommerce website, customer portal, or wholesale portal via cloud or on-premise. One standout aspect is that OroCommerce offers a free community edition packed with all significant features exclusively for small-size businesses.
Key Features of OroCommerce –
Powerful built-in CRM and eCommerce functionalities
Multiple shopping lists and price-lists
Personalize your product catalogs for specific companies, business units, and individual buyers
Elastic search support
Multi-site and multi-org structures for multi-brand & international businesses
Native CMS capabilities for flexible data management
Integration with ERP, Warehouse systems, and PIM tools
Boost revenue via one-time coupons, scheduled discounts, ongoing deals, Buy X/Get Y deals, and free shipping
Create an unlimited number of custom workflows for buyer and merchant related processes
Advanced segmentation, scalability, and performance capabilities
Improve search visibility by optimizing meta descriptions, URL slugs, keywords, meta-keywords, and much more
Browse reliable extensions on its marketplace
Pricing and Plans – As discussed, OroCommerce's Community Edition is free to use. If you run a mid-sized or large-scale B2B business, you'll have to contact the team to discuss the pricing. Enterprise pricing is based on the number of admin users, deployment, and gross merchandise value.
Shift4Shop is a powerful B2B eCommerce platform that has over 200+ in-built features to flourish your business. With its powerful core template engine, you can build a mobile-responsive design with intuitive navigation. It is infinitely scalable and offers unlimited bandwidth to maximize traffic.
You can build organized product pages that contain photos and video galleries. Moreover, it's possible to add bullet points, create configurable tabs, and display product reviews and Q&A on each product page to allow customers to make the best decision possible.
Key Features –
Find products quickly via unlimited categorization.
Provide wholesale pricing with minimum order quantity levels
Financing via Apruve, which is a B2B credit network
Create a tiered bulk pricing structure to set pricing discounts based on order quantity
Personalize the buyer journey by building customer groups and customer-specific price-lists
Flexible tax management and exemption
B2B Cost Centre Locations – create a defined set of locations for your different customer groups.
Streamline the entire order processing flow
Accept online & offline payments, including e-checks, money orders, paper cheques, PayPal, and much more.
Pricing and Plans – Shift4Shop starts at $379/month, allowing for unlimited products, 15 staff users, 30 email accounts, and upto 2M online sales per year.
OpenCart is an open-source eCommerce software that lets you build an online store with 100% customization flexibility. However, OpenCart doesn't provide in-build features to build a B2B eCommerce site; but lets you create a B2B marketplace via B2B Multivendor Extension. The extension converts your OpenCart store into a full-fledged B2B marketplace by letting you access all the features necessary to grow your business.
Both the admins and sellers can enjoy the privilege of accessing all the marketplace features with additional functionalities. In addition to customers, sellers are also given the freedom to upload, update multiple products quickly and create sub-user accounts to boost interaction.
Key Features of OpenCart –
Supports multi-store feature of default Opencart platform
Create quote requests and product query responses
Separate seller product collections
Vendors can have their sub-domain provided by the admin
The seller can view transaction status to know whether the admin has made the payment
Accessibility for customers to send quote requests for existing as well as custom products
Full rights for admin to configure every aspect in the marketplace
Products will be sent for review and upon successful admin approval the customer can opt for it if he/she doesn't have rights to it
Pricing and Plans – OpenCart is free to get started but the B2B Marketplace extension can cost $299.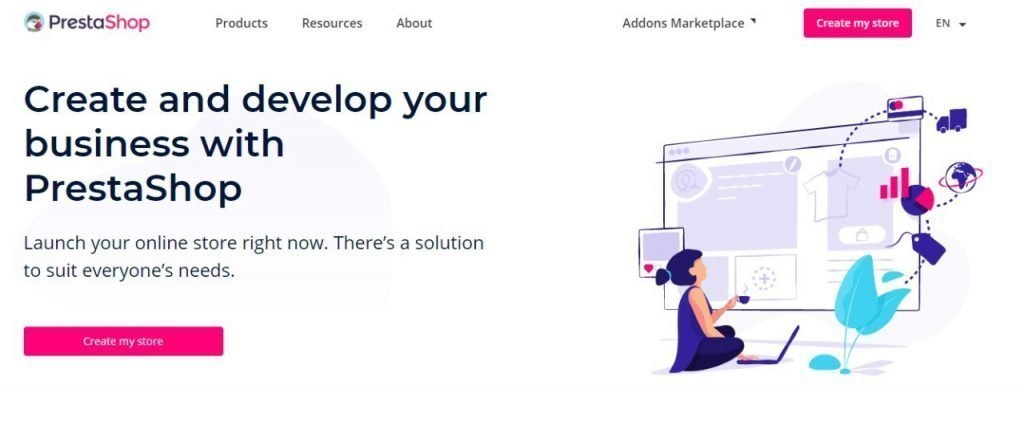 PrestaShop is another beginner-friendly and open-source eCommerce platform that has tons of templates and modules to create a fully functional B2B eCommerce site. Whether it is to increase traffic, promote your store, or enrich the customer experience, PrestaShop has got you covered with all essentials.
Similar to OpenCart, PrestaShop also lets you create a B2B marketplace like Alibaba using a 3rd-party addon. You can also use different B2B modules, available in its addon marketplace to customize pricing, offer badges for sellers, bulk buying, and place post-buying requests.
Key Features of PrestaShop –
Improved back-end performance
Customizable themes and checkout
Ability to hide the pricing
Commission Management in which the PrestaShop B2B marketplace module will take care of the calculation
Dedicated dashboard for sellers in the marketplace
Upon admin approval, sellers can sell their products in bulk
Set different discounts on products
Pricing and Plans – The cost of PrestaShop modules will vary depending upon your requirement. The B2B Marketplace extension is priced at $449 and has an installation fee of $89.80. You can also request customization by submitting a ticket.
Undoubtedly, if you are handy with WordPress, WooCommerce makes the best pair to build your B2B eCommerce site. Instead of installing individual plugins to add B2B-essential features, WooCommerce now offers a fully-packed WooCommerce B2B plugin explicitly designed for wholesale eCommerce.
Using shortcodes, you can insert relevant B2B data at places you prefer. It has high compatibility with themes, offers a simple UI, allows for pluggable functions, and provides suggested snippets to customize the plugin's default behavior.
Key Features of WooCommerce B2B –
Personalized price lists by customer group
Offer different discount percentages by customer group
Hide single product price/stock by group or mask up prices to unregistered users
Option to add regular default price as recommended retail price to your B2B customers
Insert barcodes to products and display them on a single product page
Tax exemption and VAT support
Advanced admin filters and bulk actions
Set minimum and maximum product quantity
Ability to set up packaging quantity for each product that can be purchased only in incremental quantity
Pricing and Plans – The cost of a Regular license for WooCommerce B2B is $69, and the Extended license is priced at $149. You'll have to pay additional charges to increase the support to 12 months.
With over 1000+ customers in 65 countries, Peppri is a popular B2B omnichannel sales platform for CPG brands and distributors. It has been trusted by leading retailers and serves across all verticals like food, beverages, eyewear, jewelry, gifts, health & beauty, outdoor and sporting goods.
You can effectively consolidate your omnichannel sales on a single platform to streamline the incoming operations. As a competitive edge, you can uncover the buying trends, sell-through, promotions, performance, and much more in offline and online channels.
Key Features of Peppri –
Self-service available 24×7 via a branded portal
Access to the web and native mobile apps with offline support
Create buyer-specific catalogs, price lists, payment options, shipping, and much more
Headless commerce for infinite scalability
Excellent back-office integration
Shelf-side ordering along with barcode scanning
Manage wholesale eCommerce, salesforce automation, retail execution, and route accounting via centralized management
Pricing and Plans – You must submit the price quote or contact the sales team to discuss Peppri pricing plans.
Sana Commerce is a versatile B2B eCommerce platform exclusively built to solve your business's specific needs. Since it is ERP-driven and bundled with integrated B2B functionalities, there are no chances for data duplication, technical overheads, and operational costs.
It comes with advanced product and customer-centric functionalities to deliver a hyper-relevant buying experience. To eliminate the nuances and optimize for higher revenue, you can view actionable eCommerce analytics and access them right from your dashboard.
Key Features of SanaCommerce –
Drag-and-drop CMS
Streamlined order management
Access to extensions like Sana Pay, Sana Apps, and other add-ons
Easy flow of information between front-end and ERP
Customer-specific pricing and volume discounts
B2B streamlined checkout flow with Sana Pay
Production and test environment
Built-in custom dashboard to track important metrics
Pricing and Plans – Sana Commerce pricing is available upon request. It comes with three different plans – Customer Portal, Standard, and Enterprise Plan.
How to choose the best B2B eCommerce platform?
Although B2B and B2C eCommerce are not much different in terms of online operations, there are certain factors that you much consider while choosing the right platform for your B2B eCommerce site.
On that note, here are some of the 'must-have' features that you should look for in a B2B eCommerce platform –
1. Robust B2B Customer Portal
A B2B Customer Portal is a centralized interface where the merchants, suppliers, manufacturers, or distributors collaborate to fulfill their day-to-day operations.
Conventionally, the B2B buying process is a bit long as merchants have to source for the right products, contact relevant suppliers/manufacturers, create quotes, bargain or negotiate and then close the deal.
But with a B2B customer portal, both parties can get personalized access to the company's product and service information. They can view relevant products, instantly create quotes, convert them into orders, make payments and view the shipping policies. All these can be done within a few simple mouse clicks.
Overall, having a B2B customer portal is beneficial as it shortens the buyer journey and improves the business-business relationships.
2. Restrictive Access Controls
In B2C, every customer can access every page of the site that is meant for them – there are not many restrictions whatsoever for customer access. But in the B2B business model, you may need to put some restrictions on product and information accessibility, depending on the customer type, location, and other factors.
For instance, you may want to –
Allow registered retailer to access your entire catalog, pricing, and supplier info, whereas non-registered users can only browse your website.
Display certain products for users based in specific location, while hide them in other regions
Display different products and information to B2B and B2C customers
You can do anything with such access control on your eCommerce platform. So, you want to first ensure that your chosen platform provides all the kinds of restriction control you will need for your business.
3. Advanced Personalization
Nowadays, personalization in the customer buying journey is one of the key elements for eCommerce brands to grow. And the same applies to B2B eCommerce.
The active areas that have to be personalized for enhancing the customer experience in B2B eCommerce are –
Search – Buyers want to see only relevant products and not wade through many unwanted search results.
Catalog management – Personalized catalogs serve only the needed product information depending upon the buyer's requirements.
Pricing – In B2B eCommerce, pricing depends on buying volume, margin, contracts, thresholds, and much more. So the pricing must be customer-centric, for which it has to be highly personalized.
Customer Segmentation – This is a time-saving aspect as you can easily categorize your end customers in different categories to satisfy their needs better.
User Experience – Your B2B site is designed to meet the purchasing requirements of different users. It should be user-friendly, scalable, responsive, and customizable at every step of the buying journey.
If you are serving businesses of all kinds from multiple industries, your eCommerce platform should provide you with advanced personalization features that allow you to display products and information to customers based on their needs and requirements.
4. Smooth Inventory Management
For B2B, inventory management is crucial as wholesalers, manufacturers, or distributors have to quickly ship the products to the respective customers.
Besides, you'll have to keep an eye on cycle counts, process just-in-time orders (if any), set par levels for products, track returns/refunds, and ensure proper cash flow. So the platform you choose must enable you for a hassle-free inventory management system to increase productivity and efficiency.
5. Integration with ERP Software
If your chosen B2B eCommerce platform integrates with the ERP system, then you can easily unify all your day-to-day business operations. All the independent modules like sales, marketing, human resource, financial operations, and customer management will be integrated to prevent inconsistency and data loss.
However, this shall not be mandatory if you run a small-scale B2B business. Mid-range and larger companies with high data processing can benefit from ERP integration.
6. Payment Methods
B2B payments are usually in huge amounts which comes with a sense of risk for both parties regarding payment failure or poor product delivery. So, as a B2B business owner, you must consider this fact and ensure that your platform offers payment methods that will be convenient for you and your clients in the long run.
Moreover, in B2B eCommerce, you need to process payment invoices, approve bulk payments, monitor transactions, or send payments to multiple vendors. So to process transactions without friction, your B2B eCommerce platform must also support multiple payment modes to optimize cash flow throughout the operational chain.
These are some features that are crucial for B2B eCommerce businesses. However, there are other factors such as pricing plans, sales cap limit, transaction fees, etc., that should also be considered while selecting an eCommerce platform.
Which is the best B2B eCommerce platform?
B2B eCommerce requires a powerful platform that can sustain a load of multiple vendors, tons of product listings, and visitors simultaneously without affecting the website loading speed and user experience.
Over that, you want to platform that provides essential features and tools you need for your business model. So, to choose the best B2B eCommerce platform, you should start with figuring out everything you want in a platform and choose the one that matches your business needs.
All the eCommerce platform listed above are the best and brings something unique to the table. So, I hope this article helped you pick the most suitable B2B eCommerce platform for your business.
Want to stay updated with the latest tips and strategies to grow your eCommerce business? Don't forget to follow us on Twitter and Instagram.