Today, starting an eCommerce business is not as difficult as it used to be 5 years ago. Now, you have eCommerce platforms that enable you to build an online store without writing a single line of code. In fact, these platforms come with everything you need to manage and grow your eCommerce business – inventory, marketing, multi-channel fulfillment, and more.
However, there are hundreds of eCommerce platforms available in the market, and choosing the right one for your business can be overwhelming.
So, to help you with it, we did the leg work for you and collated some of the best eCommerce platforms you can choose from to build an online store in India.
How to choose the best eCommerce platform for India?
If you're ready to start an eCommerce business and wondering which is the best ecommerce platform, there are some essential features that you must look for in a platform. These are –
Web designing & building: To make your eCommerce site intuitive and navigation-friendly, the chosen eCommerce platform must be customizable at every touchpoint.
Product Management: As your eCommerce business grows, your product will be. So the process of adding & managing products across multiple warehouses in India should be as seamless and scalable as possible.
Payment Methods: Offering access to different payment options enables you to attract many customers globally. Also, this is the final step where customers tend to make the purchase. So, ensure that your eCommerce platform supports popular Indian payment gateways.
3rd Party Integrations: The platform should be compatible with your existing tools and others that you may need for accounting, marketing, sales, or automation in general.
Shipping & Tracking: You want a platform that supports Indian shipping service providers and provides real-time tracking for your customers.
Multi-channel fulfillment: If you want to sell on multiple marketplaces alongside your site, you may want an eCommerce platform that supports selling on larger Indian marketplaces like Flipkart and Amazon.
Analytics & reporting: You can't grow your business if you don't have accurate data for sales and marketing. So, ensure that your chosen platform provides detailed analytics reporting.
These are all the 'must-have' features you can expect while looking for an eCommerce platform. They contribute to the seamless flow of information across all your business operations which helps you deliver an unforgettable customer experience.
With that being said, next, we shall dive deep into the top eCommerce platforms in India to know the ins and outs of how they work. Moreover, you can understand whether they align with the above feature requirements to evaluate your business idea.
8 Top Ecommerce Platforms in India
Before getting any further, remember that the best ecommerce platform for you might be different from the best platform for another merchant. So, you need to consider your business requirements and budget to pick the right platform.
Now, let's begin with the most popular eCommerce platform in India –
Being the pioneer and industry leader for decades, Shopify is one of the most popular eCommerce platforms in the world. In India alone, the platform has empowered more than 33,000 entrepreneurs to build and scale their eCommerce businesses locally and globally.
Shopify is an all-in-one eCommerce platform that comes with all the essential features you will need to build and grow your eCommerce business – from product management to a seamless checkout process, everything!
Additionally, Shopify has its own App Store, where you can find apps to integrate tools for additional functionalities such as accounting, marketing, automation, and more. Moreover, you can use pre-built Shopify themes to build your online store easily without writing a single line of code.
Shopify also has an advanced version called Shopify Plus, which is an ideal platform for large businesses to build an eCommerce site. If you want to know more about it, you should check our detailed comparison of Shopify vs Shopify Plus.
Advantages –
SEO-friendly platform
Compatible with India's top payment gateways
Create a multi-lingual website in local languages
Connect with multiple online marketplaces
Advanced sales and marketing automation possible
Tons of responsive Shopify themes are available based on your niche
Extensive library of 3rd-party apps to improve your store functionality
Access to the suite of mobile tools to manage your business from anywhere at anytime
Limitations –
Design and Customization is limited

No access to in-built reporting from basic plan users

Too much reliability on 3rd party apps for advanced functionalities
Pricing Plans – Shopify offers a 3-day free trial and allows you to use the platform at just $1/month for the first 3 months. Afterward, the paid plans start at $29/month and go upto $299/month with no transaction fees on using Shopify payments.
Further reading –
WooCommerce is a leading eCommerce platform globally, which has helped over 5M retailers launch their business idea. Around 27% of the top 1 million websites use WooCommerce due to its extensive eCommerce capabilities.
It is an open-source and customizable eCommerce plugin built exclusively for WordPress sites. All you have to do is to add the plugin to your WordPress site and get your store live instantly.
WooCommerce is easy to use if you want a basic online store. However, if you want advanced features and user interface for your customers, you may need web development or coding skills.
Advantages –
Since it is open-source, the customization possibilities are endless
Access to live shipping rates from leading carriers
Tons of marketing extensions on different categories like advertising, automation, CRM, Email, Social, SEO, and Sales
It is scalable and can virtually integrate with any service
Enable faster checkout via dedicated express payment options
Sell on Facebook, Pinterest, Etsy, eBay, Shopee, and many more
Limitations –
Costs can pile up if you install more extensions
It is self-hosted, so you'll have to manage maintenance and updates
Steep learning curve for beginners
Pricing Plans – It is entirely free to use. Costs depend upon the plugins you integrate for your online store.
Further Reading –
BigCommerce is a SaaS-based eCommerce platform best suited for growing brands and enterprises. The platform is highly scalable since it gives you access to its advanced built-in & custom tools along with powerful API integrations.
Though BigCommerce is robust, the process of designing and managing your online storefront is intuitive as it's built on the Stencil engine. With this technically advanced framework, you can deliver long-lasting customer experiences that keep them coming back.
Altogether, BigCommerce provides you with all the essential functionalities to outgrow your business. It simplifies your eCommerce store management, and offers market-leading tools, enterprise-grade hosting & uptime to handle peak traffic.
Advantages –
Build a customizable store via the no-code drag-and-drop page builder
Take full control over the inventory by managing it across all sales channels
Accept payments over 100+ currencies
More than 50+ discount options are available
Intelligent marketing capabilities to acquire and retain customers
Design single-page checkout to create a frictionless purchasing experience
Optimize pages with Google AMP
Zero transaction fees
Limitations –
Some of the paid themes are too costly
Not a viable option for small businesses
Pricing is based on the revenue threshold, which might become expensive upon upgradation.
Pricing & Plans – BigCommerce offers a 15-day free trial. The Paid plans start at $29.95/month and go upto the Enterprise plan.
Further Reading –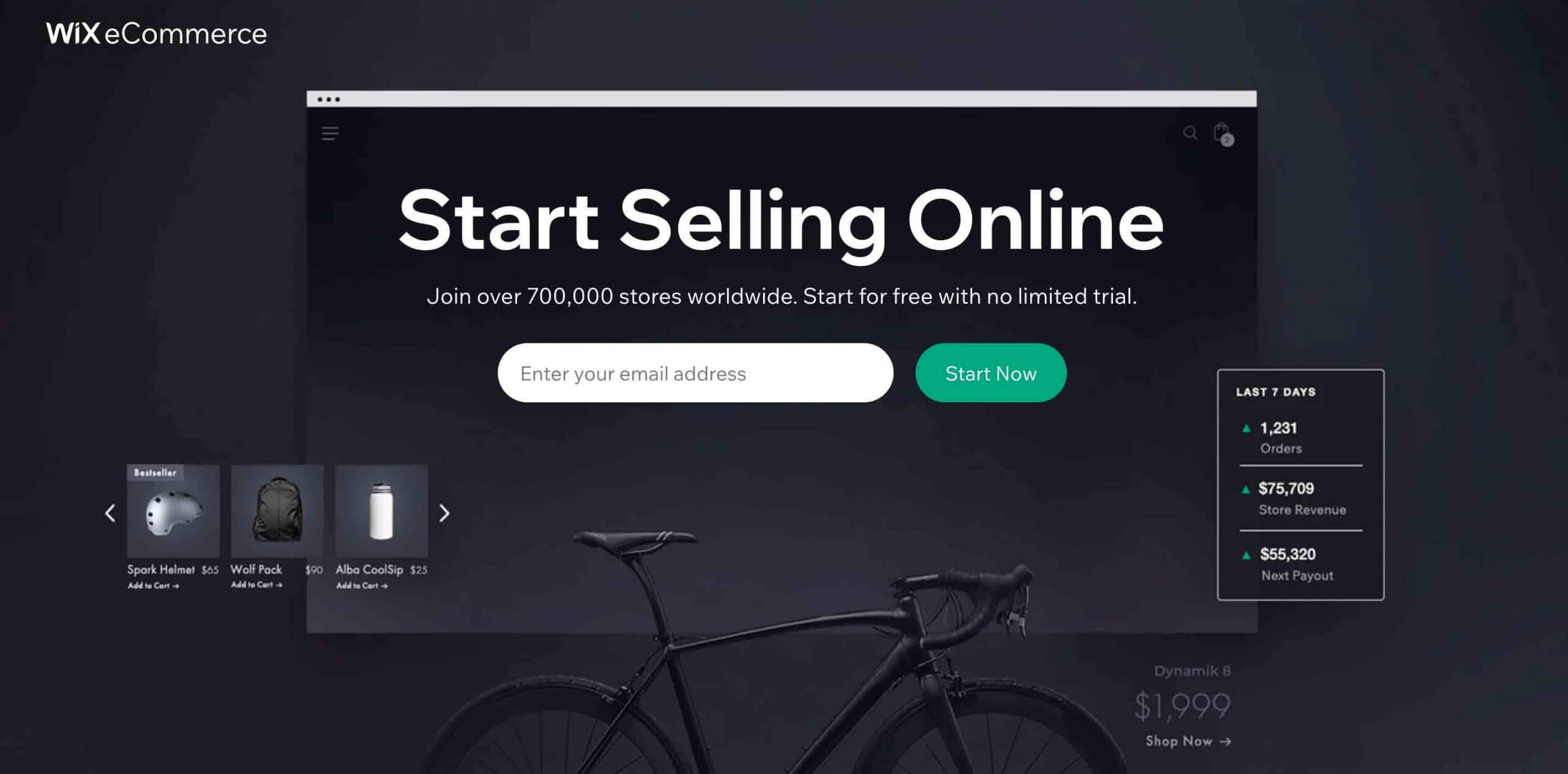 From being a website builder to growing into a capable eCommerce platform, Wix has acquired a competitive position among retailers. With over 200M+ users worldwide and having its presence in over 190 countries, Wix places your products & services in front of potential customers.
With Wix's Artificial Design Intelligence, you can make your site run within minutes. Right from storefront to checkout, everything can be customized within a few clicks to present your products in the best way possible.
Though Wix elevates your online selling experience, it is catered to support only businesses with a small-sized catalog. There are also certain limits placed on storage space and usage of certain apps via integration.
Advantages –
500+ professional templates to choose from
Free SSL certificate
Translate your online store in 150+ languages
Smart automation to save your time
Setup for a hassle-free refund process directly from the dashboard
Smooth catalog and inventory management
Sell on Facebook, eBay, Instagram, and Amazon Shops
250+ free and paid apps on Wix App Store
50+ secure payment gateways and automated sales tax
Access to Wix Ascend – Email marketing, Automation, Google My Business, Wix Chat, Social media post creator, video & logo maker
Limitations –
Expansion of product catalog might be difficult
More advanced options seem to be missing
Can be optimized to handle peak traffic
Pricing Plans – Wix offers a 14-day free trial and comes with a money-back guarantee. The Paid plans start at ₹225/month and scale up to ₹500/month (billed annually).
Further Reading –
If you would like to emphasize more on the visual appearance and aesthetics of your online store, then Squarespace is the Picasso of it. It is best suited for those eCommerce retailers who want to build a rich-looking and captivating storefront without touching a piece of code.
The platform's ease of use is mainly due to its intuitive content management system. This makes it the best platform for beginners to grow their eCommerce business from scratch without any hassle. You can also think of Squarespace as one of the best Shopify alternatives for small businesses and starters.
Whether you want to sell physical/digital products, services, subscriptions with a high focus on design or want to allow customers to schedule appointments, Squarespace is a viable option to consider.
Advantages –
Manage your products with the drag-and-drop sorting tool
Product image zoom for customers to get a better idea of your product
Increase FOMO by displaying limited availability labels
Display relevant products to encourage customers to shop more
Customers can directly proceed to checkout via express checkout mode
Access to commerce-specific analytics for sales by product, purchase funnel, and abandoned cart
Limitations –
Scalability seems to be difficult with Squarespace
Navigational aspects can be improved
More channels can be added for multi-channel selling
Pricing Plans – Squarespace Commerce offers a 14-day free trial. The Paid plans start at $33/month and scale upto $65/month. A transaction fee of 3% is applied on the Starter plan, and upon upgrading to higher plans, you can enjoy zero transaction fees.
Further Reading –
If you want to build your online store in the easiest way possible, there's no better option than Ecwid. It is a free SaaS-based eCommerce platform in India that has helped over 1.5M+ small businesses to build, launch and optimize their online selling efforts.
The best part of using Ecwid is that if you have an existing website hosted on WordPress, Wix, Weebly, Drupal, and Squarespace, you can convert it into an online store by integrating Ecwid's store plugin or extension. It provides extensions or seamless integration with almost every popular website builder.
In general, with Ecwid, you can either build an online store with simple customization abilities or choose to integrate it with your website or marketplaces like Amazon to kickstart your online selling.
Advantages –
Forever free plan
Easy-to-use and beginner-friendly
Responsive shopping cart
Promote your business via Facebook, Google, Pinterest, and Snapchat advertising
Sell simultaneously on multiple websites
Access to the app market with extensions
Android and iOS mobile app to manage business 24×7
Zero transaction fees
Sell on marketplaces like Amazon, Facebook Marketplace
Limitations –
Customization aspects are basic
No access to customer support in the free plan
Analytics and reporting is quite lacking
Pricing & Plans – Ecwid offers a free plan that lets you sell only 10 products. The Paid plans start at ₹700/month, allowing up to 100 products, and go up to the Unlimited plan in which you can sell unlimited products costing ₹5000/month.
Further Reading –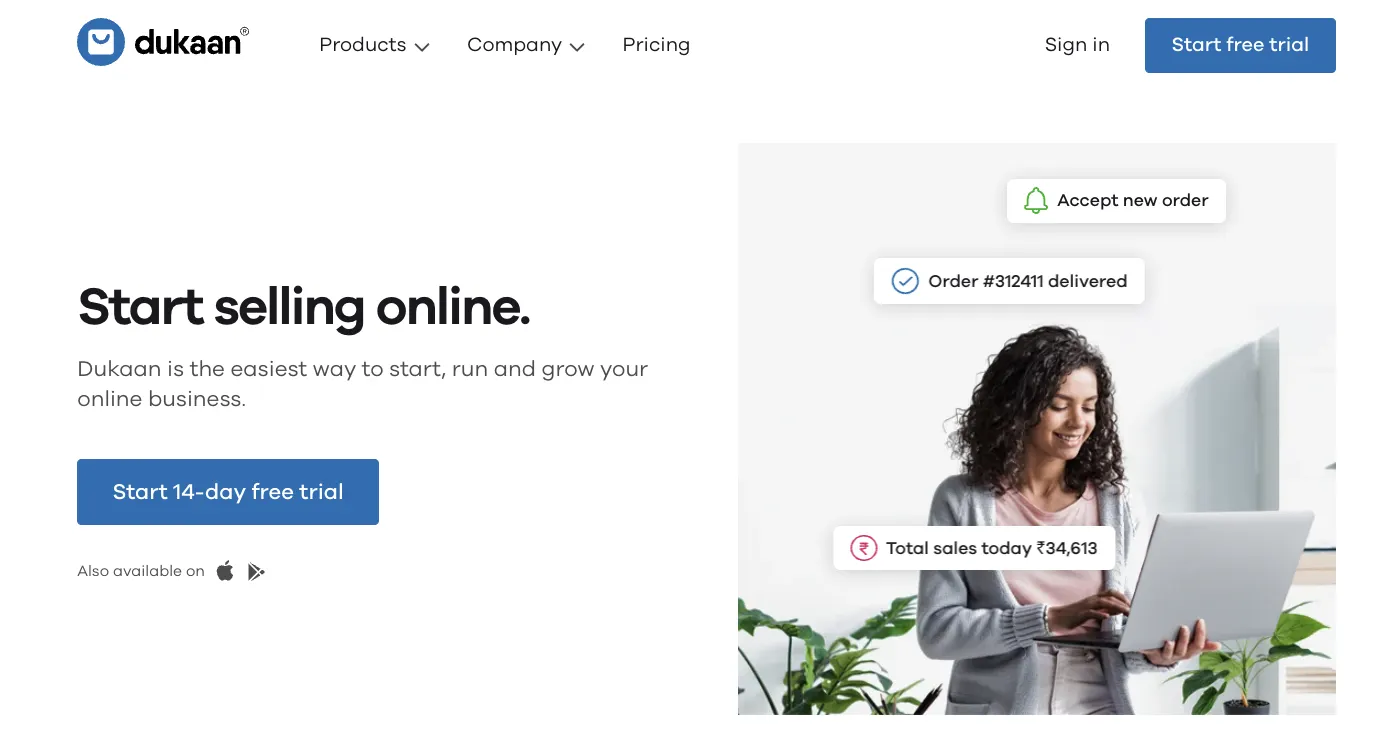 Dukaan is an emerging eCommerce platform in India that started in 2020 and has covered over 2000+ cities. It enables you to launch your online store within seconds by simply naming your store uploading products, and yeah, you're ready to tap into the competitive market.
It is a simple yet effective platform that handles all the aspects needed to grow your eCommerce business. From managing products, inventory, marketing, and payments & logistics, you'll never have to go the extra mile.
You can sell any product or service with Dukaan – apparel, accessories, furniture, consumer electronics, books, stationery, digital products … anything you want.
Advantages –
Professionally designed and customizable website templates
Run different types of marketing campaigns to enhance visibility and growth
Link your custom domain name with Dukaan App

Easily manage the order statuses to accept, ship, or deliver in bulk

Seamless Integration with Razorpay to accept online payments
Limitations –
The platform is in the growing stage and needs time for improvement
Incurs transaction fees in all plans
Pricing & Plans – Dukaan offers a 7-day free trial and has 3 paid plans with quarterly and yearly plans. The Quarterly plans start at ₹667 for 3 months and the Yearly plans at ₹500/month. It also incurs a transaction fee from 0.99% to 2.99%, depending on your plan.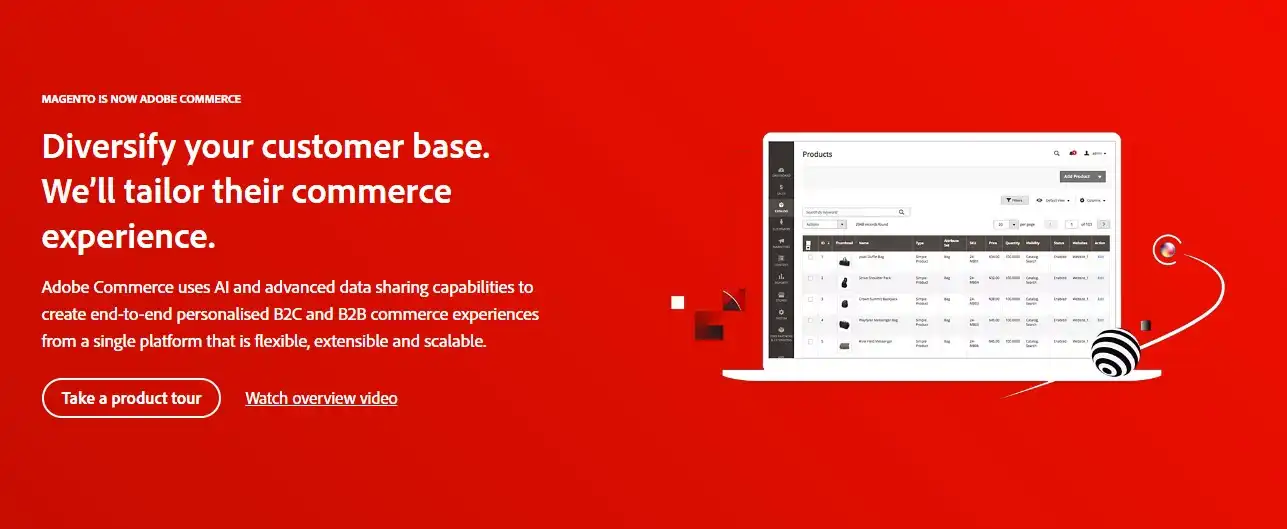 Adobe Commerce is a sophisticated platform that lets you craft a unique and personalized shopper experience. You can dynamically display content, promotions & pricing to specific customers and automatically deploy updates to keep things moving 24×7.
It is an enterprise-grade eCommerce platform loaded with high-end capabilities. Since it is an open-source platform, it requires an augmented storage space, server, and hosting level to take complete control over your online store.
Advantages –
Packed with massive scalability potential
Native integration to Adobe products to enhance personalization to the next level
Enable customers to reorder with automated subscriptions
Automate the back-end workflows right from catalog updates to customer targeting via AI
Real-time sourcing methods to gain visibility and control over inventory
Live search powered with intelligent recommendations
Set up omnichannel fulfillment to fasten the process
Limitations –
It is comparatively expensive
It can be complicated as it requires more technical knowledge to handle maintenance and upgrades.
Not suitable for beginners
Pricing & Plans – You will have to connect with their sales team for a pricing quotation based on your requirements.
Which is the best eCommerce platform in India?
The eCommerce market in India is set to reach a prospective growth of 99 billion US Dollars by 2024 and 200B USD by 2027. This indicates a strong potential for retailers to build, launch and fuel up their eCommerce business by tapping into an aggressive market.
If you are a small business owner and newbie in the eCommerce world, you can always start with creating a free online store, and once you have experience, scale it to the paid plans or migrate to one of the premium platforms to grow the business.
If you are ready, choose the best eCommerce platform based on your needs and requirements. Here's a quick summary of the platforms listed above –
I hope this article helped you find the best eCommerce platforms to start an online store in India. Once you have picked your platform, here are a few hand-picked articles you should read next –