Are you looking for the best BigCommerce theme for your new store or redesigning the existing one? Then, this article is for you.
BigCommerce is one of the best eCommerce platforms to build an online store. One of the advantages of BigCommerce is its design customization flexibility – you can literally customize every element of the site.
It offers all kinds of themes to sell anything you want from automotive to gifts and toys. You can purchase themes from the BigCommerce Theme Store or ThemeForest.
Now, there are thousands of themes available on both marketplaces. So, we did the leg work for you and shortlisted some of the best ones that you can use to build your BigCommerce store.
Ready? let's get started.
1. Vault – Best Free BigCommerce Theme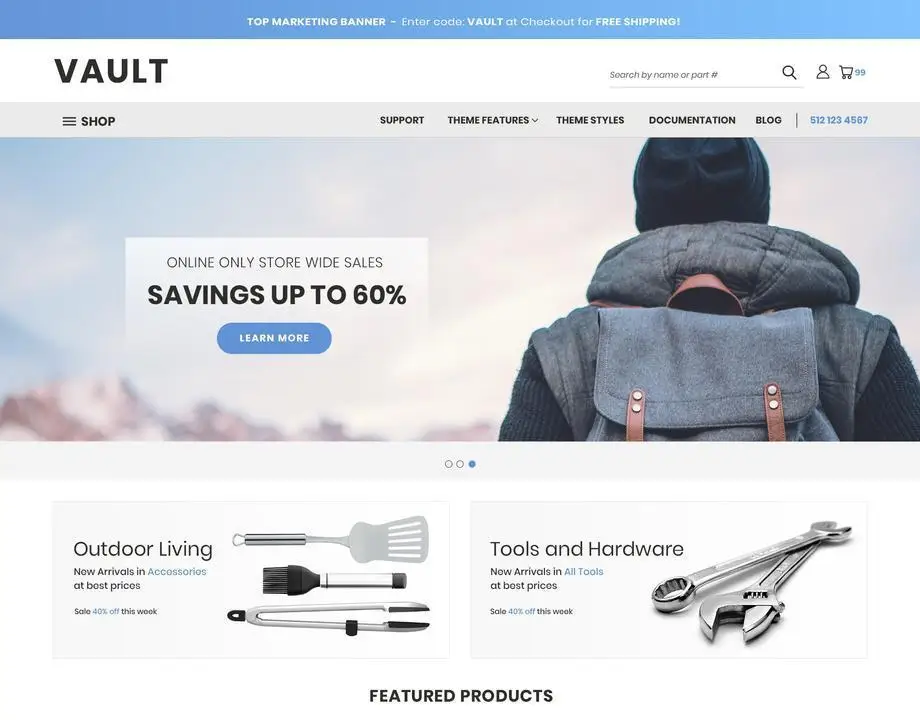 Vault is a popular BigCommerce theme optimized for large product catalogs with advanced design capabilities. It gives you the flexibility in customizing your storefront by choosing attractive colors, banners, layout, images, etc., without even modifying any piece of code.
Though it is designed for online stores with a vast catalog, it also offers versatile features that best suit small and medium businesses. It is a multi-purpose theme that gives your online store a rich look and delivers a better customer experience.
Theme Design Highlights –
Offers a product comparison table to select two or more products for better decision-making.
Completely responsive to mobile, desktop, and tablet.
Enables you to build customized checkouts to boost conversions.
Display products in a switchable grid or list view.
Offers a built-in mega menu and product filtering to easily land upon desired products.
2. Beautica – Responsive Bigcommerce Template
Beautica is a premium BigCommerce theme suitable for fashion, luxury bag stores, accessories, shoes, etc. Taking advantage of its clean and professional design, your online store will have a dazzling appearance that attracts potential shoppers.
It is optimized to fit into all possible screen resolutions, and the elements are transformed to adapt to the preferable size. With its product widget slider, you can display new products, top-selling, featured, popular products, etc., that convert visitors into paid customers.
Theme Design Highlights –
Advanced Mega menu module that is user-friendly and customizable.
Enable a dropdown shopping cart that allows customers to view the cart on any page they want.
Beautiful lookbook page to display your best products.
Add grid + list toggle that enables customers to switch between list and grid view of your products.
Display stunning images of your products with an Instagram module that comes with various customization options.
3. Tribes Sport– BigCommerce Health & Fitness Theme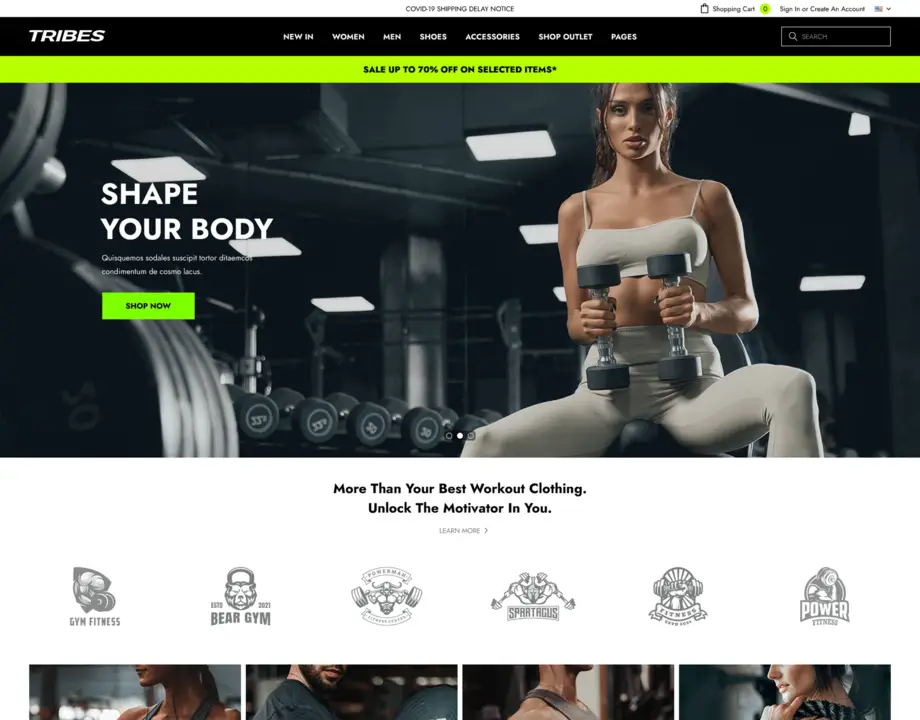 Tribes Sport is a creative BigCommerce theme designed for health and fitness eCommerce brands. Bespoke brands with high creativity can use this theme to establish a sense of pride, aesthetics, and elegance, contributing to a magnanimous look and feel.
An added advantage is that it provides a homepage grid area accompanied by a big hero area. Using this, you can display your products appealingly that opens the door to advanced capabilities.
Theme Design Highlights –
Enable product reviews to build social proof for your brand.
Make customers add products directly to the cart without moving to another page.
Display product images with high quality that reflect your brand value.
Display your best products for gaining special attention via product showcase.
Boost conversions by customizing your checkout.
4. Brooklynk – Fashion BigCommerce Template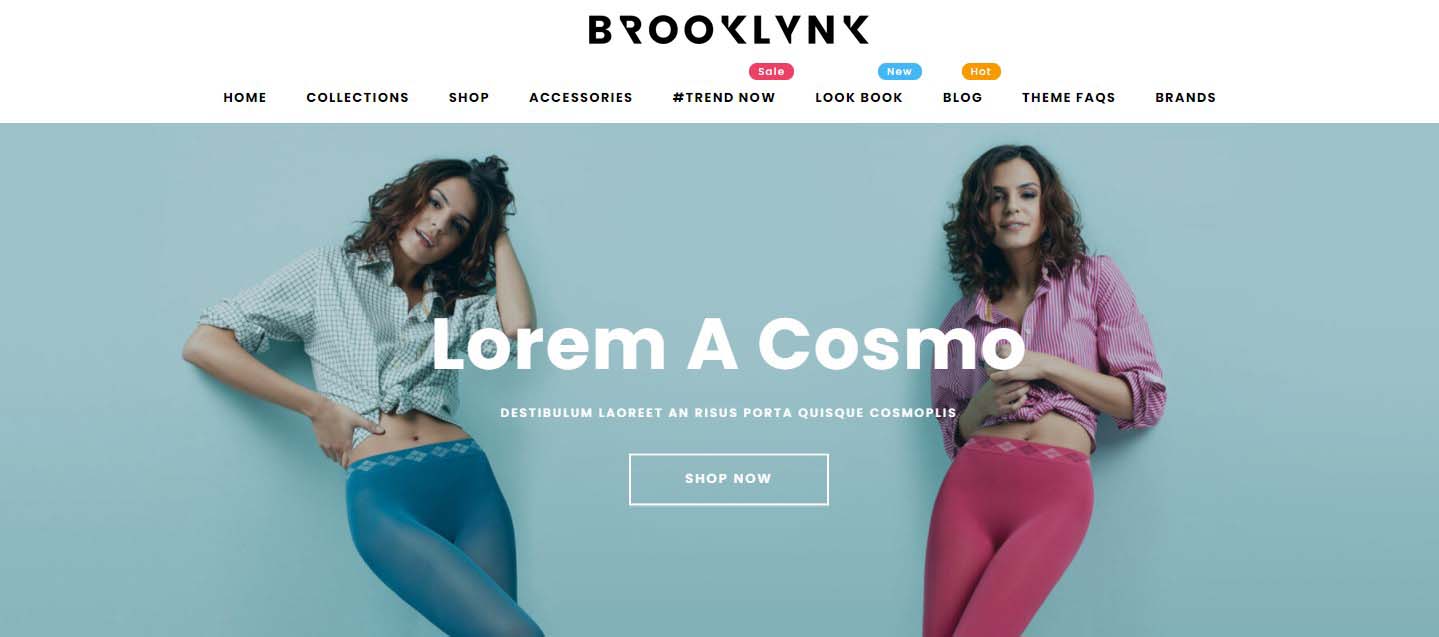 If you are searching for a stunning fashion theme that makes your brand stylish, trendy, and popular, Brooklynk can be the best choice. It is packed with powerful features like variant color options, newsletter popup, popup size chart, etc., that make shopping easy for your customers.
With its advanced mega menu module, you can make customers navigate to image banners, video clips, paragraph text, etc. This gives high comfort and convenience to customers in shopping for their favorite product collections.
Theme Design Highlights –
Ajax popup for login and registration forms.
Enable product hover and image swap to give customers various product choices.
Lazy loading effect to optimize product images.
Develop a custom contact page with Google Maps and store information.
Display product sale label to boost conversions.
5. Cornerstone – Free Elegant BigCommerce Theme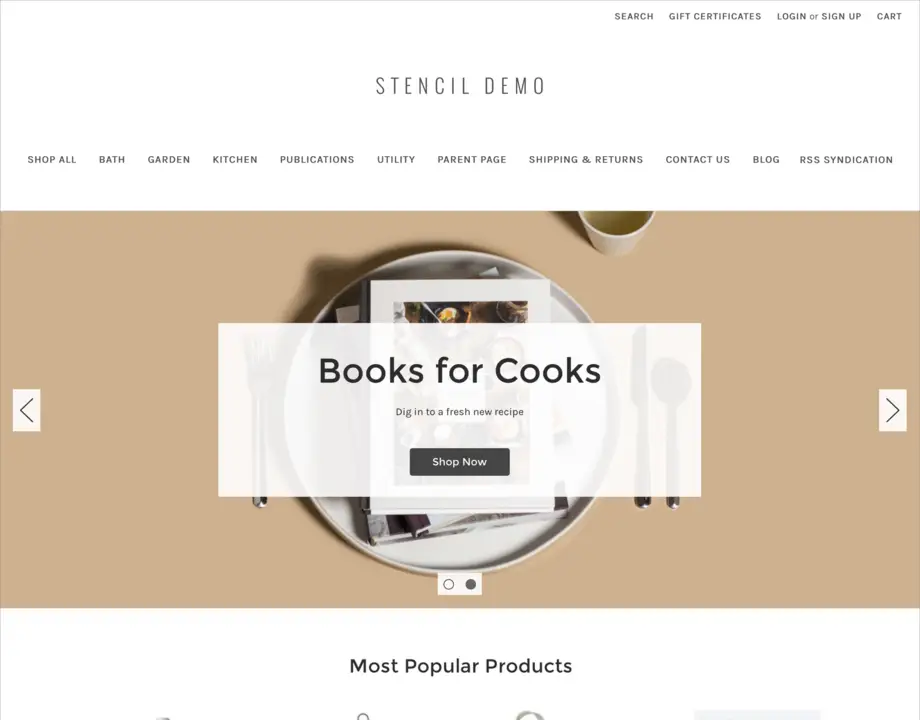 If you wish to create an online store with a simple, neat, and elegant look, Cornerstone can be an ideal choice. This BigCommerce theme has a good scalability potential that it can handle both small and large-sized product catalogs.
It offers an array of amazing features like building a homepage carousel, displaying featured and top-selling products, and a robust faceted search. By accessing these features, you can make your brand expressive and engage customers throughout their buying journey.
Theme Design Highlights –
Drive high traffic to your products by showcasing them in videos.
Suggest similar products that your customers added to their cart.
Optimize your site with AMP to load faster on mobile devices.
Enables advanced quick views for customers to easily choose products.
Add a multi-tiered sidebar menu to navigate easily.
6. Revo – Multipurpose BigCommerce & AMP Ready Theme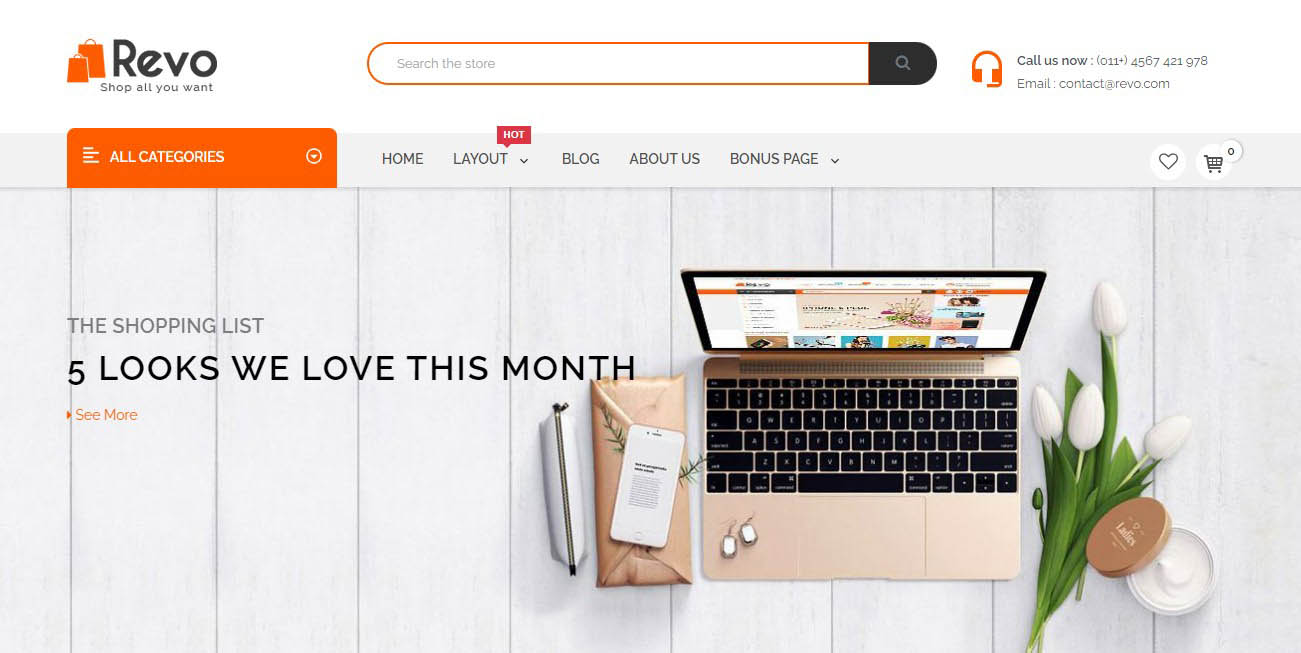 Revo is an outstanding BigCommerce theme as it is clean, super-fast, and SEO-friendly taking your store to the next level. Best of all, it delivers high performance and lets you develop accelerated mobile pages that load your web page swiftly to a higher standard.
This theme gives you complete control in customizing colors schemes directly in the back-end. Also, you can set a deal countdown for products and include labels like hot, free shipping, etc., for any product.
Theme Design Highlights –
Offers 4+ home page layouts.
Access to 3 popular product listing layouts.
Enable search pro that allows customers to find the exact product.
Offers product listing tabs that enable customers to view the products without leaving the current page.
Display product gallery slider when a customer hovers on any product on the homepage.
7. Milano – Fully-responsive BigCommerce Theme
Milano is a fully responsive BigCommerce theme built with the latest technology, design standards, and conversion aspects. It enables you to launch an eCommerce store that is unique, professional, and elegant that stands apart from your competitors.
This theme is optimized for more extensive catalogs that make online selling a breeze for merchants. Besides, you can change the color of the templates instantly, and the changes will be reflected in all essential elements of your store. 
Theme Design Highlights –
Display high-quality products to customers by featuring them in the front page slideshow.
Enable a persistent cart where all your customer's cart details will be available when they return.
Showcase products in videos to drive high engagement.
Offers integration to Google Analytics enhanced eCommerce to track all critical metrics and conversions.
Change the product image on hover to display more collections.
8. Chiara Fashion – Responsive BigCommerce Fashion Theme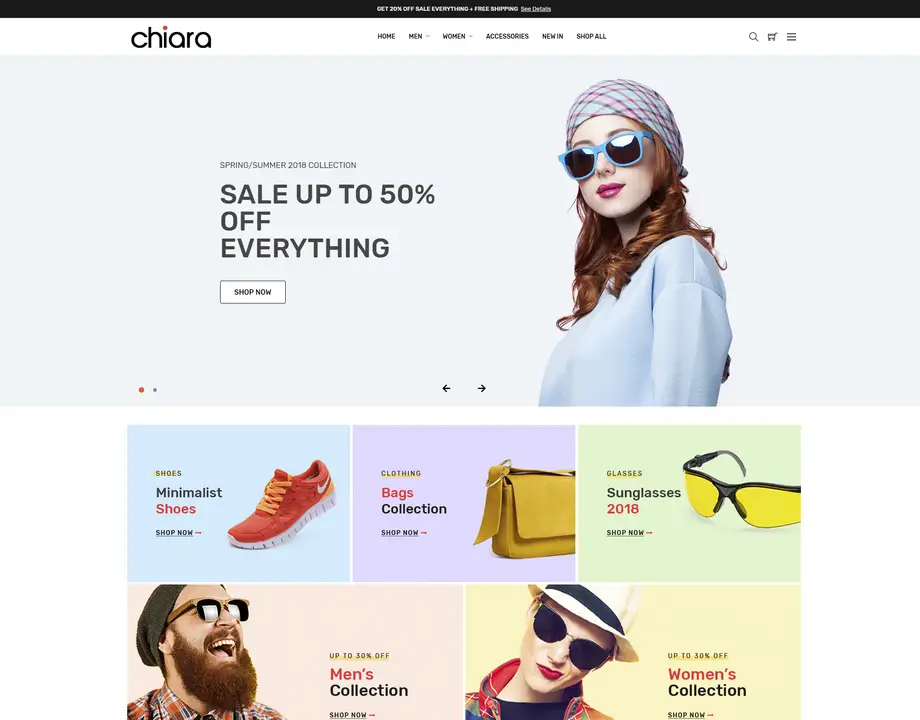 Chiara Fashion is an ideal BigCommerce theme for building fashion stores, jewelry, cosmetics, gift, and accessories stores. It is a fast-loading theme that makes your online store energetic and is highly SEO-friendly, which helps in increasing your store's online visibility.
It is a multi-purpose theme that is easy to use and enables one-click installation. Also, without touching a piece of code, you can easily customize all the elements by using its flexible theme editor.
Theme Design Highlights –
Enables on-demand and infinite scroll loading.
Allow customers to compare products to make informed decisions.
Smooth navigation via the mega menu that eliminates frictional points.
Create saved payment methods (recording customer's payment info).
Display products in an advanced quick view.
9. Runway Minimal – BigCommerce Gallery Theme
Runway Minimal is a multi-purpose BigCommerce theme perfect for high-end products like home furnishings, handicrafts, etc. It offers stunning full-width images, ordered sidebar navigation, and homepage features that create a compelling store experience for customers.
It can be quickly updated by using the page builder, which is a lifesaver. It also makes it easy for you to customize banners, menus and assists you in launching new blog posts, newsletters, links to social media, etc.
Theme Design Highlights –
Enables masonry design – which optimizes the usage of space inside your web page by eliminating unnecessary gaps.
Offers customizable product selector to select the best products.
Create a one-page checkout that removes multiple steps to complete the checkout process.
Display high-resolution product images that grab immediate attention.
Different search options that aid customers with quick navigation.
10. Razor– Multipurpose BigCommerce Theme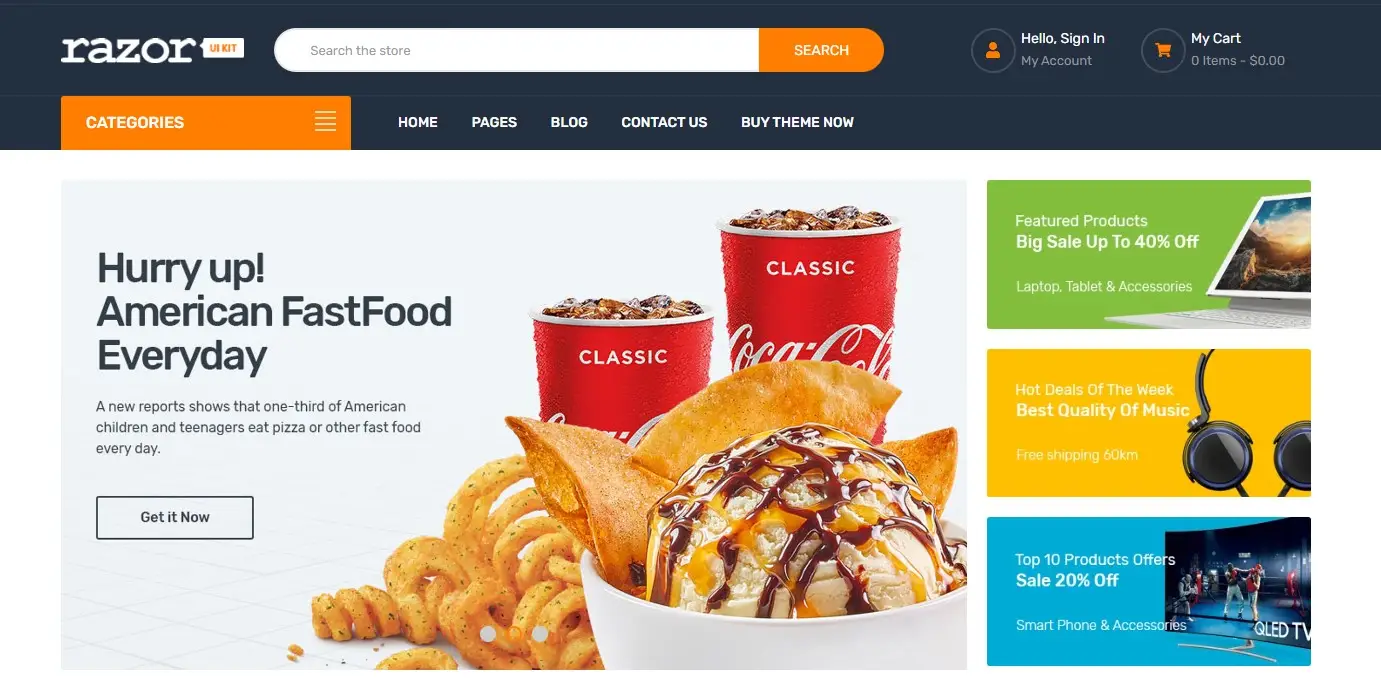 Razor is another beautiful BigCommerce theme that is easy to set up and highly optimized to suit different devices. It has a flexible layout system that lets you display your products in various styles to grab the customer's attention immediately.
It comes with lots of built-in functionalities that include a powerful admin panel and theme editor. By utilizing its full-width sliders and multiple banners, you can display fresh arrivals and actively promote products that increase the customer's purchasing value.
Theme Design Highlights –
Include testimonials to build social proof with a parallax background.
A flexible mega menu that facilitates editing, updating, changing, deleting menu items, etc
Enable effects and animation by using the slider layer.
Display products in masonry style in which you showcase multiple products by utilizing more space.
Create a customizable product category page for fostering convenience.
Choose the Best BigCommerce Theme
Selecting the right BigCommerce theme is crucial to provide a positive user experience and generate more sales in your store. And, it entirely depends on the type of products you want to sell and the catalog size.
While selecting you should also consider if it is compatible with best BigCommerce page builder apps so that you can easily customize the pages per your needs and add more features for extended functionalities.
In this article, we have covered themes of different kinds which are suitable to build a store of any size. There are tons of themes out there that you can choose from but we have reviewed the themes which my team has used for our clients or recommended by BigCommerce developers in our circle.
Finally, I hope you found the perfect theme for your BigCommerce store. Next, you should also check following articles to add essential features to your store –