Are you looking for the best marketing apps for your BigCommerce store? If yes, then you have reached your destination.
BigCommerce is one of the best eCommerce platforms that lets you build a full-fledged online store without coding or any technical expertise. However, owning an eCommerce website isn't enough to generate business for your store. What you need is an arsenal of marketing tools that will help acquire, convert, engage, and retain customers.
Fortunately, BigCommerce is compatible with most of the popular eCommerce marketing tools and in this article, we have curated a list of some of the best BigCommerce marketing apps you can consider using for your store. From creating stunning landing pages, and managing email marketing to setting up reward programs, we have covered apps for your every marketing needs.
Ready? Let's get started.
1. Shogun – For Landing Pages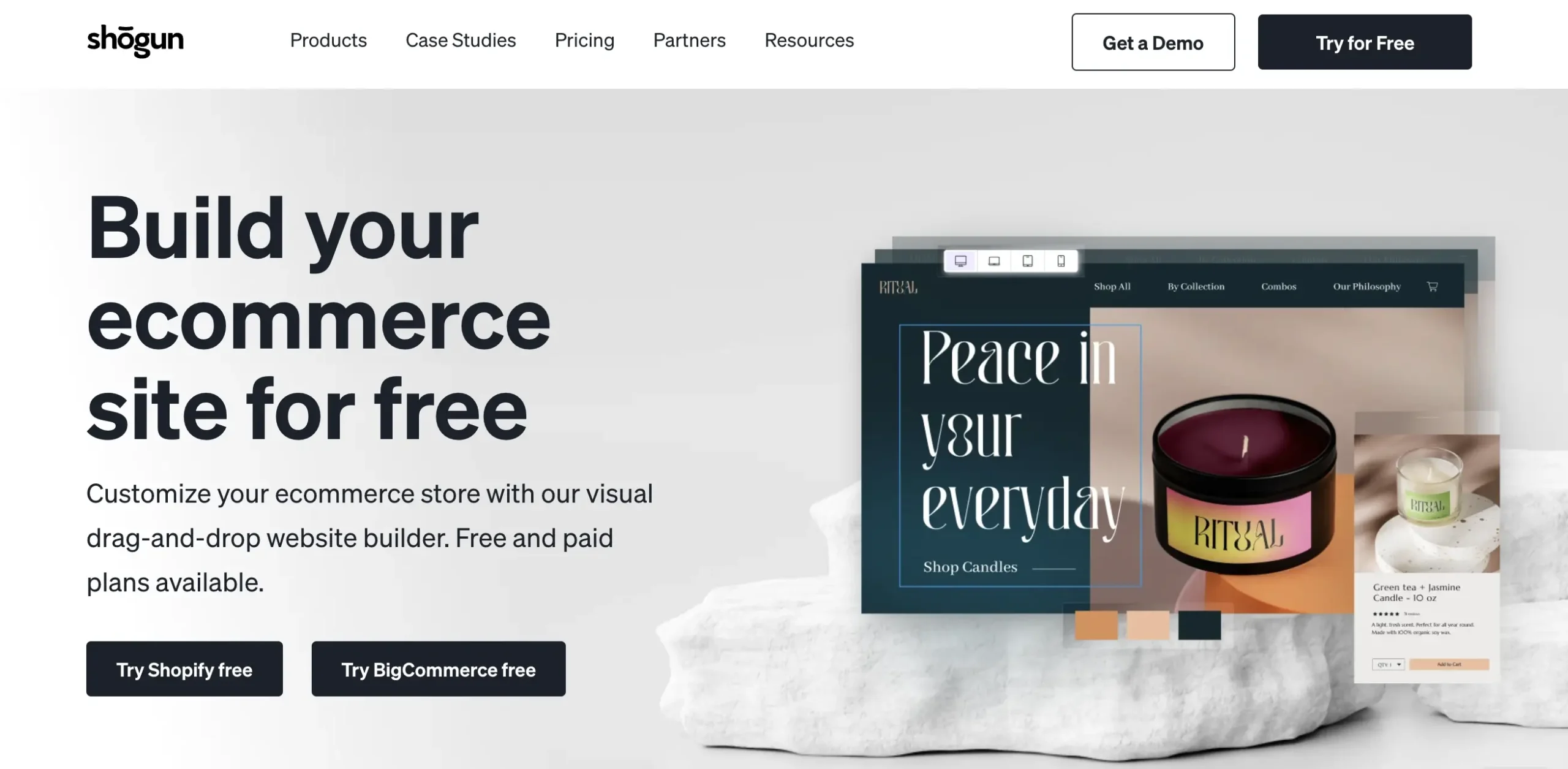 Landing pages are the most important element of an effective eCommerce marketing strategy. Whether you are launching a new product or promoting special sales offers, you will need landing pages to drive traffic from your email, SMS or any marketing campaign.
This is where you can use Shogun, the best BigCommerce page builder app that provide you with a powerful drag-and-drop page editor, enabling you to create high-converting landing pages and other types of pages for your store. It comes with 30+ professionally designed page templates that you can easily customize or create new pages from scratch.
Most importantly, it provides you with visual analytics reporting on key metrics like sales, add to carts, bounce rate, sessions, and form submits for every page. Using these data you can analyze the performance of pages and make data-backed to optimize the pages for better performance.
2. Omnisend – For Marketing Automation
Marketing is all about establishing a meaningful connection with customers, and with an omnichannel marketing approach, you can communicate with your customers via their preferred platforms. Although, email stands out as one of the effective marketing channels for eCommerce brands, SMS and Push Notifications can also give you a strategic advantage.
When it comes to executing an omnichannel marketing strategy, Omnisend emerges as the ultimate solution for BigCommerce stores. It offers a comprehensive suite of tools to supercharge your email marketing efforts and combine them with SMS and Push Notifications.
It comes with various pre-built automation workflows for different stages of the customer journey that you can easily customize using its visual automation builder. Further, it also encompasses an intuitive drag-and-drop email builder, enabling you to design high-converting email campaigns.
Additionally, Omnisend offers an interactive form builder to help you build and grow your email and SMS subscriber lists. The best thing about Omnisend is its advanced segmentation and targeting features that enable you to deliver highly personalized marketing campaigns across every channel.
Want to know more? Read our detailed Omnisend review for a comprehensive overview of its key features. You can also check out an exclusive Omnisend discount coupon for your readers to claim a 10% discount on its paid plans.
Further reading –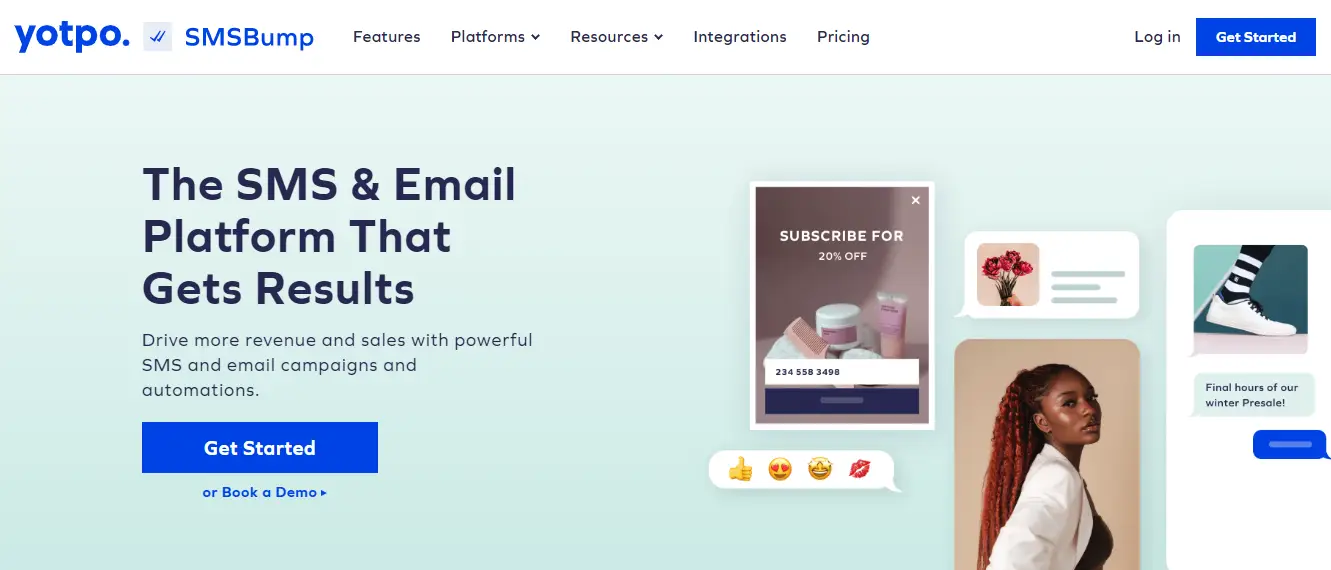 Although Omnisend comes with built-in SMS marketing features, Yotpo SMSBump can be a great addition to your BigCommerce store. It equips you with advanced personalization, A/B testing, and other features that Omnisend lacks in SMS campaigns.
What sets Yotpo SMSBump apart and makes it a top recommendation is its ability to enable the creation of hyper-targeted segments. These segments allow you to engage subscribers based on a sophisticated array of data points, encompassing customer behavior, attributes, and SMS-related data.
By incorporating Yotpo SMSBump into your arsenal, you gain access to an array of highly effective and distinctive tools that maximize the potential of SMS marketing. These tools leverage the channel's exceptional open rates and return on investment. Furthermore, Yotpo SMSBump supports direct integration with Omnisend, enabling you to automate the entire customer journey through its automation builder.
Customer reviews represent the ultimate form of social validation for your BigCommerce store. Product reviews wield the extraordinary ability to cultivate trust and credibility, particularly among first-time shoppers. As a result, they hold the potential to exponentially elevate your store's conversion rates.
Consider this compelling statistic: over 95% of customers read product reviews prior to making a purchasing decision. This statistic underscores the pivotal role reviews play in the buyer's journey, as consumers place immense trust in the insights offered by their fellow shoppers.
That's where you can use Stamped Reviews, a powerful BigCommerce marketing app designed to streamline the collection and management of reviews with unparalleled ease. Beside text reviews, you can also allow customers to submit photo and video reviews of the products purchased.
The best part is that it enables you to automate review request email and SMS campaigns. You can also offer additional loyalty points or discounts to encourage customer to submit photo and video reviews.
Stamped Loyalty is another strategic BigCommerce marketing app that enables you to set up attractive reward programs for your store. With this app, you can create points-based and VIP-tiered loyalty programs with numerous earning and reward options for your customers.
You can even set up a referral program to turn your loyal customers into brand advocates and leverage word-of-mouth marketing to acquire new customers. It allows you to reward both referrer and referred customers, encouraging them to promote and shop from your store.
Stamped provides a dedicated landing page for your reward program that you can customize per your store branding. It comes with a powerful customer analytics tool that provides you with valuable insights, including data on your top customers and the most frequently redeemed rewards.
To more about its features and functionalities, you can read our in-depth Stamped.io review.
Further reading –
In case, you just want to start a referral marketing program with no loyalty program, ReferralCandy would be the right referral program app for your BigCommerce Store. It enables you to create a robust referral program with attractive offers and reward options for customers.
What sets ReferralCandy apart is its unparalleled customization options, permitting merchants to tailor virtually every facet of their referral programs. This includes rewards, signup forms, and automated workflows. Moreover, the platform seamlessly integrates with other essential marketing applications, including Google Ads and Analytics, Facebook Pixel, and Adroll Advertise.
An additional distinguishing feature of ReferralCandy lies in its advanced fraud detection system, which diligently scrutinizes self-referrals and automatically rejects any unwarranted rewards. This not only streamlines the process but also translates into substantial time and cost savings, sparing you the effort of manual verification.
Further reading –
7. Justuno – For Popups & Forms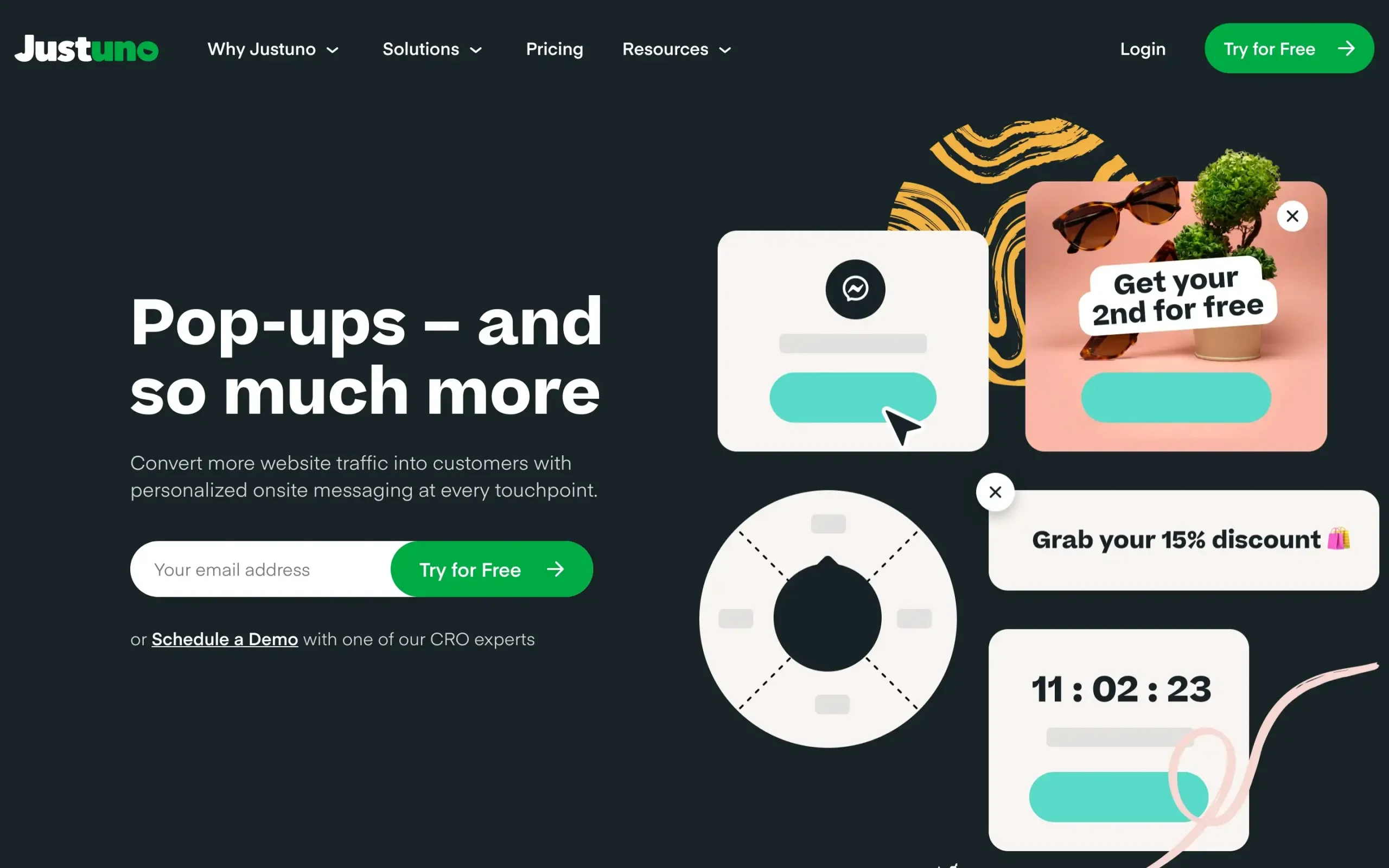 When it comes to marketing your BigCommerce store, you cannot avoid on-site marketing which plays a huge role in the store's sales and conversion rate. This is where you can use Justuno as your BigCommerce marketing app.
From personalized pop-ups to gamified form like Wheel of Fortune, Scratch and Win, etc., Justuno with powerful features to enhance shopping experience for your customers and drive more sales. With this BigCommerce marketing app, you can offer personalized discounts and deals to your site visitors and customers based on their browsing history, shopping cart and other attributes for higher conversion rate and reduced cart abandonment for your online store.
Other notable features of Justuno encompass advanced segmentation and targeting capabilities to engage specific site visitors, GDPR compliance to ensure responsible data collection practices, and a plethora of additional functionalities.
Further reading –
8. LeadDyno – For Affiliate Marketing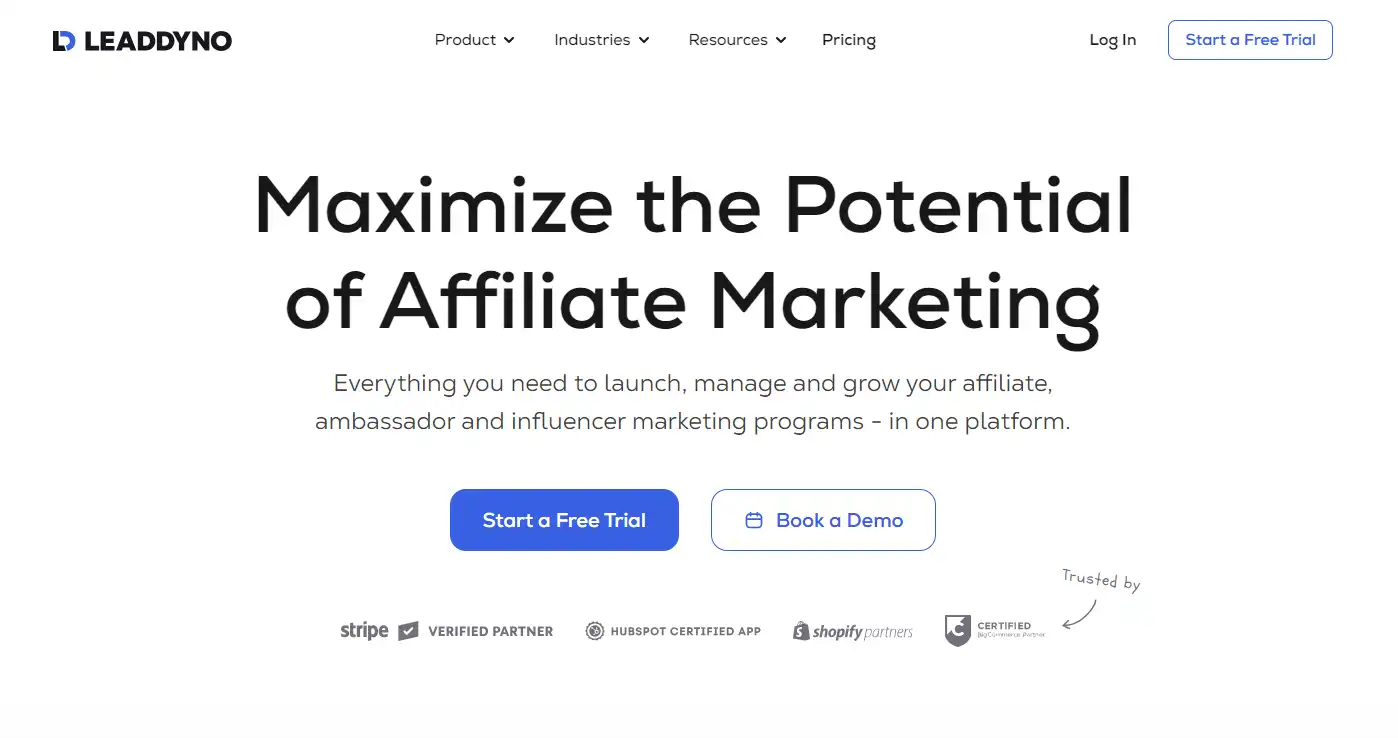 Affiliate marketing is a performance-based partnership in which brands collaborate with affiliate partners like bloggers and content creators to leverage their online presence in promoting their products. In return, these affiliates earn commissions for their efforts.
LeadDyno is another powerful affiliate marketing app that enables you to set up a robust affiliate program for your store. It provides you with a comprehensive toolkit to initiate, oversee, and expand your affiliate, ambassador, and influencer marketing initiatives, all within a single platform. This BigCommerce marketing app streamlines the process of swiftly assembling a team of affiliates poised to resell your products and drive affiliate-driven success.
LeadDyno collaborates closely with prominent bloggers across various industries, aimed at introducing your products to these influential figures to facilitate your product's ascent. Payment to influencers is made effortlessly through platforms like PayPal.
Furthermore, LeadDyno empowers you to design your own commission structure to reward affiliates for generating referrals. You also have the flexibility to establish Multi-Level Marketing (MLM) networks, extending up to 10 levels deep. The ease of bulk-paying affiliate commissions is facilitated through diverse payment integrations, including PayPal, Coinbase, and several others.
Further reading –
9. FavSEO – For SEO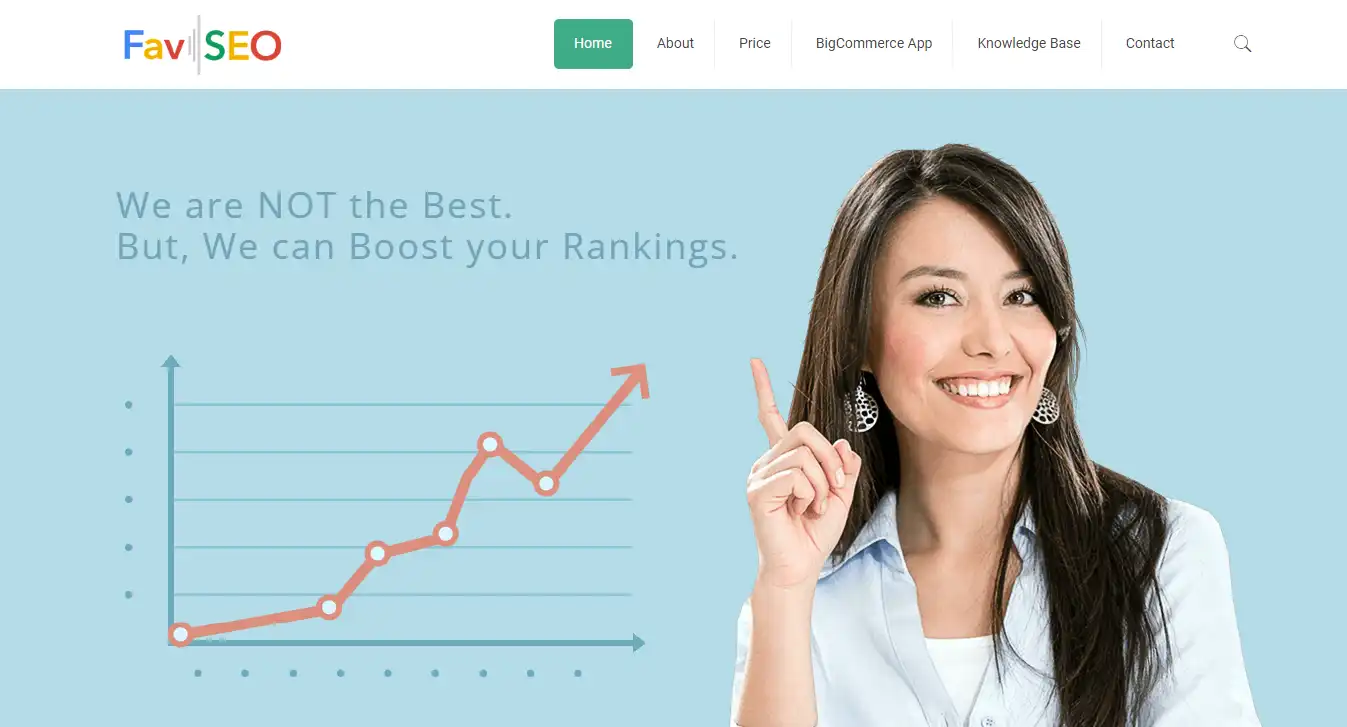 This BigCommerce marketing app list would be incomplete without including an SEO app. Whether you're gearing up for Google Ads campaigns or planning to implement an affiliate program for your products, the importance of SEO cannot be overstated. If you want Google to recognize your online store, it should be search-engine friendly.
FavSEO steps in to provide store owners with a versatile platform for editing, analyzing, and optimizing the titles and meta descriptions of all products, categories, and pages in one convenient location. However, what truly sets this BigCommerce SEO app apart is its seamless integration with Google Webmaster Tools, enabling store owners to uncover new keyword prospects, submit their sitemap directly to Google, and monitor the rankings of their keywords within Google's search results.
Beyond these capabilities, FavSEO conducts comprehensive store SEO audits and provides essential rank-tracking insights. These features collectively offer you a clearer perspective on your website's current ranking performance and valuable insights into areas for improvement. With FavSEO, you're equipped to enhance your BigCommerce store's visibility and SEO effectiveness.
Further reading –
Wrapping Up
As a BigCommerce store owner, your ability to connect with potential customers, educate them about your products, and guide them through the sales funnel is paramount. The arsenal of BigCommerce marketing apps we've explored in this article serves as a valuable resource to help you achieve these objectives and optimize your marketing strategy.
However, it's essential to keep in mind that not all of these apps may be necessary for your business. So, instead of overwhelming yourself with a multitude of tools, it's comparatively smarter to craft a targeted marketing strategy aligned with your budget and then select the BigCommerce marketing apps that best suit your needs.
Finally, if you are starting a new online store on BigCommerce, here are few hand-picked articles that you may want to read next –