With the rise in number of internet users, the digital economy is booming, and there are endless opportunities for anyone to sell digital products online and earn a good living.
Digital products are intangible goods that exist in digital form. They can be delivered and consumed electronically, without the need for physical materials, which makes it easier for anyone with skills to create and make money online.
So, no matter what your skills or interests are, there is a digital product that you can create and sell online. And, to help you with the product ideas, we have curate a list of some of the best digital products you can sell in 2023. We will also share some tips and recommendations to help you get started in the right direction.
Why Sell Digital Products?
Digital products are great, but if you are still looking for more reasons to get started. Here are 6 key reasons why you should sell digital products –
Low Overhead Costs: Your online shop of digital products will require no physical inventory or shipping. Thus, you will get the primary advantage of significantly reduced production and distribution expenses.
Scalability: You can easily replicate and distribute your digital products infinitely, that too without incurring additional costs. Digital products will allow you to scale your business and prepare for a global audience effortlessly.
Instant Access: Customers can access your digital products immediately after making a purchase. This often results in a seamless and satisfying user experience.
Easy Updates: Digital products can be updated quickly and efficiently, ensuring your customers always have access to the latest versions or content.
Flexible Pricing: Digital products allow for various pricing strategies, including one-time purchases, subscriptions, and tiered options, catering to different customer segments. Thus, you can exploit the opportunity that digital products have to offer in a plethora of ways.
Eco-Friendly: By eliminating physical production and shipping, selling digital products helps reduce the environmental impact associated with traditional goods.
Overall, selling digital products provides a lucrative opportunity to tap into a growing online market while offering convenience, accessibility, and cost-effectiveness for both—you as a business and consumers.
Most Profitable Digital Products to Sell Online
Now that you are convinced with the idea of selling digital products, lets look into some digital product ideas you can consider.
Ready? Let's get started.
1. Ebooks
Ebooks are probably the most popular and easiest digital products you can create and sell online. The foremost benefit of ebooks or digital guides is that you do not have to create an inventory or worry about production or shipping costs.
The best way to monetize ebooks is by choosing a niche based on your area of expertise or life experiences. It gives you credibility and builds trust in the audience to purchase your ebooks.
For instance, an administrative officer in India, Anudeep Durishetty (who bagged the top position in the Civil Services examination) launched his eBook, Fundamentals of Essay and Answer Writing during the lockdown.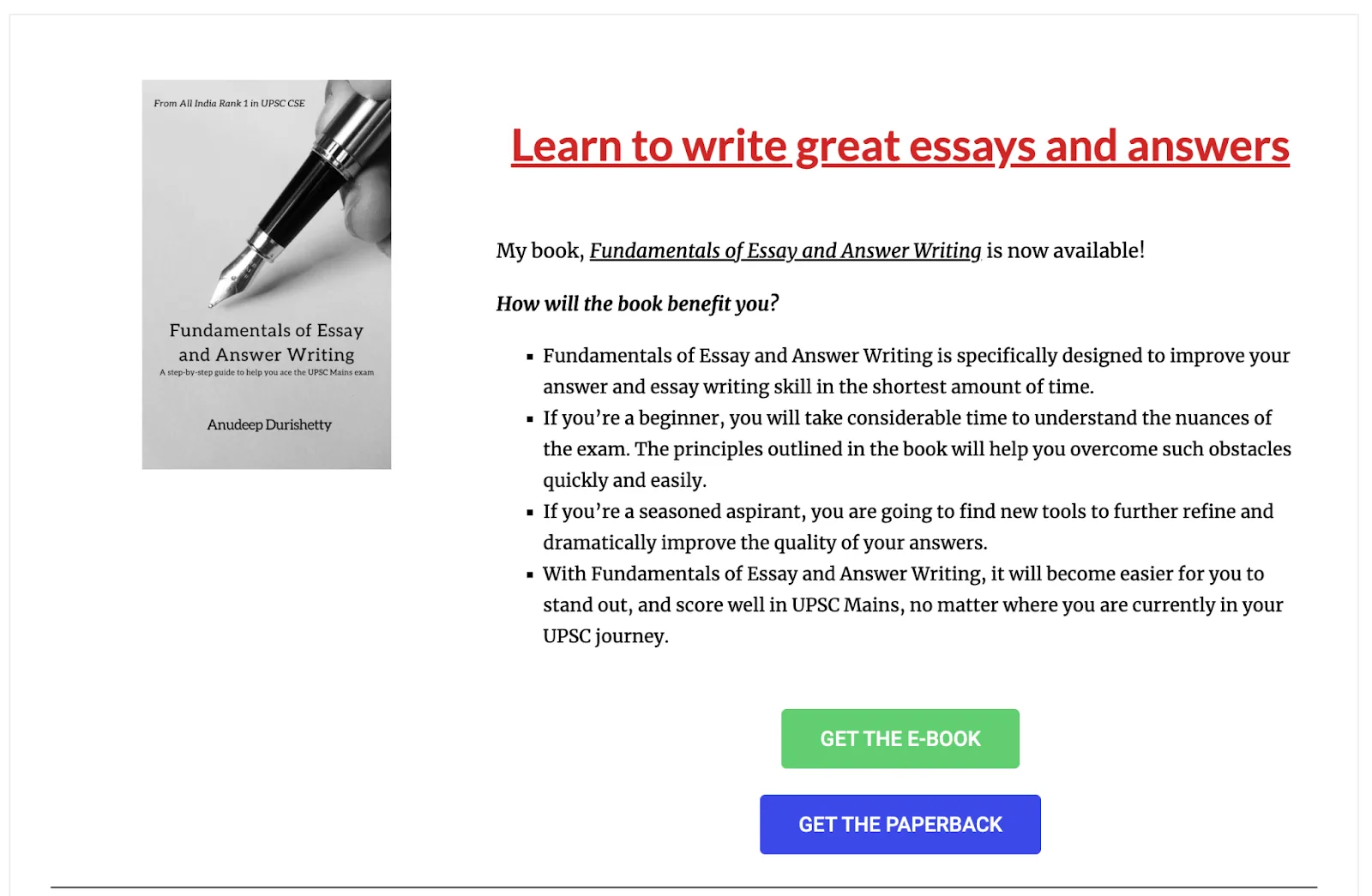 While he was preparing the book, he would give a glance at his work and share important tips with his followers on social media. Once the eBook was ready, he channelized his social media presence, and his blog to market the book.
In addition, he got his famous juniors and fellow officers to review the book. Lastly, he made some chapters from the book available for free reading!
This way, he not only succeeded in creating a buzz about the eBook but received thousands of preorders even before the launch.
2. Online Courses
What is it that you are an expert in? Is it gardening, or is it coding? Be it anything, there are always people looking to learn something new from the comfort of their home. This creates a market for you to teach online and make money.
You can leverage your expertise to create engaging, interactive learning experiences that cater to diverse interests and skills. With the convenience of remote access, individuals worldwide can enhance their knowledge and capabilities on their own schedules. Utilize platforms designed for course hosting, incorporate multimedia elements, and offer certificates upon completion to add value. 
Whether teaching languages, coding, business skills, or creative arts, online courses provide a lucrative avenue to share your expertise, foster continuous learning, and generate revenue while impacting the personal and professional growth of your audience.
You can sell online courses on popular marketplaces like Udemy and Coursera, or create your own website using platforms like Teachable, LearnWorlds, and more.
Further reading –
3. Graphics & Digital Arts
If you are a graphic designer or artist, you can sell your unique art style online in the form of different products that your audience needs and demands.
Some of the ideas for graphics and digital art products are –
Logos
Brand kits
Powerpoint templates
UI/UX templates
Illustrations
Icon packages
And more…
Selling digital art gives you the freedom to repurpose art into multiple products, allowing you to cater to different types of customers and make more money.
You can sell digital art on various platforms such as Amazon, and Etsy, or you may create your own online shop. You can even convert your digital art and graphics into NFTs and sell them on NFT marketplaces.
Further reading –
4. Softwares
If you are well-versed in software engineering, there are various opportunities available for you to create software to make things easier for people in their personal and professional life.
From fitness tracking, and budgeting to project and sales management, you can create applications that are original or better than the existing ones. Moreover, there are various platforms like Shopify, WordPress, HubSpot, and others that let you develop plugins and extensions and sell them to their users.
Some of the popular software product ideas are –
Shopify Apps ( Eg. Growave, GemPages, etc.)
WordPress Plugins ( Eg. MonsterInsights )
Shopify Themes ( Eg. Debutify)
WordPress Themes ( Eg. Astra, StudioPress, etc.)
Mobile Apps
Desktop Software
And many more to explore…
The best part about selling software is its subscription-based models. Using it as an opportunity, you can build a recurring revenue stream for your business.
Overall, software as a digital product has a world of possibilities to offer for businesses, entrepreneurs, and developers. Its adaptability, scalability, and capacity for continuous innovation make it an indispensable asset in the digital economy.
5. SaaS Products
Selling Software-as-a-Service (SaaS) products online presents a dynamic opportunity to offer innovative solutions and cater to modern business needs. SaaS products are web-based applications accessed, eliminating the need for on-premises installations.
By selling SaaS products online, you can offer scalable, subscription-based services that will address specific challenges for your clients. Your products will be easily accessible on any internet-connected device.
Some of the most popular examples of SaaS products are –
Shopify: As an eCommerce platform, Shopify empowers entrepreneurs to set up and manage their online stores. Through its SaaS model, Shopify offers a range of tools and features to streamline the process of selling products online, attracting businesses of all sizes.
Salesforce: A pioneer in cloud-based customer relationship management (CRM), Salesforce capitalized on the online platform to revolutionize how businesses manage customer interactions. Their user-friendly interface, customizable features, and subscription-based model led to widespread adoption and market dominance.
Canva: Transforming design for non-designers, Canva offers an online graphic design tool with user-friendly features and a freemium model. Their SaaS approach has democratized design, enabling users to create professional visuals without the need for specialized skills or software.
To successfully sell SaaS products online, your business must focus on transparent pricing, robust security measures, efficient customer support, and effective marketing strategies.
As the digital landscape evolves, leveraging the online platform to sell SaaS products remains a strategic avenue for innovation, revenue generation, and meeting the ever-changing demands of modern businesses.
6. Music & Audio Products
In the realm of digital products, music, and audio offerings have carved out a significant space, revolutionizing how we consume and appreciate sonic experiences.
So, if you're a musician, producer, or content creator, selling music and audio products can be a rewarding endeavor. It involves a mix of creativity, business strategy, and effective marketing.
Here are a few audio music product ideas –
Music beats
Audio samples
Relaxing background noises
Karaoke versions of popular songs
Reusable sound effects
Full lyrical or instrumental music tracks
The digital audio industry has no limits when it comes to innovation with more advanced products like audiobooks, products for audio mixing, or even transforming spoken conversations into actionable data.
You can sell audio products on your own website or marketplaces like AudioJungle, PremiumBeat, etc. You can even upload your music tracks on Spotify to monetize like YouTubers.
8. Online Consulting
If you are an expert or highly experienced at something, you can offer your consulting services to businesses or individuals. For instance, if you are a digital marketer, you can offer marketing consultation to small businesses and start-ups.
Similarly, you can offer tax consultancy if you are licensed to do. Moreover, if you have experience with foreign education, you can offer your consultancy to students who need your help with it.
There are unlimited opportunities to help others with online consulting services. Through virtual consultations and webinars, you can service clientele globally and create a sustainable income stream.
Once you are ready with a plan, harness the power of LinkedIn and other platforms to reach your target audience and start making money. You can also consider using platforms like Upwork, Fiverr, etc., to find clients.
9. Printable Posters
This one is for passionate photographers and artists. You can sell your creative art pieces globally on the internet as printable posters. These are digital products that customers can purchase online and print by themselves.
This way, you will just have to focus on creating beautiful designs that look great on printing as well. Cathrin Machin is one such passionate artist selling her mind-blowing space art printable from her online store on Shopify.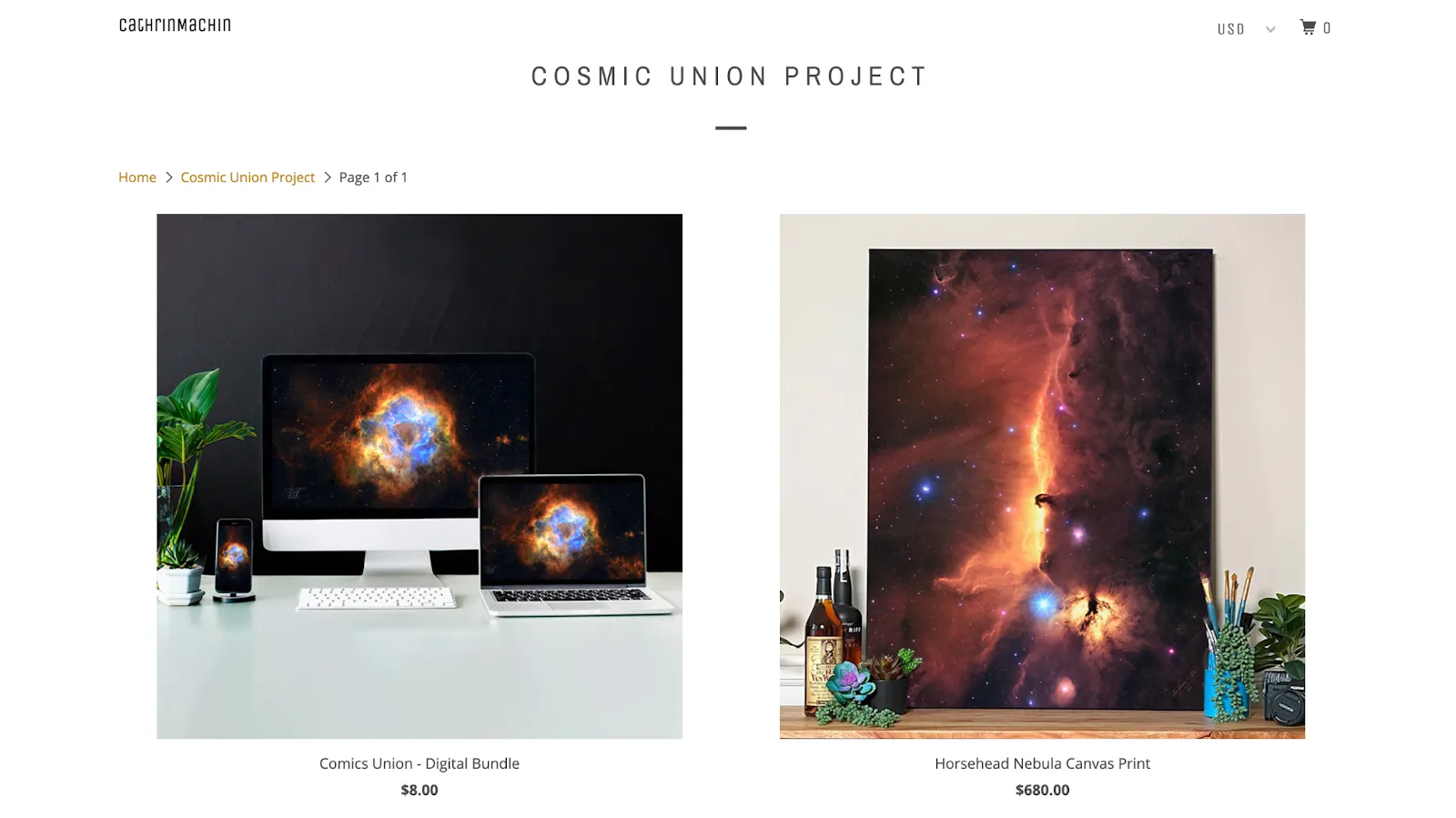 Similarly, you can pick your passion for photography or designing to craft visually appealing products and sell their printable versions. You can sell such products on Amazon, Etsy, and other marketplaces to leverage their established customer bases and drive more sales.
10. Spreadsheet Templates
You can transform your spreadsheet skills into a revenue stream by selling customized templates and solutions online. Craft meticulously designed spreadsheets for various purposes, such as budgeting, project management, data analysis, and more.
Here's how you can start selling spreadsheets –
Recognize specific industries or needs that require efficient spreadsheets. Tailor your templates to address these demands.
Create visually appealing spreadsheets with user-friendly interfaces and advanced functionalities that save time and enhance productivity.
Choose a platform like Gumroad, Etsy or your website to showcase and sell your spreadsheet products. Provide clear descriptions and previews.
Determine pricing based on the complexity and value your spreadsheets offer. Offer different pricing tiers for basic and premium versions.
Provide tutorials, guides, or videos on how to effectively use your spreadsheets. This enhances the value of your products.
Develop visually engaging marketing materials to showcase the benefits and features of your spreadsheets.
By packaging your spreadsheet expertise into valuable products, you can cater to professionals seeking efficient solutions, entrepreneurs, and businesses aiming to streamline their operations.
11. Documents
If you are an expert on something, you don't have to limit yourself to just offering online consulting services. You can also create documents with useful information that is helpful for others to succeed.
For instance, here are a few document products ideas you can sell as a marketing expert –
Industry reports
Manuals & guides
Case studies
Checklists
Templates
Similarly, you can offer resume templates, mockup questionnaires, and practice papers to help students succeed – you just have to figure out what you are good at and how you can help others with your expertise.
If you already have a blog, YouTube channel, or large social media followings, you can easily test your product ideas and sell them successfully.
12. Planners & Journal Templates
These will sell much like digital printables. All you have to do is create and market your journal templates well. This model works like magic generating a passive income for you.
You have an incredible opportunity to offer a range of planners and journal templates for sale online. These meticulously crafted templates are tailored to your customer's specific needs, whether it's staying organized, setting and tracking goals, or nurturing personal reflection.
For example, you can offer a collection of beautifully designed digital templates that your customers can instantly personalize to match their unique style and preferences. From daily planners that can keep them on top of their tasks to specialized journals that help them cultivate mindfulness and self-improvement, the possibilities are boundless.
You can provide these as digital downloads, and users will have the freedom to print these templates at their convenience or use them digitally on their devices. Plus, you can sell themed bundles, seasonal designs, or even customize layouts for corporate clients' requirements. Make sure you are open for corporate orders. They can help you make a fortune.
Where Should You Sell Digital Products?
Once you are ready with your product, the most important question to ask is where to sell these products. Here are some prime avenues to consider:
Marketplace: Websites such as Etsy, Amazon Kindle Direct Publishing (for e-books), and Shutterstock (for graphics and photography) cater to specific digital products, providing exposure to a broader audience.
Your Own Website: If you already have a website or blog, you can sell your digital products from there. Or, consider using platforms like Sellfy, Teachable and others to create your own website to sell digital products.
Social Media: Utilize platforms like Instagram, Facebook, and Pinterest to showcase your digital products. You can link to your eCommerce website or use built-in shopping features for direct sales.
Online Communities: Engage with online forums, groups, or communities relevant to your niche. These platforms can be excellent places to establish your expertise and directly offer your digital products to an interested audience.
Selecting the right platform depends on your product type, target audience, budget, and marketing strategy. Checkout our list of 10+ Best Platforms to Sell Digital Products to explore your options.
Wrapping Up
As users are spending more time on smartphones and computers, the usage of digital products are also increasing, creating endless opportunities for you to make money online. In this article, we explored some of the best digital products to sell in 2023 and how to market and sell your products online.
With a little creativity and effort, you can find a digital product that you are passionate about and that you can make a profit from. However, it is important to remember that selling digital products is not a get-rich-quick scheme. It takes time, effort, and dedication to be successful.
If you are serious about selling digital products online, I encourage you to do your research, create a plan, and take action. With hard work and perseverance, you can achieve your goals and build a successful online business.