Printful is one of the best print-on-demand websites, packed with robust features and quality products. However, just because it is the best doesn't mean it is the right fit for everyone.
There can be any possible reason you are looking for Printful alternatives, but if your reason matches any of the followings, this article is for you –
You are looking for local suppliers.
Cheaper products with low shipping fees
You want faster delivery options in your target market
It doesn't offer products you want to sell
In this article, we're going to look at some of the best print-on-demand platforms that are similar to Printful but might offer something better for you.
Ready? Let's get started.
Printify is a popular print-on-demand service provider with faster shipping options and low-cost, high-quality products. It has a collection of over 600 products that you can choose from to sell in your store.
Unlike Printful, Printify doesn't process products in its own printing facility. Instead, it connects you with a vast network of print providers worldwide who will handle everything for you – from manufacturing to delivery.
This enables you to choose the best suppliers in your country or nearby for faster and cost-effective shipping. However, it also means that the product quality may vary from vendor to vendor.
It supports almost every popular eCommerce platform, including Shopify, Wix, and WooCoomerce. You can use its free mockup generator to create beautiful product mockups, which can also be used for marketing materials.
Printify allows you to use it for free for product designing and pay per order. However, with a paid plan, starting at just $29.99/month, you can save upto 20% on all products. So, if you have huge market demand, you can opt for one of its paid plans to book more profit and get access to advanced features.
Overall, if you are looking for a budget-friendly alternative to Printful, Printify might be your ideal choice. It provides almost every essential feature that Printful has at a more affordable cost.
Pros of Printify –
Faster order fulfillment
Larger product catalog
Competitive product pricing
No minimum order limit
Cons of Printify –
Limited integration options
No custom branding options except neck labels
Pricing Plans – Printify is free to use for up to 5 stores per account. The paid plan starts at $29/month, allowing you to add more stores and get up to 20% discount on products.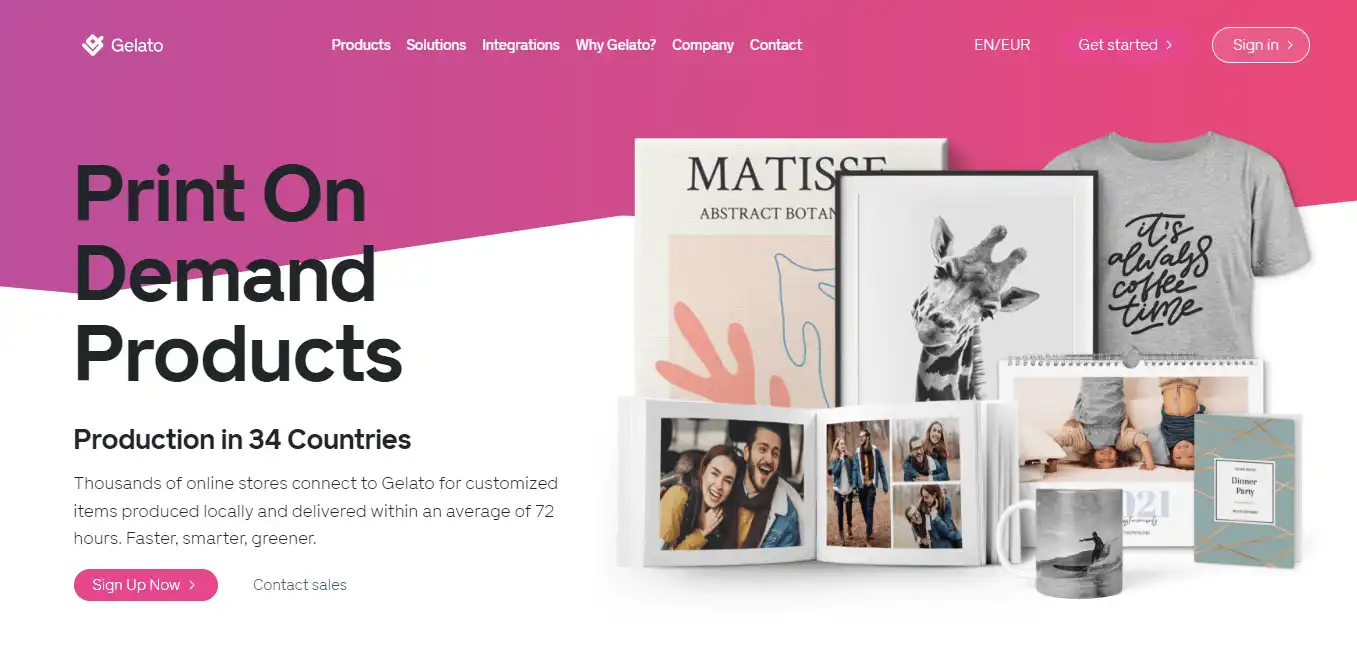 If you are looking for locally produced products with faster order fulfillment duration, Gelato is the perfect platform for you. They have 100+ printing partners spread across 33 countries with 170+ logistic partners who enable them to deliver products within an average of 72 hrs of placing the order.
Gelato has a wide range of product collections from T-shirts, baby clothes, mugs, and bags to stationeries, cards, and more. However, you should know that some products might have location restrictions because of technical limitations at printing facilities.
Gelato is free to use. However, it has paid plans starting at $9.99/month that you can choose to save upto 50% on shipping fees every month and get access to its premium product mockups and graphics.
Pros of Gelato –
Wide range of products
Faster delivery time (2-4 days)
Flat-rate shipping for most products
No minimum purchase required
Cons of Gelato –
No mockup generator
No custom branding options
Pricing Plans – Gelato is free to use and you have to only pay for what you sell. They also have paid plans, starting at just $14.99/month in which you will get 50% shipping discounts, premium mockups, and access to other advanced features.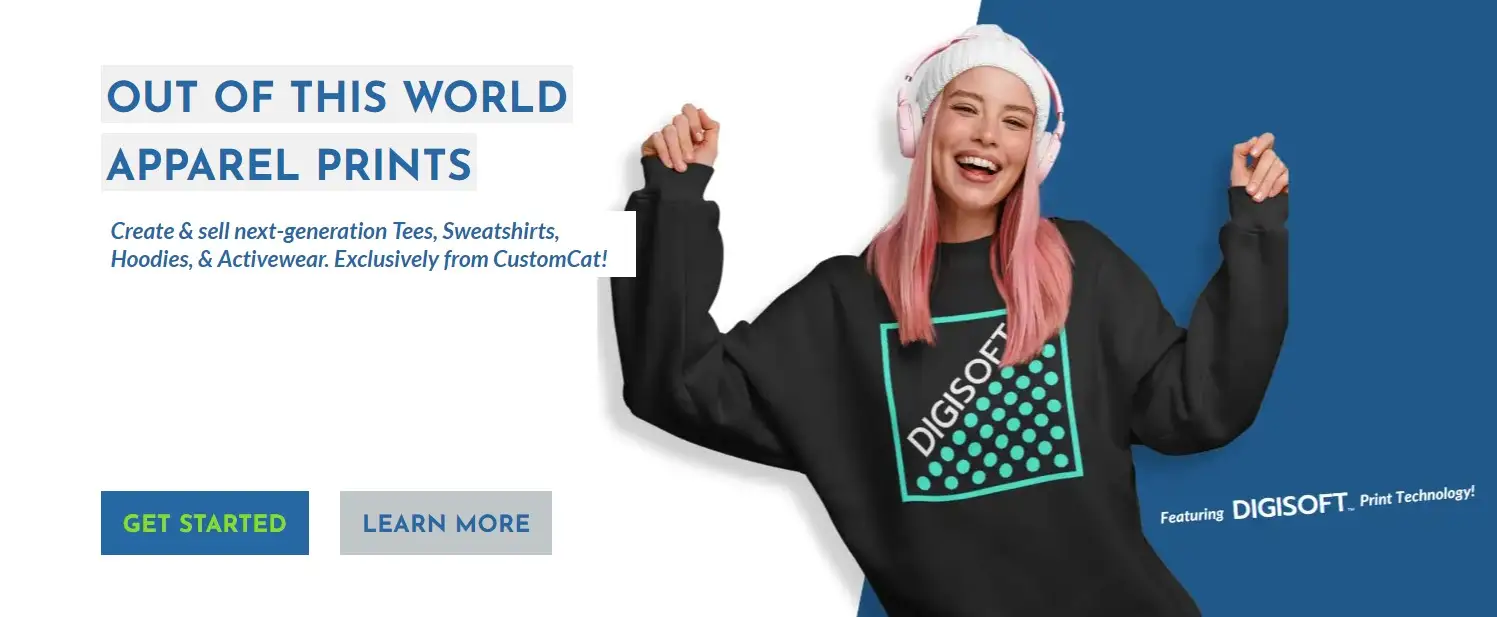 CustomCat is another US-based print-on-demand company specializing in apparel and houseware products. With this Printful alternative, you can sell products ranging from T-shirts, hoodies, caps, and pillows to bags, sleepers, and more.
With CustomCat, you can choose your preferred decoration style, from digital printing, embroidery, to dye-sublimation. This allows you to offer variation in printing style on the same products to your customers, which may help you stand out in the market.
CustomCat has different shipping options based on the delivery location and product type. It offers 2-day, overnight to 7-day shipping time in the US, while it can take upto two weeks for international shipping.
It is free to use, and you have to pay per order basis. However, Shopify users can opt for its paid plan to get discounts on all products. The plan costs only $30/month with a 30-day free trial.
Pros of CustomCat –
Competitive product pricing
Offer variations in printing methods
Cons of CustomCat –
Longer International Shipping time
Delivery costs can be expensive for certain delivery locations
Limited integrations 
Pricing Plans – CustomCat is free to use and you have to pay only for the products you will sell. They also have paid plan starting at just $30/month with a 60-day free trial. With paid subscription plans, you can claim 20% – 40% discounts on all products.
SPOD might be the right POD platform for your business if you are looking for Printful alternatives with US or Europe-based suppliers. With SPOD, you can deliver high-quality products faster to your customers in these regions.
SPOD has over 200 products in different categories, from clothes and wall arts to accessories. It allows you to order product samples at a 20% discount to test the product before selling them to customers.
If you want to build an environment-friendly business, SPOD can be a great partner for you as it employs a water-saving printing technique and uses the OEKO-TEX certified vegan ink, which ensures a paper-free production.
Pros of SPOD –
Faster production time (48 hrs)
Faster shipping across the US and Europe
Allows for white label packaging & package inserts
Order samples with a discount of 20%
Cons of SPOD –
Limited eCommerce platform supported
Slow international shipping duration
Pricing Plans – You only have to pay when your customer places an order. Additional costs such as graphic designer fees and marketing are up to you.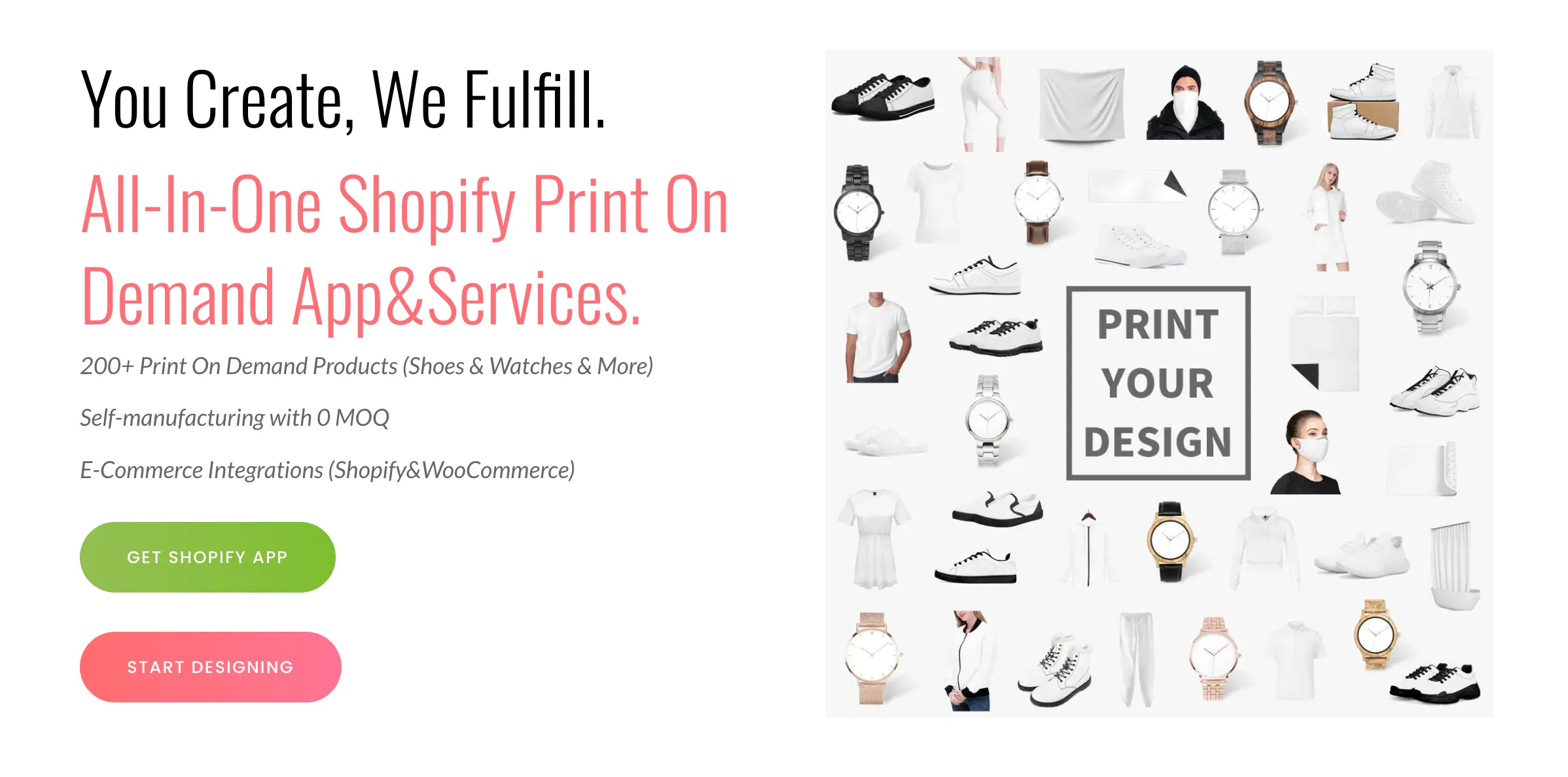 JetPrint is one of the best Printful alternatives for custom-designed watches, shoes, mats, curtains, hoodies, and other exciting products. Here, you will find 200+ products you can easily customize and sell in your store with a good profit margin.
JetPrint offers an advanced mockup generator that enables you to produce product mockups from different angles that you can use for your storefront and marketing creatives.
It provides worldwide shipping service with an average delivery time of three to five business days. It also lets you order product samples at a 10% discount to test them before offering them to your customers.
Pros of JetPrint –
Unique product offerings
Multiple angle product mockups
Cons of JetPrint –
Expensive shipping fees for some countries
No custom branding options
Limited to Shopify & WooCommerce stores
Pricing Plans – It is free to use, and you'll be charged based on per-product basis.
Teelaunch is a great Printful alternative if you are looking for US-based suppliers with high-quality products. Although it has partners in certain parts of Europe and Australia, it is well structured for the American market with a faster shipping duration.
With Teelaunch, you can sell products like T-shirts, hoodies, accessories, wall arts, cards, and more. Although it has a limited product catalog, it is known for its high-quality printing and products.
Teelaunch pricing is similar to Printful. It costs nothing to design and add products to your store – you just have to pay for what you or your customers order + the shipping fees to the delivery location.
Finally, if your target audience is based in the US, Canada, or the UK, Teelaunch can be an excellent alternative for some unique products you may not find on other POD platforms.
Pros of Teelaunch –
Faster delivery in the US & Canada
High-quality mockup generator
Creative printing and design options
Cons of Teelaunch –
Fewer product options
No custom branding options
Longer international shipping times
Limited customer support
Pricing Plans – It is free to use, and you'll be charged when you or your customers place an order.
Found Your Best Printful Alternative?
Printful is a pioneer in the print-on-demand industry. But as I said, its popularity doesn't make it an ideal choice for everyone. That's why there are many powerful competitors offering similar services but have something unique to offer that compels many entrepreneurs.
Although Printful is our #1 recommendation, Printify and Gelato are our top two picks for its alternatives. They support most eCommerce platforms and provide everything you need to build and scale your print-on-demand business. 
Rest assured, all the above-listed platforms are the best and bring something unique. So, before deciding, I'd recommend trying each platform to find the right POD partner who can help you succeed.