Are you an artist looking for the best eCommerce platform to sell art online? Well, you have landed at the right place!
Being an artist, whether you are a graphic designer, photographer, videographer, digital artist, or even a sound artist, you want to build a brand for yourself and value your products accordingly. And for that, you can't rely on marketplaces – such platforms can help you generate more sales, but they will not contribute to your personal brand.
That's why you should have your own eCommerce website where you can sell your artwork – people should visit your site because they love your artwork and support you by purchasing directly from you.
So, without further ado, let me give you an overview of the best eCommerce platform for artists.
Now, let's dive deeper into each platform to see how you can use them to sell art online.
Ready? Let's get started.
1. Squarespace – Best eCommerce platform for artists
Squarespace is one of the leading website builders which provides stunning templates that adds a sensible touch to presenting creative artwork. It is a design-focused eCommerce platform, making it widely popular among artists like photographers, videographers, painters, and graphic designers.
Its easy-to-use drag-and-drop builders enable you to customize almost every element of the site pages. It also comes with a mobile editor, allowing you to customize the site for mobile devices and provide a smooth user experience across all devices.
Squarespace enables you to deliver a delightful customer experience, as the sites are highly responsive and optimized for mobile devices. Further, Squarespace has everything to help you drive traffic, sell and manage your products easily. It allows you to optimize pages for SEO by adding meta tags, keywords, and more to rank higher on search results.
As an artist, you want your site to be attractive and conversion-friendly. Squarespace understands this and thus offers everything to help you grow –
It provides stunning artistic-centric website templates, enabling you to showcase your marvelous works in the best possible ways.
Squarespace has incredible gallery pages with various templates. It also offers Gallery block options like Stacked, slideshow, Grid, or slider.
It supports Printful, one of the best print-on-demand apps you can use to outsource the production of your products. It takes care of everything from inventory management to shipping products to the customers.
It provides a powerful pop-ups and bars builder that you can use to create pop-ups and announcement bars to promote your products and build an email list.
Overall, Squarespace is the best platform for artists to sell their creative artworks and win customers' hearts by creating a visually appealing user experience. To dive deeper into the platform, you can read our in-depth review.
Squarespace offers a 14-day free trial ( no credit card required). So, if you wish to start your online store to sell your artwork, sign up now and follow our Squarespace tutorial to get started.
(Use Code: ES10 at checkout for 10% discount)
2. Shopify – Popular eCommerce platform for selling artworks
Is Shopify on your bucket list to launch and sell your artwork online? If Yes, I would really appreciate your choice.
Shopify is the most popular eCommerce platform focused on helping you build an online store quickly and grow your sales and revenue to the next level.
You can integrate your Shopify store into major social media platforms and other marketplaces, expanding your discoverability. It also comes with the app store, where you can find all the essential tools and apps to add features to the store.
Shopify offers many unique themes for artists allowing you to choose the best theme that genuinely caters to the needs and requirements to build a beautiful online store to sell your creative works.
Shopify also provides website templates for art and photography that you can use and customize according to your preferences and start selling the artwork to your customers.
Another best part about Shopify is that it offers a mobile app that allows you to easily manage your digital galleries and track your business growth. You should read our Shopify review to learn more about the features and functionalities it offers.
Shopify offers a 3-day free trial and lets you enjoy the platform at just $1/month for the first three months. Afterward, the paid plan starts at $39/month with access to all the essential features to sell art online.
Further reading –
3. Sellfy – Easiest platform to sell art online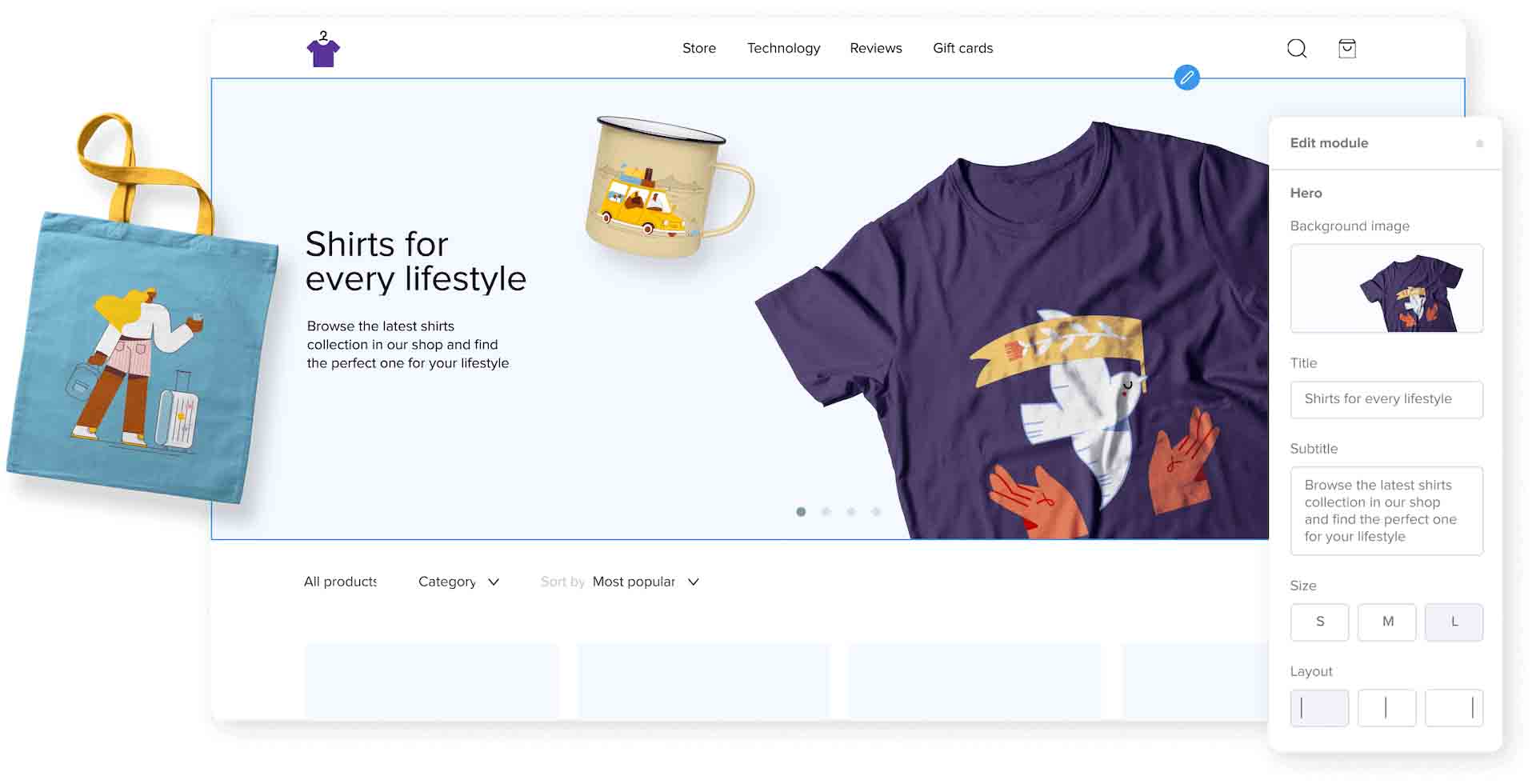 Sellfy is a dedicated eCommerce platform that lets you create a storefront for your artwork and start selling within minutes. As an artist, you can set up an online store to sell photographs, videos, graphics, audio, and print-on-demand products without requiring coding skills.
It is an easy-to-use platform with a clean and intuitive experience for your customers. You may not be able to customize every element of the site pages, but it allows you to change the look, feels, and colors so they match your artistic value.
The best thing about Sellfy is that it has no limit on the number of products and storage bandwidth, enabling you to add as many products as you want to your store. And, using its built-in marketing tools, you have an opportunity to build your email list, create discount offers and upsell to existing customers.
Overall, if you are looking for a simple eCommerce platform that takes away all the technical complexity of setting up an online store and allows you to focus on creating and selling your artwork instead, Sellfy can be an ideal platform for artists like you.
Want to know more? Read our in-depth Sellfy review to get a complete picture of what it has to offer and how you can use it as an artist.
Sellfy offers a 14-day free trails and has 3 paid plans, starting at just $29/month with no transaction fee or hidden cost, allowing you to book high profits on your artworks.
4. BigCommerce – Powerful eCommerce platform for artists
BigCommerce is an exceptional eCommerce platform with powerful features that helps businesses deliver an amazing customer experience.
It becomes a magnanimous choice to use this platform for artists as you can sell your digital products across various social media like Facebook, Instagram, and Pinterest, which drive visibility and increase your brand value.
This platform offers highly focused templates for creating top-notch images and customizing your store by enabling product reviews. It also provides many stunning and highly customizable themes for showcasing your artwork on your storefront.
Though BigCommerce is ideal for merchants or retailers, artists can also benefit by displaying their creative art online by designing an attractive eCommerce website with decent theme customization options and plugins.
One of the most significant advantages of building your art website on BigCommerce is that it has a partnership with Alibaba so that you can get connected to hundreds and thousands of artists on the platform and build a strong foundation for digital products to be scaled up to the next highest level.
So if you want a scalable eCommerce platform that offers more distribution channels for your art products, then BigCommerce is your one-stop solution.
5. Wix – Popular eCommerce platform for artists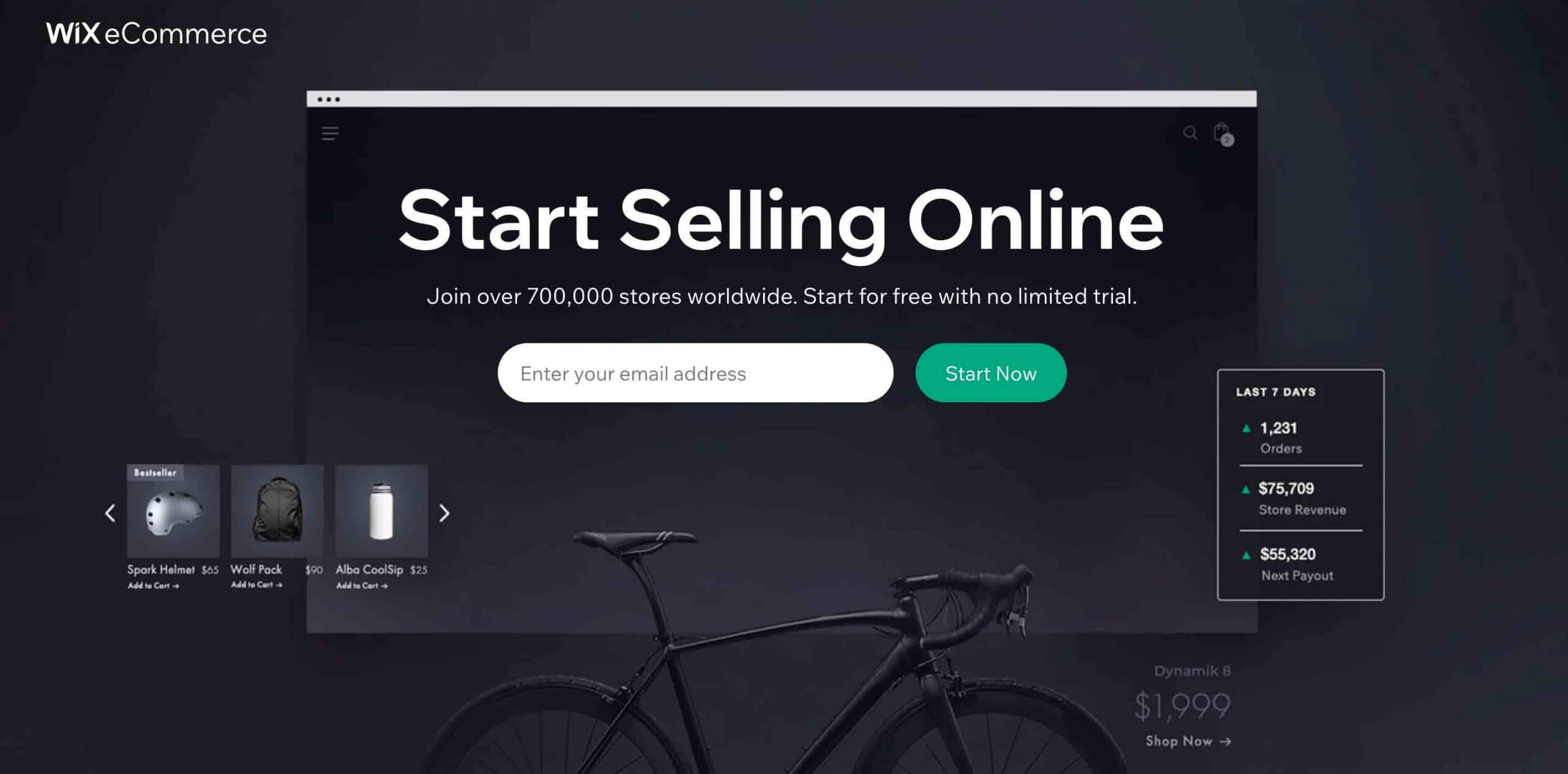 Wix is another go-to eCommerce platform for artists. Its drag-and-drop page builder and customizable templates make it effortless for anyone to build a stunning website to sell artwork.
Being an artist, you can make the most of Wix by using the Wix Art Store app to sell digital art and printed artwork without hassle. Here's how it can add life to your online art store –
To build your online store, Wix offers 100+ beautiful artistic templates for categories like performing, literary, and visual arts.
The Wix Art store is a fulfilling solution for artists as it is free to install and commission-free. It provides customizable layouts and custom watermarks for your art, which helps you with branding.
If you want to sell top-notch digital images and videos, you can use its Wix Pro Gallery add-on that enables you to showcase pictures, videos, and text in a creative manner.
Wix Pro Gallery also comes with built-in image protection features by which you can ensure no one can download your digital arts without making a payment.
Finally, Wix is an excellent platform for artists such as photographers, videographers, and graphic designers to build a fantastic online store to sell their artworks. To know more about its features, read our Wix eCommerce review.
Wix allows you to create your site for free. However, to add your custom domain, you will have to opt for one of its premium plans, with which you will also get a free domain for a year. Want to try Wix? Follow our Wix tutorial to get started.
6. Weebly – Affordable eCommerce platform for artists
Weebly is one of the most familiar website building platforms and is highly recognized for its splendid SEO services. This is where the platform gives life to your products as it extends your talent to be visible to many people.
If you are a beginner and want to get started with selling your digital art online, Weebly is the best choice. You can also build your art store using Weebly's free plan, but it has very limited features.
If you wish to educate your audience by writing blogs, then Weebly offers you that. It provides beautiful themes you can use along with your online store to provide a better user experience for visitors. It supports the top payment gateways like Stripe, Square, and Paypal Express.
I recommend Weebly because of its high affordability. Though they provide the most suitable templates for displaying your products, they aren't as impressive as other platforms.
7. WordPress – Free Ecommerce Platform for Artists
I would strongly say there wouldn't be a single artist unfamiliar with WordPress. This platform offers deluxe features for creative artists to beautifully construct their websites to display and sell amazing products.
With WordPress, what's not possible? You can easily install WordPress on a hosting platform, set up a theme, and start adding your products online. It offers top-notch themes for artists with plenty of customizations, page templates, widgets, and tons of eCommerce plugins, including WooCommerce, to add eCommerce functionality to your site.
WordPress is one of the recommended eCommerce platforms for artists because it offers a great content management system. You can add and embed custom images, text, videos, etc. That too, for an artist, editing is an ongoing task, and you can tackle this productively by using this platform.
Above all, you need not stress about optimizing your website to get indexed on Google, as WordPress is an SEO-optimized platform. You can also add SEO plugins like Yoast SEO or RankMath to optimize your website content for search engine visibility.
So if you are a creative artist and want to build your site with more custom design flexibility, WordPress is your perfect eCommerce platform.
However, one crucial point is that you need basic technical knowledge and awareness to build and manage a WordPress site. If you are considering building your online store on WordPress, you should check out our WooCommerce tutorial to create an eCommerce site.
8. BigCartel – Free platform to sell art online
BigCartel is the leading eCommerce platform for artists and creators to sell their products online. It is considered to be the most flexible platform as it offers simple yet powerful features.
The themes offered by BigCartel are highly responsive for mobile versions and are user-friendly so that you can provide a seamless visual experience for your digital products.
This supercharged platform provides the tools you need to run your art store effectively. You can run promotions, update your products, and check your statistics.
BigCartel's ideal goal is to serve creative artists and small businesses on the verge of leveraging their online footprint. It allows you to instantly modify fonts, colors, media, etc., without complicated steps. It provides seamless integration with PayPal, Stripe, and other payment gateways.
Like other eCommerce platforms, BigCartel also allows you to launch and sell your creative artwork on Facebook, which is an added integrity to showcase your talent to the world.
In a nutshell, you can effectively develop your art store from scratch, as BigCartel serves as an exclusive platform for creative artists only.
Which is the best eCommerce platform to sell your artwork?
Choosing the right platform to build an online store is the most crucial step in starting an online business. And all the platform mentioned above has their own advantages and disadvantages.
The best eCommerce platform to sell and promote your creative works entirely depends on your product types, goals, and, most importantly, budget and technical skills.
If you want to set up a storefront to sell photographs, videos, or custom-printed products to build a brand for yourself, I recommend Wix or Squarespace.
On the other hand, if you want a simple eCommerce website builder with no technical sophistication, Sellfy and Weebly would be my best pick. These platforms take care of everything from designing to checkout, with basic customization options to match the store with your brand.
Shopify and BigCommerce are powerful eCommerce platforms. If you already have an established audience or can invest big in marketing and promoting your artwork, these platforms would be the best choice.
Now, it is your turn to pick the most suitable eCommerce platform for your artwork and start building a storefront to let your art lovers buy your beautiful pictures, video, audio, or whatever you wish to sell.