Are you looking for the best eCommerce payment gateway to accept payments in India? If so, this article is for you.
As we are going ahead for a cashless future, we are moving away from offline transactions' troubles. Today, almost every app is integrated with a payment gateway system that has benefited the major markets, including on-demand industries and the eCommerce industry massively.
Online payment gateway providers like Paypal and Stripe are currently leading in the world of the cashless economy and are helping business owners and consumers to make convenient and safer online transactions.
And despite Paypal and Stripe coming by default with most of the popular eCommerce platforms in India, they are not usually best for the Indian online stores – the transaction fees and the currency exchange rates make them quite expensive for Indian entrepreneurs.
That's why I've compiled a list of the best payment gateways that Indian eCommerce businesses can use for both local and international customers.
Here are the best eCommerce Payment Gateways in India –
Now, let's dive deeper into these service providers
1. Cashfree – All-in-one Ecommerce Payment Solutions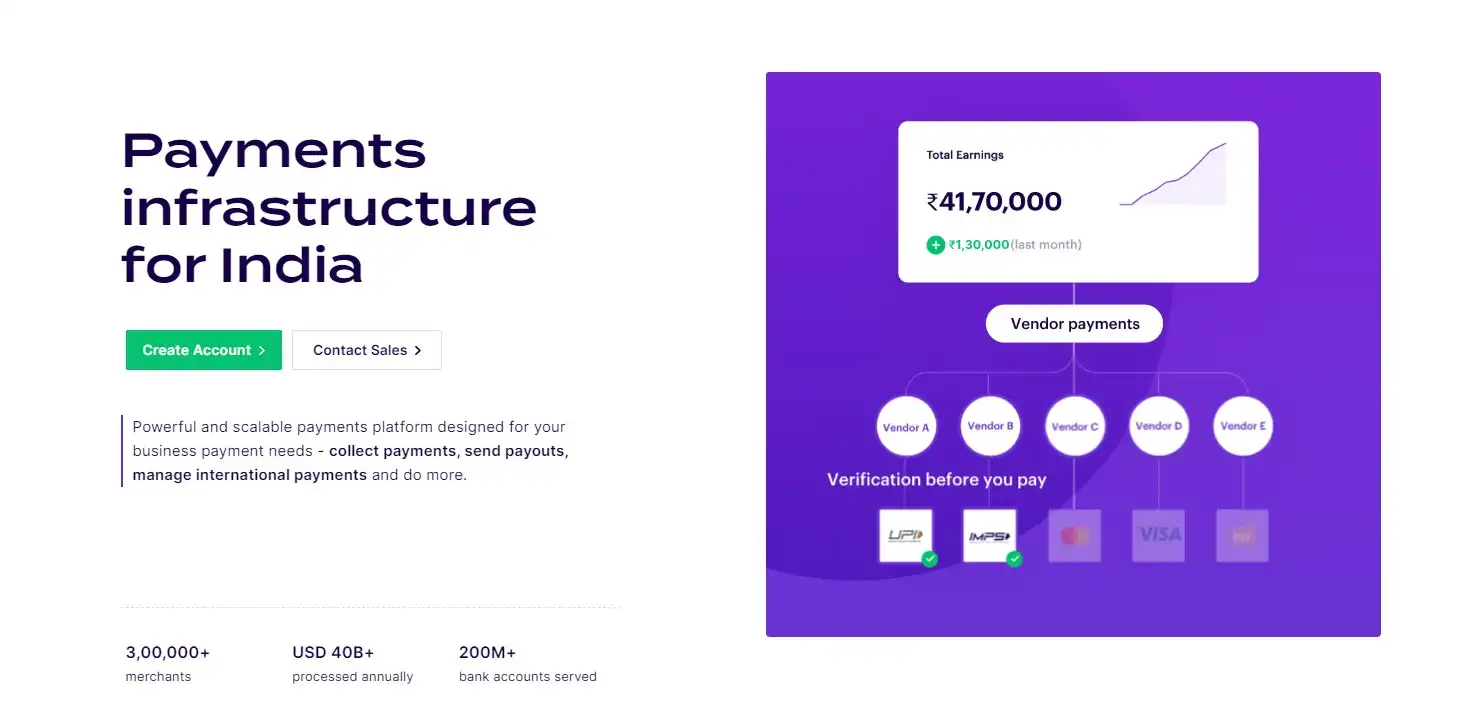 Cashfree is the best payment gateway in India that offers a wide variety of payment options, including net banking, cards, e-wallets, Pay Later, Ola Money, Zest mMoney, etc. It even supports NEFT, UPI, IMPS, PayPal, where the gateway charges per transaction are 1.75%, the lowest TDR charges in the entire country. Sounds great, right?
The best thing that merchants love about Cashfree its fastest settlement cycle of 1 to 2 days, unlike any other payment gateway on the list.
With a seamless checkout option, Cashfree has also come up with 'Payout Direct,' helping businesses connect with the current bank accounts and make smoother bulk payments anytime, even during bank holidays.
Feature Highlights –
No charges for annual maintenance
Supports more than 32 international currencies
Can be integrated with both IoS and Android devices
Features live transaction report where you can view the reports of unsettled and settled payments along with your revenue report.
Supports various eCommerce CMS systems
2. PayU – Popular Ecommerce Payment Gateway in India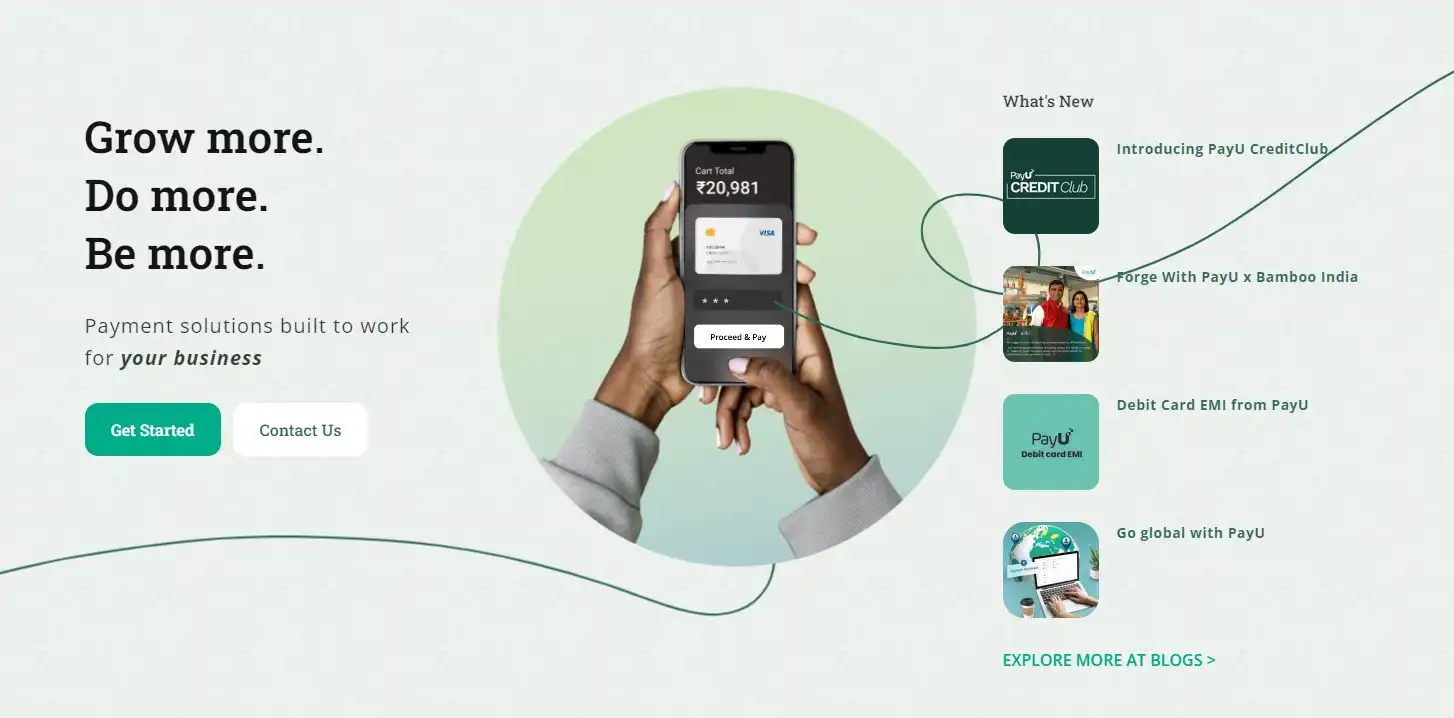 PayU is another popular payment gateway in India used by over 5 lakh businesses today. It enables you to provide a seamless and customized checkout experience to your customers on your website or app.
What makes it better is that it supports 150+ payment modes, including UPI, EMI, credit and debit cards, net banking, etc., allowing your customers to choose based on their preferences. And it also allows you to collect payments on the same page without redirecting or manually entering OTPs.
If you are not a techy, PayU support team will help you integrate your eCommerce website or app easily with to start receiving payments within minutes. Overall, PayU has all the essential and advanced features like Offer Engine and Pay With Rewards that allow you to provide unique customized experience per your business requirements
Feature Highlights –
Supports 150+ payment modes
24×7 customer support
Direct integration with almost all banks/networks
Compliant and secure
Supports multi-currency international payments
Plugins and extensions for popular eCommerce platforms like Shopify, WooCommerce, etc.
3. Razorpay – Trusted Payment Gateway in India
Razorpay is another popular eCommerce payment gateway in India, offering advanced features like Flash checkout that allows customers to save card details and don't require them to type card details every time they purchase. Isn't this a great feature?
This feature can help you improve your site's conversion rate by offering your repeat customers to make payments quickly. It also supports 100+ payment gateways, UPI, e-wallets, EMI is a few to name.
One of the best things about Razorpay is that it provides one-click integration with popular eCommerce platforms and software like Magento, Opencart, Woocommerce, EDD, Prestashop, Shopify, etc. So, no matter which platform your online store is built on, Razorpay can be your go-to payment gateway.
Feature Highlights –
It charges Zero withdrawal fees.
It Supports 100+ payment methods, including UPI, payment wallets, and international cards.
They provide 24/7 customer chat support, which is quite significant for online store owners.
4. PayTM – Most Popular Payment Solution Provider in India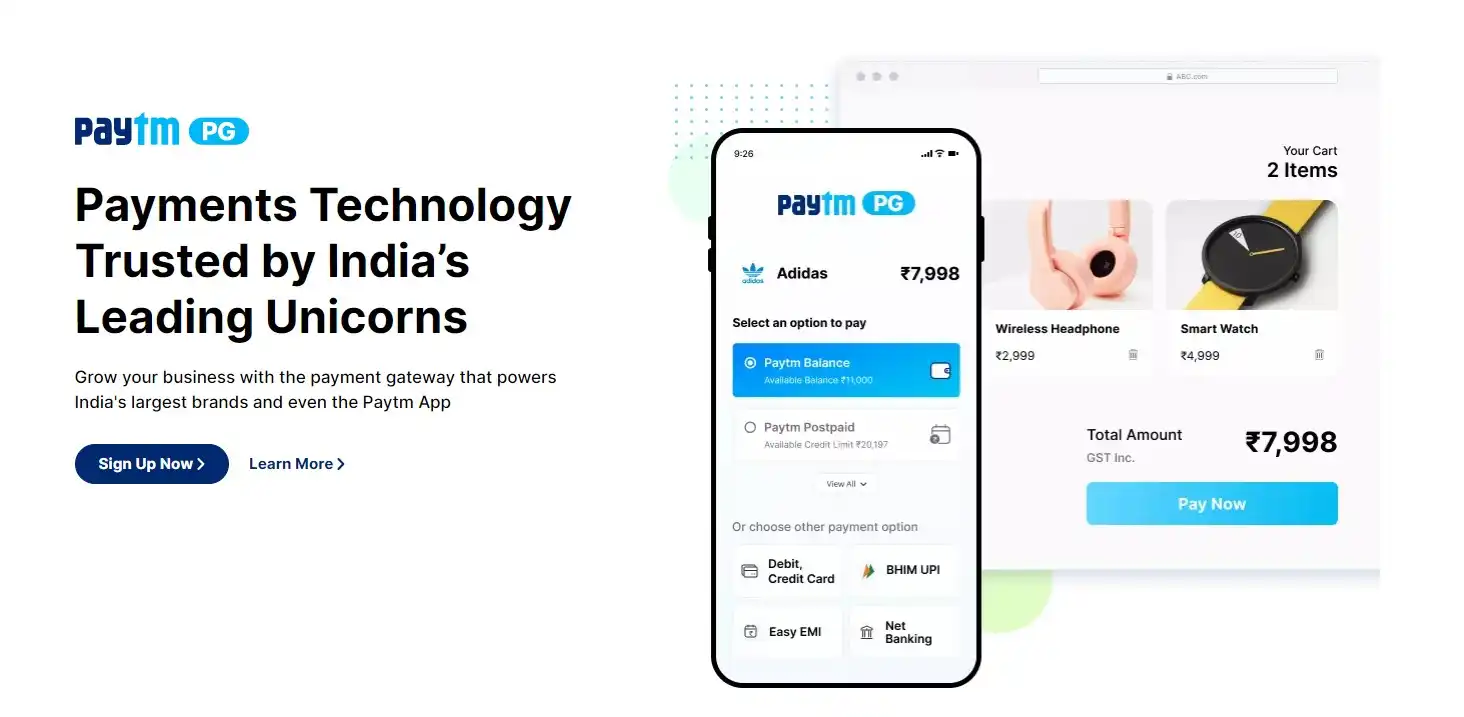 PayTM is one of India's topmost fintech companies, which has been operating for quite a few years now. It is also one of the most common payment gateways in India and is used by businesses of all sizes.
PayTM comes with a powerful dashboard allowing you to check the real-time analytics and measure your business's performance. You can view the real-time bank statements and transaction success rates of your customers.
Other features that make the PayTM payment gateway rank in the list are its instant refund, single checkout, extended bank offers, EMI schemes, faster checkout options, and lots more. It offers six modes of payment through which you can collect payment. These are debit cards, credit cards, net banking, Paytm wallet, EMI options, and Paytm postpaid.
PayTM gateway supports all the popular eCommerce platforms including WordPress, Joomla, Woocommerce, Prestashop, Shopify, etc. And it also comes with a simple 2-step JavaScript checkout API allowing you to easily integrate your existing website and mobile.
Feature Highlights:
Supports both domestic and international cards
Zero withdrawal fee
Zero Setup and Maintenance Cost
Real-Time Bank Settlement
A dedicated key account manager is provided for customer support
5. Verifone– Trusted Payment Gateway in India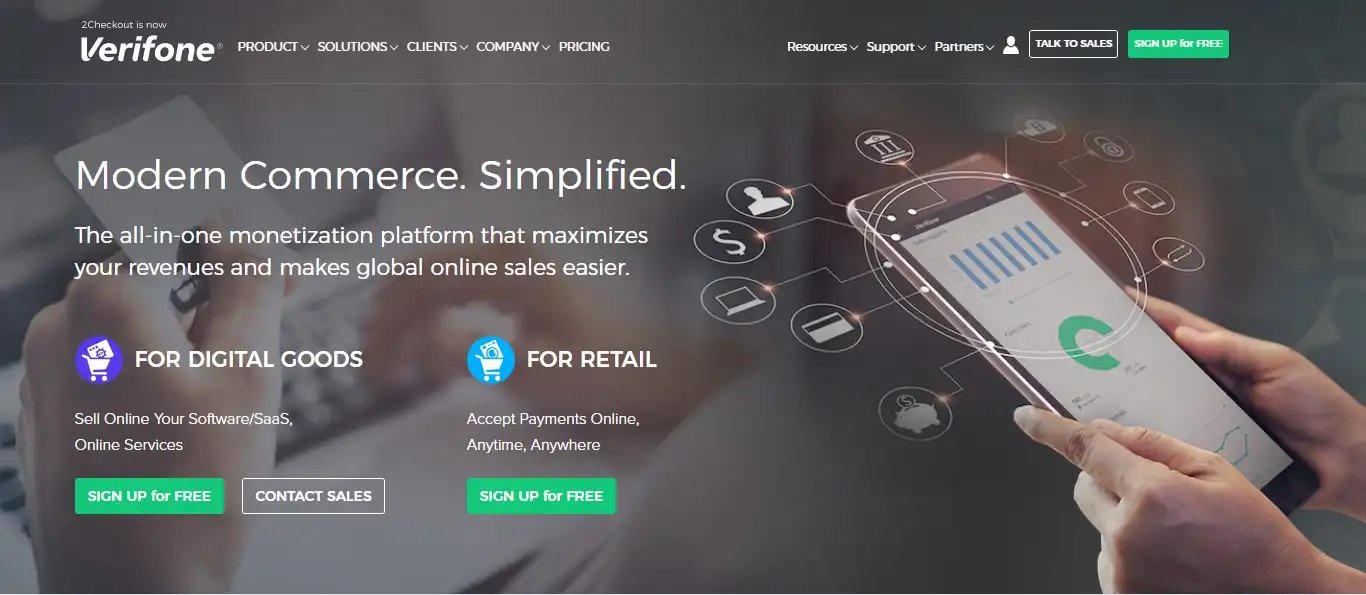 2Checkout is the best eCommerce payment gateway in India with powerful features for receiving online payments anywhere around the world. 2Checkout is an all-in-one monetizing platform that boosts your business revenue by increasing your digital sales.
Global payments, subscription billing, partner sales, digital commerce, and international financial services are some of the best features that 2Checkout offers to merchants.
It supports different types of payment methods and has over 50,000 merchants worldwide using 2Checkout. The check-out services of this platform are mainly designed to maximize the user's conversion by adapting to the local aspects like languages, currencies, and payment methods.
Above all, with level 1 certification in the data security standard of the payment card industry, 2Checkout guarantees security to both merchants and customers while they make any kind of payment transaction from the platform.
Feature Highlights –
Supports up to 15 international languages
Supports 87 international currencies
Allows users in managing the automatic renewal process
Support Shopping cart integration with almost all the eCommerce platforms available in the market.
Provides several webhook options, which helps the merchants to connect the web storefront easily.
6. CCAvenue – Popular Payment Gateway among Online Merchants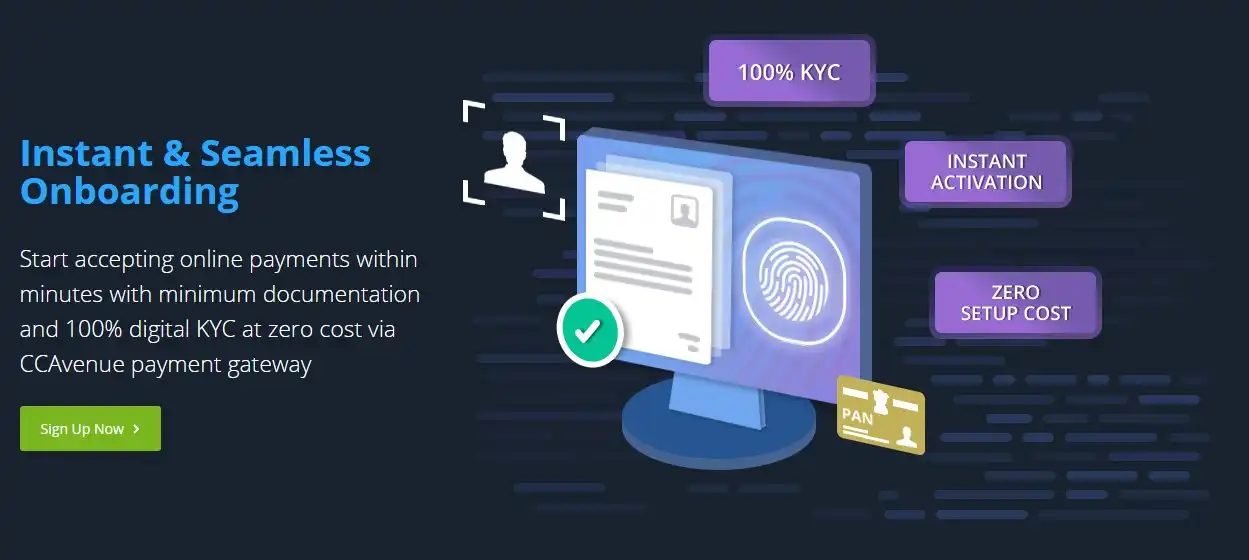 CCAvenue is another payment gateway service provider in India that allows merchants to validate and accept the payments made through debit cards, credit cards, net banking, e-wallets, etc.
CCAvenue gateway hosts many features that have made the e-commerce enterprises get it implemented on their site. It offers eCommerce merchants with maximum payment making options, multiple international currency processing, etc.
It also provides your customers with an easy and smooth checkout experience with a higher transaction success rate. CCAvenue not only has a record of high transaction success rate, but it has also redefined the user experience by making quick and hassle-free transactions.
Feature Highlights:
With the dynamic switching transaction feature, CCAvenue ensures the bank's gateway performance's highest success rate.
Supports multiple currencies.
Allows you to generate invoices.
Which is the best eCommerce payment gateway in India?
Selecting the best payment gateway to receive and process payments securely is one of the most crucial steps to starting an eCommerce business.
And when it comes to serving the Indian consumers, you need to be a bit selective with the payment gateway that you pick because like other regions Indian consumers also have unique payment preferences like Cash-on-delivery, pay later, UPI, etc. So, while selecting the payment gateway for your eCommerce site or other online services, ensure that it offers all the essential features that your consumers prefer for online payment.
If your online store is built on (or thinking to build on) Shopify, here's our list of best Shopify payment gateways. And if you are considering accepting cryptocurrencies in payment on your store, you should check the top cryptocurrency payment gateways for eCommerce.