Do you want to drive targeted traffic to your online store? You don't have to answer this. Everyone wants this!
Are you wondering how to find the right keyword that your target audience uses to search for the products you sell?
The answer is simple – you need Keyword Research tools, and this is the list of best keyword research tools (free and paid) that you can use to find the right keywords to target and grow ranking on search results.
Ready? Let's get started.
Semrush is my favorite SEO tool. It has got so many things to offer. This unique tool kit provides an overall visualization of the overall content strategy. Also, it is widely preferred by digital marketers and entrepreneurs for keyword research purposes. Along with providing you with the entire data of a particular keyword, you can also find out its difficulty level, its CPC, related keywords, keyword variation, questions related to the keyword, and so on.
You can easily find both long tail and short tail keywords that will help you to stand strong against your competitors.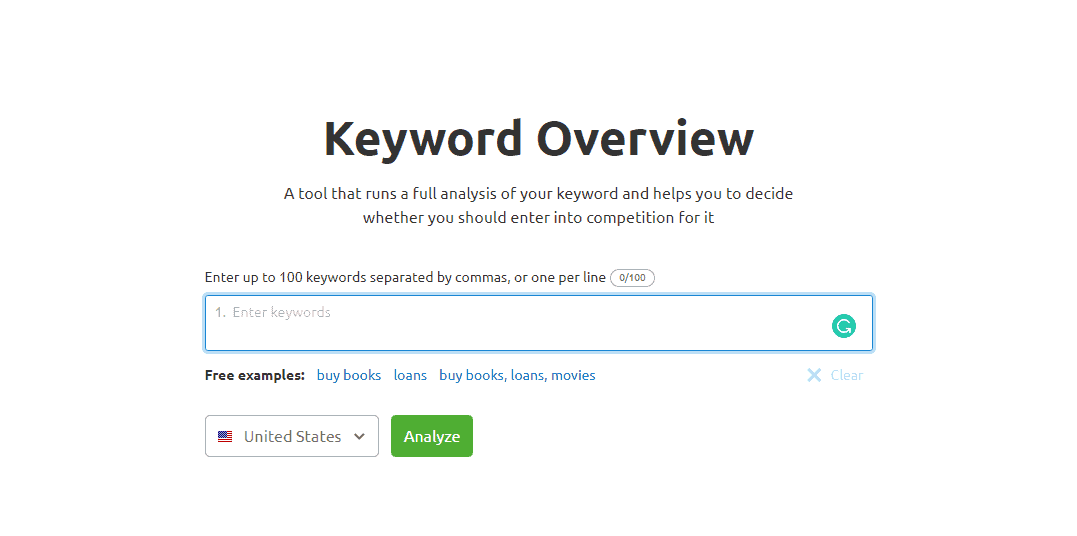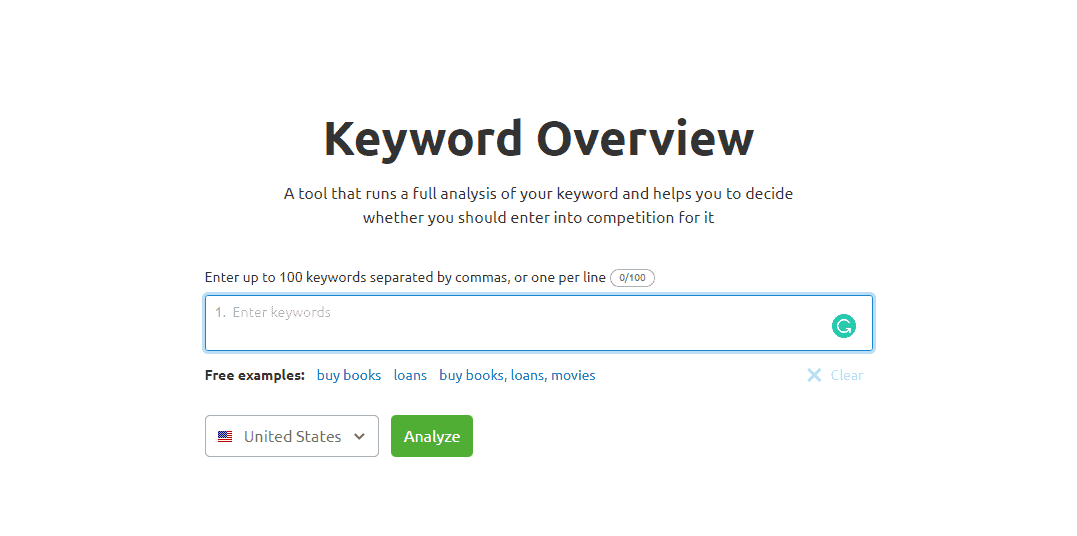 Best feature: One of the best parts of SEMrush is the keyword manager section, which lets you add keywords related to your industry in a separate list. It will help you in finding out keywords that are profitable for your business.
Pricing and Plans- SEMrush comes under three different monthly subscription plans, which include:
Pro Plan- $99.95/month
Guru Plan- $199.95/month
Business Plan- $399.95/month
2. Google Keyword Planner (Free)
The reason behind the popularity of the Google Keyword Planner is that it is free of cost and can be directly integrated with Google Ads. It is one of the primary tools that is used in the early stages of any website SEO.
Google keyword planner provides you with a comprehensive and detailed analysis of your competitors and is one of the most used keyword planning tools.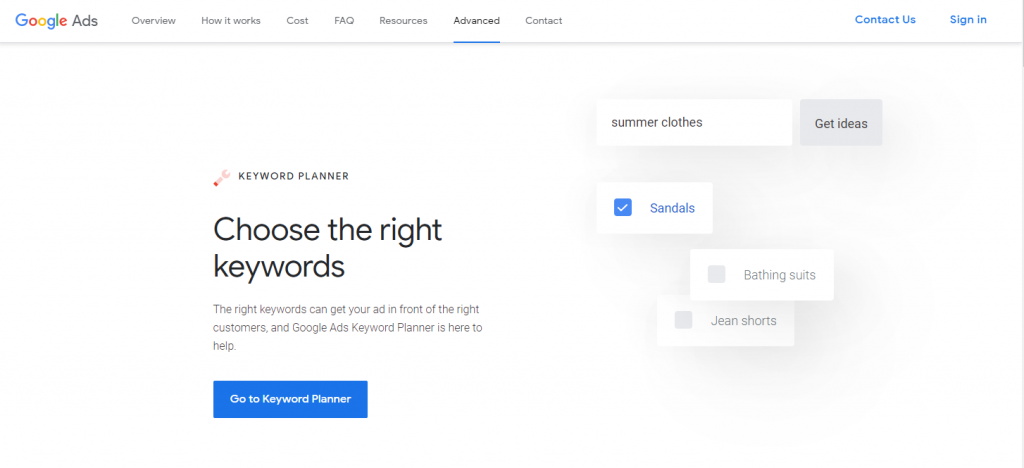 Best feature- One of the best things about the keyword planner tool is its capability to offer 1 with a detailed analysis of the keywords used by your competitors.
Pricing and Plans – Google Keyword Planner is Free.
3. Ahrefs Keyword Explorer
Ahrefs is well-known for its powerful backlink analysis tool, but its keyword explorer tool is also powerful. Ahrefs uses clean stream data to show how many clicks you are supposed to get on the first page of the Google search result page. You can also create a Keyword list for targeting directly through the Ahrefs dashboard.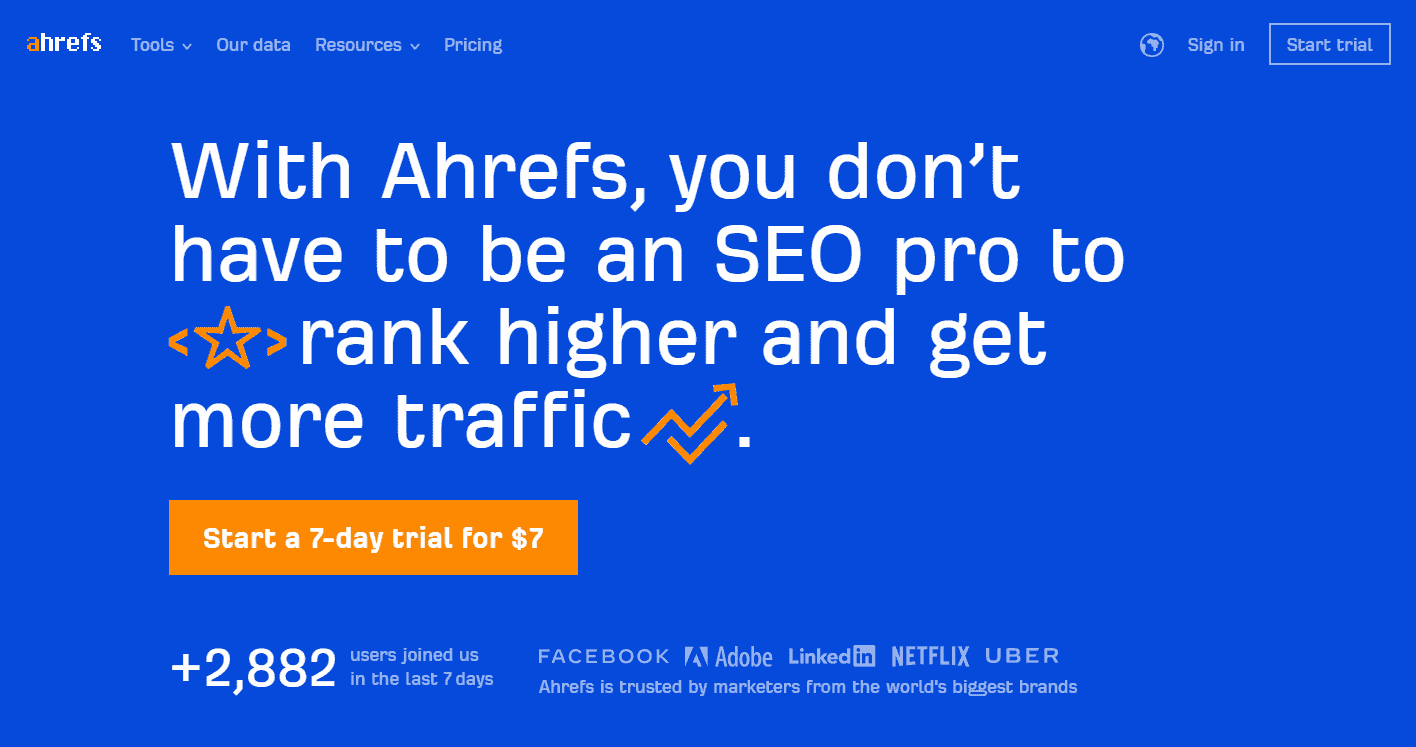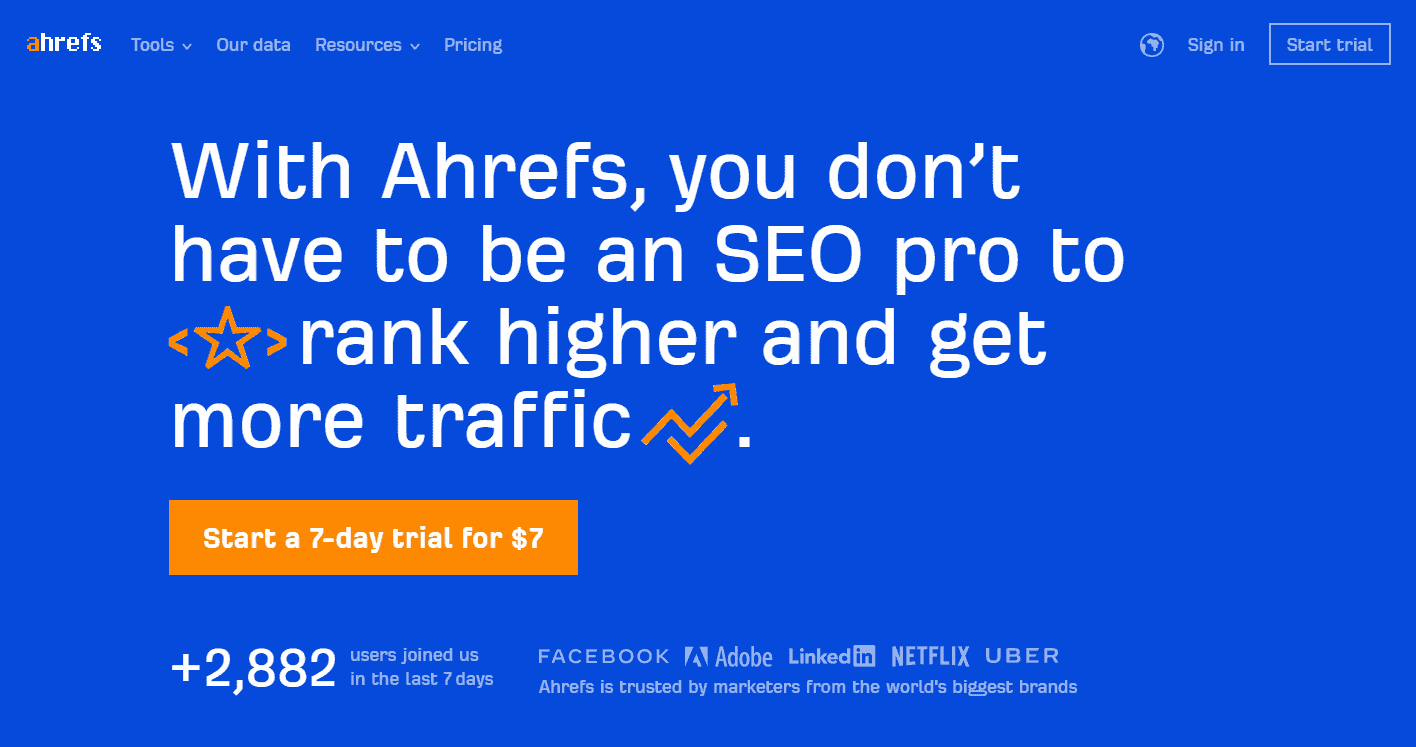 Best feature- What makes Ahrefs stand out amongst all the keyword research tools is its excellent user interface and the massive amount of data it can provide.
Pricing and Plans- Ahrefs offers a week's (7 days) trial for $7.
4. Moz Keyword Explorer
The best thing about using Moz Keyword Explorer is that it is easy to use and provides out-of-the-box or unpredictable keywords. Unlike any other keyword research tool, Moz has unique standout features. It offers priority scores and organic CTR, which can be leveraged for smart targeting.
The CTR or the click-through rate displays the clicks you can expect to attract on Google's first page. The priority score comprises various factors combining search volume, CTR data, keyword difficulty, etc., suggesting better keyword options.
Best feature- Moz shows keyword suggestions that you will probably never find anywhere else. This unique feature makes Moz stand out amongst all the keyword research tools.
Pricing and Plans- Moz is not just a keyword research tool, but it fulfills all other SEO research activities. While you sign up for Moz, you will get 10 free queries each month. However, you need to go for a premium plan that starts at $179 per month with an option for a 30-day free trial for buying the entire suite.
5. Keywords Everywhere
Keyword Everywhere is another fantastic tool that displays the top keywords used by websites with higher DA. This tool makes use of the same data source as the Google Keyword Planner.
Keywords Everywhere is mainly used for finding the related keywords on Bing and Google.
If you are using the paid version, you can get historical data in the trends chart section for YouTube and Google right from 2004. You can also import your keywords directly to check the accuracy of your CPC, monthly search volume, and competition.
Best feature- The best thing about using Keyword Everywhere is that you can see what other people are exactly searching for. If you are using a paid version, then there is a section called "People Also Search For," which gives you a clear idea of the type of keyword people are looking for, and this can be understood with the keyword volume and the CPC rate.
Pricing and Plans- Keyword Everywhere has a freemium Chrome and Firefox extension along with a paid version. In the freemium version, you will only get the related keywords but no data about the volume. But in the paid version, you will be getting extra features like CPC, volume, and competition of the keywords. You will also get support for 15 + popularly used websites and many more. The paid version costs around $2 per month.
6. KWFinder
If you are looking for a dedicated tool for keyword research, then KWFinder is the only thing you need. Keyword Finder Tool is a handy tool for finding keywords with lower SEO difficulty. The KWFinder platform also hosts a series of other useful features because online marketers highly prefer it.
Some of the best features of the KWFinder include an in-depth overview of the SERP, a suggestion list, accessible navigation UI features, precise keyword competition statistics, etc.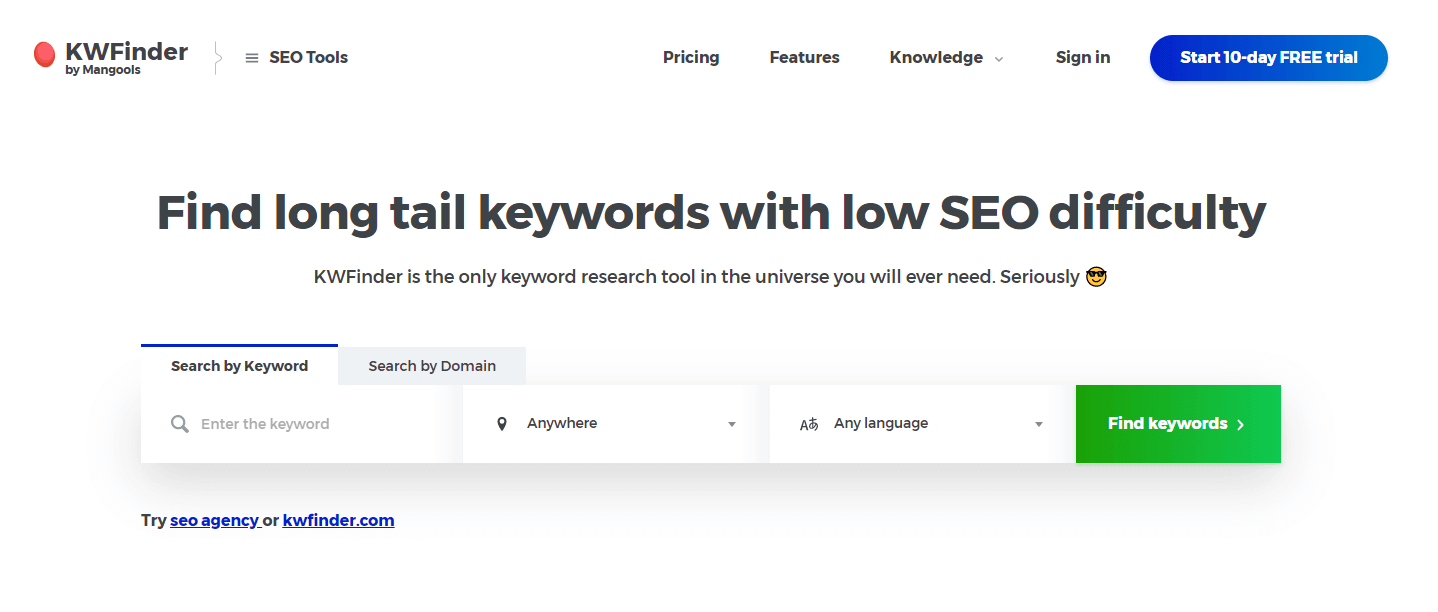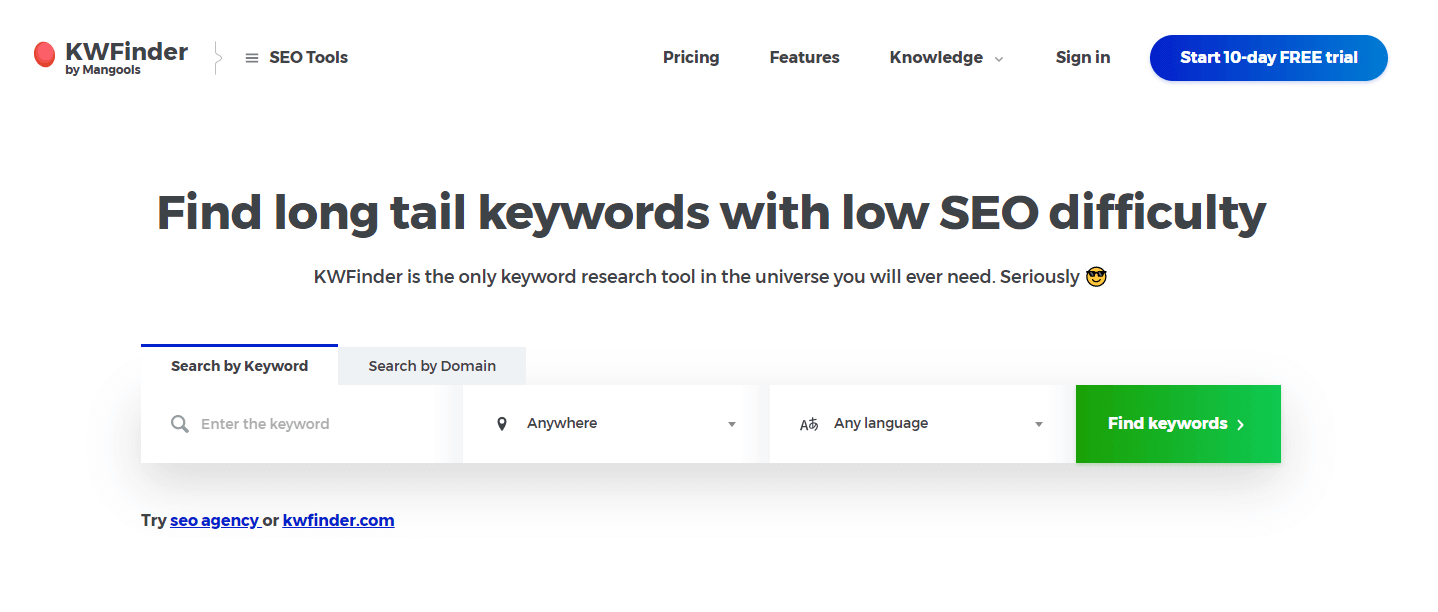 Best feature – The best part of the Keyword Finder Tool is its ability to showcase the exact keyword difficulty percentage, which can prove to be very crucial when you have just started your online store.
Pricing and Plans- KWFinder has both paid and free plans. If you are using the free-plan, then you will be getting a 10 days free trial. However, at $29 per month, you can use the premium version of the KWFinder tool.
7. Answer The Public (Free)
If you are running out of budget for buying any keyword research tool, then go for Answer The Public. It is a completely free keyword research tool that provides long-tail keywords based on your seed keywords or primary keywords. The best part of this tool is to get the long-tail keywords in different formats, including prepositions, questions, and comparisons.
Best feature- One of the wonderful benefits of using "Answer The Public" is that it is free of cost and has filters of selecting language, country for matching keywords as per your preferences.
Pricing and Plans- "Answer The Public" is a free platform for keyword research.
8. LongTailPro
LongTailPro is quite different from the other keyword research tools which you have read above all this while. It is a cloud-based software that can help you get the targeted keyword list for your micro-niche and niche sites. This tool runs on Adobe AIR, which means that it works on both Mac and Windows.
The software's User interface is also straightforward and simple, which you will get quickly used to. This tool is more than just a simple keyword research tool, and it comes with a whole lot of features. You can create multiple projects, generate keywords, export and import them, find long-tail keywords of high CPC, see the availability of a good domain name, and much more.
Best feature- One of the best features I like about LongTailPro is that it provides you with the competitor's keyword analysis, which gives you a good idea of what keyword you need to choose.
Pricing and Plans- This paid tool comes at $47 per month.
9. SpyFu
SpyFu is mainly used for analyzing and staying right ahead in the competition in the mainstream market. Considered to be one of the top SEO Optimization tools, it is highly utilized to understand the current competition and discover the untapped markets.
Best feature- This tool has several modules like, compare website module, domain history module, keyword history module and related keywords module, which I like most about SpyFu.
Pricing and Plans- Spyfu has two different pricing plans: the basic plan and the agency plan. The basic plan starts from $79 to $99 per month along with specific offers, and the agency pricing plan starts from $999 per month.
Wrapping Up
One of the most essential elements of the eCommerce SEO checklist is to conduct proper keyword research. Keyword research is a very crucial part of the marketing strategy for any online business. It is how you identify the search queries that your target audience uses to search for products or services like yours.
And keyword research is possible without using any premium tool. However, it cost you a lot of time and resources to find the best keywords. That's why I love SEMrush as my keyword research tool. It saves a lot of my time which I invest in writing or doing other important things.
So, which keyword research tool do you use for your eCommerce marketing?