Do you want to drive more organic traffic to your eCommerce website? Are you looking for tips and strategies to improve your eCommerce SEO? If so, this article is for you.
Many eCommerce websites rely on paid ads on social media and search engines to drive traffic and generate sales. But investing in SEO can be much cheaper in the long term – it enables you to acquire new customers without spending a penny.
SEO also plays a vital role in the eCommerce buyer's journey as over 60% of consumers search online to find the products and services they need – they look for tips, comparisons, and other information to help them pick the right product. And if your website doesn't appear for such queries, you lose a chunk of potential customers for your products.
So, in this article, I will walk you through proven eCommerce SEO strategies that can help your drive high-quality organic traffic to your website and generate more sales.
Ready? Let's get started.
1. Conduct keyword research
Keywords are the foundation of a successful eCommerce SEO strategy – you can't optimize your website pages to rank for relevant search queries unless you know the keywords people are using to search for your products like yours.
This is where you need to perform keyword research to identify the most relevant and profitable keywords related to the products you sell. You can use the keyword research tools like Semrush for the research.
Using Semrush Keyword Magic Tool, you just have to enter one of your primary keywords (let's say handbag), and it will show you a complete list of related keywords that searchers use to find your products.
Here's how it shows the result –
Further, you can shortlist these keywords based on search volume, keyword difficulty, CPC, and search intent to create keyword lists for each product.
There are many ways to conduct keyword research, which include competitor research, Google suggestions, and more. You can learn everything about it in our comprehensive guide on eCommerce keyword research.
2. Establish a simple site structure
Site structure plays a crucial factor for eCommerce websites – not just for SEO but for user experience as well. The thing is, like users, Google needs to find all the pages on your site to index and rank on search results.
Ecommerce websites have a comparatively larger number of pages than blog or business websites because each product and category are individual pages on the site.
For instance, if you sell 100 products in 10 categories and 25 sub-categories, you will have 135 pages + other pages. Just imagine what the number will look like for eCommerce websites with a large product catalog.
It will be a huge maze for crawlers to cover the entire website; if they fail to do so, you will struggle to get your pages indexed. That's where you need to focus on the site structure of your eCommerce website such that it is easier to find new pages ( and changes to existing pages) to index and rank your content higher on SERPs.
Here's an example of an SEO-friendly website structure –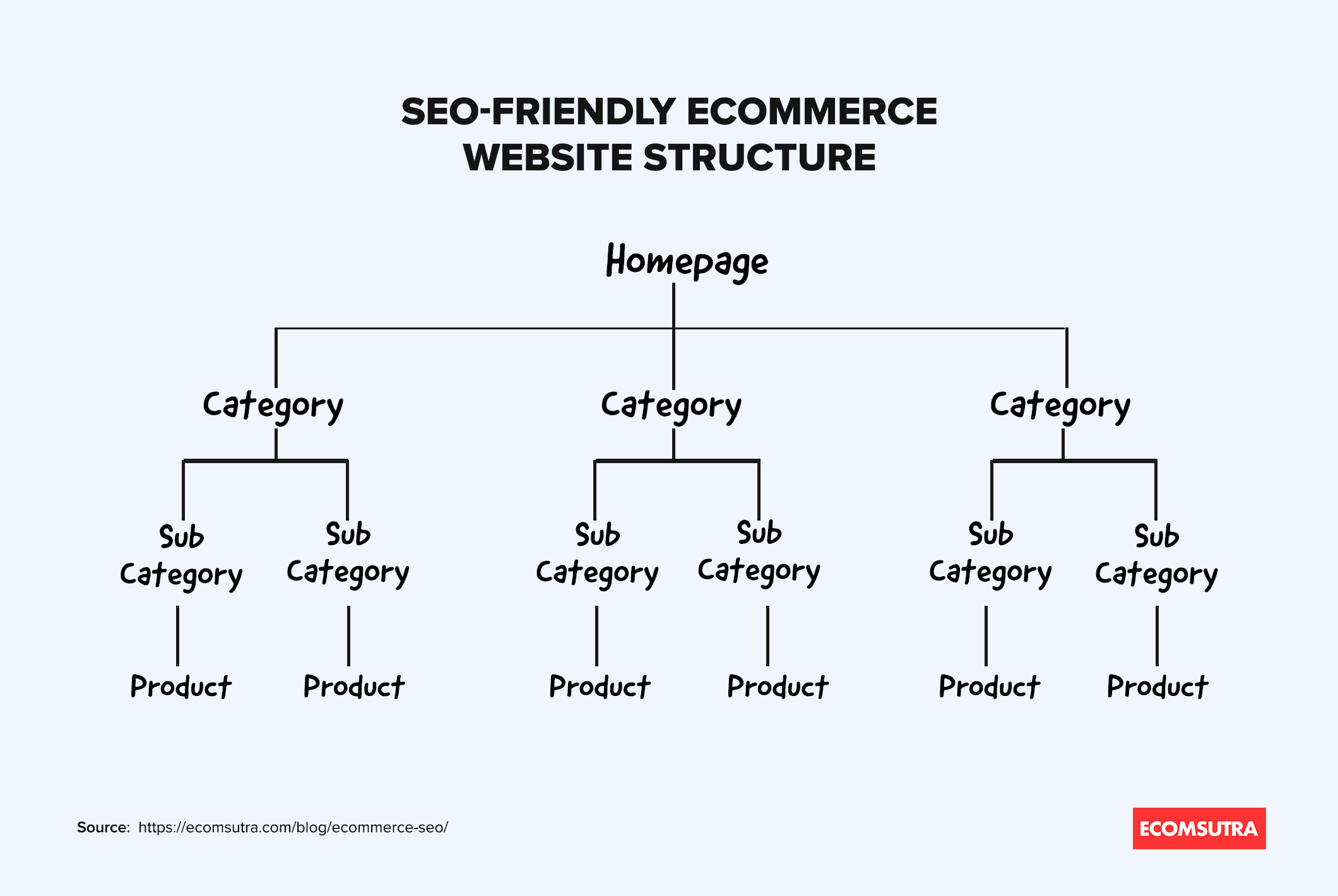 Additionally, the right site structure passes the link authority from one page to consecutive pages, increasing their page authority and the chance of higher ranking on search results.
Want to dive deeper into this? Read this guide by Semrush.
3. Create mobile-friendly websites
Do you know that over 60% of Google searches are happening on mobile devices? With the rise in mobile usage and changing users' preferences toward mobile searches, Google considers mobile-friendliness as one of the important ranking factors.
Google aims to serve pages for search queries not only based on the content but on user experience as well. Since more and more people are using mobile applications for searches, Google doesn't want to drive them to websites that are not responsive to mobile devices.
That's why Google had to shit to "mobile-first index," which means that it will first crawl the mobile version of your site, and if it isn't mobile-friendly, your pages may not rank on SERPs – even if your desktop version works well.
Google Search Console provides mobile usability reports where you can find any issues with your site and resolve it. Just click on "Mobile Usability" under the User Experience section of GSC, and you will find a report like this –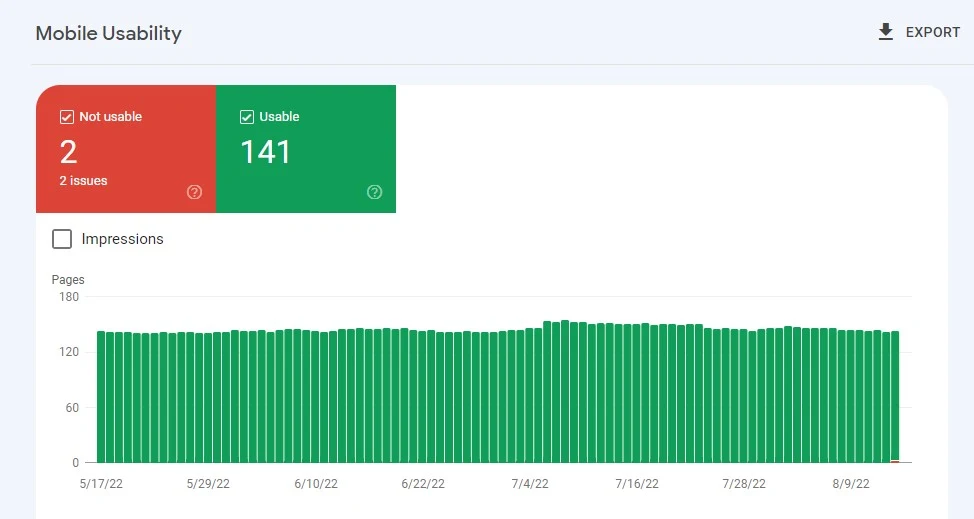 As you can see, the report shows that there are 2 mobile usability issues on the website. On scrolling down, you will find the list of issues and the pages affected.

You can also use Google's Mobile-Friendly Test tool to check if your website is mobile-friendly – just enter the page URL and get the report as shown below –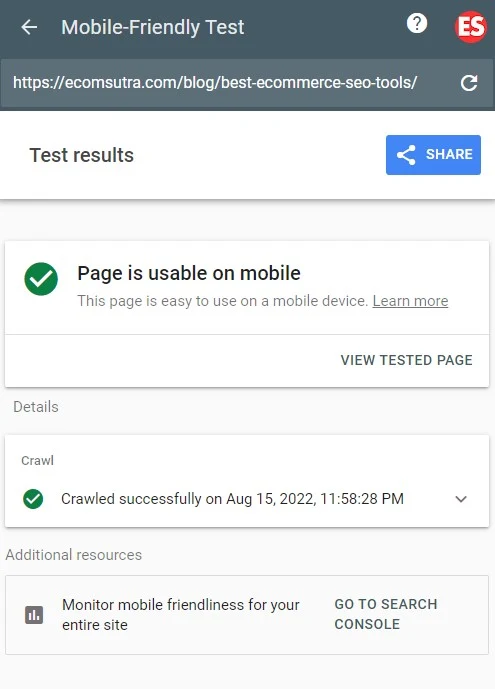 And I passed the test. Ensure your site passes it too to rank high on Google search results pages.
4. Improve Core Web Vitals
As mentioned in the previous section, user experience or page experience is one of Google's ranking factors, and it goes beyond mobile friendliness.
Google evaluates your website's page experience based on specific factors called Core Web Vitals. These factors are – Largest Contentful Paint (LCP), First Input Delay (FID), and Cumulative Layout Shift (CLS).
You can find your site's Core Web Vitals data in the "Experience" section of your Google Search Console account as shown below –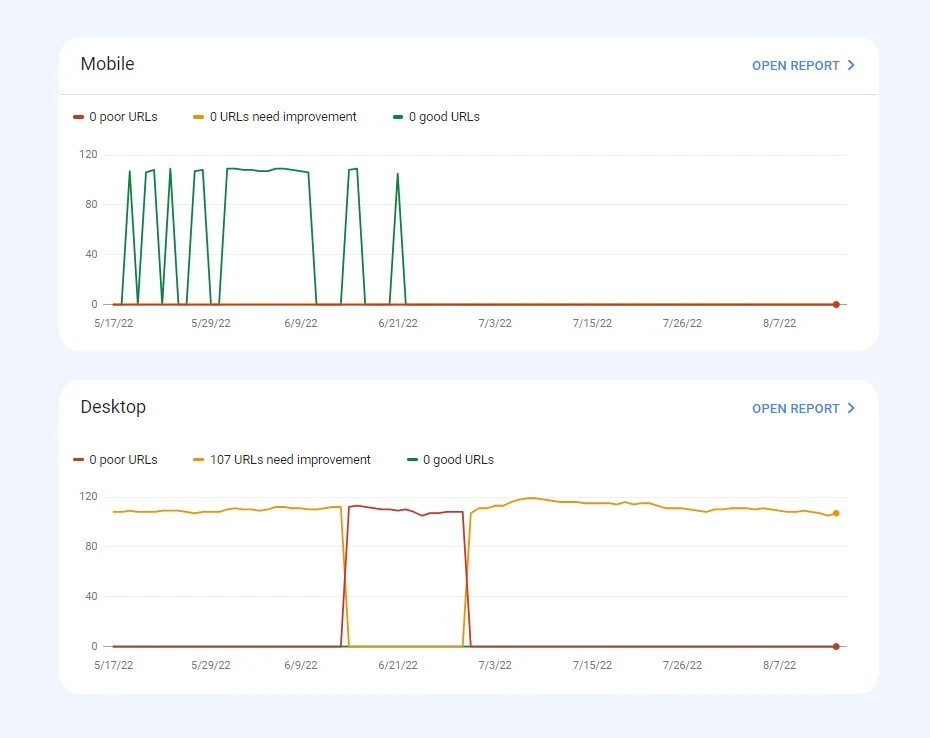 As you can see in the above image, it provides you with reports for mobile and desktop separately. You can click the "Open Report" link to find which of the three factors you need to work on.
Your goal should be to turn all your page URLs to GOOD. However, you should know that a good Core Web Vitals score won't push your website to the #1 spot – it is just one of the many ranking factors for Google.
For more insights into Core Web Vitals, refer to this guide by Backlinko.
5. Focus on On-page SEO
On-page SEO is crucial in ranking website pages for relevant keywords to drive quality traffic to your eCommerce website. With proper On-Page SEO, you can help search engine crawlers understand what the page is about and for which keyword it should be ranked.
So, the foundation of On-page SEO drills down to keyword research – you need to find relevant keywords for each page on your site, which includes the homepage, product pages, and category pages.
Once you have the keyword list, you need to ensure that the following three elements are optimized for target keywords (avoid keyword stuffing, though) –
Page Title
It is an HTML tag that specifies the title of the web pages. Search engines use it to understand the page's topic and relevance to search queries for ranking. So, you must include the target keyword of the respective pages in the page title.
And don't confuse Page titles with headings. These are two different elements of the pages, but CMS platforms like Shopify and WordPress use the page heading as SEO titles. However, they also allow you to customize it to make it more SEO-friendly.
You should also know that Google displays only 60-70 characters of the page title on SERPs. So, make sure your SEO title fits the character limits for more clicks.
Meta Description
It is another HTML element that Google displays on SERPs, right below the page title. Think of it like a short excerpt that gives searchers an idea of the page content.
Meta description doesn't affect the search engine ranking directly, but it can increase the page's CTR on SERPs, which may give a positive signal to Google and boosts its ranking.
So, create a compelling meta description for every page on your site and keep it within the 160 characters limit for complete visibility on search result pages.
Page URLs
URLs are another section where you can add your target keywords and help search engines determine what the page content is about and where to rank it. That's why you should dedicate some time to defining the URL structure of the pages, especially the product pages.
Here are a few tips for creating SEO-friendly URLs –
Keep the URL structure simple
Use descriptive keywords
Use hyphens (-) instead of underscores (_) to separate keywords
Use country-specific sub-directory for multiple languages (example.com/fr/product-name)
6. Create Unique Product Name & Description
Product pages are crucial elements of an eCommerce website because this is where users come to learn more about your products and place orders. So, besides making these pages compelling, you want to ensure that they are SEO-optimized to rank higher on search results.
In addition to the On-page SEO discussed in the previous section, you need to pay special attention to the product names and descriptions on the product pages.
I have often seen eCommerce sites use the same product name or description for multiple products, which is the worst mistake anyone can make. Here's why –
It may cause content duplicity because of which Google may rank only one of the multiple pages.
You may miss the opportunity to rank your product pages for different keywords.
So, to avoid such issues, you must create unique product names and descriptions for every product in your store – I know it's difficult but worth it to drive more traffic to the site.
While creating product names and descriptions, make sure to include the target keywords for respective products. However, you must avoid keyword stuffing and keep the content relevant to your target audience.
7. Use Schema Markups
Schema markups are structured data vocabulary that helps search engines understand specific elements on the page and their relationship with the entire page.
It produces rich snippets of the content that search engines use to present more information about the content on SERPs. Here's an example of rich snippets for eCommerce websites –
There are many schema markups, but for eCommerce SEO, you need to focus at least on the followings –
Product Schema
Review & Rating Schema
Price Schema
Brand Schema
Availability Schema
Schema markups may not contribute directly to search engine ranking, but Google loves websites providing valuable information to search engines and users, which can help you gain some rankings on SERPs.
8. Optimize Images for SEO
When you work on SEO for eCommerce sites, you can't ignore images because a good chunk of traffic comes from image-based searches on Google and other search engines.
Google or any search engine can't see the pictures like human eyes. So, to ensure search engines index your product images for relevant keywords, you need to provide information that tells what's in the picture.
Here are three simple ways to optimize images for SEO:
Alt text – It is provided as an alternative when websites can't load the picture for some reason. It also describes the image to search engines to help them understand. So, use descriptive alt text with relevant keywords.
File name – Rather than using random names (like image007.jpg), use a more descriptive file name (like blue-polo-t-shirt) that tells search engines what the image is of. Also, don't forget to include relevant keywords while naming it.
Image Size – Large image size can slow your page loading speed, which may also affect your ranking on SERPs. Since eCommerce relies heavily on high-quality product images, you need to reduce the image file size as small as possible without affecting the picture quality. Or, you can use CDN services to load your images from other servers faster.
If you are using WooCommerce or Shopify for your online store, you may find these articles helpful –
9. Start a Blog
Ecommerce SEO isn't just about product pages and images; blogging should also be part of your SEO strategy to drive potential buyers to your website. In fact, websites with a blog attract 55% more traffic than those without a blog.
Blogging allows you to create new content regularly, ensuring the website's freshness and giving search engines reasons to crawl and index new pages. Moreover, with blog content, you can target multiple keywords that users search to find solutions to their problems.
Remember, people don't always search for products to buy; sometimes, they look for tips, guides, and suggestions for their problems. And, if your blog pages are there to help them with the required information, you can drive massive traffic to your store.
Unlike product pages, you can target blog posts to rank for multiple keywords, boosting your brand's visibility on SERPs. Additionally, it can be an excellent source for you to attract backlinks and build internal links to strengthen the SEO for your eCommerce site – we will cover that in later sections.
If you want some ideas to create content for your blog, you should check our guide on the best blog topic ideas for eCommerce brands.
10. Build Internal Links Strategically
Internal linking is a way to add links from one page to another on your website. It is crucial for eCommerce SEO because this is how Google crawls a website to find all products and pages, and understands the relationship between them.
Since blog posts tend to attract more backlinks, internal links can help you pass the link authority to product pages, categories, and sub-category pages.
Another way to build internal links is by adding a "Related products" section in which one product page links to multiple pages, thus building a powerful internal link network. You can also add breadcrumbs to your category and product pages. Breadcrumbs are the links at the top of the page that map the user's journey to that specific page.
Here's how it appears-
Internal linking is one of the effective SEO strategies that can help you strengthen the page authority of your website pages, yet it is the most underrated technique that SEOs ignore. Make sure you leverage it to the full extent to grow your website traffic.
11. Attract High-quality Backlinks
Link building is an important ranking factor for eCommerce SEO. Each backlink is counted as a vote for your website that tells Google your site is credible and authoritative in the industry.
However, building backlinks to your store requires you to focus on getting links from other authoritative websites in your niche rather than irrelevant ones. For instance, a backlink from a fashion magazine to a clothing store would be more impactful than hundreds of links from low-authoritative websites in different niches.
Also, while building a link-building strategy, try to get links with a"rel=do-follow" tag and target keywords in the anchor text.
Here are some of the best ways to attract backlinks to your online store –
Publish guest posts on other websites
Claim unlinked brand mentions on other websites
Create infographics & sharing them with other websites
Leverage digital PR to get links from media websites
You should check our guide on eCommerce link-building strategies for in-depth tips and best practices to attract quality backlinks.
Ready to Improve your Ecommerce Website SEO?
There are many marketing channels to drive traffic to your online store, from social media, email, and SMS to PPC ads, but none are as effective and cost-efficient as organic search traffic.
However, you must know that SEO can't give your results overnight – it takes time, but I can guarantee that if you implement all the above SEO strategies and tips, you will be ahead of 90% of your competitors.
If you are new to SEO and eCommerce business, I highly recommend following our eCommerce SEO checklist to ensure your website is 100% optimized for search engine ranking. For more tips to increase sales and conversion rate, you may also want to check these hand-picked articles –