Amazon is a massive eCommerce marketplace with over 9.5M amazon sellers globally, which means there's an ever-growing competition that can make it difficult for you to sustain and survive. To stay competitive and grow your business, you need the best tools in your Amazon FBA seller toolkit to help you establish a profitable business.
From product discovery, keyword research, listing optimization, calculating profits, and forecasting sales to managing inventory, there are tons of tools to help you with everything you need to run your Amazon FBA store smoothly.
And to help you save time and pick the right ones for your toolkit, I have ranked and reviewed some of the best Amazon seller software and tools you can consider for your store.
So, if you are ready, let's start with the most popular tool in the market.
1. Jungle Scout – For Advanced Product Research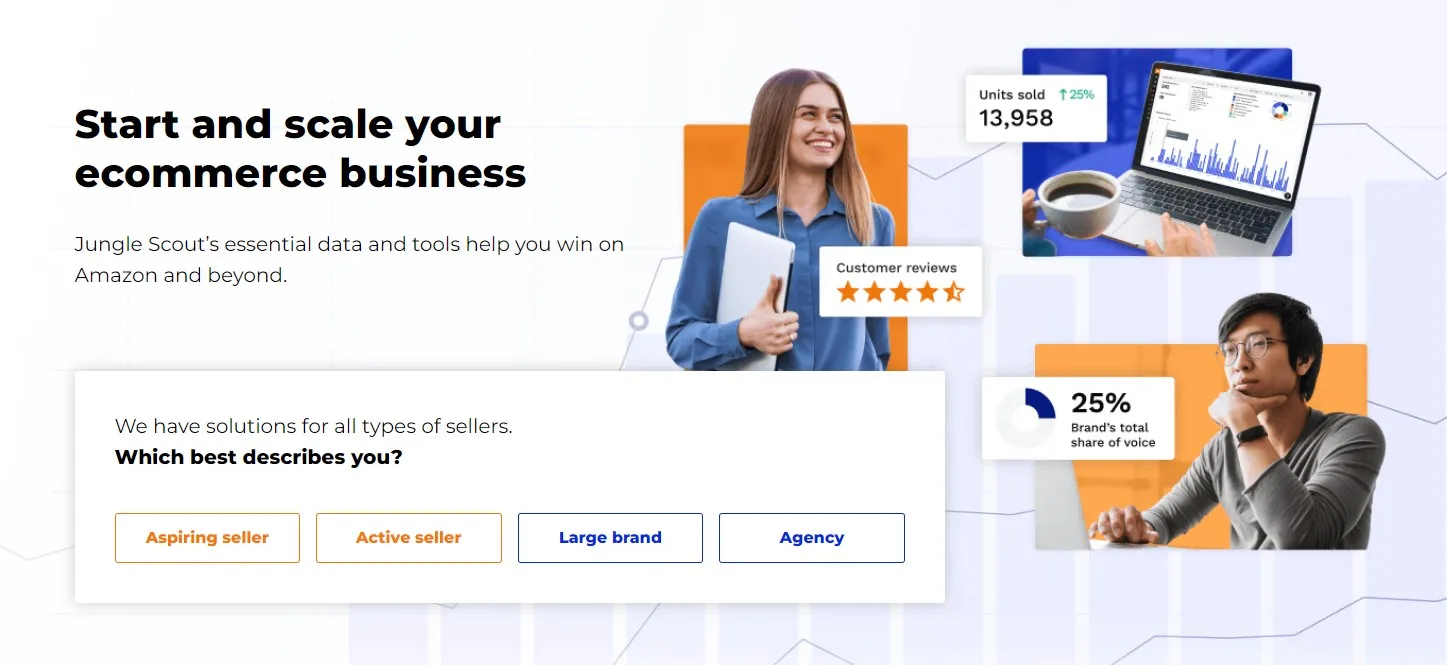 Jungle Scout is a top-rated Amazon Seller Tool known for its advanced product research capabilities. It has a massive searchable catalog of about 475M products pulled directly from Amazon. This enables you to discover the winning products for your store and test your product ideas.
For instance, here how Jungle Scout helps can help you –
Research products on Amazon by installing browser extensions
Analyzing products' profitability and competitiveness
Track & research the top 100 products of any category or subcategory
Searching for high-demand & low competition keywords
Perform research by analyzing Amazon's vast catalog
Access to supplier database to source & verify authentic products
The list doesn't end here – it lets you create & optimize product listings, evaluate emerging search trends, forecast sales & inventory, and stay informed about critical Amazon product changes.
In a nutshell, Jungle Scout has got everything to let you find the best product by comparing ideas with the competition. It provides all resources and data you need to build a thriving business on Amazon.
Key Features –
View keyword rank history based on multiple keywords
Test your product listing quality to gain actionable insights
Manage supplier communications, compare quotes & generate purchase orders
Promote your launch with exciting coupons and offers
Increase sales with automated review requests
Get access to historical product tracking data
Track all the expenses and Amazon sales data
Pricing Plans – JungleScout offers a 7-day risk-free trial with a money-back guarantee on all of its paid plans, starting at $49/month and goes up to $129/month with unlimited search access.
2. Helium 10 – All-in-One Amazon Seller Software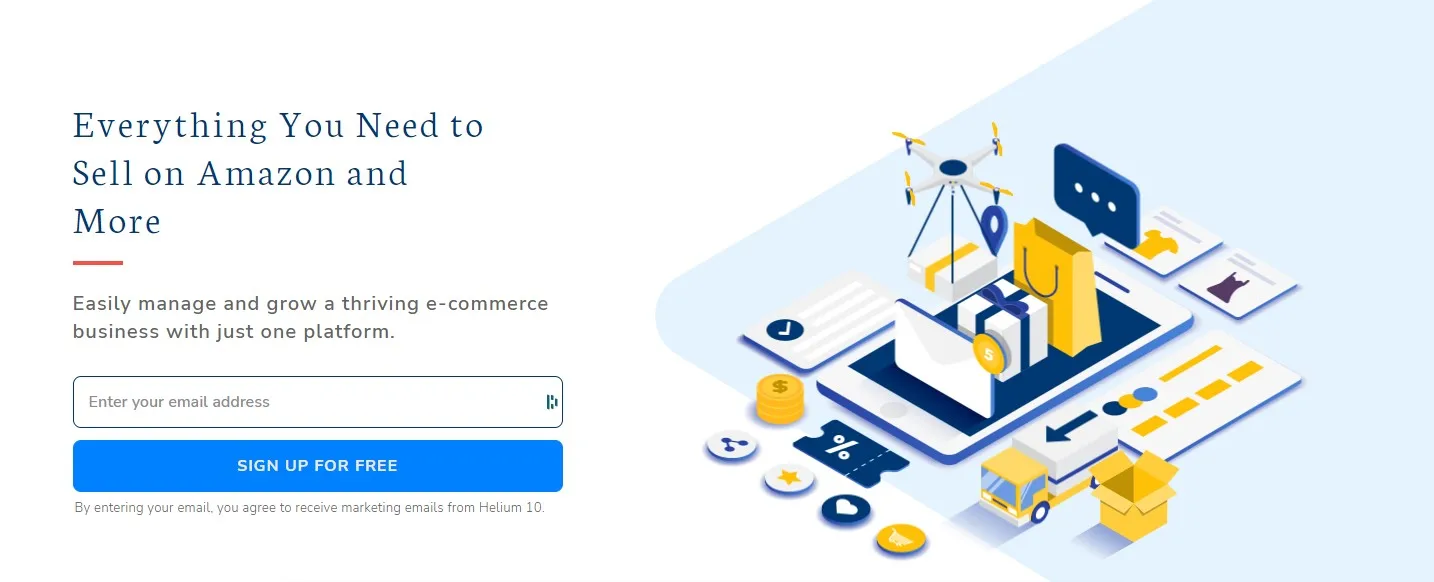 Helium 10 is an all-in-one Amazon seller software packed with 20+ powerful built-in features to help you find winning products and generate more sales.
It enables you to make data-backed product research, source thousands of high-intent keywords, write listings like a pro, manage inventory, access the Amazon advertising platform, automate follow-ups with your customers, etc.
In addition, it offers a list of free tools like PPC audit, chrome extension, URL builder, QR Code generator, and an anomaly tracker to get updates on sitewide glitches.
Helium 10 is a one-stop solution that offers everything you need to start, grow and scale your Amazon business under one roof. It lets you simply sell more by expanding your sales funnel, thus accelerating your revenue.
Key Features –
Search through over 400M+ products within seconds
Estimate your product's profitability with dimensions, FBA fees, and freight costs
Get access to your competitor's keyword strategy in one click
Extract misspelled keywords
Receive Amazon refunds easier with automatic seller reimbursements requests
Safeguard your inventory by limiting the no. of units allowed per order
Access to Adtomic – Supercharged AI-powered Amazon PPC tool
Pricing Plans – Helium 10 has a free plan which is best for testing the tool. But to access unlimited searches and become part of its premium community, you will have to opt for one of its paid plans, which starts at just $39/month and scale upto $399/month with live expert training sessions.
3. Teikametrics – For Amazon Ad Management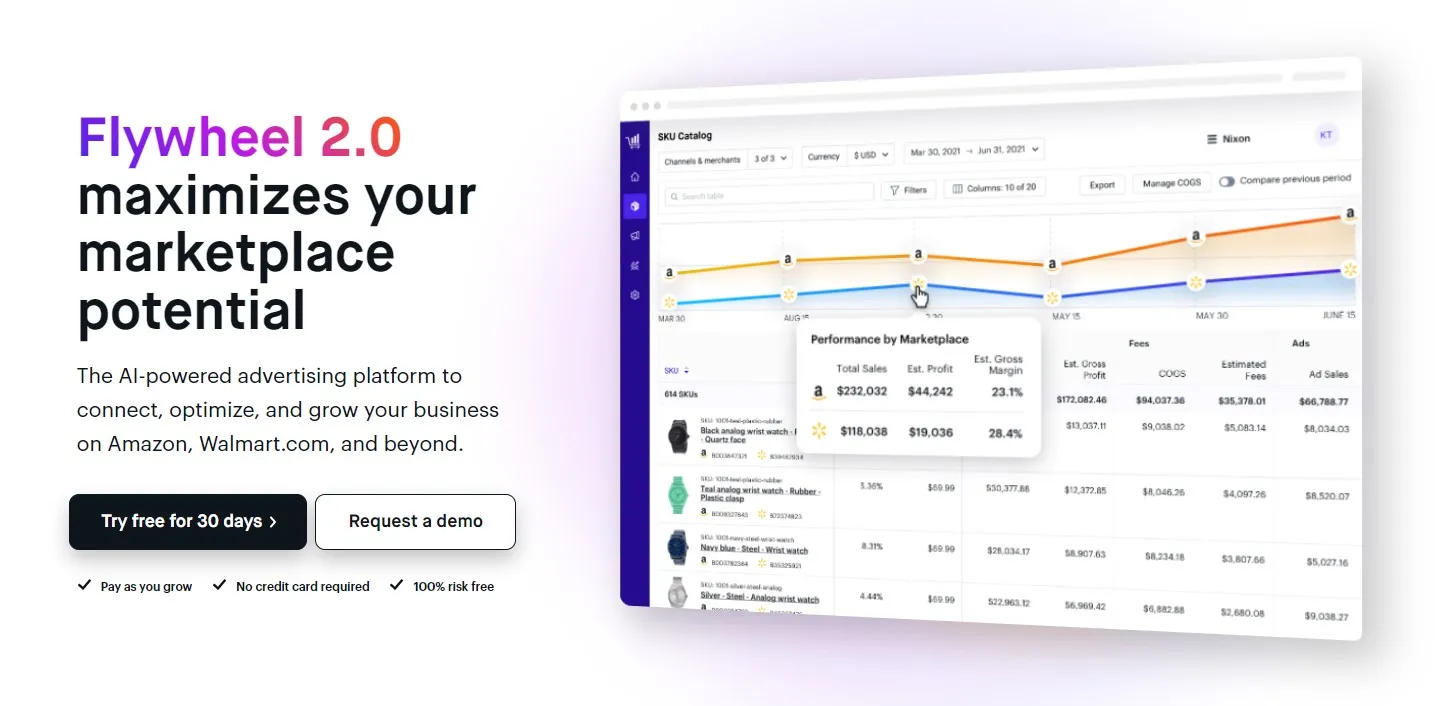 Teikametrics is a powerful Amazon seller tool that can help maximize your sales by leveraging AI-powered insights. You get access to Teikametrics flywheel 2.0, the first marketplace optimization platform that blends advertising, data & inventory insights to outgrow your Amazon business.
Speaking about Flywheel 2.0, it connects and analyzes data across every aspect of your marketplace. It also automates critical tasks like campaign creation, keyword targeting, and bidding workflows, so you never overspend your ad dollars.
It has recently introduced a value-added feature – multi-channel performance analysis. It gives you a 360° coverage of your ad performance across marketplace, campaign & SKU levels. So you drill down at a granular level to know what your customers need.
Overall, Teikametrics's unparalleled data and AI combination augment your Amazon advertising campaigns. It is best for scaling your business by extracting actionable insights from your ad performance.
Key Features –
Access to product-level profitability insights
Proactive inventory and advertising notifications
Goal-based campaign creation & optimization
Fully automated keyword targeting engine
Inventory turn and sell-through rate insights
Find optimal CPC based on product goals & profitability
Pricing Plans – Teikametrics Flywheel 2.0 Basic plan is free for businesses under $10k in monthly marketplace sales. The AI-Powered plan (>$10k) offers a 30-day free trial with full access to all the features.
After the trial period, you'll be charged 3% of your total marketplace advertising spend at the end of the next 30 days of usage.
4. SellerApp – For PPC, Keywords, & Automation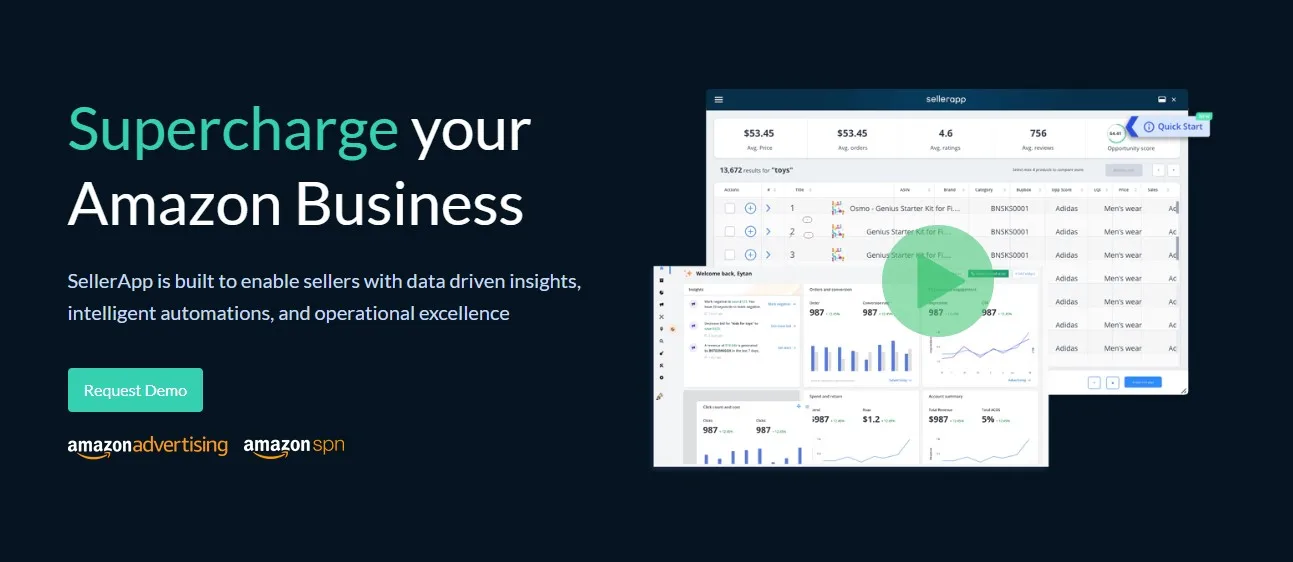 SellerApp is an AI-powered eCommerce intelligence platform that helps you to maximize your Amazon business potential. It uses next-gen optimization and machine learning models to unleash the full potential of your Amazon business.
Its powerful PPC tool has tracked over 100M+ products and generated a $1B+ conversion rate. From algorithmic bidding to providing tailored solutions, it is packed with high-end PPC automation & optimization capabilities to boost your campaign's ROI.
Regarding keyword research, Sellerapp uses data-driven algorithms to analyze millions of customer queries on Amazon. You can visualize what shoppers search for to validate your product demand by accessing its comprehensive database containing 200M+ keywords.
SellerApp combines data intelligence and automation to deliver the best solution to Amazon sellers. It has helped Amazon businesses reach a monthly target of a 75% revenue increase with an incremental lift in the ROI.
Key Features –
Get actionable recommendations based on proven product listing practices
Listing quality scores on a scale of 0-100
Advanced product intelligence to discover top products
Analyze keyword trends and search volumes
Track upto 100 powerful keywords
Create, manage and make changes to multiple campaigns, ad groups, and keywords
Reduce excessive ad spending by identifying negative keywords
Access to goal-based & product-driven optimization
Pricing Plans – SellerApp has a free plan with upto a $1000 ad spend limit. It has two paid plans, Pro-lite and Professional plan, priced at $39/mo and $99/month. It also offers a 7-day free trial for both paid plans.
5. AMZAlerts – For Preventive Alerts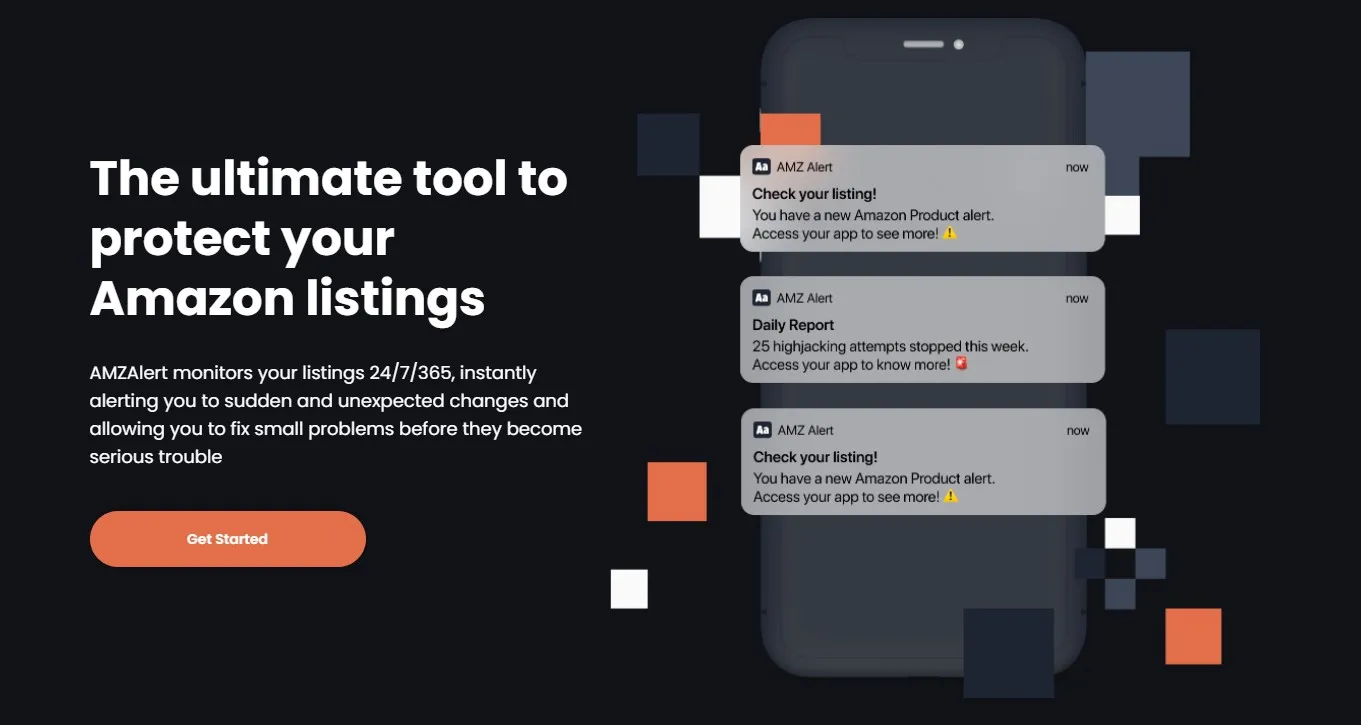 AMZAlerts is the best tool to safeguard your Amazon listings. It monitors your product listings 24×7, sends alerts about suspicious changes, and lets you potentially fix problems to avoid trouble in the future.
You get the flexibility to select which types of changes to track per product. Therefore, you don't have to break your head by manually checking what's gone wrong with your listing. AMZAlerts will ensure you do not lose money due to unexpected listing issues.
In general, AMZAlerts will give you the power to respond immediately to amazon selling problems like product listings, review alerts, marketing alerts, etc., via instant email, SMS, and Slack notifications.
Key Features –
Access to the listing analyzer
Allows for subcategory BSR tracking
Sends suppression alerts for missing seller info
Sub-user management and product grouping
ASIN redirect alerts
Keep integration for stable alerts
Pricing Plans – AMZAlert pricing is based on the number of ASIN tracking you need per month. The paid plans start at $0.95 per ASIN/month and go upto $1.35 per ASIN/month.
6. ZonTools – For Amazon PPC Campaigns
ZonTools is the one-stop destination to launch, automate and scale your Amazon PPC campaigns. You can completely automate your PPC ads with the proprietary AI tech and amplify your product sales hassle-free.
It lets you run sponsored product ads optimized for high-converting keywords by keeping cost-of-sales in mind. Besides, you can run powerful re-targeting campaigns and sponsored brand product collections by featuring video ads on your amazon page.
The best thing is that it has its own smart engine that is highly flexible and can adapt to your Amazon ad strategies & goals. It is best suited for all amazon seller types, including merch by amazon.
Key Features –
Sell across every Amazon marketplace with support for multiple Amazon seller accounts in one place
Access to four types of engines – Bidding, Explorer, Optimization, and Phrase-Match to optimize your PPC
Place ads for your products directly on competitors' listings
Convert clicks into conversions via search result advertising
Protect your listings with defensive campaigns
Cross-promote your product portfolio on your own listing
In-depth reporting that lets you visualize the sales, advertising cost of sales, profits, and ROaS for all campaigns
Pricing Plans – ZonTools has a pay-as-you-grow payment method based on your monthly ad spend. The pricing plans at $9/month for up to $500 ad spend. It offers a 30-day trial on all of its paid plans at just $1.
7. Restock Pro – For FBA Inventory Management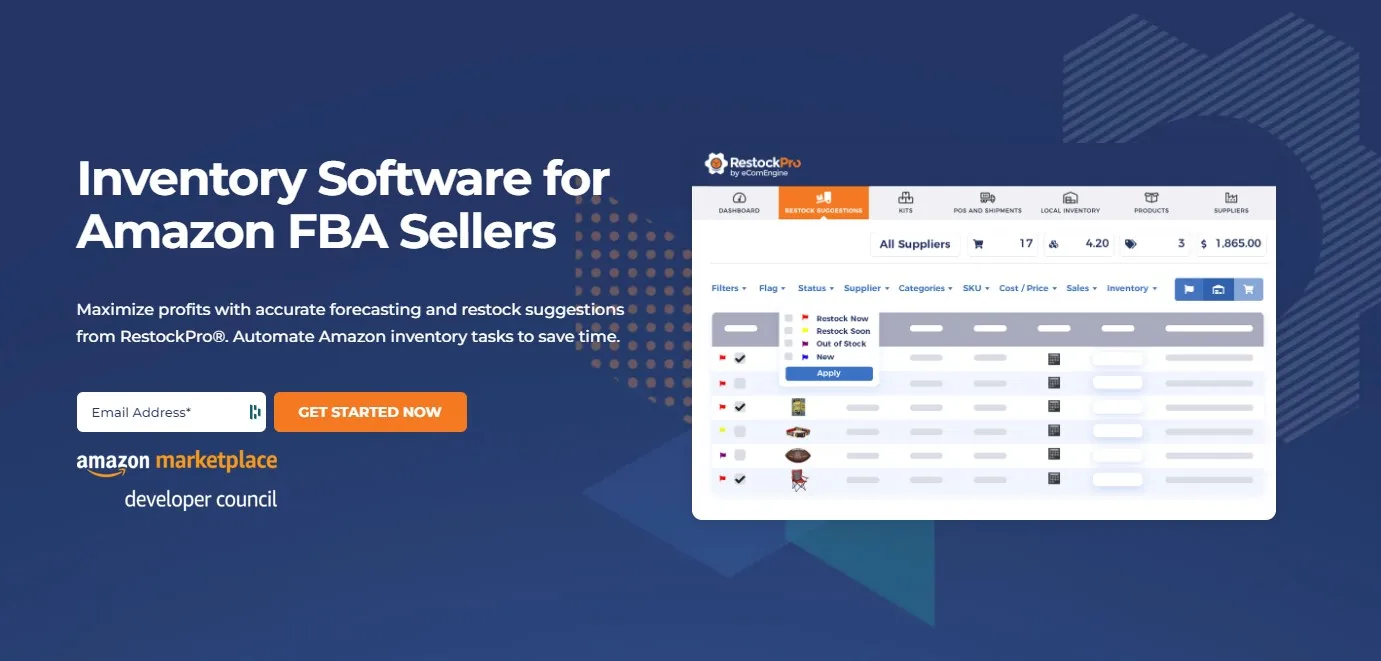 Restock Pro is an excellent tool that lets you proactively manage your FBA inventory by avoiding stockouts. It guides your daily reordering decisions by analyzing over 70 critical data points to provide you with timely & accurate restock suggestions.
It instantly calculates estimated margins, tracks costs, and FBA fees so you stay laser-focused on the most profitable products. Up-to-date data is synced from Amazon multiple times per day to include FBA fees, commissions, monthly storage & commission fees.
If there are any suspicious activities, the software notifies you with prioritized flags and tags, so you don't have to face a situation of understocking or overstocking inventory.
Key Features –
Create purchase orders and let supplies ship products to your warehouse or directly to Amazon FBA
Build profitable kits by evaluating based on demand and margin
Customize and print Amazon-compliant stickers for shipping
Automate your inventory tasks to save time
Keep track of suppliers, products, and FBA data securely
Pricing Plans – Restock Pro has 5 paid plans based on monthly Amazon FBA orders. The basic plan starts at $99.99/month and scales upto the Enterprise plan at $599/month. You should also know that the plans are automatically upgraded to the higher plan as the order limit exceeds.
It also offers a free 21-day trial with no credit card required. So, test the tool and see how it can add value to your business.
8. Viral Launch – For Store Launch & Automation
Viral Launch encompasses all the tools required to launch, grow and attain a dominant position on the Amazon marketplace. Whether you want to discover products, manage listings, automate PPC, research keywords or run split tests, it has your back.
The best part is that it comes with an advanced Amazon reverse ASIN tool to tap into unprecedented competitor insights. Just enter the product ASIN to instantly get a colossal list of your competitor's top-performing & underutilized keywords, along with reviews, search volumes, etc., to view the big picture.
So with Viral Launch, you don't need to run behind everything and manage them at your fingertips. Its fully integrated platform lets you accomplish high visibility & sales via robust functionality and scalable execution.
Key Features –
Find winning product ideas based on – profits, opportunistic keywords, and successful brands
Maximize SEO and listing optimization
Monitor competitor strategies and track rank changes
Streamlined listing creation process to ensure rank in Amazon results
Prioritize high-converting keywords & remove unnecessary ones for your PPC campaigns
Automated SWOT analysis to identify how your product matches with top-competitors
Pricing Plans – Viral Launch has 3 paid plans starting at $69/month and goes upto $199/month. The plains are based on usage limits and feature accessibility. It also offers a 14-day free trial for the Pro plan with two months free if paid annually.
9. ShipStation – For Order Fulfillment
Having been trusted by 1,00,000 retailers, ShipStation organizes, streamlines, and fastens the shipping process. The best part is it offers the lowest shipping rates, regardless of how & wherever you ship.
You can view product photos, weights, and SKUs for all the merchandise and confirm inventory levels. You can also set up automation rules to simplify and break down the chaos to save time.
Being an Amazon fulfillment partner, ShipStation provides everything from FBA shipping, tracking, and order management to safely reach your customer's hands. All you have to do is just set an order to fulfill, and ShipStation takes care of the process.
Key Features –
Receive status updates from Amazon regarding fulfillment
Allows for domestic, international & multi-package shipping
Access to branded shipping labels and packing slips
Updates marketplace once the fulfillment is complete
Import, manage and ship Amazon orders anywhere via ShipStation mobile app
Pricing Plans – ShipStation has 6 paid plans based on the number of monthly shipments. The pricing starts at $9/month for 50 shipments and goes upto $159/month for 10,000 shipments.
10. Quickbooks – For Accounting & Inventory Tracking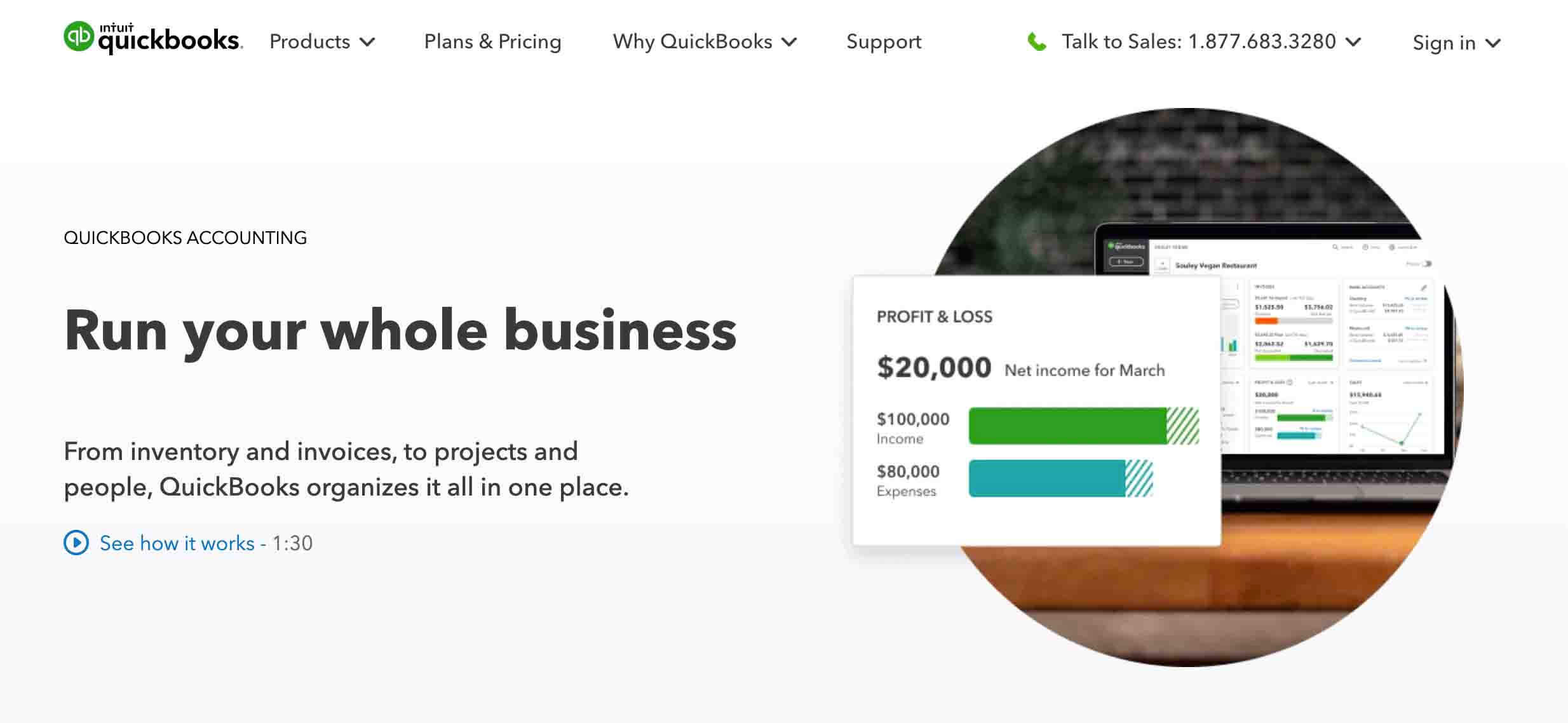 Quickbooks is one of the best eCommerce accounting software with a complete finance and inventory management package for Amazon sellers.
It enables you to handle recent & past Amazon transactions, track marketplace inventory for sales, and refunds, and ensure SKU profitability. It also analyses your net profit and margin by product with Amazon fees attributed to sales costs.
The best part of using Quickbooks is that if you want to sell on other marketplaces or websites, you can consolidate all the data in one place to avoid any tracking data.
On the whole, Quickbooks strives to deliver fully automated accounting to enhance financial performance. It offers excellent value for your time & money by cutting down the burden of manually inputting your Amazon transactions.
Key Features –
Unique automatic reconciliation algorithm
Automatically categorize all types of Amazon FBA
Map Amazon SKUs to Quickbooks inventory products to enable inventory tracking
Imports can be initiated manually and scheduled to run automatically
Support for multi-currency
Pricing Plans – Quickbooks has four pricing plans, starting at $24/month and extending upto $119/month based on the number of Amazon orders. All plan comes with access to unlimited users.
11. TaxJar – For Amazon Sales Tax Compliance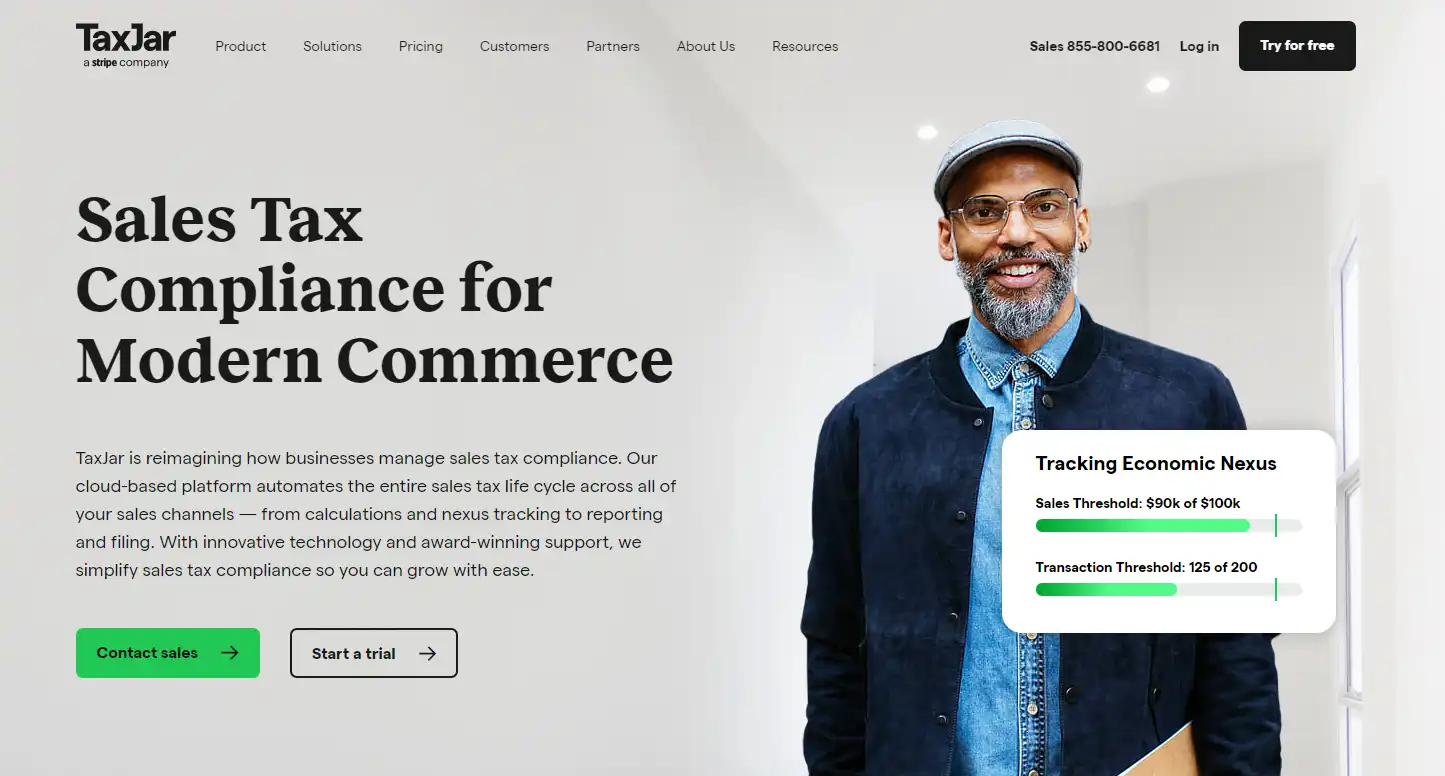 If you're looking for a powerful and automated sales tax compliance tool for your Amazon FBA business, Taxjar is the best option. It is a cloud-based platform that automates the entire sales tax cycle – from calculation to nexus tracking to reporting.
Once your transactions are imported, you can view your automated sales tax reports. Also, you don't have to constantly track changes, as the TaxJar's team will monitor the latest sales tax laws to ease your efforts.
The best part of using TaxJar is its automatic tax filing on your behalf. It handles data input and prepares filing according to your regional regulations. So now, you don't have to worry about tax compliances and regulatory issues that can cost you valuable time.
Key Features –
High-performing sales tax calculation engine
Monitor nexus exposure as you transact sales online
Set up notifications to stay informed about nexus changes
AI-driven product taxability recommendations
Customer exemption support
Simple and Advanced CSV import
Pricing Plans – TaxJar's Starter plan costs $19/month with some basic features. You will have to contact their sales team to get access to advanced features and consultation. It is free to use without your credit card for the first 30 days.
12. Repricer– For Automatic Price Adjustment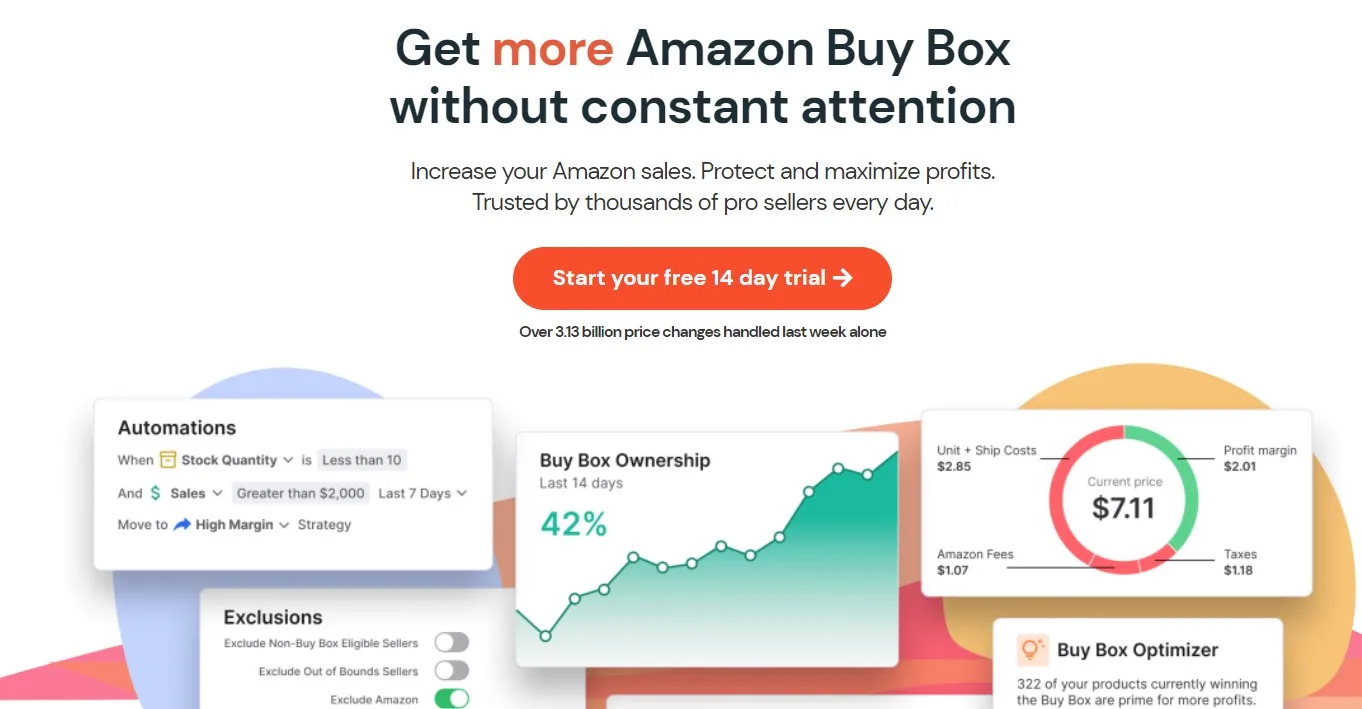 To stay competitive on Amazon, you must constantly alter your product prices to win the incredible Buy Box. This is where Repricer comes into play. It empowers you to automatically increase or lower the costs to beat the competition and stand out from the crowd.
It uses multiple data points to optimize your pricing strategy. It compares your product with that of competitors' and uncovers the possibility of whether you'll win the Buy Box. The pricing changes are executed automatically and instantly throughout the day or during specific time periods.
It doesn't mean you have to sell at lower prices to stay apart. Repricer prevents you from selling below your preferred target margin with the Net Margin Pricing feature. This way, you're on the safer side as you'll never sell products at a loss.
Overall, Repricer is the crucial tool for winning the Amazon Buy Box by considering many factors. Once you've won the Buy Box via Repricer, you can incrementally increase your profits to amplify ROI.
Key Features –
Change your prices based on stock levels
Identify the products with high & low profitability and take action
Schedule time-specific rules to optimize your pricing strategy
Manage large volumes of inventory easily
Visualize who is competing with you for the Buy Box
Make repricing decisions based on price and product's sales history
Pricing Plans – Repricer has four paid plans – the Express plan costs $105/month and extends upto the Extreme plan, priced at $1549/month. It offers a 14-day free trial on all of its paid plans and has an add-on for Amazon Business accounts.
Choose the Best Amazon Seller Tools
Amazon is massively growing as a distinctive eCommerce ecosystem where millions of sellers compete to grab the attention of billions of customers ready to buy on the platform.
So, as I mentioned earlier, you must have the best tools at your disposal to stay competitive and outgrow your competitors. Here are my top 5 picks for Amazon FBA sellers –
I hope this article helped you find the best tools for your Amazon FBA business. If so, please share the article with your fellow sellers and entrepreneurs.