Do you want to improve the customer service on your eCommerce site? Are you looking for the best eCommerce live chat software? If so, you've reached the destination.
Adding live chat support on eCommerce sites can help you provide real-time assistance to website visitors and convert them instantly by solving their problems.
So, if you have made up your mind to add live chat support to your online store, we have put together top eCommerce live chat software, revealing its best features and how it can be useful for your business.
By the end of this article, you should be able to pick the perfect live chat software for your online store.
Here is the best live chat software for eCommerce sites –
1. LiveChat – Top live chat software for eCommerce
LiveChat is by far the most popular and effective live chat software that guarantees a delightful experience by providing relevant solutions to your customers.
It allows you to connect live chat across multiple platforms and answer quickly by maintaining all the conversations in a unified interface. This ensures that you are valuing every customer and do not miss out on any critical chat.
You can share product announcements, introduce new products, and invite incoming visitors/customers to the chat. A beautiful perk to enjoy is that you can send personalized greetings to your customers based on time spent, location, and pages they have visited in your store.
This live chat tool saves your hard-earned time by automatically assigning sales inquiries and support requests directly to the team. Also, you can motivate your customers to add items to the cart and guide them throughout the checkout.
Key Features –
It lets you load quick responses as you can see what your customers are typing in real time.
It allows you to collect customer satisfaction ratings during the chat for the betterment of your service.
It enables you to adjust your store agent's shifts to be available to your customers at the right time.
It provides a detailed list of customers visiting your online store in real time, and you can also proactively initiate the chat.
It is GDPR compliant, so your customers will have the safe feeling of providing their details to you.
Pricing Plans – There are four pricing points: Starter, Team, Business, and Enterprise. For small businesses, the starter plan is suitable, which starts at $16/month per agent, and for the customer service department, the business plan is popular, which starts at $50/month per agent.
2. Jivochat – Most affordable live chat software
Are you struggling to reach your customers on different platforms? Don't worry, Jivochat has got you covered with everything. It is a powerful eCommerce live chat tool that enables your customers to chat from their preferred platforms, delivering high efficiency.
You can also accomplish a high level of personal connection with your customers by collecting their phone numbers and conversing with them via call. This registers as a meaningful conversational experience such that your customers will come back to you seeking help.
JivoChat supports all modern browsers, and the conversations can be translated into many languages. It also enables you to chat with multiple customers simultaneously, boosting your reliability and performance.
Feature Highlights-
It allows your customers to request one-click calls or send messages to you via Facebook Messenger.
It lets you create color-coded chats, view the customer's location, generate automated responses, enable smart triggers, etc.
It enables you to connect with Whatsapp, and if you want to clear any doubt, you can send a Whatsapp message directly from the Jivo app.
It allows you to make and receive phone calls and also communicate with customers via SMS.
It also opens doors to connect with iPhone users and also make transactions via Apple Pay.
Pricing Plans – It offers Basic and Pro versions. The JivoChat basic is free forever and allows unlimited chats up to five agents, and if you want to opt for advanced features, then the pro version would be the ideal match which costs you only $13/month/agent.
3. Tidio – Best Free Ecommerce Live Chat Software
Tidio acts as a complete chatbox solution by empowering your eCommerce store to provide reliable solutions to all of your customers in a flash. It also integrates with CRM, eCommerce, and email marketing platforms to acquire new customers will always be a slicing process.
It helps you to manage all the conversations coming from email, messenger, and chat in a unified interface so that you get the power to convert each text into a profitable sale. Also, you can see who browses your store in real-time and initiate a chat with them immediately.
Overall, Tidio is more than just a live chat software. It is an AI-powered customer service tool that you can consider using for our online store. For more info, you should read our detailed Tidio review.
Key Features –
It works seamlessly on desktop and mobile versions, which lets you access chat data instantly at your fingertips.
It lets you chat with your customers live and give solutions to all their problems or queries.
It helps you track the chat analytics and automates the chat process, improving your productivity.
It enables you to view your customer's geographic location, which gives an idea about how you can communicate with them for better conversion.
Pricing Plans – It offers a forever free plan that includes live chat, chatbots, and other necessary tools to grow your business. But to access advanced features, you need to upgrade to the Chatbots or the Communicator plan, which starts at $18/month.
4. LiveAgent – Best Live Help Desk Software
You'll be truly amazed to see the suite of comprehensive features that this live chat tool provides to your eCommerce store. It has highly reliable live chat support, an advanced ticketing system, a knowledge base where your customers can search for quick solutions, and much more on the fly.
LiveAgent is one of the fastest chat widgets and uses automation to deliver a fantastic customer experience for your store. You can also create a strong presence on social media by responding to all the messages, comments, mentions, etc., adding credibility to your eCommerce store.
Key Features –
It allows you to set up rules automatically to initiate a chat proactively when a customer visits your online eCommerce store.
It lets you view in real-time the behavior of your customers as they browse through your store.
It offers an excellent help desk ticketing system that integrates with numerous communication channels ensuring high productivity.
It lets you connect with customers on Facebook, Twitter, Messenger, Instagram, and Viber.
It enables you to use specific tags to manage all the social media channels.
Pricing Plans – LiveAgent offers a forever free account with some limitations. Its premium plan starts at $15/agent/month and goes up to $39/agent/month with a call center, video call, and IVR support features.
5. Brevo Live Chat – Free Live Chat for Ecommerce
Brevo ( formerly Sendinblue ) provides a robust free live chat tool that transforms every conversation into profit by responding to all queries instantly. It also offers a set of power-packed marketing tools like email marketing, landing pages, SMS marketing, and automation.
There may be certain inevitable circumstances where you cannot be online to reply to your customers. This live chat tool has a solution for this. It allows you to manage your chat status between online/offline modes. So when you're offline, you can decide whether or not to show the chat widget.
Key Features –
It allows you to integrate your chat with Sendinblue's marketing automation tools which helps in acquiring new customers for your store.
It shows the pages customers are viewing, which helps you deliver better solutions and establish a meaningful conversation.
It enables you to customize the chat widget by adding your store name, and logo which facilitates quick brand recognition.
It permits you to allocate the chat conversations to different user agents so that all your customers will get a perfect solution without making them wait.
Pricing Plans – Brevo starts with the free plan, and the live chat feature is available for all the projects. 
6. Freshchat – Free Ecommerce Live Chat Software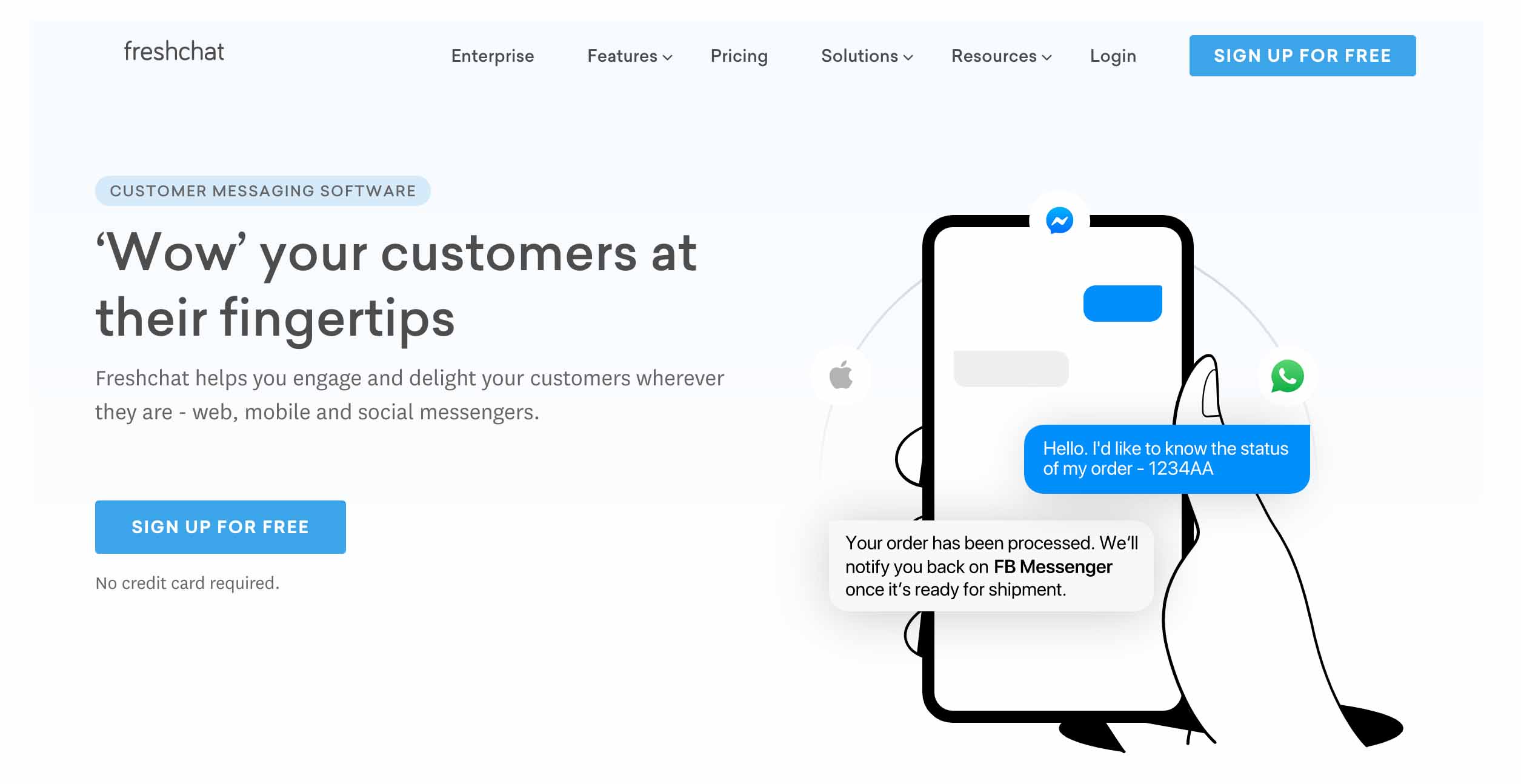 Freshchat is a powerful eCommerce live chat tool that offers exciting features to boost the rapport between you and your customers.
One of its favorite features, which I love the most, is enabling chats based on topics. You can create different topics of your interest, such as billing, product feedback, order updates, etc., and your customer can choose any of these topics to start the conversation.
In this way, you can narrow down the messages, and your customers can connect with the right expert and get reliable solutions.
Also, to reduce the delay in response time, you can create a pool of predefined responses for common queries, and the agent can jump anytime in between to answer other questions.
Key Features –
It allows you to respond to chat messages coming from mobile, Whatsapp, and Messenger, which is managed in a centralized area.
It enables you to send personalized messages to your abandoned customers, which increases your conversion rates.
It enables you to upsell products to particular customer groups based on their cart items, purchase history, and wishlist items.
It offers an in-messenger FAQ where customers can fetch immediate solutions for their queries.
Pricing Plans – Freshchat Sprout plan is free for up to 100 users with limited features. Advanced features like auto-assignment come with premium plans starting at just $29/user/month.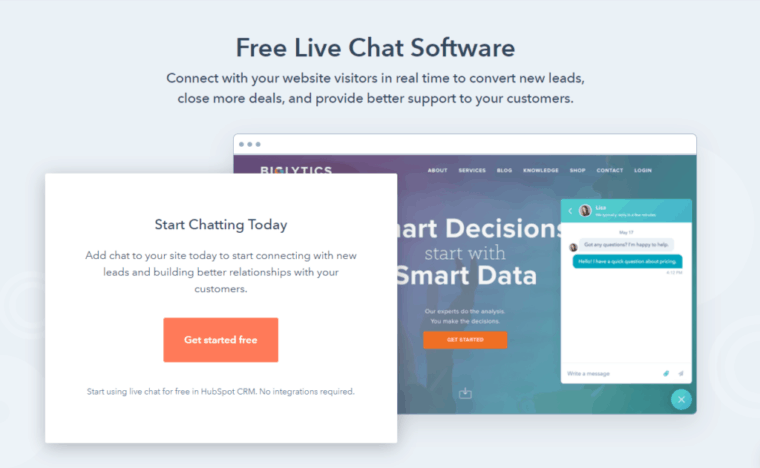 Hubspot offers a versatile free live chat tool that allows you to connect with your new incoming store visitors in real-time and convert them into loyal customers.
This live chat tool is connected with Hubspot CRM, where all the conversations are automatically saved in the inbox and in your customer's timeline. In this way, you'll have all the necessary details readily available at your fingertips that provide an enchanting customer experience.
Key Features –
It allows you to customize the chat widget that facilitates your store's branding efforts.
It enables you to send targeted welcome messages and segment the customers to deliver relevant messages that address their needs.
It helps you to set up working hours so that your customers can know when you'll be available, and they can chat with you at that time.
It enables you to manage all the chat workflows effectively, which helps streamline your overall process.
Pricing Plans – Hubspot offers a free forever CRM plan which includes a free live chat feature as well. However, to access its advanced features, you'll have to opt for any of its premium features, starting at $50/month.
Choose the best Live Chat Software for your eCommerce site
Live chat support is one of the essential customer support and conversation optimization features for eCommerce sites. It enables you to interact with website visitors and customers in real-time and helps them shop easily from your store.
Most of the live chat software mentioned above is free. However, if you are looking for an advanced live chat tool that supports multiple agents and provides insights about visitors, you should consider using paid tools like LiveChat, Jivochat, or Tidio, whichever fits your budget.
I hope this article helped you pick the right live chat software for your eCommerce site. If you want to automate the chatting feature to some extent, you should check our list of the best eCommerce chatbot software.