Do you want to offer customer services and sales support via WhatsApp in your online store? Are you looking for the best WhatsApp app for your Shopify store? If so, this article is for you.
WhatsApp is the most popular messaging app with over 2 billion monthly active users globally. It has grown to such an extent that people of all age groups use it to actively communicate with their peers via messages, voice, and video calls.
And now, with WhatsApp Business, brands can also leverage it to interact with customers through their purchasing journey to boost conversion and drive more sales. In fact, you should know that WhatsApp delivers the highest open rate and click-through rate compared to other channels like Email & SMS.
The best part is that WhatsApp is not limited to one specific purpose. You can customize it and use it in different ways to chat with your customers and prospects for –
Sale support
Customer support
Marketing messages
Post-purchase alerts & notifications
So, in this article, I will show you some of the best Shopify WhatsApp apps that you can consider using based on your business needs.
Ready? Let's get started.
1. Zoko – All-in-One Shopify WhatsApp App
Zoko provides a complete WhatsApp solution for sales, marketing, and customer support for Shopify stores. With its Shopify app, you can stay connected with customers at every step of their journey from creating an account to completing the purchase and afterward as well.
It enables you to take orders, collect reviews and send all the standard notifications related to products and orders on WhatsApp. You can also create customer segments and send personalized notifications to promote sales and offers in which they might be interested.
Overall, Zoko is an all-in-one WhatsApp app for Shopify stores that you can use to communicate with your customers at every stage of their journey and drive more sales for your store.
Key Features –
Get the green verification badge next to the business name
Automatically collect product reviews & ratings
Customers can place orders, track shipments & order status on WhatsApp
Automatically send abandoned cart notifications
Confirm COD orders before shipping them
Pricing Plans – Zoko's pricing plans comprise three elements, their fixed subscription fees, charges per conversation, and WhatsApp charges. Their subscription fees start at $34.99/month and go up to $219.99/month. You can check their detailed pricing plan here.
2. Wati – Popular Shopify WhatsApp App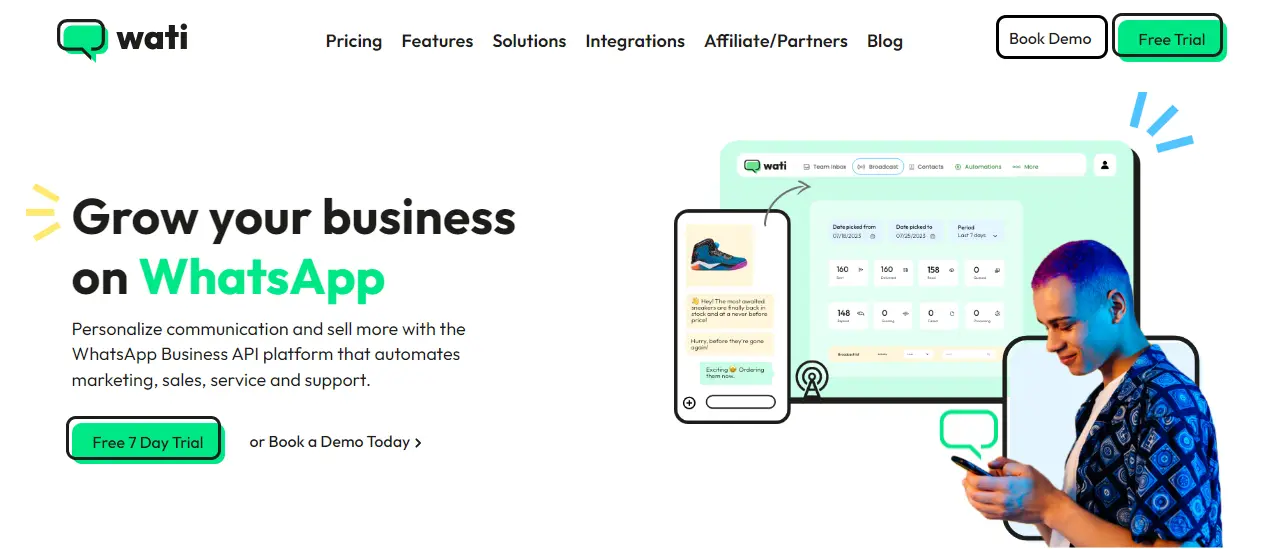 Wati is another all-in-one WhatsApp app that enables you to take sales, marketing and customer support to the next level. With its Shopify App, you can easily integrate your store with WhatsApp Business and automate communications with your customers.
From abandoned cart reminders, order confirmations, and shipment updates to personalized marketing messages, you can keep your customers engaged throughout their purchasing journey. You can also create no-code WhatsApp chatbots to provide quick response to common queries such as "Where is my order?"
It also provides a share inbox from where your customer service team can easily manage support requests to provide quick assistances. Overall, Wati is a powerful WhatsApp sales, marketing and customer support app that you can consider using for your Shopify store.
Key Features –
Get WhatsApp green verification tick for your business
Add WhatsApp chat widget to your Shopify store
Send personalized marketing campaigns on WhatsApp
Create template messages for reusing
Send COD order confirmation
Create no-code chatbots for 24/7 customer support
Provides shared Inbox for customer support
Excellent customer support
Pricing Plans – Wati has 3 paid plans, starting at $49/month with zero setup fees.
3. SuperLemon ‑ WhatsApp Marketing + Support
SuperLemon is a popular Shopify WhatsApp chat app that lets you use WhatsApp for Marketing and customer support. It lets you add a chat widget on your store for live chat customer support and send automated messages for upselling, order confirmation, and order tracking.
In addition to this, you can use your WhatsAp[p business API to create your own message templates for different types of notifications. It also provides a CRM where you can store all your customer's details, track conversations, identify touchpoints and resolve them to generate happy customers.
Feature Highlights –
Add WhatsApp Chat Widget for customer support
Add a share widget to allow customers to share products
Automatically send order confirmation, order tracking, & COD notifications
Pre-approved by WhatsApp message templates in multiple languages.
Detailed analytics reporting
Pricing and Plans – SuperLemon has a free plan that provides access to basic features and analytics reporting. For advanced features with a green verification tick, you will have to opt for one of the paid plans, starting at $15/month.
4. Revie: Collect Reviews via WhatsApp

If you want to use WhatsApp just to collect producer reviews from your customers, Revie might be the best Shopify WhatsApp you need. It allows you to collect reviews in text and photos, though videos are not supported yet. You can moderate the reviews before making them live on your site.
It provides you with beautiful widgets that you can use to display reviews on the homepage, product, and collection pages to showcase social proof and build trust with customers.
Key Features –
Easy to set up with a simple user interface
Beautiful review widgets
Moderate and publish reviews
Allows importing reviews
Pricing Plans – Revie has a free plan that allows sending up to 50 review request messages with access to review widgets and a moderation tool. The paid plan starts at $9/month and goes up to $59/month allowing up to 1000 review requests per month.

This Shopify WhatsApp chat app is packed with all features that help uplift your business to the next level. It allows for automated order tracking, fulfillment, etc., and acts as a means of answering FAQ questions to provide instant solutions.
You can increase referral sales by enabling customers to share products or pages from your store to their WhatsApp contacts. Besides, it allows you to send pre-configured messages to recover lost sales with discount codes and checkout URLs.
Feature Highlights –
It provides a live chat support button that allows for unlimited chats.
It gives you the option to set page-wise visibility like enabling/disabling Whatsapp chat for the homepage, product page, collection, blog pages, etc.
It allows you to send an automated message with a verification link to your customers regarding their COD order confirmation.
It enables you to day-wise online or offline hours for Whatsapp chat contacts.
Pricing and Plans – It offers a 45-day free trial and a free plan that allows unlimited WhatsApp chats, multiple WhatsApp numbers, a share button, etc.
The Paid plans start at $5.99/month, including all free plan features plus manual abandoned cart recovery and order notifications. The Premium plan costs $9.99/month and includes both automated and manual WhatsApp messages, COD tracking, order confirmation, and a mobile app.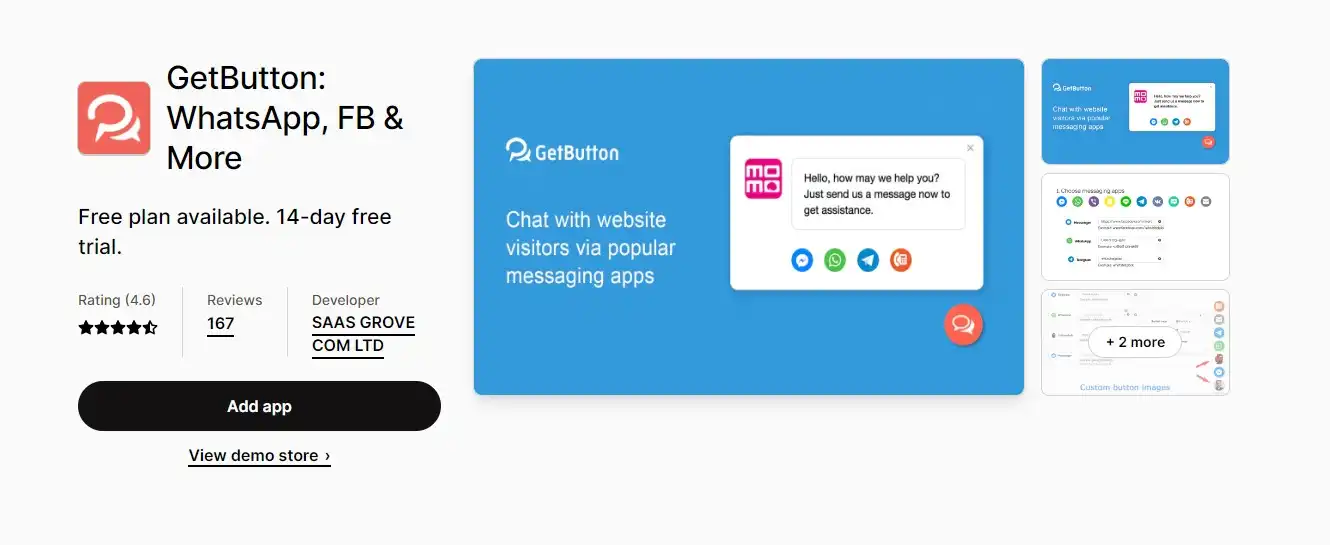 How about starting a conversation with your customers on multiple social platforms? This Shopify app has got you covered as you can instantly start a potential conversation with your customers on WhatsApp, Messenger, Viber, Telegram, Line, and Snapchat.
It is optimized to work well on all devices like desktops, tablets, and mobile devices. Besides, it can be custom configured to match your store's branding. The chat widget looks neat, simple, lightweight, and super convenient to use.
Feature Highlights –
It allows you to set up only the messaging apps you need or add all the channels.
It enables you to send proactive greeting messages to your incoming visitors to trigger a conversation.
It supports multilingual sites and multi-site networks.
Pricing and Plans – It is entirely free to use.

Reach hundreds of target audiences within a single click via this popular Shopify WhatsApp chat app. It allows you to send unlimited broadcast messages and comes with a chat functionality that proactively solves your customer queries.
It enables you to bring back your lost customers by sending unlimited automated cart recovery messages. Even if you can't reach them via WhatsApp, you can send an SMS to their mobile number reminding them to complete their purchase.
Feature Highlights –
It enables you to collect and organize customer information via its CRM system.
It facilitates sending custom messages to those customers whom you reach after the specified hours.
It helps in redirecting the chat to different agents to prevent the overloading of support requests to one agent.
It allows you to send cart recovery messages manually by reaching via the customer's preferred medium.
Pricing and Plans – It offers a 14-day free trial and a free plan that allows unlimited WhatsApp chats, reports, 100 manual cart recovery messages, etc.
The Paid plans start at $9.99/month, including free plan features plus WhatsApp CRM, unlimited manual cart recovery, automated cart recovery, and priority support. The Advanced plan costs $19.99/month which allows for unlimited broadcast messages.

WhatsApp chat by Elfsight enables you to actively communicate with customers and generate more sales. You can choose to appear the chat button for specific pages or a selected group of users, set chat-start triggers, and much more to boost customer engagement.
It offers a ton of customization options to make the chat look professional and elegant. With its predefined library of icons, you can choose appropriate text fields with formatting options and types of chat positions, like a floating bubble, an embed bubble, and an embed chat window.
Feature Highlights –
It allows you to edit welcome messages which support formatting options and links.
It enables you to view message notifications as a badge or as a title on the tab.
It sets up four chat opening trigger options – time on site, time on the page, scroll position, and exit intent.
It facilitates either showing or hiding the chat option on mobile.
Pricing and Plans – It offers a 7-day free trial, and the paid plans start at $5.99/month.
Ready to use WhatsApp apps in your Shopify store?
In this digital era, you will hardly find an internet user not using WhatsApp – irrespective of what you sell, your customers are using WhatsApp for conversations with their friends, family, and peers. You can also be a part of that by delivering relevant messages and not spamming their WhatsApp feed.
With WhatsApp chat, you can connect to your customer directly and expect a higher conversion rate for your Shopify store. So, pick one of the above-listed Shopify WhatsApp apps and start a conversation with your customers.
If you are looking for more apps for your Shopify store, here are a few app lists you might want to check next –